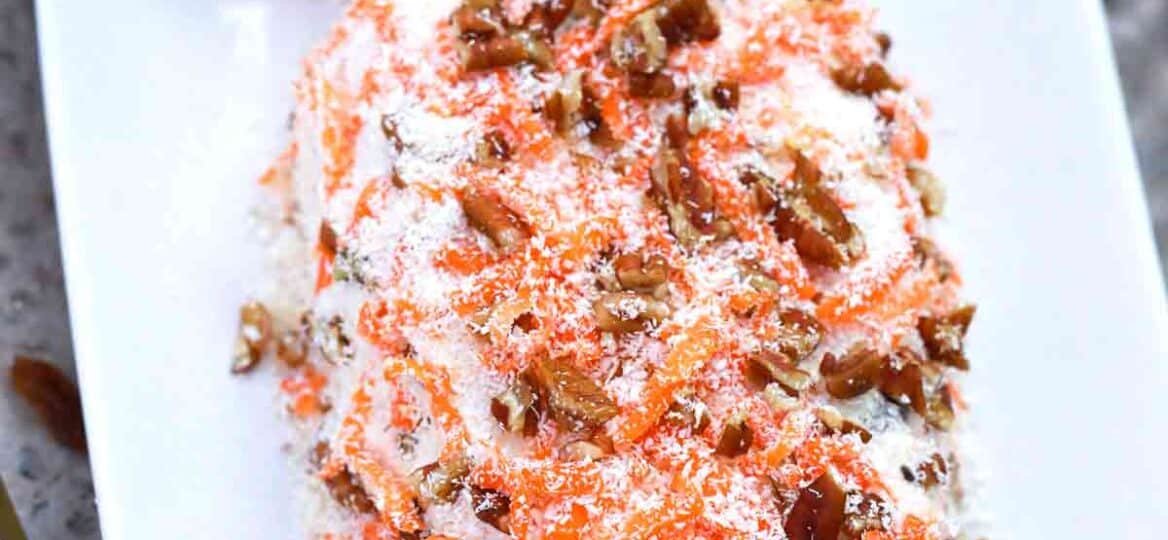 Carrot Cake Cheese Ball [Video]
Carrot Cake Cheese Ball is flavored with warming spices, dotted with raisins and pineapple, rolled in a crunchy mix of coconut flakes and toasted pecans. A fun and delicious appetizer or dessert!
This will be a hit with all the kids and adults at your party! But if you're having a more formal party, this Rosemary Berry Baked Brie, Deviled Eggs Dip with Chives and Paprika, and Smoked Salmon Dip are excellent options.
Easter Cheese Ball Recipe
Carrot Cake Cheese Ball tastes just like a slice of moist, rich homemade Carrot Cake! Except there's no baking, frosting individual layers, or hot oven to deal with. All you need is 10 minutes, and you've got a sweet treat all the kids (and grown-ups too) will go crazy over.
You can also put your own twists to this recipe. Add chocolate chips, other types of nuts, or make it lighter. Perfect anytime, but especially fitting for your Easter celebrations!
What is a cheese ball?
It's a popular dip-type appetizer, usually composed of soft cheese (most times a combo of cream cheese and other semi-soft/grated/semi-firm cheeses). Next, it is whipped until nice and smooth, with seasonings and other ingredients added.
It's an infinitely customizable dish. For instance, you can have it sweet, herby, or on the savory side like our Bacon Ranch and this cranberry-covered version!
What goes into a homemade Carrot Cake Cheese Ball
Cream cheese: Don't forget to soften before mixing, or you may be left with clumps.
Carrots: A full cup of freshly grated carrots is in this delicious starter!
Vanilla and spices: To achieve the familiar, spiced flavor of carrot cake, we're using cinnamon, a bit of nutmeg, plus a dash of vanilla.
Honey: For the perfect level of sweetness, plus helps us loosen up the cheese.
Mix-ins: Diced pineapple and raisins add bright, subtle bursts of fruit to every bite.
Pecans and coconut flakes: For rolling and to add a lovely crunch, plus ¼ cup of shredded carrots.
How do you make a Carrot Cake Cheese Ball from scratch
Combine. First, whisk the cheese together with the spices, vanilla, and honey, followed by the shredded vegetables, raisins, and diced pineapple.
Shape. After that, wrap in plastic before molding into a round shape.

Chill. Next, leave in the fridge to chill for at least an hour. The longer you can chill it (max of 2 days), the firmer it is.
Roll. Finally, Right before serving, remove the cling wrap then mold it into a carrot shape. Finally, roll in a mixture of coconut flakes, crushed and toasted pecans, and more shredded vegetables.
Serve. Enjoy as a dip with crackers and crispy, fresh apple slices!
Frequently Asked Questions
Recipe variations:
Chocolate chips: Mix some into the ball, and add some chips to the pecan mixture, too!
Other fruits: Fantastic with maraschino cherries, dried fruits, some oranges, diced apples, or pears.
Other nuts: We also love using toasted pistachios, almonds, walnuts, and cashews!
Lighter: Use low-fat cream cheese.
Nut-free: Skip the pecans at the end.
What can I roll a cheese ball in besides nuts?
Try crushed pretzels, bread crumbs, herbs, dried fruits, chopped jerky, bacon, shredded veggies, or a mix of everything!
How many days in advance can you make a cheese ball?
Yes, in fact, we highly recommend it. You can chill this for up to two days, and during that time, all those lovely flavors continue melding together. Don't worry, it will taste fresh even if you make it ahead!
How do you make a cheese ball firmer?
If it's a little runny, try mixing in a bit of butter, which will help the ball solidify as it chills. Also, you can add more of the cheese. Finally, make sure to chill it until it has set.
How do you serve Carrot Cake Cheese Ball?
Use it as a centerpiece for your appetizer table, and layout a buffet of different items! Try these:
Pretzels and pretzel crisps
Different types of crackers
Veggies like bell peppers, celery, or broccoli
Toast points
Mini, toasted bagels
Pita triangles, toasted
Apple slices
Pear slices
How to store leftovers:
Keep it in an air-tight storage container, and store it for a week in the fridge.
Can you freeze a cheese ball?
Yes, you can. First, wrap it in cling, and place it in a Ziploc and push out all the air before sealing tightly. Freeze.
To serve, defrost overnight. Shape, roll, and serve!
More Easter Recipes:
Recipe tips:
First, drain the juice from the pineapple before combining it to prevent the mixture from getting runny.
Also, this will be fine in a round shape, but it looks so wonderful shaped into a carrot, covered with bright orange shredded carrots and finished with green, leafy tops. Such a fun thing to serve kids during Easter!
Toast the pecans for extra flavor!
More Easter Desserts:
Deliciousness to your inbox
Enjoy weekly hand picked recipes and recommendations