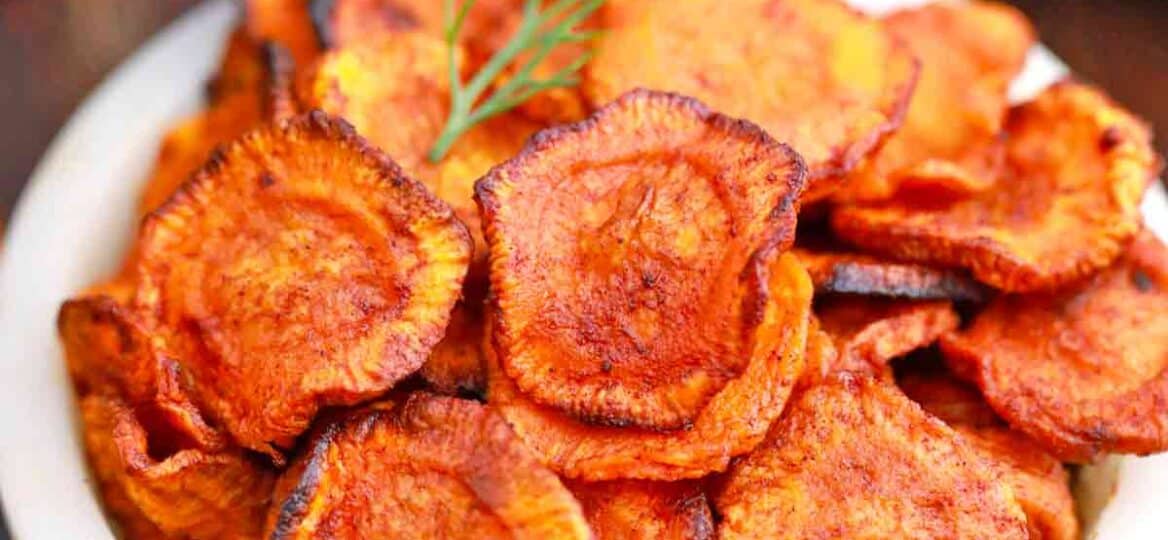 Easy Air Fryer Carrot Chips [Video]
Air Fryer Carrot Chips are made with spices and brown sugar, for a delicious and healthy snack. They have more flavor and with your own fresh herbs, you can make them taste any way you like.
For easy delicious carrot fries, try our AF Carrot Fries recipe with brown sugar and cinnamon. You may also like these AF Sweet Potato Fries with smoked paprika and garlic powder or AF Sweet Potato Wedges with olive oil and cinnamon.
It is easy to turn these into crispy carrot fries to munch on instead of regular chips or traditional French fries.
These are a healthy but yummylicious alternative to regular potato chips. Sweet or savory, these chips are perfect either way.
For more easy recipes, check out our apple fritters with fresh apples or zucchini fries that are a fun way to substitute regular French fries.
Follow us on Pinterest for more delicious recipes!
Ingredients needed:
These are the simple ingredients you need for these air fryer carrots. For complete instructions, scroll down to our recipe card at the bottom of the page.
Carrot chips: Presliced or slice your own.
Cooking oil: We used avocado oil, but you can use your favorite.

Brown sugar: Light or dark.
Spices: Paprika and cinnamon is what we used.
Salt: We used sea salt.
Fresh herbs: Optional.
How to make air fryer carrot chips recipe?
Preheat: First, preheat the fryer to 375 degrees F.

Toss: Meanwhile, toss the carrots with the oil and other ingredients in a large bowl.

Spread: Then, spread them evenly in a single layer in your air fryer basket.

Fry: Last, cook for 10 to 12 minutes. Flip and let cook an additional three or four minutes. If cooking in batches put the finished chips on a baking sheet and keep them in your oven set on low to keep them warm.

Serve: Finally, serve these alone or with other air fryer vegetables.
Recipe variations:
Spray: You could also use olive oil spray instead of avocado oil. Using coconut oil is another great option.
Fries: To make crispy air fryer carrot fries, use baby carrots or carrot sticks.
Powders: Feel free to add other seasonings like onion powder and garlic powder.
Sweet potato chips: If you are a fan of sweet potato fries, swap carrots for sweet potatoes.
How to serve:
Serve these air fryer carrot chips with spicy mayo or your favorite dip. You can also try one of these great serving ideas:
Sprinkle with parmesan cheese for a cheesy coating.
Serve with a small bowl of honey mustard or creamy peanut sauce.
For a sweeter flavor, sprinkle granulated sugar on top.

If you want even more sweetness, try dipping these in our strawberry sauce, this tangy orange sauce, or thick and rich caramel sauce.
These go great as a side to veggie burgers for a vegetarian meal.
Frequently asked questions
Why are my carrot chips soggy?
Typically, if your chips are wet before cooking, they will end up soggy. You have to pat them dry with a paper towel to remove excess moisture.
Also, you may have too many chips in the basket so the air cannot circulate. Make sure there is space between the chips.
Is air frying better than deep frying?
Anything you cook in an air fryer is going to be a healthy recipe compared to deep frying.
It uses less oil, so you do not have as much fat and calories in your chips.
For example, traditional fries have about 350 calories, but air fried fries only have about 175. Deep frying also adds up to 75% more fat.
These delicious carrot chips may taste good in a deep fryer, but you will gain a lot of fat that way.
Do I have to soak my carrots first?
You do not have to soak them first. However, if they are large and fibrous, the easy way to soften them is to blanch them first.
This is done by putting them in a pan of boiling water for three or four minutes before putting them in ice water to stop the cooking process.
How to store leftovers:
Store: Put the leftovers in a freezer bag or airtight container in the fridge for up to five days.
Freeze: For longer storage, they will stay fresh in your freezer for up to four months.
Thaw: Remove from the freezer the night before serving to thaw in the fridge.

Reheat: You can eat this delicious snack cold, at room temperature, or heat them up in the microwave.
More carrot recipes:
Cooking tips:
For even easier air fryer recipes, use a layered cooking or dehydrating rack made for air fryers.

Cooking time may vary depending on the size of your fryer and the thickness of the slices.
Double this recipe to have extras you can freeze for later.
If you use garlic salt, make sure you omit the salt from the ingredients list.

The fryer also makes amazing carrot fries in less time than it takes to drive to the fast-food place for traditional fries.
Air Fryer Carrot Chips
Ingredients
12

oz

bag carrot chips

or carrots cut into thin rounds

1

tablespoon

olive oil

avocado or coconut oil

1

teaspoon

smoked paprika

1

teaspoon

brown sugar

optional

1/4

teaspoon

cinnamon

1/2

teaspoon

salt
Instructions
Preheat air fryer to 375 degrees F.

Add the carrots to a bowl and toss with the rest of the ingredients.

Spread them evenly in the air fryer basket. For best results, just in one layer, and cook in batches if needed.

Air fry for 12 minutes, flip, and cook for an additional 3-4 minutes.