Carrot Zucchini Bread {Video}
Last updated on June 18th, 2021 at 08:27 pm
Carrot Zucchini Bread is moist, dense, and highly nutritious! If you are trying to introduce veggies to kids, then, serving this is a subtle way to do it! Watch the bonus video tutorial below and see how delicious this is!
This makes for a great afternoon snack! You can also try our recipes for Pumpkin Cake, Cranberry Coffee Cake, and Texas Sheet Cake for that light but tasty treat that you deserve!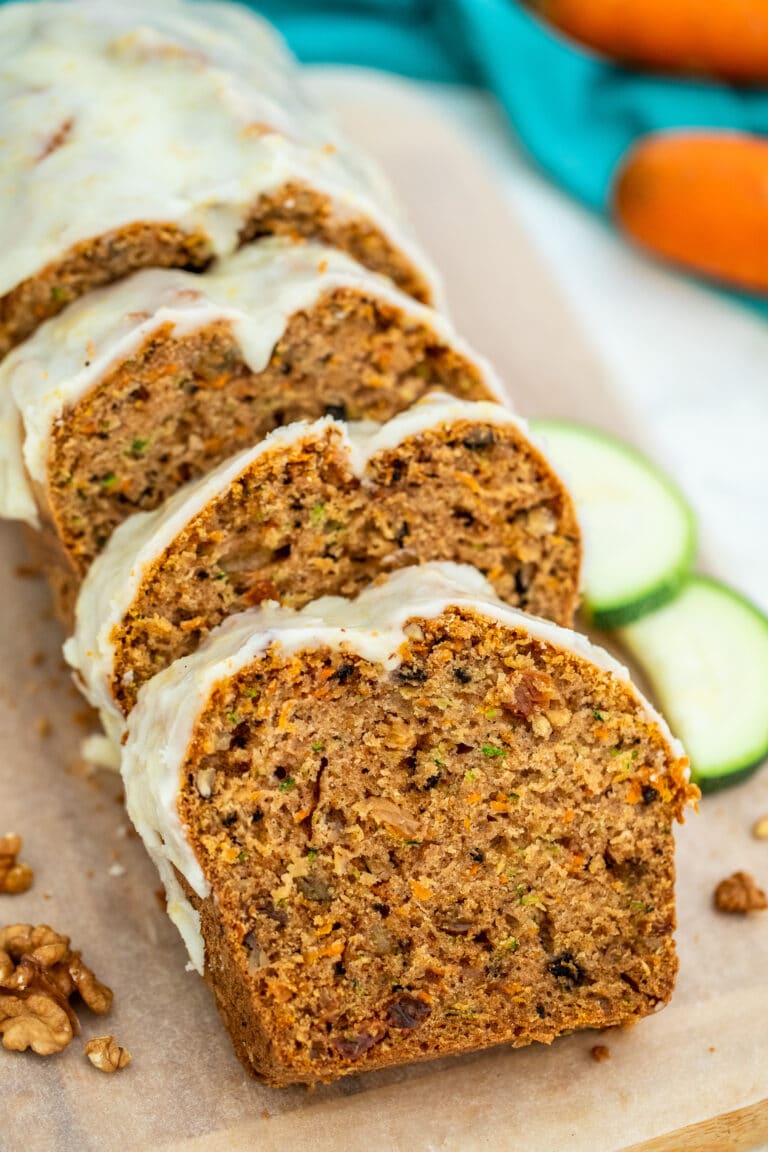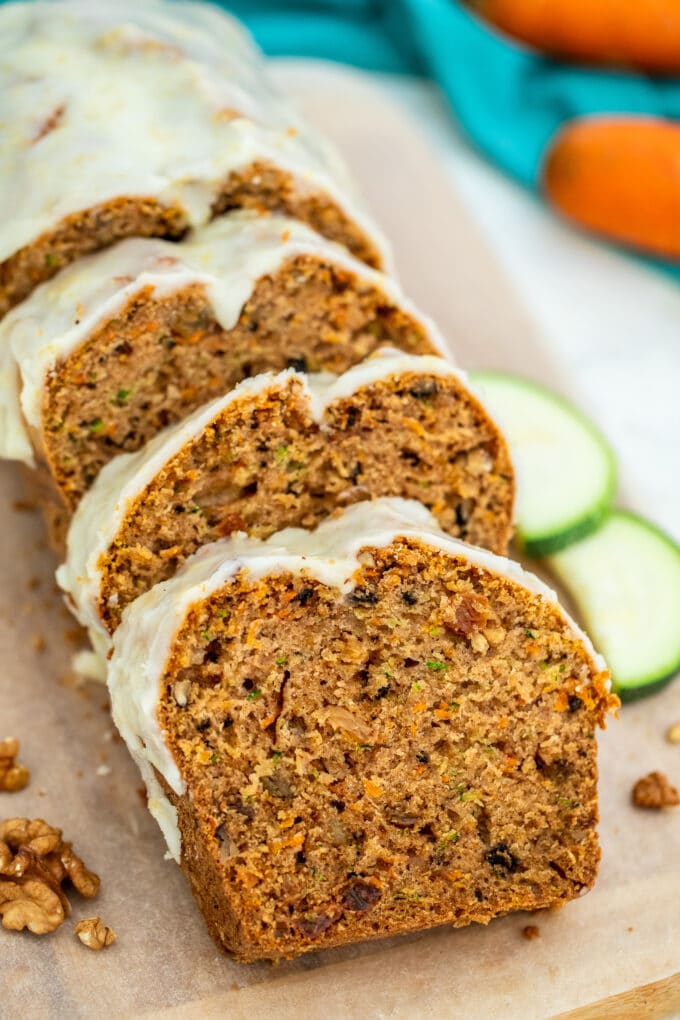 Carrot Zucchini Bread Recipe
Carrot Zucchini Bread is like a combination of our two favorite veggies in a delicious dessert! You have seen our version of the carrot cake and zucchini bread that we love. Now it's time to introduce a dessert that can be enjoyed as a snack or even for breakfast.
We love everything about these two vegetables, and what else is there left to do but to combine them in one great recipe! You can still see specks and strips of the veggies in it and that adds up to the appeal of this dessert. The flavors are amazing together, and the combination is refreshing. The walnuts also add a nice crunch.
I also like the lemon glaze on top and the raisins in each bite! Both add a nice sour balance to all that sweetness.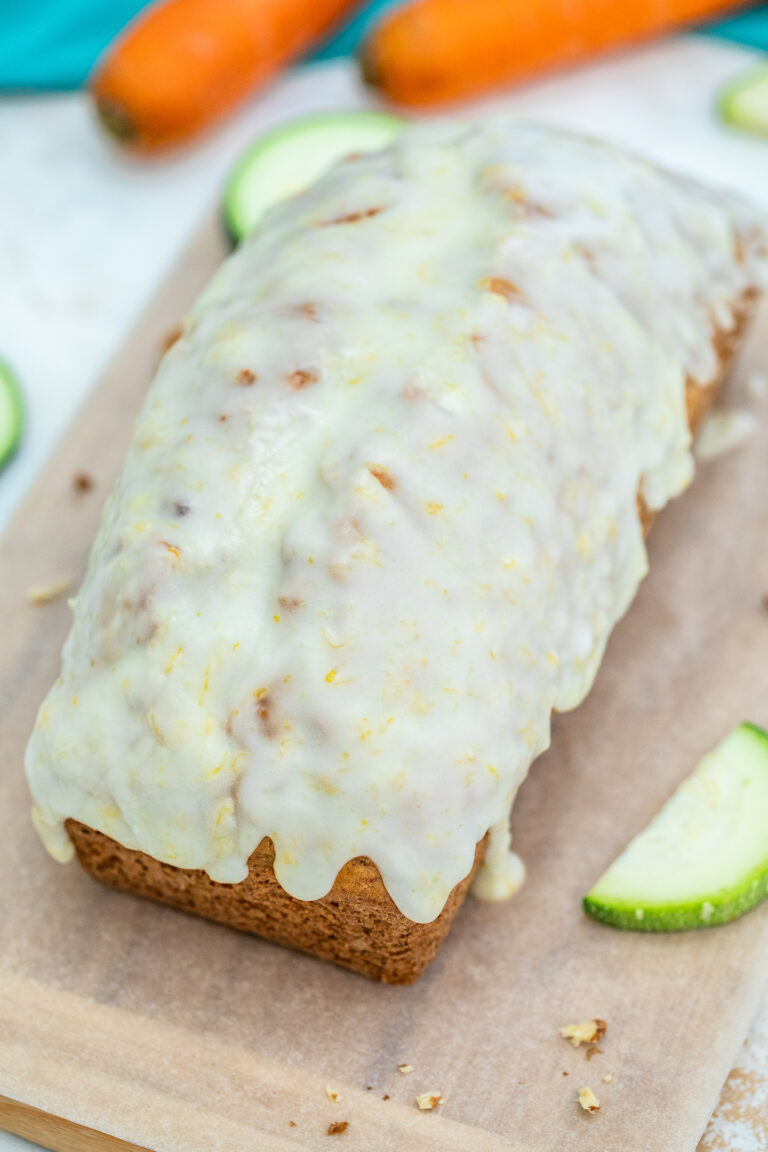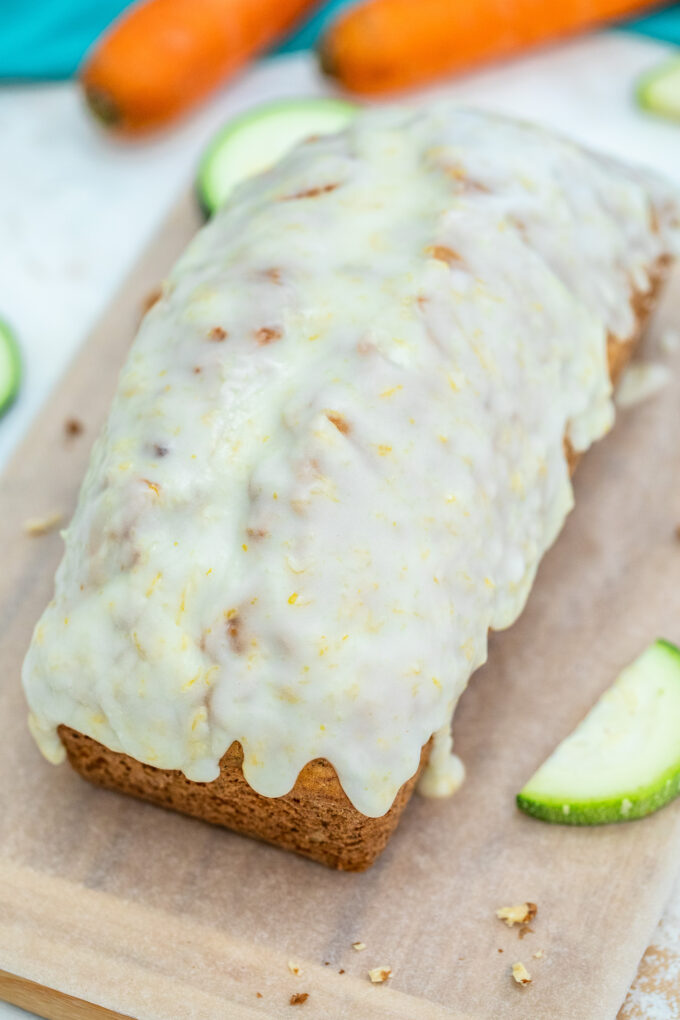 What does Carrot Zucchini Bread taste like?
It tastes like cake, to be honest. It is that moist and kind of dense but not really – still has lightness and fluffiness to it. The sweetness is just right, and it is nicely balanced by all the flavors of the spices and the lemon glaze. This does not taste like there are veggies in it. The veggies just give a hint of their flavors, but that is so subtle that even picky eaters will devour it in a heartbeat.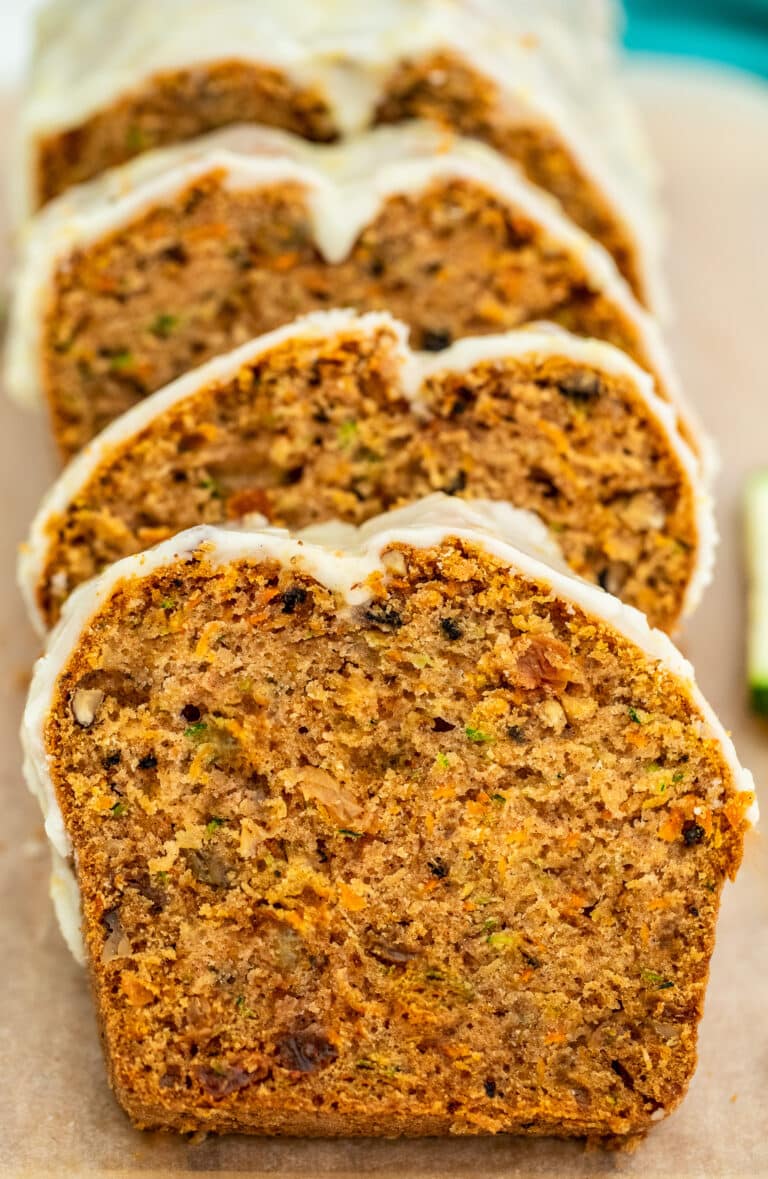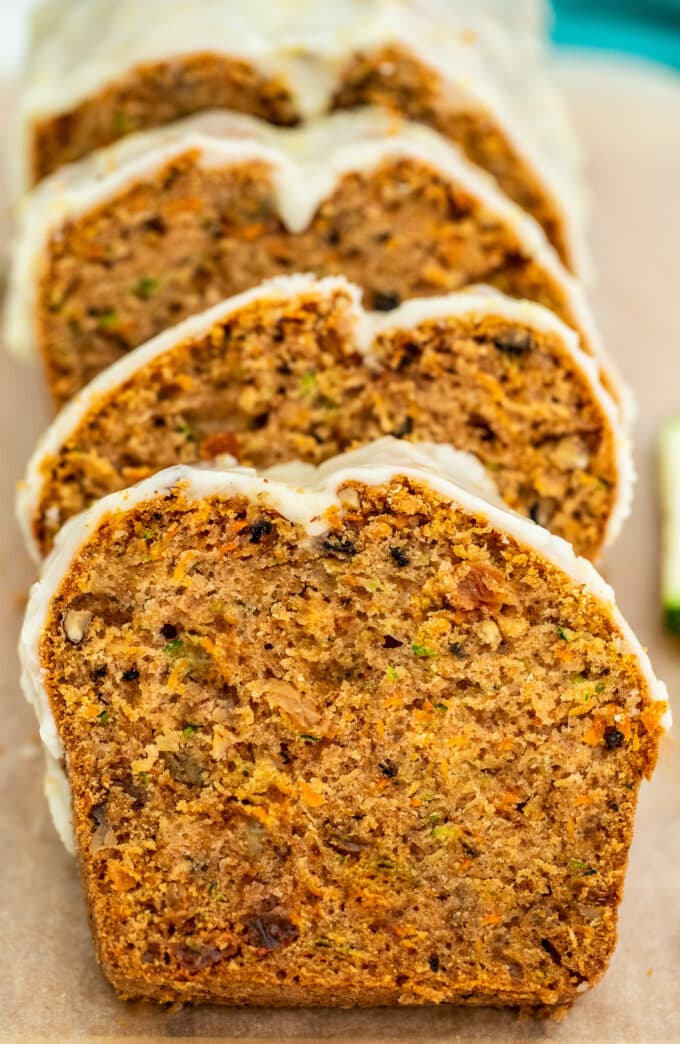 How do you make Carrot Zucchini Bread?
Prepare for baking.Preheat the oven to 325 degrees Fahrenheit. Then, grease and flour the baking pans.
Make the batter Mix the dry ingredients in a bowl. In a separate large bowl, mix the wet ingredients and white sugar until fully incorporated. Slowly while mixing continuously, add the dry ingredients to the wet ones.
Add the veggies add in the grated zucchini and carrots along with the nuts and raisins.
Bake Pour the batter into the pans, and bake for roughly an hour.
Cool once cooked, remove from the pan and let it cool to a manageable temperature. You can also chill this to serve cold.
Make the glaze. In a bowl, whisk the lemon zest, lemon juice, and sugar. Mix until smooth and thick enough and not runny. Spread on top of the bread.
Serve Once the glaze has settled, you can then slice and serve. You can serve it warm or cold, both ways are good.
How do you know when Carrot Zucchini Bread is done?
Make sure to check for doneness by using a toothpick or a tester. Insert it and there must be only a few crumbs left on it when you take it out.
If the surface cooks faster than the inside, it is better to cover the whole thing with a foil to prevent it from burning.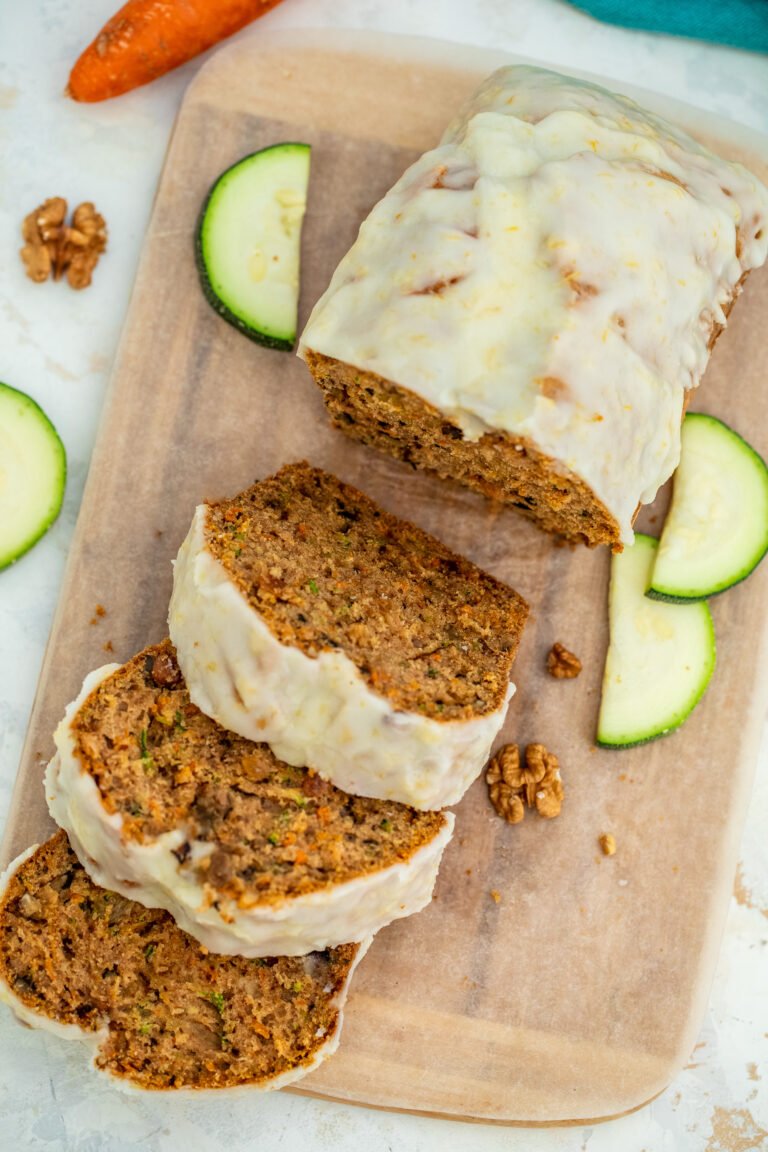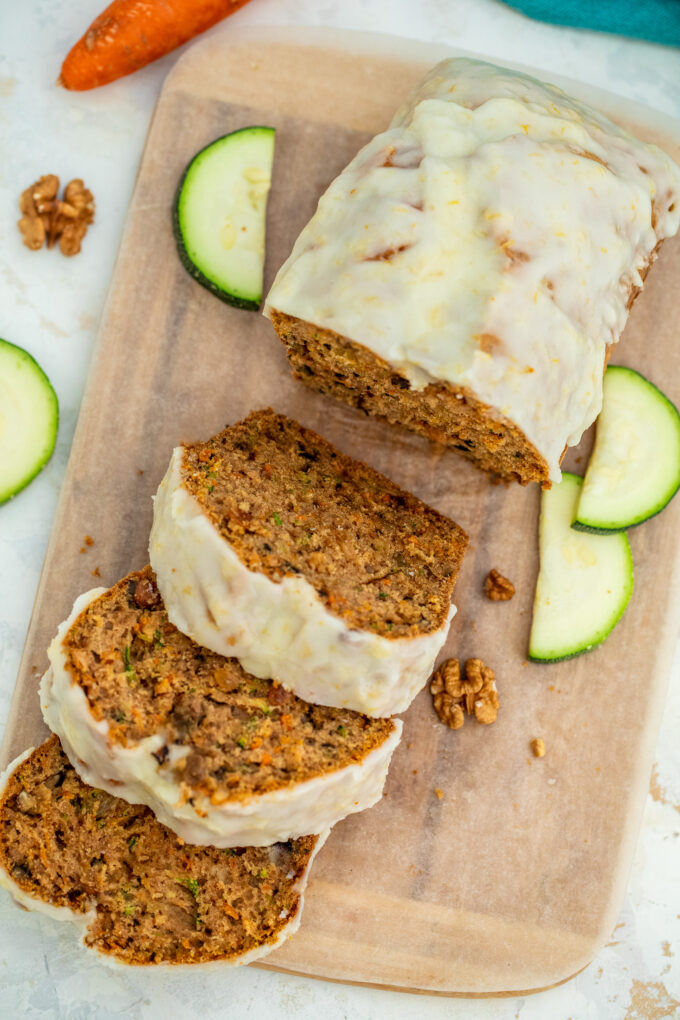 How to store leftover?
Room temperature: It keeps well at room temperature for up to 2 days. Simply cover it.
Freezer: It also keeps well in the freezer for up to 6 months. Allow it to cool completely and wrap it tightly with layers of plastic and another layer of foil. When ready to serve, just thaw it in the fridge.
5 top homemade bread recipes:
3 Carrot zucchini bread recipe tips
For the ratio of ingredients given, you can bake this in a large 9×5 pans or two 8×4 inch pans.
You can add banana or apple into this recipe for more flavor.
If the center sinks, then, the bread must be too moist. To prevent this, squeeze out water from the zucchini. Another culprit is the baking powder or baking soda. If they are too old, probably more than 6 months, then, they may have lost effectiveness.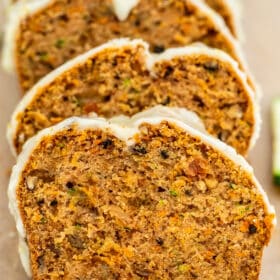 Carrot Zucchini Bread
Carrot Zucchini Bread is moist, dense, and highly nutritious! If you are trying to introduce veggies to kids, then, serving this is a subtle way to do it!
Save
Share
Print
Pin
Rate
Ingredients
3

cups

all-purpose flour

1

teaspoon

salt

1

teaspoon

baking soda

1

teaspoon

baking powder

1

teaspoon

ground cinnamon

1

teaspoon

nutmeg

3

eggs

(room temperature)

1

cup

vegetable oil

(or olive oil)

1

cup

white granulated sugar

1

tablespoon

vanilla extract

1

tablespoon

lemon juice

1

tablespoon

lemon zest

1

cup

grated carrots

1 1/2

cups

grated zucchini

(drain of water)

1/2

cup

walnuts

1/2

cup

raisins
Lemon Glaze:
1

cup

confectioners' sugar

2

tablespoons

fresh lemon juice

Zest of 1 lemon
Instructions
Preheat oven to 325 degrees F.

Grease a 9-by-5-inch loaf pan with nonstick cooking spray or butter and some flour, set aside. Or make two smaller loafs, using two 8 x 4 inch pans.

In a medium bowl, mix together flour, salt, baking powder, baking soda, cinnamon and nutmeg until combined. Set aside.

In a large bowl whisk together eggs, oil, vanilla extract, lemon juice, lemon zest and sugar, until creamy.

Add the dry ingredients to the egg mixture, little by little and beat well until fully combined.

Stir in the grated zucchini and grated carrots, next add chopped walnuts and raisins until well combined. Pour batter into the prepared pan.

Bake for 55 to 60 minutes, or until tester inserted in the center comes out clean. Bake for 40-50 minutes if using two smaller pans. If the edges and top brown before the center is settled, cover the bread with aluminum foil and continue baking.

Cool in pan for about 20 minutes before transferring the bread onto a cooling rack.

Remove bread from pan, and completely cool before storing or coving with the glaze.

Lemon Glaze:

In a medium bowl, whisk together confectioners' sugar, fresh lemon juice and lemon zest until no lumps remain and the mixture has a smooth consistency. The mixture should be thick enough to coat the back of a spoon but still, maintain a drizzle consistency.

If needed, add another teaspoon of lemon juice, or more sugar.

Drizzle glaze over the cooled bread, let it settle before slicing and serving.

Store covered at room temperature for up to 3-4 days.
Nutrition
Calories:
326
kcal
|
Carbohydrates:
67
g
|
Protein:
6
g
|
Fat:
5
g
|
Saturated Fat:
2
g
|
Cholesterol:
49
mg
|
Sodium:
378
mg
|
Potassium:
342
mg
|
Fiber:
4
g
|
Sugar:
34
g
|
Vitamin A:
2354
IU
|
Vitamin C:
10
mg
|
Calcium:
85
mg
|
Iron:
3
mg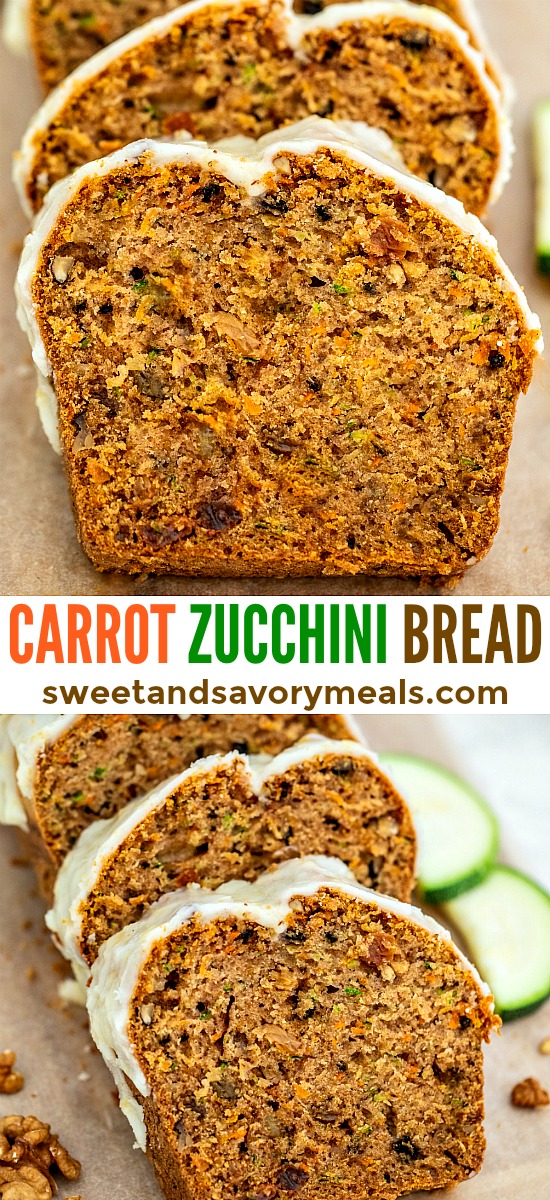 More recipes you might love