Pumpkin Cake is moist and topped with the perfect tangy cream cheese frosting. This is the best dessert to make for the upcoming fall season that everyone will love!
We love pumpkin desserts as they are tasty, seasonal, and super delicious. Pair this amazing treat with Grilled Pork Chops, Slow Cooker Crack Chicken, or Turkey Meatloaf.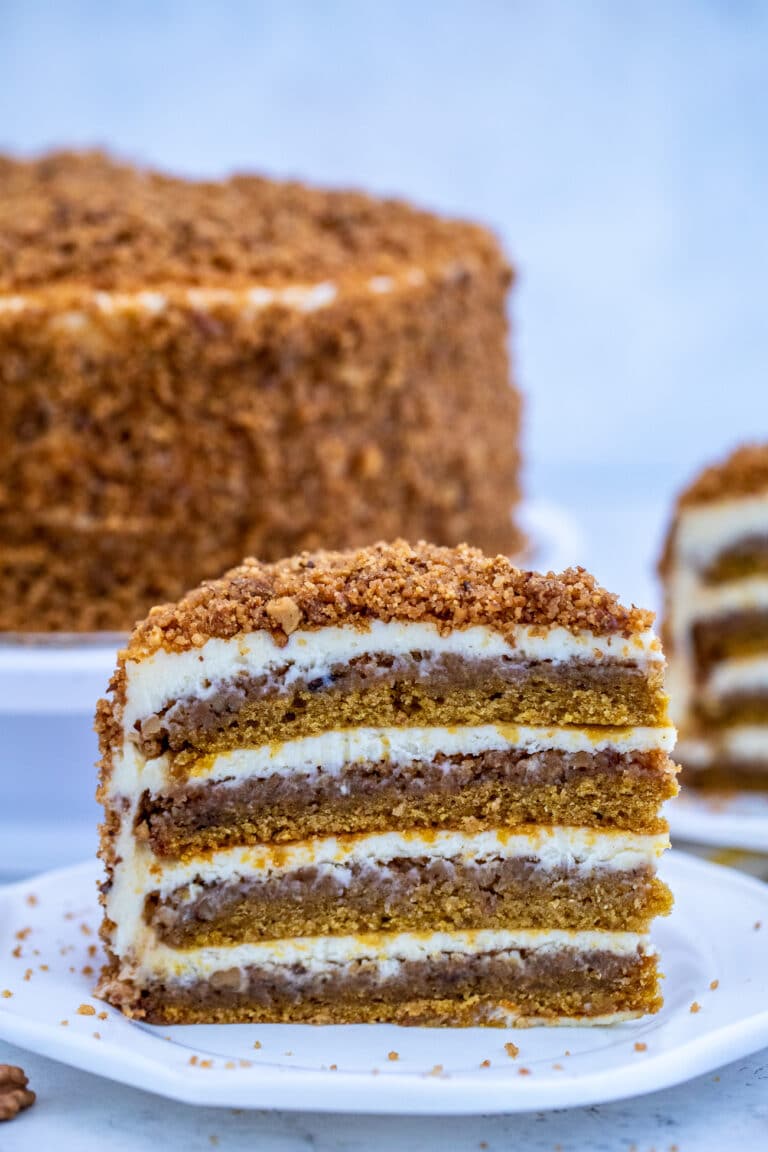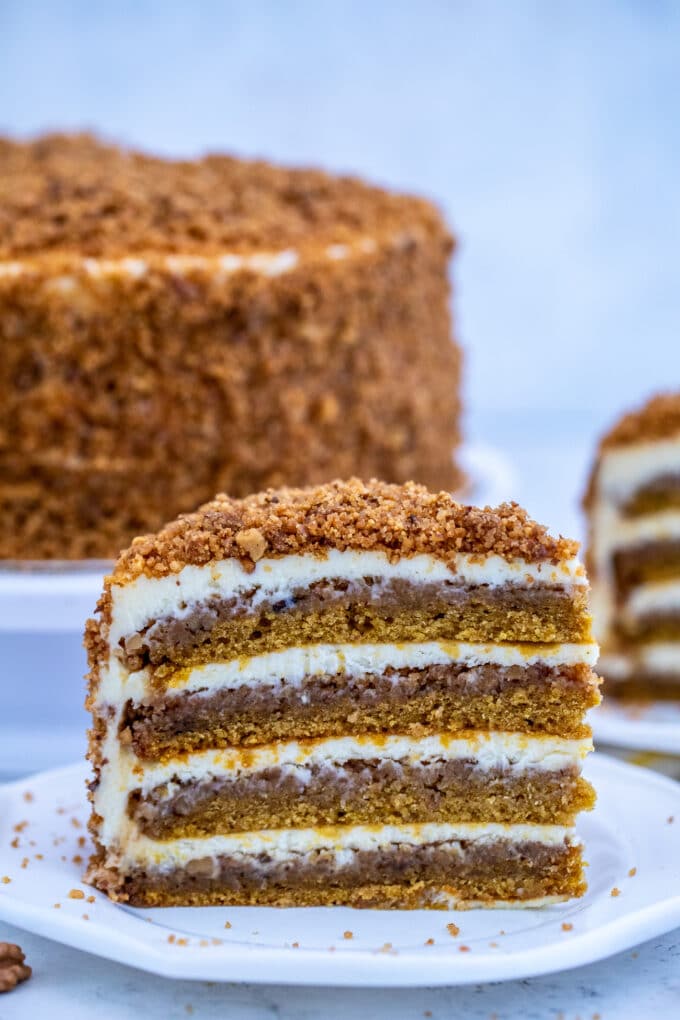 The Best Pumpkin Cake
This Pumpkin Cake is absolutely one of the best we have ever made! It is a super tasty dessert that can be eaten during any time of the day or year! You can never go wrong with this cake. Every celebration is not complete without one. Whether you want to enjoy it for a birthday party, Thanksgiving, Christmas, or potluck, this is the recipe to go!
This dessert is special because it is not overly sweet, and has the right balance of flavors combined with various spices. In addition, the tangy frosting complements it well, and it gives an additional layer of flavors. Also, the nuts give the cake a nice crunchiness and texture to it.
And you need not wait for fall to make this one since you can use the canned version of this fruit. And yes, it is a fruit, well, technically a squash. It is usually prepared like a vegetable, but since it has seeds, botany says that it is a fruit.
Enough of science, and let's get cooking!
What is a pumpkin puree?
It is the flesh of the squash that is crushed using a blender. The first step is to cook it, either by roasting, steaming, or boiling. Then, process it in the blender or food processor.
If you have no time to make it at home, you can buy it in stores. Be careful though, you might get a canned pumpkin spice instead. That is an entirely different thing, but you will need that as well for this recipe.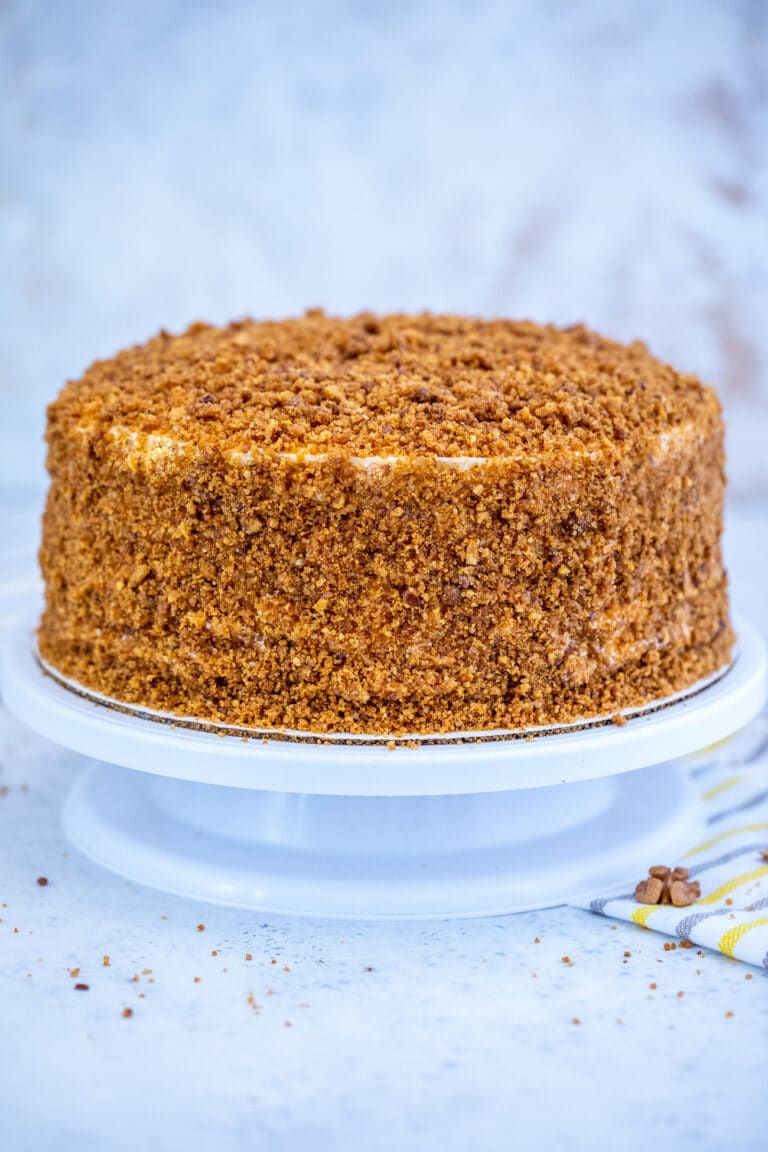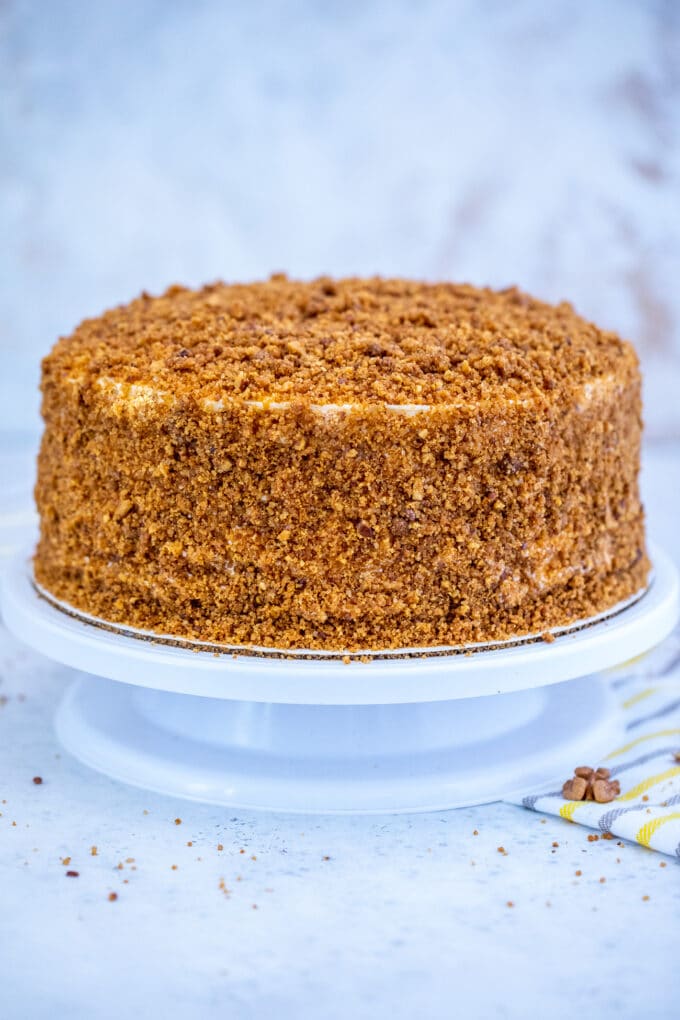 Is eating canned pumpkin good for you?
It can be! The squash is healthful – rich in vitamin A, nutrients, and antioxidants, with only a few calories. It can help lower your risk to diseases including cancer and eye diseases.
Although the canned version is not entirely the same as eating the real kind, it is not entirely bad for you, too. Just watch out for the contents and avoid those that are high in sugar.
How do you make a pumpkin cake?
Prepare the crunch: Using the food processor, break down the vanilla wafer cookies and walnuts. Then, pulse together the melted butter and brown sugar. Reserve two cups to put on the top and sides.
Prepare for baking: Preheat the oven to 350 degrees. Divide the remaining crunch mixture into four equal parts. Then, put each part into the cake pans pressing them firmly at the bottom. Set aside.
Make the cake: In a bowl, use the mixer to combine butter and sugar. Mix in all the other ingredients except for the egg. Once combined, add in the egg one at a time, mixing slowly each time.
Bake: Distribute the batter into the 4 cake pans prepared earlier. Put the remaining crunch into two other pans. Next, bake everything all at once for about 25 to 30 minutes until each layer passes the toothpick test. Halfway the baking time, rotate the pans.
Decorate: Cool the layers. Make the frosting, and then, slather on top of each layer. Put each layer on top of each other. Then, coat the top and sides with the frosting. Sprinkle the remaining crunch on the surface.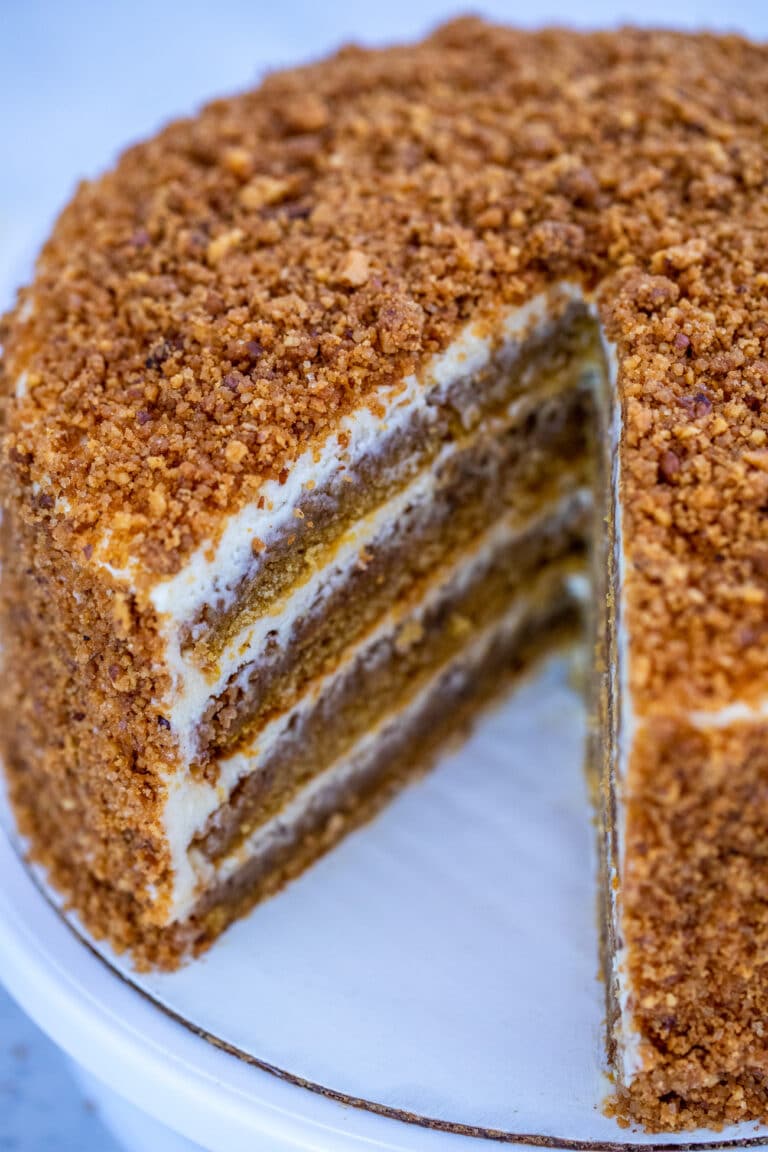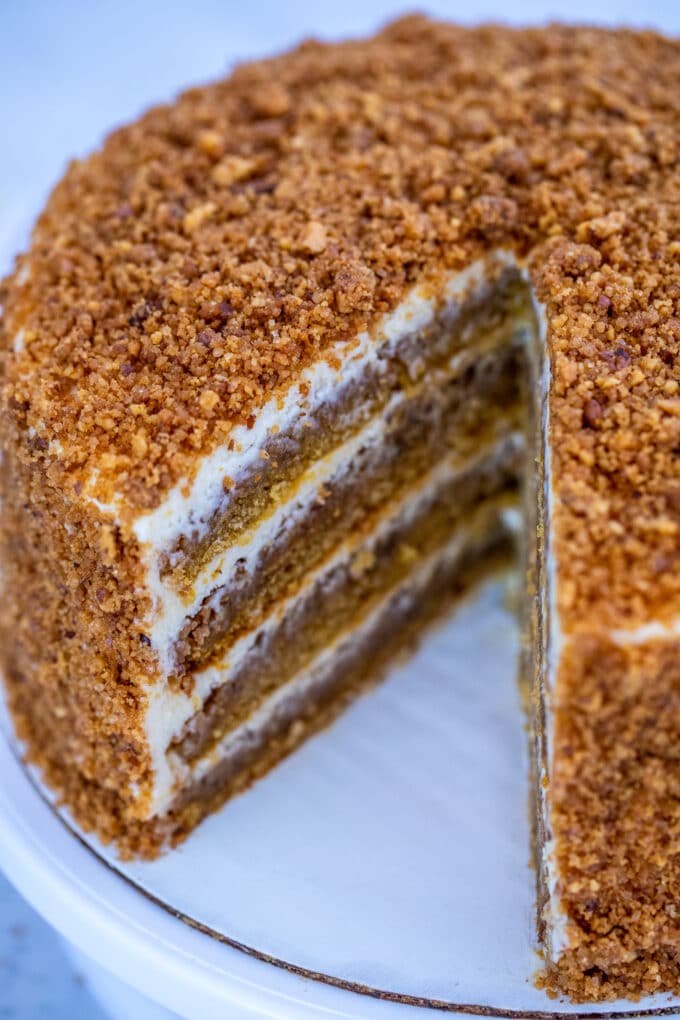 How do you make Cream Cheese Frosting?
All you need to have are the following ingredients and a handy electric mixer.
Unsalted butter
Cream cheese
Vanilla extract
Salt
Powdered sugar
You can check out the full, and step by step recipe for homemade Cream Cheese Frosting by clicking on this link.
Storing Instruction:
Room Temperature: You can leave the pumpkin cake on the counter, covered with aluminum foil, for two days.
Refrigerate: You may also refrigerate this for up to 4 days then, before serving, let it sit out for about 30 minutes to bring the temperature to room temperature. Secure it with aluminum foil.
Freeze: For longer shelf life, you can freeze the layers for 3 months but make sure to secure each piece tightly with a plastic wrap. Note that you can freeze it without the frosting.
Make-ahead: Considering these storage conditions, you can make the layers first. When ready to serve, thaw and make the frosting, assemble, then, serve!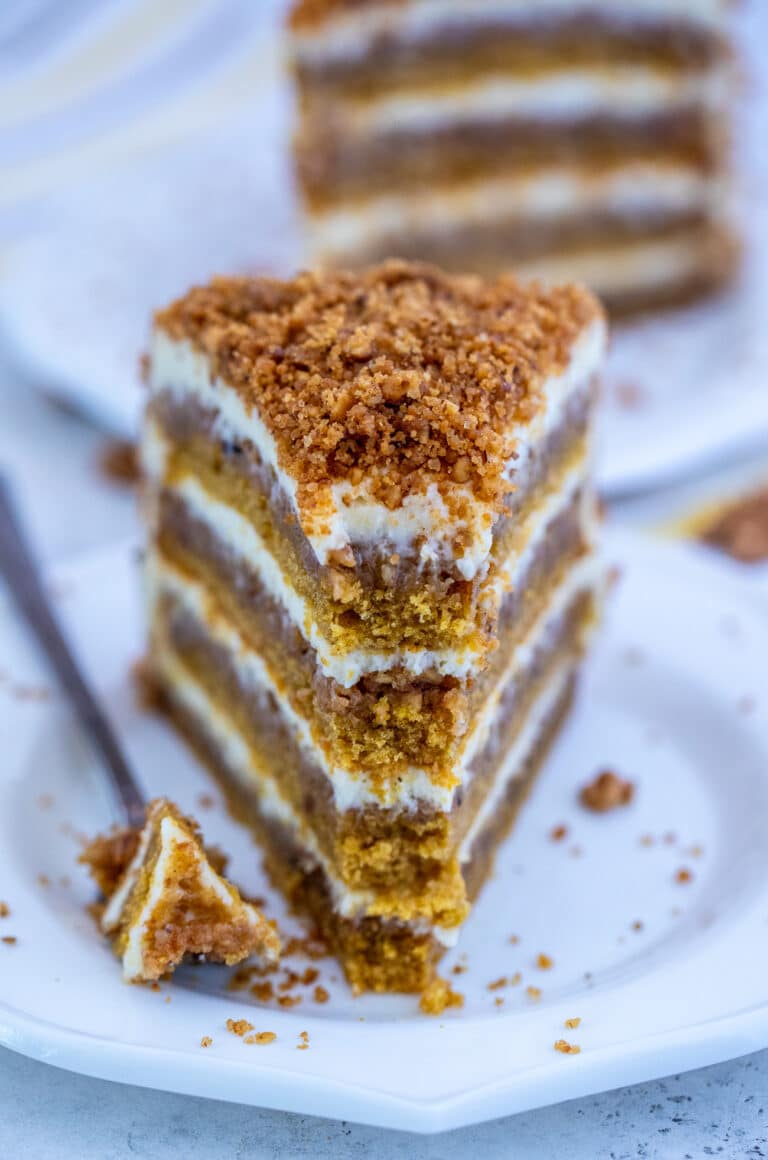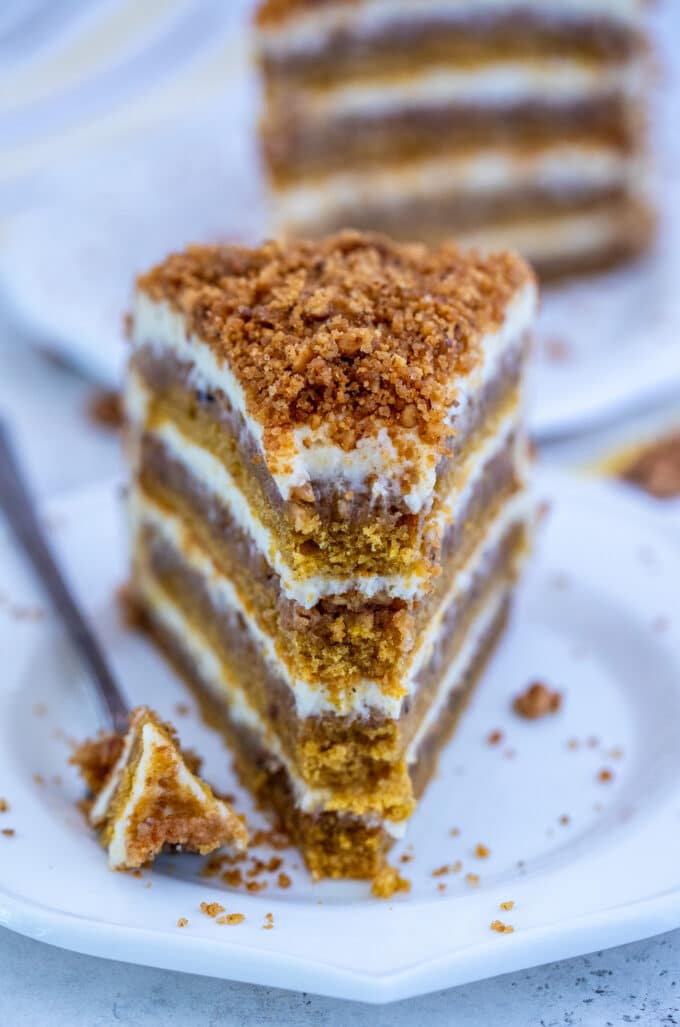 More delicious Pumpkin recipes:
Recipe Tips:
If you want to make your own pumpkin pie spice, mix together cinnamon, ginger, cloves, and a little amount of nutmeg.
Also, you can use pecans instead of walnuts.
To make it easier to frost, chill the pumpkin cake first.
For a more festive look, feel free to decorate it with some candy sprinkles.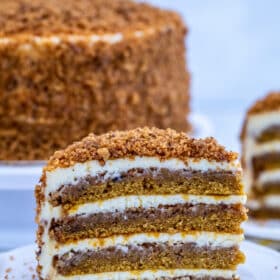 Pumpkin Cake
Pumpkin Cake is moist and topped with the perfect tangy cream cheese frosting. This is the best dessert to make for the upcoming fall season that everyone will love!
Save
Share
Print
Pin
Rate
Ingredients
PUMPKIN CAKE:
1 1/2

cup

sugar

8

oz

butter

(softened)

16

oz

pumpkin puree

2 1/2

cups

flour

1/2

cup

sour cream

1

tablespoon

pure vanilla

1

tablespoon

pumpkin pie spice

2

teaspoons

baking powder

1

teaspoon

baking soda

1/2

Teaspoon

Salt

4

large Eggs
CREAM CHEESE FROSTING:
24

oz

cream cheese

(softened to room temperature)

8

oz

butter

(softened to room temperature)

3

cups

confectioners sugar

(or more)

1

tablespoon

vanilla extract
TOPPING:
1

cup

pecans

(toasted finely chopped)

1

cup

vanilla wafers

1

cup

brown sugar

4

oz

unsalted butter

(melted)
Instructions
Preheat Oven to 350 degrees F.

Prepare 4 9-inch round cake pans. Add parchment paper inside and lightly spray them with baking spray. Set aside.

CRUNCH TOPPING

Melt Butter

In a food processor, pulse vanilla wafers to a fine crumb and set aside.

Pulse walnuts to a fine chop, and set aside.

Add cookie crumbs and walnuts to a medium bowl. Add brown sugar and stir together.

Add melted butter, and stir to combine.

Place mixture into a pie dish. Bake with the cake layers, at the same time, for the same amount.

PUMPKIN CAKE:

Add sugar and butter to a large bowl and beat for about 5 minutes until light and fluffy, scraping the sides and bottom of bowl frequently.

Add pumpkin puree and the rest of the ingredients, except the eggs. Beat just until blended.

Add in the eggs, one at a time, and beat on low-medium speed just until blended.

Divide the batter equally into the prepared cake pans, smooth the tops with a spatula.

Bake in the preheated oven for about 25-30 minutes or until a toothpick inserted into the center comes out clean.

Allow cake layers to cool in the pans for about 10 minutes, then turn them out onto a wire rack and allow to completely cool before assembling.

CREAM CHEESE FROSTING:

Add the cream cheese and butter to a large bowl and beat until smooth and creamy.

With the mixer on low, slowly add in the confectioner's sugar and vanilla and mix well. If the frosting is too runny, add more confectioner's sugar. Refrigerate for 30 minutes before using.

ASSEMBLY:

Start with a cake stand and place a cardboard round cake paper on top. Add 1/3 cup of frosting and spread it.

Level its layers using a cake leveler or a sharp serrated knife. Place one layer on the cake stand.

Add the frosting and spread it in an even layer.

Repeat with the remaining layers.

Use the remaining frosting to cover the cake entirely, the top and the sides.

Crumble the baked TOPPING mixture.

Add the TOPPING crumbs to the edges and top of the cake.

Chill it for 3-6 hours before serving, for the frosting to set.
Nutrition
Calories:
845
kcal
|
Carbohydrates:
94
g
|
Protein:
9
g
|
Fat:
48
g
|
Saturated Fat:
15
g
|
Cholesterol:
93
mg
|
Sodium:
816
mg
|
Potassium:
376
mg
|
Fiber:
2
g
|
Sugar:
68
g
|
Vitamin A:
6770
IU
|
Vitamin C:
1.7
mg
|
Calcium:
160
mg
|
Iron:
2.2
mg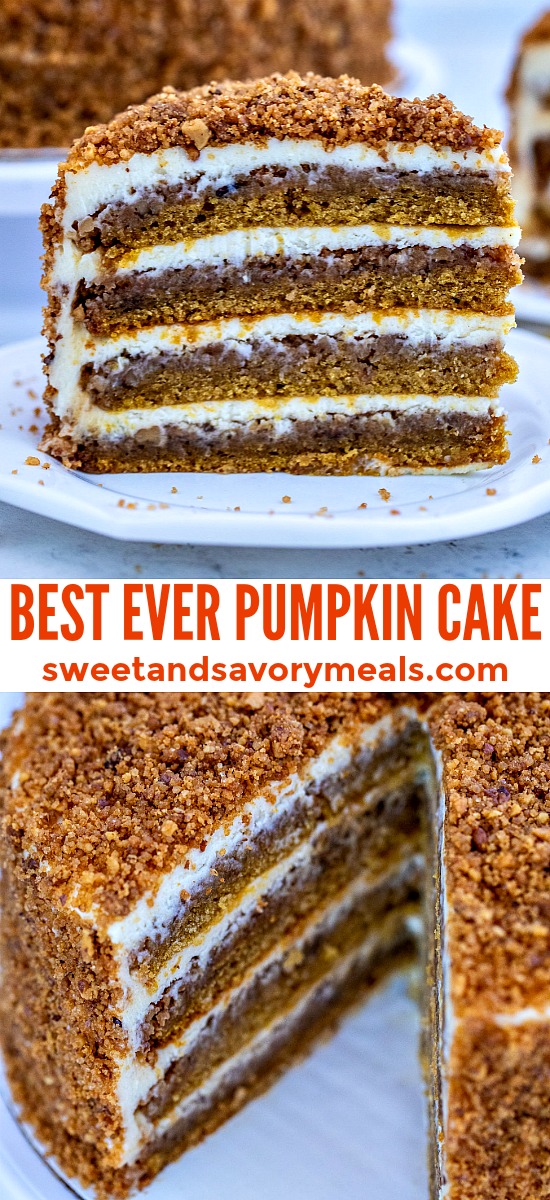 More recipes you might love