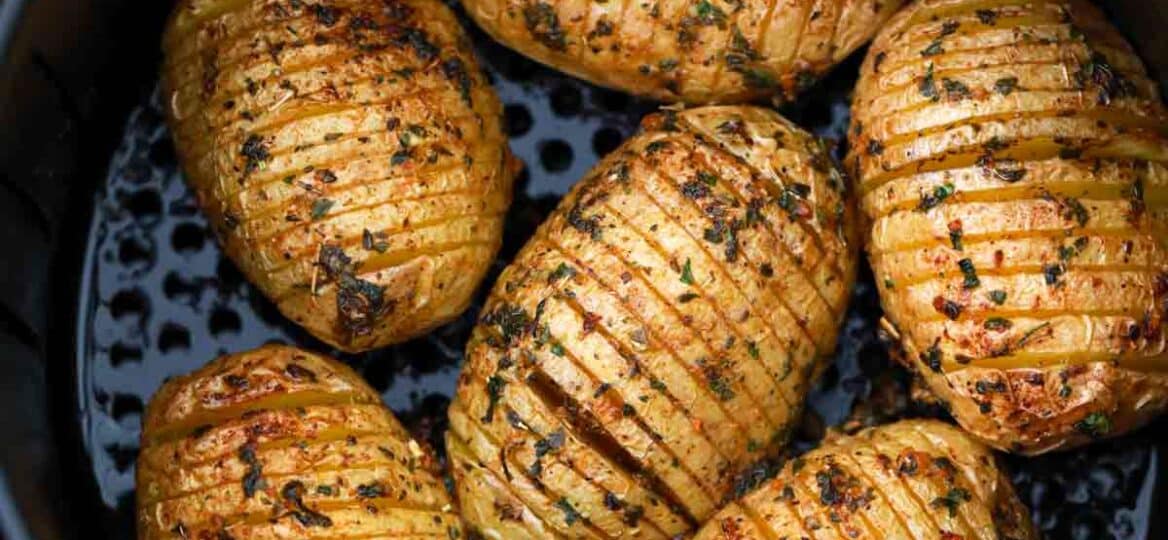 Air Fryer Hasselback Potatoes [Video]
Air Fryer Hasselback Potatoes are cut into thin slices then air-fried until beautifully tender with a crispy, deeply golden exterior. Brushed with garlic butter and topped with fresh parsley, this will be the star of your next meal!
Is anything more delicious than crispy, crunchy, and perfectly seasoned potatoes? We could eat them all day long! After you try these Hasselbacks, make sure to try your hand at making homemade potato wedges, chips, and fries!
Air Fried Hasselback Potatoes
Air Fryer Hasselback Potatoes look fancy and complicated, but they cannot be easier to make! Simply slice them up, smother in delicious garlic butter, then throw in the air fryer until crispy and supremely tender inside! You can have these as a main dish or a tasty side dish.
As for toppings, there's virtually no limit to what you can enjoy them with. Cover them with cheese or creamy sauces, load them up with bacon, or if you love heat, add some jalapenos or chili peppers! We've got some mighty tasty topping suggestions below, so make sure to check those out.
What are homemade air-fried Hasselback Potatoes?
This method of cooking spuds originated in 1953 from a restaurant in Sweden called Hasselbacken, hence the name.
You make this dish by taking a potato, then cutting it down the width several times, until you have thin slices that are still connected together at the bottom. Visually, they look like potato chips lined up very closely.
Then, the spud is roasted or bake until tender with a crunchy exterior. Finally, you can top them with anything you want, such as cheese, bacon bits, herbs, etc.
Ingredients needed:
Potato: About 5 pieces of the starchy variety, like Russets.
Butter: Prepare half a cup of melted butter.
Seasonings: To flavor these delicious spuds, we're combining parsley and Italian herbs plus fresh garlic and paprika.
How to make homemade Air Fryer Hasselback Potatoes from scratch
Slice. After scrubbing and drying your spuds, slice into thin "chips" while leaving about half an inch at the bottom to keep them together. Season with fresh pepper and kosher salt.

Make your seasoning butter. Place your butter in a small pan and add both the fresh garlic, paprika, and herbs.
Brush. Generously brush your seasoning butter all over the prepped spuds.
Cook. Air fry for about 15 to 20 mins., or until tender and perfectly golden.
Serve. Sprinkle with more herbs and enjoy hot!
Recipe variations and substitutions:
Bake: Instead of air-frying, bake it at 370F for about 30 to 40 mins., or until perfectly crisp outside with tender insides.
Mini: Use baby or fingerling potatoes for a mini version. Perfect appetizers!
Instant Pot: Prep as instructed, and pour water in the IP. Cook on High for about 6 to 7 mins., then unseal the vent. Brush with seasoned butter and top with parsley. You can also broil the tops in the oven for a crispier interior.
Cheesy: In the last 5 minutes of air-frying, top with cheeses like parmesan, cheddar, and mozzarella.
Taco: Season with taco seasoning and chili powder plus the butter. After air-frying, top with salsa, jalapenos, plus sour cream.
Bacon and cheese: Add cheddar for 5 mins. before the air-fryer is done, then top with chopped bacon bits and green onions.
Frequently Asked Questions
What goes with homemade air-fried Hasselback potatoes?
You can have this both as a main or as a hearty side dish. When serving as an entrée, we like pairing it with light soups and salads. As a side, it's perfect with most proteins like roasted chicken, grilled pork, roast beef and beef stews, and even seafood dishes like grilled salmon.
More potato recipes to try:
How to store leftovers?
After they've cooled down, seal in an air-tight container and chill in the fridge for up to 3 days. When ready to eat, you can freshen them up by baking or air-frying at 370F for a few minutes to re-crisp.
Topping suggestions:
Mix, match, and find your favorites! Top these with:
Bacon, sausage, or ham bits
Taco beef

Stuff them with your favorite cheese
Sour cream
Hot sauce
Pulled pork add a little BBQ sauce
Different types of herbs
Chili plus shredded cheddar
Extra butter and toasted garlic
Recipe tips:
Don't cut completely through the potato! You want them to stay connected together, so leave about half an inch intact on the bottom.
Use starchy potatoes like Idaho, Russets, and Yukon gold to get that fluffy texture in your spuds.
You can also use this recipe for sweet potatoes.
Deliciousness to your inbox
Enjoy weekly hand picked recipes and recommendations