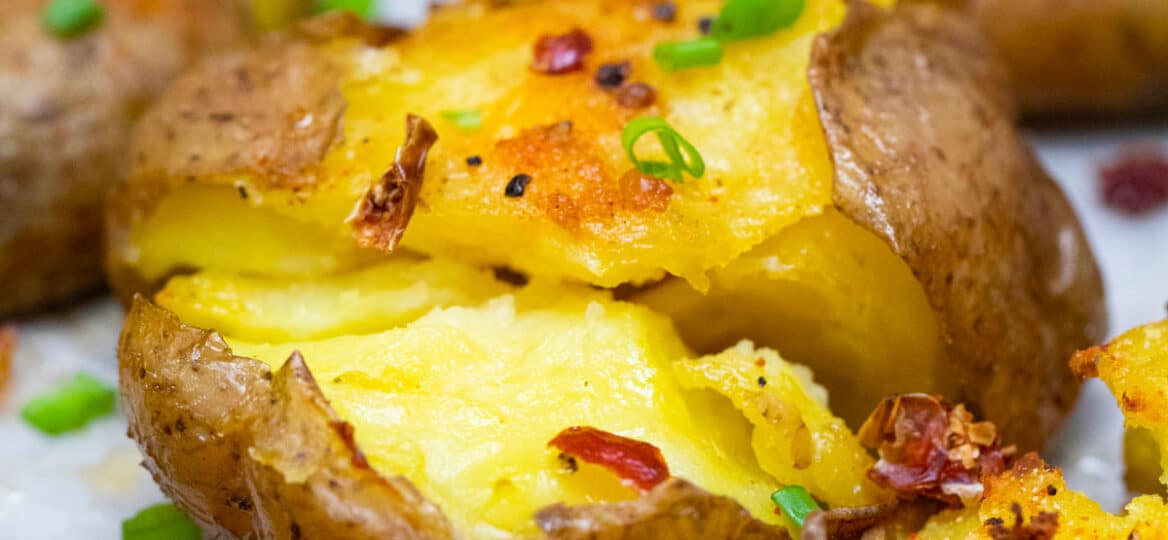 Crispy Smashed Potatoes [Video]
Crispy Smashed Potatoes are salty and crunchy-golden on the outside and taste like the fluffiest mash inside. These are so addictive no matter how they're served— as an appetizer or snack, side, or even as an entree!
Looking for something low-carb instead? My Bacon Wrapped Broccoli Tots, Bacon Ranch Zucchini Boats, and Cheesy Prosciutto Cups are keto and low-carb friendly without skimping on the taste!
Crispy Smashed Potatoes
Crispy Smashed Potatoes are dangerously delicious, I'm warning you now. They're like a cross between hot and salty French fries, crispy twice-baked taters, and creamy mash. These barely make it to the table, because everyone starts reaching for them the moment they're out of the oven!
Best of all, they cannot be simpler to make. Boil, squish down, bake, done! You easily make a ton as finger food or side for a party. They're really good as snacks and with dips, too. Basically, they're impossible to resist. Make them today and see for yourself!
Are potatoes healthy?
They are! They're loaded with antioxidants, minerals, and vitamins plus fiber and healthy carbs. Boiling and roasting them, as we do in this recipe, gives them fantastic texture and taste without piling on the calories and fat.
What are Smashed Potatoes?
They get their name from how they look – as someone smashed them with a hammer! This dish involves taters that are boiled, flattened, then roasted in a very hot oven until they get a super crispy surface with soft insides.
What is the difference between mashed and smashed potatoes?
The cooking process for a mash stops at the boiling phase. Once they're tender, you crush them into a smooth (or slightly chunky) consistency with butter, heavy cream, or whatever seasonings you prefer.
We go a couple of steps further for the smashed version. After boiling, they're pressed down to create those ridges that get crunchy in the oven. They're also prepared in individual pieces that hold their shape, compared to a mash in which all the pieces are crushed and mixed.
Which type of potato is best for Smashed Potatoes?
Any type will work well for this dish, including small baby potatoes. Note that starchy ones like Yukon Gold and Russet will give you fluffier insides, while waxy varieties are on the creamy side. You'll love them all, as long as they're smashed!
How do you make Crispy Smashed Potatoes?
Boil. Take your cleaned and scrubbed taters, and boil them in water until fork-tender. Drain and cool.
Smash. Once they're cool enough to handle, arrange them on the sheet. Smash each one using a fork or a masher until they're around ½ inch flat.

Roast. Drizzle with oil, then sprinkle with the seasoning blend. Bake in a 425F oven until the edges turn golden, about 25 mins. to half an hour.
Serve. Plate them up with chopped fresh herbs, and enjoy hot!
Recipe Variations:
Add herb flavor: Add dried or fresh herbs into the boiling water to infuse it with flavor and aroma.

Add butter: Mix the olive oil with melted butter before brushing on the taters. Try using infused kinds of butter such as garlic for even more flavor!
Top with cheese: Bake them with parmesan, or broil with some cheddar on top after roasting.

Try other seasonings: Add Tex-Mex goodness with Taco seasoning. Cajun seasoning, Old Bay, garlic salt, or lemon salt taste awesome as well.
Can you make Smashed Potatoes on the grill?
Yes. Just follow the recipe and instead of roasting, place them on a hot grill for about 5 mins per side until you get the crispiness level you want.
Why are my Smashed Potatoes not crispy?
You may not have drained them properly, which will result in them steaming instead of crisping up. Make sure to smash them until they're only about ½ inch high as well. Any thicker and the main texture would be the fluffy innards instead of the crispy and crunchy surface. Don't forget to pre-heat your oven to 425F, too!
Can you make Smashed Potatoes using sweet potatoes?
Yes, and the salty-sweet profile is equally lovely! Cut them into 1.5-inch quarters first, then follow the recipe.
How to serve:
As a snack or appetizer, they're fabulous with dips like Horseradish sauce, Yum Yum sauce, buffalo, honey mustard, and chipotle sauce.
They're great sides for most entrees, too. Try pairing them with Chicken Florentine, Bacon Wrapped Pork Medallions, Garlic Herb Butter Roasted Chicken, and Mushroom Pork Chops.
Smashed Potatoes Topping Options:
Take them to the next level with these topping ideas!
Sour cream
Cheeses like cheddar or crumbled blue cheese
Crispy bacon
Aioli

Chili
Herbs
Green onions or chopped chives
How to store and reheat:
Once they're completely cool, transfer them to a container with a tight lid. Consume within 5 days from the fridge. To reheat, bake at 425F until hot.
More Potato Recipes:
Recipe Tips:
For crispier results, smash them thinner.
Go for medium-sized taters, not large ones, so they're smashable and crisp up nicely in the oven.
Drain them well after the boil. A dry surface is the key to maximum crispiness.
Deliciousness to your inbox
Enjoy weekly hand picked recipes and recommendations