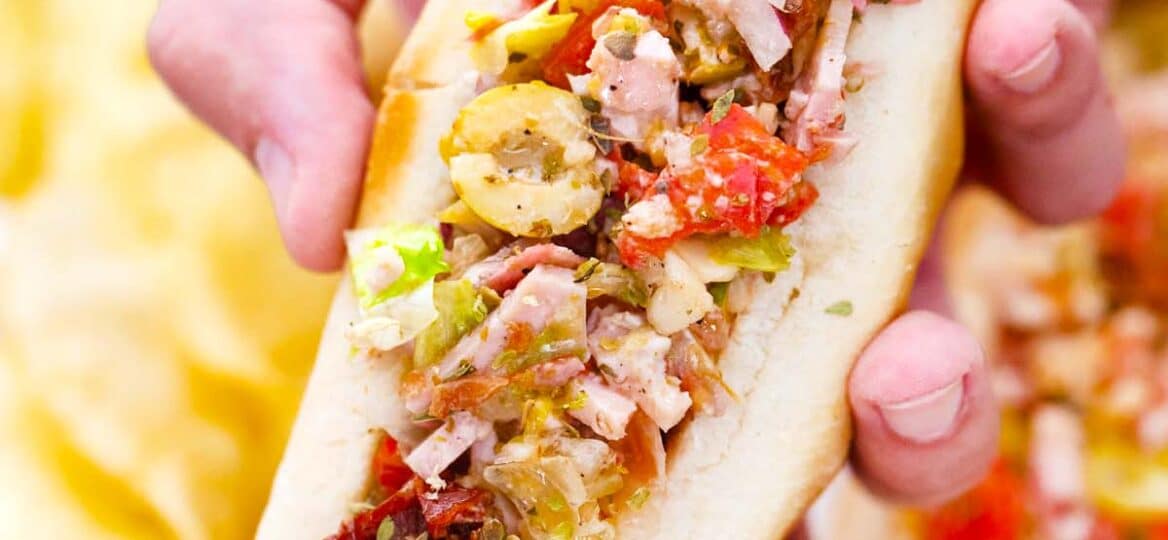 TikTok Viral Chopped Italian Sandwich Recipe
Viral Chopped Italian Sandwich is a new TikTok trend that is definitely worth trying, a bomb of texture and flavors in every single bite. If you like Italian meats and other Italian sandwiches, you will love this creamy grinder salad sandwich recipe. With several different fresh deli meats and cheese on a hoagie roll or French bread doused in sweet and sour Italian vinaigrette, this sandwich is amazing.
The classic Italian sub, also known as grinder sandwiches, was originally made with hot meat instead of cold cuts on a warm sub roll. In fact, those made in New England are made from meatballs or sausage. But in Philly, a grinder is one that is heated after it is put together no matter what is on it.
In this Italian grinder salad sandwich recipe, you only need some deli meats and cheese, lettuce and other veggies, and some vinegar and Italian seasonings. The mayo in the mixture brings everything together and gives it a creamier texture. Then, spoon it onto your favorite sub rolls and serve.
Ingredients needed:
Here are the basic ingredients for this viral chopped Italian sub sandwich recipe. When you are ready to begin, find our printable recipe card for complete instructions and precise measurements.
Salami
Pepperoni
Deli ham
Provolone cheese
Shredded iceberg lettuce
Banana peppers
Thinly sliced red onion
Sliced tomatoes
Sundried tomatoes
Black olives
Mayonnaise
Italian seasoning
Extra-virgin olive oil
Red wine vinegar
Kosher salt
Ground black pepper
How to make viral chopped Italian sandwich from scratch?
Chop it up: First, place the banana peppers, red onion, tomato slices, sundried tomatoes, olives, meats, cheese, and shredded lettuce onto a large cutting board and chop with a sharp knife. Try to dice all the ingredients to the same size. Alternatively, you could add the shredded lettuce, meats, cheese, tomatoes, onion, olives, and banana peppers in a large mixing bowl and chop with scissors.

Add the dressing: Now, add the Italian seasoning, vinegar, olive oil, mayo, salt, and pepper to the large bowl of chopped ingredients. Toss everything together until they are well combined.

Spoon and serve: Last, spoon the chopped mixture into whatever sandwich bread you like and serve immediately.
Recipe variations:
Another oil: Instead of olive oil, you can use your favorite sandwich oil.

More meats: Feel free to add other meats such as roast beef, turkey, bologna, and chicken.

More cheeses: Similarly, you can also add (or substitute) other cheeses like cheddar, mozzarella, Colby jack, Monterey jack, or Swiss cheese.

Different bread: Any kind of crusty bread will do for this chopped salad sandwich. Italian sub rolls, grinder rolls, hoagie rolls, or whatever you like. You could even use hot dog buns.
Add more: Try adding your own favorite veggies like chopped bell peppers, pepperoncini peppers, avocado, and even corn.

Different vinegar: If you do not have or do not like red wine vinegar, you can use balsamic vinegar or whatever you have.
Spicy version: Add chopped jalapenos (without the seeds) to your sandwich mixture for a spicy chopped Italian sandwich.
How to serve:
This is one of my favorite sandwiches to serve for lunch with friends. The great recipe is always a huge hit, and everyone wants to know how to make it. Try one of these serving ideas or share one of your own in the comments section:
Sprinkle some romano or parmesan cheese on this delicious sandwich for a rich and salty flavor explosion.
This is the perfect sandwich to serve with a side of veggie chips. Try our easy recipe for air fryer veggie chips.
Instead of serving the filling on bread, you can serve it on a tortilla for a delicious wrap.

Another way to enjoy this chopped Italian sandwich is to serve it with a large bowl of soup. It would be great with this creamy sweet potato soup.
For those on a low-carb or keto diet, you can serve the chopped Italian mixture on a bed of lettuce.

If you would rather have a more substantial side dish, try our easy and delicious macaroni salad.

Use leftovers to make a tasty casserole or soup.
Frequently asked questions
What is a grinder?
The traditional grinder sandwich was made with shredded lettuce, sliced tomato, provolone cheese, ham, salami, turkey, and olive oil on Italian bread. It was usually topped with Italian dressing or vinaigrette but could also be made with mayo and vinegar. The sandwich is also known as a bomber, hero, hoagie, or sub, depending on where you are.
What is the difference between Italian dressing and vinaigrette?
Vinaigrette is made with just two main ingredients which are vinegar and oil. However, it may also have sugar, honey, salt, and pepper. Italian dressing is more complex with the vinegar and oil being combined with other herbs and spices.
What kind of bread is best for this sandwich?
The best kind of bread is a thick and crusty bread with a slightly chewy inside. The traditional New England grinder is made with sub rolls, but you can also get them on a hoagie roll, grinder roll, or French bread. Some say that it should be served on tender bread that melts in your mouth, but they are most often served on thick bread that can hold all the ingredients.
What makes TikTok viral recipes so popular?
One of the main reasons TikTok recipes go viral is because of how easy they are. When you see something made quick and easy that seems to taste delicious, you really want to try it especially after it has been viewed and shared by millions of people.
What are the nutrition facts in this recipe?
Each serving has 435 calories, 8 grams of carbs, 35 grams of fat, 12 grams of saturated fat, 60 mg of cholesterol, 1,189 mg of sodium, and 5 grams of sugar. It also has 18 grams of unsaturated fat, 2 mg of iron, 18 mg of vitamin C, 959 units of vitamin A, 253 mg of calcium, 435 mg of potassium, and 32 grams of protein.
More Italian-inspired recipes to try at home:
How to store leftovers:
Store: For several days, you can store your leftover viral chopped Italian sandwich mixture in an airtight container in the fridge.

Freeze: Freezing is not recommended.
Recipe tips:
Sliced deli meats taste better and will make a much better sandwich than prepackaged cold cuts.

Use freshly chopped iceberg, green lettuce, or romaine lettuce. Three cups of shredded or chopped lettuce is equal to one 8-ounce bag.

The nutrition, calories, and fat numbers are approximate and should not be considered nutritional advice. It only includes the chopped sandwich filling. Not the bread.
Looking for other delicious recipes? We have hundreds of them on our food blog and add new ones daily.

Cook mode: Prevent your phone from going dark while preparing by putting it in cook mode.

Make sure to chop ingredients into bite-sized pieces to get a burst of flavor in every perfect bite.

For faster and easier prep, use a food processor to chop your ingredients.
You should add both the tomato slices and sundried tomatoes for the best flavor.
Viral Chopped Italian Sandwich
Ingredients
3

cups

shredded iceberg lettuce

6

slices

provolone cheese

6

slices

ham

6

slices

pepperoni

6

slices

salami

1

large tomato

sliced

1/2

red onion

thinly sliced

1/4

cup

banana peppers

1/4

cup

sun dried tomatoes

1/3

cup

pitted green olives

1/4

cup

mayonnaise

2

tablespoons

extra-virgin olive oil

1

tablespoon

red wine vinegar

1 1/2

teaspoons

Italian seasoning

1/4

teaspoon

kosher salt

or to taste

1/4

teaspoon

ground black pepper

or to taste
Instructions
Start by Placing the shredded lettuce, cheese slices, deli meat slices, tomato slices, red onion, and banana peppers in layers onto a large cutting board, starting with the lettuce.

Also, add the sun-dried tomatoes, and green olives.

Using a sharp kitchen knife, chop up all the ingredients until you get bite-sized pieces.

After that, on top of the chopped mixture, add the mayo, olive oil, red wine vinegar, Italian seasoning, salt, and paper.

Chop and mix until the ingredients are well combined. Taste and adjust for salt and pepper, you can also add some red pepper flakes for a spicy kick.

Spoon the mixture inside hoagie buns, or any other 'sandwich' bread you prefer. Serve and enjoy!