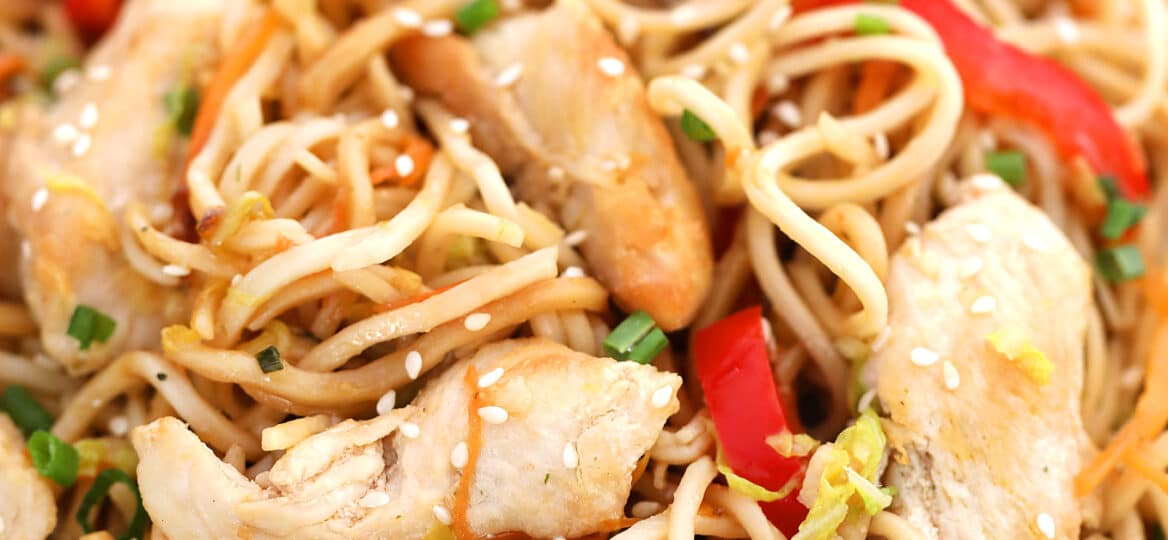 Easy Chicken Chow Mein
Chow Mein is a delicious and hearty meal, made with noodles, vegetables, and some protein! Here is our take on this classic Chinese favorite takeout dish!
Enjoy this delightful dish with our other Chinese takeout favorites like the Instant Pot General Tso Chicken, Szechuan Chicken, and Moo Goo Gai Pan!
Chicken Chow Mein Recipe
Chow Mein is a hearty noodle dish with a flavorful sauce, assorted vegetables, and meat, usually chicken or shrimp. It is a favorite Chinese takeout, but you do not need to order this anymore. You need not guess what goes into your noodles anymore, too, because we are sharing with you this easy recipe!
This is fairly a quick recipe with no extreme preparations required. So, you can make it anytime you want! It is especially good for weeknight dinners when you do not have much time on hand.
You can easily buy the ingredients in most grocery stores. Some of the ingredients are pantry staples even. You can prepare this dish in 30 minutes, too! It is that easy!
It is savory and the Chinese flavor profile is enhanced by the sesame oil, soy sauce, and oyster sauce. No doubt that everyone loves it — adults and kids alike.
What is chow mein?
It literally translates to "stir-fried noodles" and takes after the dishes of traditional Taishan cuisine. What remains original is the use of egg noodles for the dish.
What veggies to use in chow mein?
This dish is extremely versatile as you can choose what goes into it. However, the following are the most common:
green onions
garlic
ginger
carrots
napa cabbage
bell peppers
snow pea
broccoli
celery
bean sprouts
In this recipe, we use the first 5 vegetables in the list.
How to make chicken chow mein?
Cook the noodles: Prepare according to package instructions.
Make the sauce: Combine the sauce ingredients in a separate bowl.
Cook the chicken strips: In a wok or deep skillet, heat up a small amount of oil and then, fry the chicken until golden brown. Remove the meat.
Sauté the vegetables: In the same wok, lower the heat and sauté the carrots, cabbage, bell pepper, green onions, garlic, and ginger in this order until tender. Be careful not to overcook.
Combine: Stir in the noodles, the chicken, and the sauce for a few minutes, then, serve.
What is the difference between chow mein and lo mein?
Both are egg noodle-based dishes that have vegetables. The only difference is that lo mein is made with fresh noodles that are steamed, which in turn is softer than the chow mein's fried noodles.
In some places and restaurants, though, these terms are loosely used interchangeably.
What is the difference between chop suey and chow mein?
Both dishes have stir-fried vegetables and meat in a sauce which are served stirred in noodles in chow mein but served over rice in chop suey.
Chop suey does not have authentic Chinese roots, too, unlike the chow mein.
Is chicken chow mein healthy?
It is fairly healthy than most Chinese dishes considering that it has a balance: protein from the chicken, fiber from the vegetables, and carbohydrates from the egg noodles.
It has 275-325 calories per cup. But since it is stir-fried, it is best to keep intake in moderation.
How to store:
It will stay good for 3 to 4 days, just remember to refrigerate any leftover within two hours of cooking.
In the freezer, it can stay good for 2 to 3 months.
How to reheat:
Simply put the leftovers on a heated pan for a couple of minutes.
More quick Asian dinner recipes:
Recipe Tips:
For a vegetarian version, simply swap the chicken with mushrooms and add more vegetables.
You can crisp up the noodles by pressing them on a heated pan.
You can substitute the chicken with other protein sources like tofu, tenderloin, turkey, beef, and shrimp.
Instead of breasts, you can also use thighs.