Creamy Slow Cooker Tortellini Soup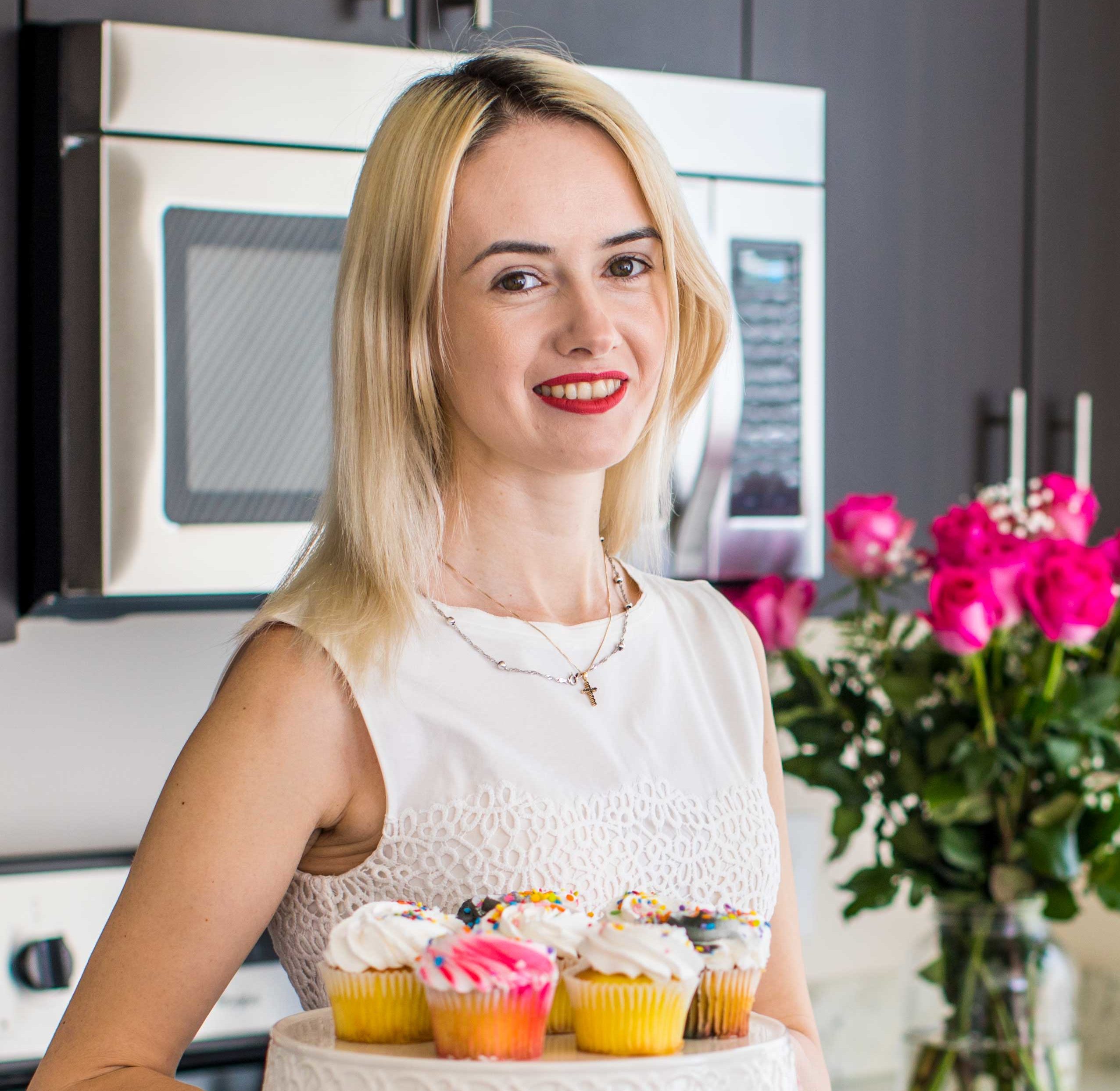 Slow Cooker Tortellini Soup is loaded with chicken sausage, veggies, kale, and three cheese tortellini, that is hearty, delicious and full of flavors. We love making Slow Cooker dishes on our blog, and this soup is among our favorite.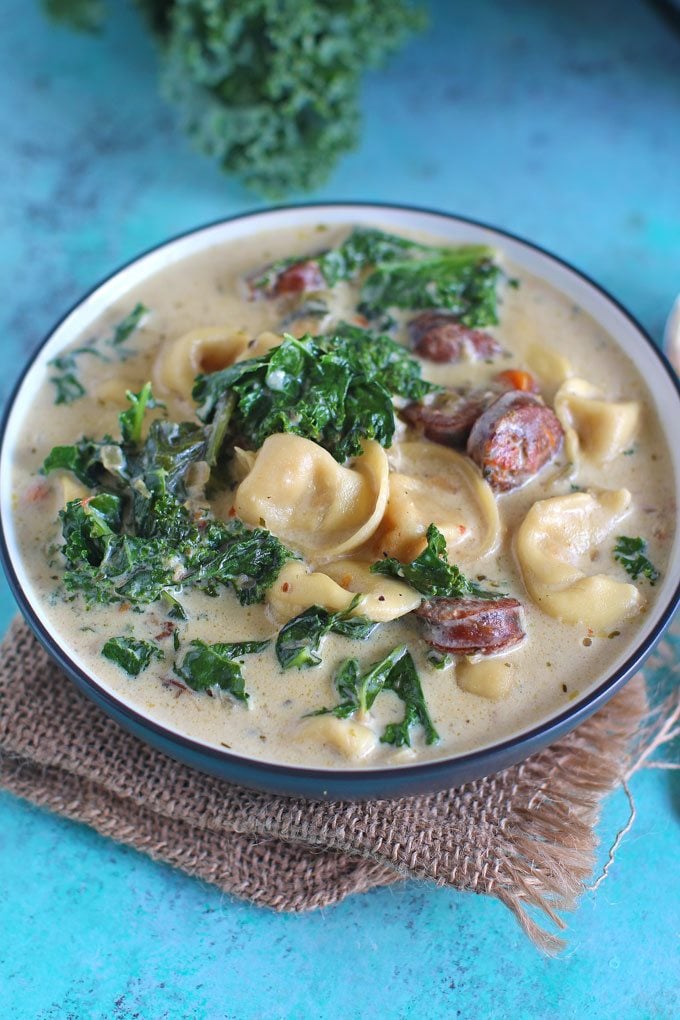 Creamy Slow Cooker Tortellini Soup
Slow Cooker Tortellini Soup with sweet Italian chicken sausage, carrots, celery, kale, and three cheese tortellini is so creamy and irresistible that it will become your go-to easy meal. This soup is incredibly easy to make and tastes like it has been served at a fancy Italian restaurant. If you own an Instant Pot or a Crock Pot you can make this heartwarming and flavorful soup for dinner
The Slow Cooker Tortellini Soup is deliciously filled with perfectly cooked veggies, flavorful sausage, and cheesy tortellini. The creamy texture is amazing and if you want to make it even better, top it with a bit of shaved Parmesan and serve it with some fresh bread. Definitely, use the bread for dipping!
Looking for more comforting soup recipes? Check these out!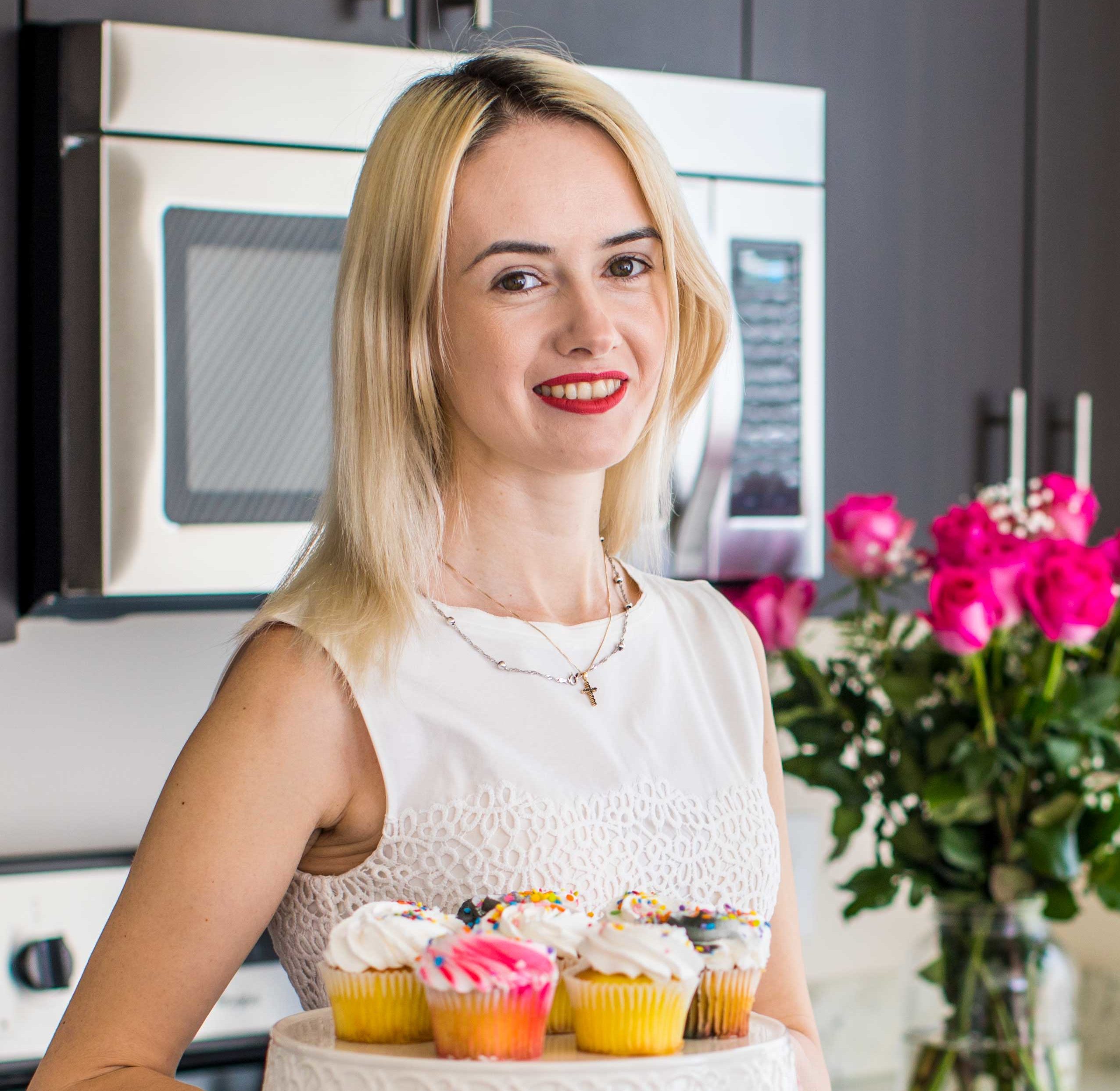 Follow us on Pinterest for more delicious recipes!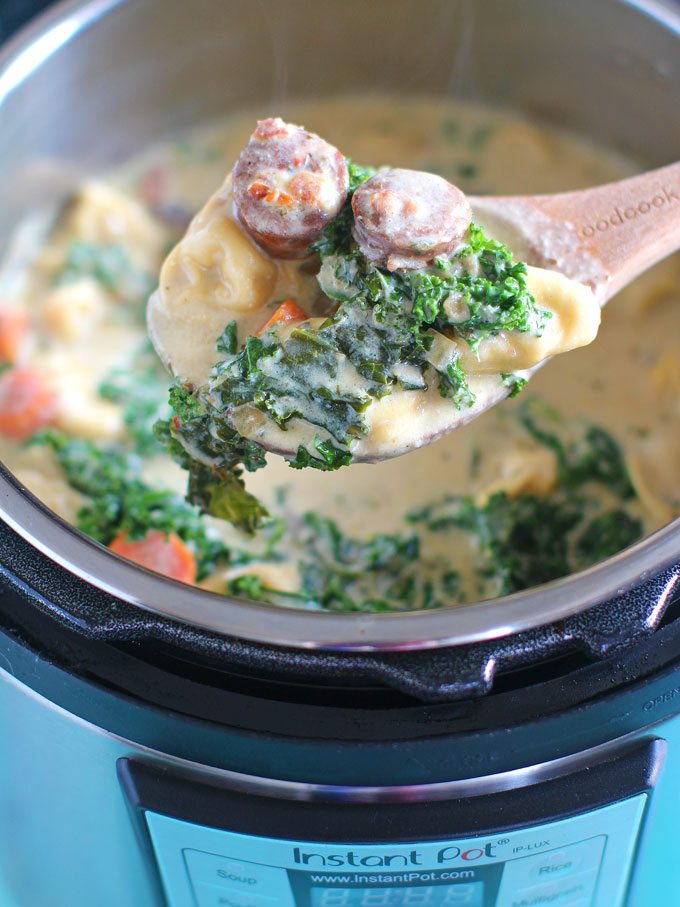 Recipe Tips:
Choose your favorite sausage, this recipe is adaptable so you basically can use whatever sausage you prefer. I went for a sweet sun-dried tomato Italian chicken sausage, but you can totally add a spicy version to heat up the dish a bit more.
You can use sliced sausage or ground sausage, it is up to your personal texture preference, however, it is very important to brown the sausage, it will add so much more flavor to the soup, so please don't skip this step.
If you don't like kale you can replace it with spinach or you can use half spinach and half kale.
The recipe doesn't ask for any flour, corn starch is used to thicken the sauce, I highly recommend using it over flour.
Garlic and red pepper flakes will give this recipe an amazing flavor, so feel free to taste and adjust as you please.
You can use your favorite tortellini in this Slow Cooker Tortellini Soup recipe, I prefer three cheese tortellini, but I loved the version with porcini mushrooms tortellini and lobster tortellini.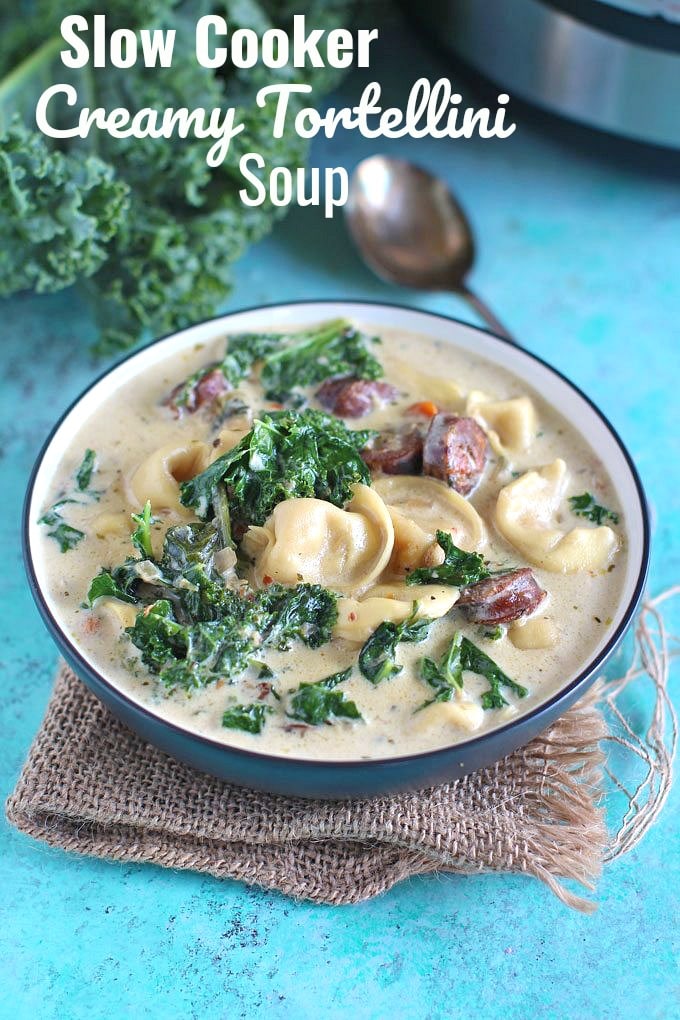 Can you make Creamy Slow Cooker Tortellini Soup in the Instant Pot?
Add the rest of the ingredients with the exception of cream and kale. Stir well to combine.
Select High Pressure -> adjust timing to 5 mins -> followed by 10 mins NPR. Release manually any remaining pressure.
Open the Instant Pot, select Sauté and stir in cream. At this point add the cornstarch mixture if you would prefer a thicker soup. Simmer uncovered for 5 minutes.
Turn off Instant Pot and fold in fresh spinach.
Can I substitute the meat in the soup?
Absolutely. Italian sausage can be substituted with ground chicken, turkey or beef sausage. If using beef sausage or ground beef, replace the chicken bouillon and chicken broth with beef bouillon and beef broth, same quantities apply. Please note that the soup will thicken even more when cold.
HOW TO FREEZE TORTELLINI SOUP
Cool the soup completely.
Use a cup to transfer the soup from the pot into freezer safe quart bags.
Squeeze out excess air and seal the bags.
Lay the bags flat in the freezer.
The bags can nicely be stored in the freezer for up to 2-3 months.
HOW TO REHEAT FROZEN TORTELLINI SOUP
Thaw the soup overnight in the fridge or add the frozen bag to a large casserole dish and place under running warm water.
Transfer the soup to a dutch oven or saucepan over low-medium heat.
When reheating, you may need to add a bit of milk or cream, add a ¼ cup at a time.
Stir to combine and simmer for 2-3 minutes.
Tools/Ingredients I used to make this Instant Pot / Slow Cooker Tortellini Soup Recipe:
Save Recipe
Slow Cooker Tortellini Soup
Author: Catalina Castravet
Serves: 6 servings
Prep time:

30

minutes
Cook time:

8

hours
Total time:

8

hrs

30

mins
Ingredients
5 Italian chicken sausages or 1 pound ground Italian sausage of choice*
2 tablespoon olive oil
1 sweet onion (chopped)
2 large carrots (chopped)
2 stalks celery (chopped)
10 cloves garlic (minced)
1 tablespoon Italian seasoning
2 teaspoon chicken bouillon powder
4 cups chicken broth
1 cup water
½ teaspoon salt
½ teaspoon ground black pepper
½ teaspoon red pepper flakes*
¼ cup cornstarch mixed and dissolved in ¼ cup water
3 x 12-ounce cans full fat evaporated milk
9 ounces package three cheese tortellini
5 packed cups fresh kale (stems removed and chopped)
1 cup heavy cream
Instructions
Add the olive oil to a large skillet and brown the sausage for 2 - 3 minutes over medium - high heat. If using an Instant Pot, select the Sauté function, wait until it reads HOT, add oil and the sausage and sauté for 2 - 3 minutes.
Add the browned sausage, chopped onion, chopped carrots, chopped celery and minced garlic to a 6 quart Slow Cooker or Instant Pot.
Add the Italian seasoning, chicken bouillon powder, salt, pepper, red pepper flakes, chicken broth and 1 cup of water to the pot. Stir well, cover and cook on high for 4 hours or on low for 7 hours.
If using an Intant Pot select -> Slow Cook -> Adjust -> Less for "LOW" heat and "MORE" for High heat - after that adjust the timing, 4 hours for "MORE" and 7 hours for "LOW".
Uncover and using a spoon, discard any fat that is sitting on the top of the soup.
In a large bowl, whisk the corn starch with the water until fully combined and smooth. Add the mixture to the pot. Stir in the evaporated milk and add the tortellini to the pot, stir gently but well to combine all the ingredients.
Cover the pot and cook on HIGH ("MORE" on Instant Pot) for another 45 minutes.
Uncover, add in the chopped kale, gently press the leaves down to completely submerse into the liquid. Cover again and cook 15 mins on HIGH ("MORE" on Instant Pot) until the leaves have wilted.
Uncover, pour in the cream little by little, stirring gently until you reach the desired consistency.
Taste and adjust for salt and pepper if needed.
Serve and enjoy!
0 Calories: 439 Carbohydrates: 40 Protein: 22 Fat: 22 Saturated Fat: 5 Cholesterol: 70 Sodium: 1906 Potassium: 588 Fiber: 3 Sugar: 8 Vitamin A: 8580 Vitamin C: 73.3 Calcium: 223 Iron: 3.2
Save Recipe
More recipes you might love