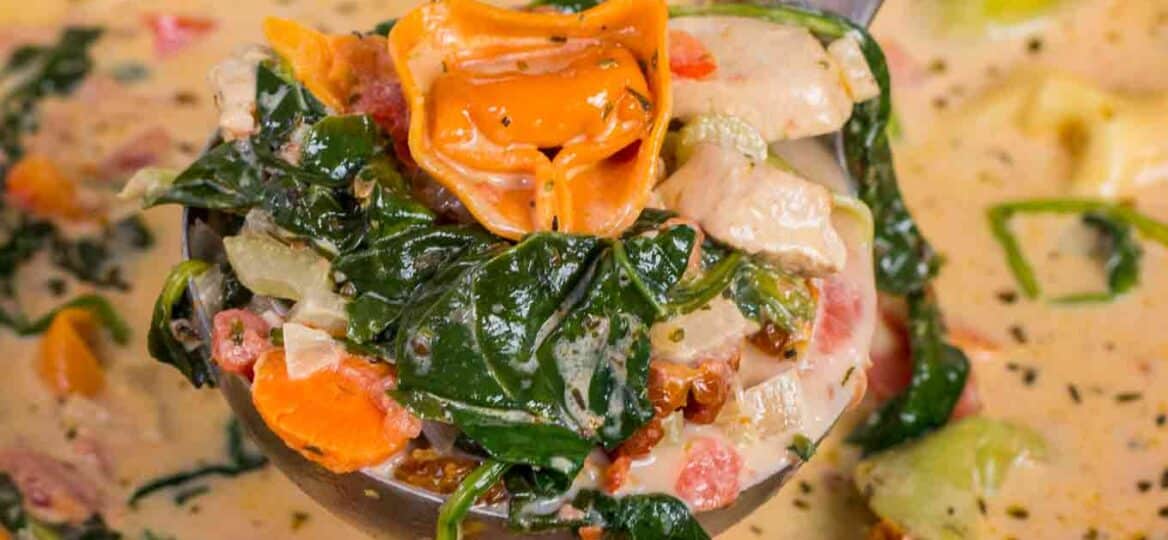 One Pot Tuscan Chicken Tortellini Soup [VIDEO]
Tuscan Chicken Tortellini Soup is insanely creamy and delicious. Made with cheesy tortellini, tender chicken, diced tomatoes, and spinach makes for the best comforting fall or winter soup.
We love making easy and delicious soup recipes on our blog for the whole family to enjoy. This hearty soup is loaded with Italian flavors and is the ultimate comfort food during the winter months. For best results, pair a bowl of this warm soup with dinner rolls, olive bread, or beer bread.
You can tell that I am into Italian soups lately as they are flavorful and the perfect dinner during a chilly night. This Creamy Tuscan Tortellini Soup is our family favorite.
Firstly, it is loaded with delicious Italian flavors and made in one pot. Also, the creamy broth, combined with fresh veggies and seasoning makes this one of the best soups out there.
I love making a big pot of it and not having to worry about dinner for a few days. The flavors are very similar to Crock Pot Tuscan Chicken or this Instant Pot Tuscan Chicken Pasta. The only difference here is that it's in the form of a creamy soup.
All in all, this Italian Chicken Tortellini Soup is not only easy to make but also very flavorful and tasty.
The dish is creamy, with a light sweetness from the cream. That balances the tanginess of the sun-dried tomatoes perfectly. In addition, the chicken is tender, and browned to perfection, then seasoned with Italian seasoning and other dried herbs.
This makes all the difference and enhances the broth. Veggies and cheese tortellini are added to the soup, finished with some fresh spinach.
Ingredients Needed:
Chicken: I use chicken breasts here. Feel free to use leftover chicken, shredded chicken, or even chicken sausage.
Butter: This adds a creamy texture to it and plenty of flavors.
Seasonings: Such as homemade Italian seasoning, dried thyme, oregano, black pepper, red pepper flakes, and salt.
Small white onion and minced garlic.
Diced tomatoes: You can easily find them at your local grocery store.
Veggies: Bell pepper, celery, carrots, sun-dried tomatoes.
Broth: I highly recommend using homemade chicken stock as it has plenty of flavors. But you could also use vegetable broth. Also, if you will use a store-bought version, go with low sodium chicken broth.
Heavy cream or milk
Cheese tortellini
Fresh baby spinach
Cornstarch and some water: To make the cornstarch slurry to thicken the dish.
How do you make Tuscan Chicken Tortellini Soup?
Please watch the recipe video attached for a short and quick tutorial. But the general steps are as follows:
Brown the chicken: First, add some butter and brown the chicken in the large Dutch oven over medium-high heat.
Season: Next, add the herbs to the chicken and cook, stirring for a few minutes. This step is very important, as cooking the veggies with the chicken will add extra flavor to the meat and to the broth.
Mix in the veggies: Then, add the veggies, cream, and broth to the saucepan, cover, and simmer for 10 minutes on medium heat.
Add the tortellini: After, dump the tortellini and simmer for about 10 more minutes until the tortellini are cooked through.
Thicken it: At this point, if you would prefer a thicker soup, add the cornstarch and water mixture and stir to combine. Simmer for a few minutes.
Add the fresh spinach leaves: Fold in spinach, stir until wilted.
Serve: Lastly, serve soup garnished with chopped fresh parsley, or shredded parmesan cheese, and warm garlic bread or crusty baguette.
Variations and substitutions:
Meat: Feel free to swap the meat and use your favorite type. A great alternative would be ground meat, or pork sausage, or Italian sausage.
Fresh herbs: Also, use other fresh herbs, such as fresh basil, rosemary, or thyme.
Beans: Adding some beans such as cannellini beans. You can even mix in cooked beans at the end of cooking.
Vegetarian tortellini soup: Just skip the chicken and keep the rest of the ingredients. Also, use more beans instead (drained and rinsed) white beans. Cooked lentils and canned (drained and rinsed) chickpeas also work great in this recipe.
Slow Cooker Tortellini Soup Recipe:
If you have a crockpot/slow cooker, then follow these steps:
First, brown the chicken or use rotisserie chicken.
Then, add all the ingredients to the slow cooker, with the exception of cream, tortellini, and spinach.
Cover and cook on low for 7 hours or on high for 4 hours.
Uncover and add the cream and tortellini, stir well to combine. Cover and cook on high for 45 minutes until the tortellini are soft and cooked through.
Uncover and fold in the spinach, completely submerge the leaves. Cover again and cook on high for 10 minutes, until spinach leaves have wilted.
How to make Tuscan Chicken Tortellini Soup in the Instant Pot?
Select Saute and brown the chicken in the pot.
Then, add the rest of the ingredients with the exception of cream and spinach. Stir well to combine.
Next, select High-Pressure -> adjust timing to 5 mins -> followed by 10 mins NPR. Release manually any remaining pressure.
Open the Instant Pot, select Sauté and stir in cream. At this point add the cornstarch mixture if you would prefer a thicker soup. Simmer uncovered for 5 minutes.
Lastly, turn off Instant Pot and fold in fresh spinach.
More delicious soup recipes:
What type of tortellini is best to use?
Actually, any tortellini will work, I prefer to choose a cheese or three cheese tortellini. Also, keep in mind, if you decide to use mini tortellini, those will cook quicker, so keep an eye to not overcook them.
Frozen tortellini can be used as well, make sure they don't have any ice on them. Stir well and cook for a few more minutes, until done.
How to store leftovers?
First, let it completely cool at room temperature.
Then, transfer leftover soup to an airtight container and refrigerate for up to 4 days.
How to freeze Tortellini Soup?
Cool the soup completely.
Next, use a cup to transfer the soup from the pot into freezer-safe quart bags.
Then, squeeze out excess air and seal the bags.
Lay the bags flat in the freezer.
The bags can nicely be stored in the freezer for up to 3 months.
How to reheat it?
Thaw the soup overnight in the fridge or add the frozen bag to a large casserole dish and place it under running warm water.
Next, transfer it to a dutch oven or saucepan over low-medium heat.
Also, when reheating, you may need to add a bit of milk or cream, add ¼ cup at a time.
Stir to combine and simmer for 2-3 minutes.
Deliciousness to your inbox
Enjoy weekly hand picked recipes and recommendations