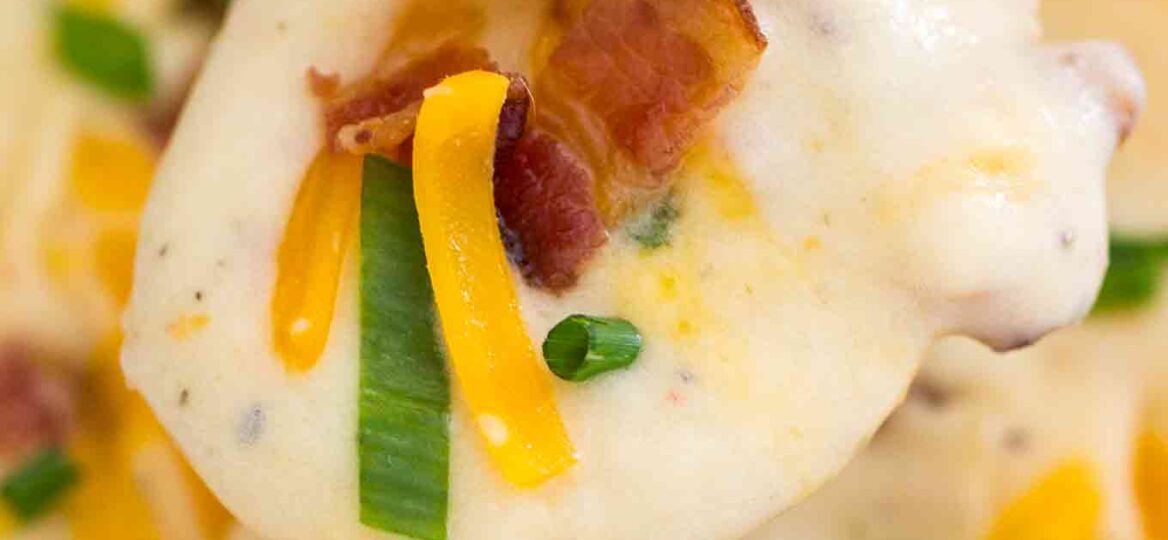 Creamiest Instant Pot Loaded Baked Potato Soup [Video]
Instant Pot Loaded Baked Potato Soup is one of the creamiest soups you will ever try. Cheesy and satisfying, serve it with your favorite baked potato toppings. This is the perfect recipe to try for soup season.
Instant pot recipes are such a time saver, I especially enjoy making soup in my pressure cooker, since it takes less time and effort. Among other favorites is this Cheesy Potato Soup, and also this irresistible French Onion Soup, and you can't have comfort food without naming this Ham and Potato Soup.
Instant Pot Potato Soup Recipe
Instant Pot Loaded Potato Soup is one of the creamiest and cheesiest soups you will ever try! Just like a delicious baked potato, it is loaded with sour cream, lots of bacon, and cheddar cheese. With a smooth and rich texture, it is perfect for dipping some crusty bread into it.
To get the soup's creamy texture, I have used a combo of sour cream, cream cheese, heavy cream, and the secret ingredient is Cream of Potato Condensed Soup. This dish can be easily made vegetarian if you use veggie stock or broth and skip the bacon crumbles.
This delicious recipe will quickly become a family favorite and the best part is that it has been tested on picky eaters and it has been kid-approved. We recommend serving this pressure cooker potato soup in homemade bread bowls or with homemade breadsticks on the side.
This is one of our favorite instant pot recipes that the whole family loves. Loaded Baked Potato Soup is my definition of pure comfort food, a simple recipe with great flavor!
Ingredients Needed:
This great recipe is made with simple ingredients that you can easily find or already have.
Potatoes: Yukon gold potatoes, red potatoes, yellow potatoes, or Russet potatoes.
Vegetables: Yellow onion, garlic, celery.
Herbs: Dried thyme, dried oregano.
Seasonings: Salt, ground black pepper, red pepper flakes.
Broth: Chicken broth, or chicken stock, or vegetable broth.
Canned: Cream of potato condensed soup or cream of chicken soup.
Diary: Evaporated milk, heavy cream, cream cheese, and sour cream.
Cheese: Sharp cheddar cheese.
Bacon
How do you make Instant Pot Loaded Baked Potato Soup recipe?
This creamy soup is one of the easiest instant pot soup recipes that you will make. You have to cook the hearty soup for 10 minutes on High Pressure, followed by 10 minutes of Natural Pressure Release.
Also, it is important to mention, that it will take some time for the Instant Pot to come to pressure, between 15-20 minutes. That is because of the high volume of the soup.
Add the ingredients: First, add all the ingredients to the pot, except bacon, cream cheese, cheddar cheese, and sour cream. In addition, stir to combine and if needed adjust for seasoning as you please.
Pressure cook: After that, cover with the lid, lock it, and point the valve to sealing. Next, pressure cook on high pressure for 10 minutes.
Natural pressure release: Once done pressure cooking, do a 15-minute natural release.
Quick pressure release: After that, do a quick release for the remaining pressure. When the valve drops, carefully remove the lid and stir.
Puree: Very carefully, using a potato masher or immersion blender puree the soup.
Saute function: Next, select the saute setting on your electric pressure cooker and add the cream cheese, shredded cheese, sour cream, and bacon. Stir until combined.
Serve: Since this dish is basically a delicious baked potato in soup form, we recommend adding your favorite baked potato toppings before serving it.
Recipe Variations:
Vegetarian: Skip the bacon and use vegetable broth to make this soup vegetarian.
Sweet Potatoes: As an alternative use sweet potatoes to make a sweet and savory version.
Extra bacon: In addition, saute some bacon from the start and cook it with the soup to give it a smoky flavor.
Other veggies: Also, you can make this great recipe more nutritious by using some cauliflower or broccoli. At the same time, you can skip the veggies that you do not like, for example the celery.
Condensed soup: While that is the secret ingredient in here, you can still skip and have a great cheesy potato soup recipe. As an alternative, use this homemade condensed soup recipe.
Slow cooker version: If you don't own a pressure cooker, no problem, you can still enjoy this Crock Pot Baked Potato Soup.
Stove top version: If you prefer to make try this recipe on the stove, you can make my famous Panera Bread Baked Potato Soup Copycat. It is very creamy and delicious.
Favorite topping suggestions:
Bacon crumbs or chopped bacon
Cheddar cheese
Chopped green onions
Diced chives
A dollop of sour cream
Garlic croutons
Chopped jalapenos
Crumbled blue cheese
How to store leftovers:
Refrigerate: First, let the instant pot loaded baked potato soup fully cool. After that, transfer them to an airtight container and store in the fridge for 4 days.
Freeze: I recommend using quart bags for this soup. First, use a cup to transfer the soup from the pot into the bag. Then, squeeze out excess air and seal the bags. The bags can nicely be stored in the freezer for up to 3-4 months.
Thaw: To thaw the soup, first, remove it from the freezer the night before serving, or put the sealed soup bag in warm water to thaw it faster.
Reheat: Then, heat in a soup pan, add more broth or milk if needed. Simmer for a few minutes.
More Soup Recipes:
Cooking tips:
Also, adding some bacon to cook with the potatoes will add an amazingly rich flavor to the soup.
Keep in mind that using fresh onion and garlic instead of onion powder and garlic powder will also add lots of flavors.
Adding dry herbs, like thyme and oregano, will make the recipe more flavorful.
In addition, to cut on the calories, you can use light cream or milk.
If you don't have cream cheese on hand, you can skip it. However, keep in mind that the soup won't be as rich.
Also, you can cook your own bacon slices and crumb them or use store-bought bacon crumbs to save time.
Specials gadgets:
Immersion Blender – so convenient, makes it easy to puree food without having to add it to a blender.
Potato Masher – this should be in each's one kitchen drawer!
Instant Pot – you know how much I love mine! I have a 6qt pot.