Creamiest Instant Pot Loaded Baked Potato Soup [Video]
Instant Pot Loaded Baked Potato Soup is incredibly creamy and satisfying. The soup is easy to make and ready in just under one hour, with minimum effort!
Loaded Baked Potato Soup is my definition of pure comfort food. All you need is a warm bowl of it, some crusty bread and a comfy blanket. I already have a Slow Cooker Baked Potato Soup recipe and a stove-top version of the famous Panera Bread Loaded Baked Potato Soup. Per popular demand, I am adding an Instant Pot version, that I promise, it's very good.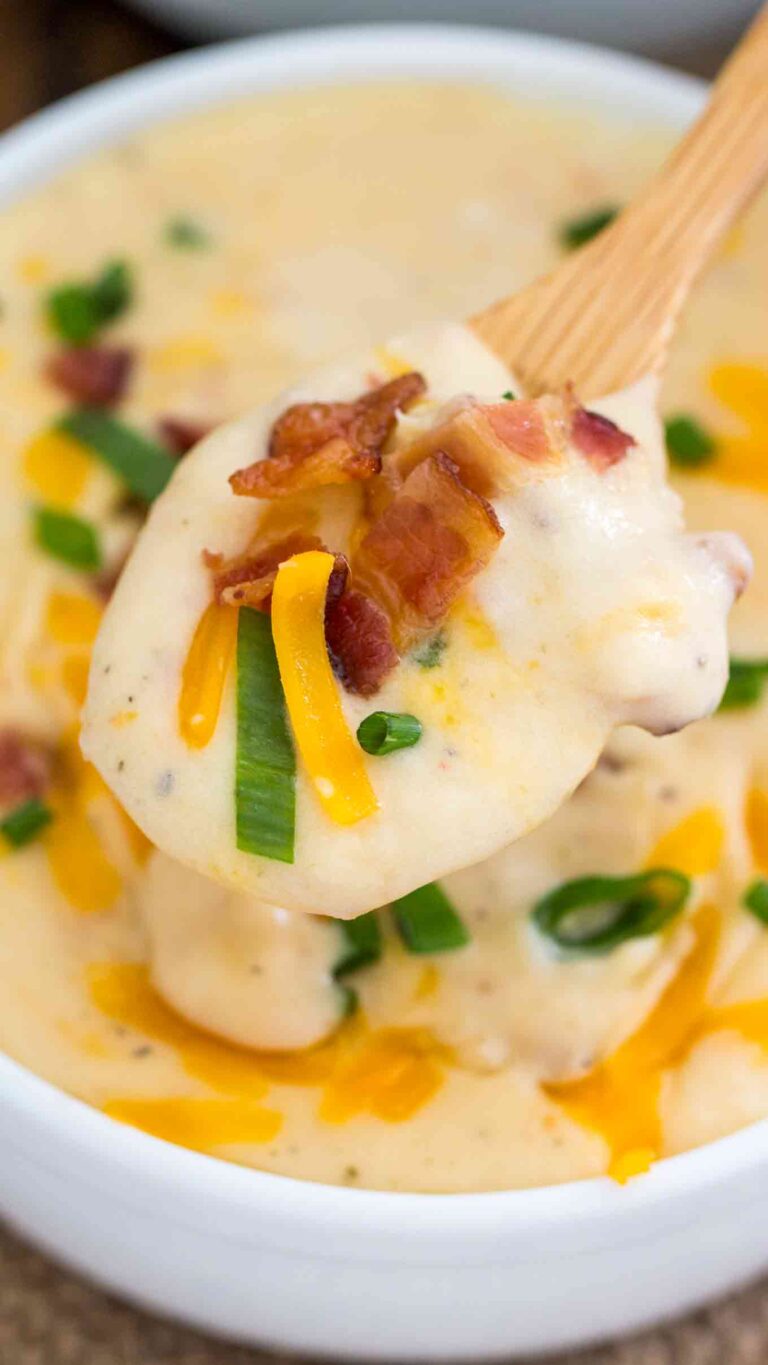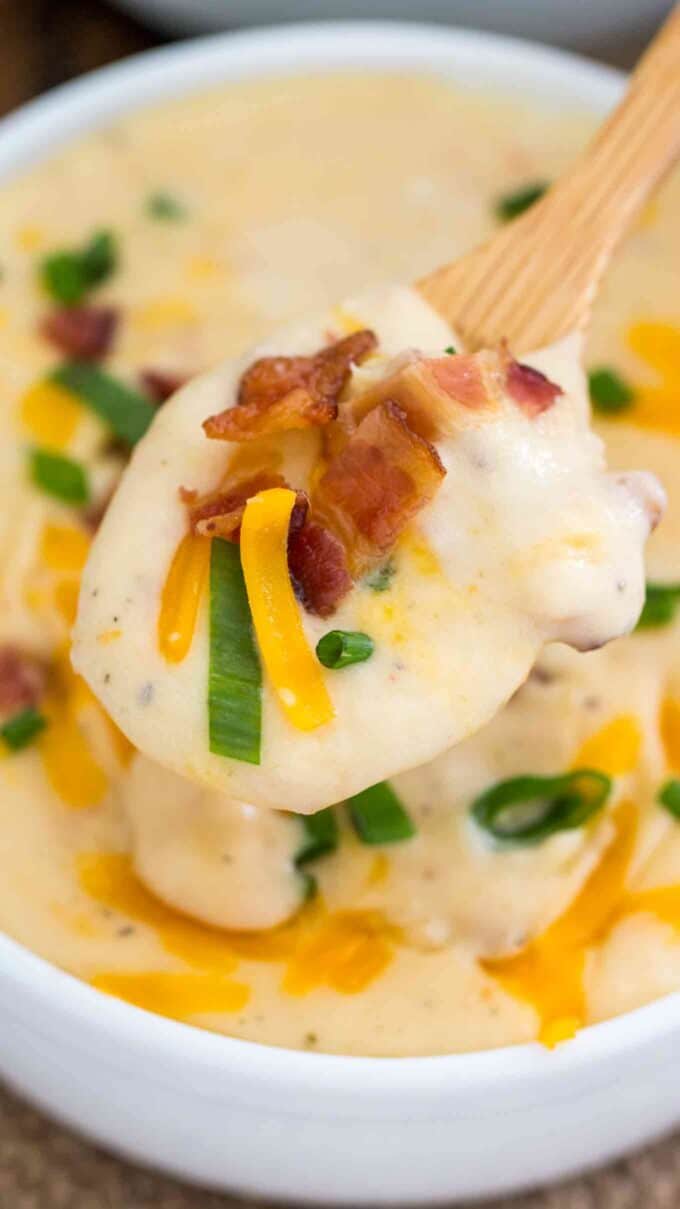 Instant Pot Loaded Baked Potato Soup
Instant Pot Loaded Baked Potato Soup is one of the creamiest soups you will ever try! Just like a delicious baked potato, the soup is loaded with sour cream, lots of bacon and cheddar cheese. The texture of the soup is smooth and rich, perfect for dipping some bread into it.
To make the soup as creamy, I have used a combo of sour cream, cream cheese, heavy whipping cream, and the secret ingredient is Cream of Potato Condensed Soup. This soup can be easily made vegetarian if you use veggie stock or broth and skip the bacon.
Also, make sure to add lots of cheddar cheese and pile high the soup with your favorite baked potato toppings.
How long do you cook Loaded Baked Potato Soup in the Instant Pot?
You have to cook the soup for 10 minutes on High Pressure, followed by 10 minutes of Natural Pressure Release. Also, it is important to mention, that it will take some time for the Instant Pot to come to pressure, between 15-20 minutes. That is because of the high volume of the soup.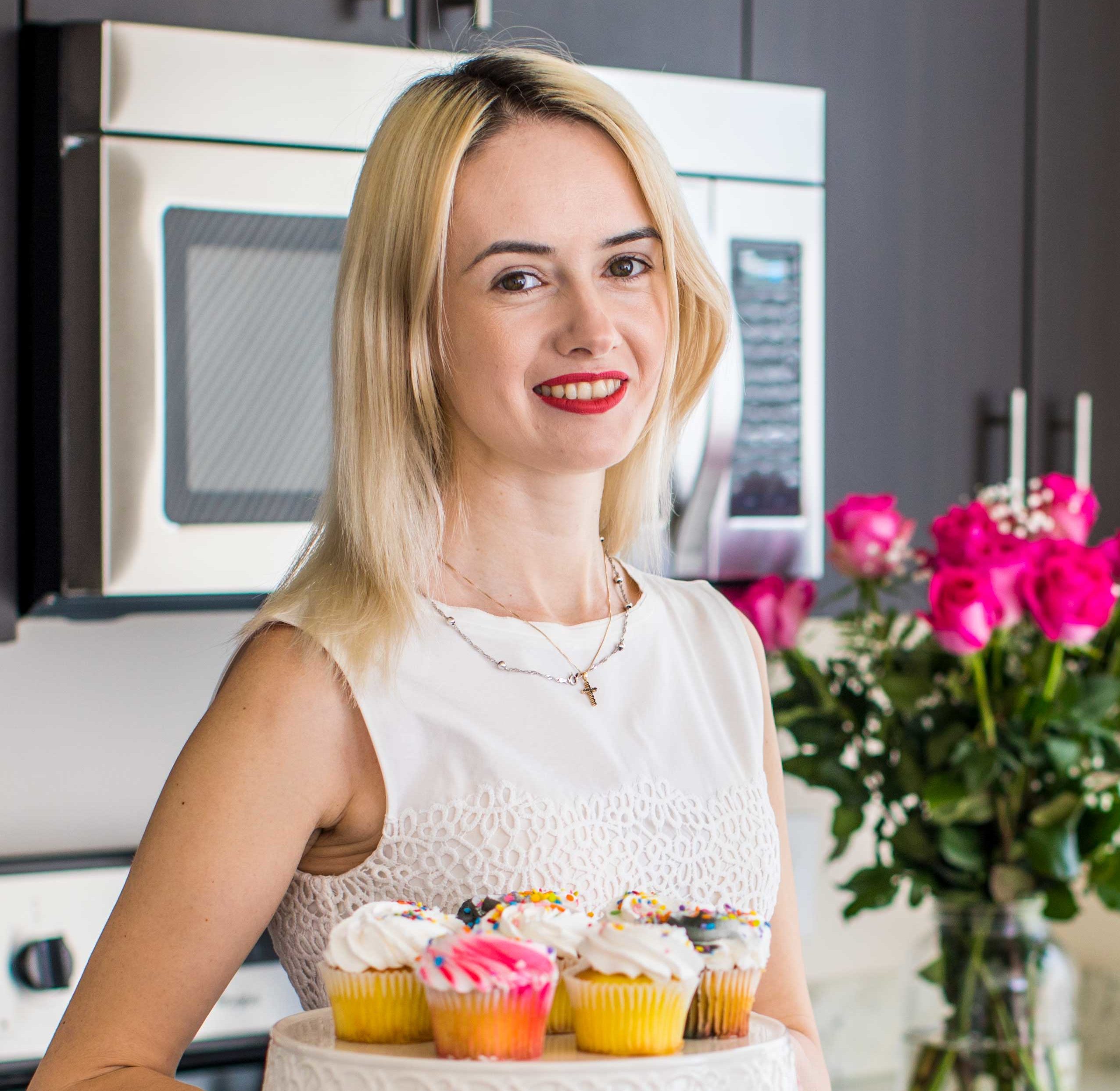 Follow us on Pinterest for more delicious recipes!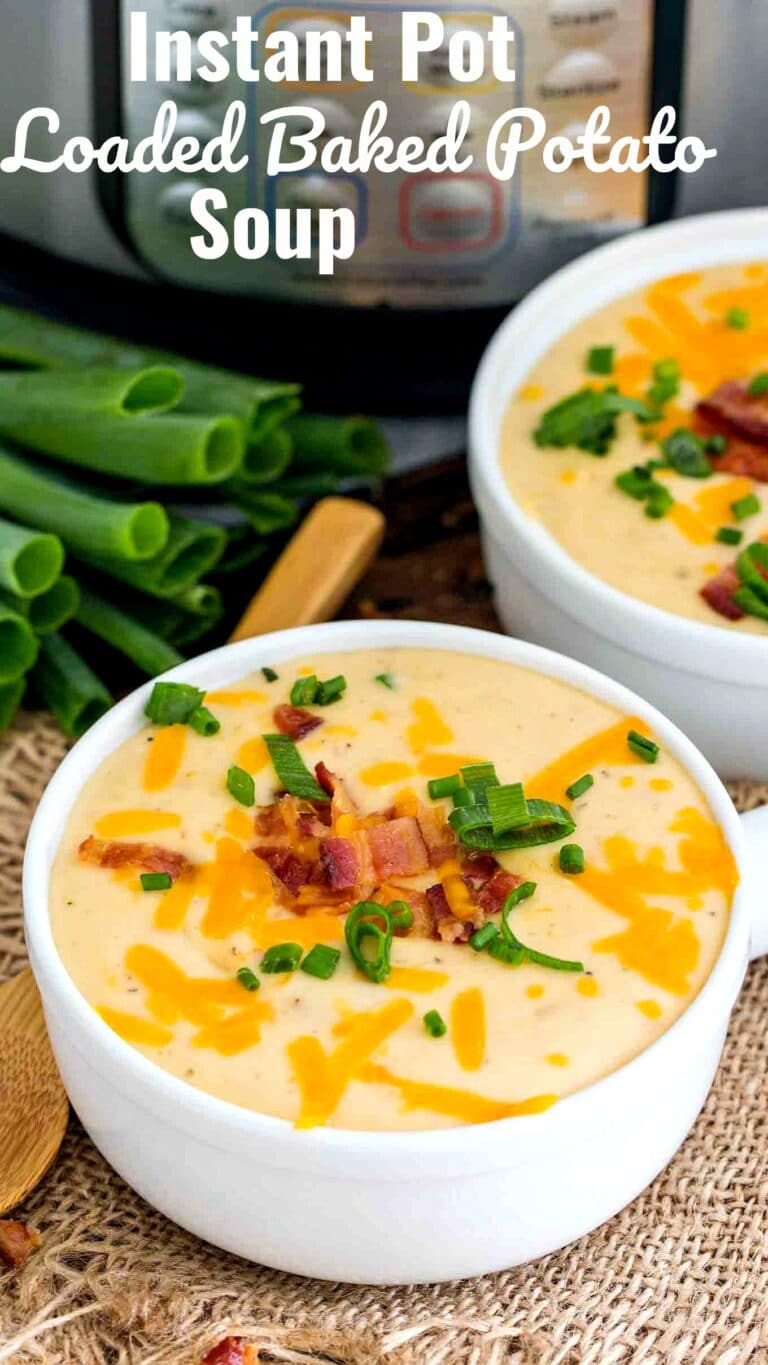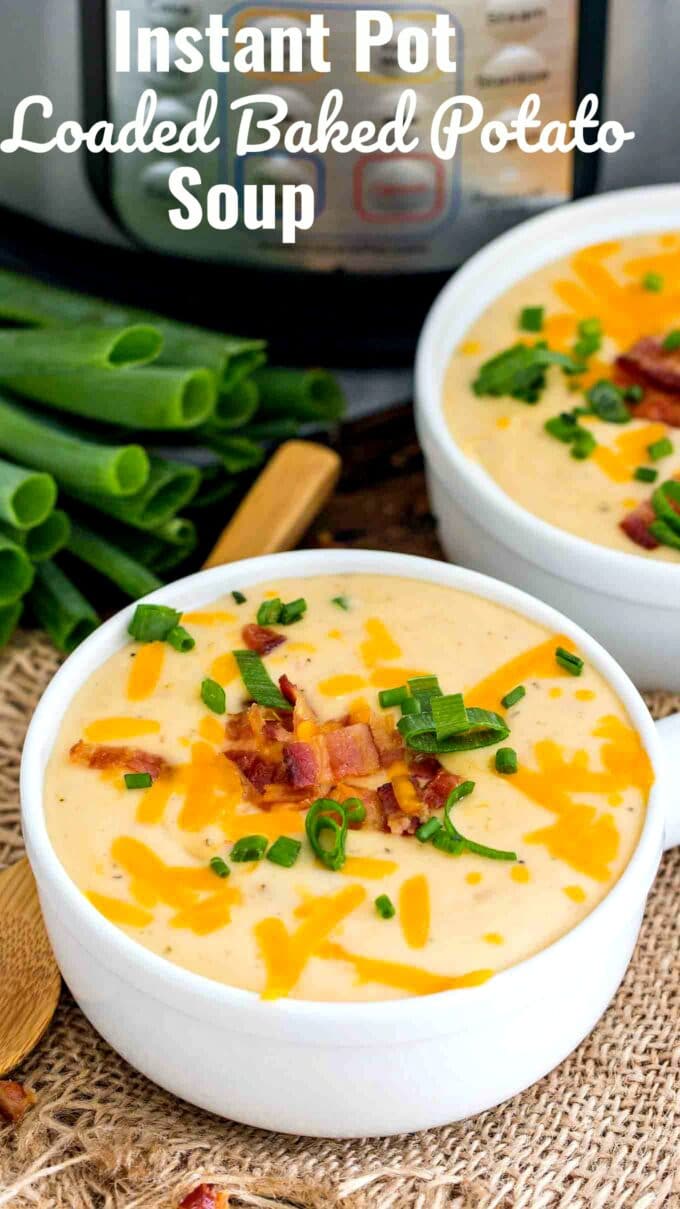 How do you make Baked Potato Soup in the Slow Cooker?
If you don't own a pressure cooker, no problem, you can still enjoy this soup by making it in the Slow Cooker. Check my popular recipe for Slow Cooker Version.
How do you make Loaded Baked Potato Soup on the stove?
If you prefer to make this soup on the stove, you can use my recipe for the famous Panera Bread Baked Potato Soup Copycat. It is very creamy and delicious.
Expert tips and tricks:
Use golden Yukon or Russet potatoes, they are perfect for this recipe.
Also, adding some bacon to cook with the potatoes will add an amazingly rich flavor to the soup.
Using fresh onion and garlic will also add lots of flavors.
If you don't like celery, you can skip it.
Adding dry herbs, like thyme and oregano, will also add more flavor.
In addition, to make the soup even more creamy, use an immersion blender to cream it.
To cut on the calories, you can use light cream or milk.
If you don't have cream cheese on hand, you can skip it. However, keep in mind that the soup won't be as rich.
You can cook your own bacon crumbs or use store-bought bacon crumbs.
Baked Potato Soup topping suggestions:
Bacon crumbs or chopped bacon
Cheddar cheese
Chopped green onion
Diced chives
A dollop of sour cream
Garlic croutons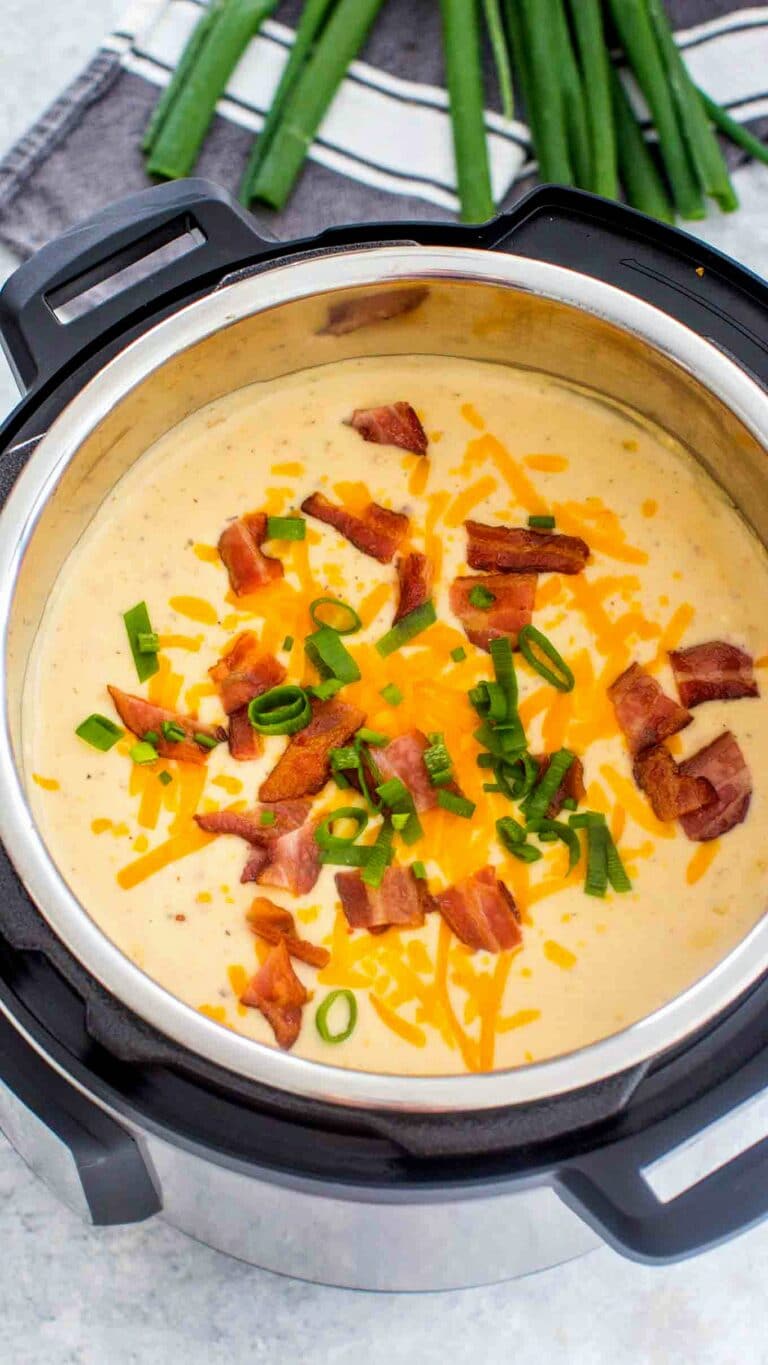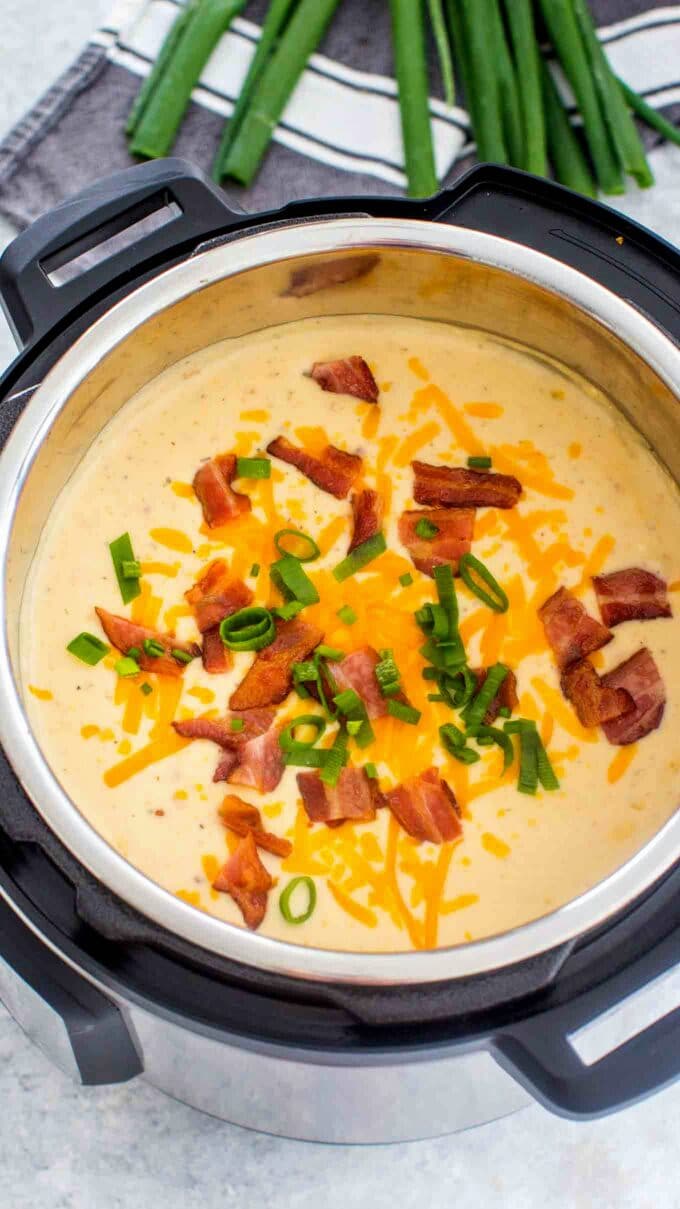 How to freeze Baked Potato Soup:
I recommend using quart bags for this soup. First, use a cup to transfer the soup from the pot into the bag. Then, squeeze out excess air and seal the bags. The bags can nicely be stored in the freezer for up to 3-4 months.
To thaw the soup, first, remove it from the freezer the night before serving, or put the sealed soup bag in warm water to thaw it faster.
Then, heat in a soup pan, add more broth or milk if needed. Simmer for a few minutes.
Looking for more soup recipes? Check these out:
Specials gadgets needed to make this Recipe:
Immersion Blender – so convenient, makes it easy to puree food without having to add it to a blender.
Potato Masher – this should be in each's one kitchen drawer!
Instant Pot – you know how much I love mine! I have a 6qt pot.
Save Recipe
Ultimate Instant Pot Loaded Baked Potato Soup
Author: Catalina Castravet
Serves: 8 servings
Prep time:

10

minutes
Cook time:

20

minutes
Total time:

30

mins
Ingredients
Cook on High Pressure ingredients:
5 pound bag of Yukon or Russet potatoes (peeled and cubed)
1 medium onion (diced)
1 tablespoon minced garlic
1 cup celery (diced)
1/2 tablespoon dried thyme
1/2 tablespoon dried oregano
1/2 teaspoon red pepper flakes
1/4 teaspoon salt
1/8 teaspoon ground black pepper
3 cups chicken broth
1 can (10 1/2 oz) cream of potato soup condensed (optional)
1 can (12 oz) evaporated milk
1 cup heavy whipping cream
Add after cooking on High Pressure:
4 ounces cream cheese (cubed and softened to room temperature)
1/2 cup sour cream (room temperature)
2 cups cheddar cheese (shredded)
6 oz bacon (cooked)
Toppings:
Chopped green onions
Cheddar cheese
Cooked bacon
Diced chives
Instructions
Add all the ingredients listed under the "Cook on High Pressure" to the pot.
Stir well to combine, make sure you don't go over the inner Max line of your pot.
Close and lock the lid, point knob to sealed.
Press High Pressure and input 10 minutes. It will take the Instant Pot to come to pressure about 15-20 minutes, due to the high volume of the soup.

Once the pressure cooker is done the cooking, do a 10-minute Natural Pressure Release, after which, carefully release the remaining pressure by moving the knob to the Vent position.

Lift the lid and use a potato masher to mash some of the potatoes. If wanted, use an immersion blender to cream the soup more.
Select Sauté, and whisk in cream cheese, sour cream, bacon, and cheddar cheese until fully combined. It is great to use an immersion blender for this, it will make the soup incredibly creamy.
Serve topped with favorite toppings.
Calories: 602 Carbohydrates: 64 Protein: 21 Fat: 41 Saturated Fat: 22 Cholesterol: 122 Sodium: 1084 Potassium: 1613 Fiber: 4 Sugar: 8 Vitamin A: 1245 Vitamin C: 25.3 Calcium: 436 Iron: 3.7
Save Recipe
More recipes you might love