Panera Bread Baked Potato Soup Copycat [video]
Panera Bread Baked Potato Soup Copycat is the famous chain's comforting soup made easy at home. Serve topped with bacon and crusty bread. For a quick recipe tutorial, watch the short video attached below.
I am on a mission to bring you all the Panera Bread Soup recipes in one place. Previously, I have shared with you their Creamy Tomato Soup and Chicken Wild Rice Soup – you should add this to your "must try" list.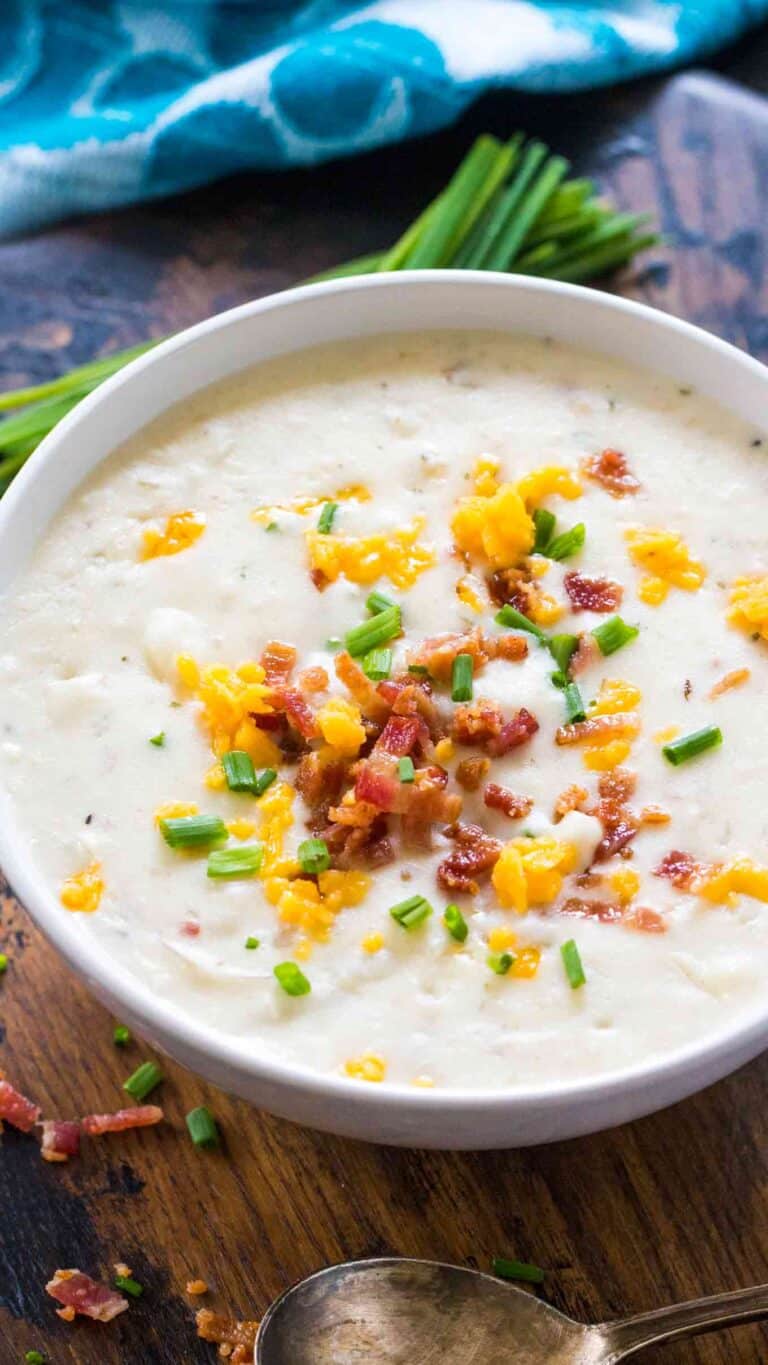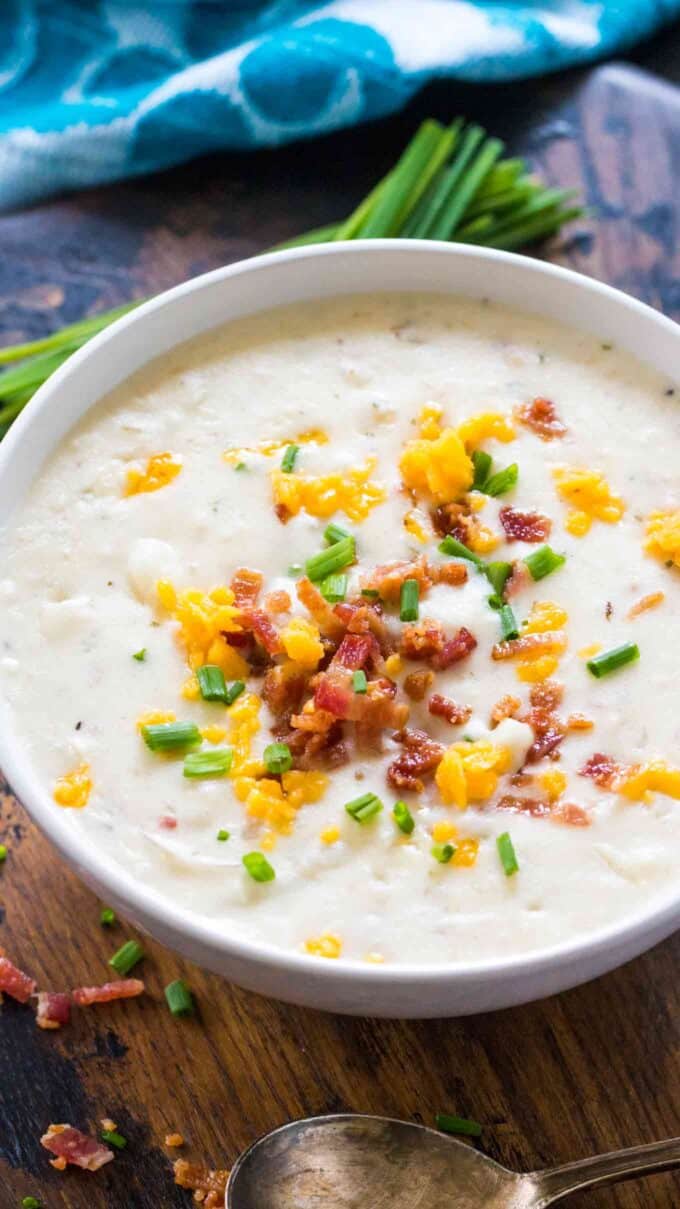 Panera Bread Baked Potato Soup
Panera Bread Baked Potato Soup Copycat is the homemade version of the famous Baked Potato Soup that so many love. On a cold winter day, when I run crazy to do all the holiday shopping, there is nothing better than popping into a Panera Bread for some soul-warming meal.
This homemade soup is actually my favorite, as it is very similar to a potato soup that my grandmother makes. It is hearty and delicious. You can top it with lots of bacon and bonus points for serving it with some crusty, warm bread on the side.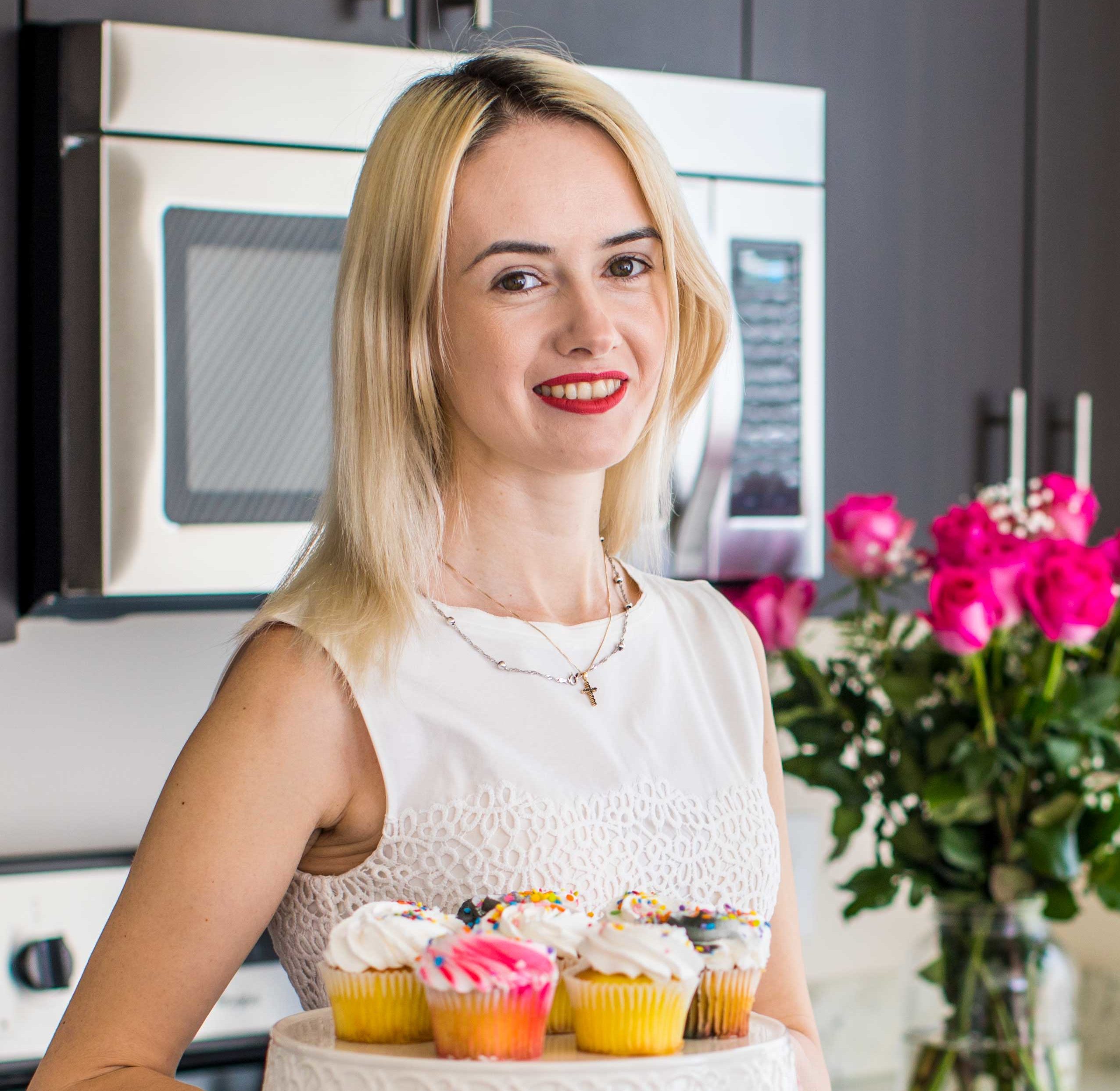 Follow us on Pinterest for more delicious recipes!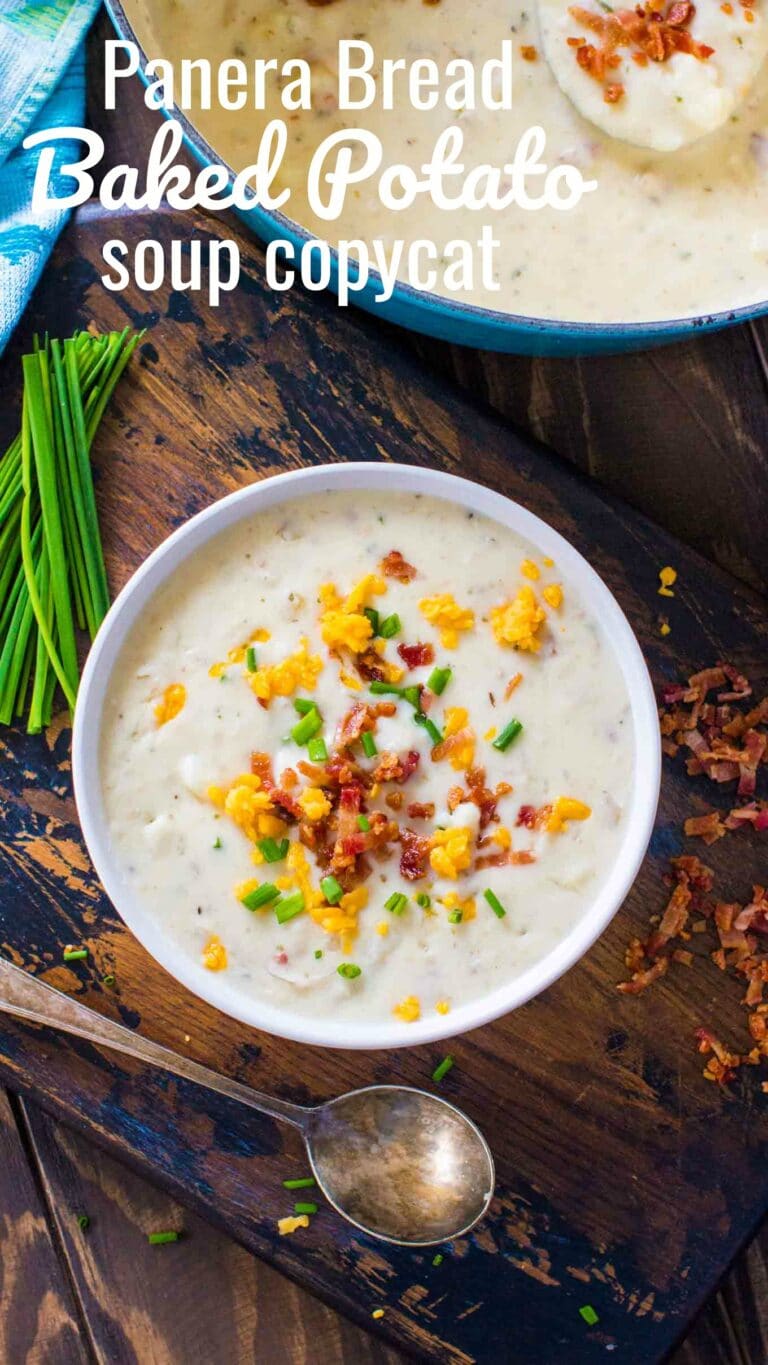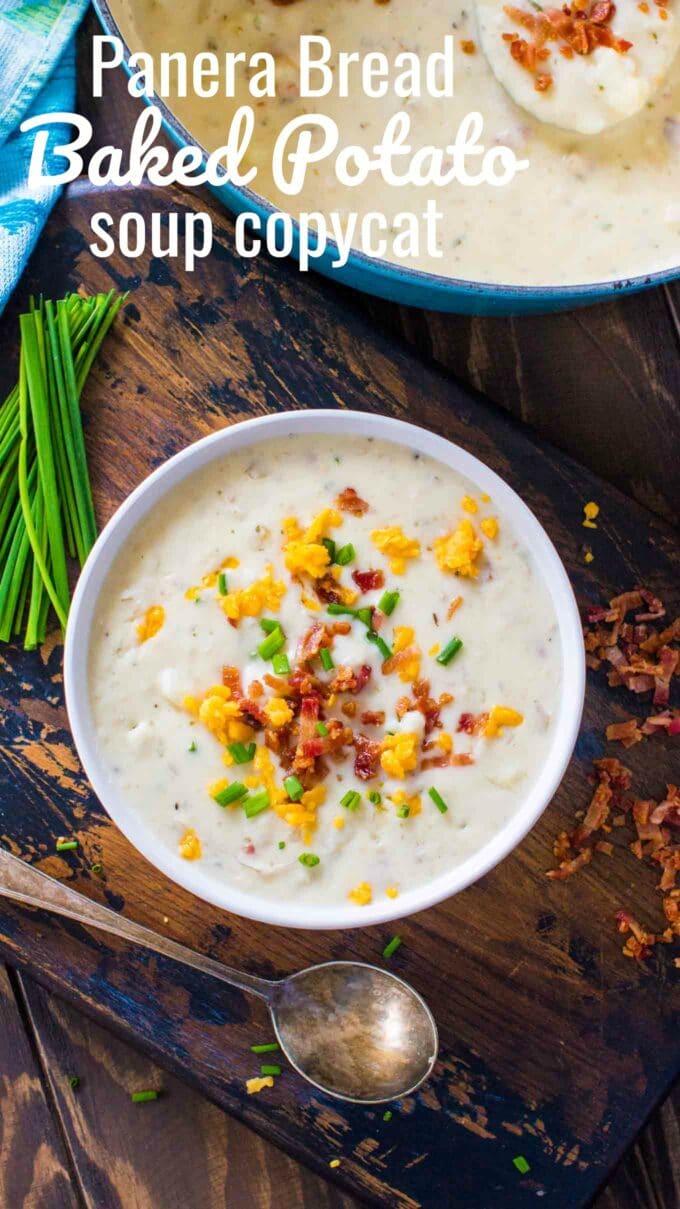 Panera Bread Baked Potato Soup Copycat recipe tips:
I like using golden Yukon potatoes, they are perfect for this recipe.
Also, cook the potatoes just until done, you don't want them to start breaking apart unless you have the intention to cream all the soup.
Adding some bacon to simmer with the potatoes will adding an amazing savory flavor and rich taste to the dish!
Similarly, using fresh onion and garlic will also add lots of flavors.
Adding dry herbs like parsley and oregano will add extra flavor.
To make it even creamier, you have to puree half of it, either by adding it to a blender or using an immersion blender.
In addition, to cut on the calories, you can use light cream or half-light cream and half milk.
Also, if you don't have cream cheese on hand, you can use sour cream.
If can cook your own bacon crumbs or use store-bought bacon crumbs.
Toppings suggestions: bacon crumbs, cheddar cheese, chopped green onion, diced chives.
Can you freeze Baked Potato Soup?
Yes. I recommend using quart bags for this soup. Use a cup to transfer it from the pot into the bag. Squeeze out excess air and seal the bags. The bags can nicely be stored in the freezer for up to 3-4 months.
To thaw it, remove it from the freezer the night before serving, or put the sealed soup bag in warm water to thaw it faster.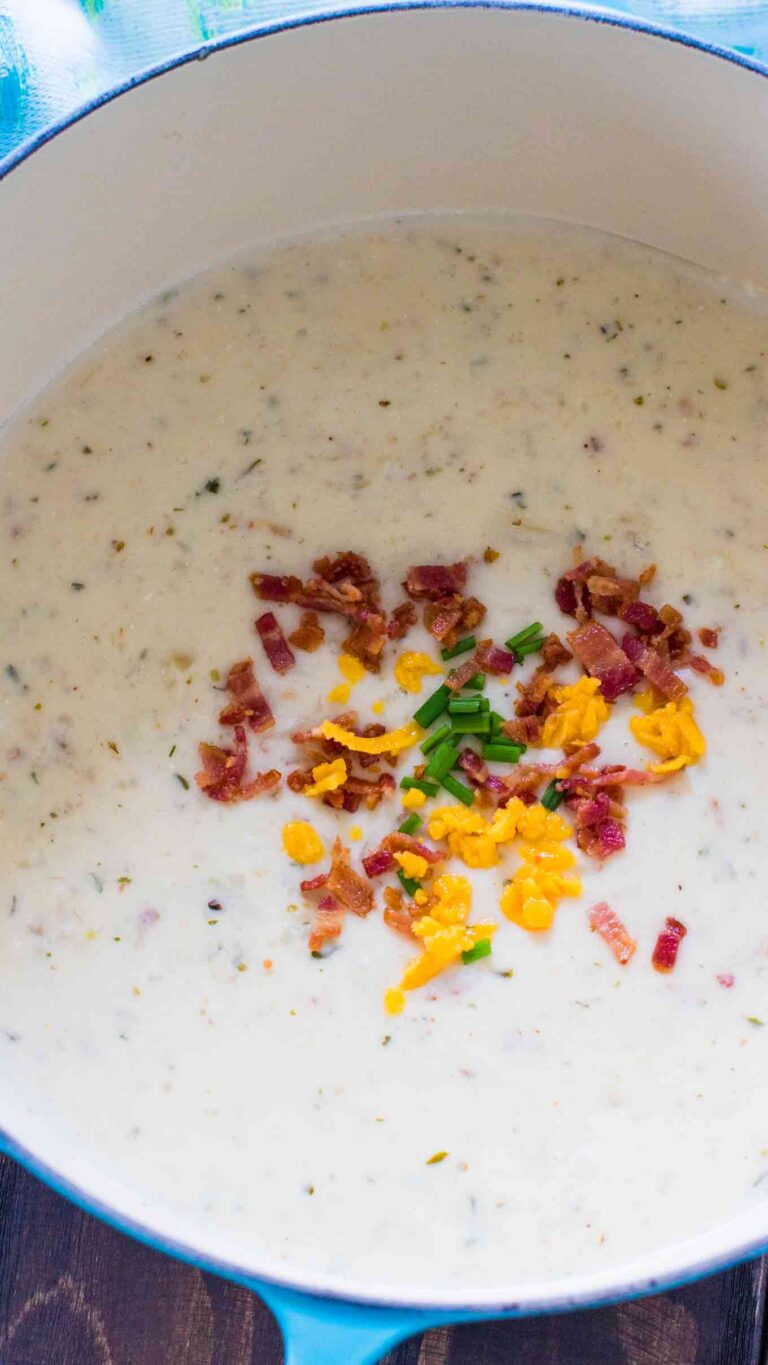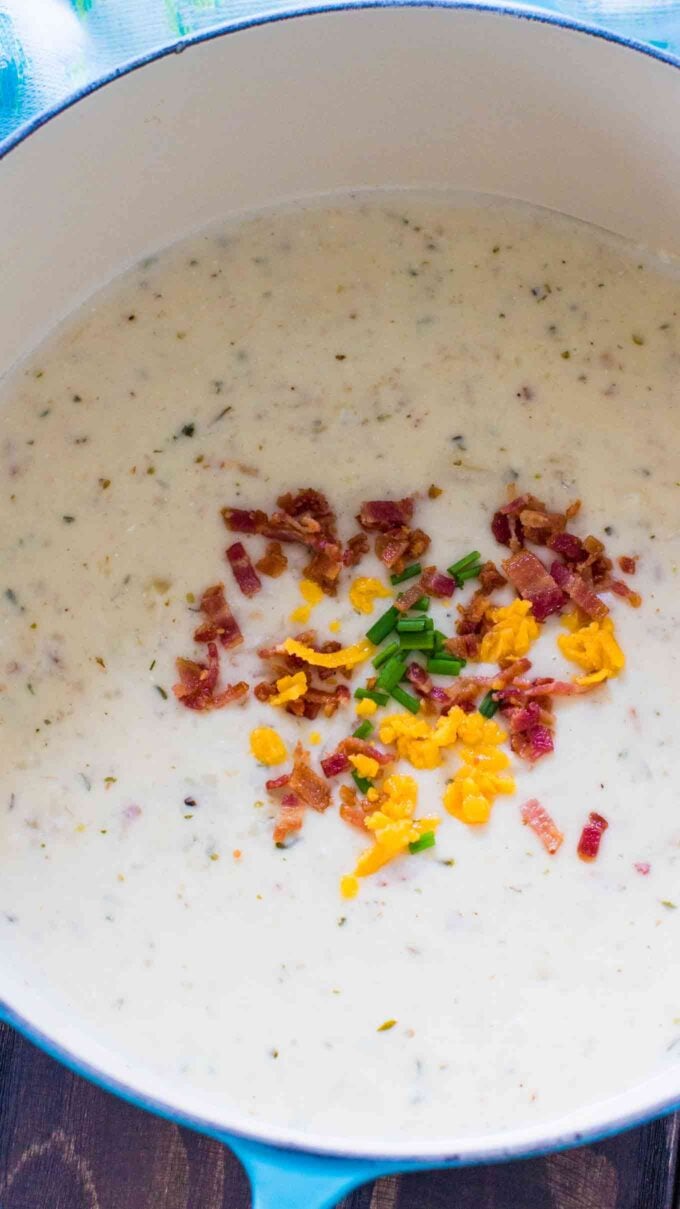 Looking for more comforting soup recipes? Check these out!
Tools I used to make the Panera Bread Baked Potato Soup Copycat Recipe:
Immersion Blender – so convenient, makes it easy to puree food without having to add it to a blender.
Dutch Oven – mine is from Le Creuset, but I also like this one and it's reasonably priced.
Save Recipe
Panera Bread Baked Potato Soup
Author: Catalina Castravet
Serves: 6 servings
Prep time:

10

minutes
Cook time:

30

minutes
Total time:

40

mins
Ingredients
2 tablespoons olive oil
1 medium sweet onion (diced)
4 garlic cloves (minced)
1/2 cup cooked bacon bits or crumbs
4 large Yukon potatoes scrubbed (peeled and diced)
1 teaspoon dried oregano
1 teaspoon dried parsley
4-6 cups low sodium chicken broth (or more)
2 tablespoons butter (unsalted)
2 tablespoons flour
1 cup heavy cream or half and half
4 ounces cream cheese or sour cream (room temperature)
1/2 teaspoon salt
1/2 teaspoon black pepper
Garnish:
2 teaspoons chives
2 tablespoons of real bacon bits
Shredded cheddar cheese
Instructions
Add olive oil to a hot medium pot or dutch oven over medium heat.
Add onion and cook for 2-3 minutes, stirring occasionally.
Add garlic and cook until fragrant, for about 1 minute, stirring all the time.
Add potatoes, bacon bits, dried oregano and dried parsley, stir to combine.
Add chicken broth, enough to fully cover the potatoes. Cook on medium heat for about 12 to 15 minutes or until potatoes are tender when pierced with a fork.
Once the potatoes have cooked, add butter to a medium saucepan over medium heat and melt. Whisk in the flour until completely combined and gradually add in the heavy cream. Whisk the flour mixture until smooth. With the heat on the lowest stove setting, let the mixture cook until it starts to simmer and is getting thicker, stir occasionally.
Add the flour mixture to the potatoes and gently stir to combine.
Using a potato masher, mash half of the potatoes or as mush as you want. You can also add the soup to a blender or use an immersion blender.
Add the cream cheese or sour cream, and stir until it melted.
If the soup is too thick, add more chicken broth.
Season with salt and black pepper. Taste and adjust.
Garnish with chives, bacon bits and cheddar cheese.
Serve and enjoy!
Calories: 301 Carbohydrates: 28 Protein: 12 Fat: 16 Saturated Fat: 6 Cholesterol: 30 Sodium: 545 Potassium: 857 Fiber: 3 Sugar: 5 Vitamin A: 210 Vitamin C: 16.8 Calcium: 125 Iron: 4.5 g
Save Recipe
More recipes you might love