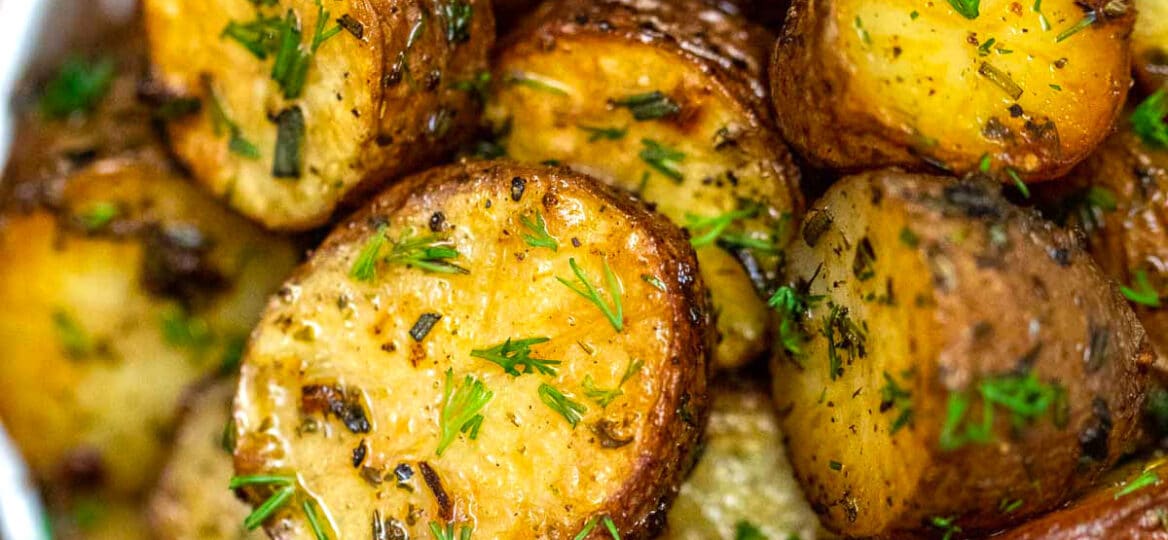 Oven Roasted Baby Red Potatoes [Video]
Oven Roasted Baby Red Potatoes have a soft and fluffy interior, with a perfectly crisp exterior and with lots of flavor from the fresh herbs! This dish pairs well with any meaty entree.
I know that you can be busy sometimes. So, I put together a quick and easy side dish recipe for you! Here are some more suggestions that you can check out: Homemade Coleslaw, Overnight Salad, and Southern Cornbread.
Oven Roasted Potatoes Recipe
Oven Roasted Baby Red Potatoes are a nice addition to your weeknight dinner. If you are looking for carbs to pair with your protein-rich entree, then, this is a nice go-to side dish for that.
Since I use baby potatoes in this recipe, there is not much preparation involved. I use organic ones so that I will not have to peel them one by one.
And using the oven to cook these also eliminates the need for full attention, except the part that you boil them. You can then divide your time to cook other dishes while you cook these.
Unlike the deep-fried dishes, this one is a healthy way to enjoy spuds. We are cooking this using extra light olive oil which is healthy. And the seasoning mix has an exquisite flavor. Try it and for sure, your whole family will love it!
Ingredients for Oven Roasted Baby Red Potatoes
You only need the skin-on baby red potatoes and a handful of the following ingredients:
Extra light olive oil: perfect for roasting spuds as it has a mild flavor and a smoke point that can withstand the heat
Spices and seasonings: dry parsley, fresh rosemary, fresh thyme, sea salt, ground pepper, smoked paprika, garlic
Are red potatoes good for roasting?
Yes! They are ideal because they tend to hold their shape even after you boil them. Their waxiness also keeps the center fluffy and their thin skin facilitates heat transfer well.
Should you wash and peel red potatoes before roasting?
You need to wash them to get rid of any dirt or imperfections on the surface. But whether you peel them or not depends on your preference. I would recommend that you keep the skin on and not peel them.
The skin has a high nutritional value. It also crisps up as you cook them in the oven that gives this dish a nice texture. Just make sure that you use organic ones if you decide to leave the skin on.
How to Make Oven Roasted Baby Red Potatoes
Prepare the spuds: Cut them into 1″ or 1 1/2″ pieces.
Parboil: Put the pieces into a large pot half-filled with warm water. Boil for about 7 to 9 minutes, then remove the water. Cover the spuds and set aside.
Season: Mix the rest of the ingredients in a small bowl. In a large bowl, toss the spuds with the mixture and make sure that each piece is coated well.
Bake: Place the pieces on a non-stick baking pan with the cut side facing down. Bake at 425 degrees Fahrenheit for about 20 minutes.
Serve: Put the spuds in a bowl and garnish with fresh herbs if you like.
Recipe Variations:
Here are some suggestions on how you can vary the flavor of this dish:
Add more garlic and omit the other herbs and smoked paprika.
Add bacon.
Use butter instead of extra light olive oil.
Keep it simple by just adding salt and pepper to the oil.
Yukon Gold is another variety that can be good for this recipe.
What to serve with roasted red potatoes?
How to Store:
Keep the leftovers in an airtight container. Reheat in the microwave within 3 to 4 days.
Recipe Tips:
As much as possible, use small ones that are of almost the same size so you can simply halve them. Also, this is to ensure that you cook them uniformly. If you use bigger ones, instead of halving, you may cut them into quarters.
If you do not have a non-stick baking sheet, line your baking sheet with foil and lightly grease it for easy cleanup.
Make sure that you drain them well before putting in the oven so that minimal moisture will cause steam that can make them soggy.
Deliciousness to your inbox
Enjoy weekly hand picked recipes and recommendations