Air Fryer Hot Dogs Recipe
Air Fryer Hot Dogs are crispy on the outside and veery juicy on the inside. Served on toasted buns with your favorite toppings and sides, for an easy and delicious get-together dinner.
Sometimes during hot summer days, it feels too much to turn on the oven or the grill! Therefore, we tend to cook a lot of easy air fryer recipes! Keep in mind that your barbecue will not be complete without delicious side dishes. Specifically, we can't get enough of these Air Fryer Hasselback Potatoes, Cabbage Steaks, and Sweet Potatoes!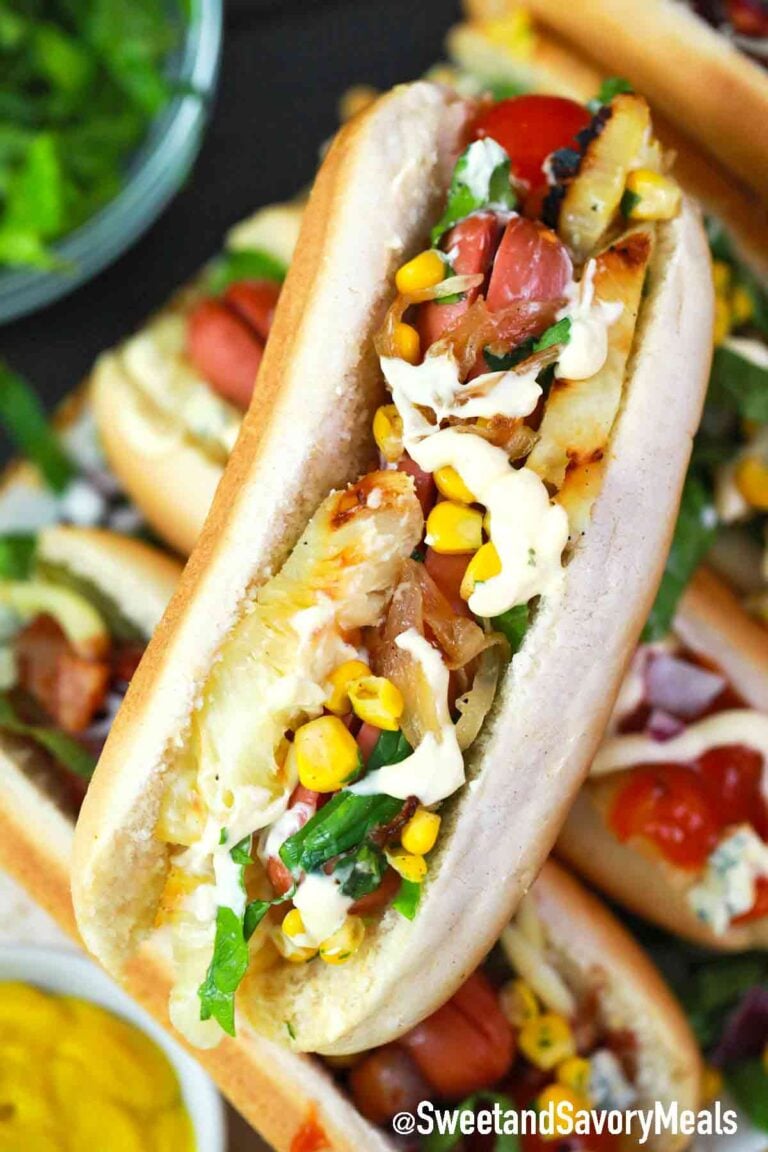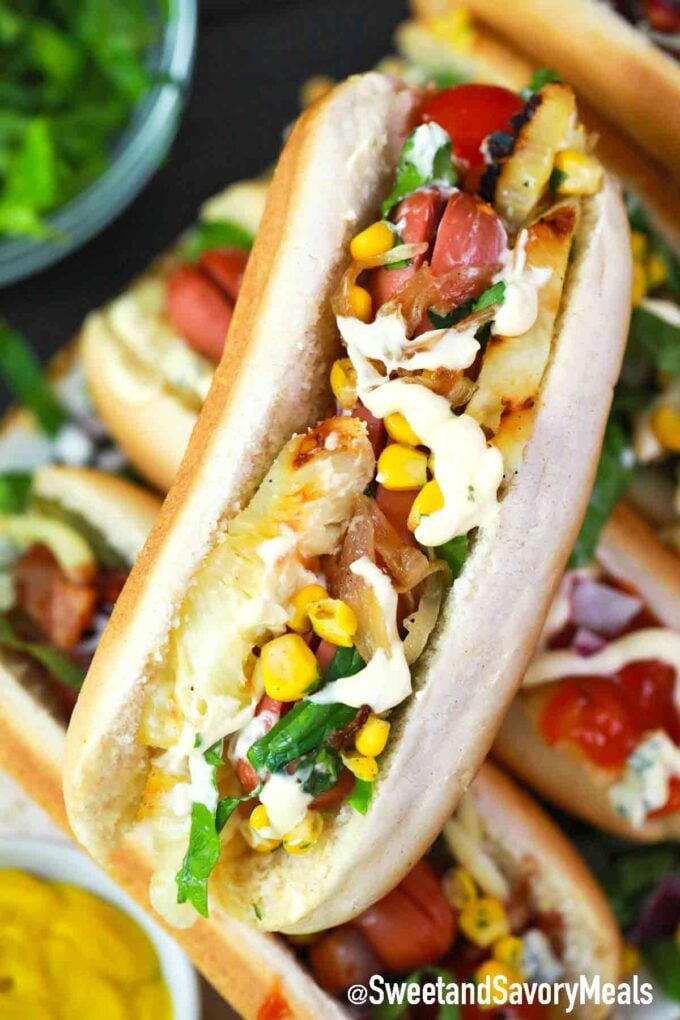 Air Fryer Hot Dogs
Air Frying Hot Dogs is fairly simple and all you need is just a few ingredients. Technically, you only need two ingredients, the sausages, and the buns. After that, you can decide on your choice of condiments and toppings.
We enjoy cooking hot dogs in the air fryer because it's much easier, mess-free, no need to clean a huge grill after that. Also, they turn out perfectly, I can tell you that the end result is very tasty. Equally important is to toast in the oven, grill, or air fry the buns.
A day spent making a delicious hot dog bar with your kids, might be the highlight of their summer vacation. Actually, make a party, invite your friends and surprise them with this grown-up and fancy take on the classic bbq staple!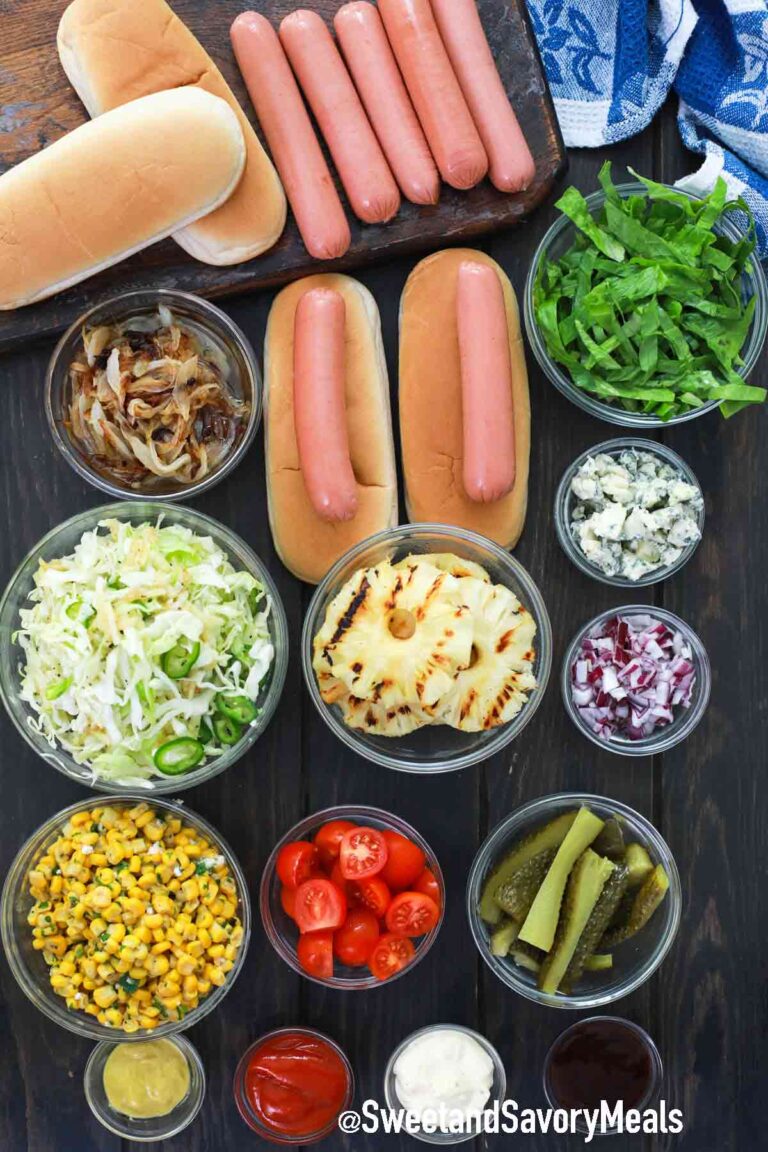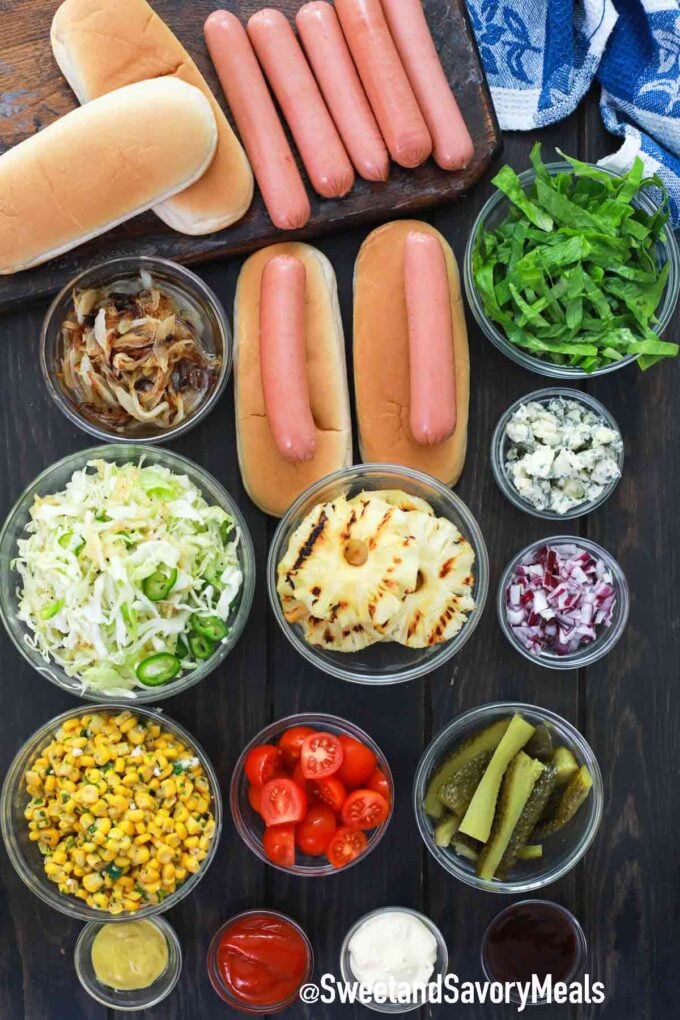 What do you need:
Hot Dog Buns – if you can get your hands on the brioche buns, those are delicious, but also more expensive.
Hot Dogs – choose your favorite brand here. Also, you can use sausages made with chicken, turkey, or even vegetarian-friendly.
How to Make:
Prepare the meat: First, start by making a few cuts on the surface of the sausages. Actually, this is a very important step and is done in order to prevent them from exploding while cooking.
Air Fry: After that, arrange them in the air fryer basket and cook at 400 degrees F for 4-5 minutes. While cook times can vary from recipe to recipe, we found out that 390-400 degrees produce the best results. Next, remove the hod dog from the basket and arrange it on a plate. Make sure to cover them with foil to keep them warm.
Toast the buns: Finally, arrange the buns in the air fryer and cook for a few minutes, just until lightly toasted.
Serve: Afterward, arrange the sausages in the buns and top with spices, sauces, and toppings.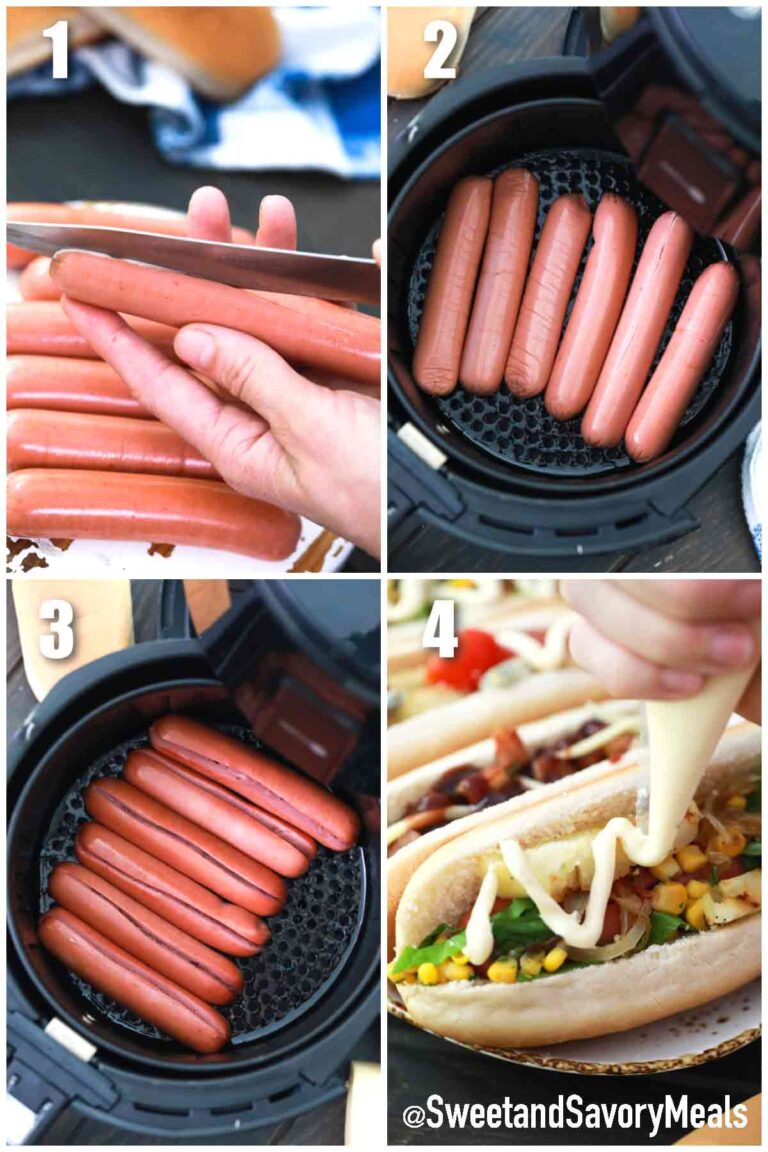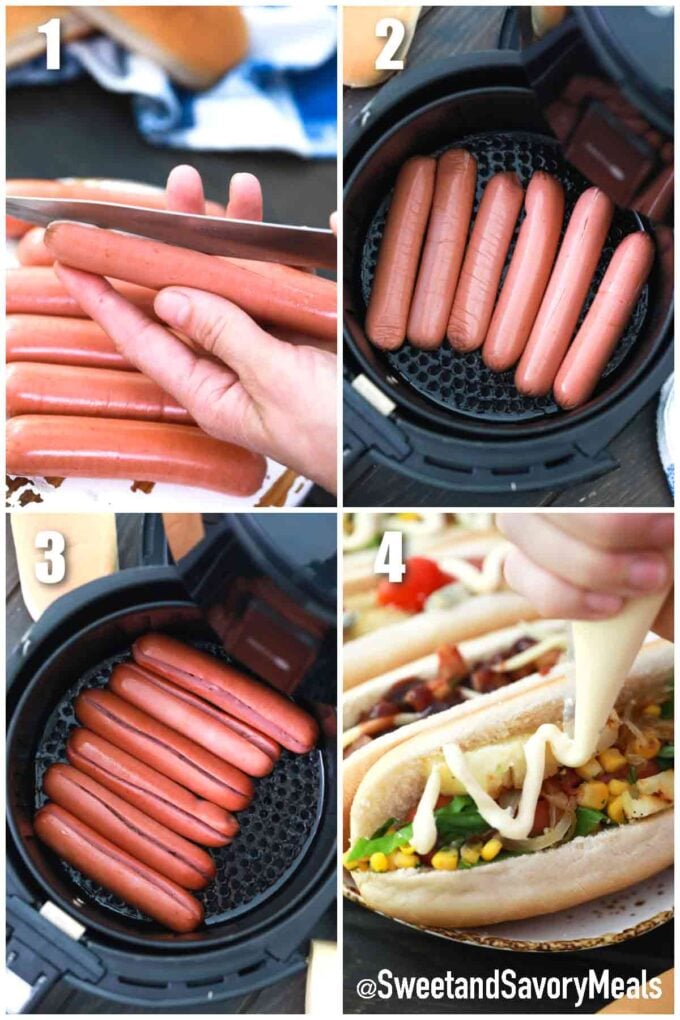 Favorite Toppings:
This recipe is obviously all about the toppings. While maybe when I was a kid I could just have mine with some ketchup and mustard, however now I enjoy setting up a bar for the toppings. Actually, here are our favorite suggestions:
Cheese: I usually have a few types of shredded cheese in separate bowls. We serve shredded fresh mozzarella, white and yellow cheddar cheese, fontina, feta, and gorgonzola.
Corn: Either grill some corn and after that add the kernels to a bowl, or make our famous Bacon Corn Salad, it is delicious as a side dish and as a topping as well.
Herbs: Have a bowl with chopped green onion, dill, parsley, and chives.
Grilled pineapple or Grilled Peaches: First, grill the fruit, and after that chop it into small bites.
Bacon: You can air fry it or just buy some bacon bits, everything is better with bacon. It's a fact.
Relish
Chopped pickled cucumbers
Coleslaw: Another side that makes a great topping in this case.
Veggies: Dice some chopped veggies like cucumbers, avocado, and tomatoes. Another option is to add some diced jalapenos for a spicy kick!
Shredded lettuce: You can use either iceberg lettuce or butter lettuce.
Condiments:
You know that these would be nothing without some amazing sauces. While ketchup, honey mustard, relish, and mayo are classic options, we encourage you to try something new!
Spices:
While these may sound unusual, take your hot dogs to another level by sprinkling a blend of homemade spices on top!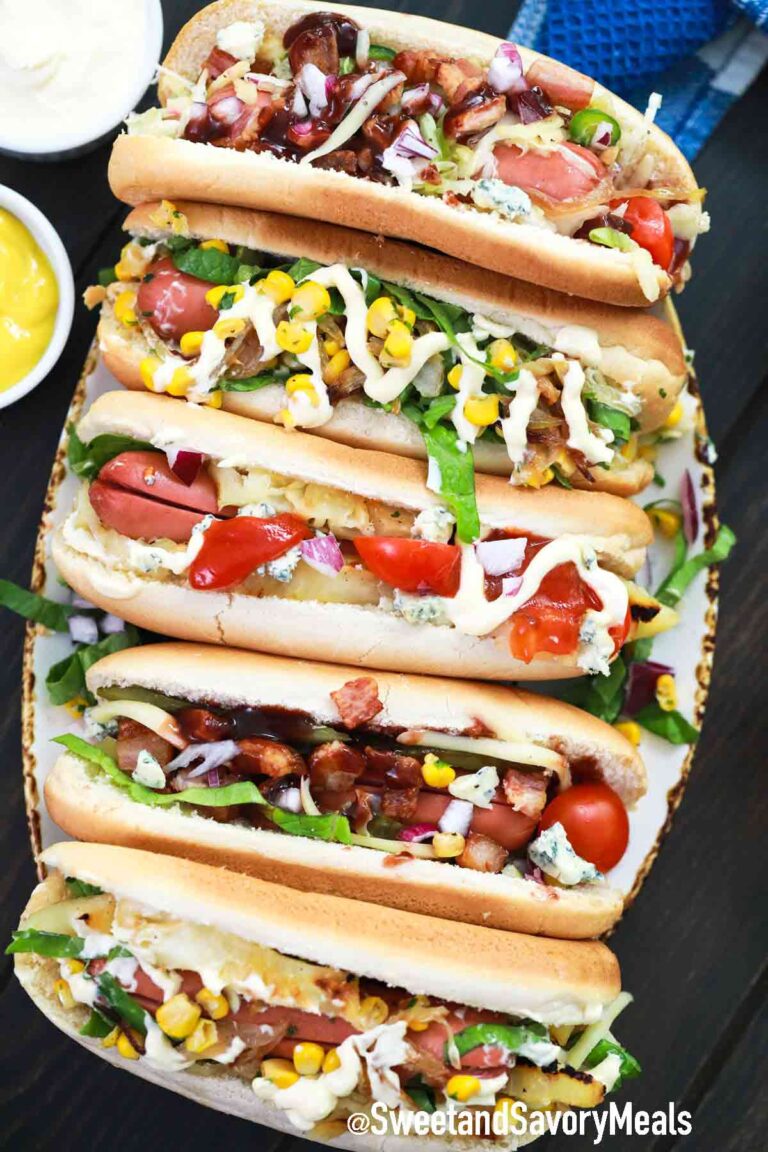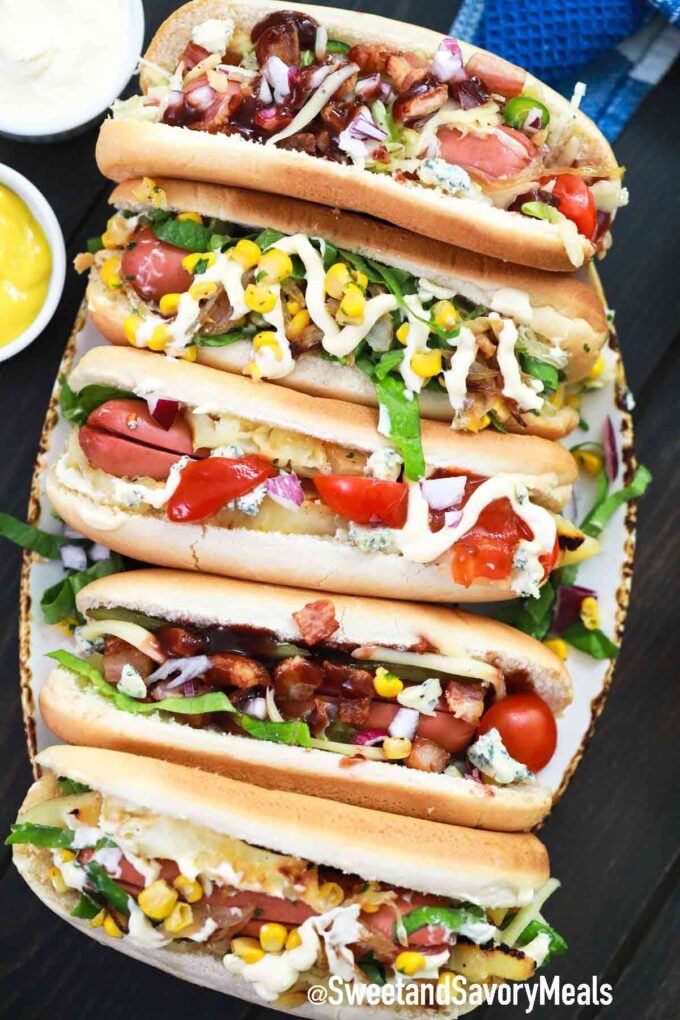 Variations and Adaptations on Air Fried Hot Dogs:
These are so versatile that by mixing and combining the Sauces and the Topping you can come up with so many delicious variations:
Caesar: Top with croutons, parmesan cheese, shredded lettuce, and caesar sauce.
Taco: Add some taco seasoning, salsa, chopped avocado, and cotija cheese.
Italian: Top with marinara sauce, parmesan cheese, and freshly chopped basil.
Buffalo: A drizzle of buffalo sauce and lots of blue cheese, served with celery sticks on the side.
Mexican street corn: Add lots of grilled corn kernels, cotija cheese, paprika, cayenne, and a good amount of ranch dressing.
How to store leftovers:
Serve: First, we recommend that you serve these immediately, so they are warm and juicy. To serve, choose your seasoning from the list, sprinkle in the meat, add your favorite sauce and preferred toppings.
Store: If you do not plan on serving these immediately, add them to an airtight container and store them in the fridge for 2-3 days.
Freeze: While we do not recommend freezing these after cooking, you can still do so if you have a lot of leftovers on your hand. To freeze, just add the sausages to a freezer-safe Ziploc bag and freeze for up to 3 months.
Defrost: To defrost just move these to the fridge and let them stand overnight. After that, reheat and serve.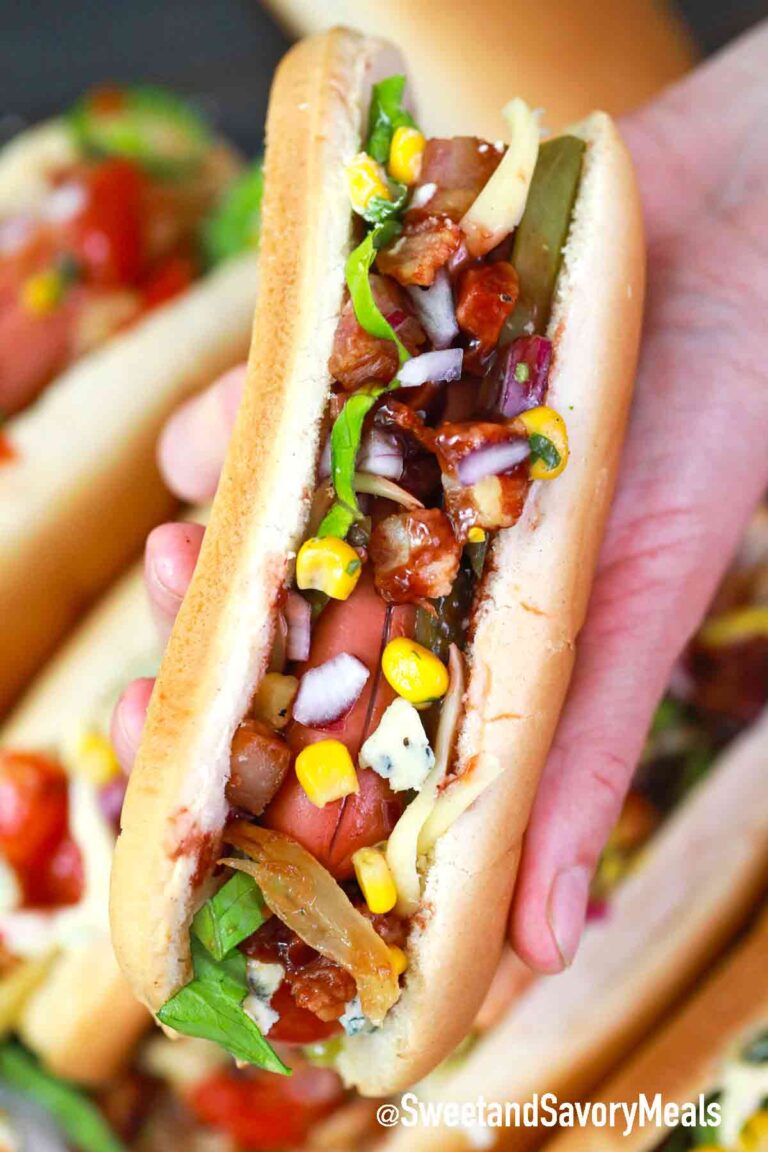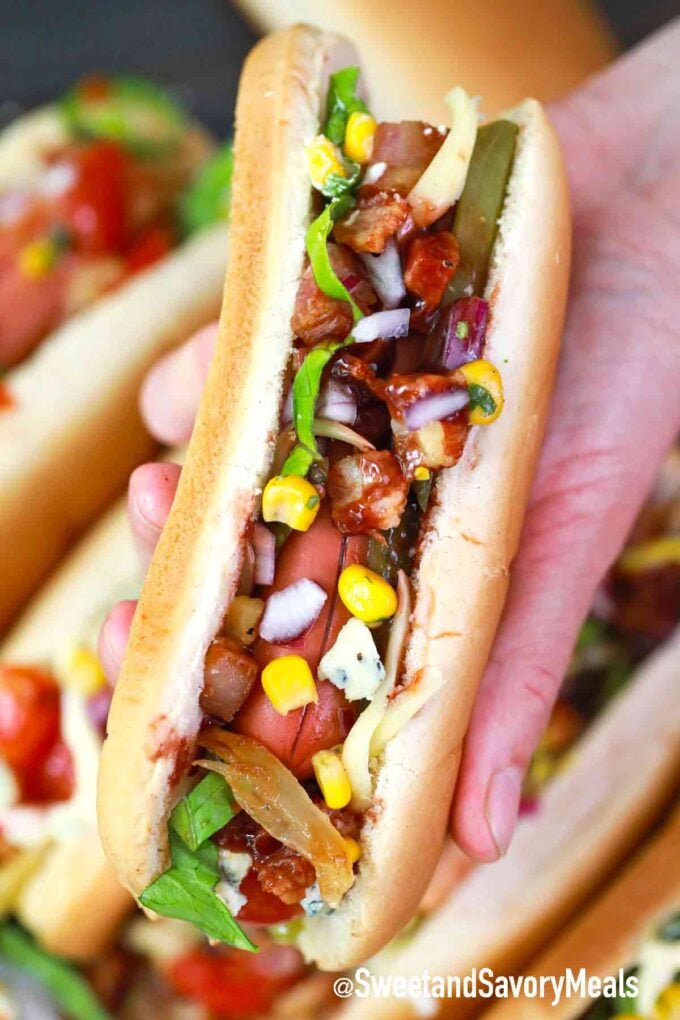 Recipe Tips:
Probably the most important thing is to buy quality hot dogs, this way you will ensure that they will taste great.
Another important thing is to make sure that the buns are fresh because no one enjoys stale bread.
Equally important is to use high-quality and fresh ingredients for the toppings.
In addition, make sure you have great-tasting condiments on hand.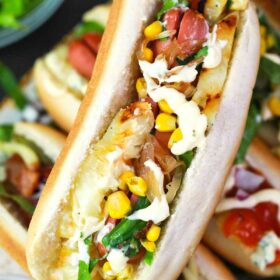 Air Fryer Hot Dogs
Air Fryer Hot Dogs are crispy on the outside and veery juicy on the inside. Served on toasted buns with your favorite toppings and sides.
Save
Share
Print
Pin
Rate
Ingredients
6

hot dogs

(your preferred brand - veggie dogs also work well)

6

hot dog buns

(or brioche buns)
Condiments:
Ketchup

Mustard

Mayo

Relish

Buffalo Sauce

Ranch Dressing

etc
Toppings:
Chopped veggies

Grilled corn

Bacon

Diced avocado

Grilled pineapple

Shredded cheese: mozzarella

(parmesan, fontina)

Blue cheese

Feta cheese

Chopped fresh herbs

Grilled peaches

Salsa

etc
Instructions
Prepare the hot dogs:
Make a few cuts on the surface of the sausages, this is done to prevent them from exploding while cooking.
Air Fry:
Next, arrange them in the basket of the air fryer. Cook for 4-5 minutes at 400 degrees F. Remove and arrange on a plate, cover them with foil to keep warm.
Toast the buns:
Add the buns to the air fryer basket and cook for 1-2 minutes, or until lightly crisp.
Serve:
Place the cooked hot dogs on buns, top with your favorite condiments and toppings.
Nutrition
Calories:
229
kcal
|
Carbohydrates:
30
g
|
Protein:
9
g
|
Fat:
8
g
|
Saturated Fat:
3
g
|
Polyunsaturated Fat:
1
g
|
Monounsaturated Fat:
4
g
|
Cholesterol:
20
mg
|
Sodium:
520
mg
|
Potassium:
120
mg
|
Fiber:
1
g
|
Sugar:
3
g
|
Vitamin A:
1
IU
|
Vitamin C:
1
mg
|
Calcium:
84
mg
|
Iron:
3
mg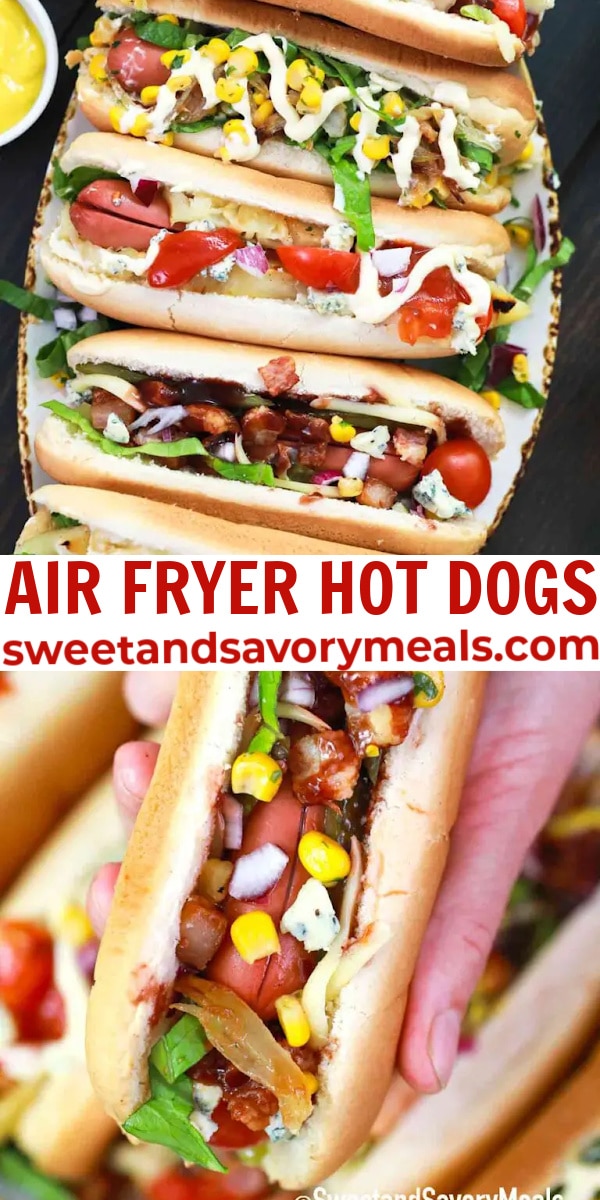 More recipes you might love