Air Fryer Salmon Recipe {under 10 mins}
Last updated on August 14th, 2021 at 01:03 pm
Air Fryer Salmon is done in a flash and produces the juiciest, most tender, seasoned fish ever. A healthy, low carb, and no-fuss lunch or dinner that is ready in 10 minutes!
We have plenty of easy and delicious air fryer recipes for every day of the week. If you need a quick dinner tonight, I recommend making these Salmon Cakes, Chicken Thighs, or this Juicy Air Fryer Pork Tenderloin.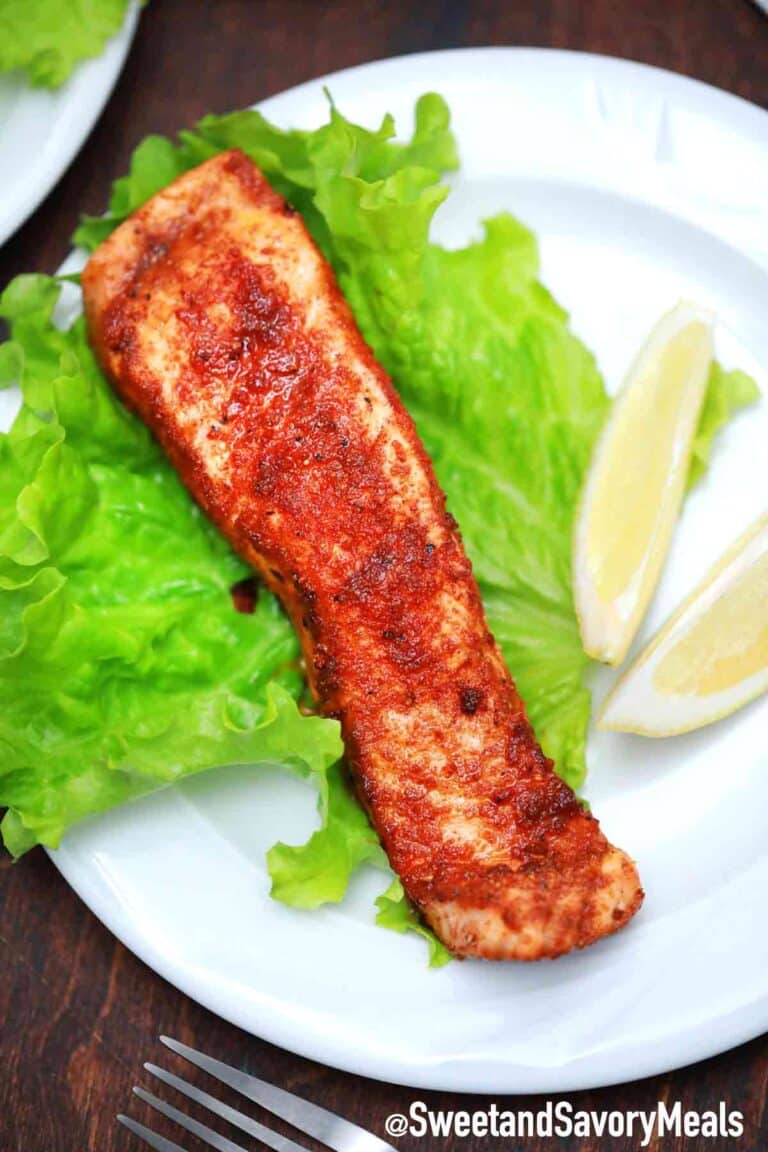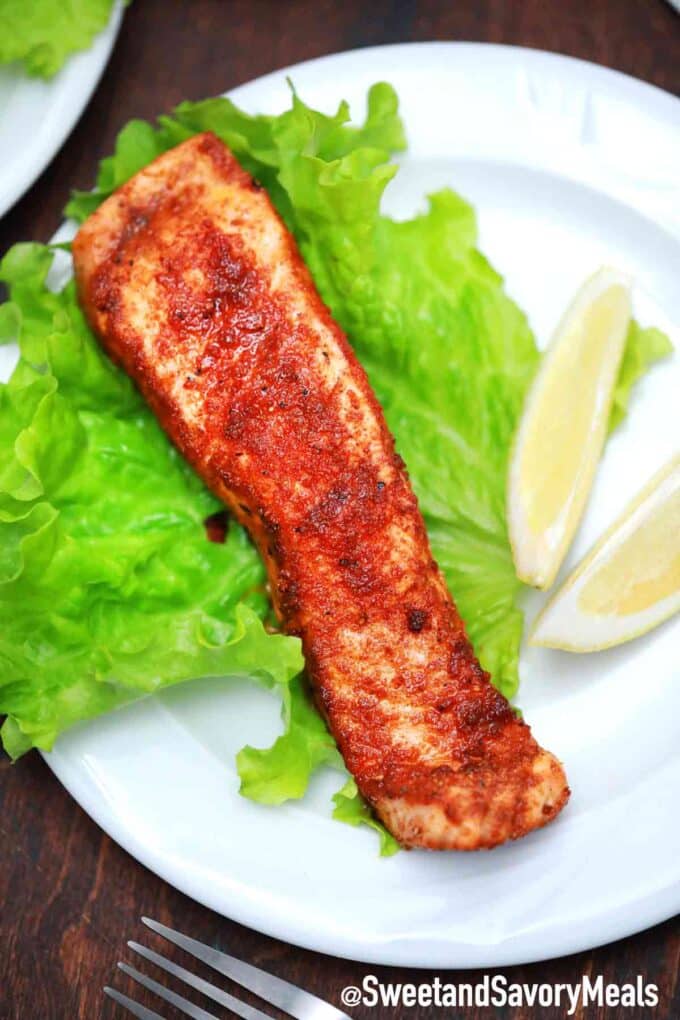 Cooking salmon in the air fryer ALWAYS results in tender, succulent and juicy salmon. This is actually my favorite and the best way of cooking this fish. In addition, it is such an easy recipe that you will have dinner ready in less than 10 minutes.
Air Fryer Salmon is my latest win using this clever gadget! I already know that this kitchen appliance makes amazing fried chicken, bacon, and potatoes, so I wanted to see if it'll work for fish, too.
And it totally does! In fact, this method just became one of my all-time favorite ways of cooking salmon. My whole family love salmon, therefore cooking it this way is an ideal way. The air fryer locks in the flavors inside making it juicy and tender.
If it needs a little more time to cook, I just pop it back in! Best of all, everything cooks so FAST— this recipe literally takes minutes from the moment you turn on the fryer to plating it up.
Also, it's super healthy as well because you need very little oil. You really have to try this one!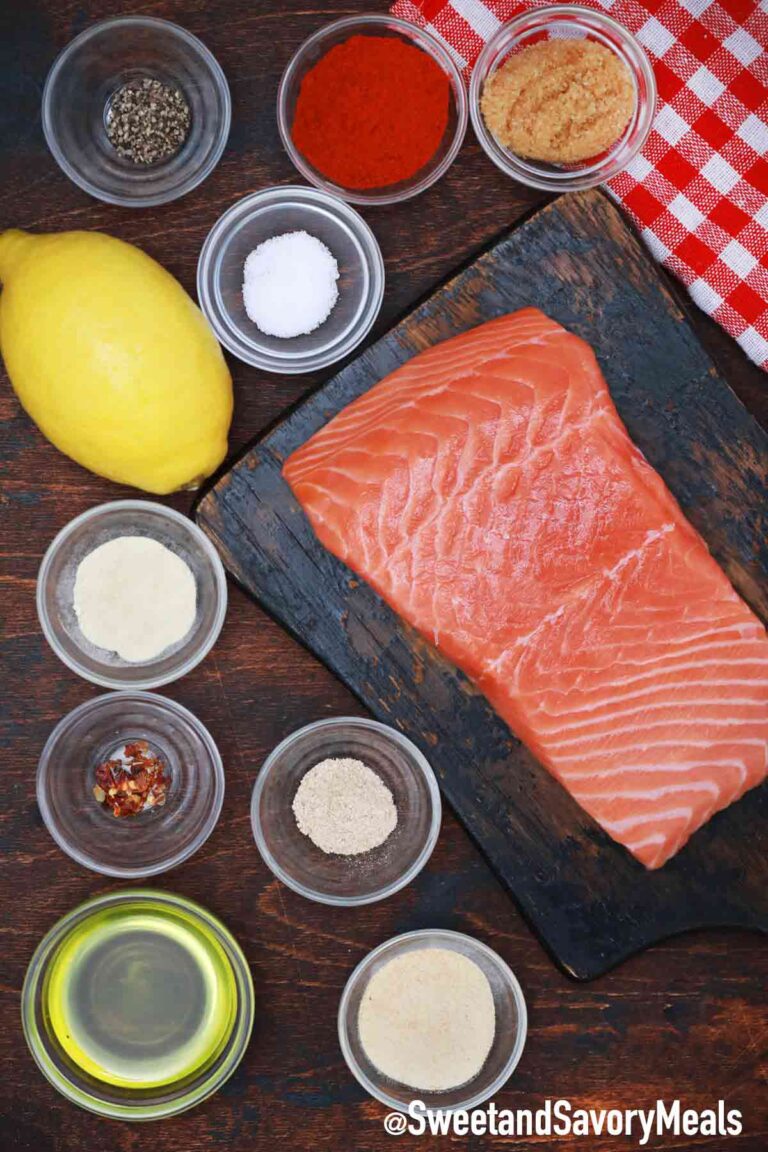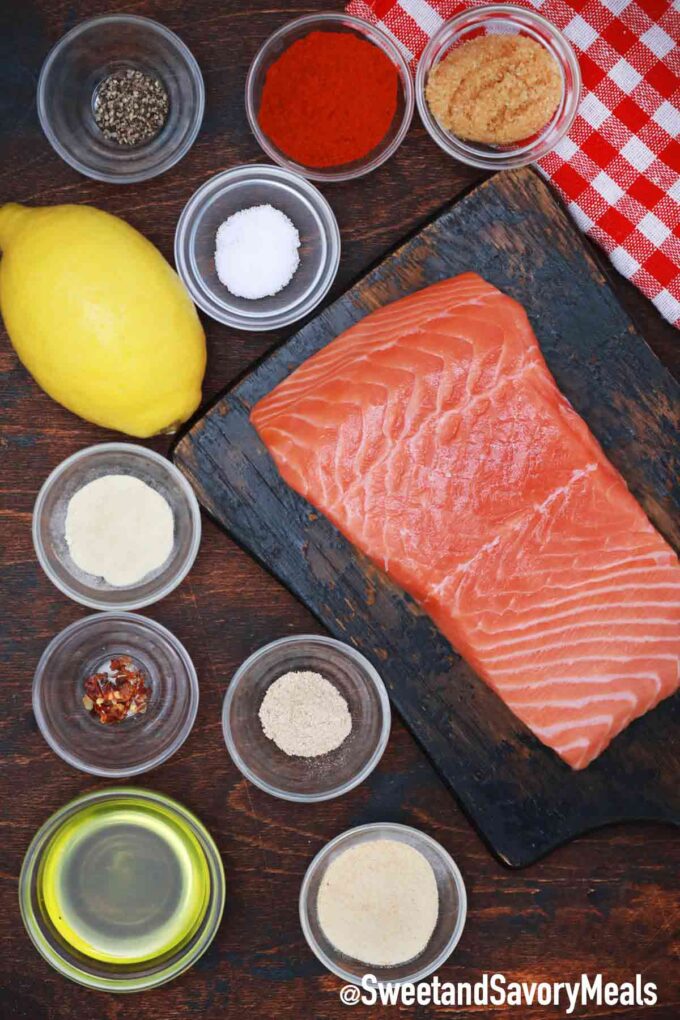 Recipe ingredients:
This dish requires a few simple ingredients. Here is the list:
Salmon: I love using organic, fresh salmon. Also, get deboned fillets that are similar in thickness, around an inch to 1.5 inches thick.
Olive oil: Makes the rub stick and helps the fish crisp up on the surface.
Rub: Measure out some brown sugar, fresh ground black pepper, onion powder, a dash of smoked paprika, garlic powder, powdered ginger, kosher salt, and some pepper flakes for a little kick.
Lemon: Prepare a few wedges for garnish.
How to make Air Fryer Salmon?
Preheat the Air Fryer: First, preheat the air fryer to 400 degrees F.
Blend the rub. Next, in a small bowl combine the rub ingredients.
Prep the fillets. Then, allow it to come to room temp by letting it sit on the counter for about an hour. Rub each one with little olive oil, then coat well with the spice rub.
Cook. Next, carefully place the seasoned salmon fillets in the air fryer basket. Then, cook for 7 minutes. Check afterward to see if it's done as you prefer. If not, turn it on again for a minute until it's perfect.
Serve. Enjoy it warm with some freshly squeezed lemon juice.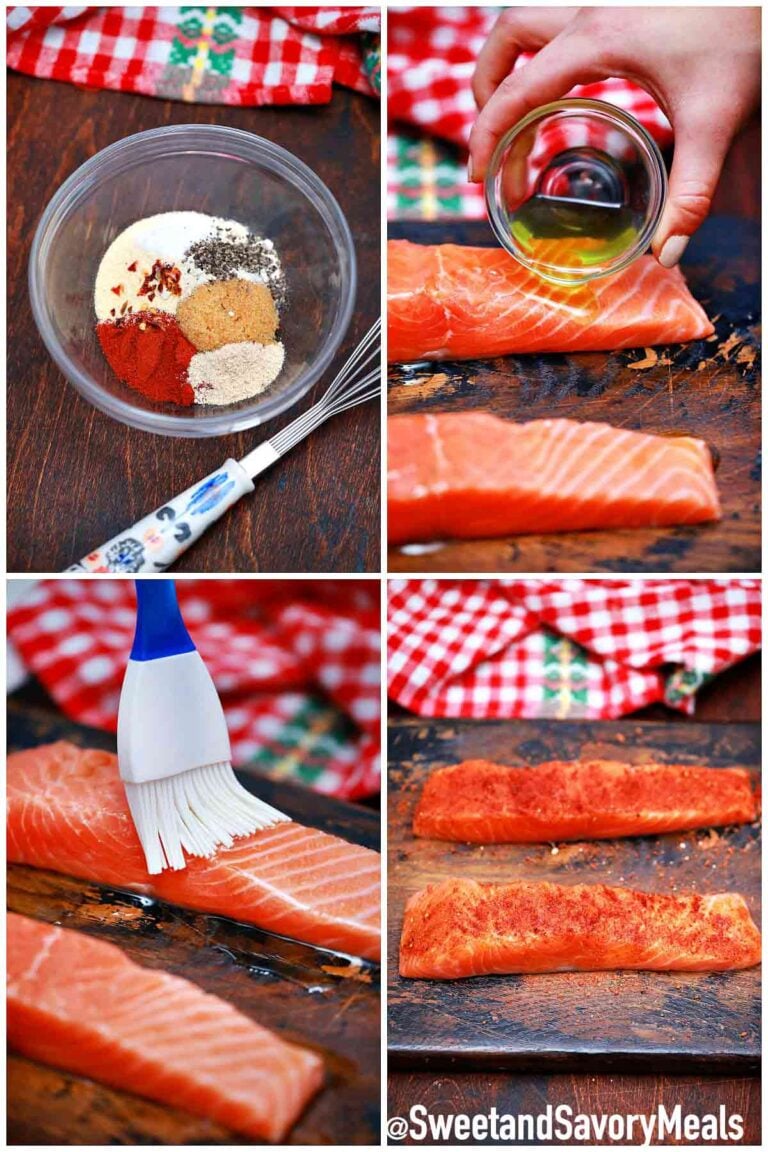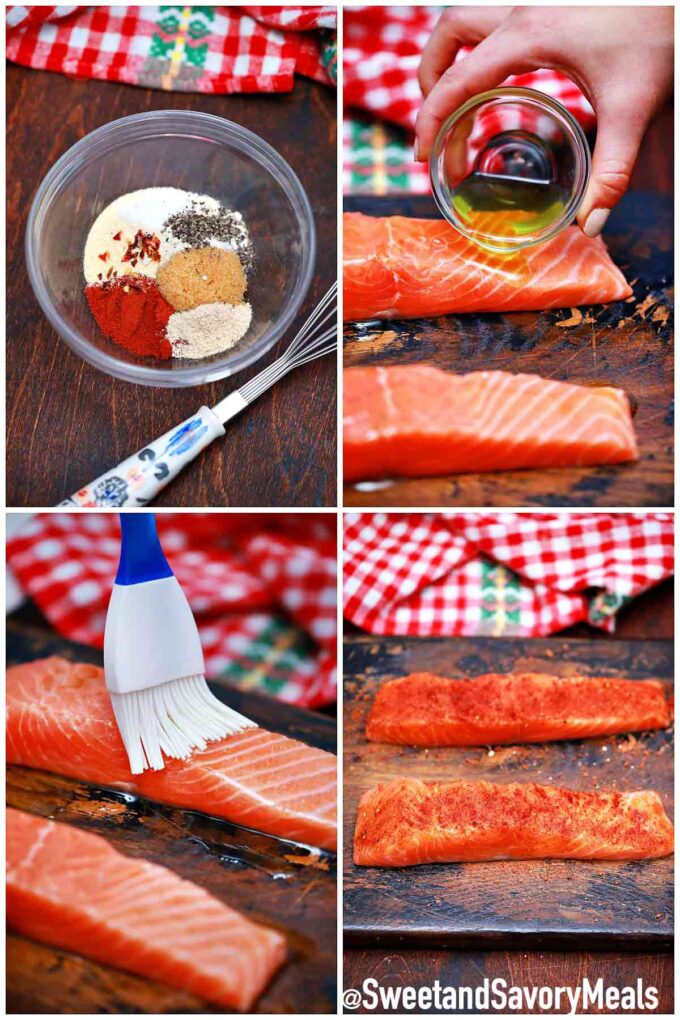 What air fryer is the best?
There are plenty of great choices out there. Over the past years, I have tried a few different brands, and I can say that they are all pretty decent. I am currently using this Air Fryer, and I am quite happy.
How to know when salmon is done?
The best and safest way to know if salmon is done is by checking its internal temperature. Simply, insert a meat thermometer into the thickest part of it. The fish is done at 145 degrees F.
Alternatively, you can tell by checking its color. For example, raw salmon is translucent and reddish in color. On the other side, the cooked fish has a more pinkish color.
How long do I cook frozen fish in the air fryer?
It ultimately depends on the size and thickness of the fish. But generally, frozen salmon fillet takes about 12 minutes at 380F.
The fillets used for this recipe are only 1 to 1.5 inches thick, so they only needed 7 minutes at 390F. If you're first timing using the equipment, then set it for less time. This way you can test and adjust the timing.
And like I said, you can always put it back in if it's not perfectly done yet!
Is Air Fryer salmon healthy?
Yes, and it's one of the healthiest meals you can have! The fish itself is loaded with Omega-3 fatty acids, vitamins, minerals, and antioxidants.
Also, this dish requires very little oil in the recipe, and the fish retains most of its nutrients because it cooks so quickly.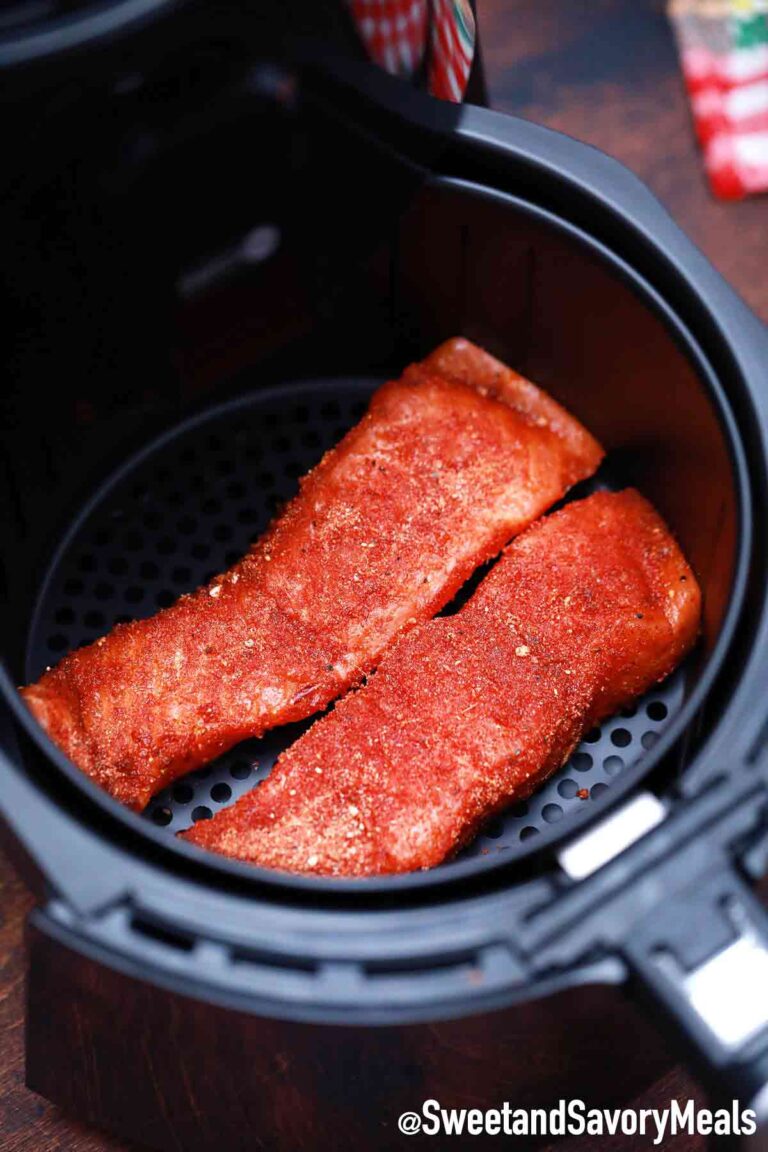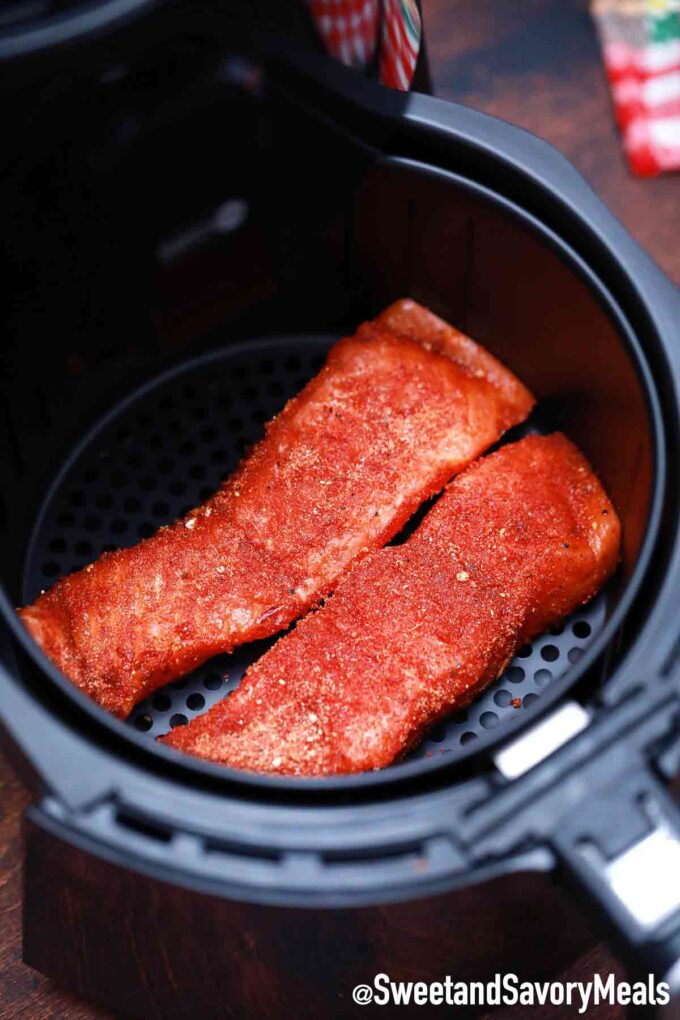 Can you cook frozen fish in the air fryer?
Absolutely, and there's no need to thaw it first, either. Just add a couple of minutes or so to the cooking time.
What to serve with this dish?
A delicious sauce really takes it to a new level! Try this dish with my own sauce for salmon, Chimichurri Sauce, or Horseradish Sauce if want a little kick.
As for sides, you want something you can whip up as easily as your entrée. I recommend eating it with a nice Arugula Salad or Pear Salad, or fresh Broccoli, baked sweet potatoes, and Cauliflower Salad.
In addition, it is super tasty with some mushroom soup, too!
How to store leftovers?
Wait for it to cool down completely before placing it into well-sealed containers. Then, store leftovers in an airtight container and refrigerate. Consume within two days if you're only storing it in the refrigerator.
For longer storage, keep it frozen for up to a month.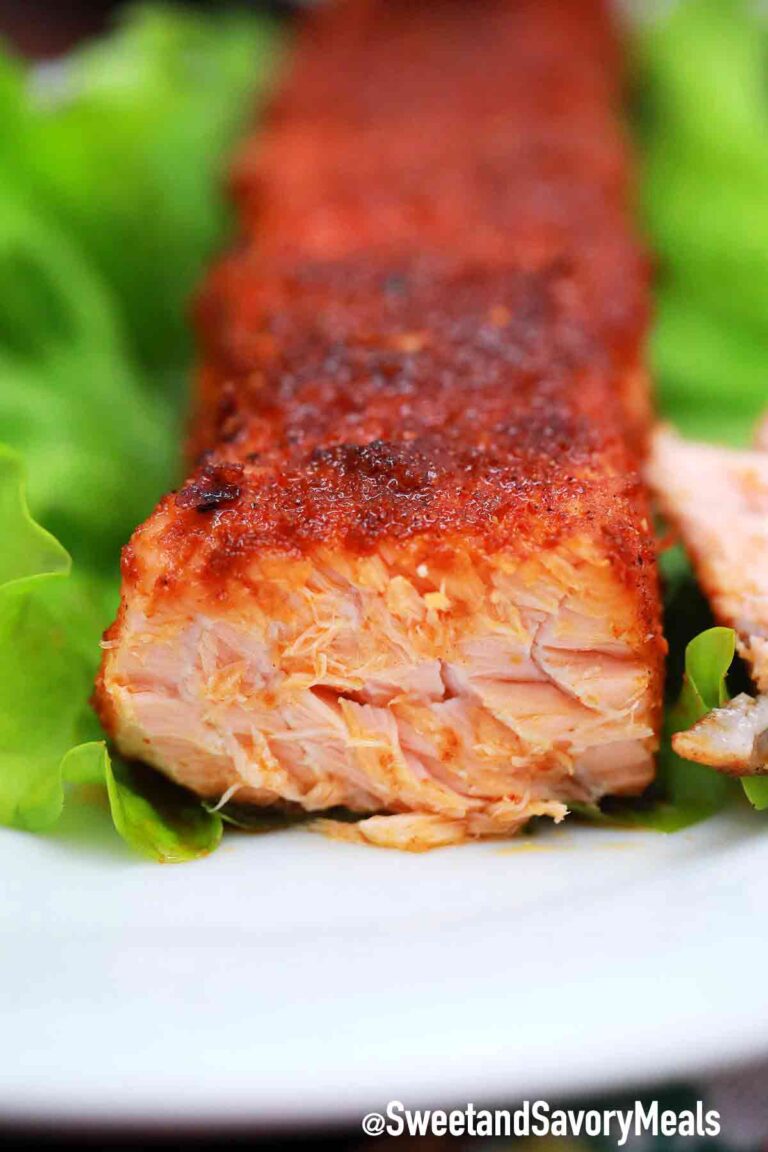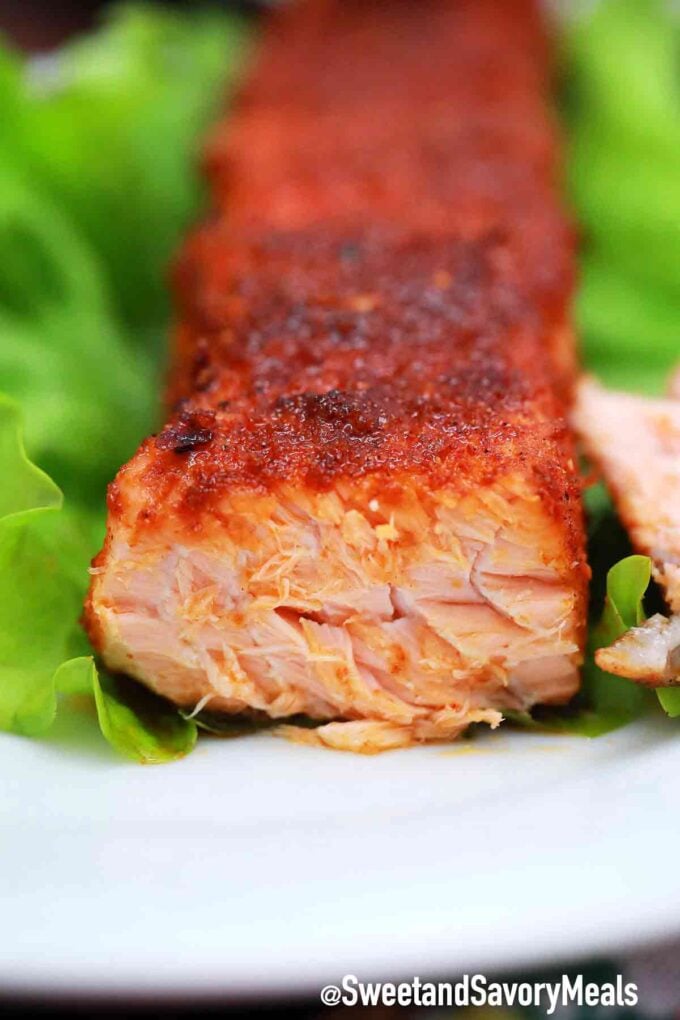 More Easy Air Fryer recipes:
Recipe tips:
To check if it's done inside, peek into the fillet's thickest part with a fork. It should be flaky but still slightly translucent in the middle.
Alternatively, check for an internal temp using an instant-read thermometer. When cooked, it should read 145F.
Feel free to use wild or farm-raised salmon.
Also, remember to use similar-sized filets to ensure even cooking time.
Do not OVERCROWD the basket. The hot air needs room to circulate in between. Therefore, ensure not to have some space in between.
In addition, feel free to use your favorite seasonings. Great mix-ins would be chili powder, soy sauce, Italian seasonings, etc.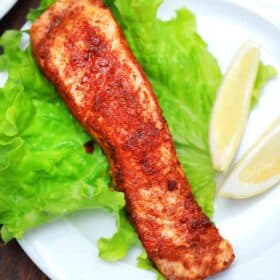 Air Fryer Salmon
Air Fryer Salmon is done in a flash and produces the juiciest, most tender, seasoned fish ever.
Save
Share
Print
Pin
Rate
Ingredients
2

salmon fillets

(about 1 1/2-inches thick)

2

teaspoons

olive oil
Dry Rub:
2

teaspoons

smoked paprika

1

tablespoon

brown sugar

(optional)

1

tablespoon

garlic powder

1

teaspoon

onion powder

1/2

teaspoon

ginger powder

1/4

teaspoon

red pepper flakes

1/2

teaspoon

salt

1/4

teaspoon

ground black pepper
Instructions
Remove fish from the fridge, inspect it for any bones, and let it sit on the counter for an hour.

Mix the RUB ingredients in a bowl.

Rub each fillet with olive oil and after that the dry rub mixture.

Place fillets in the basket of the air fryer.

Set air fryer at 390 degrees for 7 minutes if the filets are 1-1/2-inches thick.

When the timer goes off, check fillets with a fork to make sure they are done to your desired doneness. If needed cook a few minutes longer. Cooking time will vary based on the temperature of the fish and the size. It is better to set the air fryer for a little less time and add a few more minutes if needed, to avoid overcooking the fish.
Nutrition
Calories:
325
kcal
|
Carbohydrates:
11
g
|
Protein:
35
g
|
Fat:
15
g
|
Saturated Fat:
2
g
|
Cholesterol:
94
mg
|
Sodium:
667
mg
|
Potassium:
926
mg
|
Fiber:
1
g
|
Sugar:
6
g
|
Vitamin A:
1127
IU
|
Calcium:
20
mg
|
Iron:
2
mg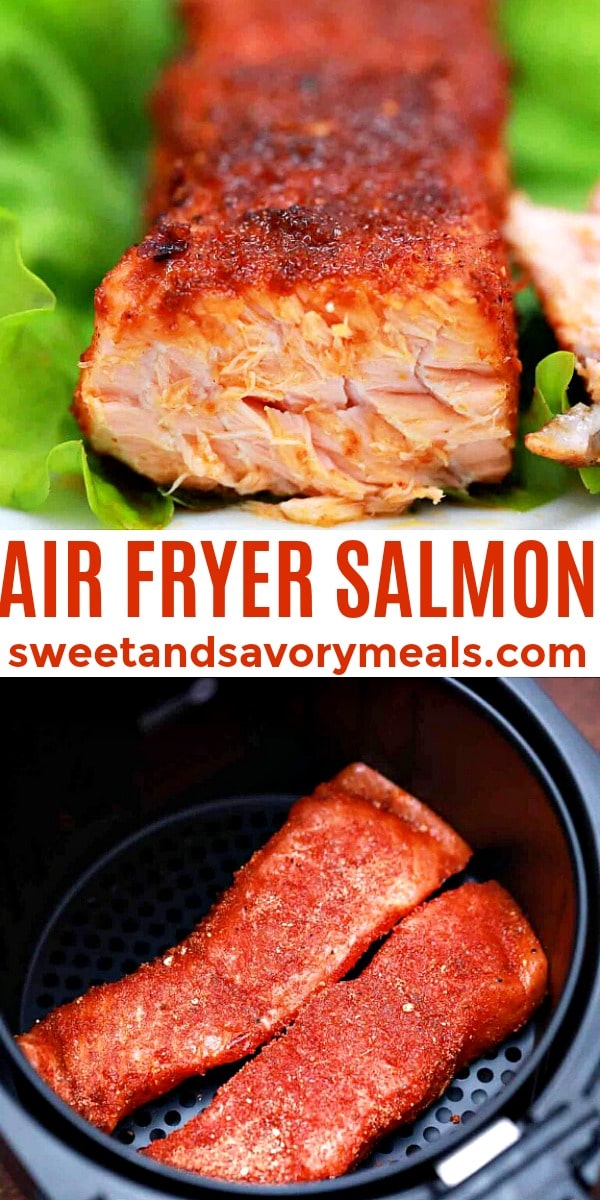 More recipes you might love