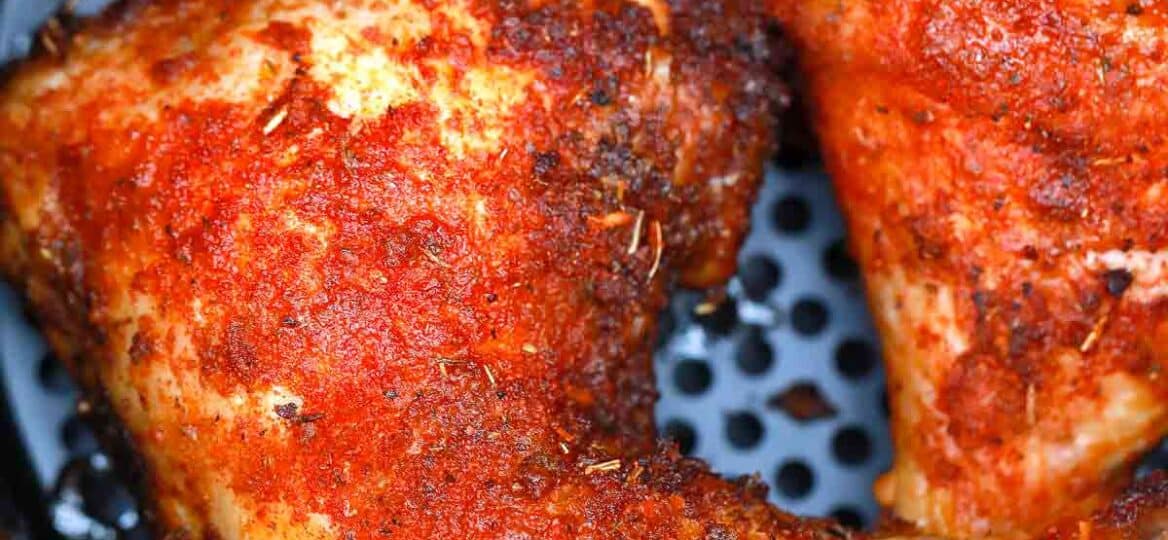 Air Fryer Chicken Thighs [Video]
Air Fryer Chicken Thighs are covered in herbs, ground mustard, chili powder, paprika, and olive oil, before being air-fried to crispy perfection! These are also low-carb and great if you follow a Keto diet.
Healthy Air Fryer Recipes are our favorites because they are easy to prepare, and always come out perfectly cooked with a crunchy outside. For more chicken recipes check out my Cheesy Chicken Casserole, Instant Pot Whole Chicken, Crockpot Chicken and Rice.
This Crispy and Juicy Air Fryer Chicken Thighs will become your go-to meal during the busiest weeknights! Fresh thighs are rolled in olive oil then perfectly seasoned with onion powder, garlic powder, Italian seasoning, herbs, paprika, plus other spices.
After that, it's air-fried until the surface is crispy while being perfectly tender and juicy inside. Best of all, you only need 30 minutes to get dinner for the whole family on the table. They are just delicious as the oven-baked thighs, or fried chicken but healthier because you don't have to deal with all the grease and oil.
This is an easy recipe that is also healthy, full of protein, and low-carb. Also, they're very kid-friendly, and a great recipe for meal prepping. I like keeping the bone in and the skin on. This is the perfect combination to get moisture inside while crispy outside.
Why air fry?
Well, this is pretty straightforward. 🙂 Air frying is a quick and easy way to cook pretty much any meal. The secret here is that, unlike the deep frying method, very little oil is used. The hot air circulates inside while cooking the food perfectly moist inside and giving it a nice crispy texture on the outside.
Also, cooking this way is very healthy, and you get tender and juicy meat every single time.
Ingredients needed:
Chicken thighs: We're using bone-in cuts with the skin on. Air-frying makes it so crispy!
Olive oil: This allows our seasonings to stick to the surface while producing crispy skin.
Seasonings: We're packing flavor into every inch of the meat with a bold blend of onion powder, smoked paprika, garlic powder, ground cumin, fine-grated parmesan, Italian dried herbs, fresh parsley, chili powder, salt, and black pepper.
How do you make Crispy and Juicy Air Fryer Chicken Thighs?
Coat. First, pat dry the meat with a paper towel to absorb any moisture. Then, toss all the pieces of meat in olive oil.
Season. Next, dredge the oiled thighs in the dry rub seasonings, taking care to coat every part.
Air-fry. Arrange the thighs in one layer, with the chicken thighs' skin side facing down. Air-fry at 370F for 15 mins. Flip and continue air-frying for another 10 to 15 mins, checking for temperature by the 10-minute mark. Take them out once the internal temp hits 165F.
Serve. Enjoy hot with a sprinkle of parsley and your favorite sauces on the side.
Recipe Variations:
Try other seasoning blends: Old Bay, Cajun, ranch seasoning, lemon pepper, sweet paprika, and curry spices taste amazing in this recipe. But remember, to always use a tiny bit of oil to rub the seasoning on the skin so it sticks.
Use drumsticks or boneless skinless chicken thighs: You can use this recipe for drumsticks, too! Set to 390F and air-fry for 25 mins, flipping halfway.
Glazed: Add a little honey or brown sugar to the seasonings, which will caramelize while being air-fried.
Chicken thigs vs Chicken breasts
Both cuts are ideal for cooking, and a great source of lean protein. When it comes to air frying is just a personal choice.
If you are looking for a leaner and healthier meal, then breasts will win. They also have fewer calories and fat.
On the other side, thighs are juicier and way more flavorful, especially the bone-in ones. Also, the skin is crispy and absorbs the seasoning quite well.
Is air-fried chicken healthy?
Yes! Actually, it's one of the healthiest ways to enjoy chicken!
For one, we're only using two tablespoons of olive oil for 7 to 8 pieces. All the flavor comes from herbs and spices, which barely have any calories. This dish is loaded with protein but very low in calories, carbs, and fat. Also, you can enjoy it on a keto, gluten-free, and paleo diet!
At what temperature do you air fry them?
We're doing cooking them at a hot 370 degrees F. Make sure to preheat the basket for at least 15 minutes before placing the meat in there, so it starts cooking immediately.
How long does it take to cook chicken thighs in an air fryer?
It depends on several factors, such as the size of the pieces, how many you're cooking at one, and whether they still have a bone or not. In general, however, plan for at least 30 minutes to fully air-fry 7 medium-sized pieces.
However, keep in mind, that larger pieces, will take longer to cook. You will have to increase the cooking time by 3-5 minutes.
Can you put raw chicken in an air fryer?
Absolutely! It's just like cooking raw chicken in any other appliance, like a skillet or an oven. You can cook any raw seafood or meat in there safely, including fresh pork chops and salmon!
Do you have to flip them during air frying?
Yes, it's a must. Without flipping the meat, you risk undercooking one side and overcooking – or even burning – the other side. Therefore, flipping halfway through allows all surfaces to come into contact with the heat evenly.
What do you serve them with?
These crispy, perfectly seasoned beauties are delicious with almost anything! Here are my favorite sides:
More Air Fryer Recipes:
How to store leftovers?
First, let all leftovers cool down prior to refrigerating. Then, transfer them to an airtight container and refrigerate them for up to 3 days. To reheat, pop in a 400F air-fryer for 5 minutes or until hot.
Recipe tips:
Reaching the correct internal temp is a must when air-frying raw meat. For these thighs, don't take them out if the meat is less than 165F inside.
Also, it is very important NOT TO forget to flip the meat in the middle of cooking! Otherwise, they may not be evenly done and crispy.
DON'T OVERLAP/Over CROWD the meat. They need to be in a single layer, so everything comes into contact with the hot air. If not, you'll end up with soggy spots.
Check the internal temperature. It is always advisable to use a meat thermometer and check the temperature in the thickest part of the thigh to check. When the internal temperature reaches 165 degrees they are done.
Deliciousness to your inbox
Enjoy weekly hand picked recipes and recommendations