Crispy Baked Chicken Thighs [Video]
Baked Chicken Thighs are moist and tender on the inside and crispy on the outside! Perfectly seasoned, and served with a homemade creamy mustard sauce, this dish could very well be your new favorite!
This is a simple dish, straightforward, and easy to do. It pairs well with Oven Roasted Sweet Potato Fries, Creamed Spinach, and Classic Caesar Salad!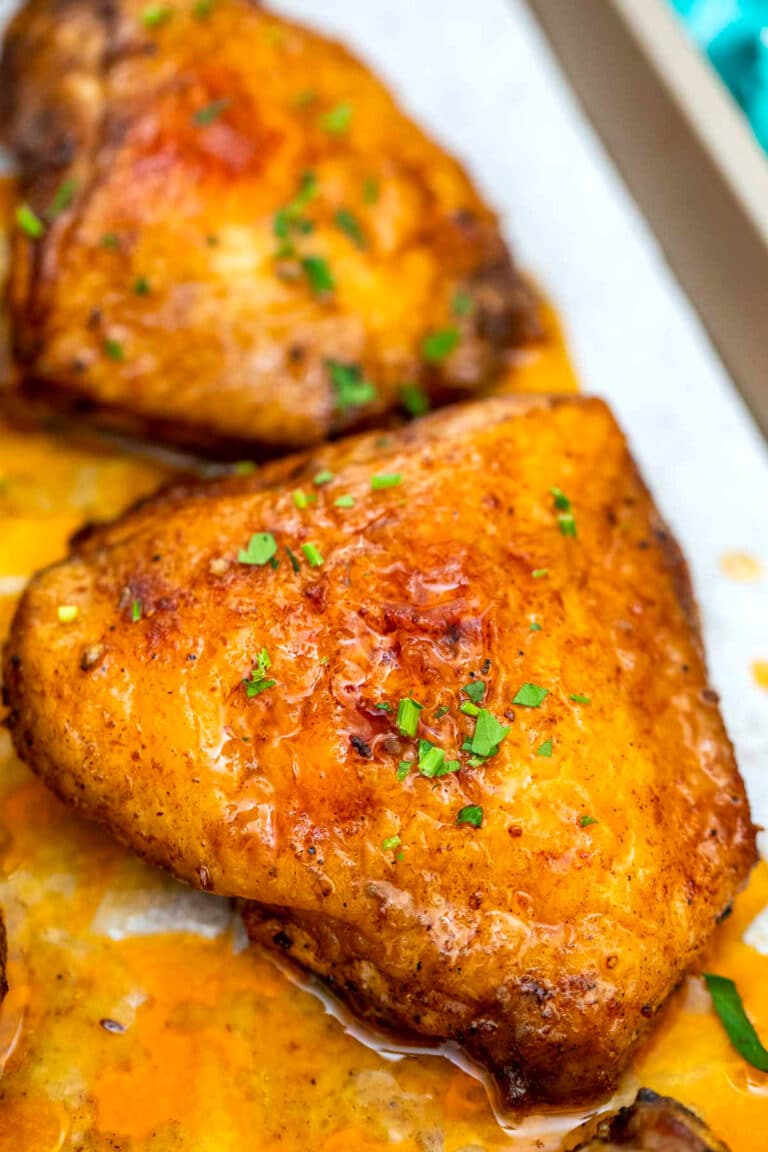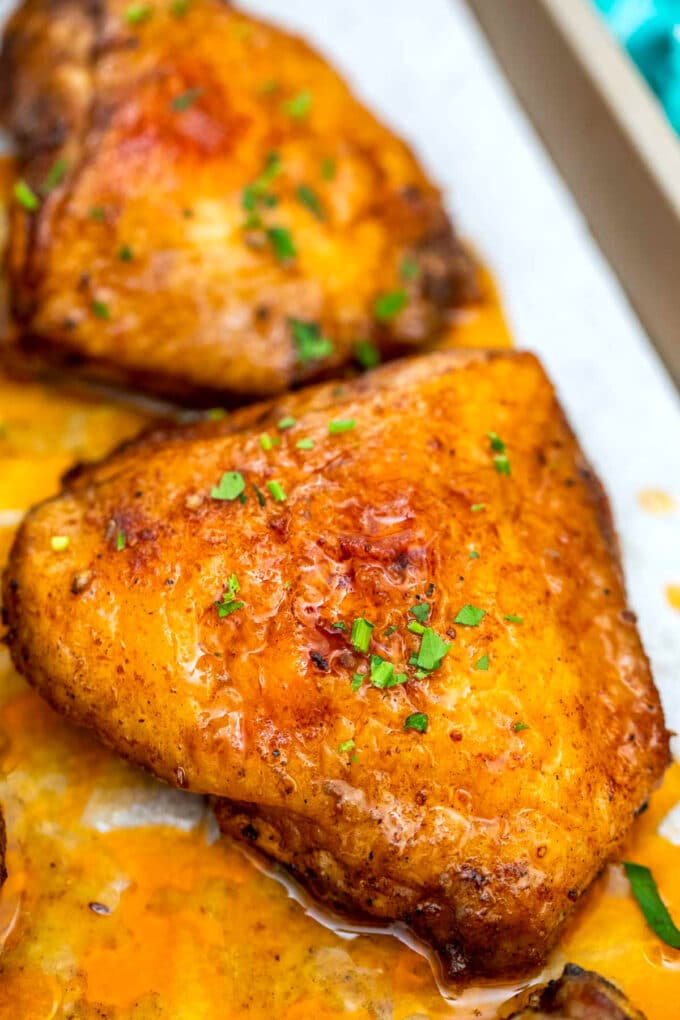 Crispy Oven Baked Chicken Thighs
Baked Chicken Thighs are difficult to mess up. They are never dry because of the higher fat content compared to the breast part. And for that same reason, they are more flavorful.
The secret is to leave the skin on. It will crisp up nicely while imparting flavors and keeping the meat tender, too. The coating is also savory which pairs well with the sauce.
Since this is already protein-rich, you may want to pair it with side dishes that are rich in carbs and fiber for balance. And while this cut is not the leanest, unlike skinless breasts, baking limits the additional calories from oil.
And you get to cook this in under one hour! Just perfect for the busy home cook!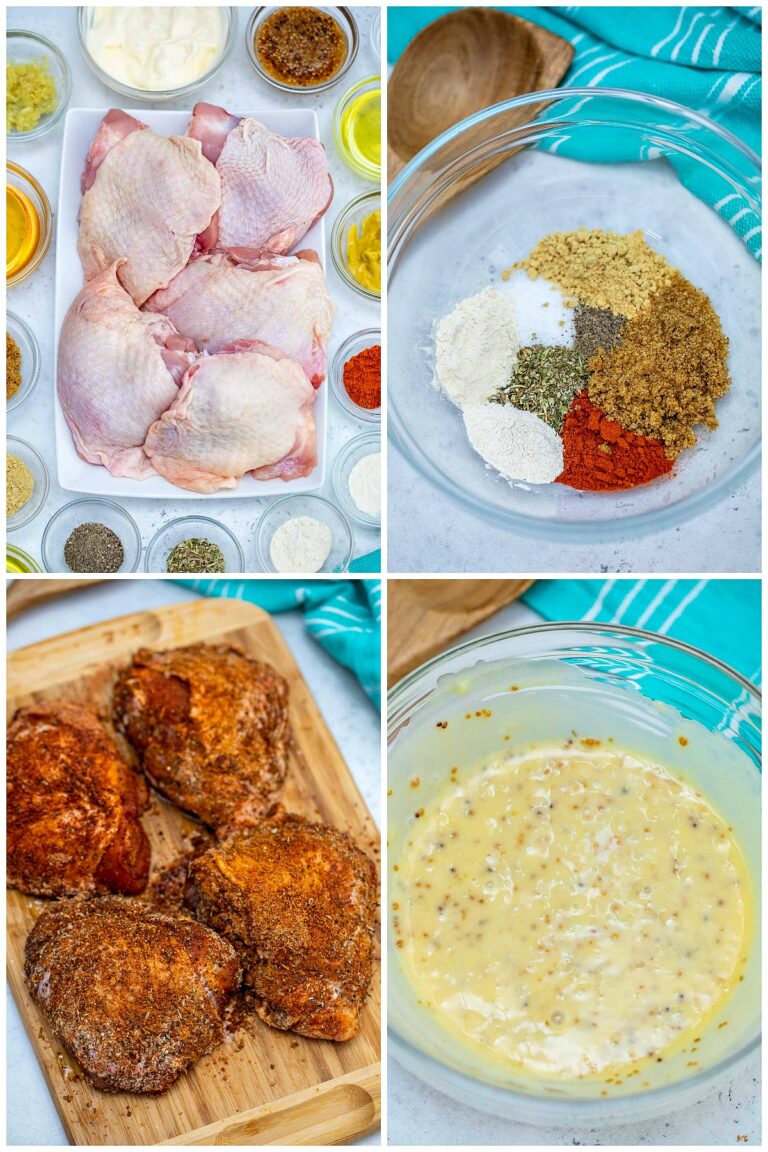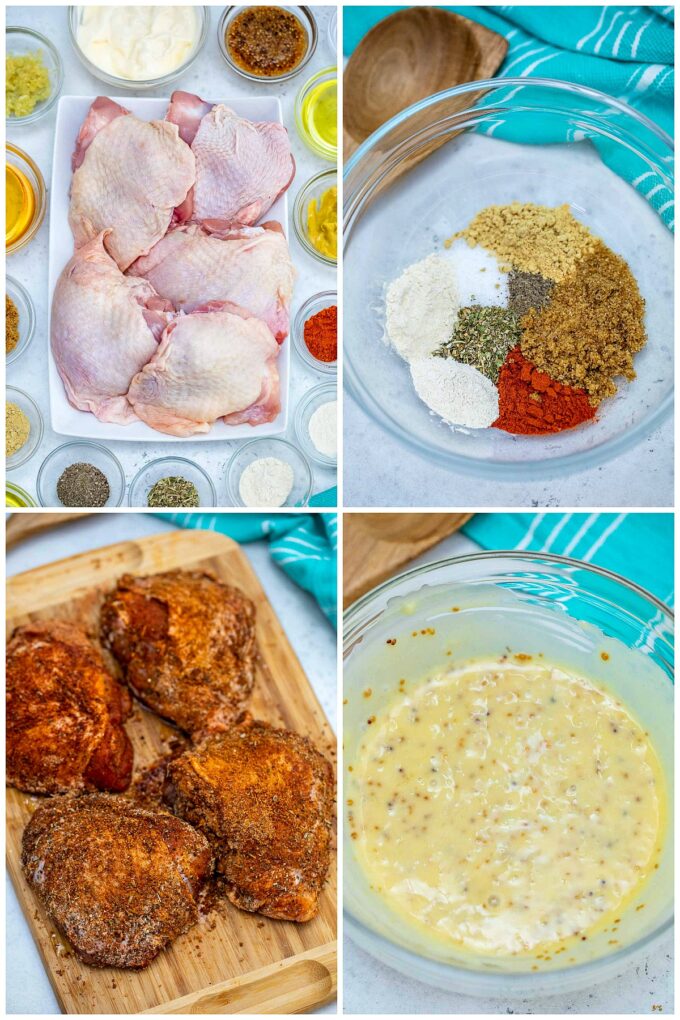 What goes into Oven-baked Chicken Thighs?
I use bone-in and skin-on thighs. For the coating, you will need:
olive oil
salt
black pepper
Italian dried herbs
dry mustard
smoked paprika
brown sugar
onion powder
garlic powder
And for the sauce, prepare the following:
olive oil
Dijon mustard
mustard
mayo
honey
minced garlic
For the measurements, refer to the recipe card below.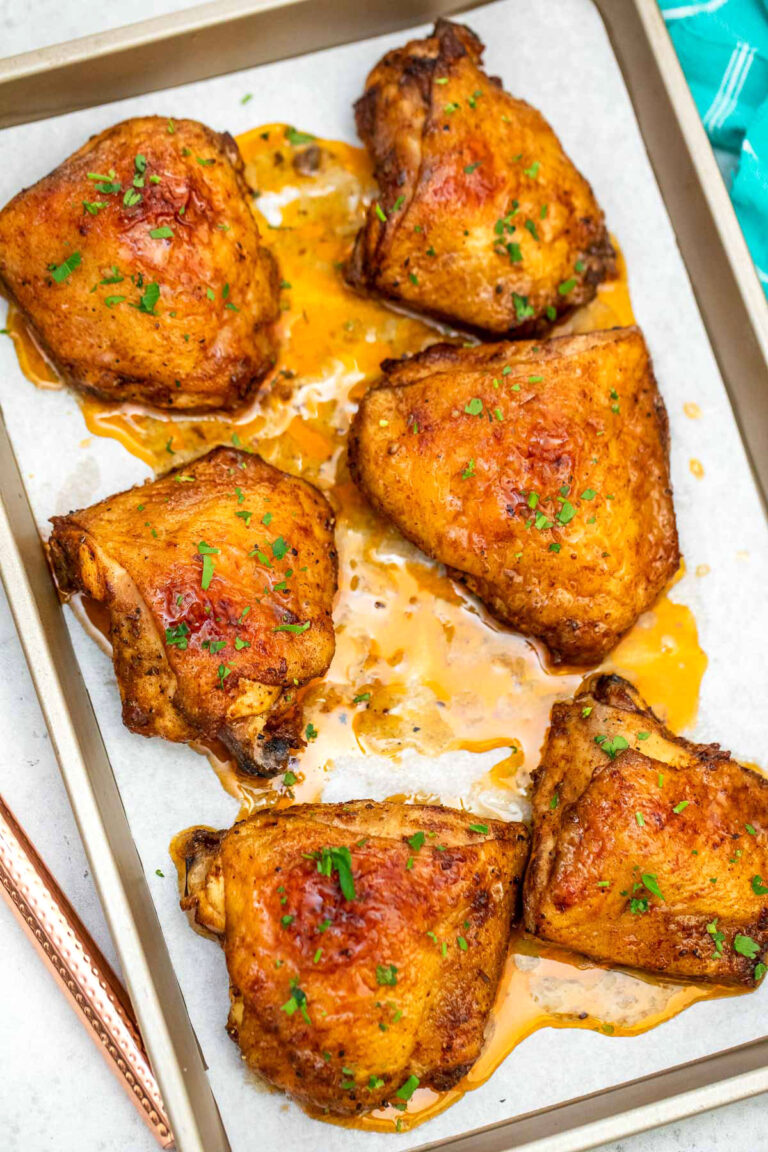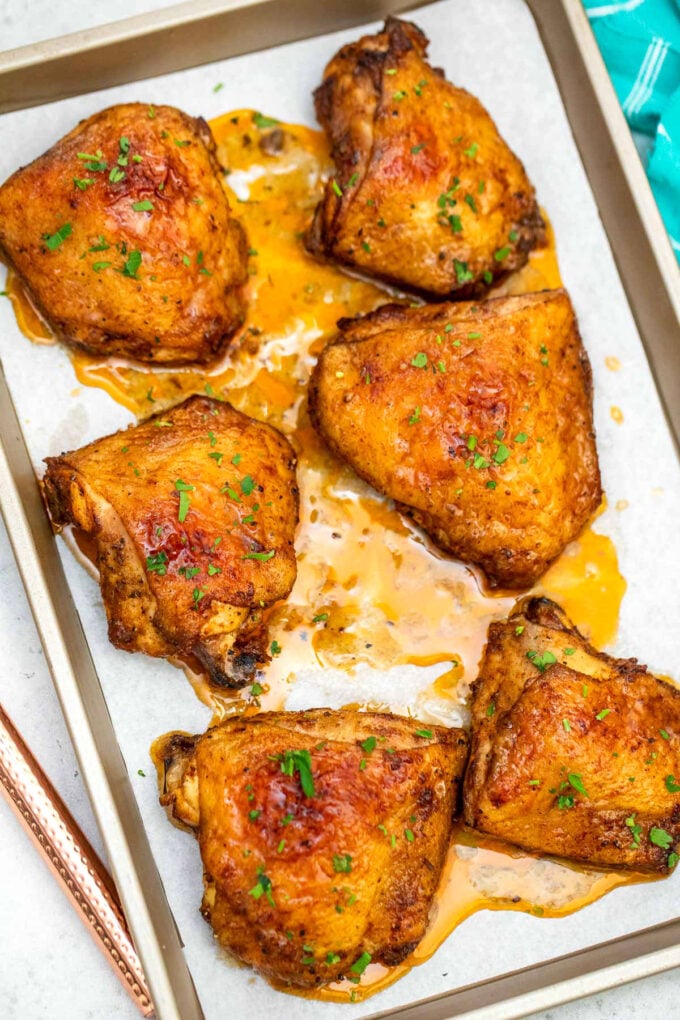 How to make Oven-Baked Chicken Thighs
Prep the oven: Preheat it to 425 degrees Fahrenheit and lightly grease the baking dish.
Mix: In a bowl, combine the coating ingredients.
Season: Get the meat and toss with olive oil. Then, coat with the seasoning mix thoroughly.
Cook: Put the meat in the baking dish and cook for 35 to 40 minutes. Check with a thermometer if the internal temperature of the chicken reaches 165 degrees Fahrenheit.
Serve: Combine the sauce ingredients. Serve it alongside the cooked thighs garnished with parsley.
How long to bake Chicken Thighs?
Here is a quick guide on how long the cooking time should be depending on your oven settings:
325 degrees Fahrenheit – 55 to 60 minutes
350 degrees Fahrenheit – 50 to 55 minutes
375 degrees Fahrenheit – 45 to 50 minutes
400 degrees Fahrenheit – 40 to 45 minutes
425 degrees Fahrenheit – 35 to 40 minutes
Since not all cuts are the same in size, make sure to monitor closely. Fortunately, this cut is not prone to overcooking, especially when it is bone-in and skin-on.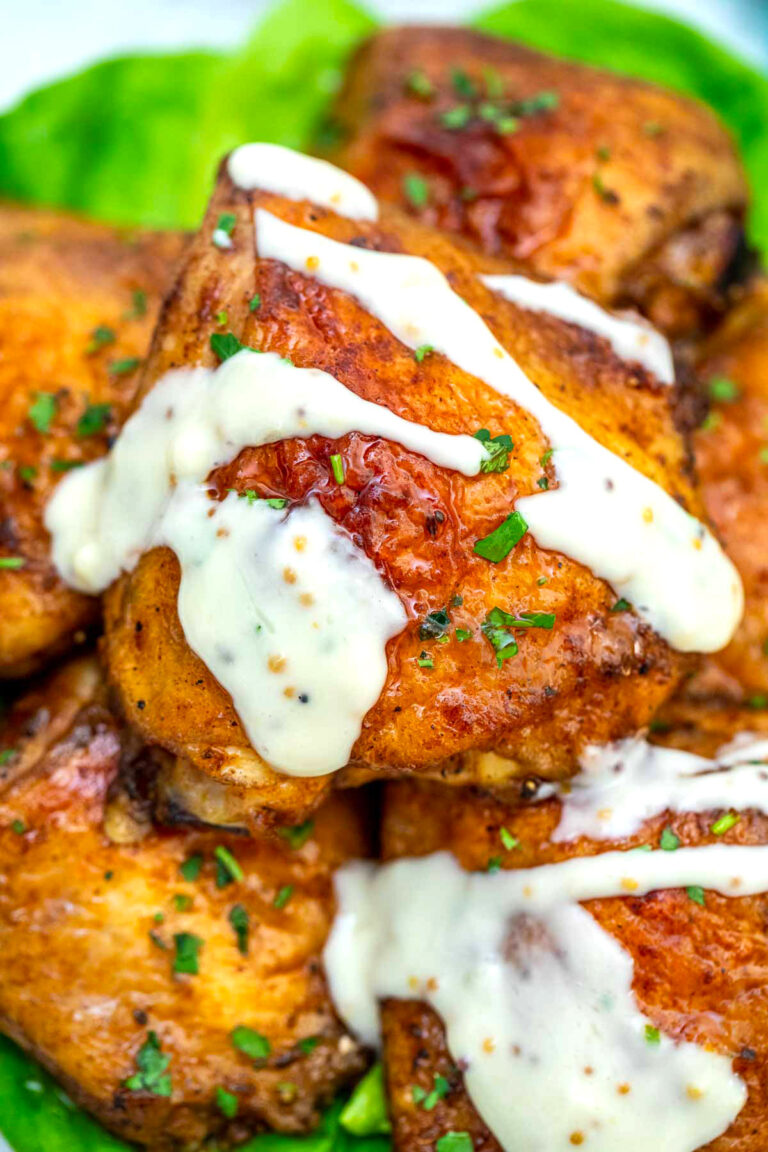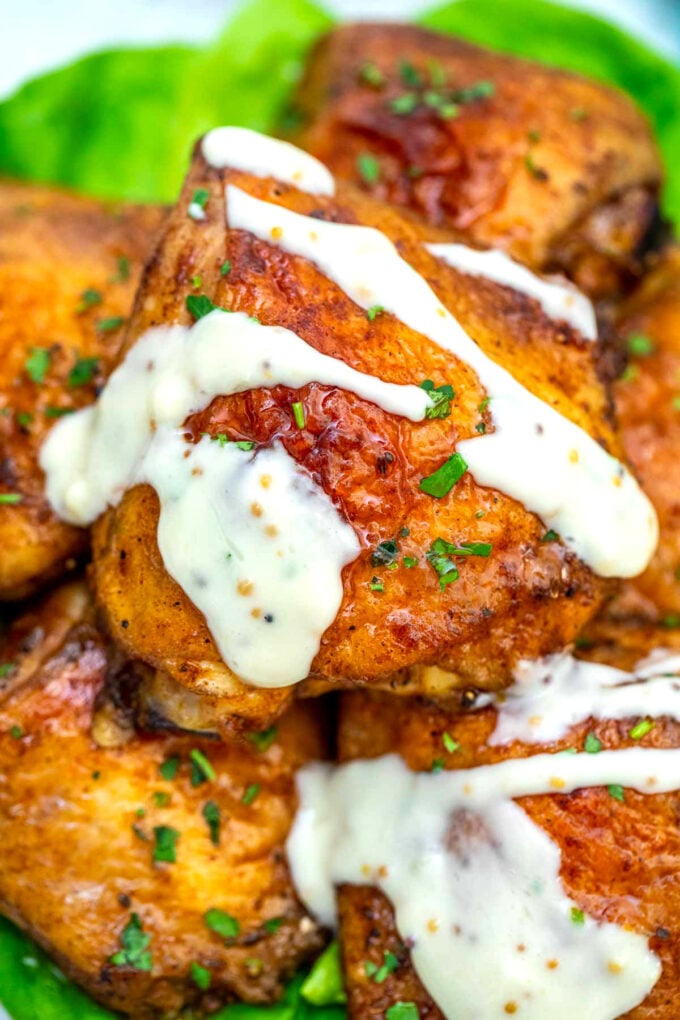 Can I use chicken breasts instead?
Yes! I have the recipe for the breasts in this link. Go ahead and check that out! Note that the cooking time is faster than this recipe.
How to make Air Fryer Chicken Thighs?
If you intend to use the air fryer, check out this recipe.
What to do with leftovers?
You can store and reheat them for later. Or, use them in other recipes. Here are some ideas: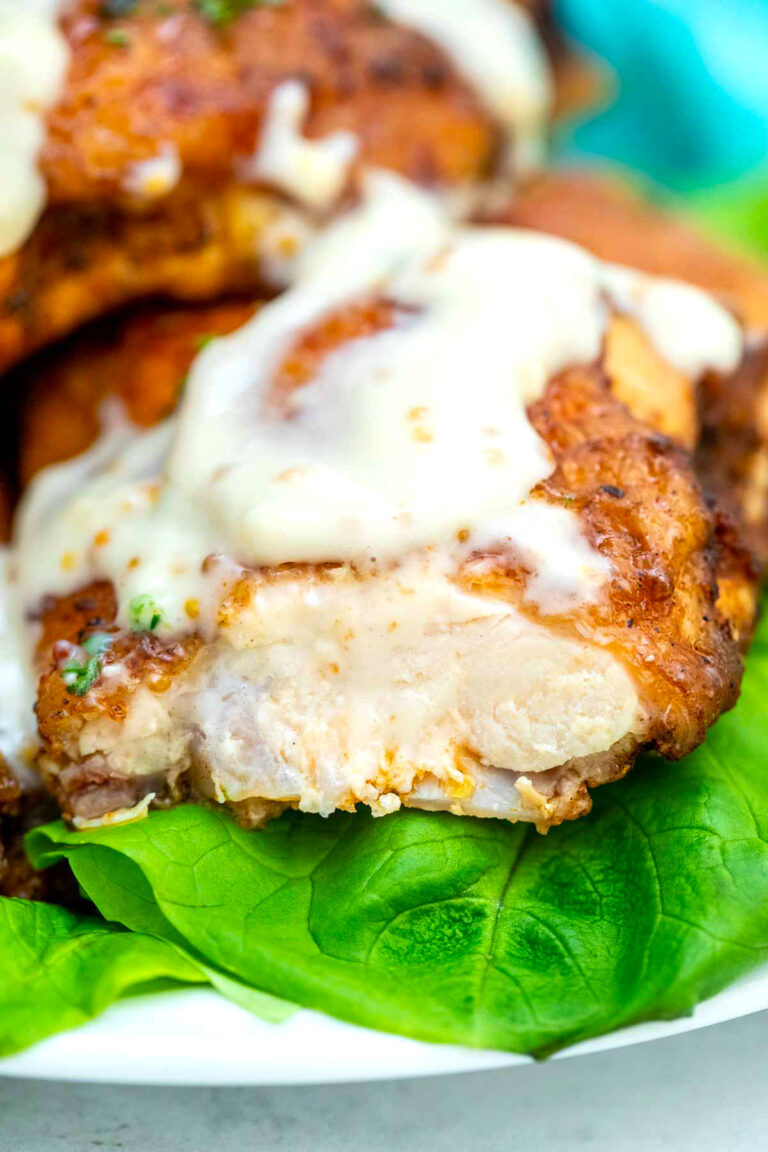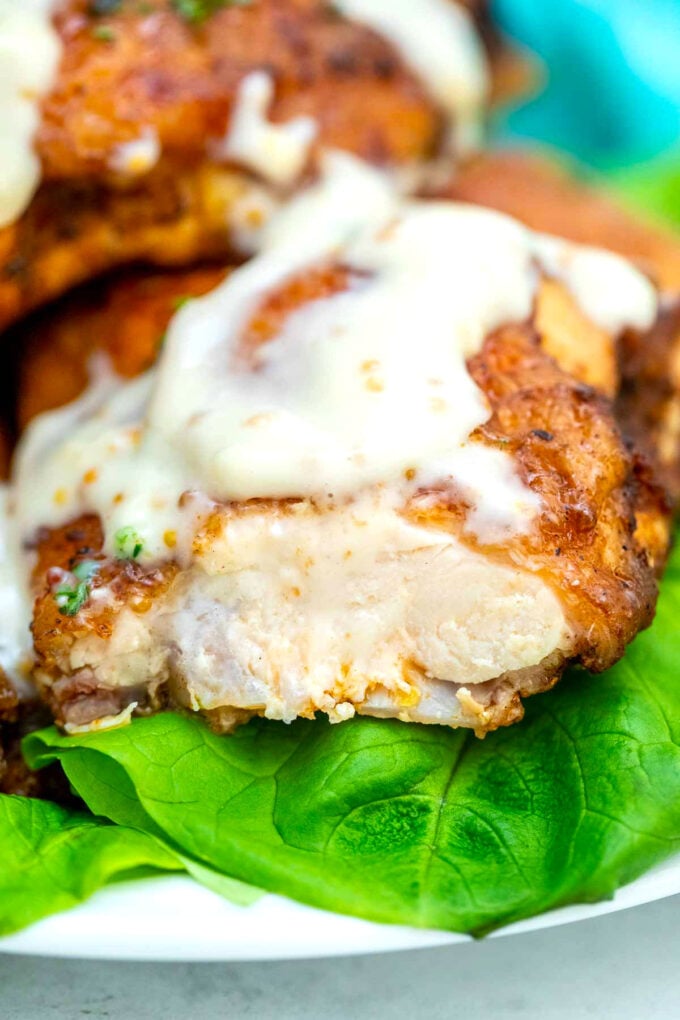 How to store them?
Store them in the fridge for up to 4 days, or in the freezer for up to 4 months. Thaw overnight before reheating.
Recipe Tips:
When using the thermometer, make sure to insert it at the thickest part without touching the bone.
If you have no thermometer, check for doneness by cutting through the meat. The juices must run clear.
You can broil for a few minutes towards the end of the cooking to give the skin a nice char.
I highly recommend using bone-in and skin-on ones. The bones and skin keep the meat juicy that prevents overcooking. But you are free to choose boneless and skinless ones as these have fewer calories due to the absence of the skin. Prevent overcooking by lessening the baking time by 10 minutes.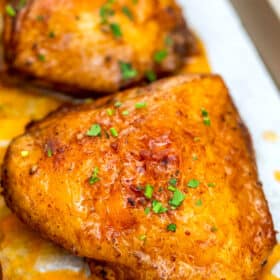 Crispy Baked Chicken Thighs
Baked Chicken Thighs are moist and tender on the inside and crispy on the outside! Perfectly seasoned, this dish could very well be your new favorite!
Save
Share
Print
Pin
Rate
Ingredients
Chicken:
6-8

chicken thighs

(bone-in skin-on)

2

tablespoons

olive oil
Seasoning:
1

teaspoon

salt

1/2

teaspoon

black pepper

1

teaspoon

Italian dried herbs

1

teaspoon

dry mustard

1

teaspoon

smoked paprika

2

teaspoons

brown sugar

1

teaspoon

onion powder

1

teaspoon

garlic powder
Sauce:
2

tablespoons

olive oil

2

tablespoons

whole-grain Dijon mustard

2

tablespoons

yellow mustard

1/3

cup

mayo

3

tablespoons

honey

6

cloves

garlic

(minced)
Instructions
Preheat the oven to 425 F degrees.

Lightly grease with oil a 9x3 baking dish or a rimmed baking sheet and set aside.

Add all the seasoning ingredients to a large bowl and mix.

Pat dry the chicken thighs and rub with the 2 tablespoons of olive oil. Add the chicken to the bowl and toss in seasoning generously.

Transfer to the baking sheet and bake for 35-40 minutes, or until the internal temperature reaches 165 degrees Fahrenheit and the chicken is golden and crispy.

Broil at the end for 2-3 minutes.

In a medium bowl mix all the sauce ingredients.

Serve the chicken thighs with sauce on the side and garnish with chopped parsley.
Nutrition
Calories:
473
kcal
|
Carbohydrates:
12
g
|
Protein:
19
g
|
Fat:
39
g
|
Saturated Fat:
8
g
|
Cholesterol:
116
mg
|
Sodium:
669
mg
|
Potassium:
259
mg
|
Fiber:
1
g
|
Sugar:
10
g
|
Vitamin A:
252
IU
|
Calcium:
15
mg
|
Iron:
1
mg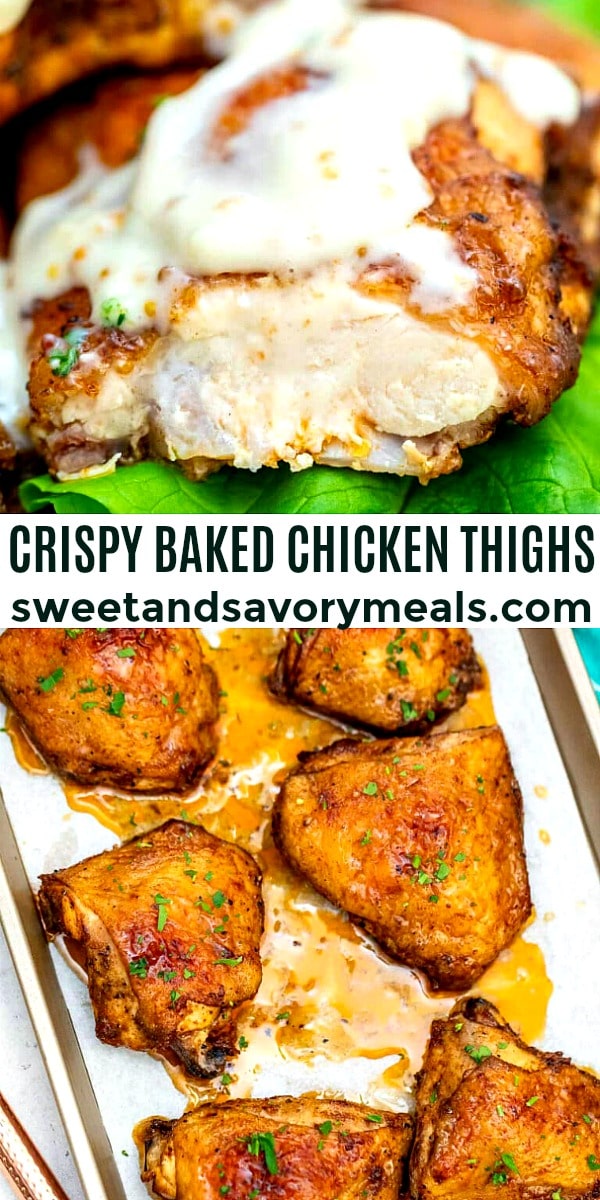 More recipes you might love