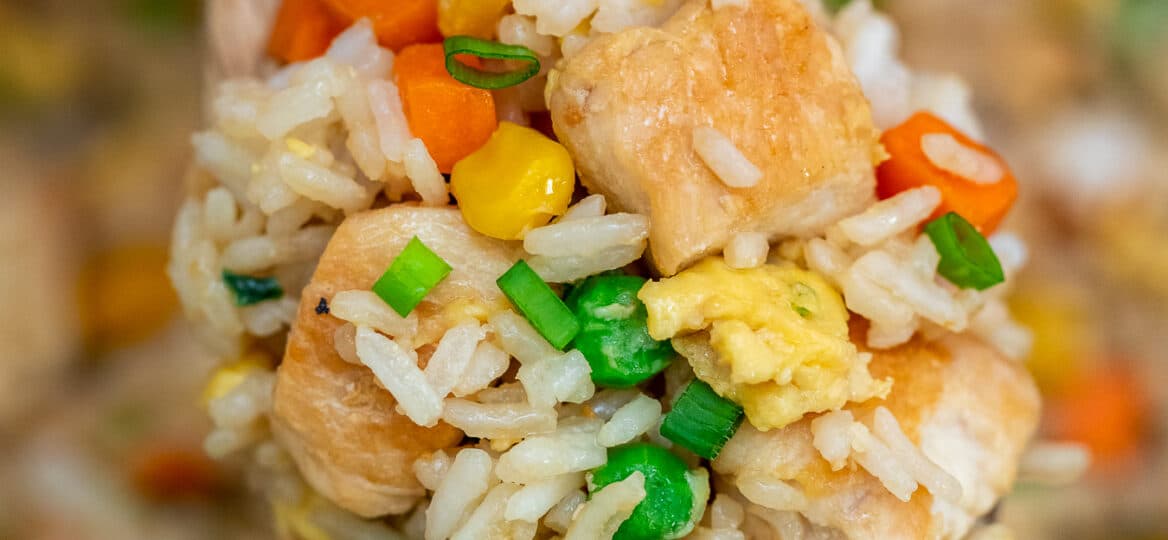 Takeout Style Chicken Fried Rice (Video)
Chicken Fried Rice is a hearty and savory dinner option for the whole family! Follow this recipe for a homemade version of your favorite Chinese takeout!
This dish is so good that I intentionally cook more rice than what we intend to consume so that I will have some leftovers for this dish. It pairs well with anything! Eat it along with our favorite dishes like Sweet and Sour Shrimp, Instant Pot Mongolian Beef, and Hunan Beef!
Easy Chicken Fried Rice Recipe
Chicken Fried Rice is a great way to cook leftover rice. You get to elevate the plain side dish into something more hearty, complete with protein and veggies, and more savory. It looks so festive and appetizing!
It is a complete meal on its own, but I like to pair it with my other dishes especially those that are fried or grilled.
I like how this could be versatile with the protein and all. In this dish, the healthier option, white meat is included. But if you want ham or bacon, then, you use that for an equally tasty dish.
Even kids love it! And I find it an effective way to introduce the veggies because they taste so good in this dish that the kids are no longer bothered by them.
The best part is that this is so easy to make! It will take you less than 30 minutes for this!
How to make Chicken Fried Rice
Brown the meat: Add some oil to a skillet, then, add in the bits of white meat. Cook the meat for a few minutes until golden brown. Remove the pieces of meat while retaining the oil in the skillet.
Sauté: Add the sesame oil and sauté the garlic. Add in the veggies and cook until they soften.
Cook the egg: Once cooked, gather the veggies on one side, and add the uncooked eggs to the other. Scramble the eggs.
Combine: Add the rest of the ingredients as well as the meat that was prepared earlier. Cook for a couple more minutes until everything is warm.
What type of rice is best to use for Chicken Fried Rice?
You may use brown or white rice, but any medium to long-grain white rice will work. Short-grain ones tend to be stickier. For this dish, we want something that is not mushy and not clumped together.
So, if you are planning to have some leftovers for stir-frying the next day, limit the amount of water and make sure to thoroughly wash off excess starch at the start.
The Basmati variant is a perfect candidate, though you can also use Jasmine. But the real trick here is to chill the cooked rice so that it dries out at least a day before being used.
What oil is best for Chicken Fried Rice?
Sesame oil adds flavor to this dish, but it has a low smoke point, so you need to add a compliment. Any vegetable oil that has a high smoke point, like canola or peanut oil, will be a good addition.
How to Store:
You can either put this in the fridge or in the freezer. Make sure though that it has cooled completely before storing and do so within 2 hours of being exposed.
Refrigerate: Keep it in an airtight container and refrigerate for 5 days.
Freeze: Put this in freeze-proof containers. Reheat and consume within 4 months.
More easy Asian recipes:
Recipe Tips:
This dish pairs well with egg rolls, dumplings, and spring rolls. Roasted veggies and meat entrees also go well with this.
You may also cook thighs as they are more flavorful. You can even use rotisserie or any leftover meat for this.
If what you only have is freshly cooked grains, then, what you can do is to spread them out on a baking sheet and allow them to dry out. After a while, they will be ready for stir-frying.