Chicken and Broccoli Stir Fry [Video]
Chicken and Broccoli has all the flavors of Chinese take-out, made in your own kitchen. The tasty sauce gives it an authentic taste. This easy Asian dinner is made, start to finish, in less than 30 minutes.
Simple Asian recipes are perfect for quick weeknight dinners. We have quite the collection on the blog, so you can have variety and never eat a bland dinner. One of our most sought recipes is this easy Instant Pot Orange Chicken, which is a delicious take on the popular Chinese staple. Our Bourbon Chicken is another favorite, and if you are looking for a beef centered meal, definitely try this Sticky Orange Beef recipe.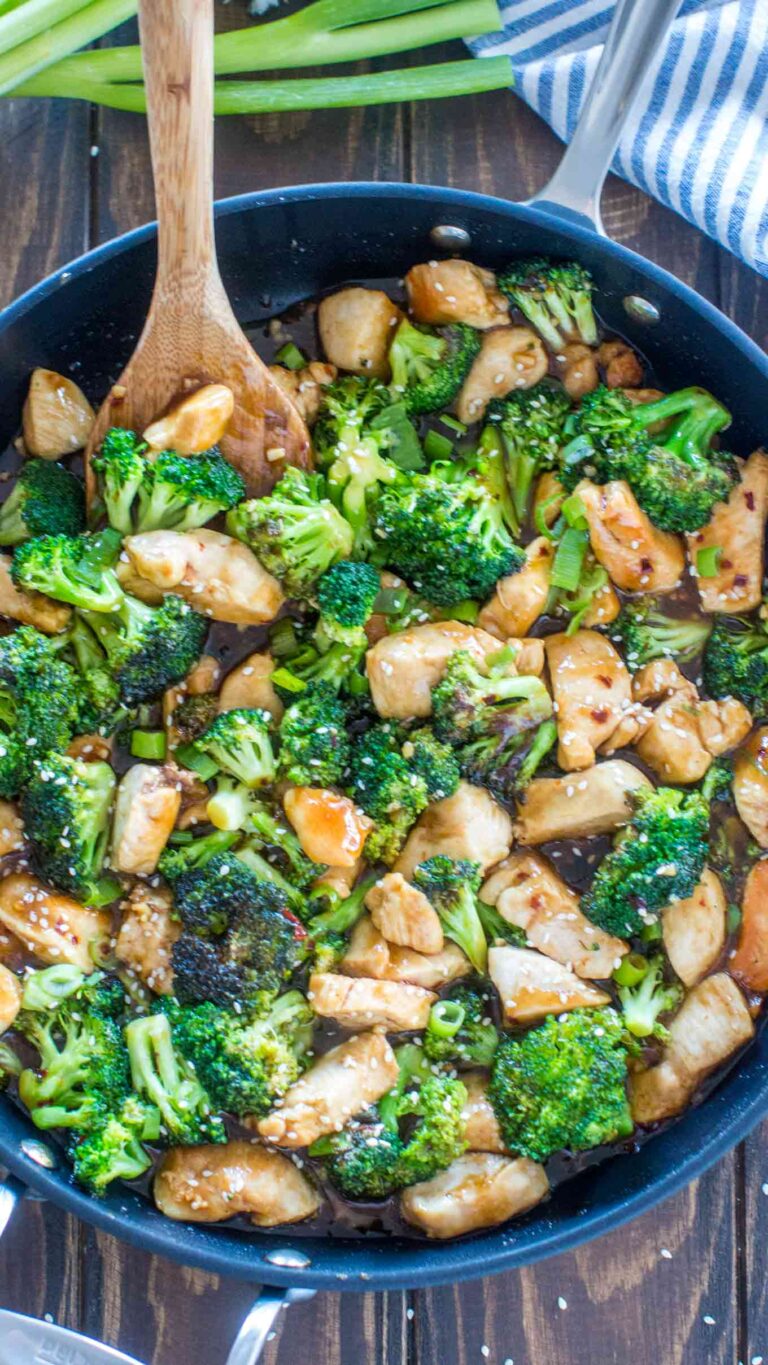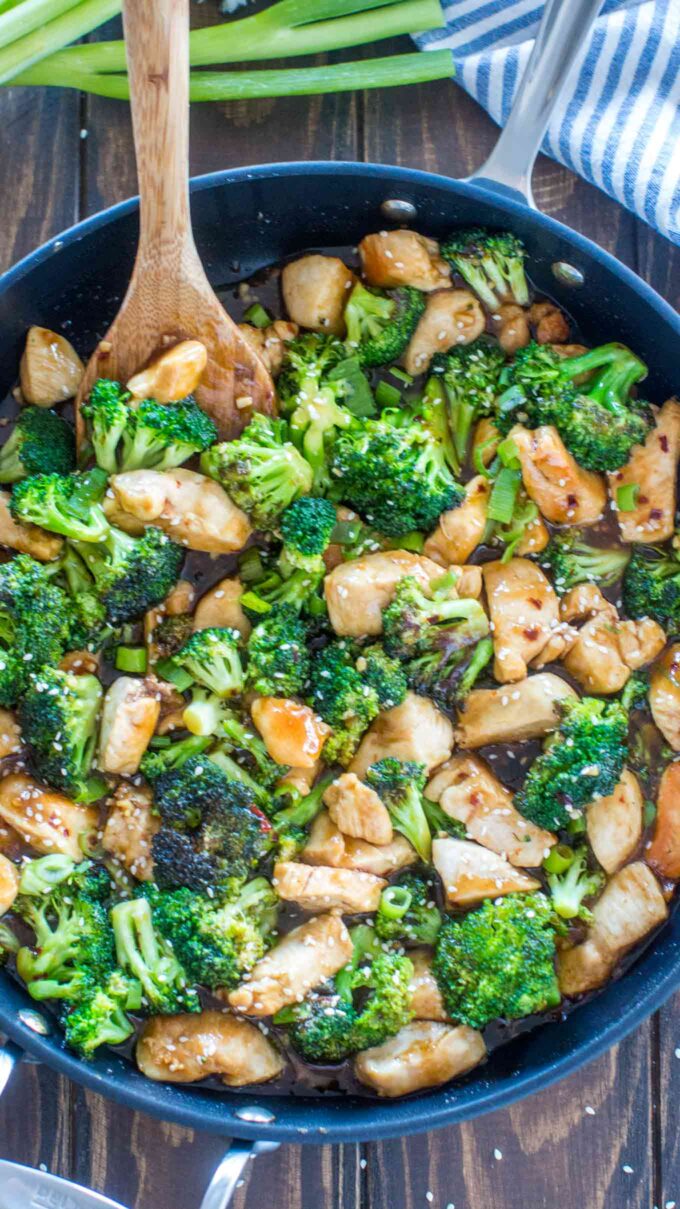 Easy Chicken and Broccoli
Chicken and Broccoli stir fry is probably one of the easiest recipes you can make. Made with simple ingredients and a few Asian staples, this dinner is quick, easy and tasty. You can serve the chicken stir-fry over rice, noodles or with just a salad on the side.
Since you control what goes in, this recipe is way healthier and tastier than takeout. You can make this recipe with beef or pork, and the stir-fry sauce is so good, you can use it in a variety of recipes. This recipe makes delicious leftovers, that you can pack for lunch and enjoy later.
How do you make a good stir fry?
Here are a few simple things you can do to make a great stir fry:
To assure that all of the ingredients cook evenly and in the same amount of time, make the pieces as uniform in size as possible.
Preheat the pan or wok before adding any ingredients. You want the pan to be as hot as possible so the stir fry cooks quickly.
Similarly, make sure to have all of your ingredients prepared and near the stove, ready to use.
Add the ingredients to the pan according to their cooking time. Hard, thick vegetables such as broccoli will take longer to cook than thinly sliced vegetables or meat.
To assure that all of the ingredients have a chance to touch the surface of the hot pan, stir and toss them often while cooking.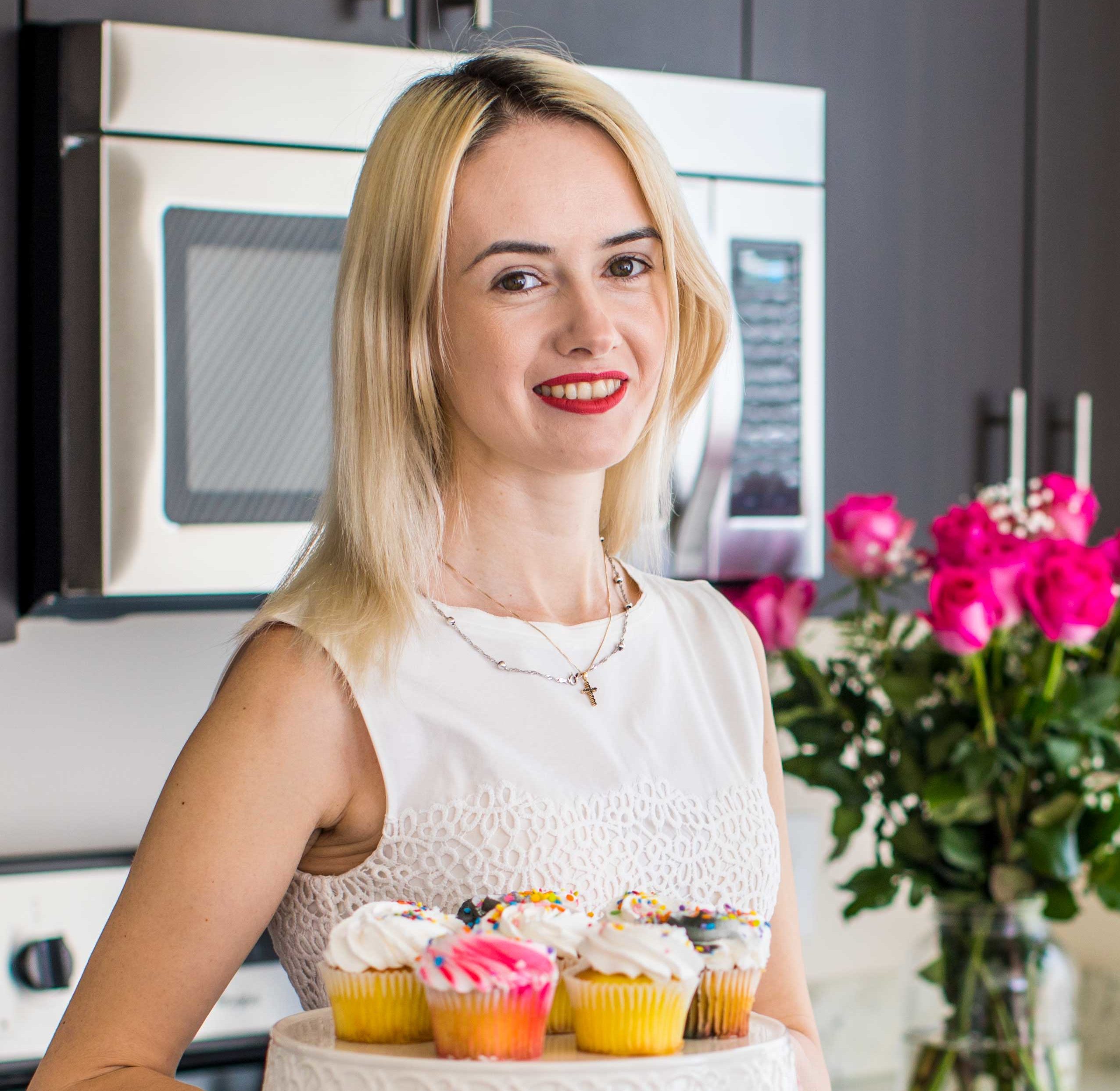 Follow us on Pinterest for more delicious recipes!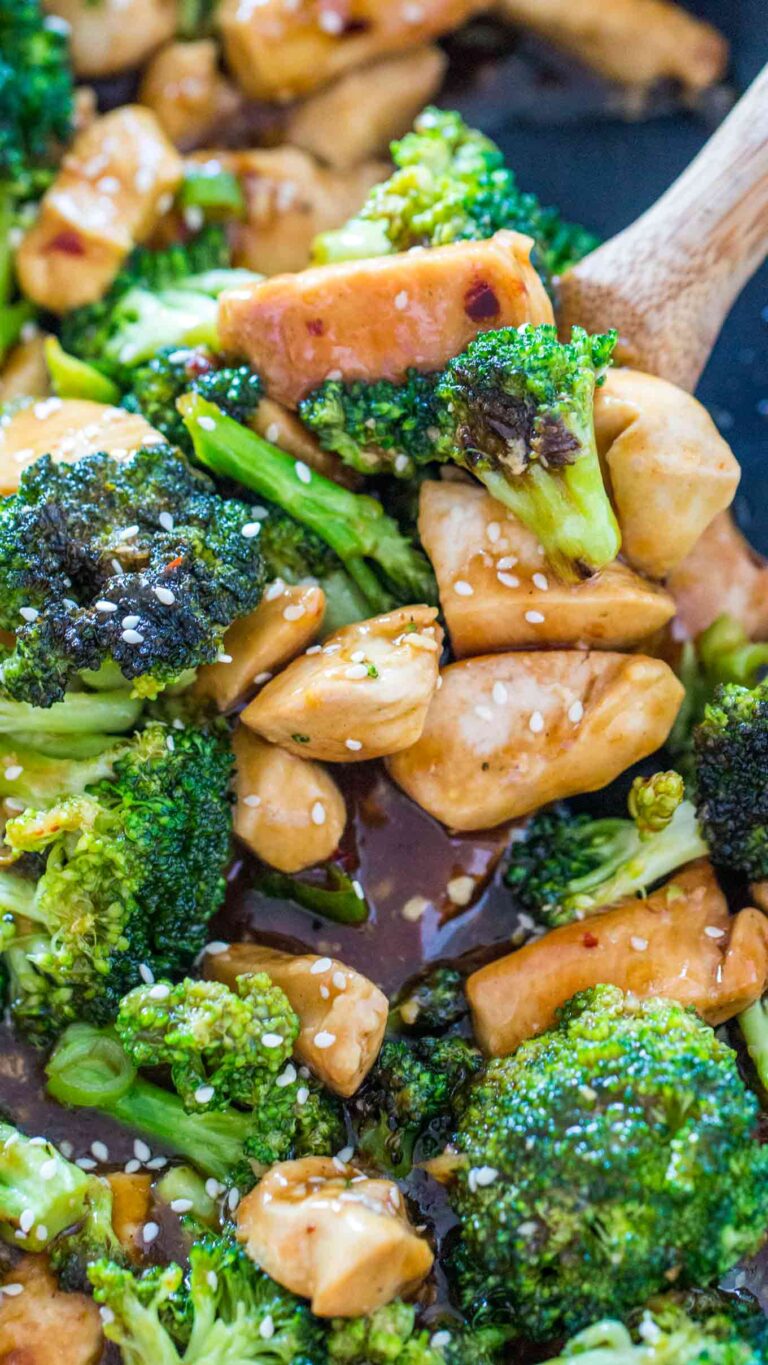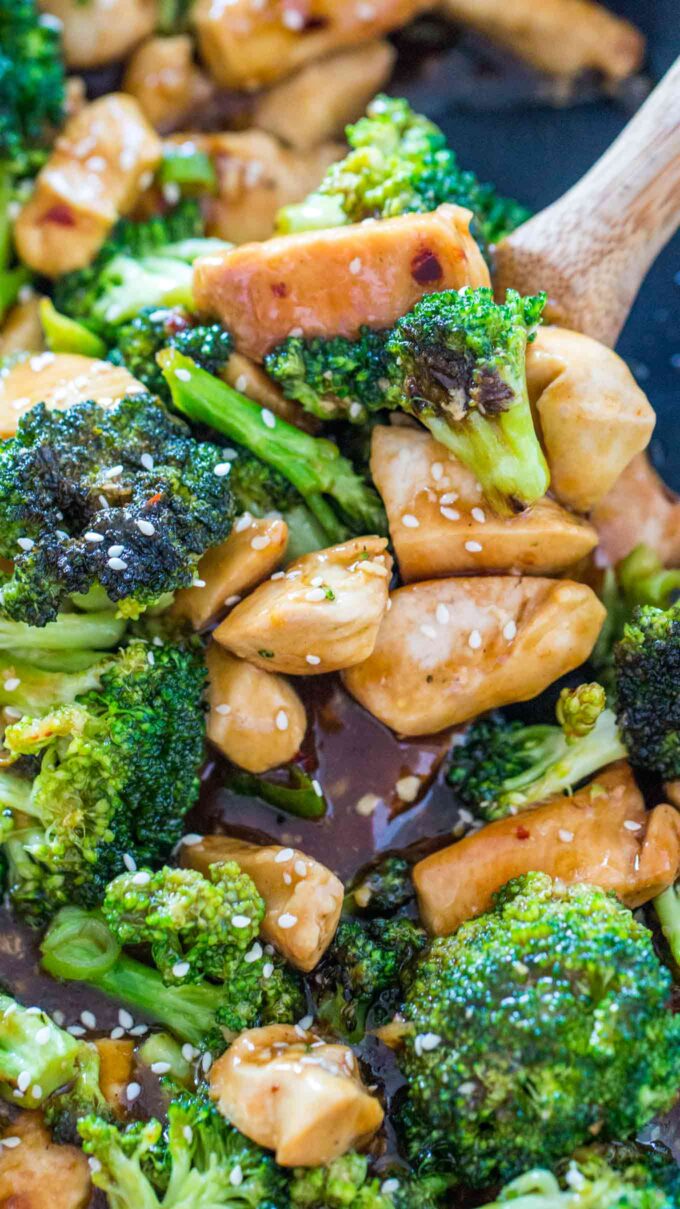 Is Chinese chicken and broccoli good for you?
Chicken and broccoli is a great meal for anyone who is watching caloric intake or trying to eat healthily.
Chicken is a great source of protein and fiber and is leaner than red meat. Similarly, broccoli is excellent to eat at any time. It is nutritious and is a slow-digesting carb.
Making the sauce at home ensures that it does not contain any chemicals, artificial colors or flavors or added sugar. To reduce the amount of sodium in Chicken and Broccoli, I suggest using low sodium soy sauce and beef broth.
If you love this dish, be sure to try Instant Pot Beef and Broccoli. It's another Chinese restaurant dish you can easily make in your home kitchen.
What should I marinate the chicken in for stir fry?
The liquids we use in the stir-fry sauce for this Chicken and Broccoli recipe are:
oyster sauce
soy sauce
sesame oil, and
beef broth
Add the seasonings, ginger root, garlic, brown sugar, and red pepper flakes. The cornstarch thickens the sauce.
The same sauce can be used for similar Asian stir fry dishes, even those using a different protein.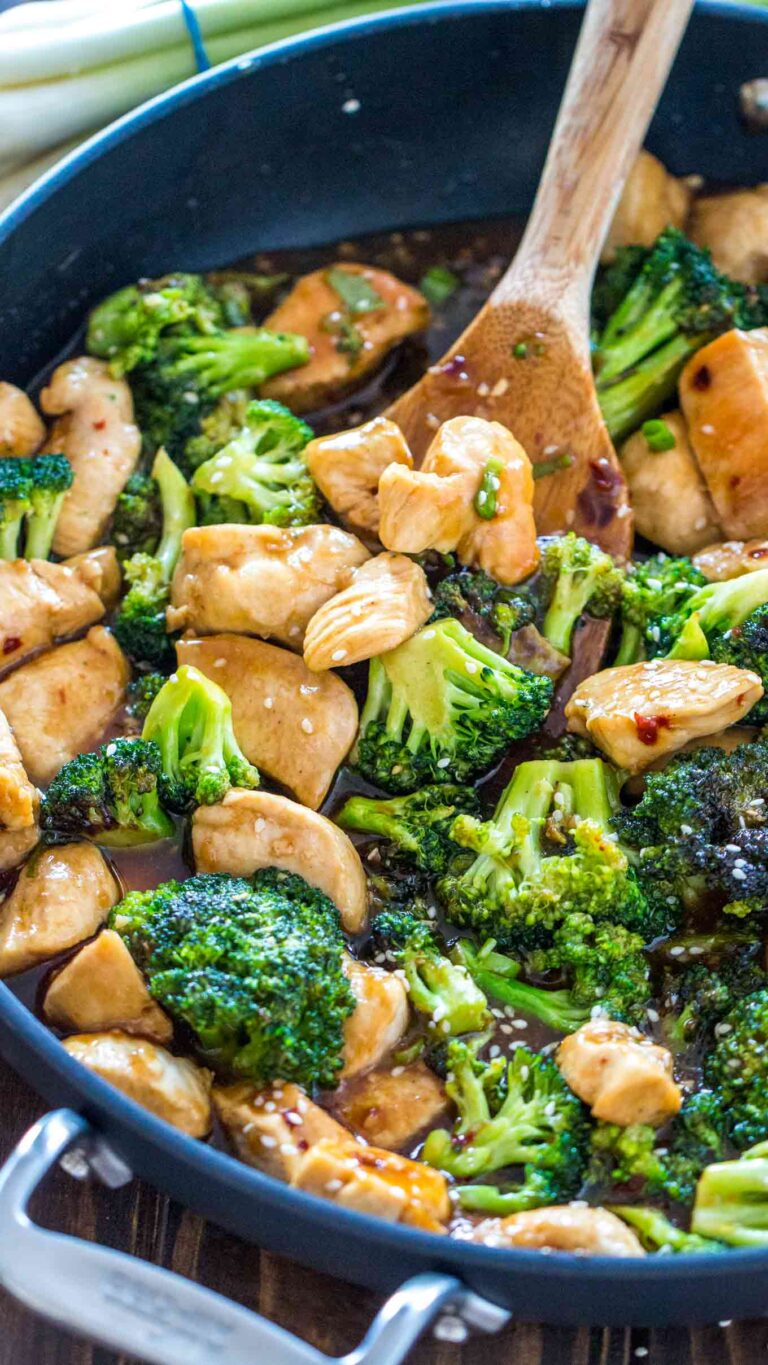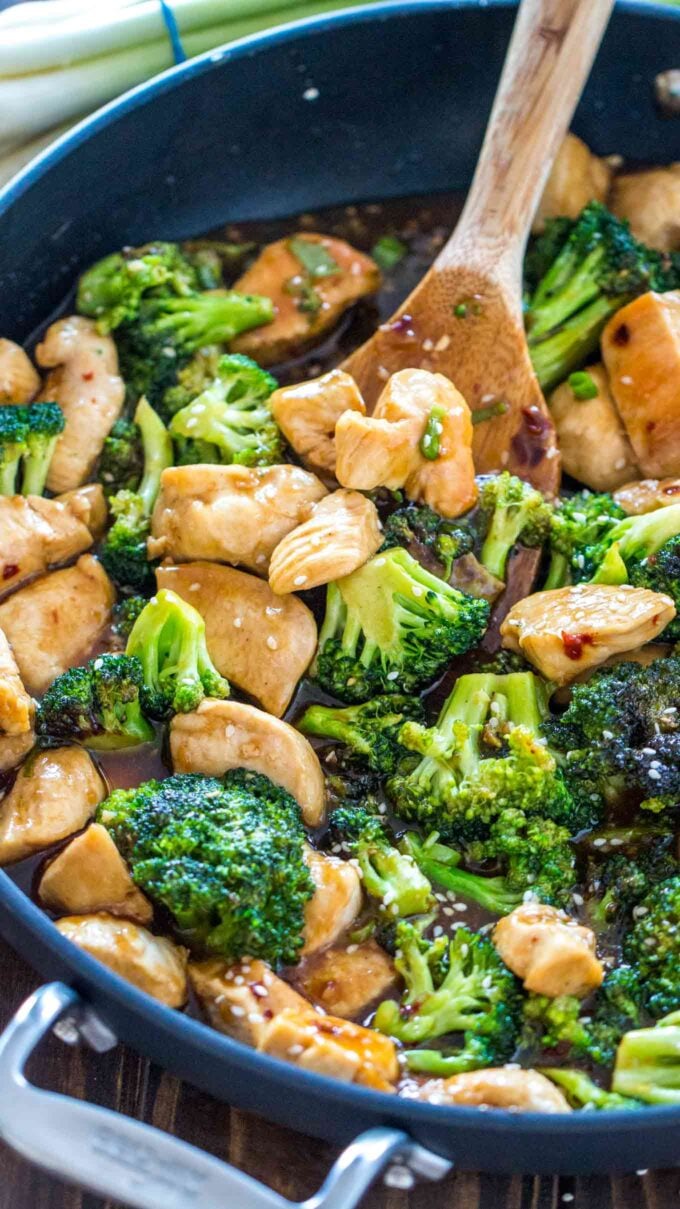 How do you make chicken and broccoli?
First, in a bowl, combine all of the sauce ingredients.
If you have extra time, allow the chicken to marinate in the sauce for 30-60 minutes.
Next, cook the broccoli over medium-high heat for four to six minutes.
After that, cook the chicken all the way through over high heat.
Finally, combine the chicken, broccoli, and sauce, then toss to combine.
How do you sauté chicken and broccoli?
Use a wok or cast-iron skillet.
Saute the broccoli in vegetable or canola oil over medium-high heat for four to six minutes.
Don't move the chicken for a full minute in order to sear it.
Continue to saute the chicken for seven to eight minutes or until no longer pink inside.
If you make this recipe, please come back to leave a comment and rate the recipe. We would love to know what you think!
Save Recipe
Chicken and Broccoli
Chicken and Broccoli has all the flavors of Chinese take-out, made in your own kitchen. This easy, one pan Asian dinner is made in less than 30 minutes.
Author: Catalina Castravet
Serves: 4 servings
Prep time:

10

minutes
Cook time:

15

minutes
Total time:

30

mins
Ingredients
Sauce:
Garnish:
Nutrition information
Calories: 265 Carbohydrates: 13 Protein: 39 Fat: 5 Saturated Fat: 1 Cholesterol: 108 Sodium: 1077 Potassium: 896 Fiber: 2 Sugar: 4 Vitamin A: 890 Vitamin C: 65.3 Calcium: 47 Iron: 1.3
Save Recipe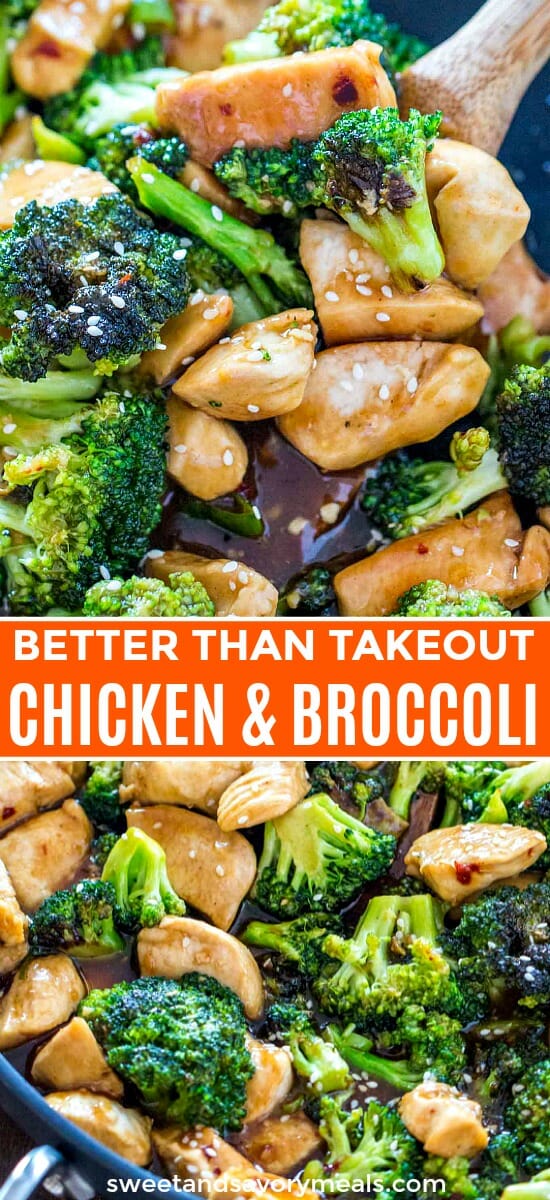 More recipes you might love
Categories: