Avocado Chicken Caesar Salad
Avocado Chicken Caesar Salad is an enhanced version of the classic recipe, with homemade dressing, creamy avocado, and grilled chicken pieces! Check this easy recipe out for a light yet satisfying meal!
This refreshing side dish can easily pass as a main dish. Check out my recipes for easy-to-make side dishes like the Egg Fried Rice, Crispy Air Fryer Potatoes, and Oven Roasted Sweet Potato Fries.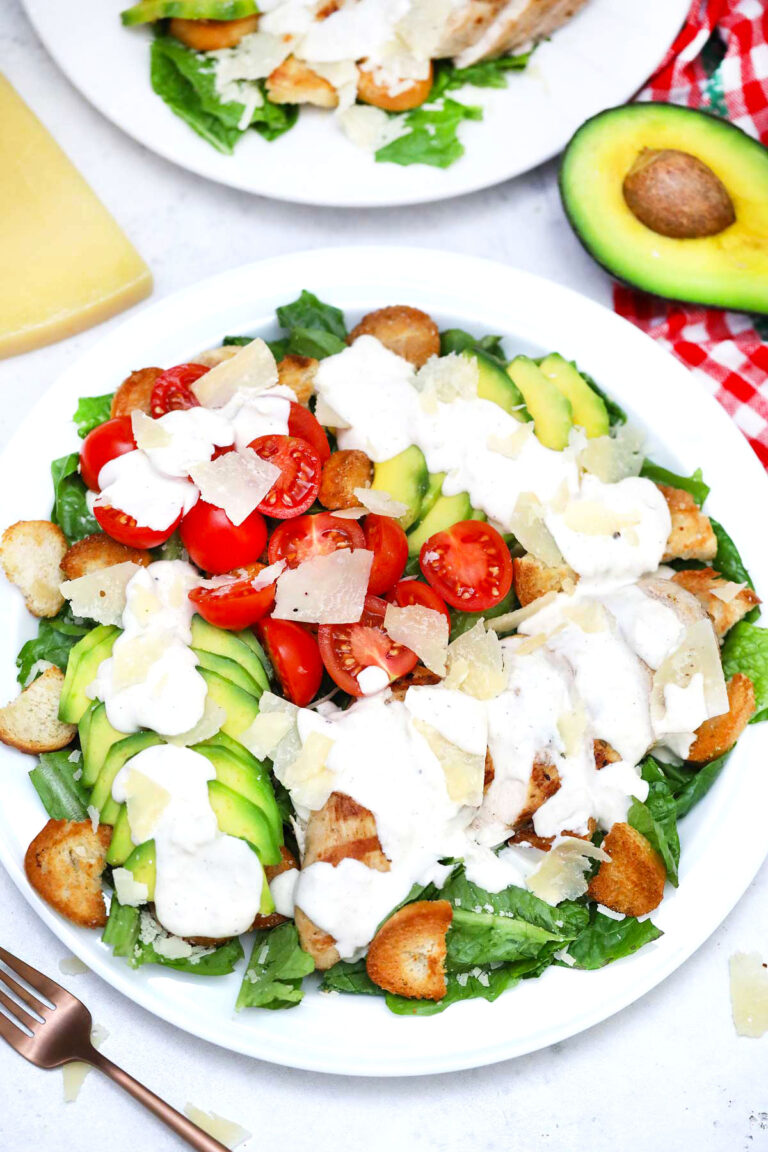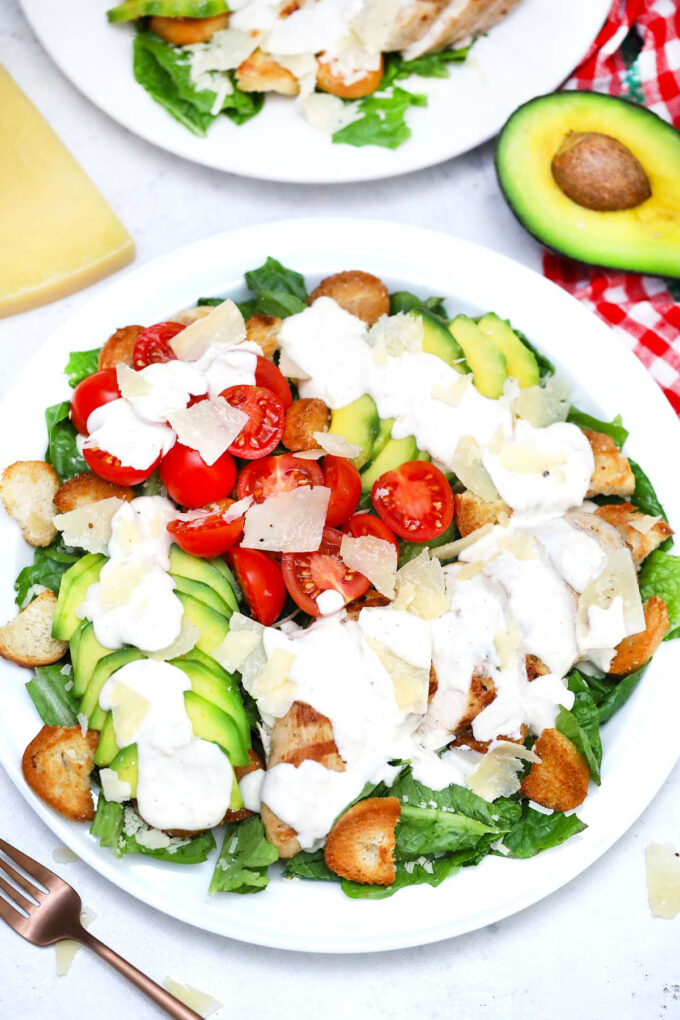 Grilled Chicken Caesar Salad Recipe
Avocado Chicken Caesar Salad has everything you need for a nice lunch or dinner. It has healthy fats, fiber, protein, and carbs all in one incredible dish.
And the dressing is rich and creamy, and it goes well with the crunchy lettuce leaves and croutons. The fruit and meat also add texture and body to the whole dish.
It does not even take long to make, and you can even prepare it in advance. Overall, this is a convenient side dish that you can whip up anytime you want something refreshing on the table.
You can even serve it as the main entree since it is hearty. Experience restaurant dining at home with this exquisite yet easy recipe!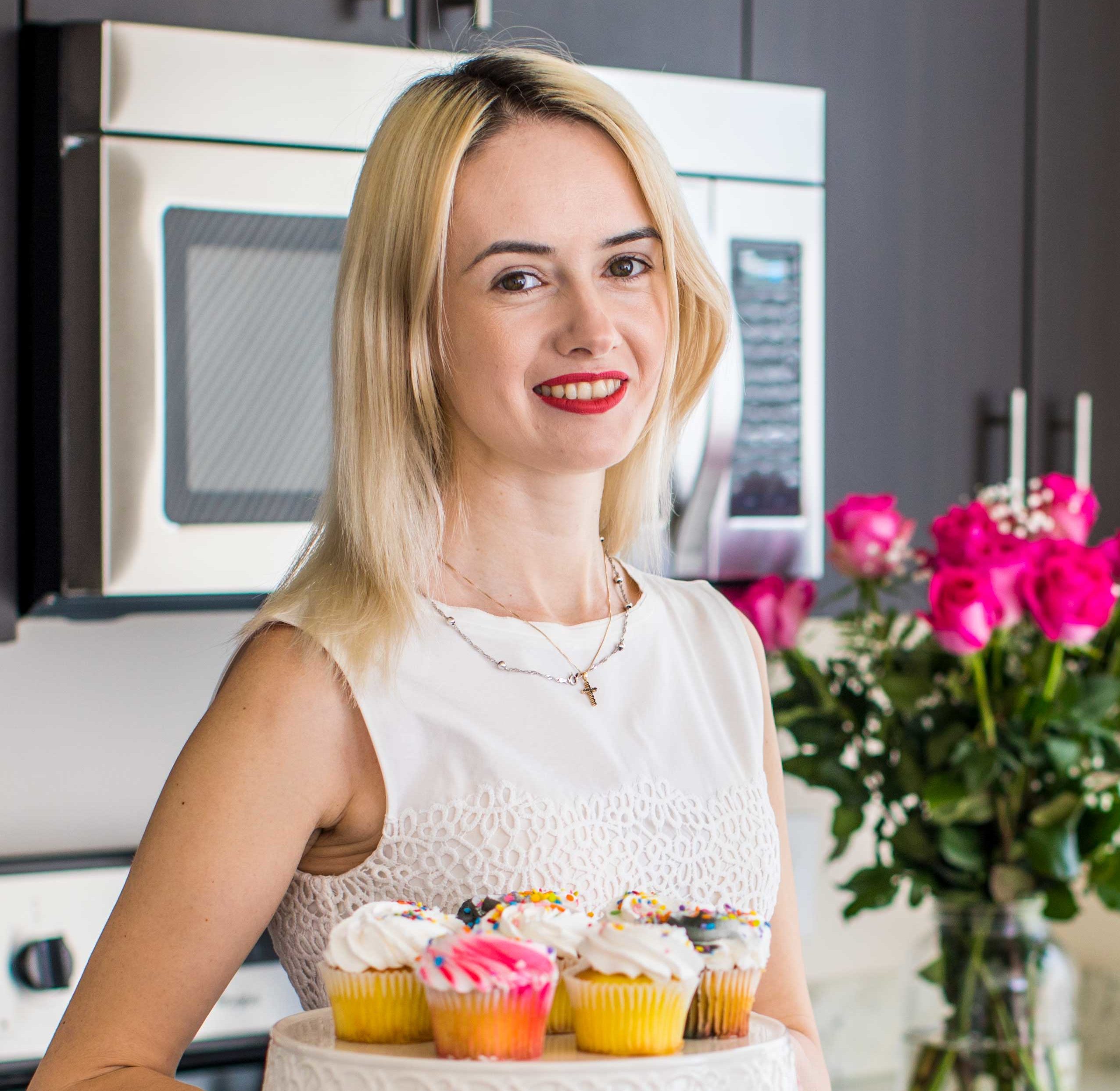 Follow us on Pinterest for more delicious recipes!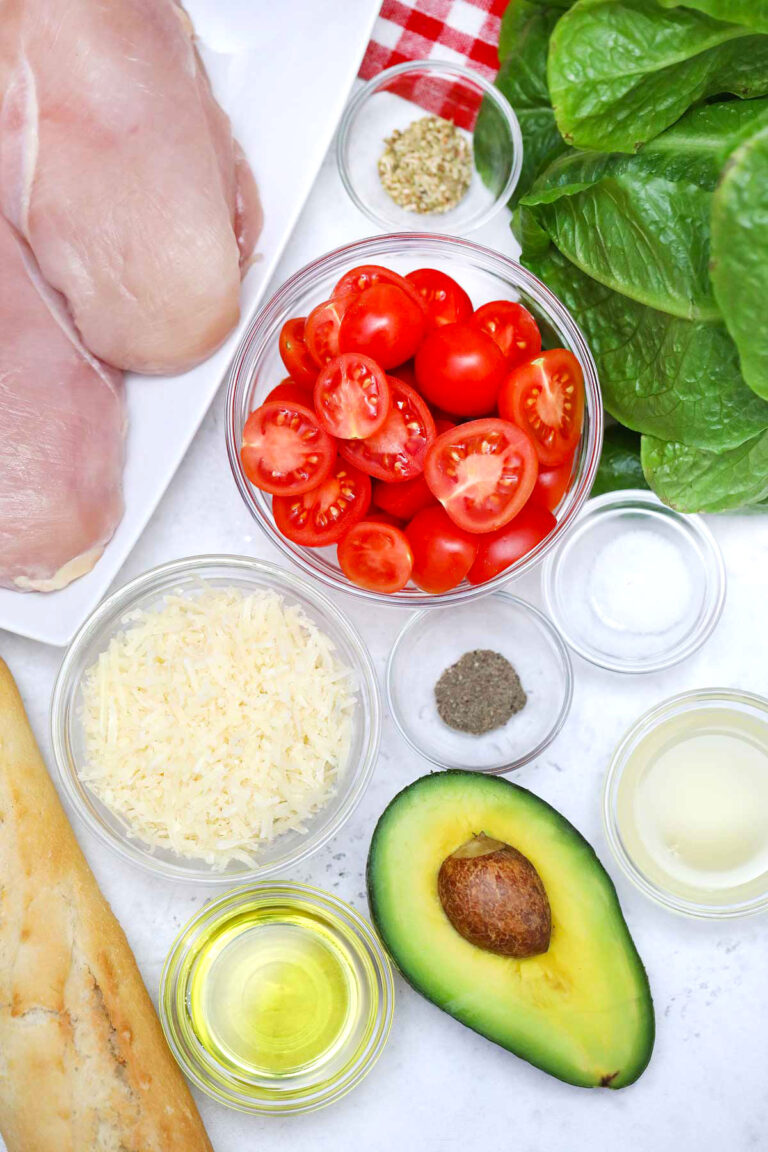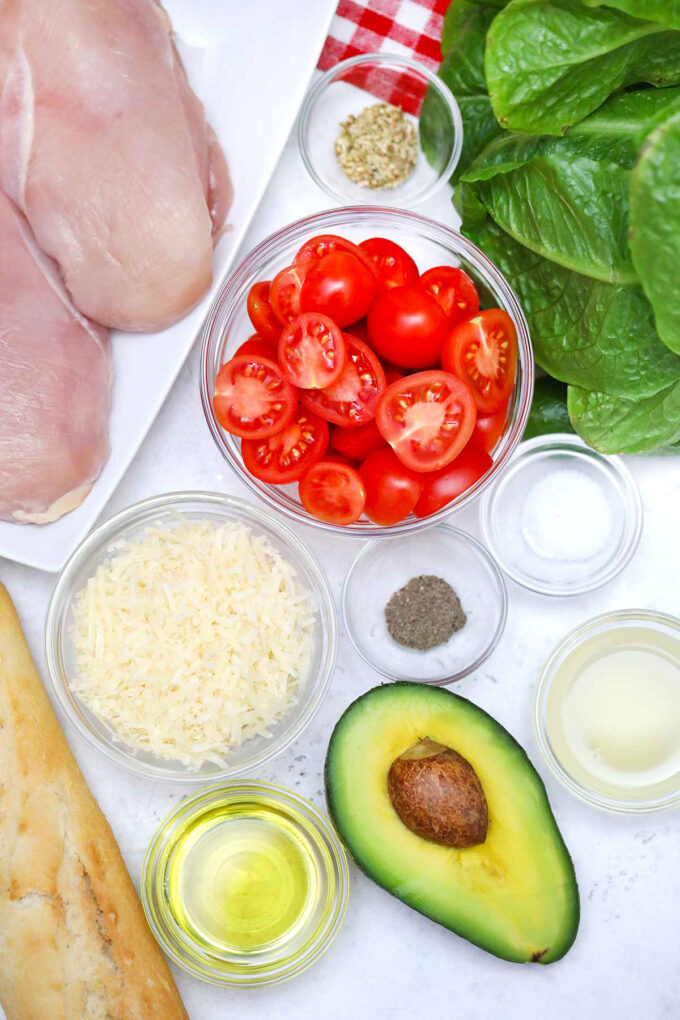 What is the best lettuce to use for Caesar Salad?
The best one to use is romaine lettuce. You want them to be clean and crisp. So, it is always good to use only the freshest ones available and prep them properly.
Discard the wilted ones and rinse the leaves. Dry them too so that you can effectively coat them with the dressing later.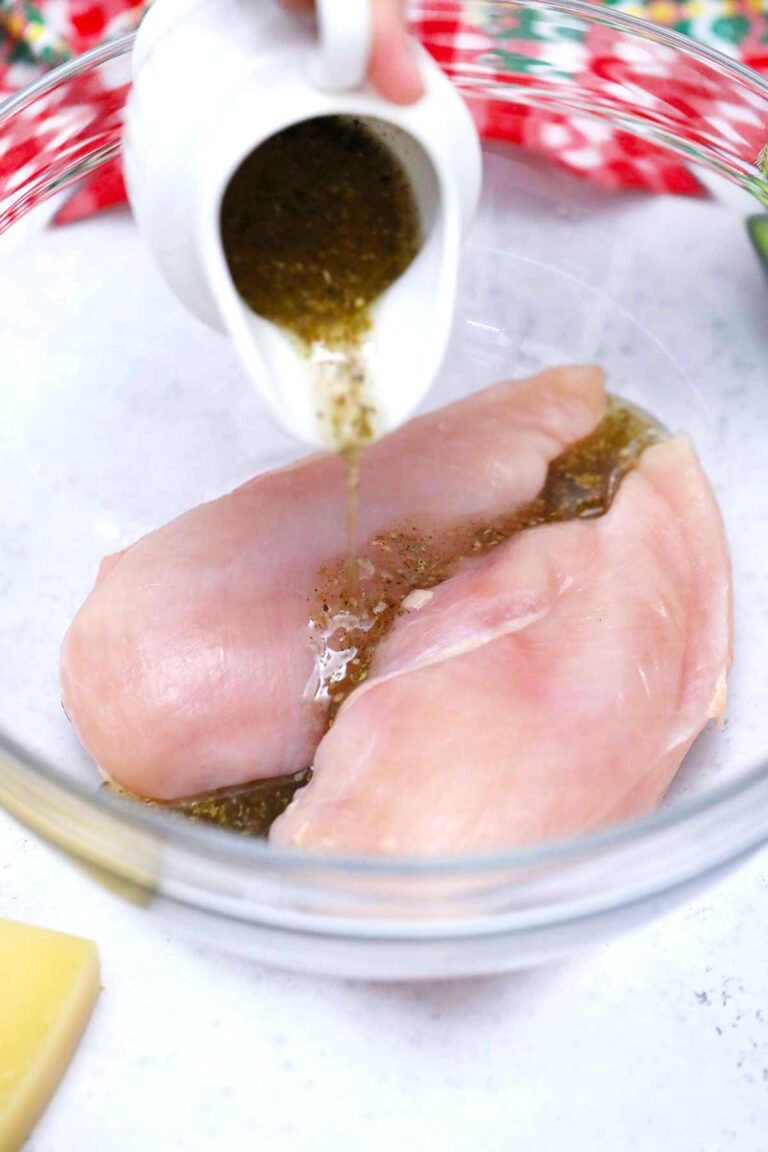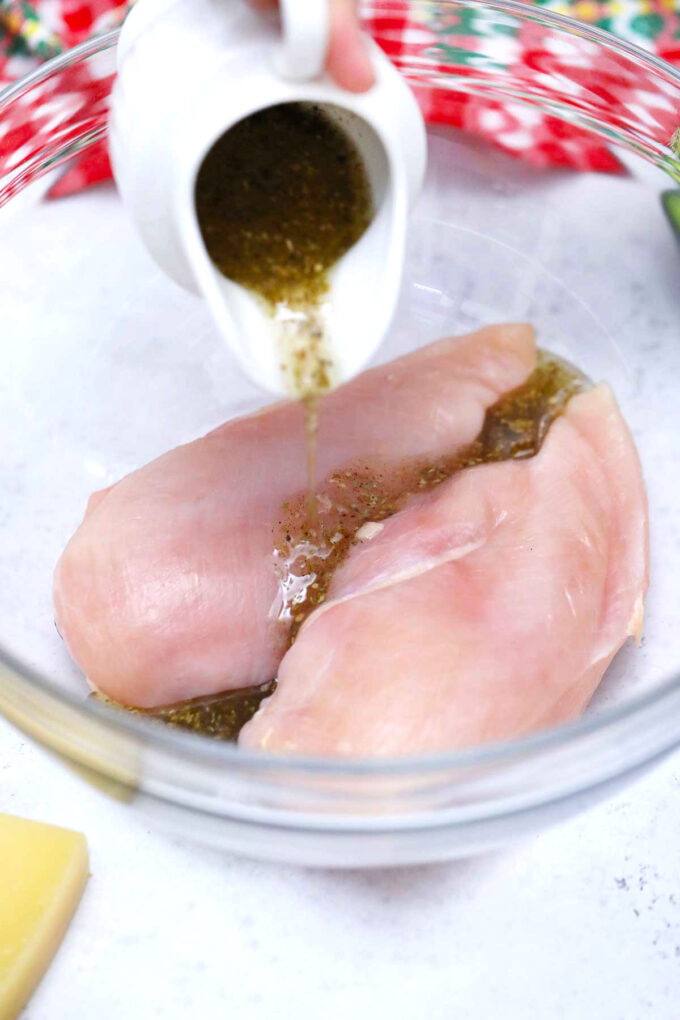 How to grill chicken breasts?
Marinate: Season the meat with the oil, lemon juice, and spices for about 15 to 30 minutes.
Prepare: Heat the grill and brush olive oil on the grates.
Cook: Grill the chicken until golden on both sides. Make sure to reach the safe temperature of 145 degrees Fahrenheit.
Rest: Set aside the cooked meat and allow it to rest for a few minutes before slicing.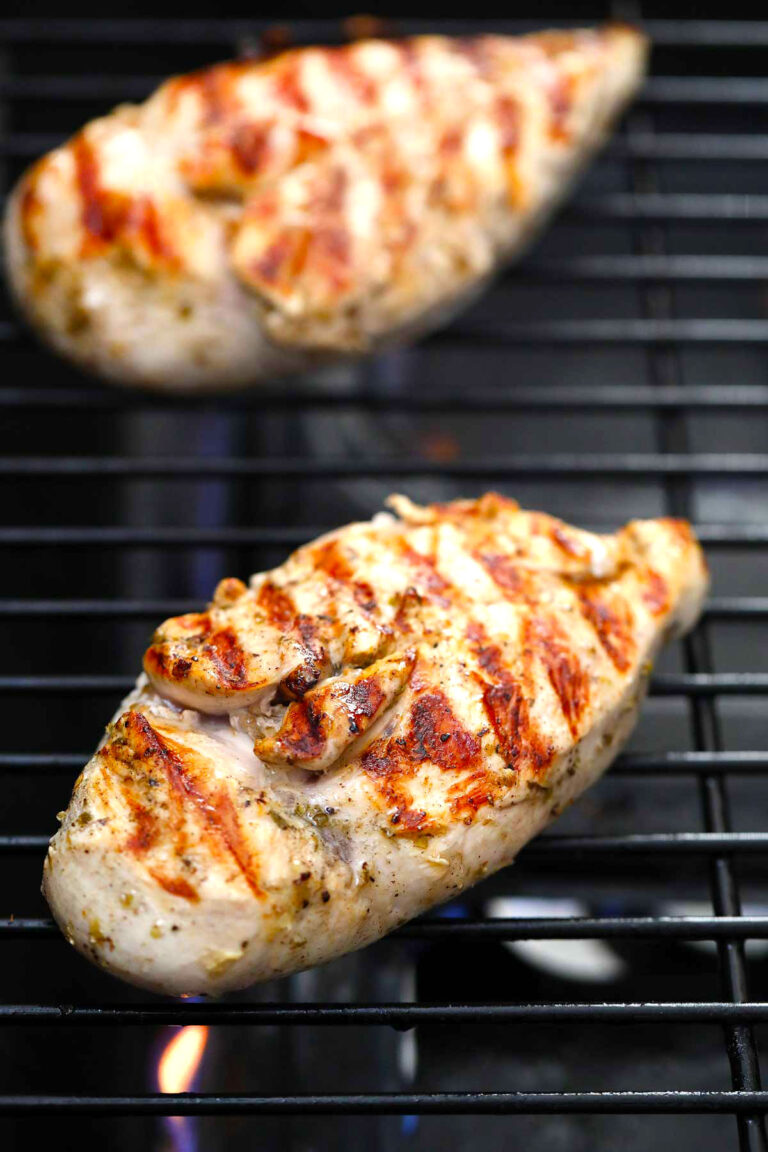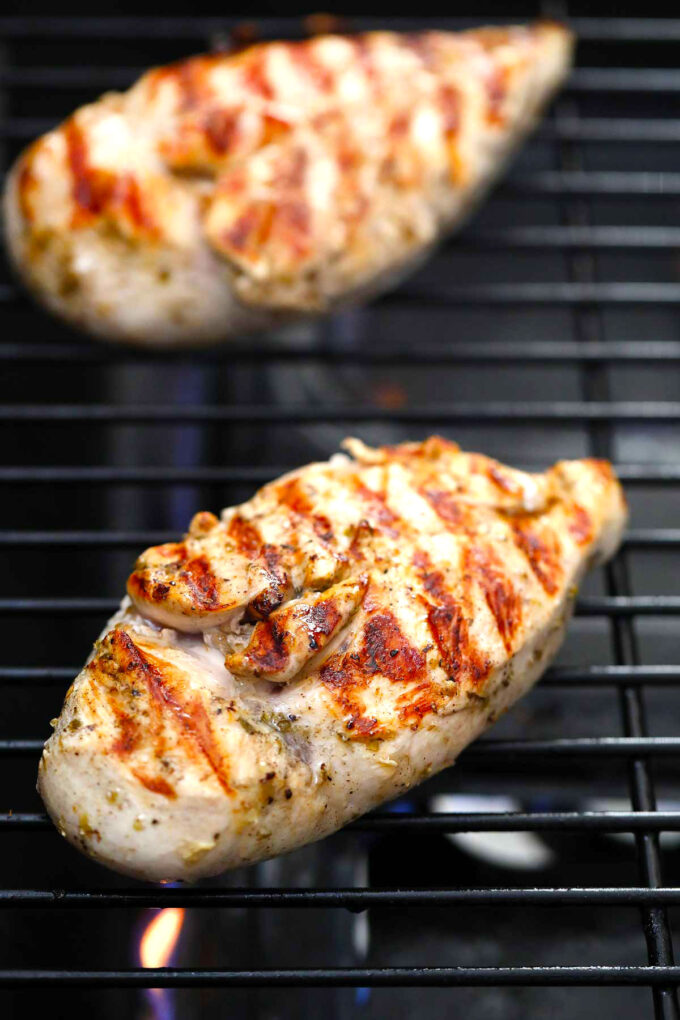 How to make Avocado Chicken Caesar Salad
Grill the meat: Grill the chicken as described above.
Make the croutons: To prepare the croutons, coat slices of French baguette in oil and minced garlic, then, bake at 350 degrees Fahrenheit.
Prepare the dressing: Pour all the ingredients in a food processor and pulse.
Assemble: Arrange the pieces of lettuce leaves in a large bowl. Then, arrange the rest of the ingredients on top, finishing off with the dressing and croutons.
Serve: Toss everything and serve.
Recipe Variations:
You can substitute the chicken breasts with other poultry cuts. Or, substitute it with other kinds of meat like salmon, shrimp, pork, or beef. They work well with the rest of the dish, too.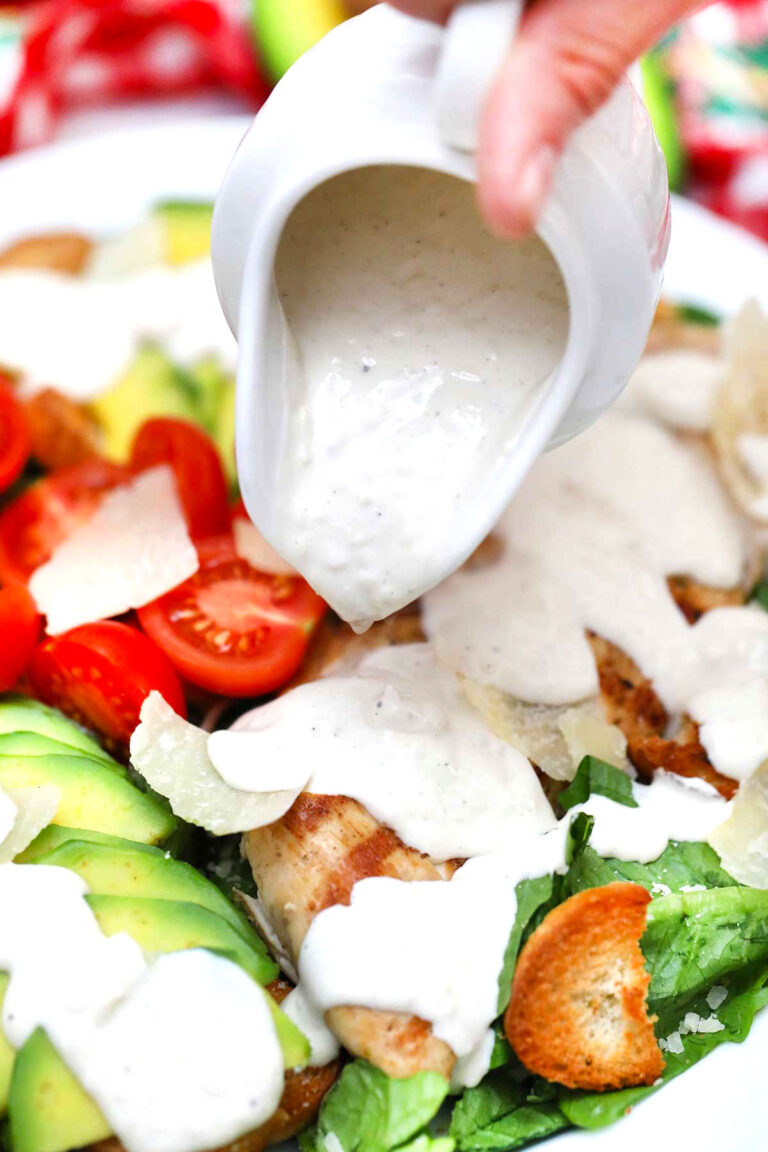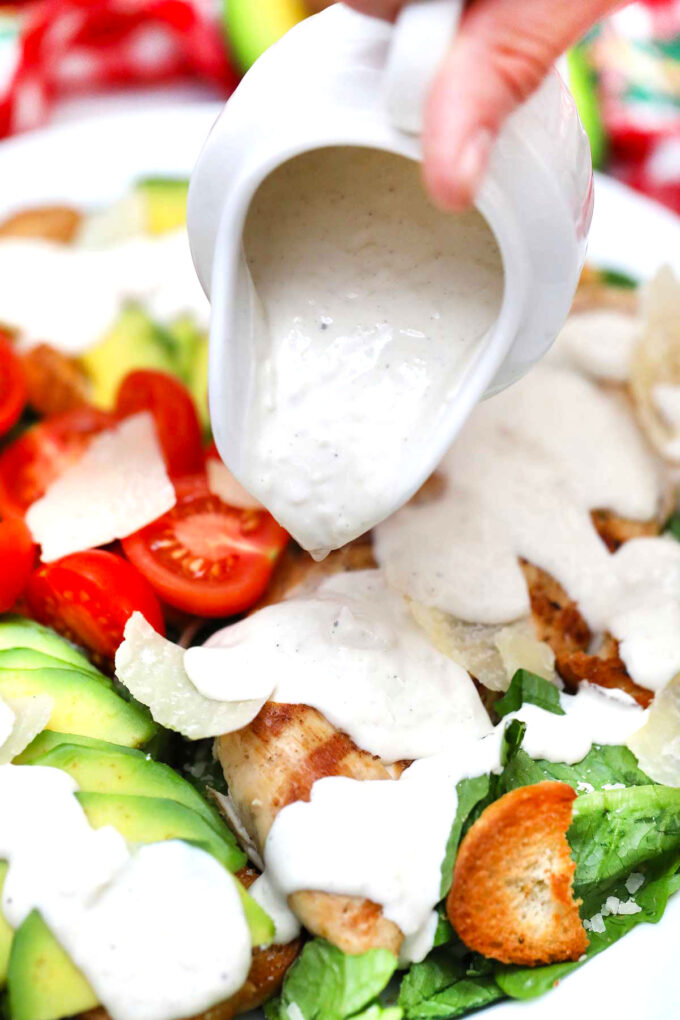 Is Avocado Chicken Caesar Salad healthy?
Yes! The greens and the tomatoes are great sources of fiber. The grilled meat in this dish is one of the leanest cuts which is also a great source of protein.
The avocado is rich in good healthy fats. The croutons are rich in carbohydrates that will give you energy.
Overall, this dish is healthy because it has a balance of fresh and healthy components. But, just like any other dish, manage your portions.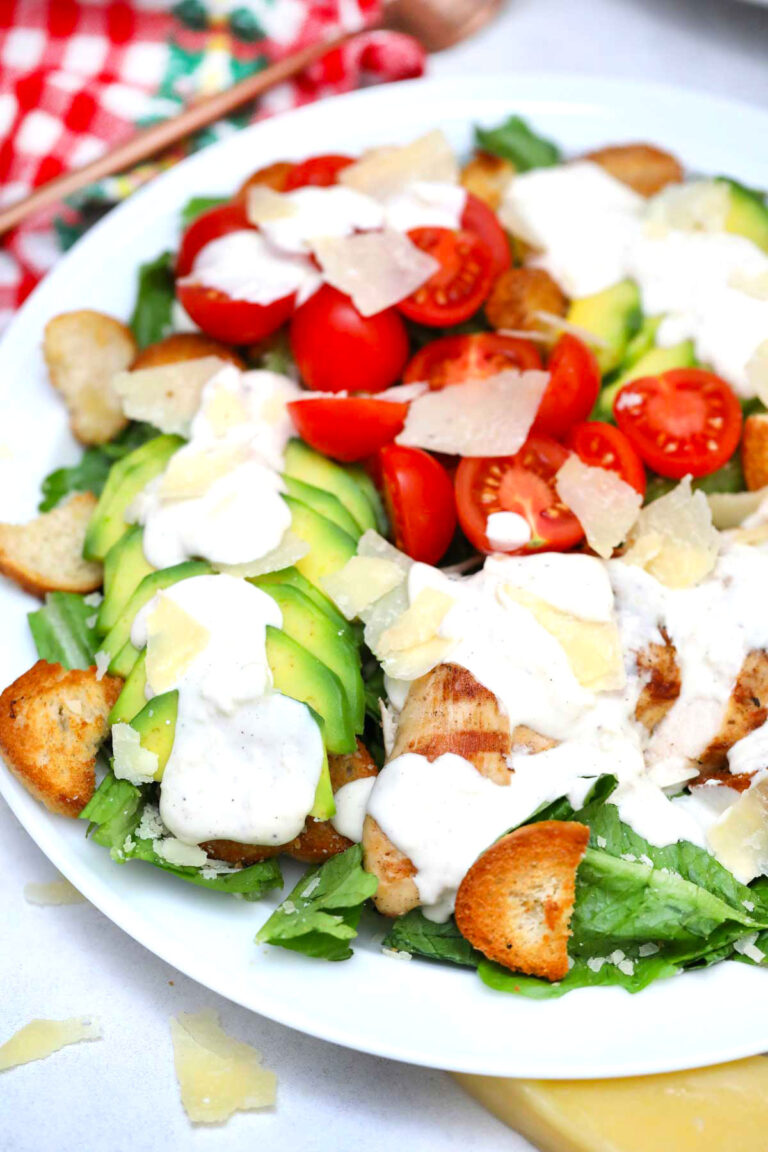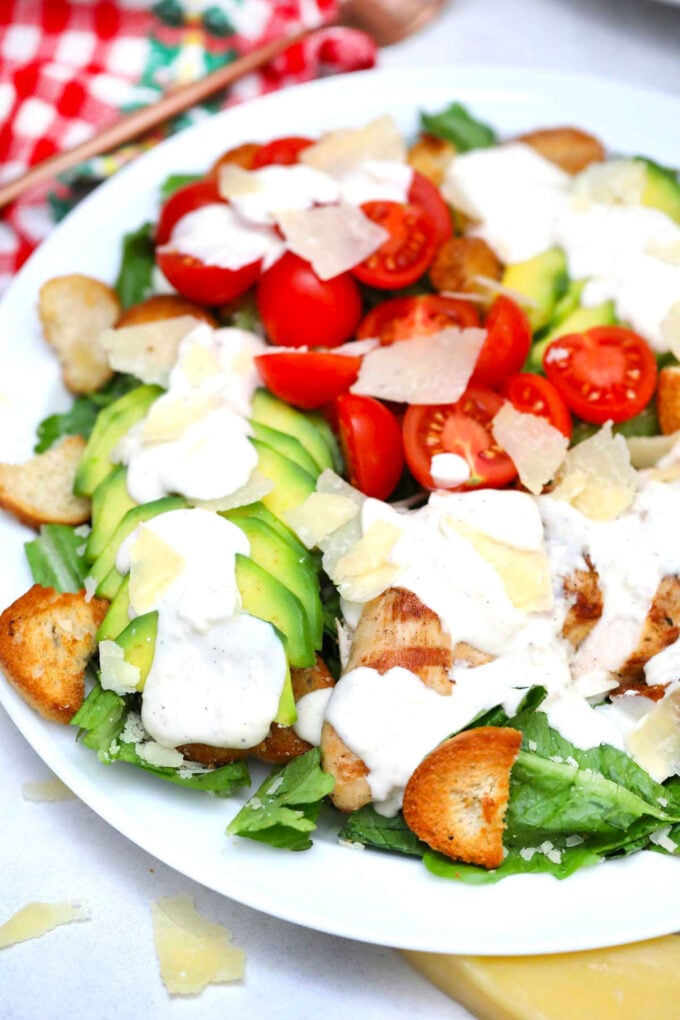 What to serve with Avocado Chicken Caesar Salad?
How to store it:
Keep the dressing in a separate airtight container for up to a week. Also, the croutons should be stored in a separate airtight container at room temperature.
The rest of the leftovers can be eaten within 4 days. But for best results, serve with fresh romaine lettuce.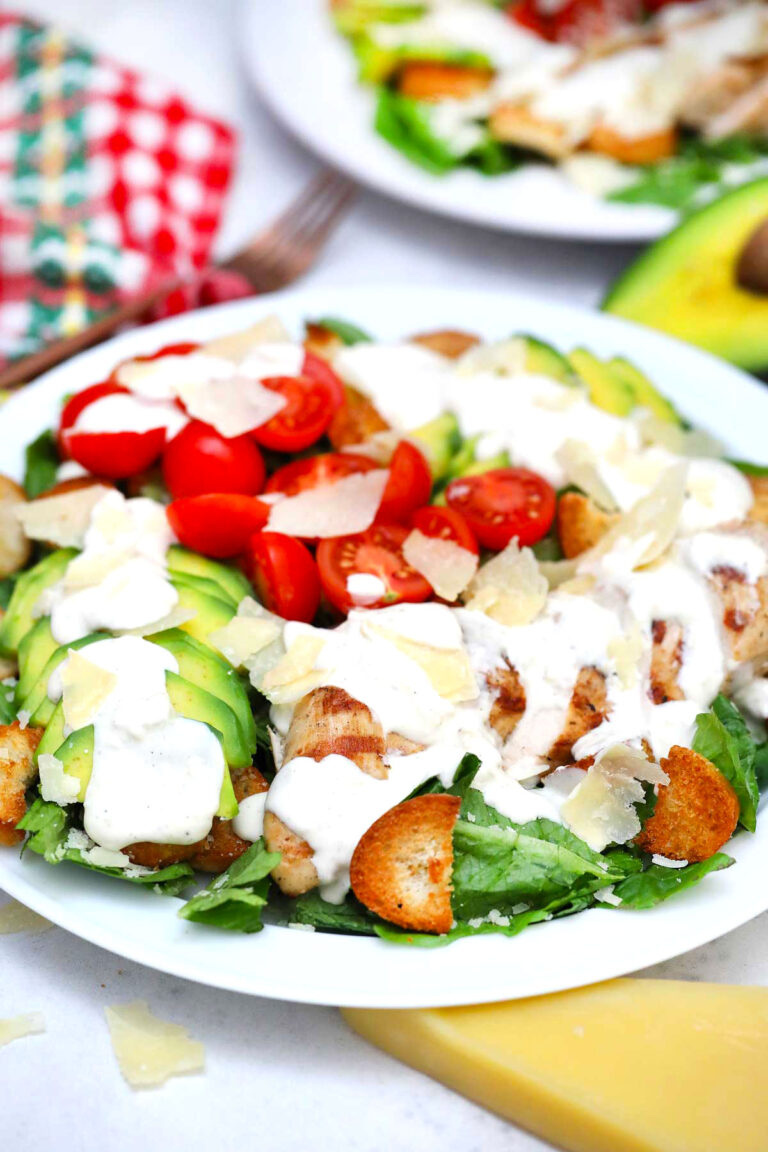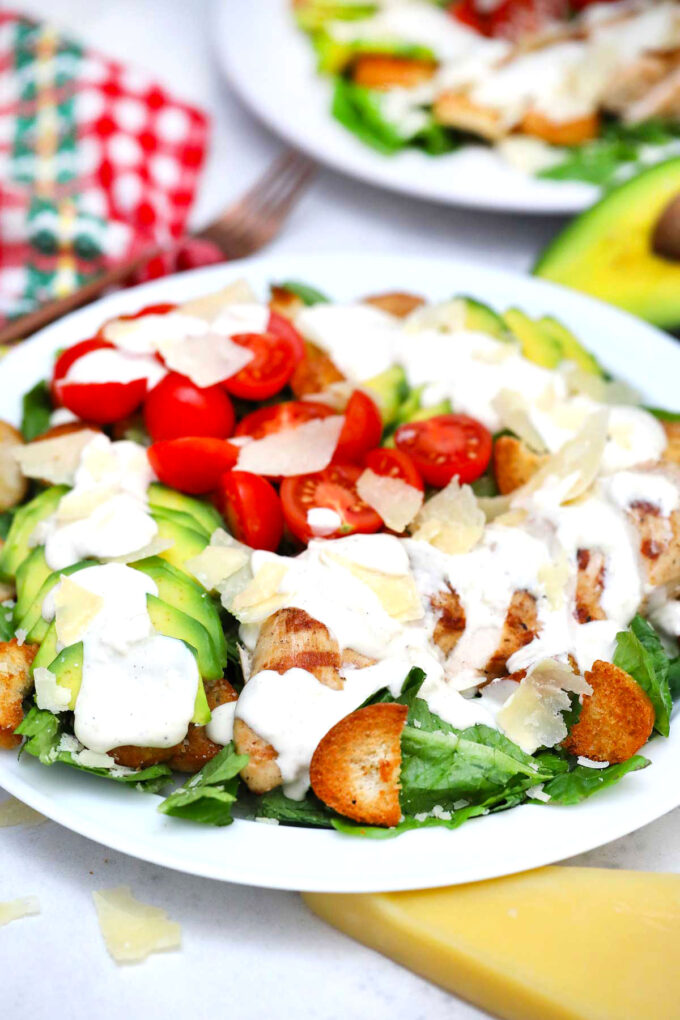 Recipe Tips:
You can double the dressing recipe and use it as a spread in burgers, wraps, or sandwiches. Use it as a meat marinade, too.
To enhance the avocado flavor throughout the dish, mash some of it and mix it with the dressing.
Aside from baguettes, you can also use sourdough or white bread for the croutons.
Save Recipe
Avocado Chicken Caesar Salad
Author: Catalina Castravet
Serves: 4 servings
Prep time:

21

minutes
Cook time:

10

minutes
Total time:

30

mins
Ingredients
Garlic Croutons:
1/2 French Baguette (cut in half sliced into 1/4" thick slices)
3 tablespoons extra virgin olive oil
2 cloves garlic (minced)
For the Chicken:
2 chicken breasts
2 tablespoons olive oil
2 tablespoons lemon juice
1 teaspoon oregano
1/4 teaspoon salt
1/4 teaspoon black pepper
Caesar Dressing:
3 cloves garlic (minced)
1 1/2 teaspoon anchovy paste
2 tablespoons lemon juice
1 teaspoon Dijon mustard
1 tablespoon Worcestershire sauce
1 cup mayonnaise
1/4 cup sour cream
1/2 cup freshly grated Parmesan cheese
1/4 teaspoon salt
1/4 teaspoon freshly ground black pepper
For the Caesar Salad:
1 large romaine lettuce
1/2 cup parmesan cheese (shaved)
2 avocados (pitted and sliced)
1 cup grape tomatoes (cut in half)
Instructions
How to Make Croutons:
Preheat oven to 350 degrees F.
Place the bread slices in a large bowl.
In a small bowl, combine olive oil with minced garlic and drizzle the mixture over the croutons.
Toss until evenly coated.
Arrange the bread in a single layer onto a baking sheet and bake until lightly golden and crisp, about 10-12 minutes.
For the Chicken:
Marinate chicken breasts in olive oil, lemon juice, salt, pepper and oregano for 15-30 minutes.
Fire the grill, brush with olive oil and grill the chicken on a gas grill or using a grill pan over medium-high heat. Cook until done.
Let the chicken rest 10 minutes before slicing.
Caesar Salad Dressing:
Combine all the dressing ingredients in a medium bowl, stir well and set aside.
Assemble the Salad:
Rinse and dry the romaine lettuce,
Chop it and layer it in a large serving bowl, sprinkle with shredded parmesan cheese, add the cooled croutons, sliced chicken, cherry tomatoes and sliced avocado.
Drizzle 1/2 of the dressing on top. Toss gently and if needed add more dressing until the ingredients are evenly coated.
Serve immediately.
Carbohydrates: 30 Protein: 40 Fat: 88 Saturated Fat: 17 Cholesterol: 120 Sodium: 1528 Potassium: 1156 Fiber: 8 Sugar: 4 Vitamin A: 1379 Vitamin C: 23 Calcium: 384 Iron: 3 Calories: 861
Save Recipe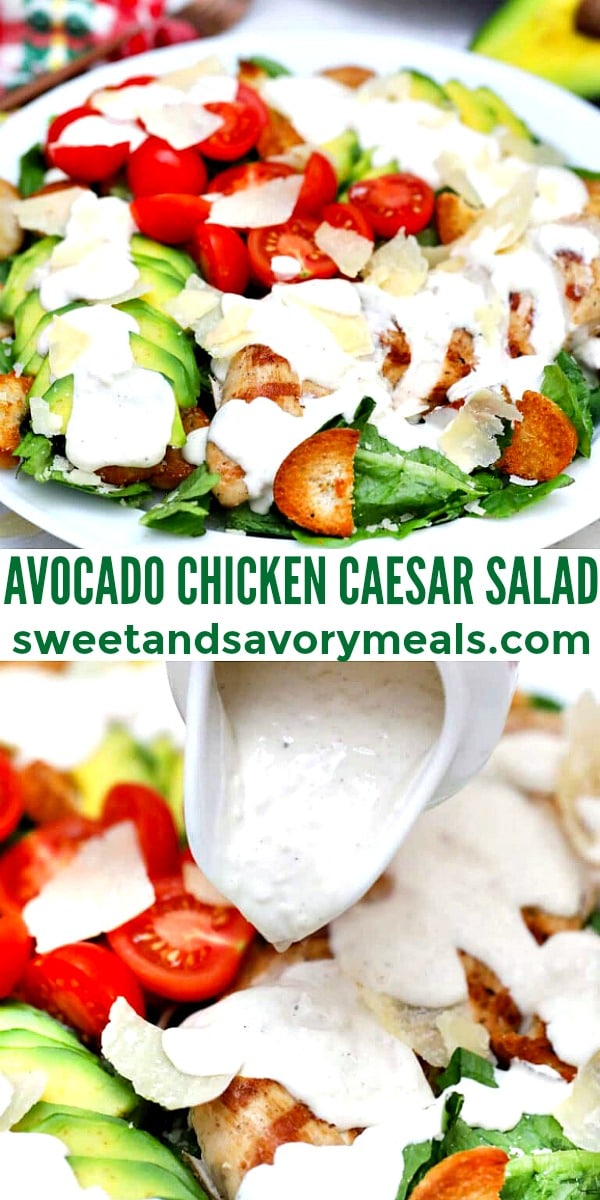 More recipes you might love