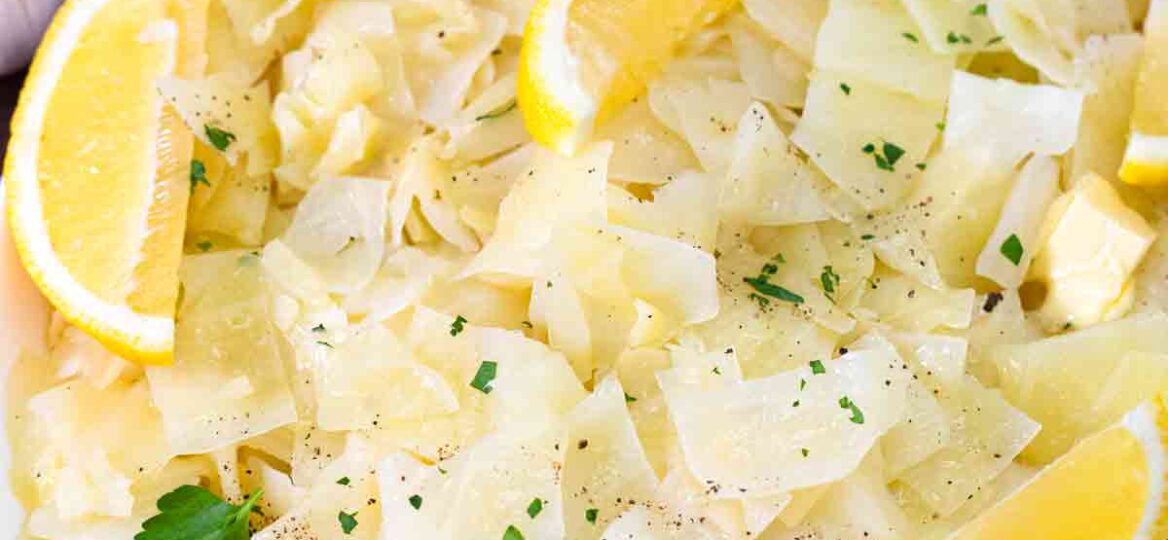 Instant Pot Buttered Cabbage [Video]
Instant Pot Buttered Cabbage is so tender and buttery, it almost melts in your mouth. This veggie side dish is filling and flavorful, but only takes minutes in the pressure cooker!
Wondering how to make the flavor of your vegetables really shine? Prepare them as simply as possible! You only need a handful of ingredients for this Roasted Asparagus, Garlic Roasted Potatoes, and Steamed Broccoli. In these recipes, the veggies are the stars of the dish!
Pressure Cooker Buttered Cabbage Recipe
Instant Pot Buttered Cabbage always surprises me with how delicious and full of flavor it is. But something magical happens when you combine this vegetable, butter, and the high pressure of the Instant Pot.
The cabbage leaves become impossibly tender and sweet. The butter, broth, and lemon juice create a rich and silky sauce flavored with garlic and spices. It's hard to believe it only takes 6 minutes in the IP!
How to choose cabbage for cooking?
The color of the leaves should be bright with no bruising or browning anywhere. The outer leaves should feel and look crisp, and they should be packed really tight. Hold the vegetable— it should feel heavy and dense. If you see any mushiness on any part, put it down.
What is the best cabbage for cooking?
All of them! But more specifically, it depends on what recipe you're using them in. For instance, regular green cabbage is an excellent all-around option. You can use it raw in coleslaw and salads, roast it, boil it, caramelize it, or use it for stuffed rolls.
The tender, super crispy leaves of Savoy are perfect for wraps and raw salads. Red varieties are much like the green ones, and their earthy flavor is fantastic raw or pickled. Napa is sweeter than most varieties and its mild flavor is lovely in salads.
But for this recipe, we're sticking with good old green!
Is green cabbage healthy?
Yes! It's packed with fiber, antioxidants, and essential vitamins and minerals. This vegetable is very low in calories, carbs, and fat. Since it has a lot of water content, it'll fill you up quickly without making you feel bloated.
It's also been found to boost heart health, reduce inflammation, lower cholesterol, and more. It's definitely a great item to add to your regular menu!
What is buttered cabbage?
It is cabbage cooked in butter and a splash of liquid like broth or water. It's seasoned with everything from simple salt and pepper to various herbs and spices.
There are many ways to make this— on the skillet, by blanching the veggies before tossing it in the butter, or even in the slow cooker. For this recipe, I choose the IP because of how fast and convenient it is. Perfect results every time!
How to prepare cabbage for cooking?
Remove the outer leaves, wash the head really well, then core it. Slice into wedges. From there, chop into chunks about 1 inch in size.
How do you make Instant Pot Buttered Cabbage?
Assemble. Except for the vegetables, put everything into the IP. Arrange the veggies on top.
Cook. Set the IP for 6 mins. on High. Afterward, release the pressure by doing a quick vent. Stir the dish and season.

Serve. Enjoy hot with more chopped butter melted on top, a sprinkle of parsley, and a side of lemon wedges.
Recipe Variations:
Use other seasonings: Nutmeg, dried herbs, or a dash of chili flakes add a ton of flavor! You can also try subbing a splash of soy sauce for the salt for a wonderful umami boost.
Add meat: Sauté some bacon, bits of ham, or crumbled sausage and add to the dish.
Make it vegetarian: Use vegan butter and vegetable stock!
What do you serve with Instant Pot Buttered Cabbage?
This versatile side complements a long list of entrees— roasted, grilled, broiled, fried, sauteed— you name it!
Here are some ideas to complete your meal. Serve it as a side dish to a Beef Pot Roast, Garlic Herb Butter Roasted Chicken, or Fried Chicken for a hearty Sunday meal. For something light, it goes really well with Garlic Butter Swai Fish or Teriyaki Salmon. A really nice side for Perfect BBQ Pork Chops, too!
How to store:
Take all leftovers and transfer them to an air-tight container once completely cool. Keep inside the fridge up to two days, and try to consume earlier if you can. Cooked vegetables tend to get soggy the longer they stay in the fridge.
Can you freeze cooked cabbage?
Sure! I do recommend dividing into smaller portions first, so you'll only thaw what you'd like to eat.
To freeze, transfer the cooled dish to a zip-lock bag or freezer-safe container with an air-tight lid. Wrap in foil and freeze up to 5 months.
How to thaw frozen cabbage?
For raw, defrost overnight in the fridge. You can also do this on the counter to help it defrost faster.
For cooking, it's better to let it slow-thaw. Remove it from the freezer and transfer it to the lower levels of your fridge. Once completely thawed, heat in a skillet with a little water until hot.
More IP Veggies Recipes:
Recipe Tips:
Use homemade stock for better flavor!
Do a quick vent, not a natural release, to avoid overcooking the veggies.
Make sure to add the veggies LAST to the IP. Otherwise, it can stick to the pot and trigger a burn notice.
Deliciousness to your inbox
Enjoy weekly hand picked recipes and recommendations