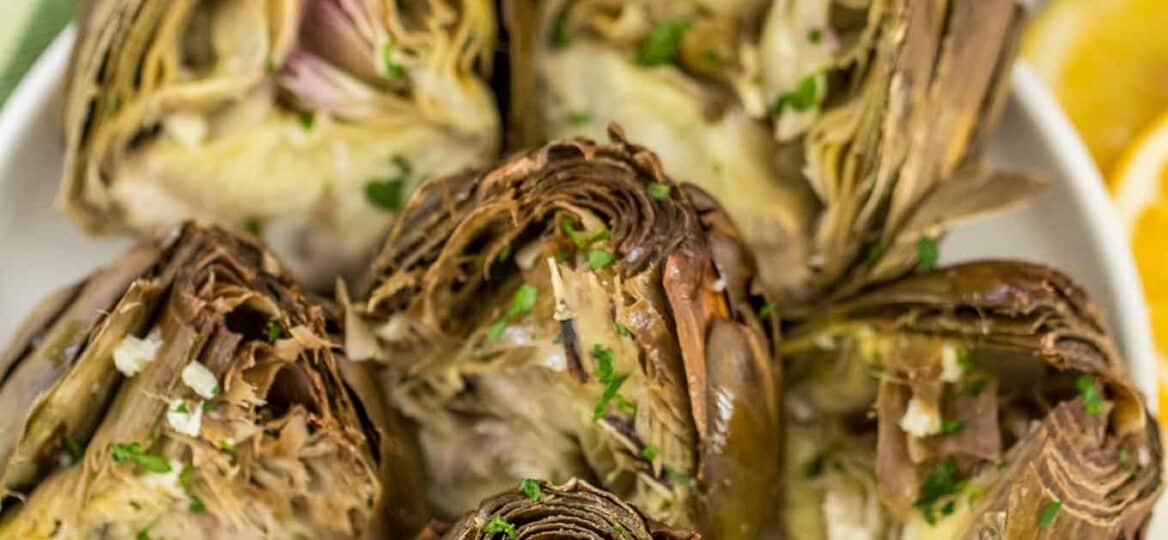 Instant Pot Steamed Artichokes [Video]
Instant Pot Steamed Artichokes recipe is fast and super easy to make in your pressure cooker. In less than 30 minutes, you will have a delicious superfood, which is high in antioxidants and dietary fiber.
We love Instant Pot dishes as they are cooked at a fraction of the time. Some of our other favorites once are Tuscan chicken pasta, stuffed peppers, and corn on the cob.
The Best Instant Pot Steamed Artichokes
Artichokes are fun to eat, and are super healthy and delicious! Sometimes, it may time a while to cook them. However, thanks to the Instant Pot the work just got easier and quicker!
These Instant Pot Steamed Artichokes are the best we have tried. They taste great and have the perfect texture. The bonus point is that they are done in a fraction of the time compared to the stovetop! When in season, we enjoy cooking them at least once a week.
Not only they are amazingly delicious, but they are also super healthy and nutritious. You can eat them as a side dish, but we prefer to dip them in our lemon butter sauce. So if you are an artichoke fan, we recommend giving this recipe a try, you can thank us later!
What is an artichoke?
Artichoke is botanically a flower but could also be classified as a vegetable by the way it is consumed. Just like broccoli and cauliflower, it is high in healthy nutrients that are packed in edible flower buds!
It has a lot of good and healthy vitamins and some of the highest levels of antioxidants and dietary fiber among the vegetables. When cooked it has a moist and tender meaty texture. It can be enjoyed as is, or as an appetizer or side dish.
How to choose the best artichokes?
First of all, they are mostly in season from March to May. So your best for fresh and quality products would be during this time of the year. When selecting them at the store, look for artichokes that:
have compact or tightly-packed leaves
feel dense and heavy for the size and firm
have a fresh healthy green color, with not too much browning. Avoid dehydrated or wilted ones.
How to make artichokes in the Instant Pot?
This easy recipe requires just a few simple steps. Also, watch the recipe video tutorial attached. The general steps are as follows:
The only thing you need to make this recipe is artichokes, a cup of water, and some seasoning.
Once you have the fresh artichokes, begin by prepping and trimming them. We usually cook between 4 to 5 medium-sized artichokes in a single layer of the 6-quart Instant Pot.
Once you have them ready, place the steamer basket in your pressure cooker, and add some water, and some seasoning. For more flavor, you could add some garlic cloves and bay leaves to the pot's bottom.
Make sure to place them in a singer lager, with stem-up and stem-down totally up to you.
Then, secure the lid, and cook on high pressure for 10 minutes, plus allow some time for pressure release. Please note, if you have larger sized artichokes, the cooking time should be set to 12 minutes.
How to make the dipping sauce for Artichokes?
We enjoy dipping them in melted butter with some lemon sauce. To make it, follow the steps below:
Melt some salted butter in a pan, and add some minced garlic.
Next, saute garlic until golden brown and add some freshly squeezed lemon juice, and some salt and pepper.
Set aside and let it cool down slightly prior to dipping.
When the Instant Pot Steamed Artichokes are cooked and ready, you can dip them into the garlic butter sauce.
How to eat Pressure Cooker Steamed Artichokes?
Eating them is pretty simple and delicious! Once cooked, just pull off the outer leaves and petals, and dip the bottom into the garlic butter sauce. You can also dip it into your favorite sauce or mayonnaise. Eat only the soft, white fleshy part of the petal with the dip. Then, discard the remaining petal. Also, there will be a fluffy layer at the base that you also want to discard.
How to store artichokes?
To store fresh uncooked artichokes:
First, slice off a bit of artichoke's stem, then sprinkle it with a little water.
Then, place them in the fridge in an airtight plastic bag or container.
It is important not to wash them prior to storing them.
They will maintain the best quality for up to 5-7 days in the fridge.
To store cooked artichoke:
Let them completely cool prior to storing.
Once cooled, transfer into an airtight container and refrigerate for up to 5 days.
Expert Tips and Notes:
For deeper flavor, sprinkle them with some of your favorite cheese, or simply pour a bit of olive oil and salt on top.
Also, for vegans, you can use olive oil in place of unsalted butter for dipping sauce, or vegan mayo.
Eat only the soft, white fleshy part of the petal with the dip.
For larger-sized artichokes, increase the cooking time to 12 minutes.