Slow Cooker Red Wine Pot Roast
Slow Cooker Red Wine Pot Roast is impressive, satisfying, melts in your mouth, and seriously tastes gourmet. A phenomenal meal that requires very little effort!
Because this is such a hands-off recipe, you have more time to focus on the sides. Serve this up with some buttery mashed potatoes and these garlicky roasted asparagus. Don't forget dessert— whip up a No-Bake Chocolate Pie for the perfect sweet finish!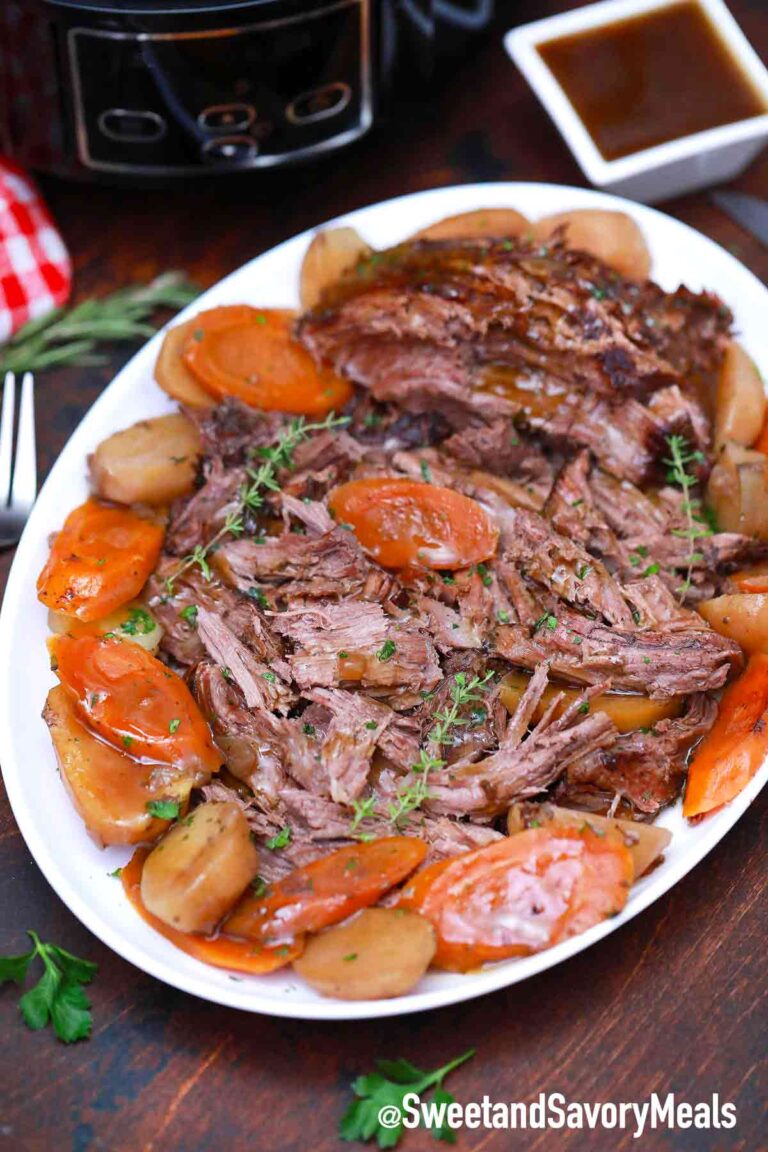 Crockpot Red Wine Pot Roast
Slow Cooker Red Wine Pot Roast is simple, rustic food at its finest. Prepare to fall in love with the succulent beef and hearty veggies, all drenched with a complex red wine gravy flavored with herbs.
And the smell that fills the house as it cooks— it's almost as wonderful as the dish itself! Rustic as it is, this dish also tastes like something you'd get served at a restaurant.
That's why it's also one of my go-to recipes when I'm having company over. Finally, you can make so many gorgeous meals out of the leftovers, too! It's a beautiful, delicious dish sure to become a favorite among your family and guests.
What is a pot roast?
It's a very old cooking method that involves meat slow-braised in liquid for a few hours. Also, the dish usually includes chunks of vegetables as well. By way of flavor, typical braising ingredients are stock, spices, herbs, and other liquids like wine.
Because it works so well to tenderize cheap and tough cuts of meat, pot roasts became the quintessential family meal. It's affordable, delicious, and comforting, which is exactly what this dish will bring to your dinner table.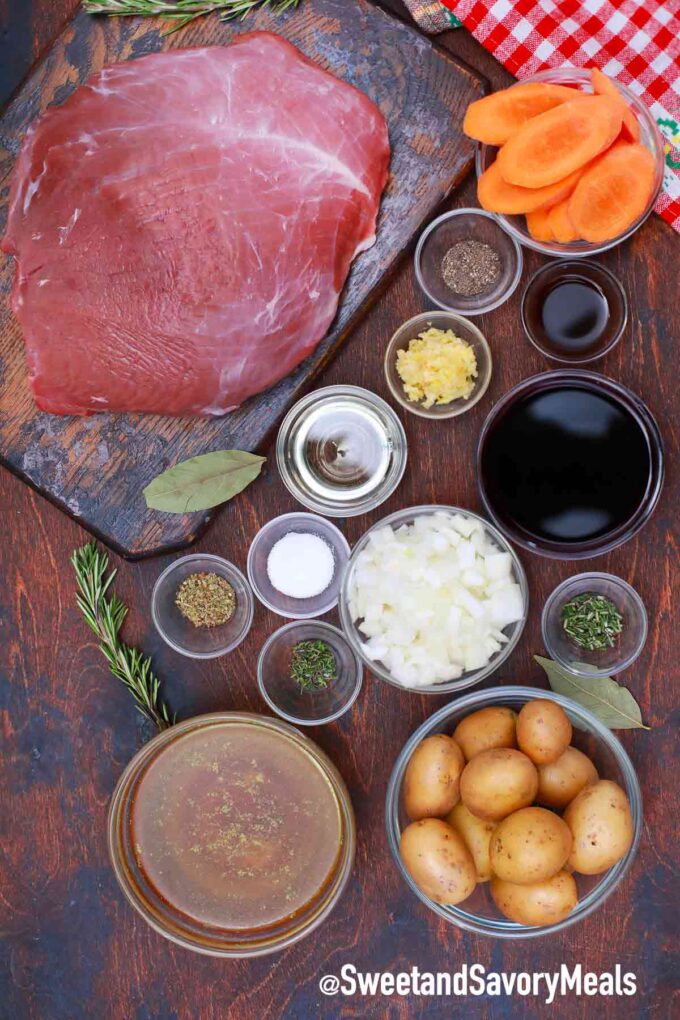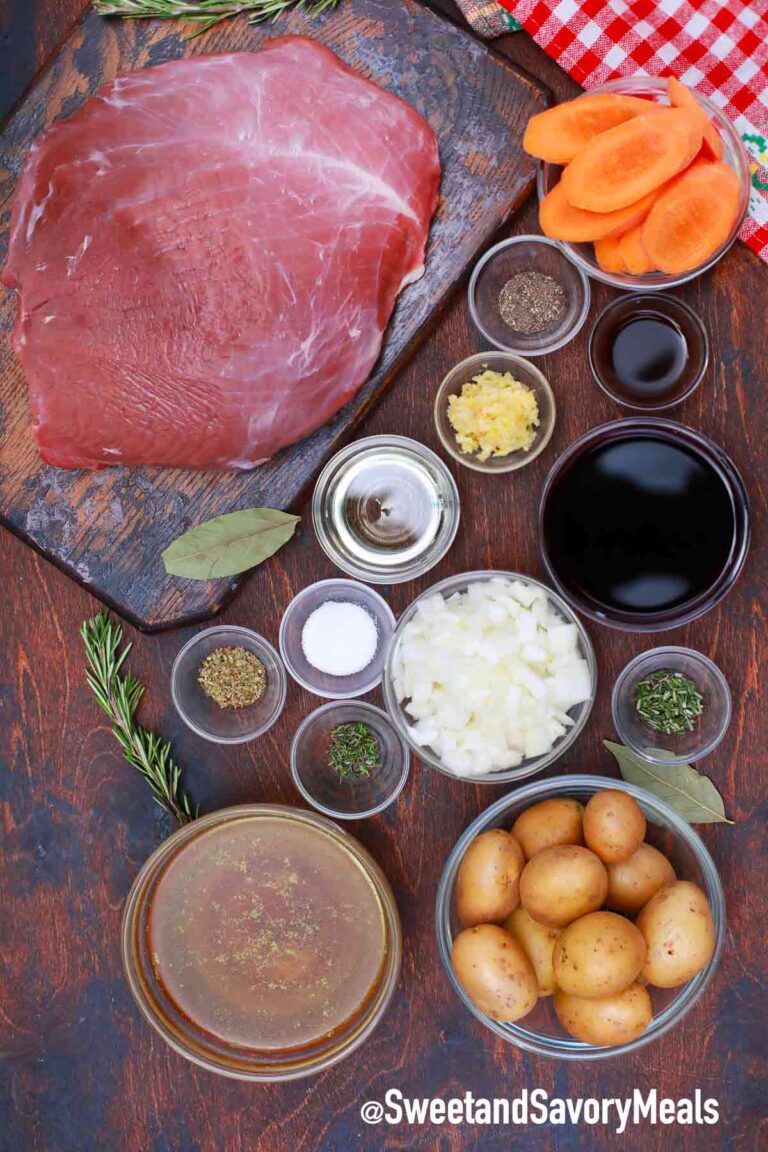 Do you need to brown pot roast before putting it in the slow cooker?
Searing the meat's surface maximizes flavor. That brown crust and those browned bits left behind in the pan? They're key to the rich meaty flavors, aromas, and color that define a fantastic roast.
Also, because the crockpot never gets very hot, it won't really brown the meat no matter how long you cook it in there. Browning in the skillet only takes a few minutes but makes a world of difference for pot roasts.
Can you put wine in the slow cooker?
Yes, it's fine. The alcohol will cook off long before you serve the dish, and even more so after you reduce the red wine glaze.
What red wine goes with pot roast?
Here's a no-fail rule to follow: if it's good enough for you to drink, it's good enough for this dish. The quality of the wine will really define the final flavors. If there's one recipe you should splurge on, this is it!
Great dry reds like Cabernet Sauvignon or Merlot are terrific choices for this recipe. And because we only need a cupful, you can pair the rest with your dinner. Win-win!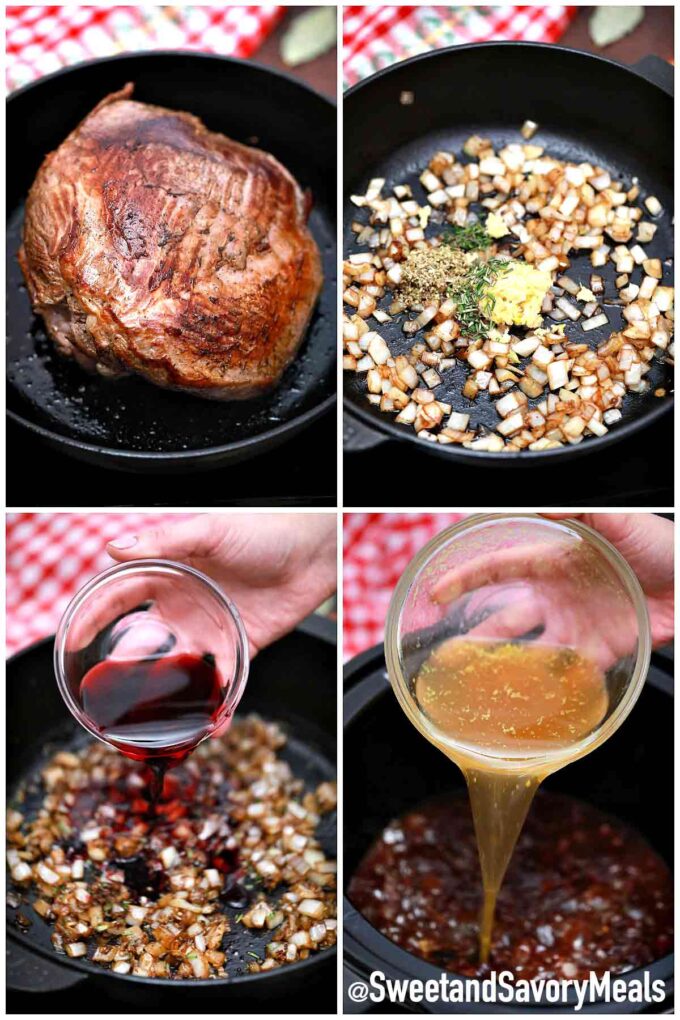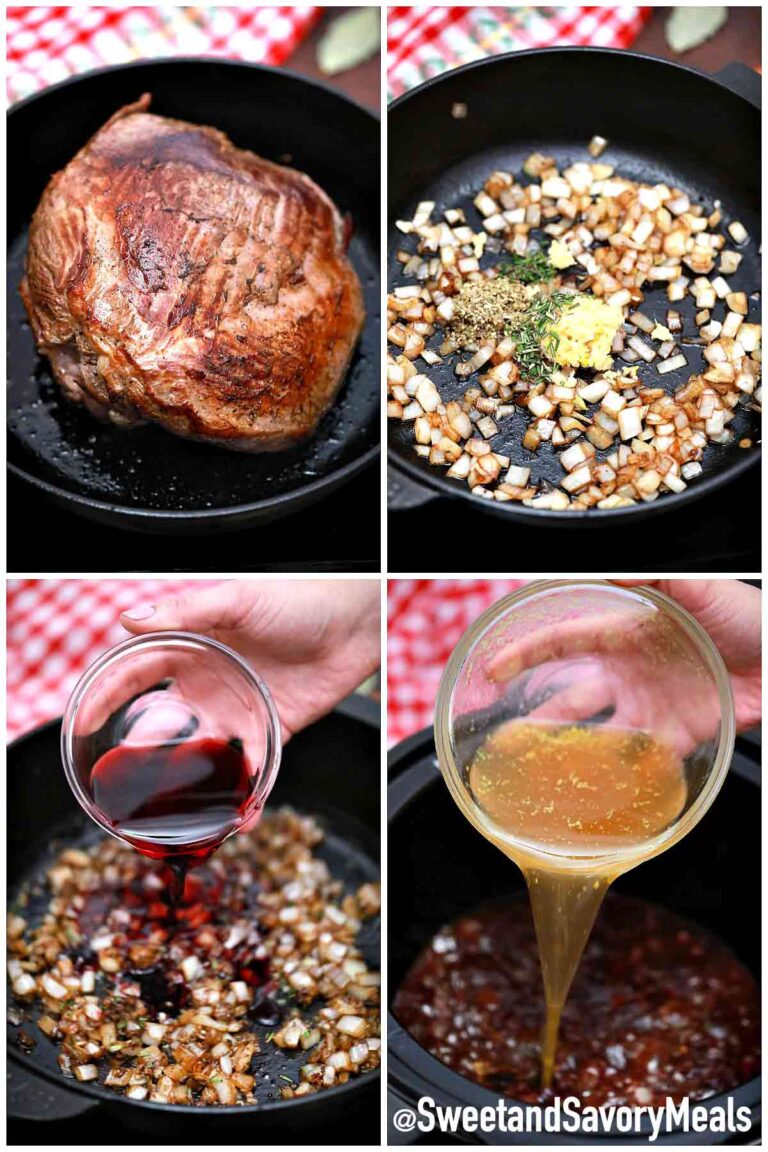 How do you make Slow Cooker Red Wine Pot Roast?
Sear the chuck. First, brown it in a skillet until deep brown with a slight crust on all sides. Then, set aside.
Sauté. In the same pan, sauté the aromatics, followed by the herbs. Deglaze the skillet with a splash of wine.
Slow cook. Next, place the liquid plus the rest of the alcohol, stock, and Worcestershire sauce in your slow cooker. Arrange the vegetables in a single layer at the bottom. Carefully place the chuck on top, then sprinkle with herbs. Lastly, set timer for 4 to 5 hrs. (high setting) or 6 to 8 hrs. (low setting).
Reduce the sauce. For the gravy, take the braising liquid and strain it after removing the bay leaf. Spoon off as much of the excess fat as you can. Add the strained liquid to a saucepan. Make a slurry using stock and cornstarch. Mix this to the liquid, then cook at a hard simmer until thick and glaze-like.
Serve. Slice or shred the meat. Plate it up with the veggies and drizzle with gravy. Enjoy hot!
Recipe Variations:
Use other meats: Can't find chuck? The bottom round will work equally well!
Make it alcohol-free: Sub the wine with equal parts broth if you don't want to use it.
Add other veggies: Try this with chunks of turnips, sweet potatoes, or parsnips.
Make it spicy: Throw in some pepper flakes if you enjoy spice.
Can I overcook a pot roast in the slow cooker?
Yes. The crockpot is just any other kitchen equipment— if you leave the meat in there too long, it will overcook. So, make sure to follow the recipe cook times precisely.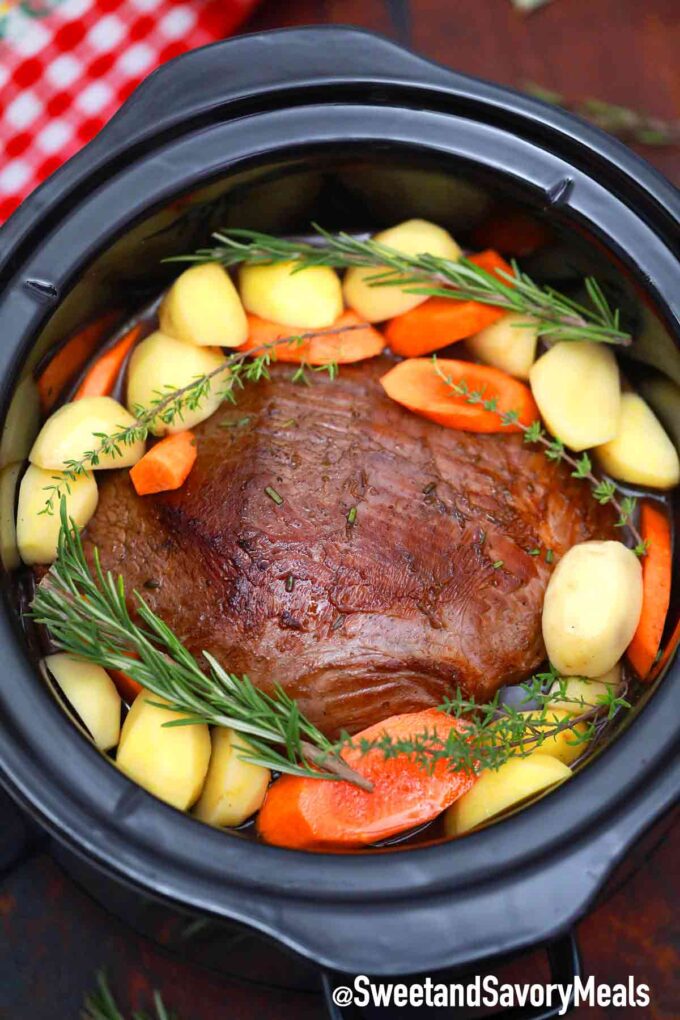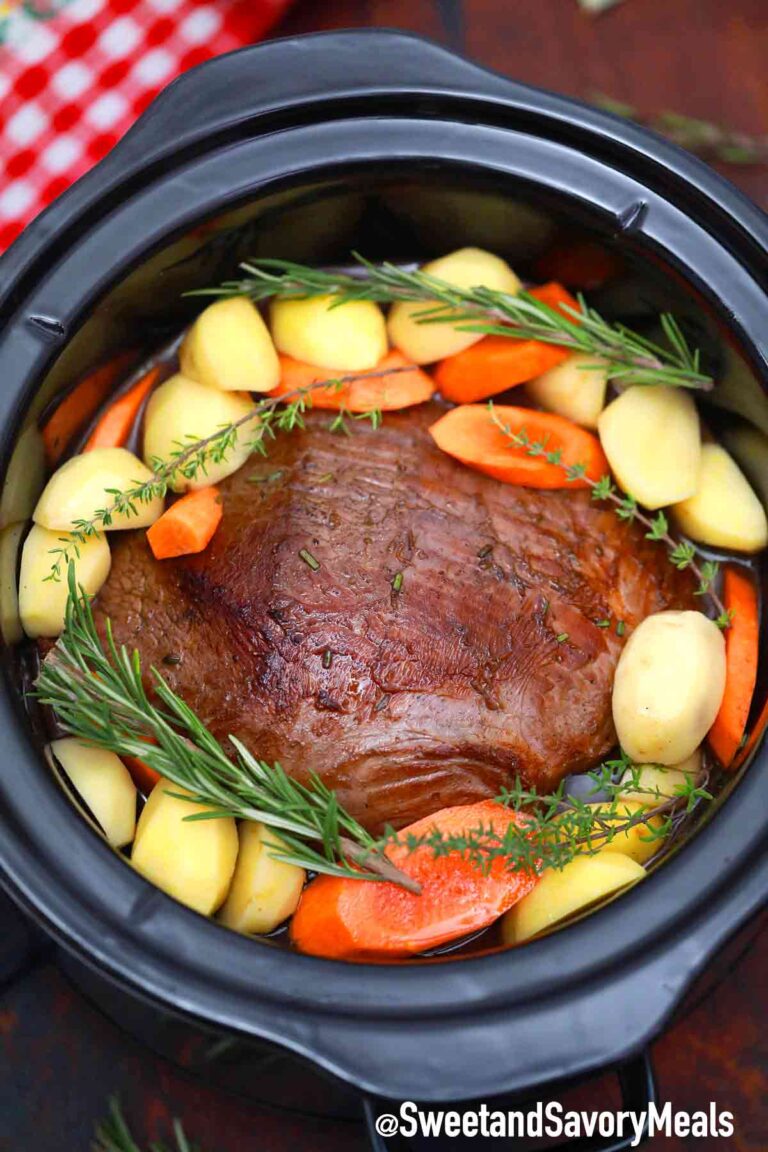 Can you make Red Wine Pot Roast in the Instant Pot?
Absolutely! Brown the chuck on Sauté, then put all of the ingredients in the IP.
Then, set for 15 to 20 mins on High Pressure. Allow half an hour of natural release before venting. Remove the chuck and veggies.
Follow the recipe steps for the gravy, and serve. You can find the full Instant Pot version here.
How to store leftovers?
First, cool everything, then store in an air-tight container or a freezer-friendly one if you plan to freeze it.
Consume within 4 days from the fridge, and within 3 months from frozen. To reheat, thaw and microwave until hot.
Leftovers Suggestions:
Shredded leftovers are delicious added to salads! You can also stack them high on sandwiches topped with your favorite cheese.
Also, feel free to fry them up with potatoes for a tasty hash.
In addition, you can use leftovers as fillings for crescent rings, sliders, meat pies, or added to pasta sauce.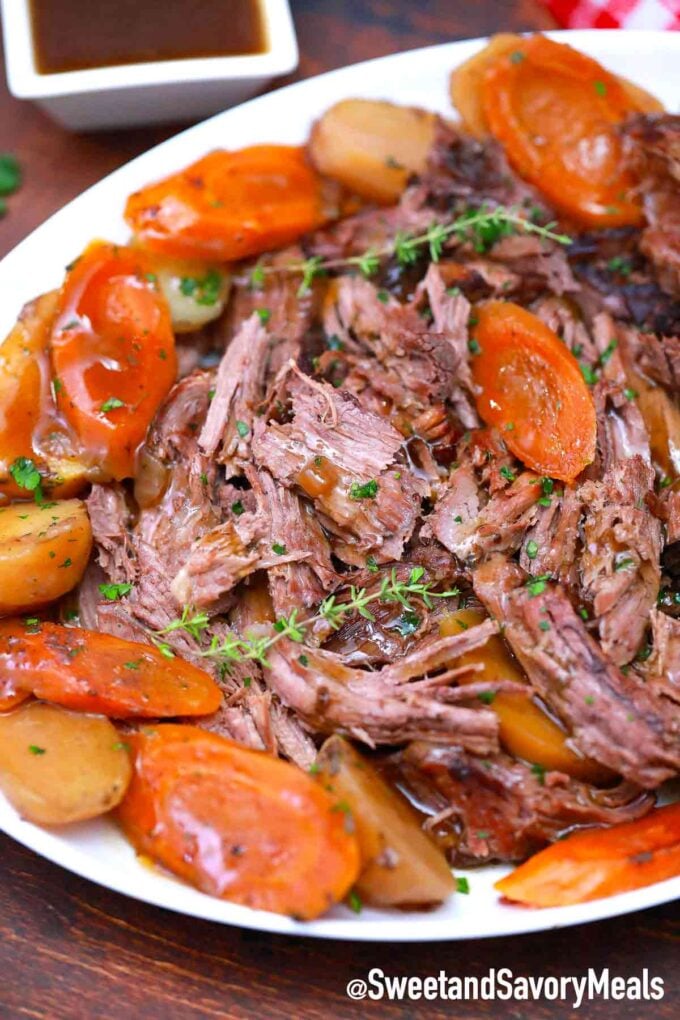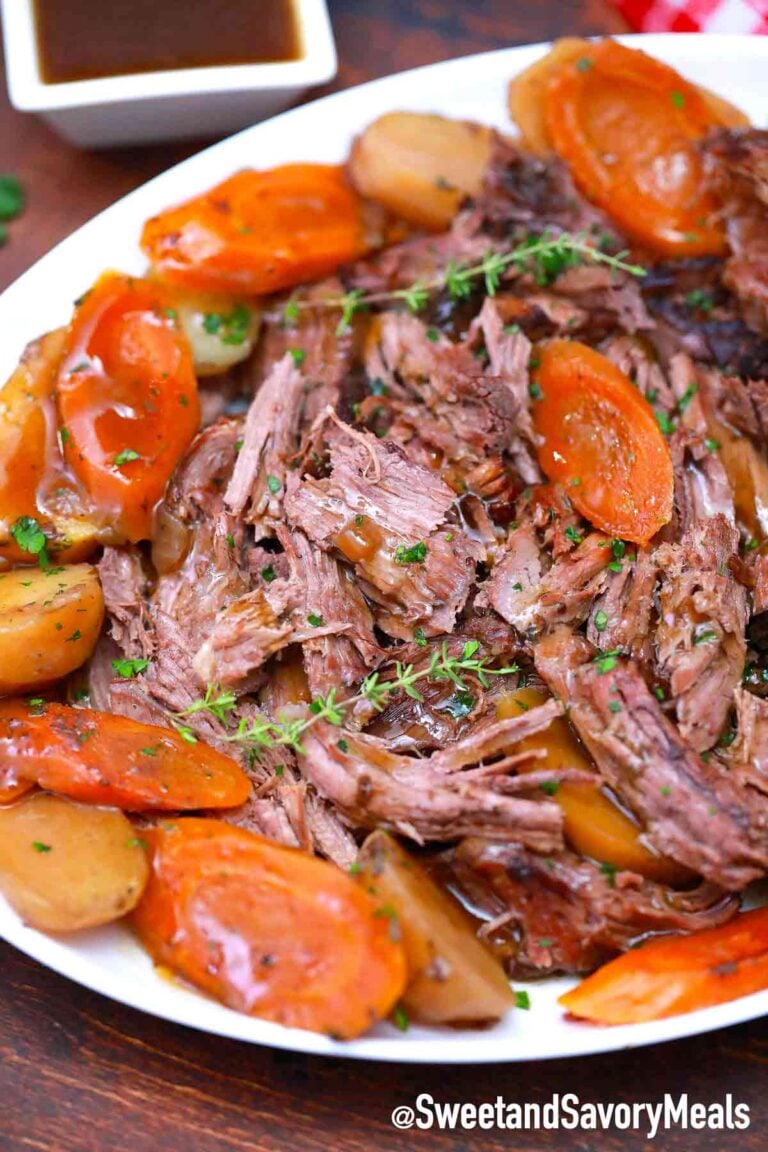 More beef Recipes:
Recipe Tips:
Try cutting the veggies into big chunks so they turn out tender, not mushy.
Also, feel free to use both fresh or dried herbs, depending on what you have on hand.
Don't skip browning the chuck to get those big flavors!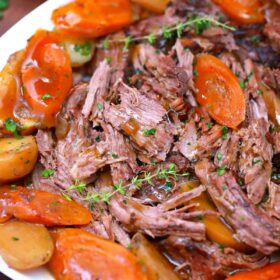 Slow Cooker Red Wine Pot Roast
Slow Cooker Red Wine Pot Roast is impressive, satisfying, melts in your mouth, and seriously tastes gourmet.
Save
Share
Print
Pin
Rate
Ingredients
2

tablespoons

canola oil

4-

pound

chuck roast

(boneless)

1 1/2

teaspoons

kosher salt

1/2

teaspoon

ground black pepper

1

yellow onion

(diced)

6

cloves

garlic

(minced)

1

teaspoon

fresh thyme

(finely chopped)

1

teaspoon

fresh rosemary

(finely chopped)

1

teaspoon

dried oregano

2

bay leaves

1

cup

red wine

2

tablespoons

Worcestershire sauce

(for non-alcoholic use broth or Dr. Pepper soda)

1 1/2

cups

beef broth

(low sodium)

2

carrots

(chopped into 1-inch pieces)

1

lb

potatoes

(washed and cut into 1 inch thick pieces)

3

sprigs fresh rosemary

3

sprigs fresh thyme
Cornstarch Slurry (optional):
2

tablespoons

cornstarch

1/4

cup

beef broth

(or red wine)
Instructions
Season the pot roast with salt and pepper.

Place a large and heavy skillet over high heat and add canola oil.

Once hot, add the pot roast and brown it on all sides, 3-5 minutes on each side. Should be nicely browned. Set aside.

Add the diced onion to the same pan and cook for 1-2 minutes.

Add the garlic, thyme, rosemary, oregano, stir and cook for 2 minutes.

Add ½ cup of the wine and scrape the bottom of the pan very well.

Transfer the mixture from the pan to the slow cooker. Add the rest of the wine, Worcestershire sauce, and broth. Stir to combine.

Add the carrots and the potatoes in one layer.

Add the browned beef, top with fresh rosemary, thyme, and bay leaves.

Cover and cook on low for 6-8 hours or on high for 4-5 hours, or until fork-tender.

Remove bay leaf, rosemary, and thyme before serving.

To make the sauce into a glaze, strain the liquid out after it is done cooking and spoon off the fat and discard.

Add the remaining sauce to a small pan, in a small bowl mix two tablespoons of cornstarch with ¼ cup beef broth or red wine, and add the slurry to the saucepan. Cook in a saucepan on medium heat until thickened, about 8-10 minutes.

Garnish with fresh parsley and herbs when serving.
Nutrition
Calories:
499
kcal
|
Carbohydrates:
7
g
|
Protein:
44
g
|
Fat:
30
g
|
Saturated Fat:
12
g
|
Cholesterol:
156
mg
|
Sodium:
869
mg
|
Potassium:
918
mg
|
Fiber:
1
g
|
Sugar:
2
g
|
Vitamin A:
2607
IU
|
Vitamin C:
3
mg
|
Calcium:
62
mg
|
Iron:
5
mg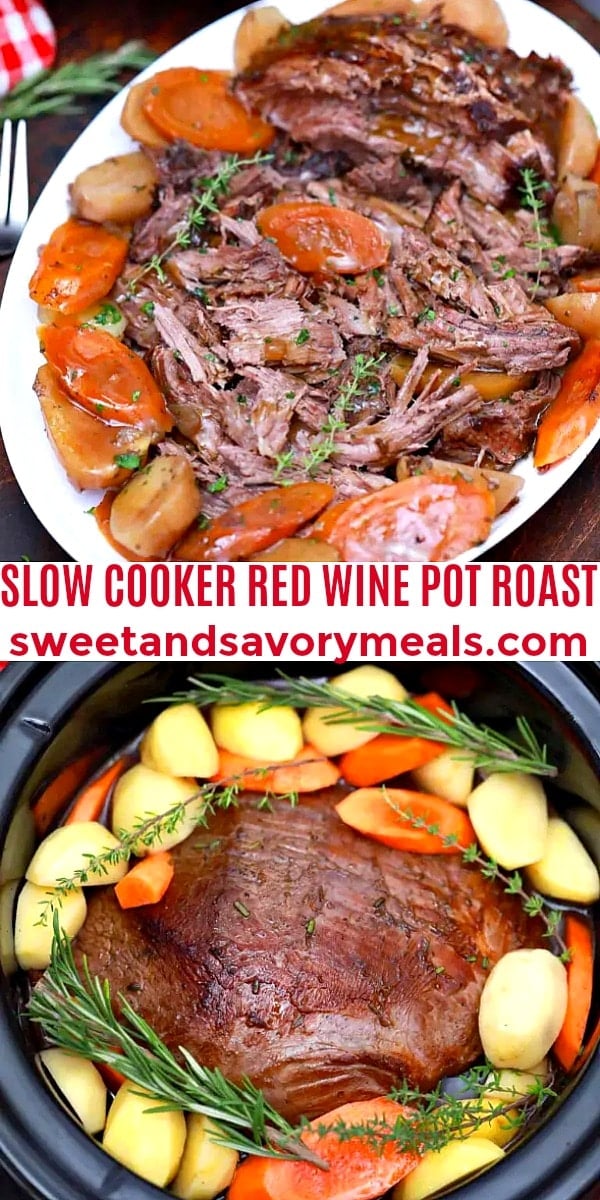 More recipes you might love