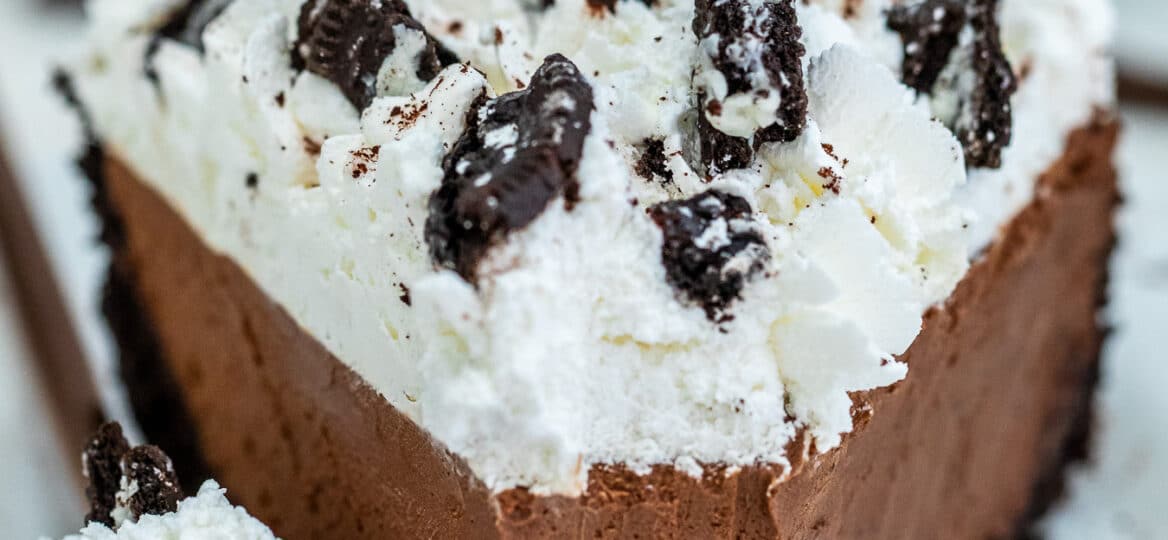 No Bake Chocolate Pie with Oreo Crust
No-Bake Chocolate Pie is rich and creamy, full of chocolate flavor with a no-bake Oreo crust and a rich, smooth chocolate filling.
Here are a few other chocolate desserts that you might enjoy: Chocolate Banana Bread, Chocolate Baileys Poke Cake, and Chocolate Peanut Butter Cheesecake.
Oreo No-Bake Chocolate Pie
No-Bake Chocolate Pie with Oreo Crust is probably the best thing ever that you can make to satisfy a chocolate craving! The super-smooth texture is almost like eating a giant truffle. Rich, chocolaty, and incredibly creamy it reminds me of chocolate cheesecake. Made simple and easy, no baking involved, so you can spend more time eating and less time cooking.
When it comes to chocolate I don't mess around, I go all in and create the most decadent chocolate desserts. Also, it helps that my husband shares my chocoholic addiction, and together, as a team, we devour and concur with the sweetest concoctions!
The Oreo Crust is the perfect companion to the rich chocolate. Topped with whipped cream to balance the chocolate flavor, this pie is perfect for any occasion.
Why You'll Love This No-Bake Chocolate Pie with Oreo Crust:
Very easy to make because no oven needed.
Also, it is creamy and chocolaty this is a show-stopper dessert.
The Oreo crust and chocolate filling is such an incredibly delicious combo.
It can be made 1 or 2 days in advance, so you don't have to worry about a last-minute dessert.
What is Chocolate Pie made of?
It has three delicious components, the crust, the filling, and the topping.
Crust: I like making an Oreo crust as it complements nicely the chocolate filling. However, if you don't have Oreos on hand, you can use graham cracker crumbs or even crushed vanilla wafers.
Filling: The filling in many cases is made with chocolate pudding. While that is a great alternative, I prefer to use a combination of chocolate, butter, heavy cream, and mascarpone. In addition, the mascarpone is the secret ingredient that gives this dessert the smoothest, most amazing texture.
Topping: Whipped cream is added on top to balance the rich filling and crust, extra Oreo cookies are used for garnish.
Recipe Variations:
Add mini M&M's to the pie filling and also on top of the pie.
Top the pie with shaved chocolate and chocolate sauce.
Also, to make it boozy, add about 1/2 cup of Baileys to the filling, it will taste amazing.
Make the crust from graham cracker crumbs or vanilla wafers.
Add crushed Oreos to the filling for an Oreo overload.
Nuts are a great addition too, whether in the filling or used as a garnish.
Add creamy peanut butter to the filling, and make swirls for a Chocolate Peanut Butter Pie.
Add a little espresso powder to intensify the chocolate taste.
How long is a chocolate pie good for?
The pie can be refrigerated for up to 5 days.
To freeze it, wrap it tightly with aluminum foil or plastic freezer wrap, or place in a heavy-duty freezer bag. Properly stored, it will maintain the best quality for about 2 to 3 months. To serve, just thaw overnight in the fridge.
No Bake Chocolate Pie Recipe Tips:
Using high-quality chocolate, because chocolate flavor is front and center here.
Also, adding a little espresso will make the chocolate flavor more prominent, so feel free.
Before slicing the pie, make sure it's fully settled, and clean the knife after each cut. Otherwise, the slices will be messier, because the chocolate may stick to the knife.
Mascarpone cheese is the secret ingredient that makes this pie so creamy and delicious, so don't replace it with cream cheese, the texture will be different.
You can use dark or milk chocolate, whatever you prefer more. I used semi-sweet chocolate in this recipe.
Tools/Ingredients I used to make this recipe:
Pie Pan (9 1/2 inches) – this pan is sturdy and amazing, I had it for years and it's still going strong.
Semi-Sweet Chocolate – these bars taste delicious, high-quality chocolate that will make your dessert rich and scrumptious.
Vanilla Extract – adding a little vanilla extract to chocolate desserts is a must, the mild flavor makes the chocolate flavor shine.