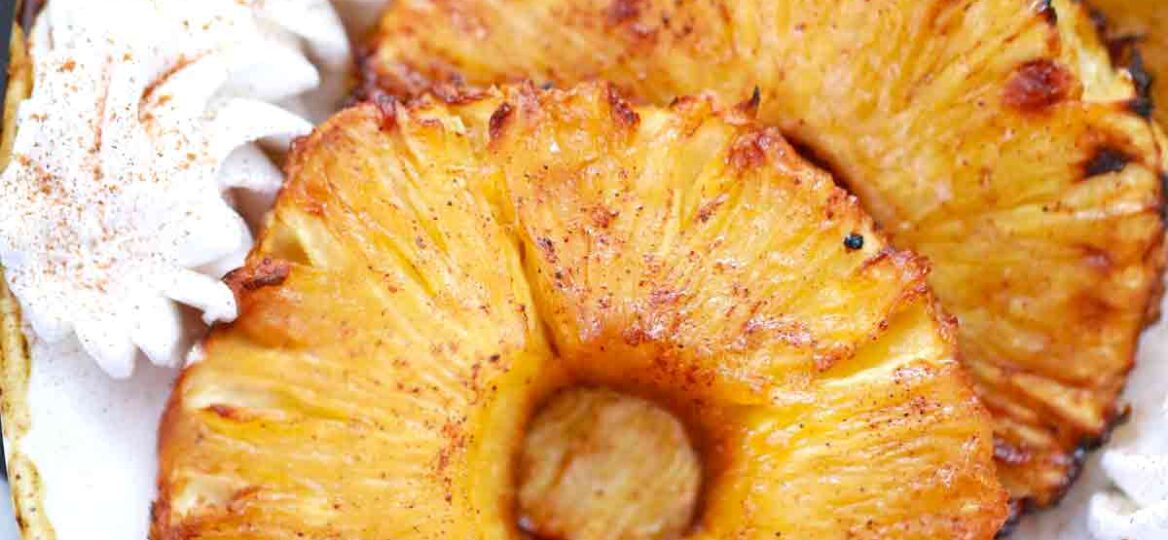 Air Fryer Pineapple Rings [Video]
Air Fryer Pineapple Rings are tossed in a mixture of brown sugar and cinnamon, and after that perfectly caramelized in the air fryer. All you need is a few ingredients, and you can make a delicious, snack, side dish, or appetizer!
For another recipe that you can make quickly, try our Crispy Air Fryer Potatoes with parmesan cheese and smoked paprika. Add another side dish to the table just as easily with this Air Fryer Corn Recipe. If you are looking for a dish with more fruit in it, this Instant Pot Pineapple Chicken is divine.
This air fryer pineapple recipe may seem like a sweet indulgence, but it is really a healthy dessert. Each serving of this delicious fruit has over 100% of your daily values of vitamin C and only about 75 calories!
It is one of the great ways to get vitamins while enjoying a fantastic treat. Air Fried Pineapple Rings are going to be your family's new favorite treat.
Also, the recipe is so versatile, you can make it in so many ways. With a sprinkle of cinnamon and coconut sugar, or keep it light with a squeeze of lime juice and sea salt.
No matter what flavor combo you decide, the end result is guaranteed to be delicious. Crispy and lightly caramelized on the outside, with a juicy and tender interior.
You don't need a special occasion for this great air fryer recipe either because it is perfect anytime and it is so easy you won't mind making it often. This is so good you can even pass it as dessert!
Follow us on Pinterest for more delicious recipes!
Ingredients needed:
Scroll down to our printable recipe card for detailed steps and measurements. But these are the basic ingredients you need for this easy recipe:
Whole pineapple: Cored and peeled.
Brown sugar: Light or dark are both fine.
Cinnamon
Nutmeg
Coconut oil
How do you make air fryer pineapple rings?
Preheat: First, preheat your fryer at 375 degrees Fahrenheit.

Slice: Meanwhile, slice the pineapple into eight slices and set them aside.

Combine: Then, in a small bowl, combine the sugar, cinnamon, and nutmeg.

Coat: Next, coat each slice with coconut oil using a pastry brush and place them on a piece of parchment paper.

Sprinkle: Sprinkle with sugar mixture or dip pineapple rings into the bowl one at a time.

Cook: After, place pineapple rings into the basket and cook for eight minutes on each side until they are golden brown.
Serve: These are best served warm with whipped cream.
Recipe variations:
Spice it up: Feel free to add other spices like ginger, basil, or tarragon.
Bring on the heat: Another way to enjoy this delicious dessert is with red pepper flakes or cayenne pepper.

Deep fry: For extra crispy rings, deep fry them in hot oil over high heat in a large frying pan.

Smoky: Make them smoky with smoked paprika or chili powder.
Grilled pineapple: Serve them grilled by searing them on the broiling pan or grill before air frying.
How to serve:
With this delicious recipe, we used a dollop of whipped cream for a sweet and fluffy topping. But you can eat them plain or use one of these great ideas.
Frequently Asked Questions
How do I select the best pineapple?
First, make sure the fruit has bright green leaves that look healthy to make sure you get a fresh pineapple. Also, the outside should be mostly yellow.
Then, squeeze the fruit. If it is hard, pass that one up and look for one with a slight give to it.
Next, smell it and make sure it smells sweet. If it is sour or bitter-smelling, it may be too ripe.
How do you cut pineapple rings?
The best way to cut pineapple rings is to place it on its side on a cutting board and cut off the top with a sharp knife. Then, slice about ½ inch from the bottom.
Next, stand it up and cut away the outer skin slicing down from top to bottom without removing too much flesh.
After that, make sure all the skin is gone, and then just slice into ¼-inch pieces. You can remove the core with a pineapple corer or leave it, whichever you prefer.
It is edible and full of fiber.
Can I use an air fryer to dehydrate pineapples?
The air fryer is a great way to make dehydrated pineapple as well as other fruits and veggies.
Just cut them into thin slices, spritz them with a bit of vegetable oil, and place them in the bottom of the air fryer basket.
Make sure your rings are in a single layer for best results. Set it for 175 degrees F and fry for about four hours.
Cooking time may vary depending on the thickness of the fruit.
How to store leftovers:
Store: Store fried pineapple rings in the fridge in an airtight container for up to five days.
Freeze: You can also freeze these by putting them in a freezer bag and storing them in the back of the freezer for about three months.
Thaw: Remember to thaw them out ahead of time by putting them in the fridge overnight.
Reheat: You can reheat them in a skillet over medium heat, in the microwave, or eat them cold.
More healthy snacks:
Cooking tips:
To save time, use canned pineapple rings. Just be sure to drain them and pat them with paper towels to get rid of excess moisture.

Make sure the rings do not overlap in the fryer or they will not cook properly.

Instead of rings, you can cut these into cubes or long sticks for dipping.

Dip the rings in a coating of flour, egg, and buttermilk before coating with brown sugar for pineapple fritters or pineapple fritter rings.
Air Fryer Pineapple Rings
Ingredients
1

whole pineapple

peeled and cored

1/4

cup

light brown sugar

1

teaspoon

cinnamon

1/4

teaspoon

nutmeg

2

tablespoons

coconut oil
Instructions
Preheat the air fryer to 375 degrees F.

Slice the peeled and cored pineapple into 8 slices. Set aside.

In a small bowl, mix together the light brown sugar, cinnamon, and nutmeg.

Brush pineapple rings with coconut oil. Sprinkle sugar mixture over the pineapple rings.

Arrange the rings in the air fryer basket in one layer without touching each other, and cook for about 8 minutes on each side.

If needed cook in batches.

Serve warm with whipped cream.