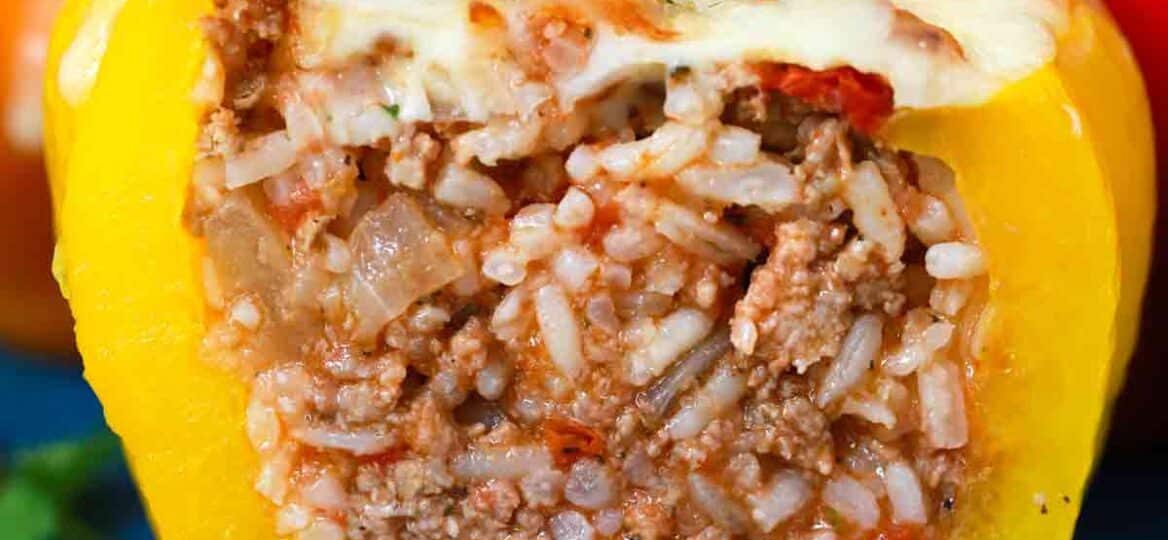 Air Fryer Stuffed Peppers [Video]
Air Fryer Stuffed Peppers are stuffed with a hearty combo of rice, savory beef, plus garlic and onions then topped with cheese. Then, air-fried until the peppers are tender and the inside is bursting with flavor and melted cheese! Quick and filling, this is going to be a family favorite in no time.
Got some ground beef left? Use them to make Instant Pot Spaghetti, Homemade Juicy Meatballs, and THE BEST Bacon Cheeseburger Meatloaf!
Air Fried Stuffed Peppers Recipe
Air Fryer Stuffed Peppers are a family favorite in our house. The combination of seasoned rice and ground beef plus tomatoes and cheese is so delicious and comforting. Stuff them into sweet and crisp peppers, and you've got a satisfying dish that's done in no time.
Once you've tried the base recipe, we encourage you to get creative! For instance, use brown rice or cauliflower rice instead of white, use other proteins, or make it as cheesy as you like. You can also sneak in more veggies by adding chopped carrots or spinach to the beef filling. If you enjoy stuffed peppers, this recipe is a keeper!
Ingredients needed:
Bell peppers: You can use a mix of green, red, and yellow, or just one color.
Beef: Use lean ground beef, organic and grass-fed for the best flavor if you can get it.
Rice: Leftover white rice is a great option, but you can cook a fresh batch if you like. Cool it down first so the excess moisture can evaporate.
Aromatics: Chop some onions and garlic.
Tomatoes: We're using both tomato sauce and diced tomatoes.
Cheese: Mozzarella cheese adds a creamy, cheese finish to this dish!
How to make homemade Air Fryer Stuffed Peppers
Prep. First, remove the tops then clean out everything from the inside including all the seeds.
Cook the beef filling. Brown the meat along with your chopped onions and garlic. Drain as much of the resulting grease as you can. Add your tomatoes, Italian seasoning, and tomato sauce, followed by the rice. Give everything a good mix.
Fill. Scoop the mixture into the cleaned peppers, almost filling them to the brim.
Cook. Air fry at 375F for about 10 mins. After that, top with your cheese and air-fry for 15 mins. more.

Serve. Enjoy hot!
Recipe variations and substitutions:
Mexican: Filled with chiles, taco beef, and rice, our Mexican Stuffed Peppers is another crowd-pleasing version!
Southern: Season with some Cajun seasoning plus a dash of cayenne for heat.
Cheesier: Use a combination of cheeses! For instance, mix cheddar into mozzarella, or mix in some Pepper jack for heat.

Spicy: Add chopped chiles, jalapenos, cayenne, or chili flakes.

Bake them in the oven: Oven-bake at 350F for around 15 mins., or follow the recipe card in this recipe.
Make them in the Instant Pot: Our IP version is even faster! Use this recipe.
Slow cooker version: After filling your peppers, arrange them in your slow cooker then top with marinara. Cover and cook on LOW for 6-7 hrs., or on HIGH for 3-4 hrs.
Chicken or turkey: Swap the beef with ground chicken breast or turkey for a lighter meal.
Pork: Use ground pork instead.
Keto: Sub riced cauliflower or broccoli for the white rice.
Vegetarian: Replace the meat with chopped mushrooms, or use plant-based meat alternatives. You can also add beans instead.
Frequentky Asked Questions
Do you have to boil your air-fried peppers before filling them?
You can, especially if you're using very large ones. However, for this recipe, there is no need to boil your peppers. Air frying them makes them perfectly tender while still retaining some crispiness and bite.
How do prevent air fried stuffed peppers from sogginess?
First, avoid adding ingredients with too much moisture. For instance, drain the excess oil from your beef and your tomatoes. We also recommend using leftover rice, since it has less moisture than freshly-cooked rice. Furthermore, pre-cook all your ingredients before air frying the peppers.
What goes with homemade Air Fryer Stuffed Peppers?
These Air Fryer Stuffed Peppers make for a hearty and full meal by themselves. But if you'd like to serve them with side dishes, you can't go wrong with a side salad or roasted vegetables like potatoes or asparagus.
More Air fryer recipes to try:
How to store and freeze stuffed peppers?
Cool them down first before chilling or freezing. To store, follow these steps:
In the fridge: Cover leftovers in an air-tight container and refrigerate for up to three days.
In the freezer: Wrap each pepper in cling and foil, then freeze. Once frozen, keep in an air-tight container and store for up to 2 months.
To reheat, defrost first, then microwave until hot. You can also air-fry at 350F for 10-15 mins.
Recipe tips:
Cut slits into the bottom of the pepper to give them a more stable base to stand straight.
Instead of tomato sauce, you can use your favorite marinara.
You can also mix the cheese right into your beef and rice mix in addition to using it as a topping.

Want to make Stuffed Pepper Soup instead? Use this recipe!
Deliciousness to your inbox
Enjoy weekly hand picked recipes and recommendations