Instant Pot Spaghetti is cooked in a hearty, homemade marinara packed with beef, herbs, and juicy tomatoes. You can have this ready in less than 15 minutes!
The Instant Pot is PERFECT for fast and delicious family meals like this. Let the IP take the guesswork out of your menu with this Instant Pot Country Style Ribs, Instant Pot Pork Stew, and Instant Pot Meatloaf and Mashed Potatoes!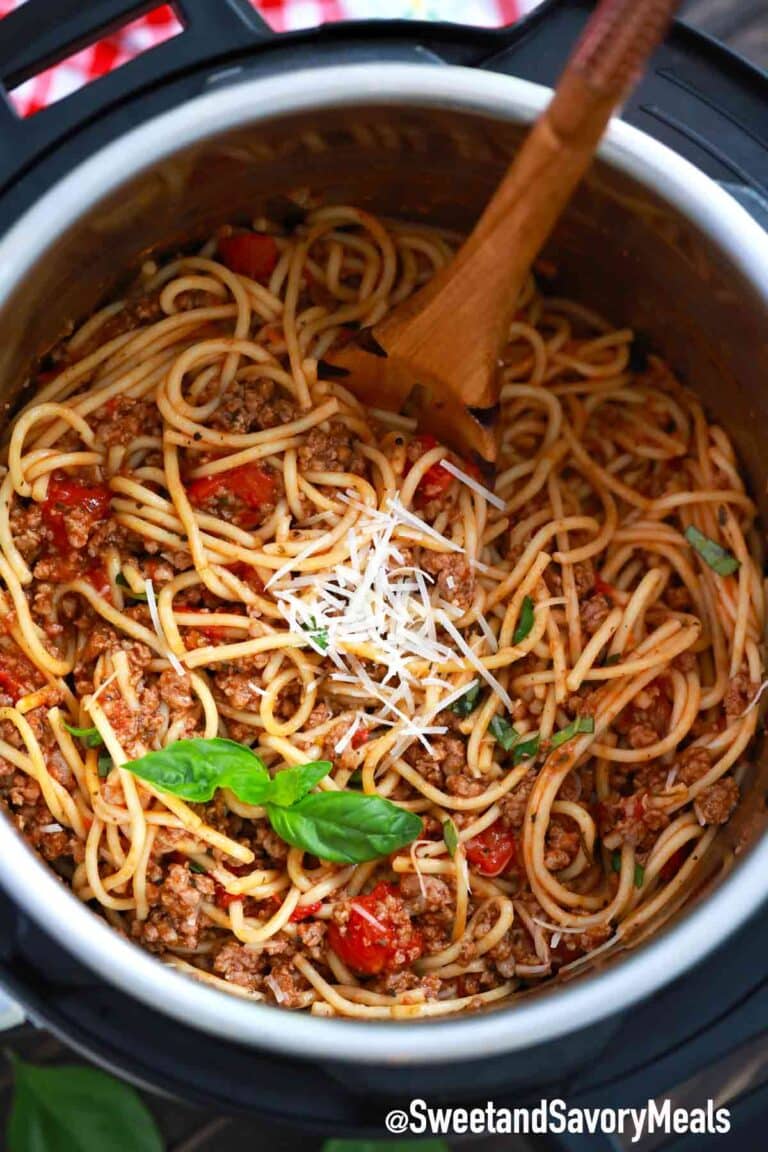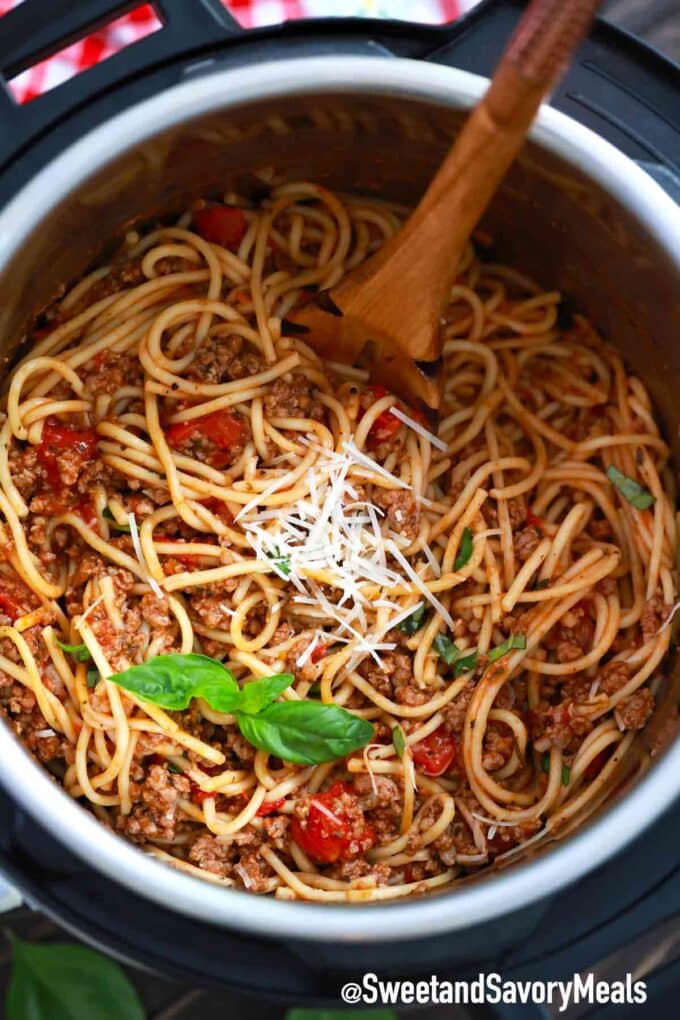 Pressure Cooker Spaghetti
Instant Pot Spaghetti will completely change the way you make this beloved dish! For one, raw pasta only takes 3 MINUTES to cook in the IP, which means you can have dinner done in less than 30 minutes (or less if you simply dump all the ingredients and skip the sautéing part.
Next, we're making a simple, hearty marinara from scratch to complement the pasta. To turn it into a hearty meal, we're adding ground beef but you can definitely add whatever meat you have on hand or not include it at all for a vegetarian version.
Finally, everyone loves spaghetti! This will be a highly-requested dish in your home, and a serious lifesaver during busy weeks or when you have no idea what to cook. Most importantly, it always turns out perfect and delicious.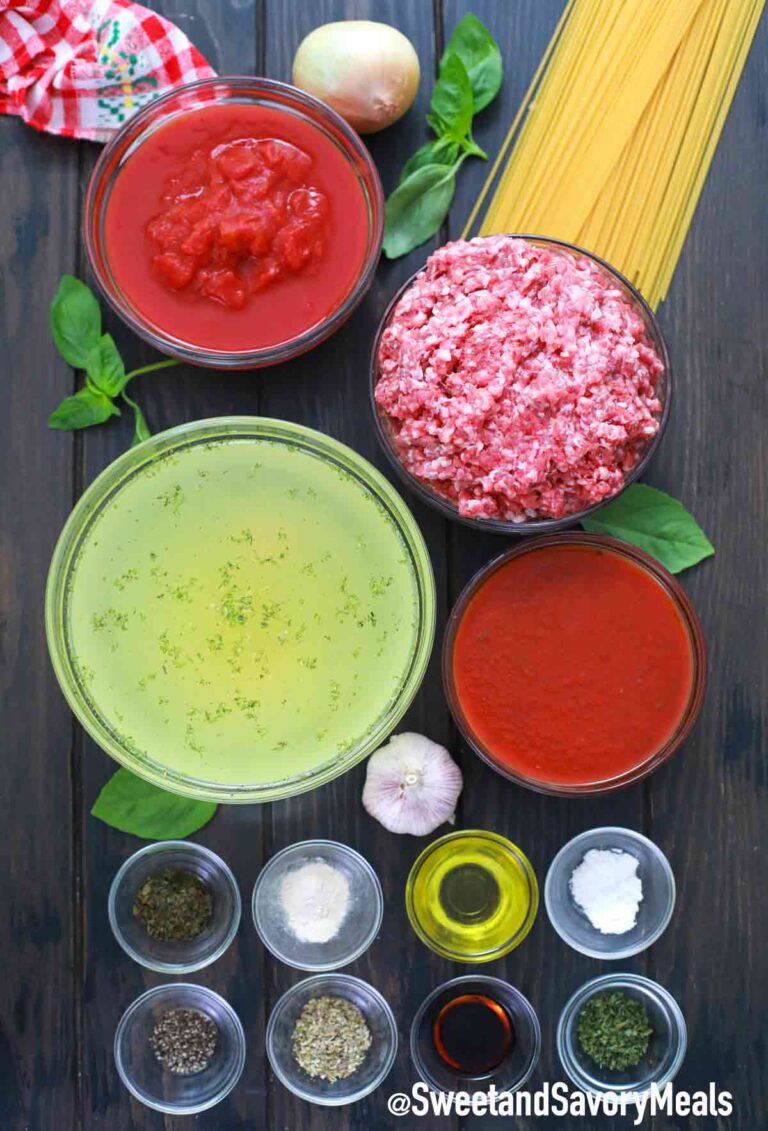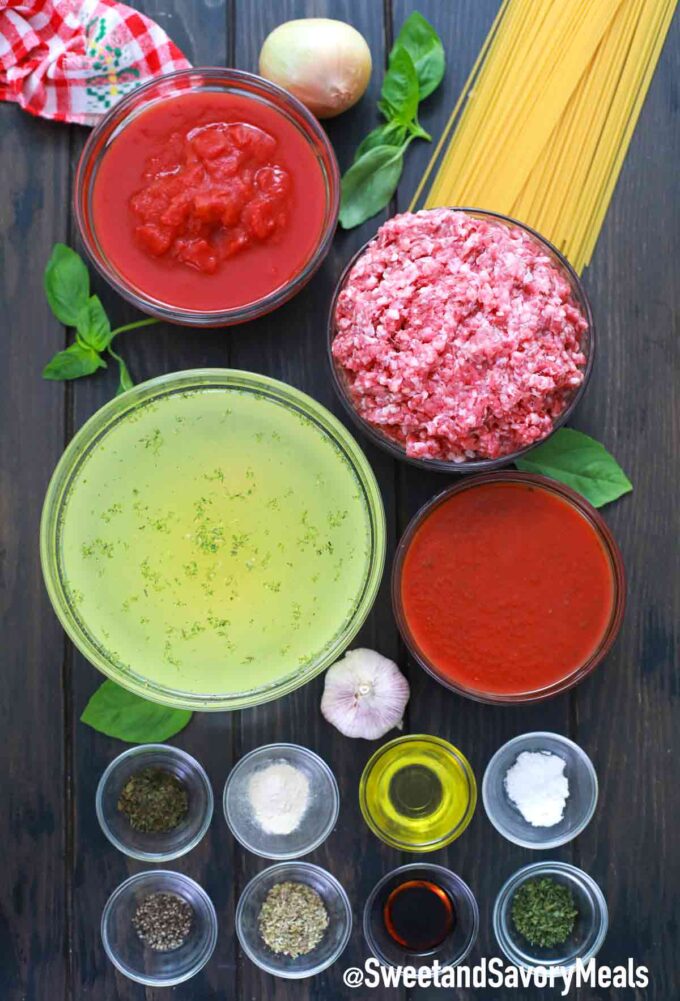 Can I use the instant pot to cook homemade spaghetti?
Yes, and it's one of the easiest and tastiest ways to cook spaghetti! The IP cuts down cooking time in minutes while infusing the pasta with so much flavor. Furthermore, everything happens in one pot, so less clean-up, too!
Ingredients needed:
Spaghetti: About a pound of dried pasta.
Chicken stock: You can also use water, beef broth, or veggie broth.

Sauce: For a simple marinara, prep some diced tomatoes, onion, and fresh garlic (both diced), herbs (basil, oregano, Italian blend, plus parsley), soy sauce, and Worcestershire.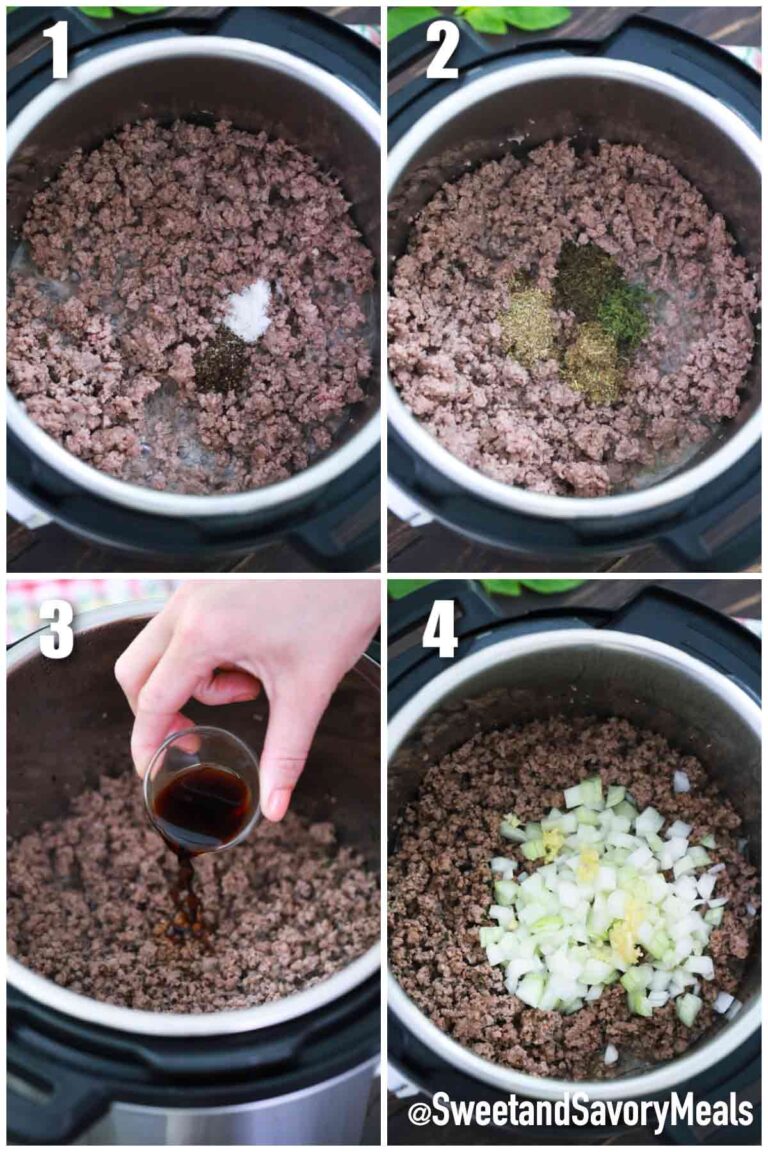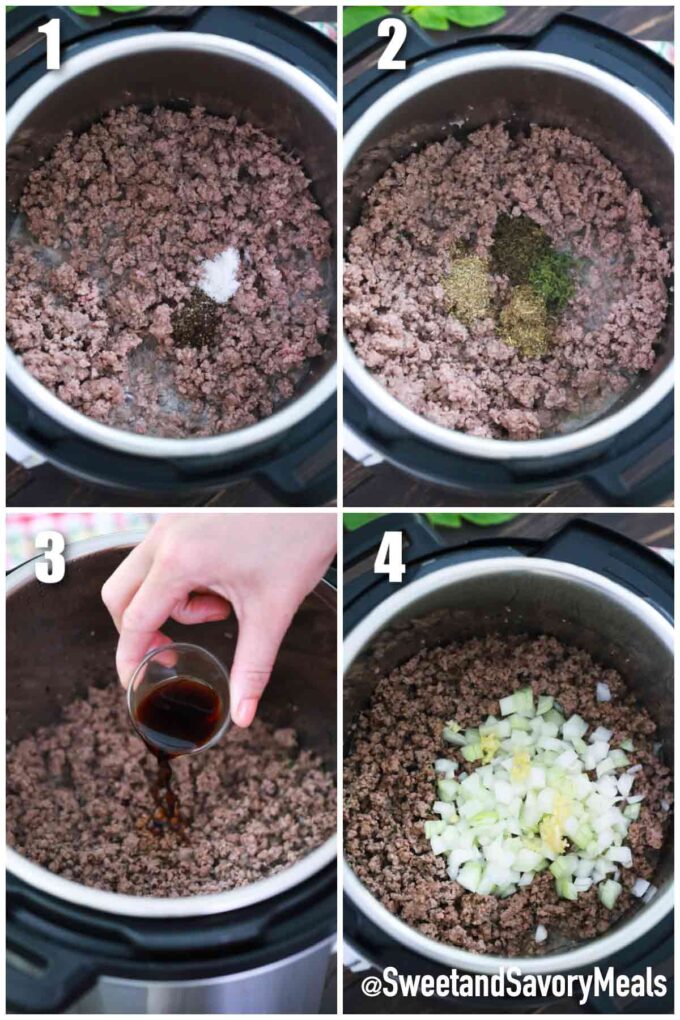 How to make the best homemade IP spaghetti
Brown and season. First, turn on the IP's Sauté, and wait until it says "Hot." Then dump in your beef, stir-fry until brown, then add the aromatics and herbs. Continue stir-frying until well-mixed and fragrant. Then, pour a cup of stock and scrub off all the brown bits stuck to the bottom. These are huge flavor boosters, so don't skip this part!
Assemble. Pour the rest of your broth along with the Worcestershire plus your soy sauce. Then, break the spaghetti in half and submerge in the broth. DON'T MIX! Finally, dump a can of tomatoes/marinara on top in a single layer.
Cook. Pressure-cook for 3 mins. on High, then leave alone for 5 mins. to naturally vent pressure. Then, unseal the vent to finish.
Thicken, then season. At this point, the pasta sauce will look thin. Simply turn on "Sauté"


again, and simmer until thick. Finally, add as much seasoning as you like.
Serve. Plate up with more fresh basil, parmesan, and enjoy!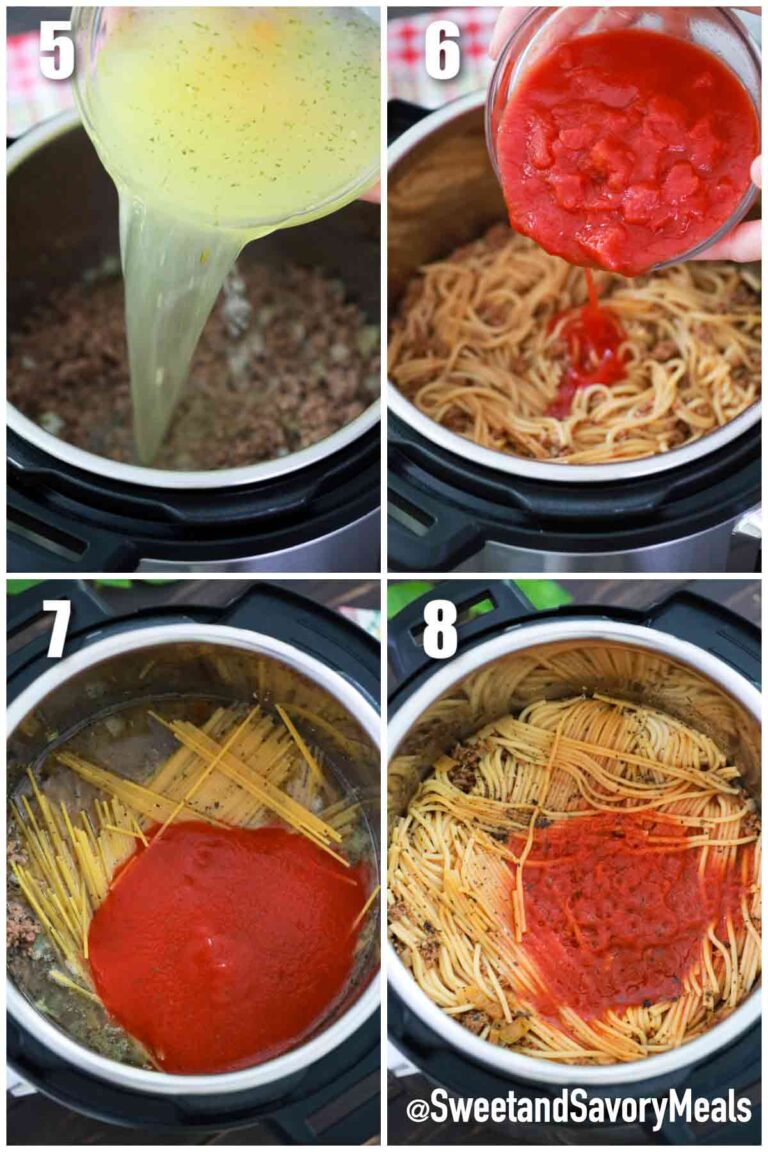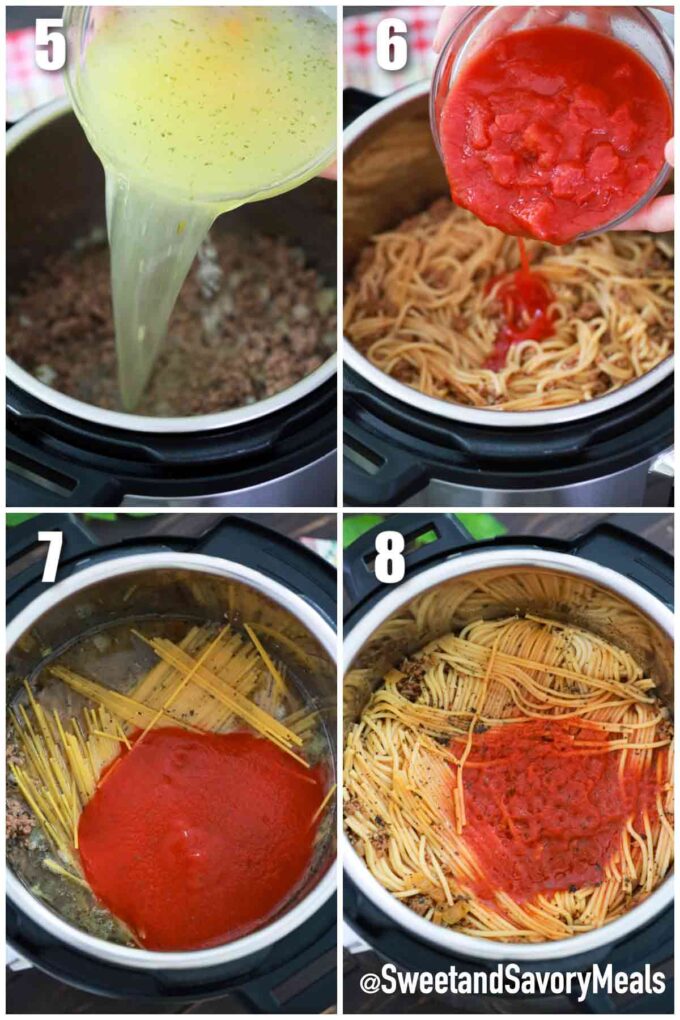 Recipe variations and substitutions:
Other meats: Combined beef and pork, use chicken or turkey for a lighter version, or even lamb if you wish. You can also use plant-based minced alternatives if you like.
Add bacon, sausage, etc.: Turn it into a meatier, heartier dish with cubed bacon, crumbled sausages, ham, and other flavored or cured meats.
Spicy: Love heat? Add a dash of chili flakes or cayenne.
Other pasta: This will work with any type of pasta! Use fettuccine, macaroni, ziti, or whatever you wish, and simply adjust cooking time as needed.

Include vegetables: Add finely chopped carrots, stir in some kale or spinach, add grated zucchini, cubed eggplants, mushrooms, etc.
Creamier: Stir in some double cream, a bit of sour cream, or a little cream cheese.
Frequently Asked Questions
How long is the cooking time for making spaghetti in the Instant Pot?
Cooking spaghetti in the IP is one of the quickest methods, hands down. In this recipe, it only takes 3 minutes of pressure cooking.
Can cooking spaghetti sauce in the IP burn it?
Yes, it can burn. This is why you should deglaze the stuck brown bits completely, or it will give you a burn notice. Next, make sure to arrange the layers properly. You want the raw pasta ON TOP, with the tomatoes/marinara above that, and the liquid on the bottom so it doesn't burn.
Finally, follow the cook times exactly so the food doesn't dry out and start to burn.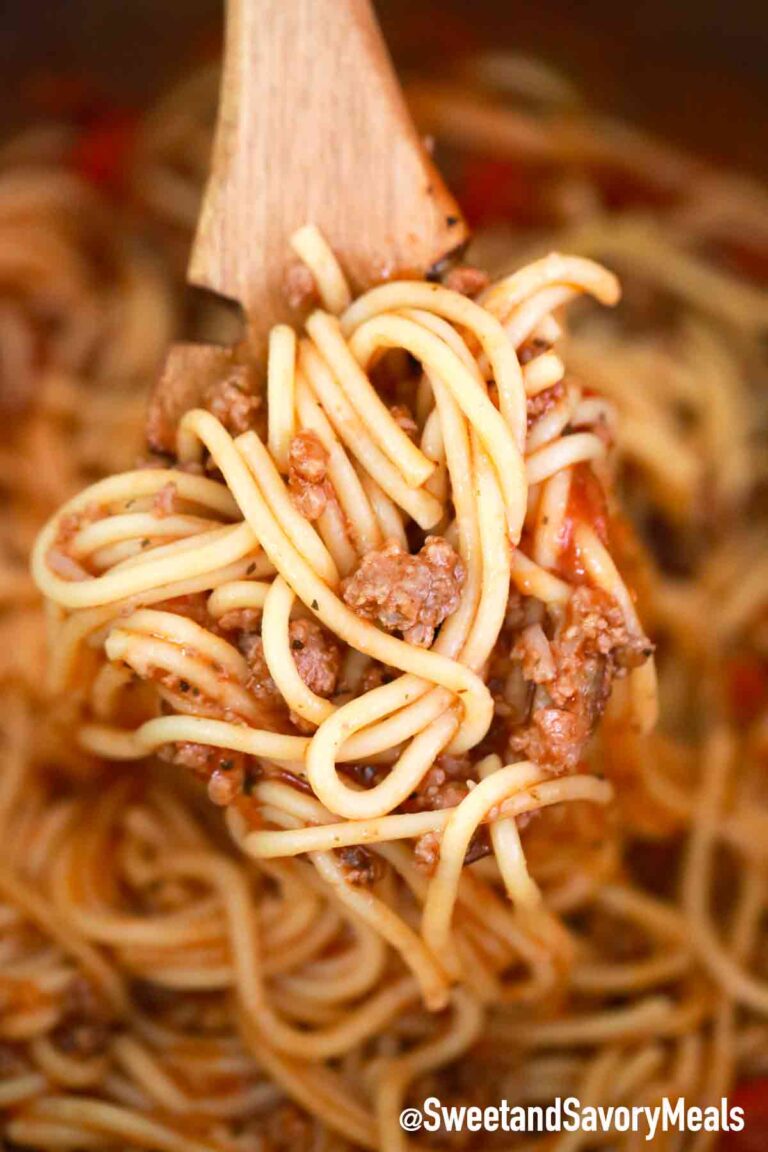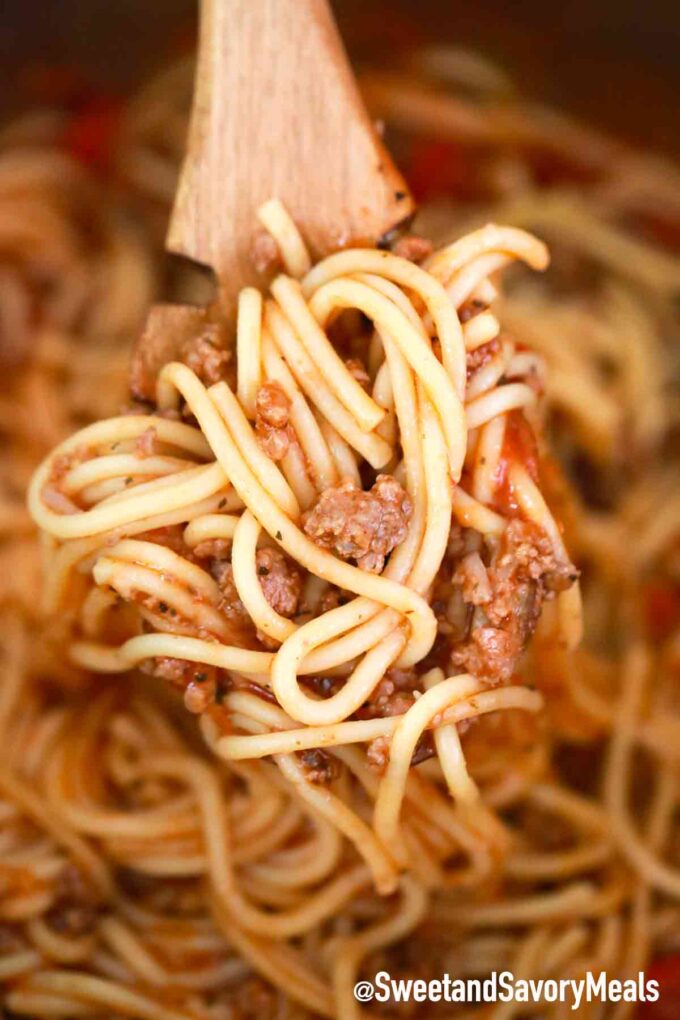 What to serve with homemade instant pot spaghetti?
Lots of cheese and fresh, hot dinner rolls of course! It also pairs well with:
More pasta recipes to try:
How to store leftovers?
You can store the leftovers two ways, by freezing or in the fridge. Make sure to cool them completely first, then follow these steps:
Fridge storage: Place in an air-tight container, then store in the cool part of the fridge for up to 3 days.
Freezer storage: Place in a freezer-safe, tightly-sealed container then freeze. Store it for up to a month.
To reheat, defrost it overnight or on the counter first if doing so from frozen. Then, microwave until hot. You can also heat it up in the skillet with a little more marinara.
Recipe tips:
Don't skip the deglazing part! Those stuck, browned bits add SERIOUS FLAVOR to the sauce.
Instead of broth, you can also deglaze with some red wine.

You can turn this into a dump-and-go meal! Just layer the stock, minced meat, and aromatics on the bottom, pasta on top, then sauce on top of that. Follow cook times, and you're done!
You can use store-bought marinara, or use our delicious homemade version.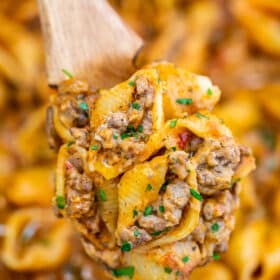 Instant Pot Spaghetti
Instant Pot Spaghetti is cooked in a hearty, homemade marinara packed with beef, herbs, and juicy tomatoes. Ready in less than 15 minutes!
Save
Share
Print
Pin
Rate
Ingredients
1

pound

ground beef

2

tablespoons

olive oil

1

pound

spaghetti

4

cups

chicken broth

Salt and Pepper

28

oz

can diced tomatoes

1

onion

(diced)

4

cloves

garlic

(minced)

2

teaspoons

dried basil

1

teaspoon

dried oregano

1

teaspoon

dried Italian herbs

1

teaspoon

dried parsley

2

tablespoons

soy sauce

1

tablespoon

Worcestershire sauce
Instructions
Select Saute and once it reads HOT and oil and beef.

Season with salt & pepper and brown well, discard the beef juices. Brown until slightly crisped 5 – 7 mins. Taste and adjust for salt & black pepper.

Add in diced onions, minced garlic, dried herbs, then saute for another 2 minutes.

Pour 1 cup of chicken broth, then deglaze by scrubbing the bottom with a wooden spoon.

Add in soy sauce, Worcestershire sauce, remaining chicken broth. Stir.

Break the spaghetti in half, then add spaghetti in the Instant Pot, do not stir but press to submergee into the liquid.

Add the tomatoes on top. Do not mix.

Lock the lid, then turn Venting Knob to Sealing Position.

Pressure Cook at High Pressure for 3 minutes + Natural Release for 5 minutes.

Release remaining pressure, then open the lid.

The spaghetti sauce will look liquidy, and the spaghetti is about about 90% cooked.

Use the "Saute More" function to bring the mixture to a simmer. Using a wooden spoon, stir a few minutes to fully cook the spaghetti and thicken the sauce.

Taste and season as needed.

Turn off the Instant Pot.

Garnish with freshly grated Parmesan cheese, fresh basil then serve.
Nutrition
Calories:
743
kcal
|
Carbohydrates:
98
g
|
Protein:
37
g
|
Fat:
33
g
|
Saturated Fat:
10
g
|
Trans Fat:
1
g
|
Cholesterol:
81
mg
|
Sodium:
1270
mg
|
Potassium:
1221
mg
|
Fiber:
7
g
|
Sugar:
9
g
|
Vitamin A:
262
IU
|
Vitamin C:
38
mg
|
Calcium:
158
mg
|
Iron:
7
mg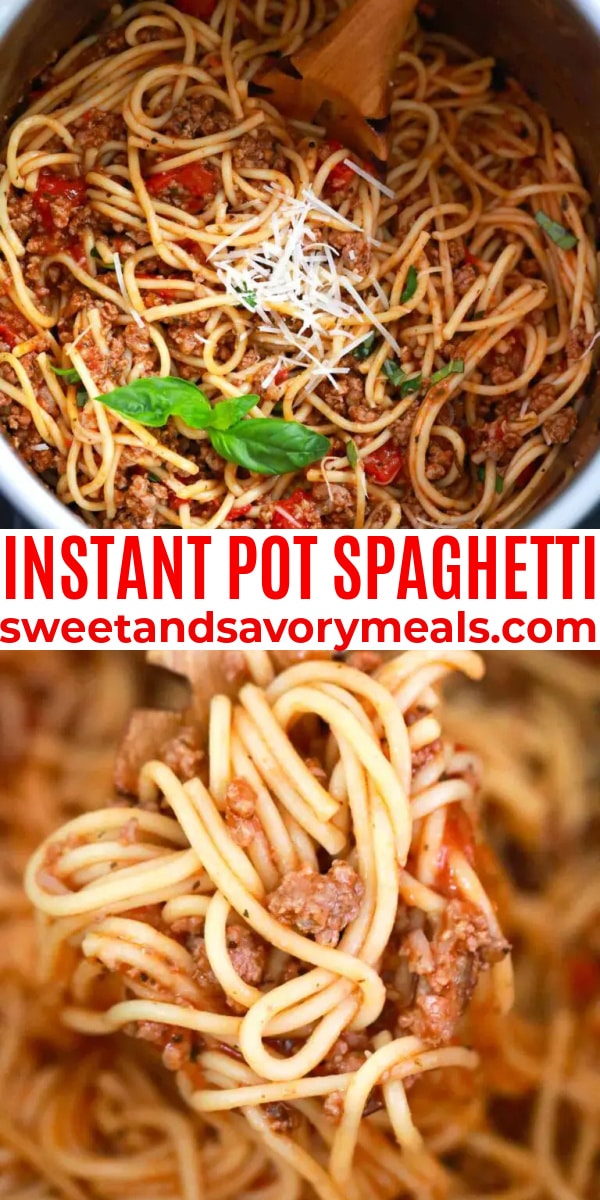 More recipes you might love