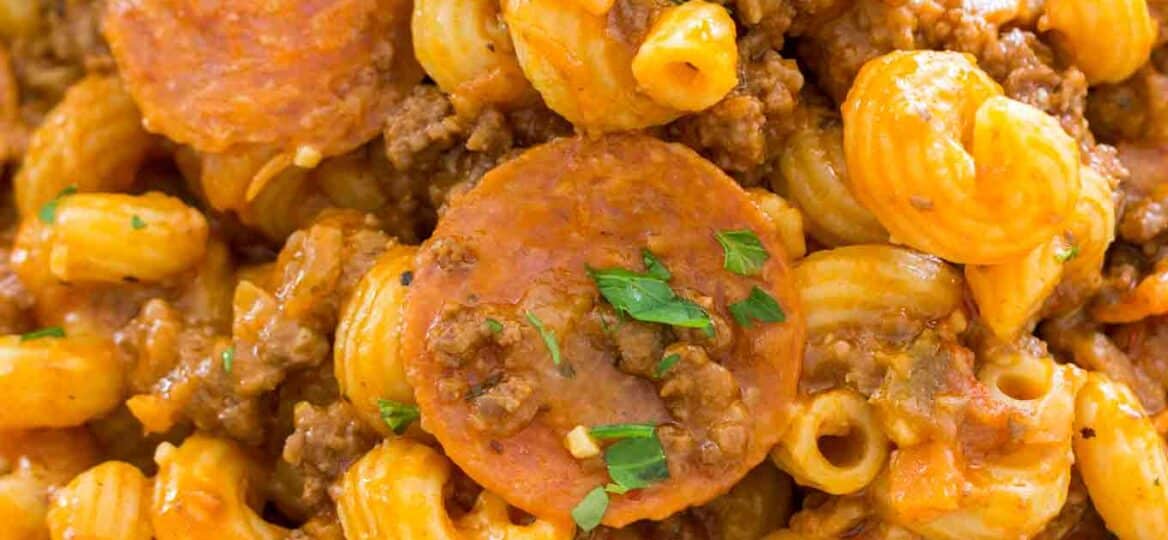 Instant Pot Pizza Pasta [VIDEO]
Instant Pot Pizza Pasta is a family favorite meal, cheesy and with lots of delicious pepperonis. An easy perfect dinner, for a busy weeknight.
This is the ultimate comfort food that is super easy to make, yet can feed a larger crowd. Enjoy it with Chickpea Salad or Mexican Salad on the side.
Easy Instant Pot Pizza Pasta Recipe
Instant Pot Pizza Pasta is another delicious Instant Pot pasta dinner that is easy to make and equally delicious. This meal is always a great success, kids and adults love it equally. It helps that its made with easy to find ingredients and its ready in 30 minutes, just only by using the Instant Pot.
You don't have to pre-cook the pasta, you just add everything to the pot and let it do its magic. The Instant Pot Pizza Pasta is hearty, cheesy and fantastically good.
The tart tomato sauce, the slightly salty pepperoni, create such an amazing and tasty meal. You can also customize it, add some bell peppers, or top the pasta with black olives and caramelized onions, The possibilities are endless!
Recipe Tips:
I always say this, but a good meat-centered meal starts with quality meat, preferably use organic beef for this meal.
Also, look for fresh meat, that has a bright color, and that has a 15-20% fat content to get great flavor and tenderness.
Browning the beef is essential, it will lock in the flavors and the beef juices and also elevate the meat flavor.
You don't have to pre-cook the pasta for this recipe. Just add the uncooked pasta to the pot and 5 minutes on HP will give you al-dente pasta. 6 minutes will result in more well-cooked pasta.
Any ground meat can be used for this dish. Like, chicken, turkey or pork. The cooking time will still be the same if you use the same amount of the other ingredients listed in the recipe.
In addition, for a spicier kick, add red pepper flakes or hot sauce.
The Pizza Pasta can be made with pizza sauce, tomato sauce or marinara sauce. Also, you can use diced tomatoes in your favorite flavor.
I added an Italian four-cheese blend, mozzarella or provolone will also work well. For a spicier kick, you can use pepper jack cheese as well.
This meal can be made with other types of pasta, I like to use large shells, macaroni or elbows.
Instant Pot – I have the 6 quarts one. It makes weeknight meals so much easier.
Pin This Instant Pot Pizza Pasta Recipe to your Favorite Board
How to store this pressure cooker pasta?
If you have leftovers, this dish can be easily stored in the refrigerator. Prior to storing it, ensure it is completely cooled down. Then, transfer it to an airtight container, and store it in the fridge for up to 4 days.
Looking for more Instant Pot Pasta Recipes? Check these out:
Watch Instant Pot Pizza Pasta Recipe Video:
Deliciousness to your inbox
Enjoy weekly hand picked recipes and recommendations