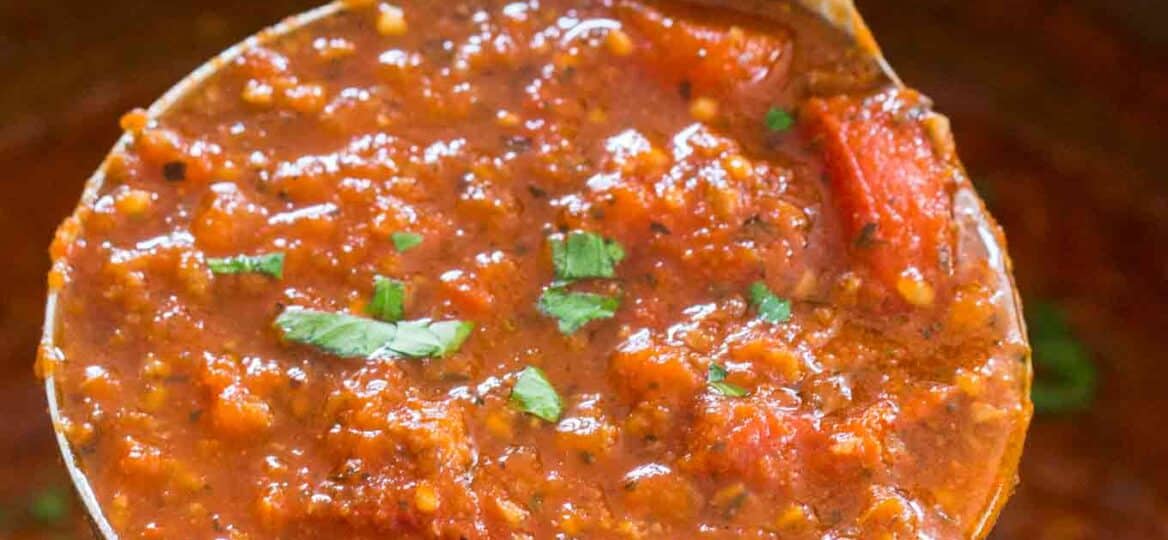 Instant Pot Spaghetti Sauce [VIDEO]
Instant Pot Spaghetti Sauce is the most hearty and delicious homemade pasta sauce that you can make in under one hour, with either fresh or canned tomatoes. The best homemade sauce you can serve with your favorite pasta on busy weeknights.
We love making easy and delicious sauces that pair well with many dishes. You can also try our instant pot pasta recipes like this delicious Philly cheesesteak pasta or Pizza Pasta. They are an easy way to get dinner ready on busy nights. Even the picky eaters will appreciate the great flavor of these easy instant pot meals.
Easy Instant Pot Meat Sauce Recipe
What are the foods that you keep in your pantry for easy weeknight dinners? I usually have canned beans, wild-caught canned tuna (which by the way is amazing with mashed fresh avocado), and some type of homemade spaghetti sauce.
When my husband brought home a huge box of ripe tomatoes, I instantly decided to make my famous electric pressure cooker spaghetti sauce recipe as we love a good pasta meal around here.
This delicious sauce will quickly become your favorite meal. As it's hearty and tasty, made with mild ground sausage and fresh tomatoes. You can use hot sausage or skip it altogether for a vegetarian version. It has an amazing flavor from the fresh ingredients and it tastes better than the store-bought jarred sauce.
This is the best spaghetti sauce that you can make in a fraction of the time for busy weeknight dinners. It will make your house smell fantastic, and it tastes like it's from a high-end Italian restaurant.
It has been flavored with many dried herbs, and it's such a time-saver to have on hand. I like to make a large batch of this great recipe and freeze it to use on lazy nights for quick dinners.
Ingredients needed:
Extra virgin olive oil
Ground meat: We use ground sausage to make this easy recipe, however, you can use ground beef or ground turkey as well.
Fresh garlic: I prefer the extra flavor that the fresh garlic adds, however, it can be skipped or use garlic powder instead.
Brown sugar: A little goes a long way, it balances the acidity of the tomatoes.
Tomato products: A combination of tomato sauce, tomato paste, and fresh tomatoes. However, you can use canned crushed tomatoes or diced tomatoes as well.
Liquid: Wee use water, however, you can also use chicken broth or vegetable broth.
Dried herbs: A combination of dried basil, dried parsley, dried oregano, dried thyme, fennel seeds.
Seasoning: Salt, ground black pepper, onion powder, and red pepper flakes.
How to make Instant Pot Spaghetti Sauce Recipe?
Saute function: First, select the saute setting on your instant pot, once hot add the oil. After that, brown the ground meat, breaking it with a wooden spoon, until no longer pink.
Continue to saute: Next, add the garlic, tomato paste, and brown sugar.
Deglaze: Afterward, add tomato sauce and water. Also, using a wooden spoon scrape the bottom of the pot of any brown bits that are stuck to it, otherwise, you will get a burn notice.
Combine: Now, add the rest of the ingredients and stir well to combine. Cancel saute function,
Pressure cook: Cover with the lid, lock it and point the pressure valve to sealing. Cook on high pressure for 14 minutes if using fresh tomatoes and 10 minutes if using canned tomatoes.
Natural pressure release: Once cooking time is done, do a 15-minute natural release.
Quick pressure release: After that, open the valve and quick release the remaining pressure. Carefully open the lid.
Puree: Now, using an immersion blender puree the sauce to your preferred consistency.
Serve: Finally, serve it on top of your favorite pasta with fresh basil and parmesan cheese. Garlic bread on the side is a must.
Recipe variations:
Spicier: Make this delicious meal as spicy as you prefer, by using hot Italian sausage, extra red pepper flakes, and chili powder.
Seasoning: Play with the seasoning to adjust it to your liking, add Italian seasoning, dried parsley, and extra dried basil. This is a great way to add more flavor to the original recipe. A few bay leaves would be a great addition as well.
Canned tomatoes: As an alternative, you can make the sauce with either fresh or canned tomatoes. You can use about 12 medium fresh tomatoes or 28 ounces of diced canned tomatoes.
Skip the sugar: This homemade tomato sauce can be made without the added sugar if you want to skip the calories.
Wine: Add a splash of red wine or white wine when deglazing the inner pot, it will elevate the taste of this dish.
Heartier: As an alternative, add extra tomatoes to make the sauce thicker and heartier.
Marinara sauce: As an alternative, use it in recipes that ask for marinara sauce.
Canning instructions:
Make the mixture: First, follow the simple steps and prepare the recipe and after that let the mixture cool to room temperature.
Water bath: In the meantime, fill a large pot with enough water to cover the jars you will be using by 1-inch. Prepare a medium bowl and another medium pot with water over medium-high heat.
Prepare the jar: Once the water is boiling, place the jars into the medium pot, cover, and boil for 10 minutes. Also, add some of the boiling water to the medium bowl and add submerge the lids in it for 5 minutes. Next, let them stand in the hot water for 5 minutes.
Dry the jars: After that remove the jars and the lids and dry them on a clean kitchen towel.
Add the sauce: Afterwards, distribute the mixture into the prepared jars, and add the lids and rings.
Boil: Next, add the tightly closed jars to the prepared water bath and boil for 5-6 minutes.
Cool and Store: Arrange them on a dry kitchen towel.
Observe: Also, remember to let the jars rest undisturbed for 12 hours. If the jars pop, it means everything is good and you can store them in your pantry. But in case they don't pop, store them fridge for up to 2 weeks.
How to serve it:
This easy homemade sauce is delicious on top of spaghetti noodles, or any other type of pasta that you like.
Serve it over a lower carb option like zucchini noodles, or spaghetti squash.
As an option, use it to replace pizza sauce.
Also, you can serve it as a dipping sauce with homemade breadsticks.
It can also be used in other recipes, like casseroles or stir-fries.
Also, use it to make Instant Pot Spaghetti recipe or Crockpot Spaghetti.
How to store leftovers:
Refrigerate: First, let the instant pot pasta sauce fully cool to room temperature and after that transfer them to an airtight container and store them in the fridge for 4-5 days.
Freeze: Tomato-based sauces tend to freeze and thaw the best, but meat-based sauces can also stand up to freezing. Let the sauce cool completely. Pour into freezer-safe containers or heavy-duty freezer bags. Label with the date, and freeze for up to 3-4 months, or longer if you use a deep freeze.
Thaw: Transfer the sauce to your refrigerator the night before you wish to use it to allow it to thaw.
Reheat: Add the sauce to a saucepan and reheat it to at least 165 F before you consume it.
More Instant Pot Recipes:
Cooking tips:
As an alternative, use canned tomatoes instead of fresh, 28 oz canned diced tomatoes would replace about 10-12 medium fresh.
Also, San Marzano tomatoes, either fresh or canned, are the best for this recipe as they have a natural sweetness that tastes great.
Do not store spaghetti sauce in opened metal cans or containers.