Instant Pot Spaghetti Sauce [VIDEO]
Instant Pot Spaghetti Sauce is the most hearty and delicious homemade pasta sauce that you can make in under one hour, with either fresh or canned tomatoes. Check out the short video tutorial below and see how simple this recipe is!
We lave making easy and delicious sauces that go on many dishes. You can also try our alfredo sauce, chipotle sauce, or enchilada sauce.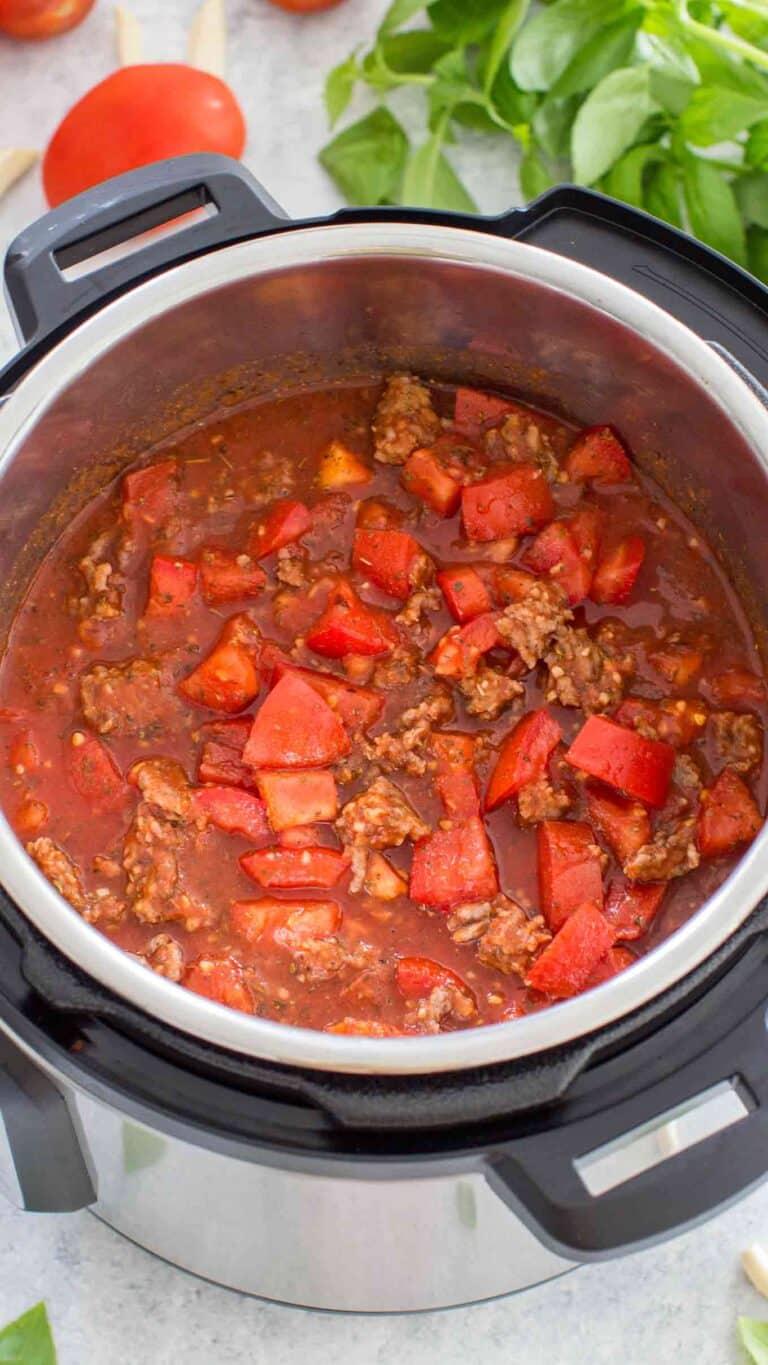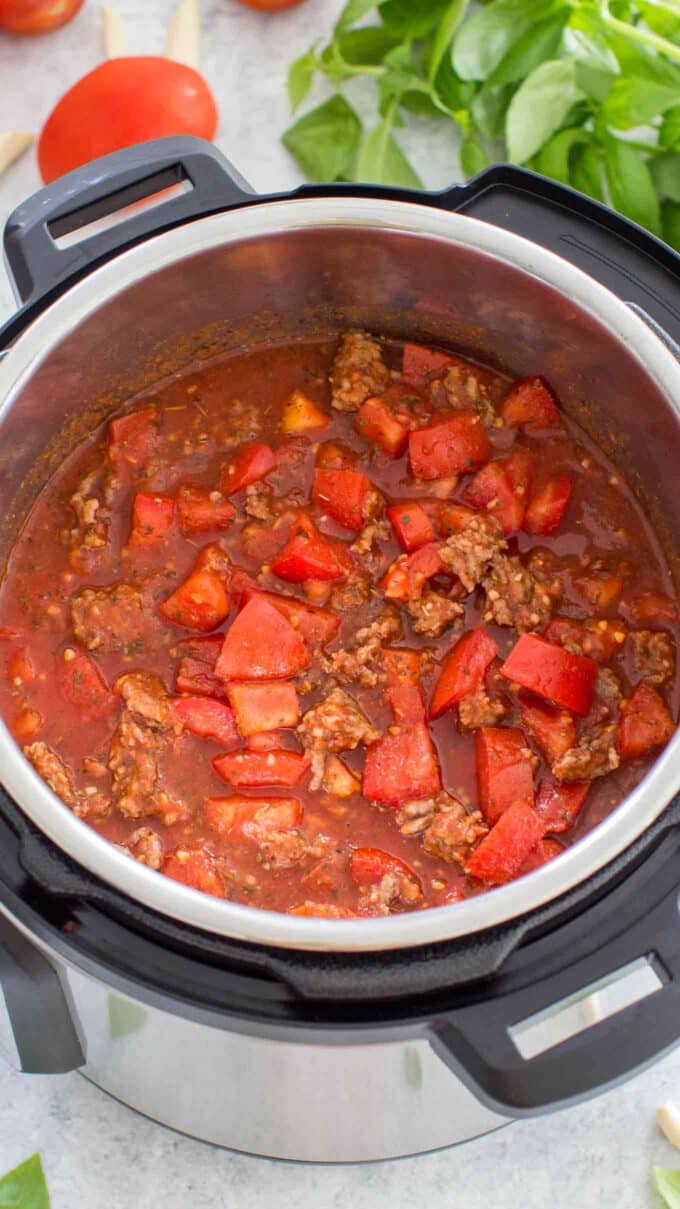 Easy Instant Pot Spaghetti Sauce
What are the foods that you keep in your pantry for easy weeknight dinners? I usually have canned beans, wild-caught canned tuna (which by the way is amazing with mashed fresh avocado) and some type of pasta sauce. When my husband brought home a huge box of ripe tomatoes, I instantly decided to make pressure cooker Spaghetti Sauce as we love a good pasta meal around here.
This Instant Pot Spaghetti Sauce is made with mild ground sausage and fresh tomatoes. You can use hot sausage or skip it altogether for a vegetarian version. The pasta sauce tastes amazing like it was simmered for hours.
The sauce will make your house smell fantastic and it tastes like it's from a high-end Italian restaurant. It has been flavored with many dried herbs, and it's such a time-saver to have on hand. I like to make a large batch and freeze it to use on lazy nights for quick dinners.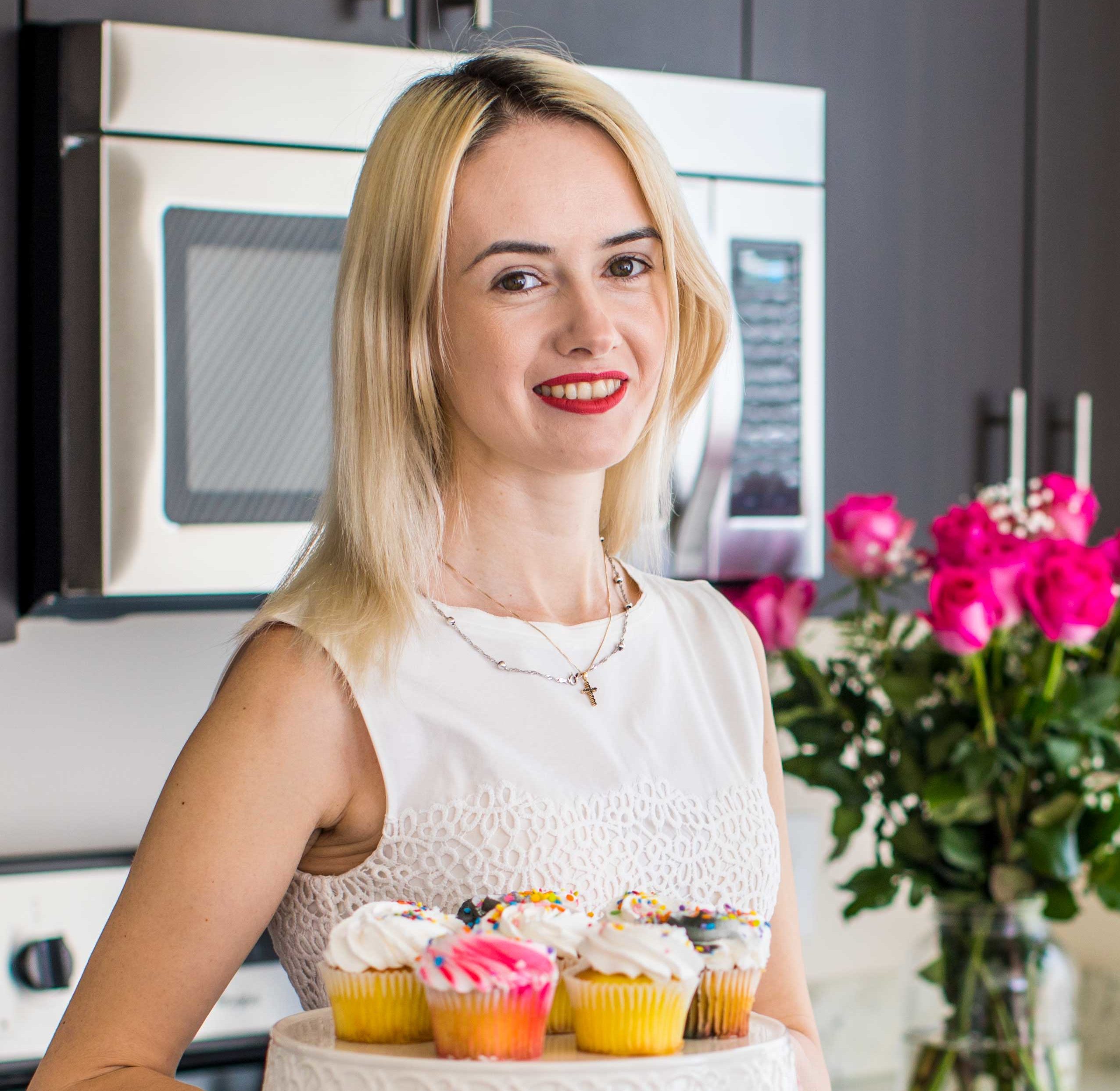 Follow us on Pinterest for more delicious recipes!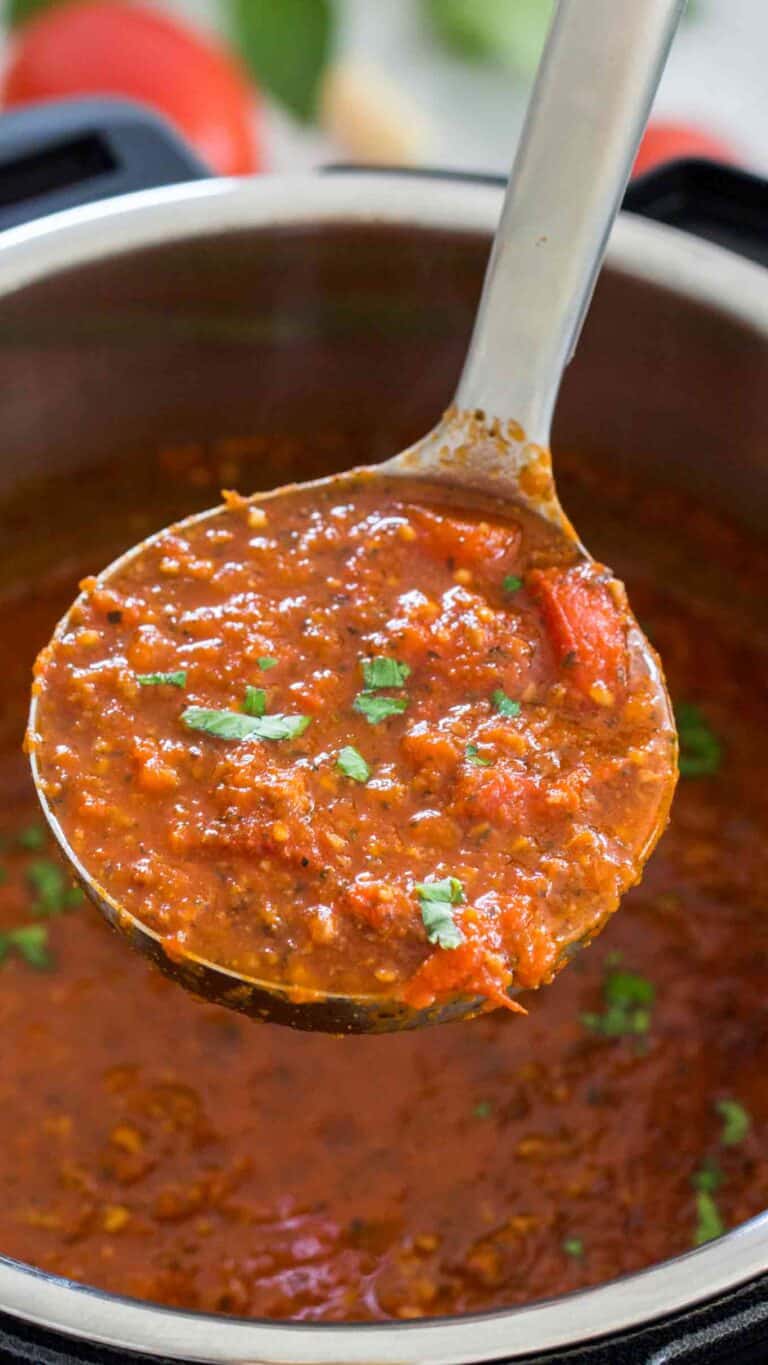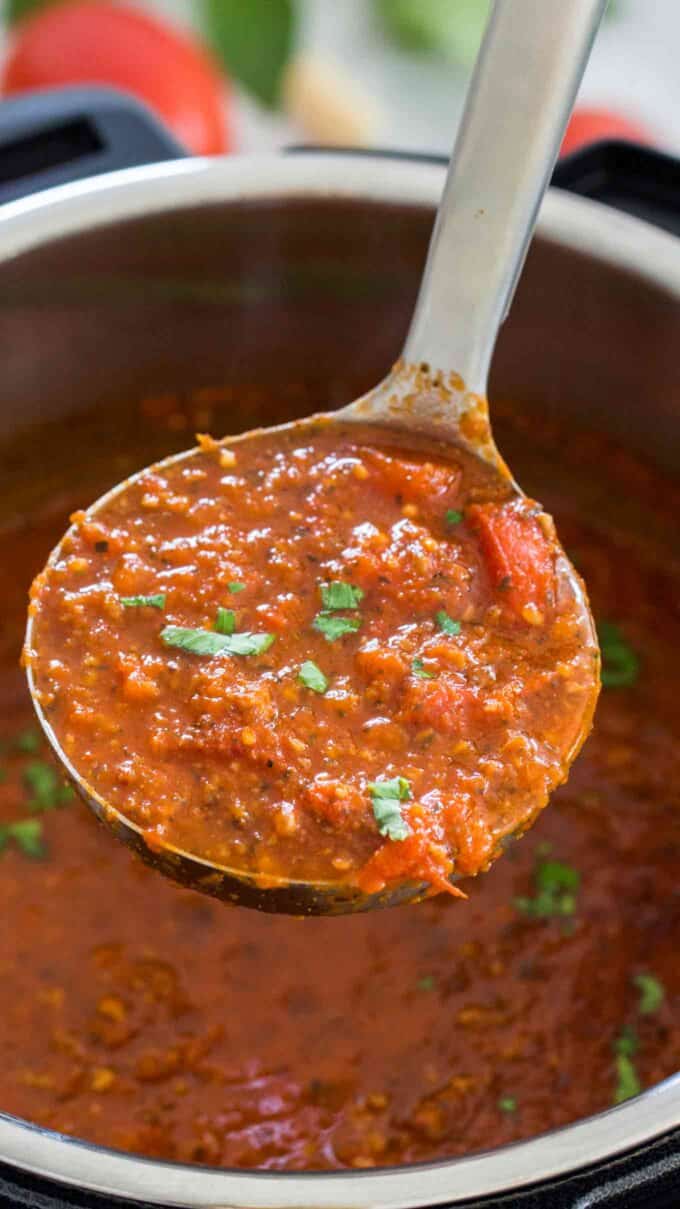 What do you need to make the Instant Pot Spaghetti Sauce Recipe?
Instant Pot or any other Pressure Cooker
Hot or Mild Ground Sausage
Tomato Sauce and Tomato Paste
Fresh Tomatoes or Canned Tomatoes
How do you make Creamy Spaghetti Sauce?
After you have finished cooking the sauce on HP and released the pressure, set the IP on Sauté and add 1/2 cup cream and 1 cup of grated parmesan cheese. Stir until combined and simmer the sauce for 1-2 minutes. Add more cream if desired. Turn off Instant Pot and serve the sauce over pasta.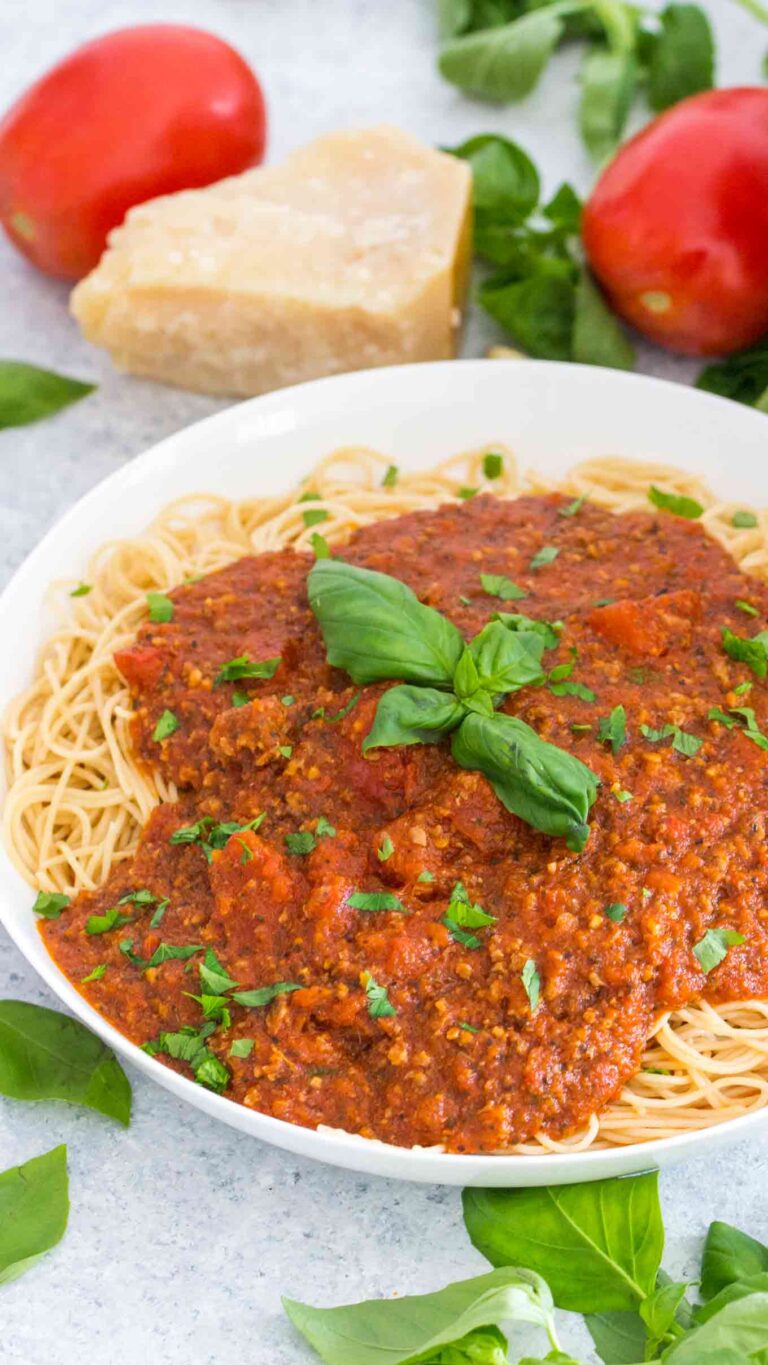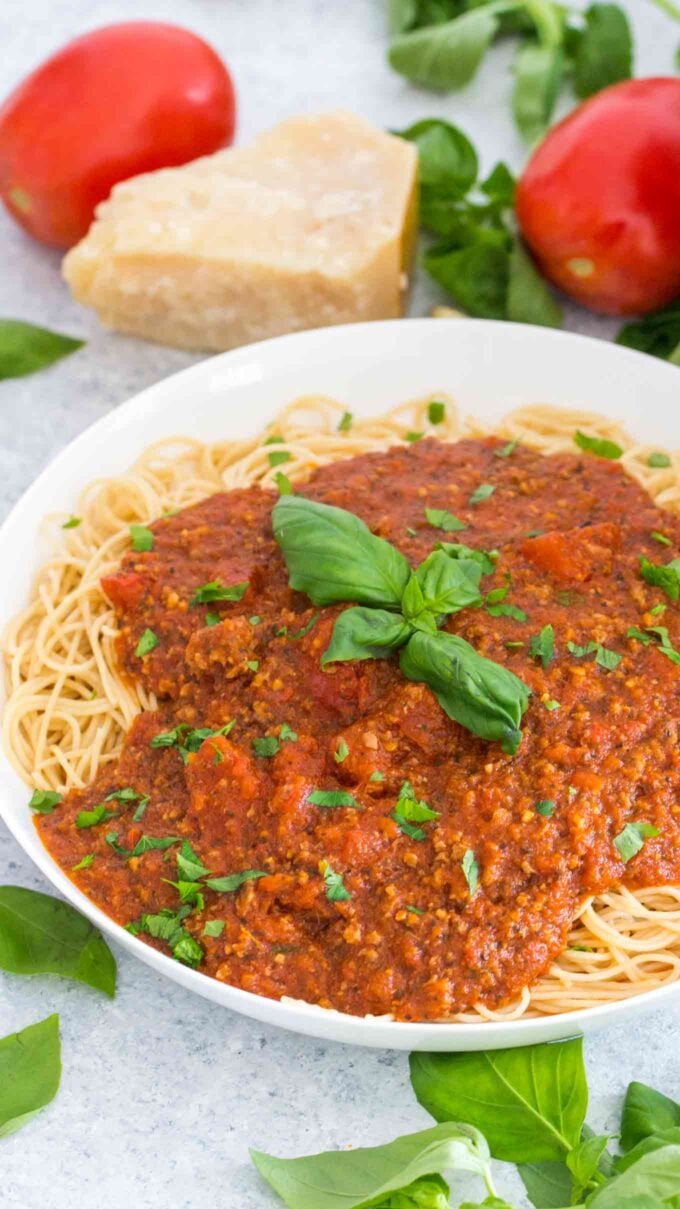 Can you make Instant Pot Spaghetti Sauce with canned tomatoes?
Yes, you can make the sauce with either fresh or canned tomatoes. You can use about 12 medium fresh tomatoes or 28 ounces diced canned tomatoes.
Can you freeze Spaghetti Sauce?
Tomato-based sauces tend to freeze and thaw the best, but meat-based sauces can also stand up to freezing. Do not store spaghetti sauce in opened metal cans or containers. Let the sauce cool completely. Pour into to freezer-safe containers or heavy-duty freezer bags.
Label with the date, and freeze for up to 3-4 months, or longer if you use a deep freeze.
How do you thaw frozen Spaghetti Sauce?
Transfer the sauce to your refrigerator the night before you wish to use it to allow it to thaw. Add the sauce to a saucepan and reheat it to at least 165 F before you consume it.
Looking for Instant Pot Pasta Recipes? Check these out:
Save Recipe
Instant Pot Spaghetti Sauce
Author: Catalina Castravet
Serves: 8 servings
Prep time:

10

minutes
Cook time:

40

minutes
Total time:

50

mins
Ingredients
2 tablespoons olive oil
2 lbs hot or mild ground Italian sausage
4 tablespoons tomato paste
2 tablespoons minced garlic
1 tablespoon brown sugar
30 oz tomato sauce
3/4 cups water
4 tablespoons dried basil
1 tablespoon dried parsley
1 tablespoon dried oregano
1 tablespoon dried thyme
1/2 teaspoon fennel seeds
1/4 teaspoon red pepper flakes
1 tablespoon onion powder
1 tablespoon ground black pepper
1 tablespoon kosher salt (or to taste)
10-12 medium fresh tomatoes (diced (or 28 oz canned diced tomatoes))
Instructions
Set Instant Pot to Saute.
Once the Instant Pot reads hot, add the olive oil.
Once the olive oil is hot, add the ground Italian sausage, do not move it for 1 minute, to get a nice sear on it. Break it up using a wooden spoon as it cooks.
Once the sausage is no longer pink, add minced garlic, tomato paste and brown sugar. Stir and cook for 1-2 minutes.
Add tomato sauce and water. Stir to combine.
Add the rest of the ingredients and stir to combine. Adjust for salt and pepper.
Cover and seal the lid. Make sure the valve points to Sealed. Change setting to manual and adjust time to 14 minutes on High Pressure. If you are using canned tomatoes, cook for 10 minutes on High Pressure.
Once Instant Pot beeps to show that it's done, do a 15 minute Natural Pressure Release (NPR). Carefully release any remaining pressure.
Turn off the Instant Pot. Remove the lid and using an immersion blender, puree the sauce until desired consistency, it depends how smooth you want it. Taste and adjust for salt and pepper.
Serve over pasta topped with cheese and fresh basil.
0 Calories: 491 Carbohydrates: 16 Protein: 19 Fat: 39 Saturated Fat: 13 Cholesterol: 86 Sodium: 2332 Potassium: 997 Fiber: 4 Sugar: 9 Vitamin A: 1290 Vitamin C: 23.4 Calcium: 124 Iron: 5.7
Save Recipe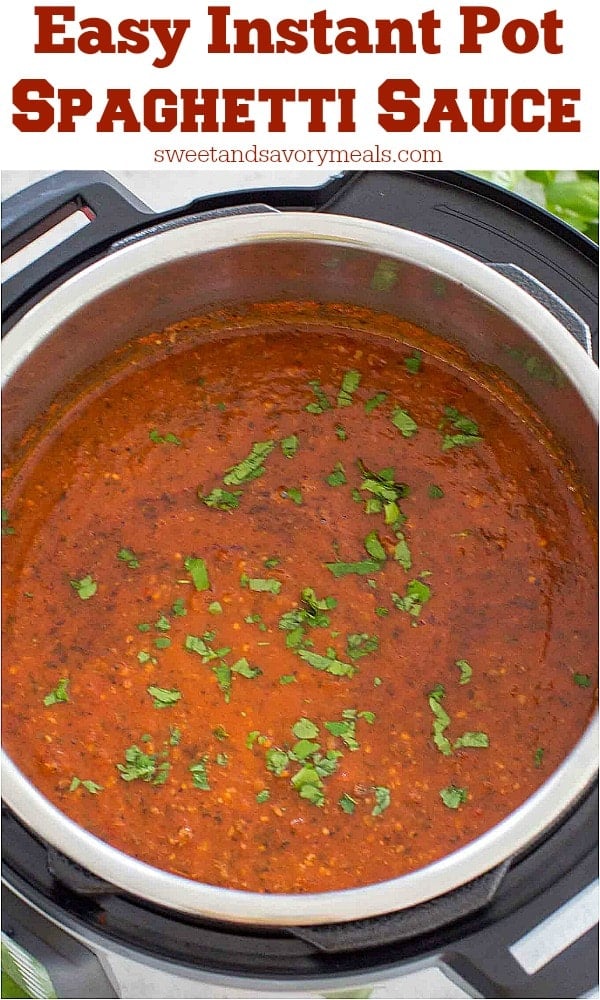 More recipes you might love