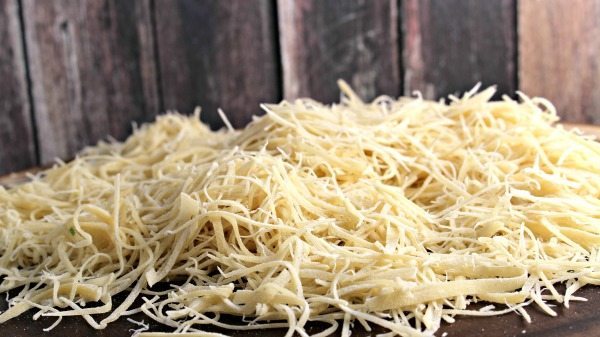 Angel Hair Pasta From Scratch
Angel Hair Pasta From Scratch is delicious and homemade to always have on hand for indulgent, classic and versatile quick entrees or side dishes.
We are avid pasta lovers, and our love for pasta was well documented here. We have some great pasta recipes to share, such as our popular Slow Cooker Tuscan Pasta, Garlic Shrimp Pasta and Chicken Enchilada Pasta.
Angel Hair Pasta From Scratch
I am such a huge pasta lover that I have this fold childhood memories of my grandmother making it. God, those bites were like heaven. All the fresh ingredients: flour that they made from their wheat, eggs from their chicken and cheese from their cow. It can't get any better, fresher or tastier even at the fanciest restaurant. Angel Hair Pasta From Scratch is my favorite and my mom makes the best one, I asked her to share the recipe!
There is a tradition in our family to make pasta from scratch. My grandparents still have their own chicken. She carefully saves those organics eggs and send it to my mom who lives in the city to enjoy.
So this pasta is shorter than your regular angel hair pasta, and this is because we don't use any tools. Also, the pasta is cut by hand. It takes some time, but I find it very relaxing. In addition, to me the little unevenness adds more charm and character to this angel hair pasta from scratch.
I also highly recommend using eggs from organic grass fed chickens. Similarly, you can totally taste the difference and as well see it in the color of the pasta.
The pasta stores perfectly for a few months. Usually in a closed paper box, in a dry place. It can be used in so many recipes, in delicious chicken noodle soups, as a side dish, or as a main dish with some sauce and your favorite cheese!
Angel Hair Pasta From Scratch
Ingredients
6

large eggs

4 1/3

cups

high quality organic flour

extra flour for dusting
Instructions
Place flour in a large mixing bowl. Break all 6 eggs in a small bowl. Create a crater in the middle of the flour and add the eggs.

Using a fork mix flour and eggs and once it starts to create a doughy mixture, mix it together with your hands. If the flour is not completely binding with the eggs, you can add a little water to get the right consistency.

Create a ball of dough from the mixture, dust with some flour and cover with a damp paper towel or kitchen towel.

Preheat oven to 350F degrees.

Cut the dough into 4 pieces. Take one piece of the dough you have previously cut and roll it using a rolling pin, until paper thin. Transfer to a cookie sheet. Place in the oven for a few minutes to dry out a little. Once the dough seems dry but still soft and doesn't crack, transfer it to a cutting surface and cut it in long rectangles 3 inches wide, or wider if you prefer longer pasta. Stack the rectangles on top of each other and start cutting thinly the sheet in width.

Now that you have the thin angel hair noodles spread them on a sheet placed on a flat surface to completely dry out. The pasta shouldn't be wet, otherwise it won't store well.

Repeat the steps for the remaining dough balls.

For cooking the pasta: bring a large pot of water, salt and a splash of olive oil to a boil. Cook pasta for 2 minutes and drain. Mix in a small amount of olive oil to prevent sticking.

For storage: after the pasta is completely dry, transfer to a paper box, cover it and store in a dry place for up to 3 months.
Deliciousness to your inbox
Enjoy weekly hand picked recipes and recommendations