Instant Pot Crack Chicken [VIDEO]
Instant Pot Crack Chicken made with chicken, cheese, bacon, and ranch seasoning mix. It is basically a meal on steroids, so good that you will keep coming back for more. This creamy dish is also low-carb, and Keto friendly. Give it a try, and you'll go back to it again and again!
Making Instant Pot recipes is a staple around here. We love to make easy and quick meals in it, like our most popular Instant Pot Orange Chicken, Instant Pot Mongolian Chicken, and Garlic Sesame Chicken. You should also try this amazing Crack Chicken Casserole.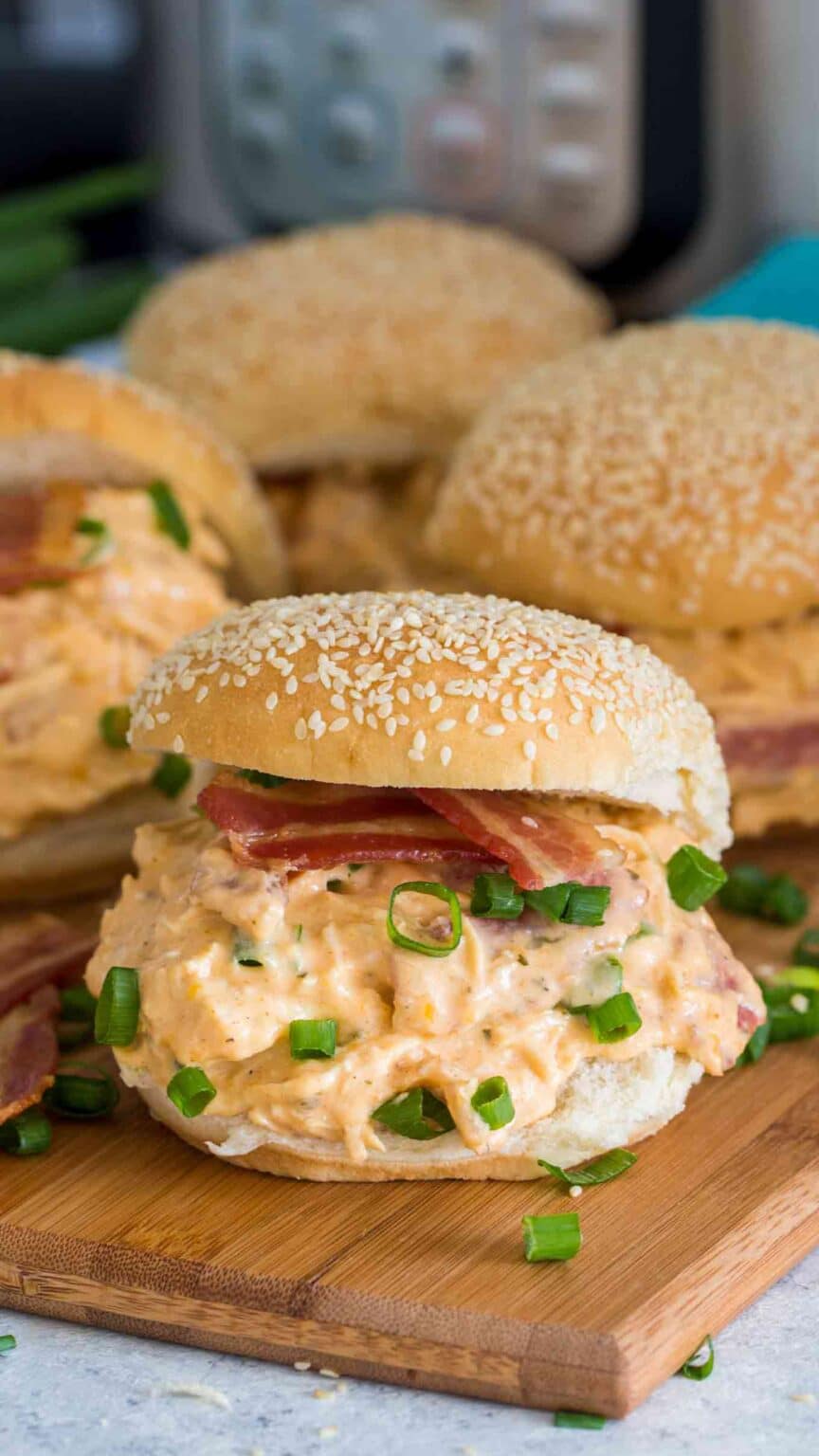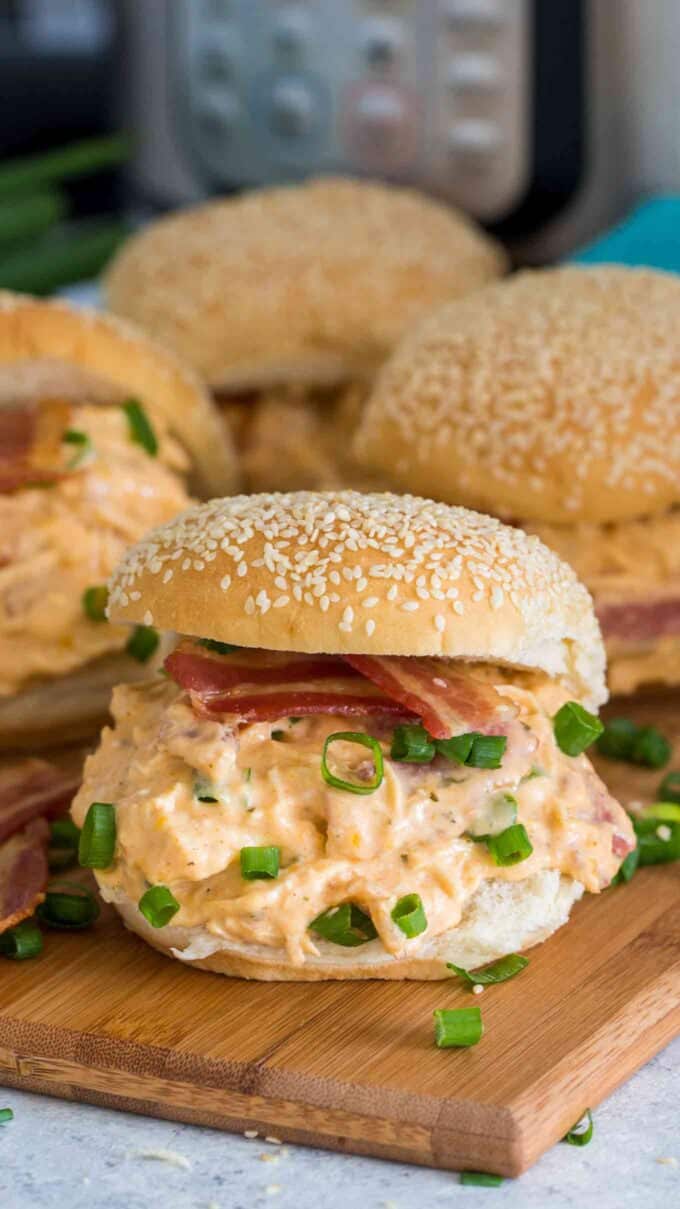 Ultimate Instant Pot Crack Chicken
When it comes to cooking dinner, the easier the better for me. Sometimes when the time is on my side, I can spend two hours playing with a recipe, but let's be real, during the week when I have to feed a very active kid and an always hungry husband.
I am looking for quick and easy solutions. Don't take delicious out of that equation, we love good food in our house and this Instant Pot Crack Chicken is a winner dinner!
This is one of the easiest recipes you can make, and it has the magic combo of cheese and bacon, you can't go wrong with that, you can just make it better! So yes, chicken, cheese, bacon, ranch mix, and you are about to experience an amazingly creamy and cheesy dinner that will quickly become a favorite!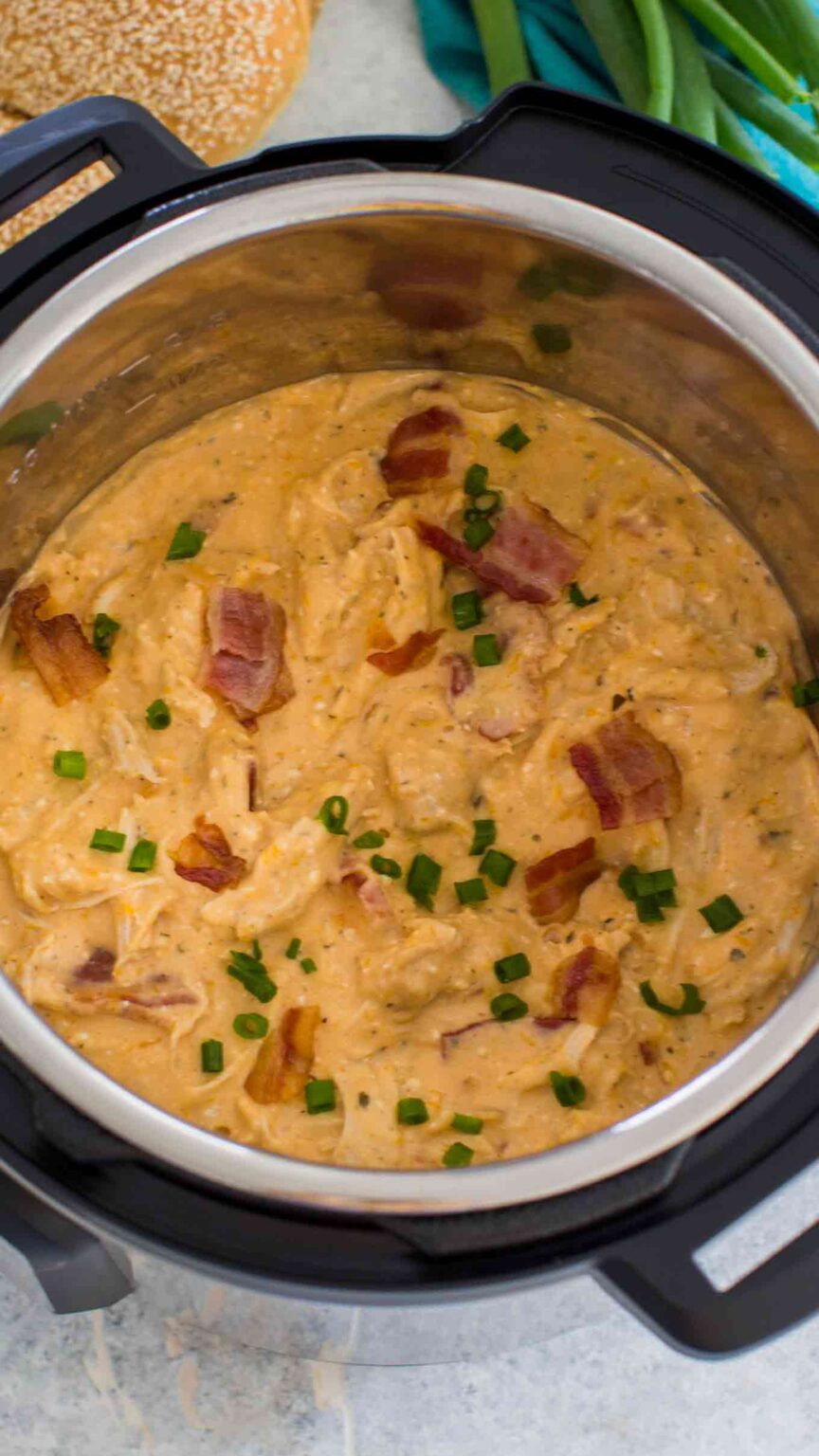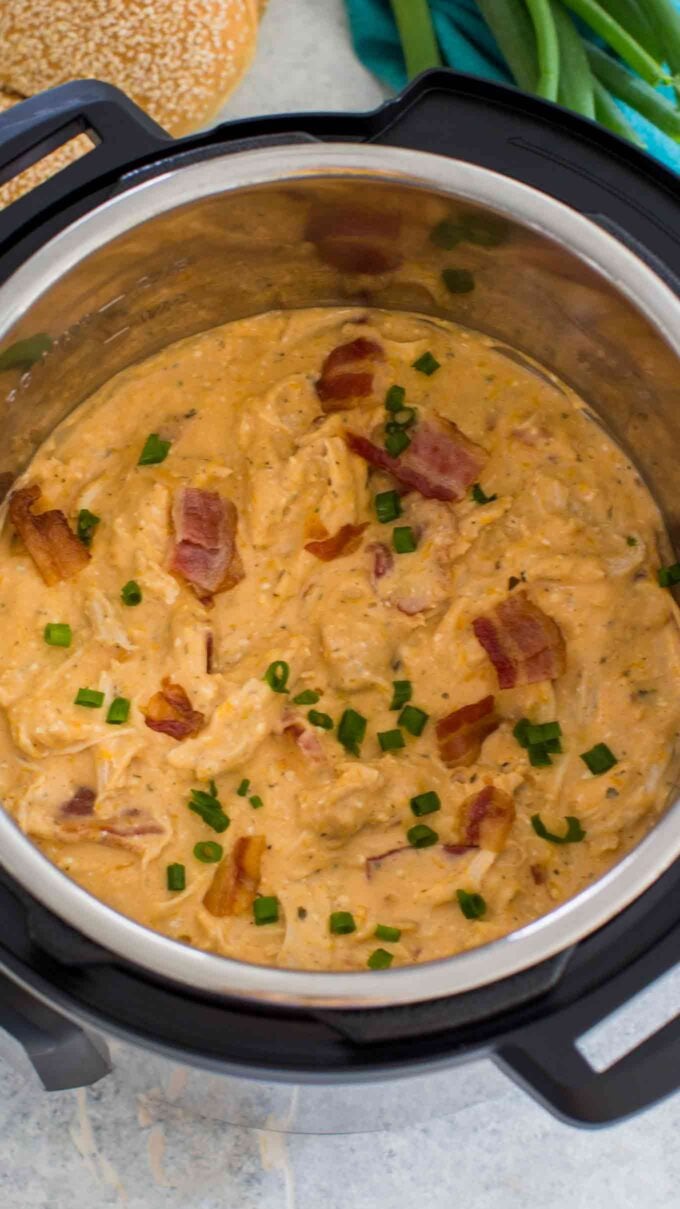 What is Crack Chicken?
The name basically suggests that this recipe is deliciously addictive. Yes, it's that good! In this recipe, we use simple ingredients, such as: cream cheese, cheddar cheese, bacon, scallion, and Ranch seasoning! The end result is creamy and rich and packed with flavor.
What do you need to make Instant Pot Crack Chicken?
How to make Instant Pot Crack Chicken?
For exact steps and measures, see the recipe card below. Also, watch the short video tutorial attached and see how simple this recipe is to make. But, in a nutshell, you follow these steps:
Cook the bacon: Bake the bacon according to package instruction. Alternatively, you can use cooked bacon and skip this step.
Cook the chicken in the Instant Pot: Add the chicken breasts to the bottom of the pot. Then, add the cream cheese, and your ranch seasoning mix, ground onion, minced garlic, paprika, and the broth. Cover the lid, and cook on HIGH PRESSURE for 15 minutes.
Shred the meat: Remove chicken from the Pot and shred it. At the same time, whisk in cheddar cheese and mix it together with the mixture in the pot. Add back the shredded poultry and bacon to the pot, and combine together with the cheddar cheese mixture.
Serve: Use a burger bun and serve it warm.
Can you use Frozen Chicken to Make Crack Chicken in an Instant Pot?
This is a common question, and the answer is yes! You can definitely use frozen meat for this recipe. When using frozen poultry in the IP, just remember to add 5 minutes to the cooking time (for a total of 20 minutes on Manual High Pressure). You can also check our post on how to cook a Instant Pot Whole Chicken.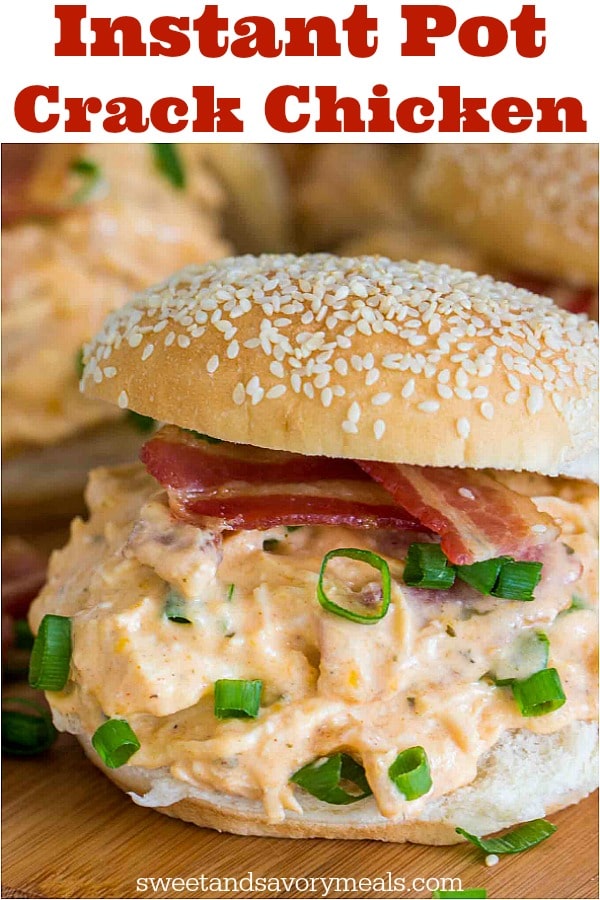 How to make Crack Chicken in the Slow Cooker?
If you don't have an Instant Pot and would like to make this meal in the crockpot, here is what you have to do:
Add 2 lbs of chicken breasts to the crockpot and sprinkle with 2 packages of ranch seasoning. Add 2 packages of cubed cream cheese on top of the chicken. Cook on low for 6 hours or on high for 4 hours. The chicken should shred easily. Once done, using a fork combine the chicken with the cream cheese, shredding the chicken at the same time.
Top with 8 oz of cheddar cheese and cook on low for 15-30 minutes, until the cheese is melted. Stir in cooked bacon bits and serve on hamburger buns.
Note: the U.S. Department of Agriculture advises against cooking frozen chicken in a slow cooker or crockpot. The main reason is that slow cookers cook at a low temperature and may not heat chicken up to 165F, which is the minimum temperature to destroy any dangerous bacteria and ensure that chicken is fully cooked. Therefore, when using this recipe in the slow cooker, ensure that the meat is fresh or defrosted.
What to serve with crack chicken?
This dish is such flavorful and filling that it is great to simply use it in sandwiches. Also, the great thing about this recipe is how easy it is to make and prepare to get a delicious dinner. All you have to do is to toss in the ingredients and let the pressure cooker do its magic.
If using it in sandwiches is not for you, you can go a step further and add crack chicken to some of the following:
Can you freeze Instant Pot Crack Chicken?
Yes, you can! Add it to freezer bags and seal. Freeze for up to 3 months. When ready to serve, let the chicken thaw, after that add it to a saucepan and heat it up. If needed add more cheese or some cream. Enjoy!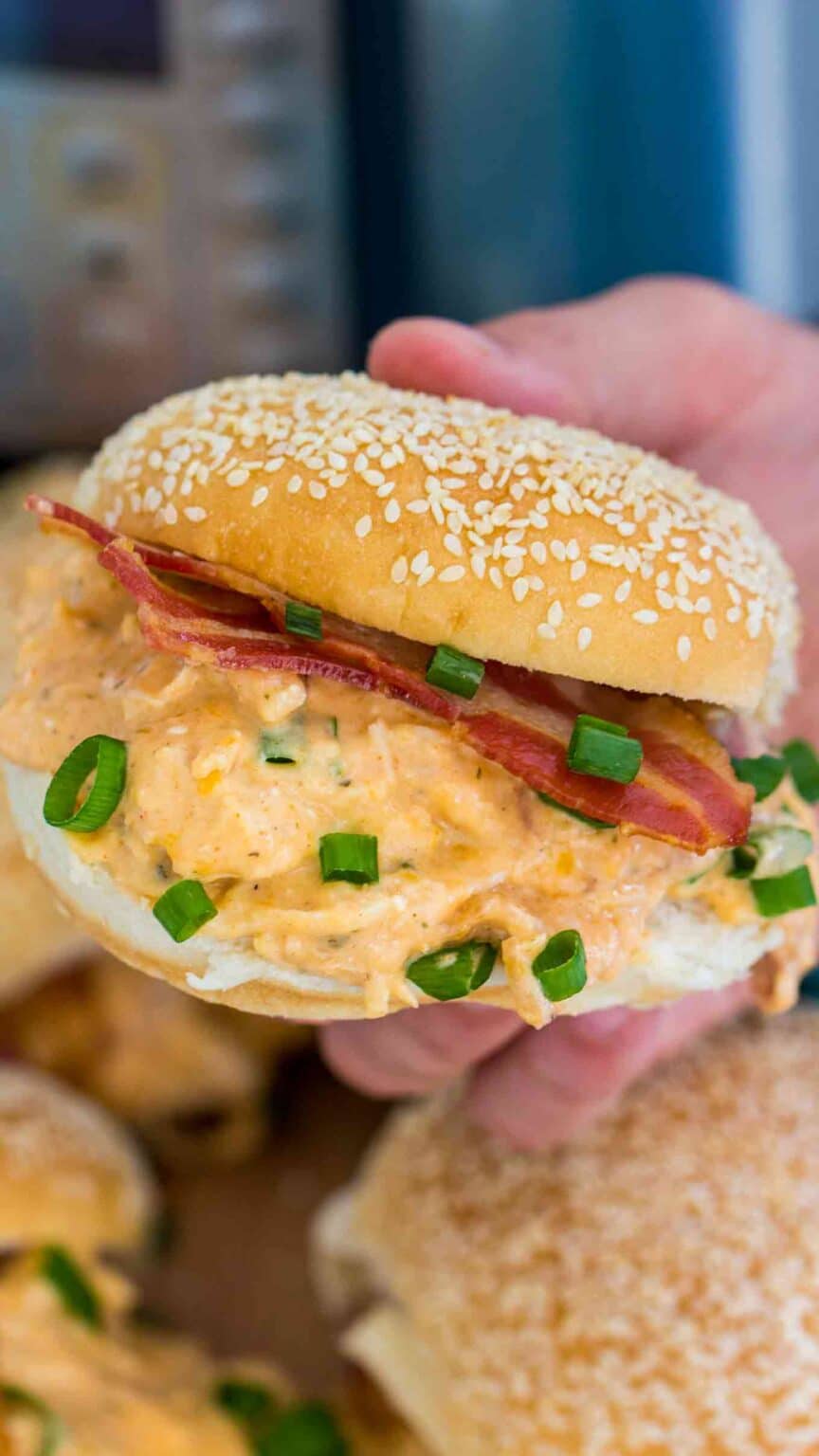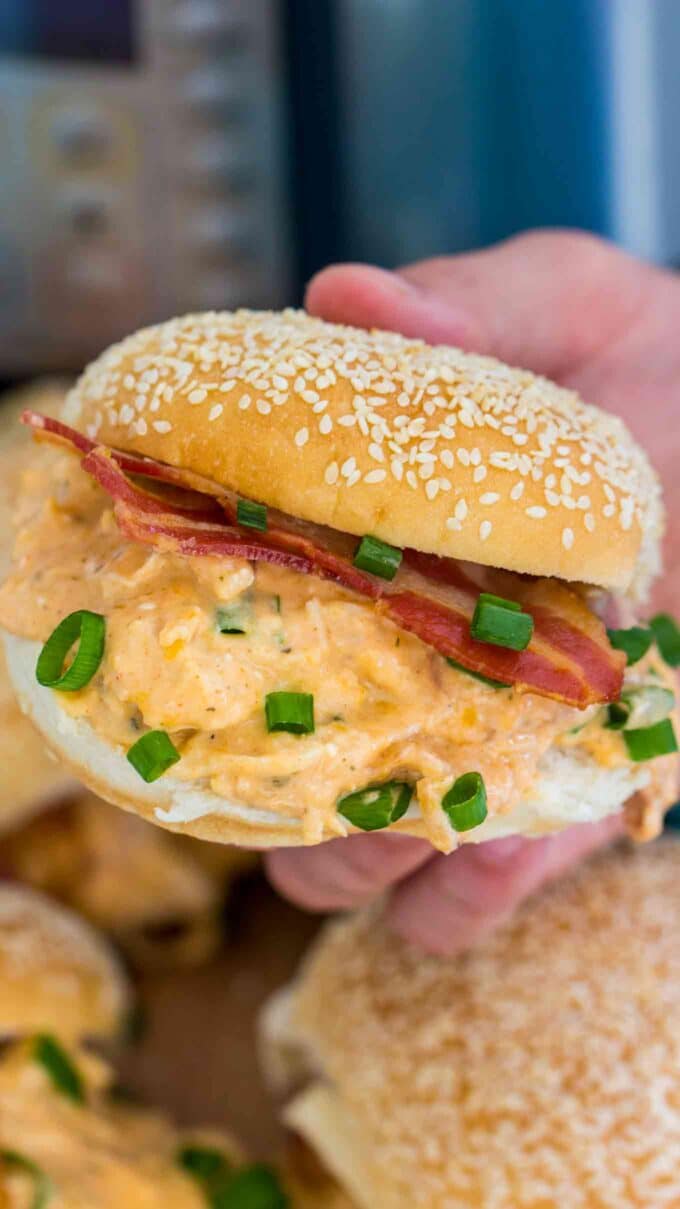 What is a 10 Minutes Natural Pressure Release?
A Natural Pressure Release means that the pressure is released gradually. For a Natural Pressure Release, you click on Keep Warm, and wait 10 minutes, after which you open the valve and let any leftover pressure release.
Another option is to Turn Off/Unplug the pressure cooker, wait 10 minutes, and after that open the valve. A natural release is usually used when cooking soups, meat, pasta or steel cut oats. This method prevents any foam from the dish to shoot out through the valve, which can happen during a Quick Pressure Release.
NPR can be done for just a few minutes, based on the recipe, or do a complete NPR, which means you let the Instant Pot release all the pressure naturally, it sometimes can take about 30 minutes.
More Pressure Cooker recipes:
Crack Chicken Instant Pot Recipe Tips: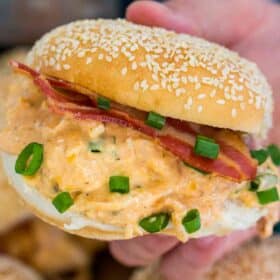 Easy Instant Pot Crack Chicken
Instant Pot Crack Chicken made with chicken, cheese, bacon and Ranch is basically a meal on steroids, so good that you will keep coming back for more.

Save
Share
Print
Pin
Rate
Ingredients
10

slices

bacon

(cooked)

2.5

lbs

chicken breast

(boneless and skinless)

1

8 oz

cream cheese package

(cubed)

1/2

package

Ranch dressing mix

(use more or less depending on your taste)

1

tablespoon

minced garlic

1

teaspoon

paprika

1

teaspoon

onion powder

1

cup

chicken broth

8

oz

cheddar cheese

(shredded)
Serve with:
6

hamburger buns

Chopped green onions
Instructions
Cook Bacon:
You can use already cooked bacon or you can cook your own. Preheat oven to 400°F.

Arrange a rack in the lower third of the oven. Line 1 baking sheet with aluminum foil.

Lay the bacon onto a baking sheet in a single layer.

Bake until the bacon is deep golden-brown and crispy, 15 to 20 minutes. Begin checking around 12 minutes to monitor how quickly the bacon is cooking. Remove from oven and set aside.
Cook Chicken:
Add chicken and cream cheese to the Instant Pot.

Sprinkle with Ranch Dressing Mix, add minced garlic, onion powder and paprika.

Pour in chicken broth.

Close lid and pressure cook at High Pressure for 15 minutes + 10 minutes Natural Release. Turn off the heat. Release the remaining pressure. Open the lid.

Remove chicken from Instant Pot and place it into a large bowl or onto a chopping board. Using two forks shred the chicken.

Switch Instant Pot to Sauté mode and whisk the cream cheese mixture until well combined.

Add shredded cheddar cheese and stir to combine until the cheese is melted.

Turn off the Instant Pot and add the shredded chicken. Stir well to fully combine the chicken with the cheese sauce.

Stir in bacon pieces if wanted and serve on hamburger buns with extra bacon, cheese and green onions.
Nutrition
Serving:
0
g
|
Calories:
472
kcal
|
Carbohydrates:
26
g
|
Protein:
58
g
|
Fat:
23
g
|
Saturated Fat:
8
g
|
Cholesterol:
153
mg
|
Sodium:
1402
mg
|
Potassium:
890
mg
|
Fiber:
1
g
|
Sugar:
3
g
|
Vitamin A:
315
IU
|
Vitamin C:
6
mg
|
Calcium:
247
mg
|
Iron:
2.6
mg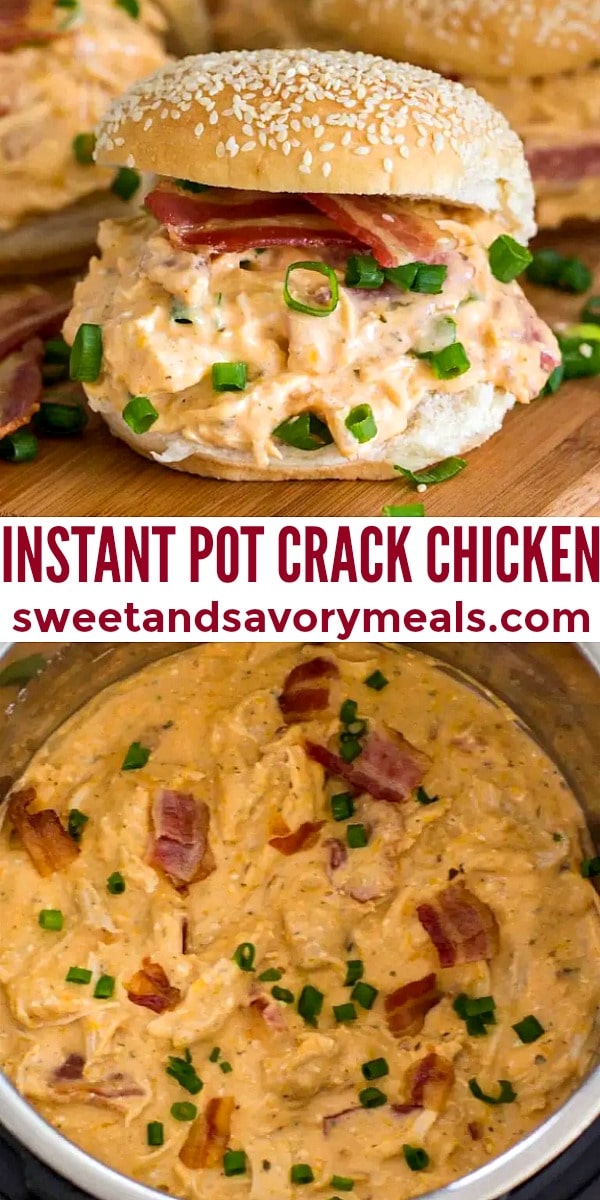 More recipes you might love