Instant Pot Chicken and Vegetables [Video]
Last updated on September 27th, 2021 at 04:14 pm
Instant Pot Chicken and Vegetables is a hearty medley of veggies and meat flavored with herbs and garlic. A delicious and satisfying meal ready in less than 30 minutes!
Tired and hungry after a busy day? You don't have to settle for take-out! Try my other 30-minute recipes such as Skillet Pork Chops, Lemon Pepper Chicken, and Hamburger Steak with Mushroom Gravy – fast, satisfying, and cannot be easier.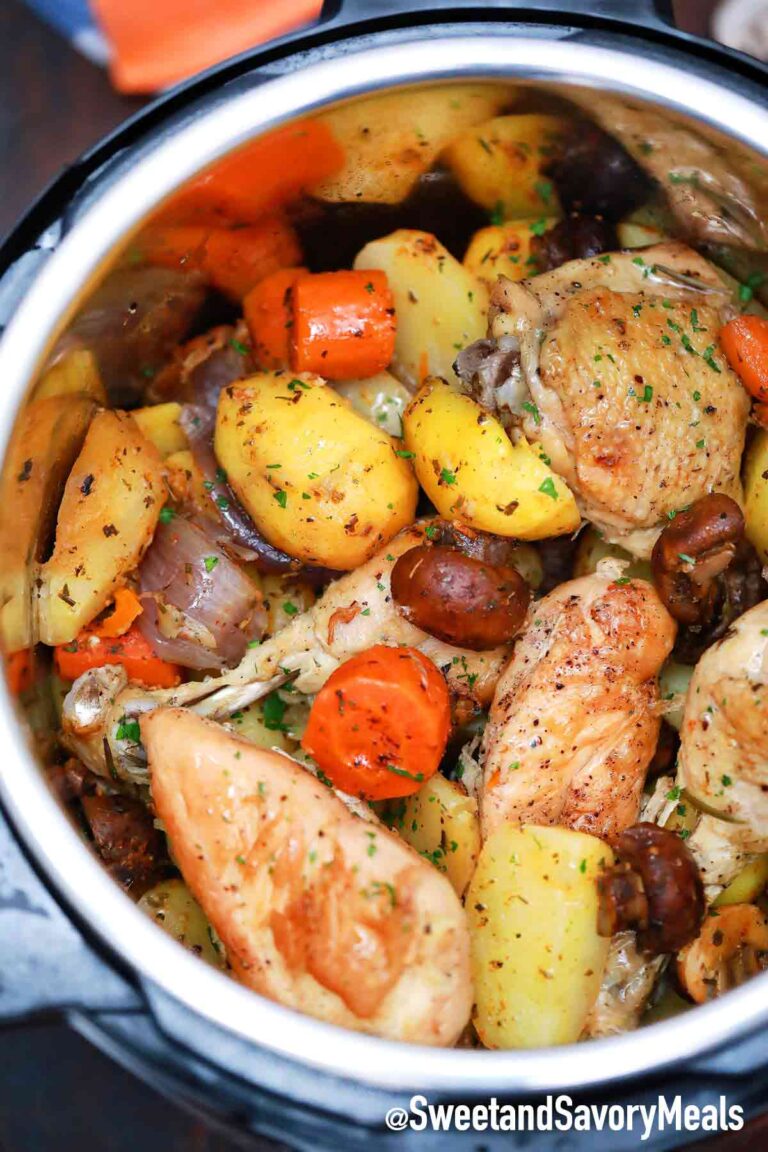 Pressure Cooker Chicken and Vegetables Recipe
Instant Pot Chicken and Vegetables is one of those meals that everyone just loves. The chicken turns out unbelievably juicy, and it tastes amazing with all the herbs, spices, and garlic.
You've got potatoes, chunky carrots, and meaty mushrooms rounding out the meal. And best of all, you can have it on the table in less than half an hour. It really is the perfect dish!
Aside from being super tasty, this dish is very healthy too. We barely use any oil, and the pressure cooker is fantastic at preserving nutrients. Most importantly, the flavors are familiar and always a hit with kids and adults alike.
What is an Instant Pot?
It's a pressure cooker brand, and also known as a multicooker. While it's most well-known as a pressure cooker, it's also a yogurt maker, rice cooker, and slow cooker in one.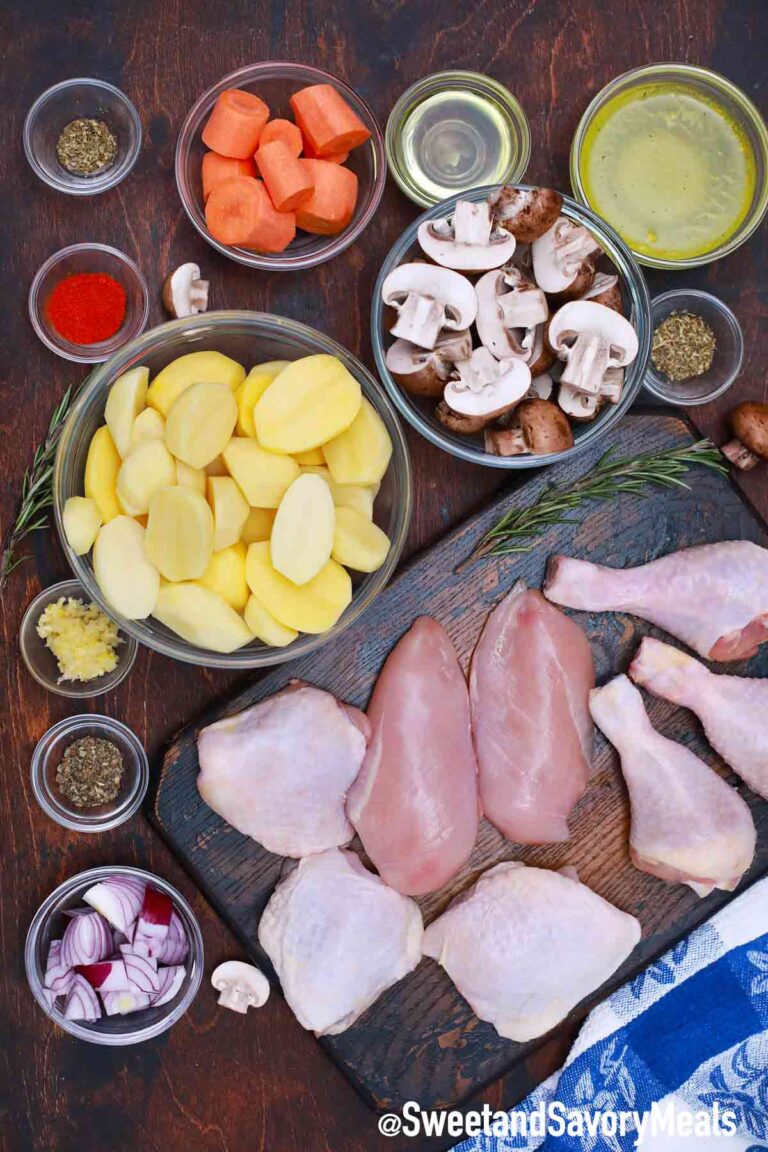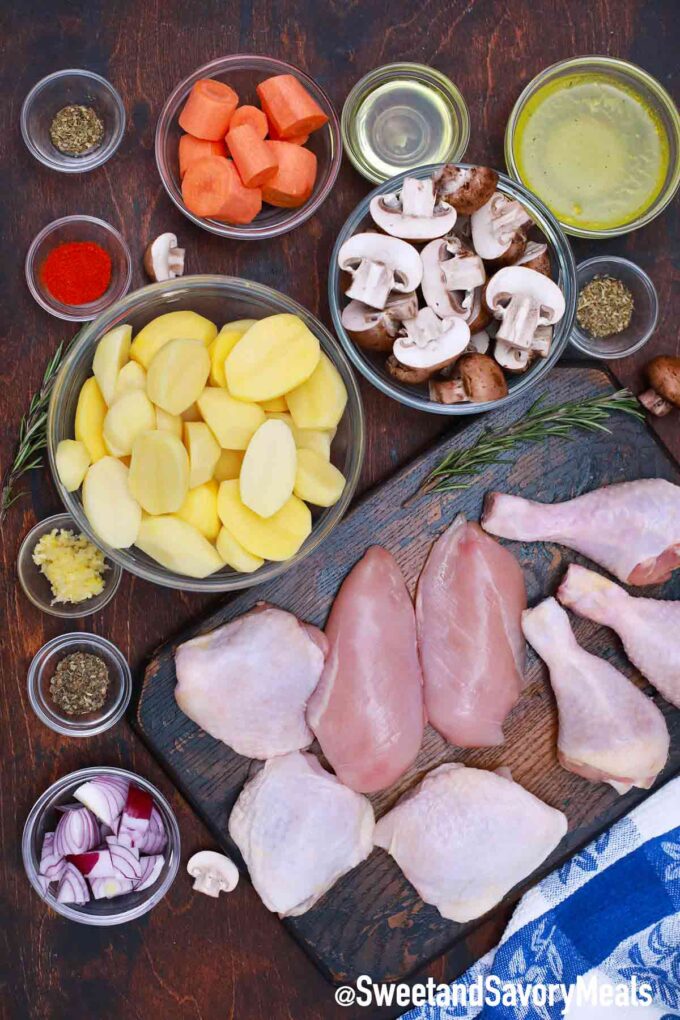 What is an Instant Pot trivet?
It's used to elevate anything – such as food, bowls, and pans – above the liquid in the IP. This way, the food doesn't cook in the liquid but basically steams above it.
Want to cook two things at once? Use your trivet! For instance, meat goes at the bottom, then place the trivet over that to cook a bowl of rice. It's a really handy accessory!
Can you cook meat and vegetables together in the Instant Pot?
Yes! The key is to pair meat and vegetables with very similar cook times. For instance, the chicken cooks very quickly in the IP.
This means you can cook the potatoes together with the poultry because they will be done at the same time. No mushy veggies here!
Can you put raw chicken in the Instant Pot?
Yes, that's fine. The intense pressure and heat inside the IP will cook it perfectly.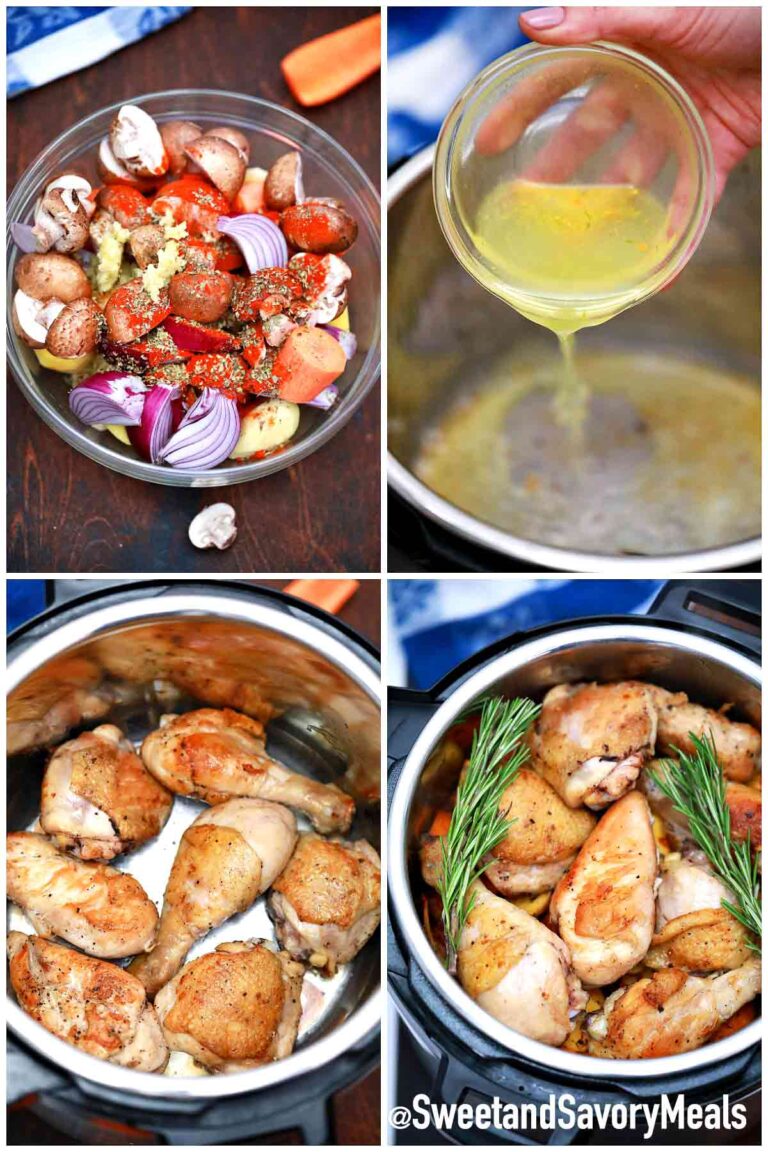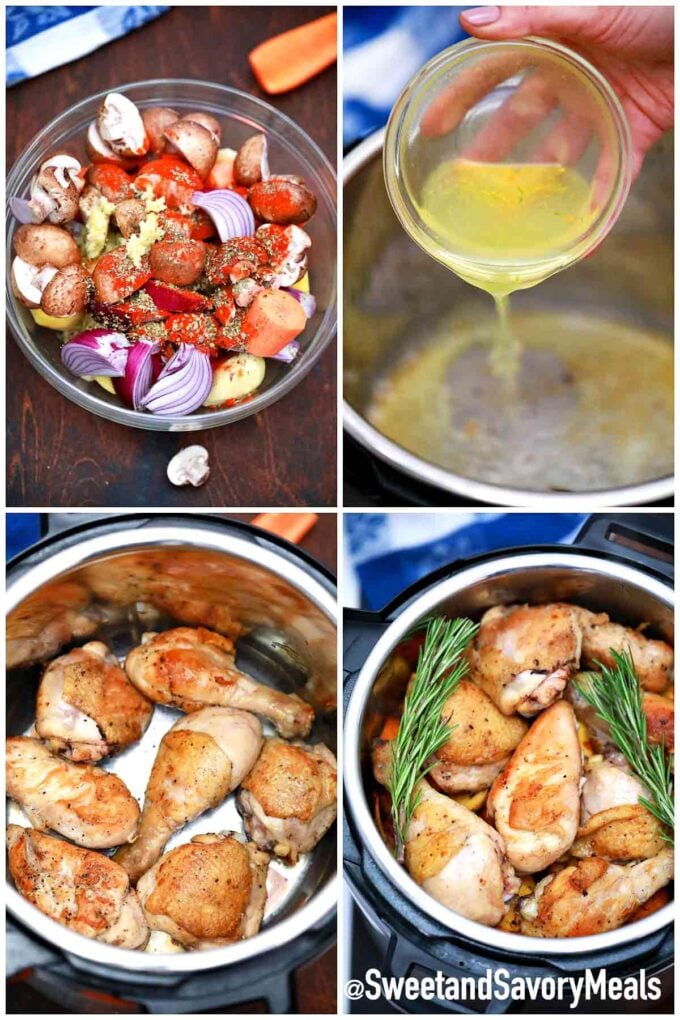 How long do you cook chicken in the Instant Pot?
It depends on several factors: whether you're cooking from frozen or fresh. Also, how big the cut of meat is, whether it's boneless or not, and what other ingredients you're cooking it with.
But on average, this how long you cook each cut in the pressure cooker:
How do you make Instant Pot Chicken and Vegetables?
Sear the chicken. Rub the skin with pepper and salt, then sear both sides in the IP until nice and golden.
Cook. Next, deglaze the bottom of the IP using stock. Then, carefully place the trivet. Toss the veggies in garlic, herbs, spices, and oil, then arrange in the pot. Top with the meat. Place rosemary sprigs on top. Pressure cook for 13 minutes, with 5 minutes natural release before venting completely.
Serve. Plate it up with chopped fresh parsley on top and serve hot.
Recipe Variations: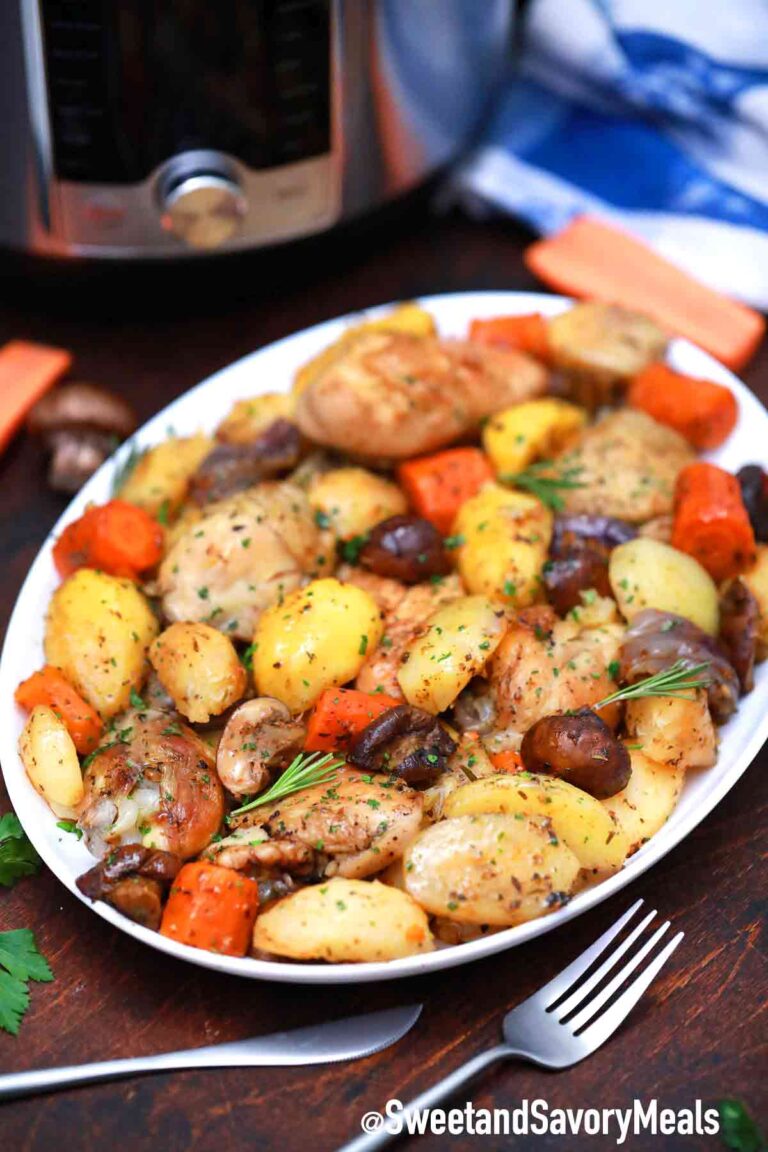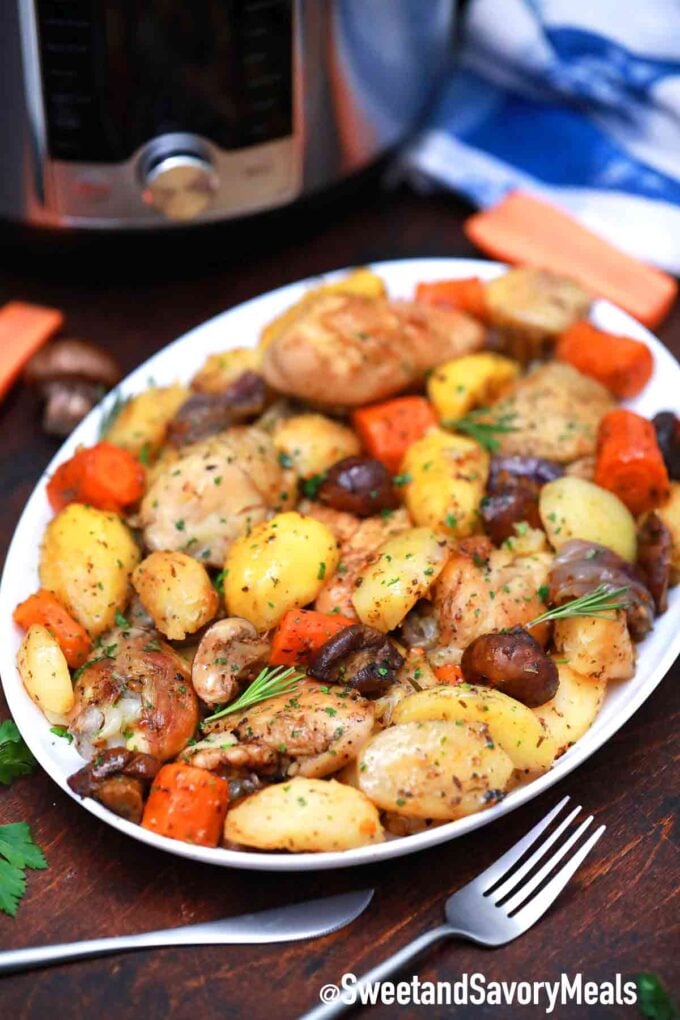 Can you make this recipe using frozen chicken?
Sure! You can definitely cook frozen chicken in the IP, which is such a time-saver when you're in a rush or forgot to thaw it.
But for this recipe, I highly recommend that you plan ahead a little. The searing step gives this dish amazing meaty flavors and beautiful colors.
It also allows the seasonings to stick better to the meat. I promise it's worth it!
Can you make this recipe in the slow cooker?
Yes, and the slow cooker significantly reduces the prep! However, it does take longer, so be sure you have enough time before dinner.
You can follow the searing step for the meat, or skip it altogether. Put everything in the slow cooker, and set for 3 to 4 hrs. (low setting) or 7 to 8 hrs. (high setting).
How to not overcook the veggies in the Instant Pot?
ALWAYS follow the cooking times indicated in the recipe. Those are specifically calculated to produce tender veggies. Not doing so can give you veggies turned to a dull pulp instead of vibrant, delicious vegetables.
Another way to avoid overcooking them is to do a quick pressure release. Remember, the heat and pressure in the IP remain even after the timer has gone off.
Releasing the pressure manually allows you to get the veggies out of there immediately. Finally, you may also dunk the veggies in an ice bath so they'll stop cooking after being in the IP.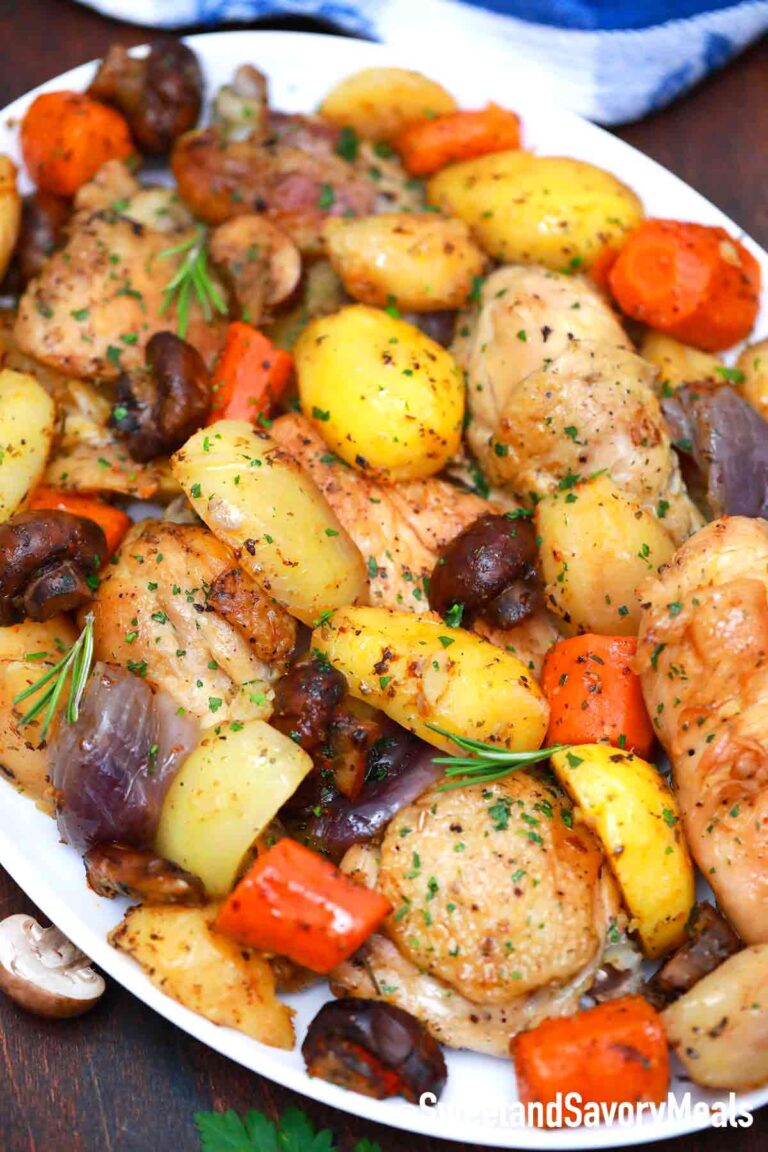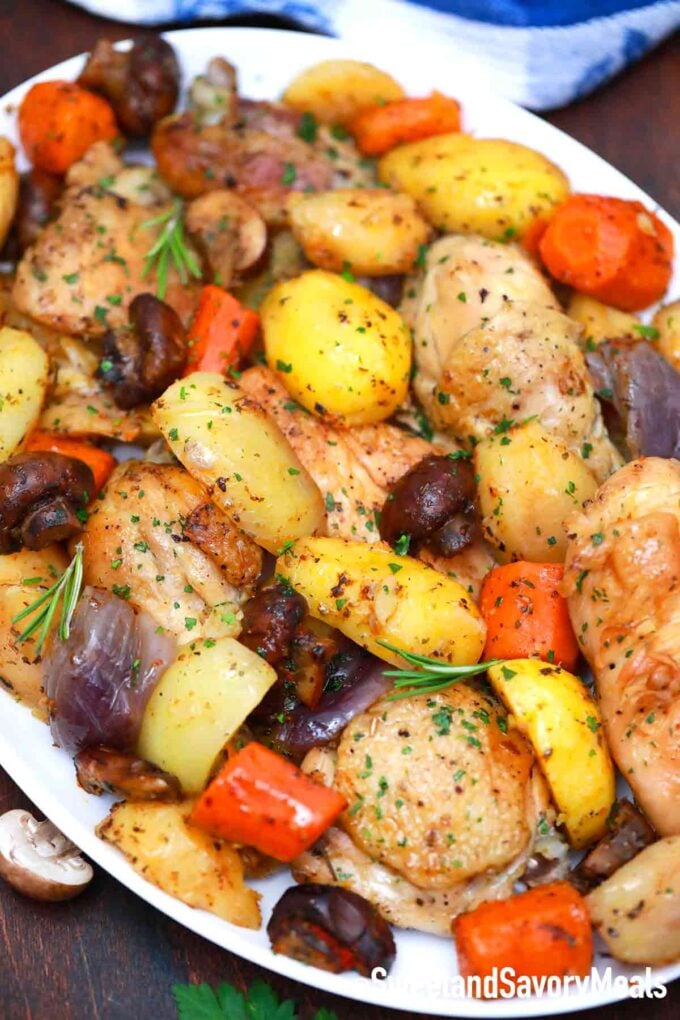 How to store leftovers?
Once the leftovers are completely cool, transfer to an air-tight container or a freezer-friendly one if you're planning to freeze it.
For best taste and texture, consume it within 2 days or less if kept in the fridge. It will last longer frozen, up to a month. Thaw and microwave until hot to reheat.
More easy pressure cooker recipes:
Recipe Tips: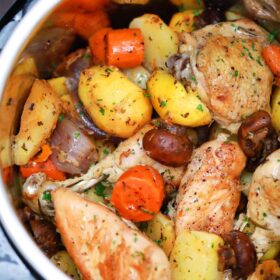 Instant Pot Chicken and Vegetables
Instant Pot Chicken and Vegetables is a hearty medley of veggies and meat flavored with herbs and garlic.
Save
Share
Print
Pin
Rate
Ingredients
2

pounds

chicken bone-in thighs, drumsticks

(and if you prefer breasts as well)

4

tablespoons

olive oil

1 1/2

cup

chicken broth

1 1/2

pounds

baby potatoes

(peeled and cut in half)

1

red onion

(roughly diced)

2

carrots

(cut into large pieces)

8

oz

mushrooms

(cleaned and halved)

4

cloves

garlic

(minced)

1

teaspoon

Italian seasoning

1

teaspoon

smoked paprika

1/2

teaspoon

dried oregano

1/2

teaspoon

dried basil

3

sprigs fresh rosemary
Instructions
Using a 6-quart Instant Pot, turn on Saute mode to High.

Pat dry chicken pieces and season them with salt and pepper.

Add 2 tablespoons of olive oil to the Instant Pot and once hot, brown the chicken on both sides, about 4-5 minutes per side. Work in batches not to overcrowd the IP.

Once done, set the chicken aside and add the broth, using a wooden spoon scrape up any brown bits from the bottom to avoid the burn notice.

Add the trivet to the bottom.

In a large bowl, toss the vegetables with the remaining 2 tablespoons olive oil, Italian seasoning, paprika, oregano, basil, and minced garlic. Add on top of the trivet.

Add chicken pieces on top of the vegetables.

Top with fresh rosemary sprigs.

Set IP to high pressure and cook for 13 minutes, followed by Natural Release of 5 minutes and after that a quick release.

Sprinkle with parsley and serve.
Nutrition
Calories:
547
kcal
|
Carbohydrates:
38
g
|
Protein:
33
g
|
Fat:
30
g
|
Saturated Fat:
6
g
|
Cholesterol:
140
mg
|
Sodium:
302
mg
|
Potassium:
1408
mg
|
Fiber:
6
g
|
Sugar:
5
g
|
Vitamin A:
5411
IU
|
Vitamin C:
41
mg
|
Calcium:
67
mg
|
Iron:
3
mg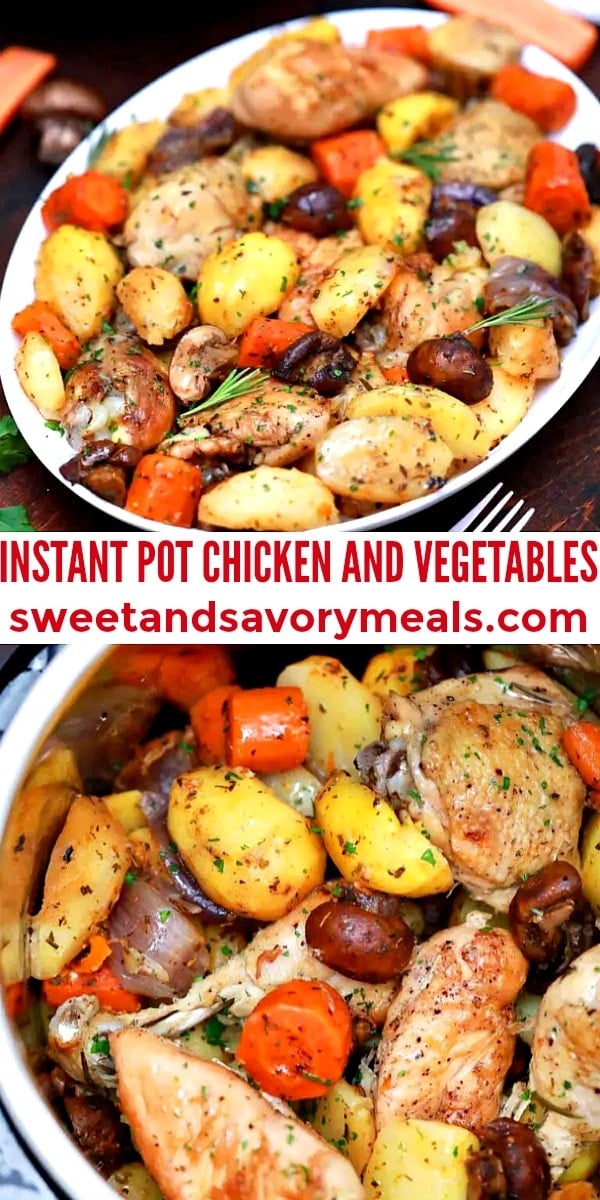 More recipes you might love