Air Fryer Bread is a fast and easy recipe for delicious and fluffy fresh bread without all the hard work and waiting. All you need is a few basic ingredients like flour, yeast, butter, salt, and sugar. Using the dough hook attachment on your stand mixer, there is no kneading required and cooking bread in the air fryer only takes 20 minutes.
If you are looking for other air fryer recipes, try our Air Fryer Falafel with pita bread, hummus, and cucumber or Air Fryer Buffalo Chicken seasoned with buffalo sauce and coated in panko bread crumbs. Another great bread recipe is this Air Fryer French Toast made with brioche bread, brown sugar, cinnamon, and vanilla.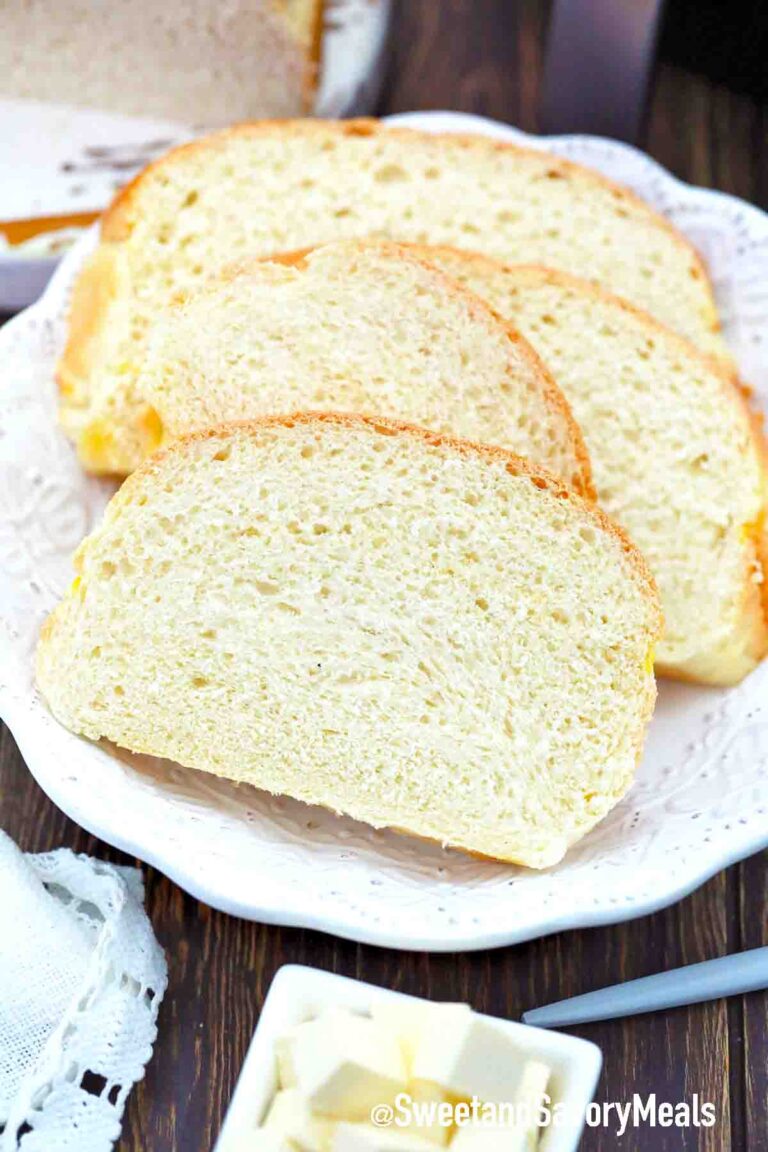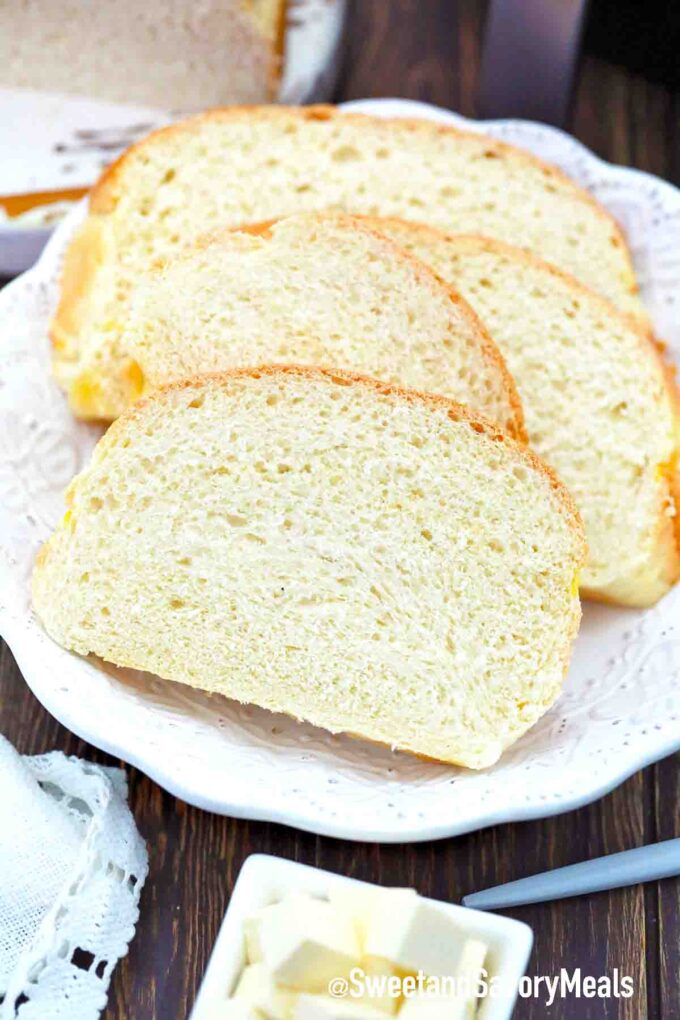 Many people balk at baking bread because it takes so long and can be complicated. Baking bread does not have to be a scary or overwhelming idea. This oven-style air fryer bread recipe is an easy way to bake bread without even turning on the oven and with very little prep time.
Perfect for summer when you do not want to heat up the house. You can have fresh bread on the table in less than a half-hour.
Thinking of making bread in your instant pot? Try our instant pot carrot bread with vanilla and almond or banana bread made with cinnamon and nutmeg for a sweet loaf or this zucchini bread recipe for a different kind of bread loaf. Look for more ideas and other great recipes in our popular recipe section.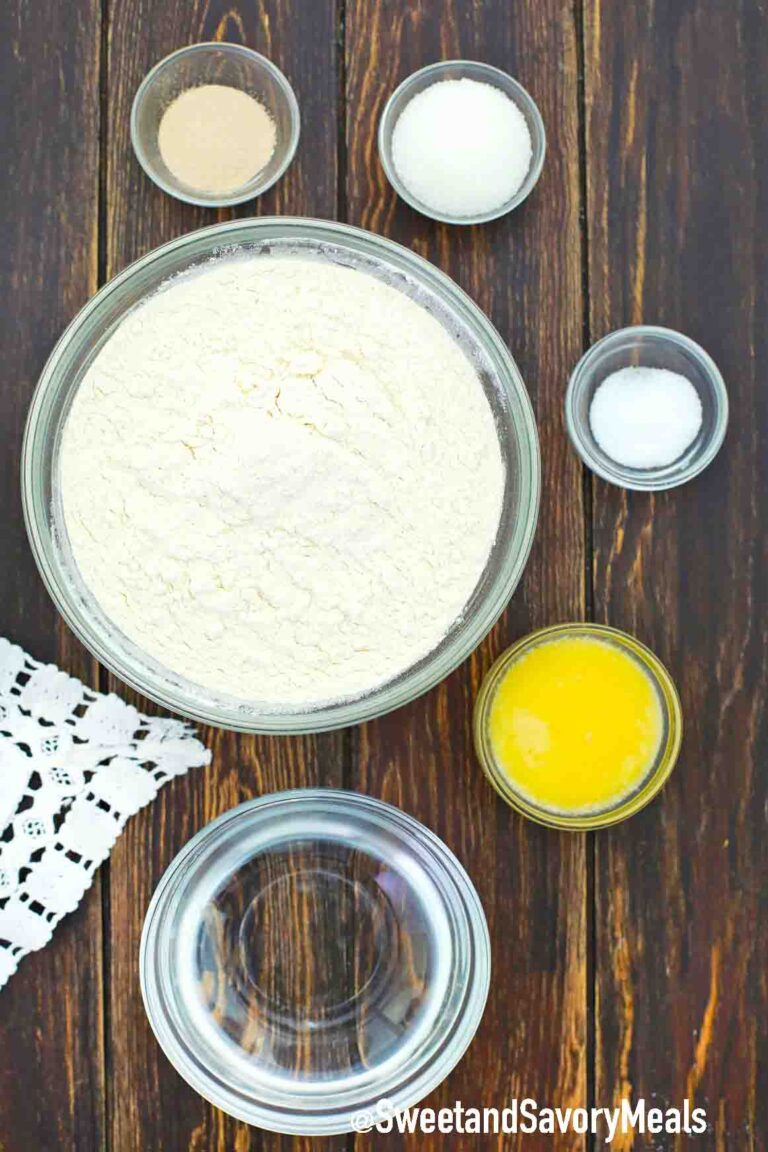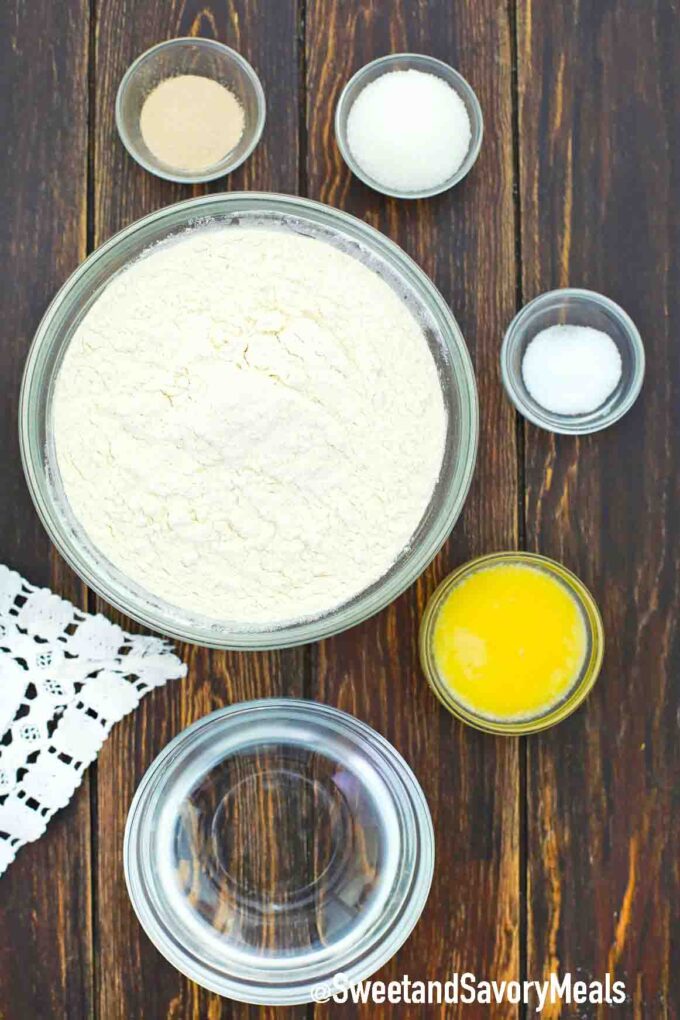 Ingredients needed:
You only need a few common ingredients to make this air fryer bread. You probably already have all of these in your kitchen now. For the exact measurements and step-by-step instructions, scroll down to our recipe card.
Unsalted melted butter: With extra for the pan.
All purpose flour: You can also use bread flour or whole wheat flour.
Active dry yeast
Sugar
Kosher salt
How to make air fryer bread recipe?
Prepare cake pan: First, butter a 6-inch round cake pan and set aside.
Mix the bread dough: Next, mix the salt, sugar, yeast, butter, and one cup of warm water in a stand mixer with a dough hook attachment. Start the mixer on low speed and add one-half cup of flour at a time, waiting for it to be fully mixed in before adding another half-cup. After all the flour is added, let it knead on medium speed for eight minutes.

Let bread dough rise: Once finished kneading, transfer dough to the prepared cake pan and let it rise until it has doubled in size. This usually takes about an hour.

Air fry bread: Finally, add your pan to the air fryer basket preheated to 380 degrees F. Bake bread for 20 minutes or when the bread dough is golden brown on top. The temperature should read 200 degrees F with an instant read thermometer when freshly baked bread is done.

Let fresh bread rest: Before removing, allow your bread to rest for five minutes in the pan. Then, turn it out on a cooling rack and let the bread cool completely.

Serve fresh bread: Once it has cooled, serve bread fresh with butter or margarine.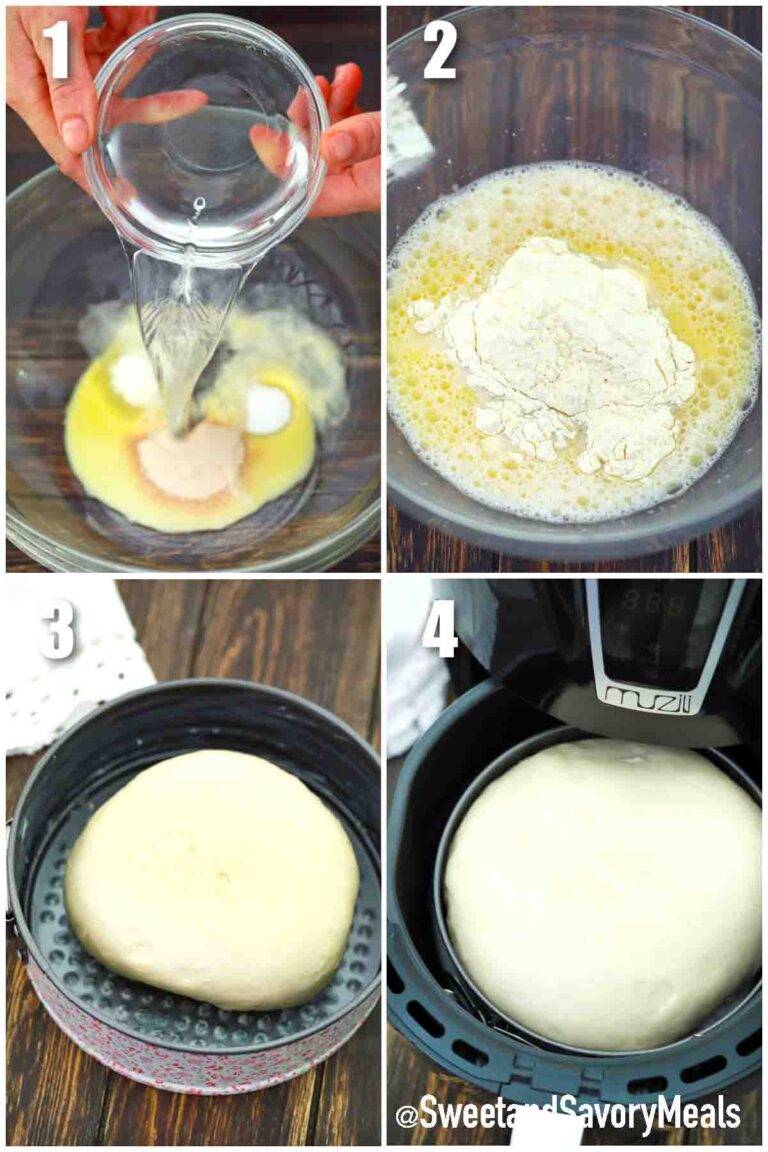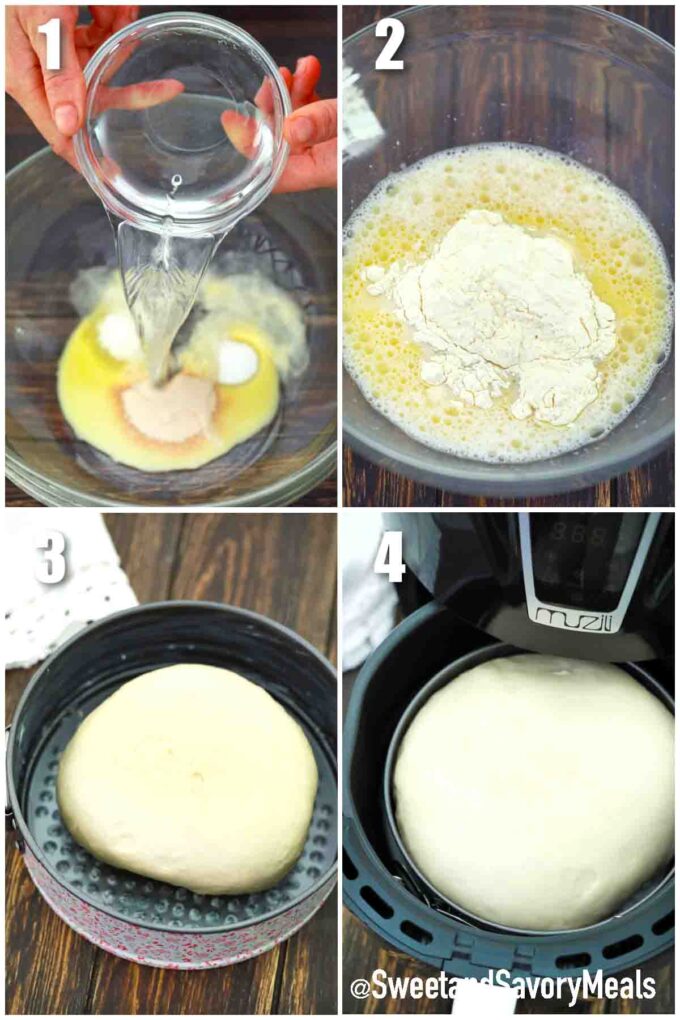 How to make slow cooker bread:
Prepare slow cooker: To begin, line your slow cooker with parchment paper.

Mix the dough: After, combine yeast and sugar in the bowl of your stand mixer. Add water and stir it until it is combined. Then, add oil and salt.

Knead the dough: Then, on low speed with a dough hook, add flour, one-half cup at a time, letting it mix in before adding more. Let it knead for eight minutes on medium speed.

Let dough rise: Next, shape the dough into a ball and let it sit in the bowl or on a floured surface for one hour until it has doubled in size.
Bake bread: After dough rises, place dough ball in the slow cooker and cover. Let bread bake on high for about two hours. The internal temperature should be 200 degrees F but the top will not be brown or hard.
Make it crispy: To get a golden-brown crispy crust, place it on a baking sheet and broil it in the oven for two to three minutes.

Let it cool: Lastly, let cool for 20 minutes on the pan before moving it to a cooling rack.

Serve bread: After it is cool, slice and serve with butter or margarine.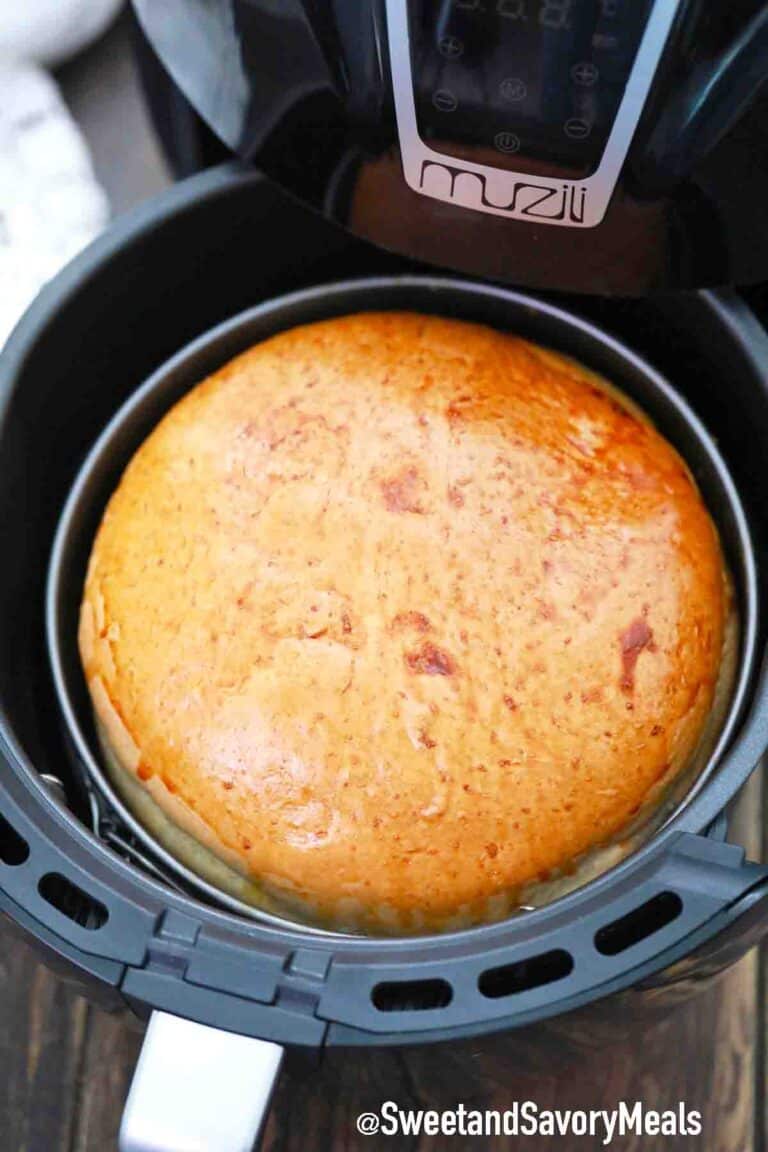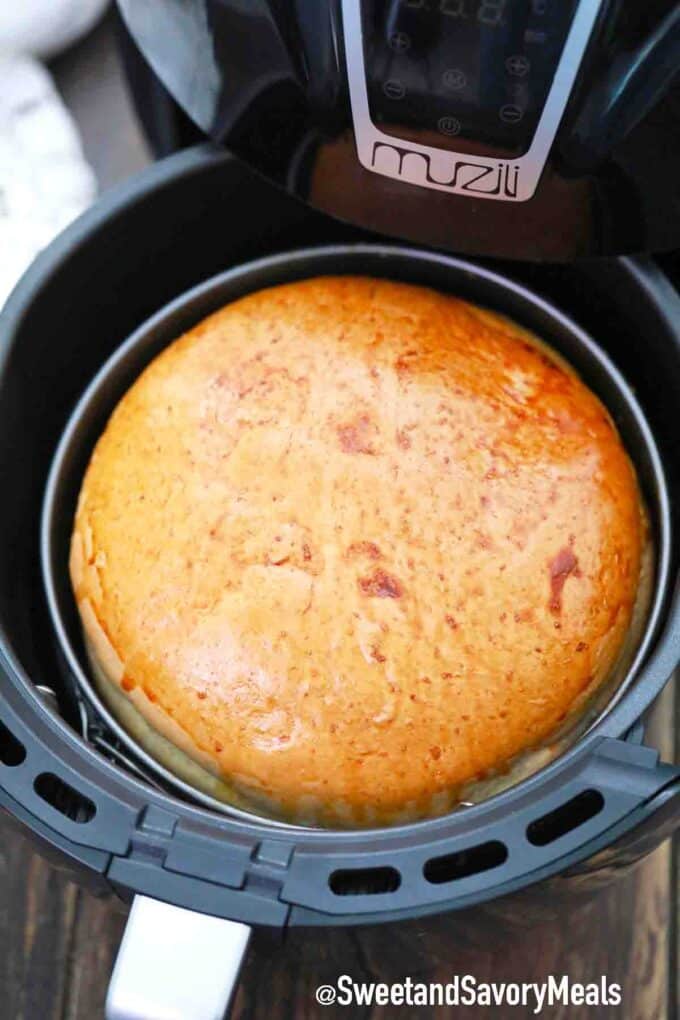 Recipe variations:
Whole wheat flour: This recipe makes white bread, but you can use other types of flour such as wheat, almond, or bread flour.
Add some seeds: Go ahead and add sesame seeds, poppy seeds, or chia seeds for extra crunchiness and fiber.

Raisin bread: For fruity bread, add a cup of raisins or cranberries.

Chocolate chips: Chocolate lovers would enjoy a cup of chocolate chips mixed into the dough.

Other chips: You could also try peanut butter or butterscotch chips for something different.

Sweet loaf: Add cinnamon and nutmeg for a lightly sweet loaf.
How to serve:
This easy recipe lets you have a perfect loaf of bread in less than 30 minutes (minus the rising time) so you can enjoy it with your family for dinner or slice it and make sandwiches for lunch. However you decide to eat your air fryer bread, it will definitely be delicious. Try some of these awesome serving suggestions:
After the bread cools completely, cut it into thick slices and make french toast. This is a delicious breakfast or snack anytime.

You can also spread your freshly baked bread with jam or preserves like our instant pot strawberry jam or easy peach jam.

This is the perfect loaf for making a bread pizza. Just top with marinara sauce, ground beef, parmesan, and shredded cheese.

Another way to enjoy this air fryer bread is by topping it with homemade blueberry sauce.
This air fryer bread recipe is also good to make sandwiches or toast.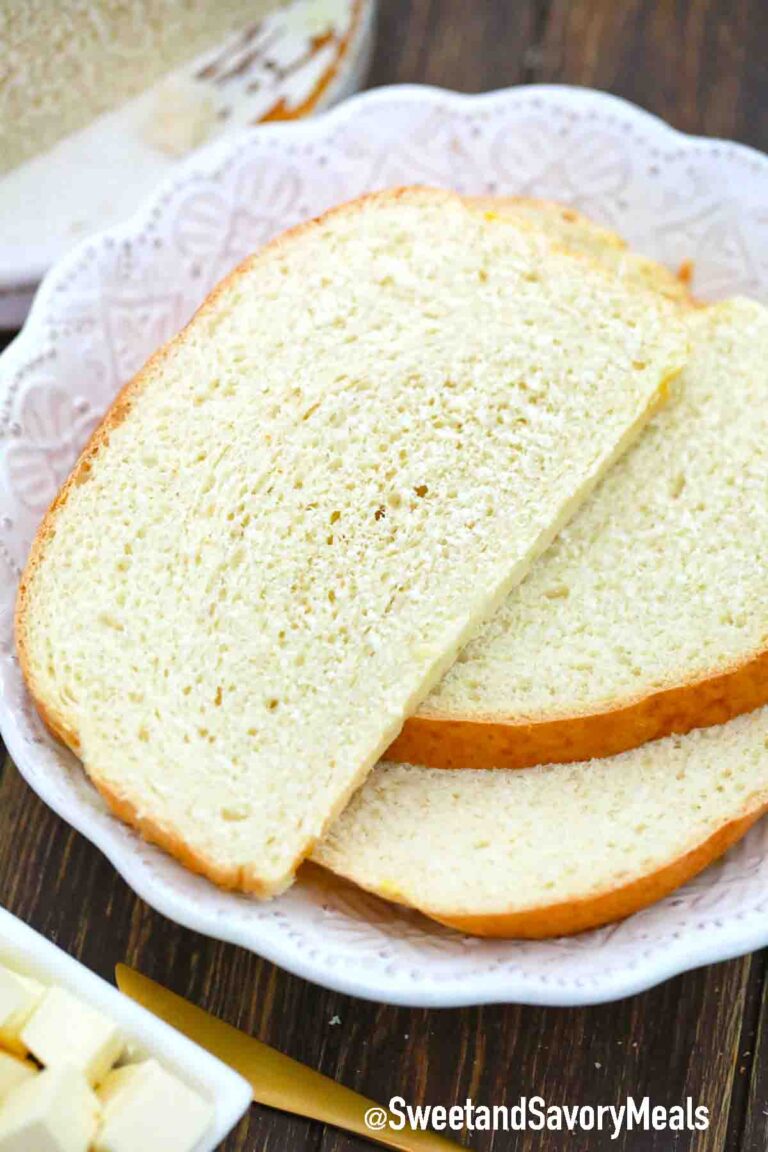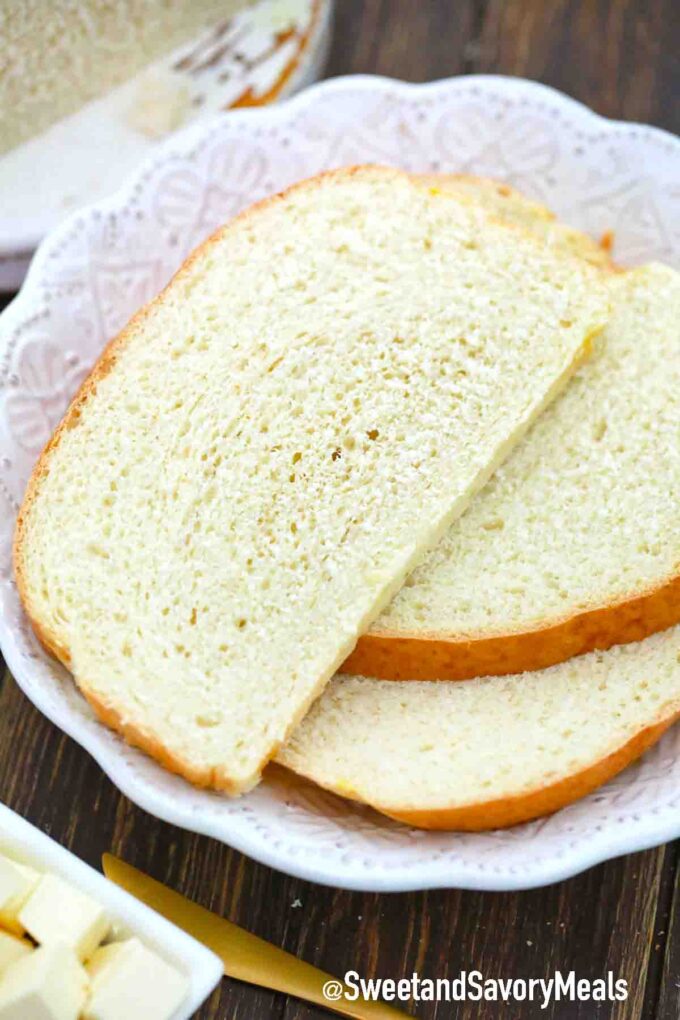 Frequently asked questions
Why is my air fryer bread so dry?
One of the main reason air fryer bread turns out dry is too much flour. It is all in how you measure your flour. Scoop it into the measuring cup with a spoon and then level it with the back of a knife for the best results. Scooping out flour with the measuring cup will cause you to have too much flour.
Why won't my bread dough rise?
Always check the date on your yeast. It will not work if it is too old. Even if it is not past the expiration date, you should test it before using it. To proof yeast, add one teaspoon of sugar and one envelope of yeast with 1/4 cup warm water. If it bubbles after 10 minutes, it is still good.
Why does bread dough need to rise first?
Bread rises when the yeast eats the sugar and puts out carbon dioxide. The carbon dioxide gets stuck in the gluten and causes the dough to rise. The more gas you get from the yeast, the higher the bread will rise. If it does not rise, your bread will be heavy and dense.
Is air fryer bread healthy?
Each serving of bread has six grams of protein, one gram of monounsaturated fat and polyunsaturated fat, two grams of fiber, and 446 units of vitamin A. It also has 28 milligrams of calcium and two milligrams of iron. It is low in saturated fat, carbs, cholesterol, and sugar.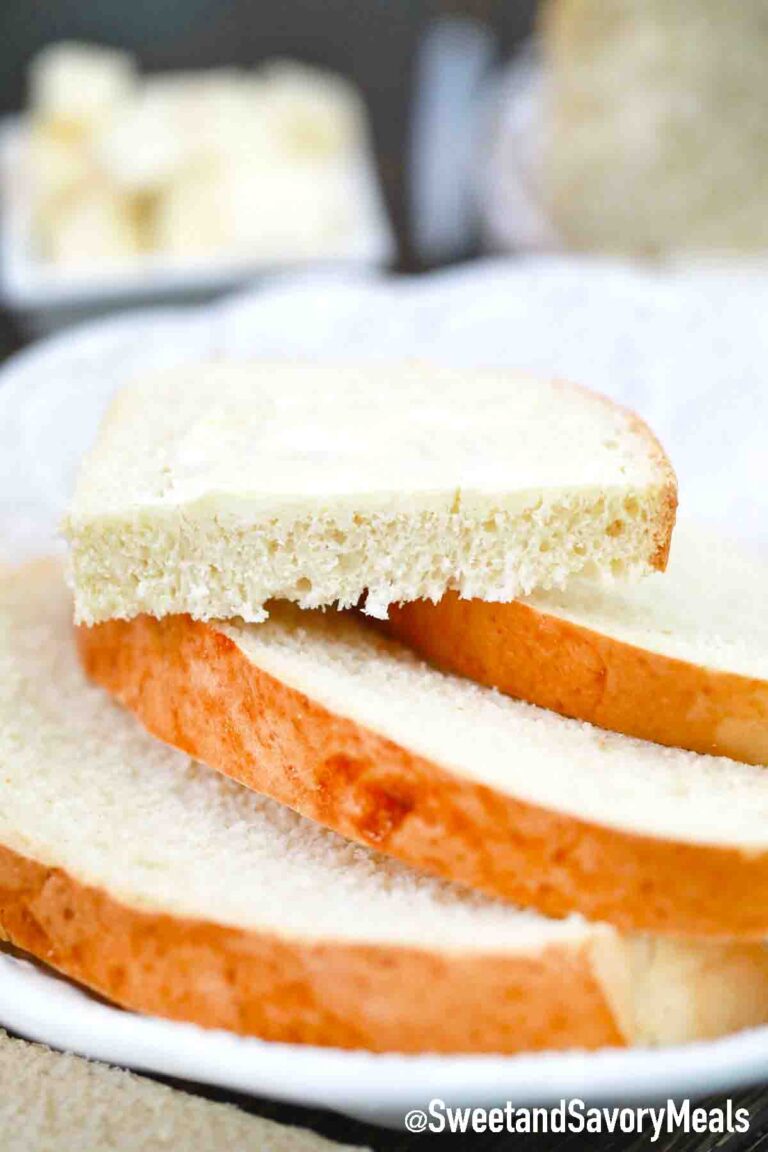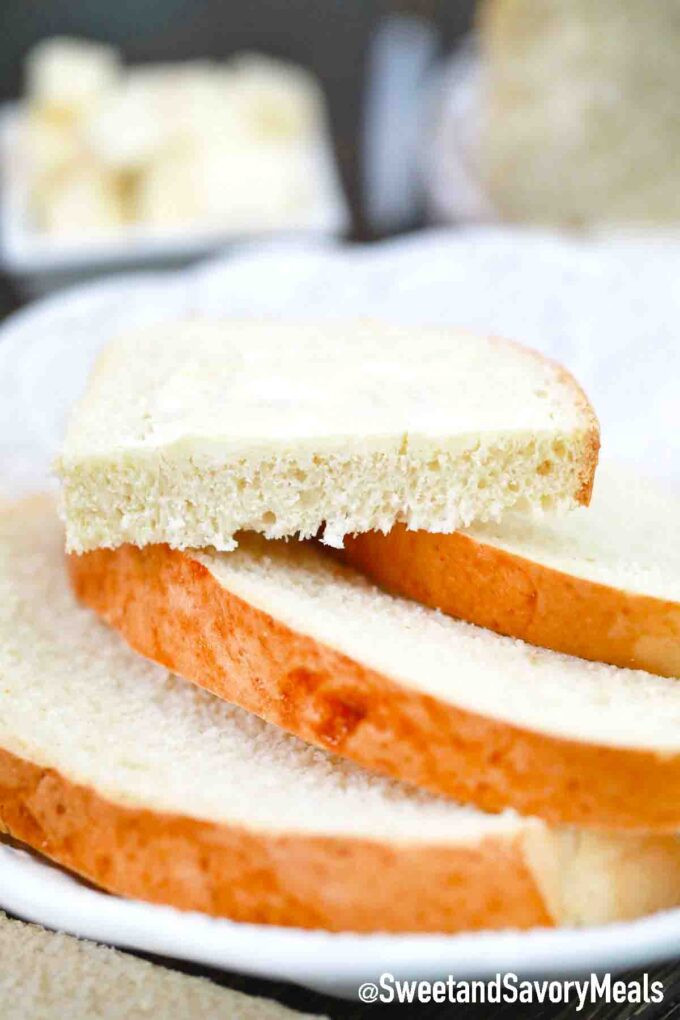 How to store leftovers:
Store: Leftover air fryer bread can be stored for several days at room temperature or a week in the fridge. For fresh bread, wrap it in plastic wrap and aluminum foil before putting it in an airtight container.

Freeze: You can also freeze your bread for up to six months wrapped in plastic wrap and foil in a freezer bag. Or if you want to make extra for later, store the dough in frozen rolls for up to nine months.
Thaw: Thaw frozen rolls in the refrigerator overnight before preparing.

Reheat: To reheat frozen bread, slice and warm it in the microwave for 30 seconds on medium power. For frozen dough, let it thaw completely and air fry as in the directions above.
More air fryer recipes:
Air fryer bread making tips:
If you have a large air fryer oven, you can double this recipe and air fry in loaf pans.

Coat the bread loaf with egg wash for a golden-brown crust.

For slow cooker bread, spray your slow cooker with olive oil or nonstick spray before placing the parchment paper so it stays in place.

If you do not have a thermometer, you can check for doneness by tapping on the bottom. If it sounds hollow, the bread is done.

It is important to let your bread cool until it is barely warm so it is easier to slice.

Cover dough with a clean kitchen towel for faster rising.
Cooking time may vary depending on your style, size, and brand of the air fryer.
Some air fryers are smaller than others. If your air fryer basket is too small, use mini loaf pans.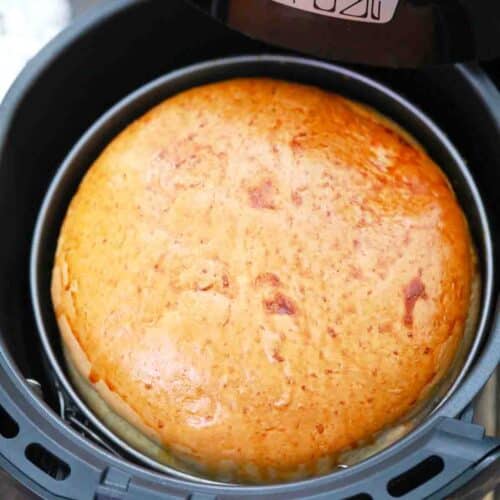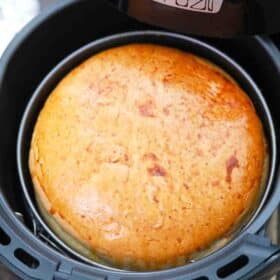 Air Fryer Bread
Air Fryer Bread is a fast and easy recipe for delicious and fluffy fresh bread without all the hard work and waiting.
Save
Share
Print
Pin
Rate
Ingredients
3

tablespoons

unsalted butter

(melted - plus more for the pan)

1 1/2

teaspoons

active dry yeast

2

teaspoons

sugar

1 1/2

teaspoons

kosher salt

2 2/3

cups

all-purpose flour

(spoon and level excess)
Instructions
Lightly butter a 6-by-3-inch round pan and set it aside.

In the bowl of a stand mixer fitted with the dough hook, combine butter, yeast, sugar, salt, and 1 cup of warm water. Stir on low speed for about 30 seconds.

With the mixer on low speed add 1/2 cup of the flour, and mix until fully incorporated, keep adding the flour 1/2 cup at a time and mixing after each addition.

Once all of the flour is added, knead on medium speed for 8-10 minutes.

After that, transfer the dough to the prepared pan, cover, and let rise in a dry warm place until doubled in size, about 1 hour.

Transfer the pan. to a 3.5-quart air fryer and cook at 380 degrees F for about 20-25 minutes. The bread crust should be a dark brown and the internal temperature should reach 200 degrees F.

Once done, remove from the basket and let cool in the pan for 5 minutes, then transfer it to a wire rack to cool completely.
Nutrition
Calories:
150
kcal
|
Carbohydrates:
25
g
|
Protein:
4
g
|
Fat:
5
g
|
Saturated Fat:
2
g
|
Polyunsaturated Fat:
1
g
|
Monounsaturated Fat:
1
g
|
Trans Fat:
1
g
|
Cholesterol:
9
mg
|
Sodium:
378
mg
|
Potassium:
98
mg
|
Fiber:
2
g
|
Sugar:
1
g
|
Vitamin A:
170
IU
|
Vitamin C:
1
mg
|
Calcium:
43
mg
|
Iron:
2
mg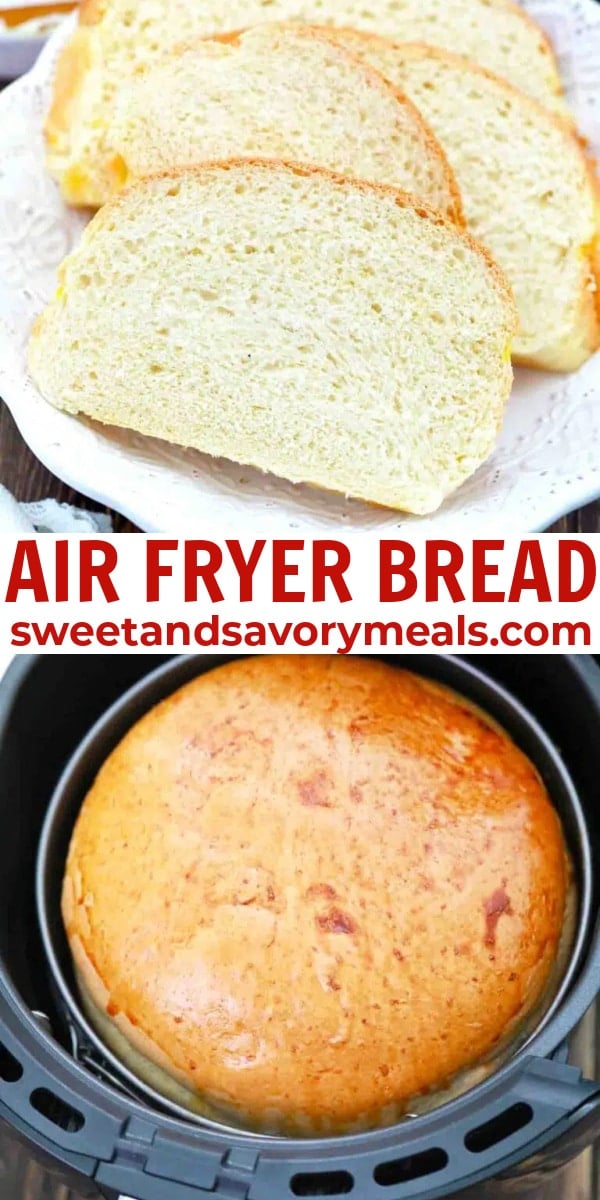 More recipes you might love