Crispy Air Fryer Artichokes
Air Fryer Artichokes are crispy on the outside and tender on the inside with a tanginess of lemon zest and dipped in garlic aioli sauce. In less than 15 minutes, you can have a delicious healthy meal, snack, or appetizer that your whole family will love. This air fryer artichoke recipe is so easy and has little prep time so you can make it every day if you like.
Looking for other air fryer recipes? Our Air Fryer Buffalo Wings made with panko breadcrumbs, chicken breasts, and buffalo sauce are the perfect appetizer for any day. If you would rather steam your chokes, try our Instant Pot Steamed Artichokes with garlic powder, chicken broth, and lemon juice.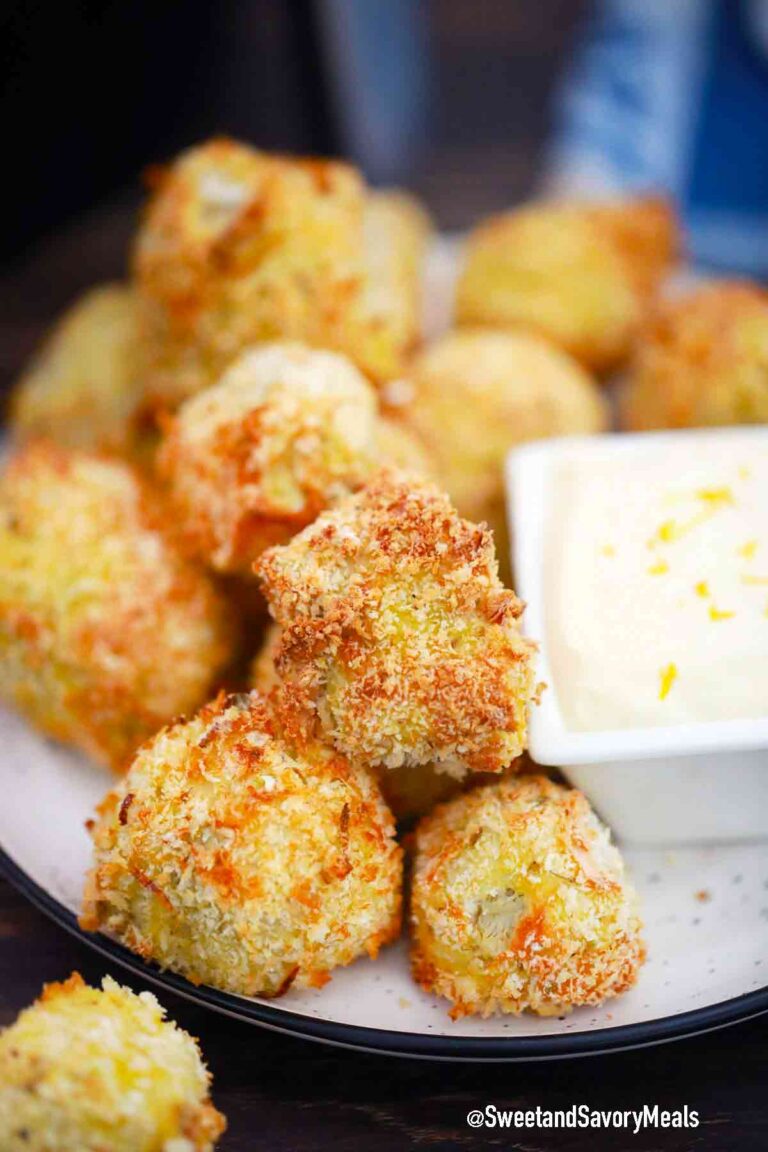 Whether you eat artichokes all the time or if this is your first time air frying this tasty veggie, you will love this recipe. You can make this air fryer artichoke recipe in half the time it takes to parboil artichokes or cook them in the oven.
Fried artichokes are the perfect appetizer for game day and when air-fried, you can feel good about serving them and eating them. There is very little prep time and you don't need a bunch of ingredients for this air fryer artichokes recipe. And the garlic aioli dip is stellar.
Or try this savory Spinach Artichoke Dip made with cream cheese, artichoke hearts, and frozen spinach.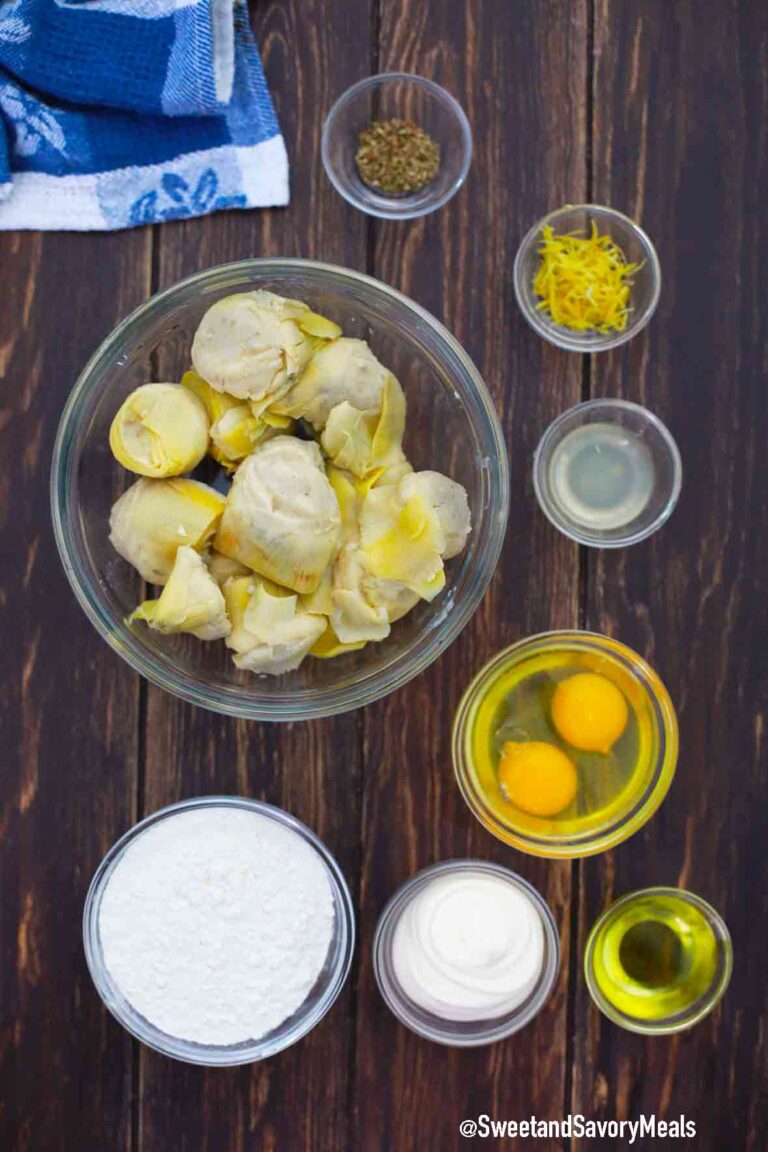 Ingredients needed:
These are the basic ingredients for air fryer artichokes. For step-by-step instructions and precise measurements, scroll down to our handy, printable recipe card.
Artichoke hearts in water, drained
All-purpose flour
Large eggs
Panko
Grated lemon zest
Dried Italian herbs
Kosher salt
Black pepper
Olive oil spray
For the garlic aioli sauce:
Mayonnaise
Garlic cloves: Grated.
Fresh lemon juice
Extra-virgin olive oil
Kosher salt
Freshly ground black pepper: To taste.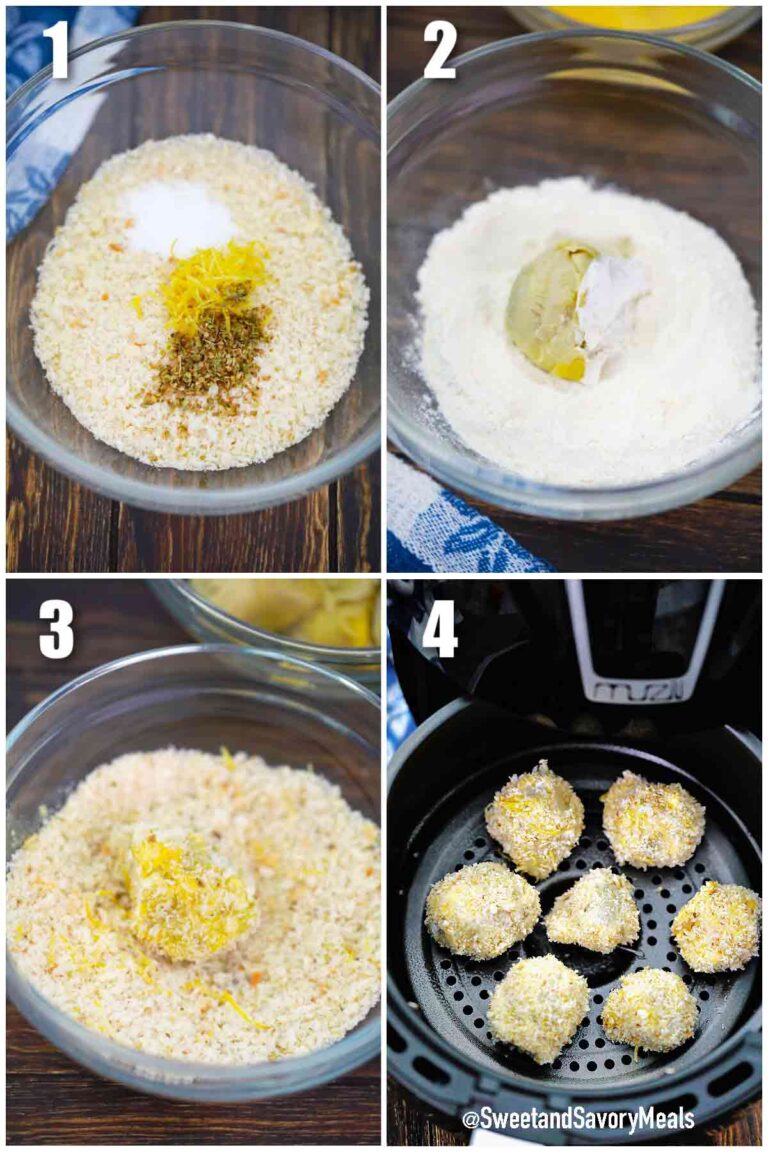 How to make Air fryer artichokes recipe?
Preheat your air fryer: First, preheat an air fryer to 360˚ F.
Prepare artichokes: In the meantime, pat the artichokes dry and cut them in half lengthwise. Whisk the flour into a shallow bowl and beat the eggs in another bowl. In a third bowl, whisk the kosher salt, dried Italian herbs, lemon zest, and panko breadcrumbs.
Coat the artichokes: Then, coat the artichokes first in the flour, then the egg, and then the panko mixture.
Cook artichokes: After, lightly spray the artichokes with cooking spray or olive oil and arrange them in the air fryer basket sprayed-side down in a single layer. Cook artichokes for seven minutes before spraying them with more olive oil. Flip and air fry for another seven minutes until they are golden brown.
Serve: Stir the salt, olive oil, fresh lemon juice, garlic, and mayonnaise in another small bowl and serve it with the air fryer roasted artichokes. Season with salt and pepper to taste.
How to make crispy artichokes in the oven:
Preheat: To begin, preheat your oven to 400 degrees F and prepare a baking dish with olive oil or non-stick cooking spray.

Prepare artichokes: While you wait, cut your artichokes in half lengthwise and pat them dry.

Prepare to bread: Next, put your flour in a shallow bowl and your beaten eggs in another. Then, whisk the salt, oregano, lemon zest, and breadcrumbs in another shallow dish.

Bread the artichokes: After, dredge artichokes in the flour, egg, and breadcrumbs in that order, shaking a bit each time to get rid of excess liquid and crumbs.

Cook your artichokes: Cook artichokes for 30 to 40 minutes or until it is golden brown. It is completely done when the artichoke leaves pull off easily.

Make the garlic aioli: To make the dipping sauce, stir the salt, olive oil, fresh lemon juice, garlic, and mayonnaise in another small bowl.
Serve: Finally, serve your roasted artichokes with the garlic aioli dipping sauce and lemon wedges.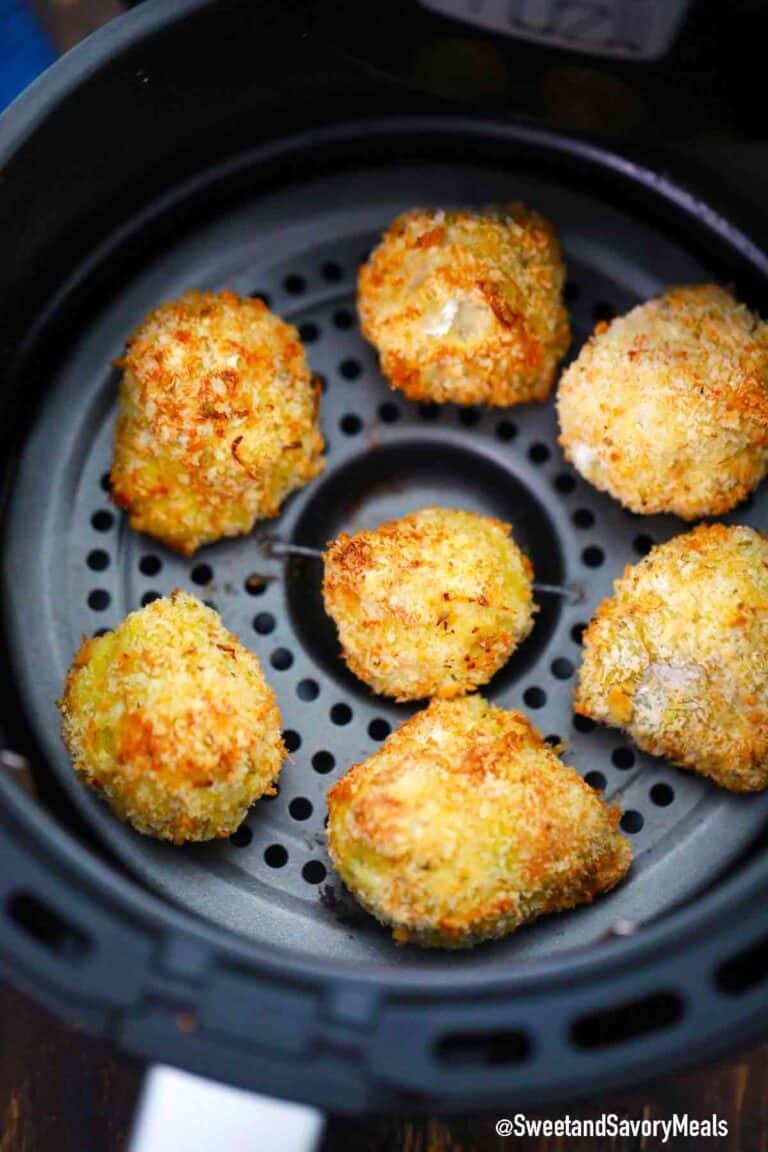 Recipe variations:
Another oil: Try using avocado oil for a slightly different taste.
Lemon juice: If you don't have fresh lemon juice, store-bought is just fine.
Garlic powder: Sprinkle more garlic powder on your air-fried artichokes for extra garlicky flavor.
More garlic: Tuck garlic cloves in the middle before you cook artichoke for even more flavor.

Fresh artichokes: If you have the time and they are in season, go ahead and use fresh artichokes if you want to.
Dipping sauce: Add your own ideas to the dipping sauce like freshly ground black pepper to taste, cream cheese, sour cream, dried dijon mustard, buffalo hot sauce, or whatever else you like.
How to serve:
Air fryer artichokes are easy to make and taste delicious for an appetizer, snack, or even a main entree. Serve with your favorite artichoke dipping sauce and lemon wedges or try one of these serving ideas:
You can try all sorts of dip options for your air fryer artichokes. Try our savory smoked salmon dip or this creamy chicken Caesar dip.

It does not have to be a dip! Try dipping your air fryer artichokes in sour cream, whipped cream cheese, or melted butter.

Spice up your air fryer artichokes with some fresh herbs and spices like basil, thyme, or parsley.

Try sprinkling some shredded cheese on your artichoke halves such as cheddar or mozzarella. Parmesan cheese is also a tasty topping.

Remove the outer leaves and just serve the air fryer artichoke hearts in a salad.

Alternatively, pour a bit of olive oil on top of your air fryer artichoke halves and just sprinkle it with salt and pepper to taste.
Whether you make your artichokes in the oven or air fryer, it always tastes great with roasted red pepper tomato feta sauce.

Why not use your leftovers to make a dip? Blend what's left of your air-fried artichokes with cream cheese or sour cream, some garlic powder, and season with salt and pepper.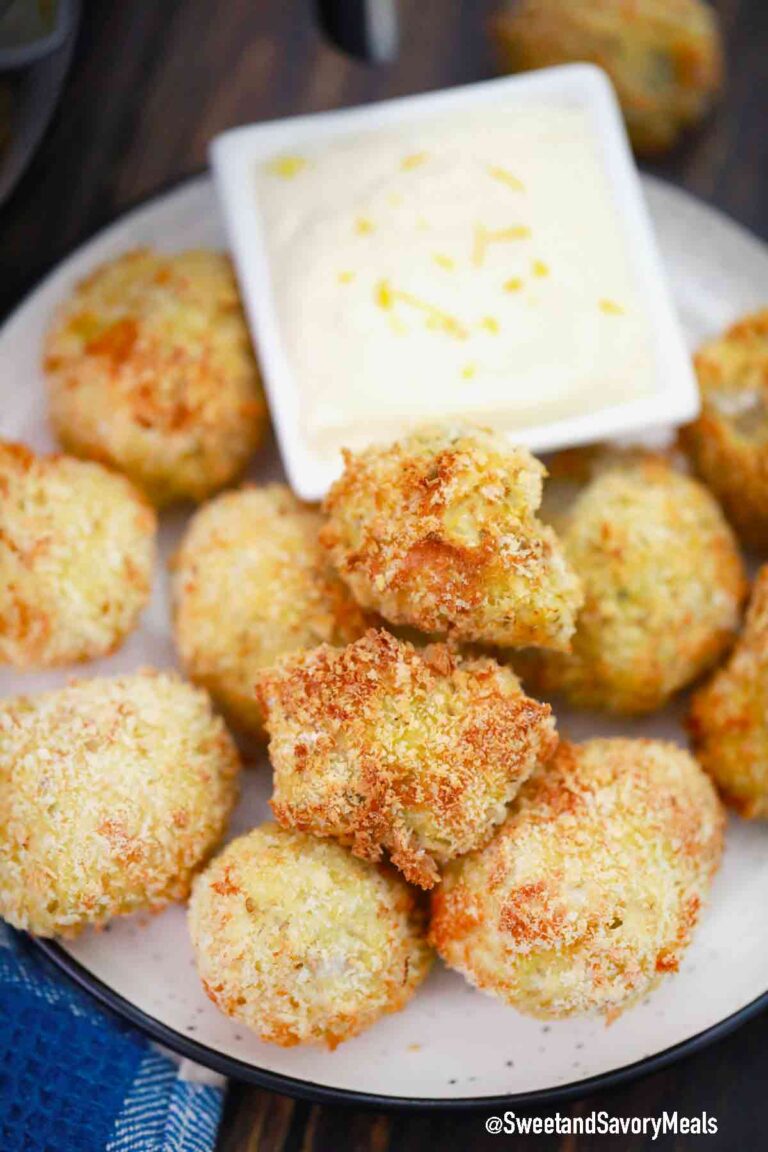 Frequently asked questions
How do I choose the best fresh artichokes?
The best time of year to buy fresh artichokes is from March through June because that is when they are in season. To get the best artichokes, pick the ones that are a dark green color and heavy for their size. You also want the leaves to be closed up tight and very thick.
How do I prepare a fresh artichoke?
If you are using a whole artichoke, first you want to trim off the stem. Then, pull off the tough outer leaves and throw them away. After that, cut 1/2 inch off the top of the artichoke with a sharp knife. A serrated knife works well for this.
Next, use your kitchen shears to cut off the pointed ends of the rest of the artichoke leaves, and then cut your artichoke in half lengthwise with the knife. Last, use a spoon to remove the fuzzy choke, which is the hairy middle of the artichoke. Place a lemon wedge in the empty space as a garnish.
Are air fryer artichokes healthy?
Artichokes are considered to be a superfood, which means it has a lot of nutrients and antioxidants. Not only is it low in calories and full of vitamins, but it is also helpful in lowering blood pressure, cholesterol, and heart disease. They are also full of fiber, magnesium, potassium, and vitamin C.
Is air frying artichokes easy?
Making artichokes in the air fryer is simple. To air-fry artichokes, it takes very little time and preparation. Using the air fryer means you do not have to use a lot of oil so this is a healthy recipe. When you air fry artichokes, you can just use salt and pepper to taste or add breading like in this recipe.
There are many air fryer recipes for artichoke halves and hearts, so air frying is a great choice for making this one-dish cuisine. You can use a whole artichoke, just the hearts, or artichoke halves. Season with salt and pepper, put it in the air fryer, and air fry for 14 to 15 minutes, depending on the size of your air fryer.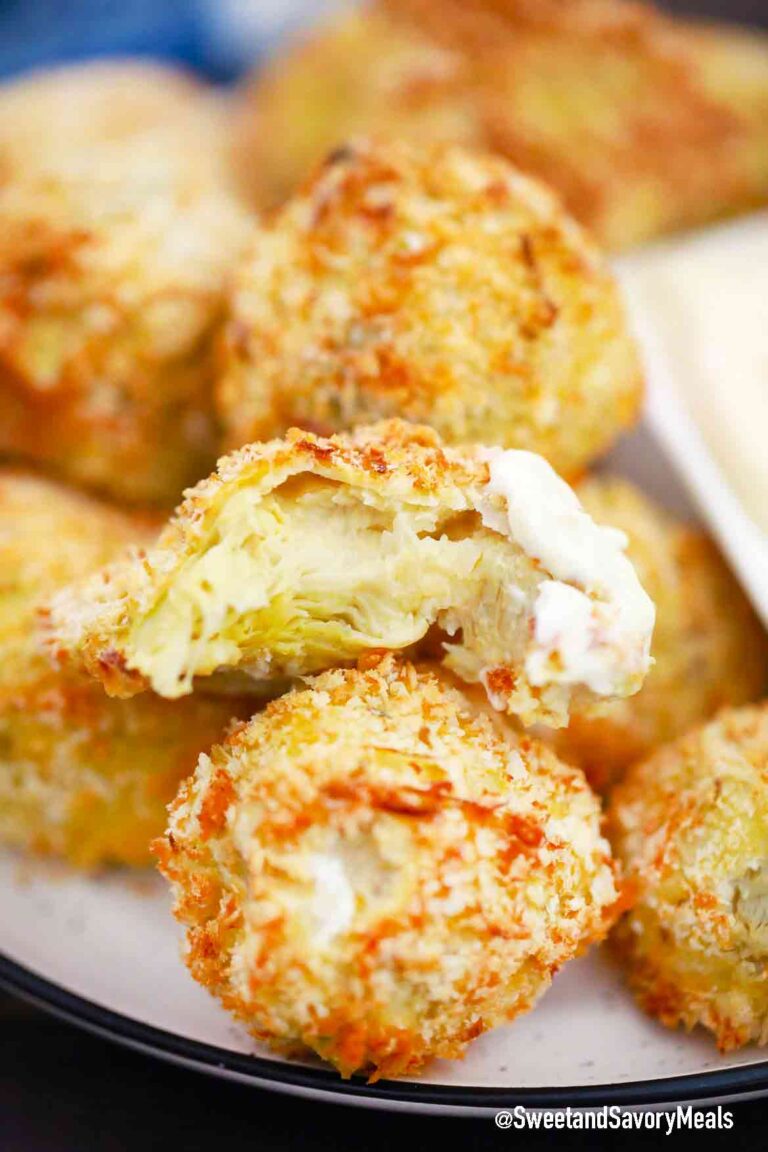 How to store leftovers:
Store: After your leftover air fryer artichokes cool down to room temperature, they will stay fresh in the fridge in an airtight container for several days.

Freeze: You can also freeze your air fryer artichokes for up to three months.
Thaw: Be sure to put the frozen air-fried artichokes in the fridge to thaw overnight before serving.
Reheat: Reheat in the microwave for 90 seconds in a microwave-safe dish or in the air fryer for one minute.
More air fryer appetizers:
Recipe tips:
Because artichokes vary in shape and size, you may need more or less seasoning.

The entire hearts of artichokes are completely edible.

Similarly, you may need to adjust the cooking time depending on how large or small your artichokes are. Large artichokes need extra time, of course, and small ones will need less.

For best results use extra virgin olive oil on your artichokes.
Don't forget the black pepper. It goes great with artichokes in the air fryer or no matter how you cook them.

If your air fryer basket is small, you may have to cook in batches. Keep the cooked ones warm in the oven.

To prevent browning as you prepare your dish, brush the cut sides with lemon juice.

Different air fryer models and brands will vary slightly, so you may need to adjust the temperature and cooking time.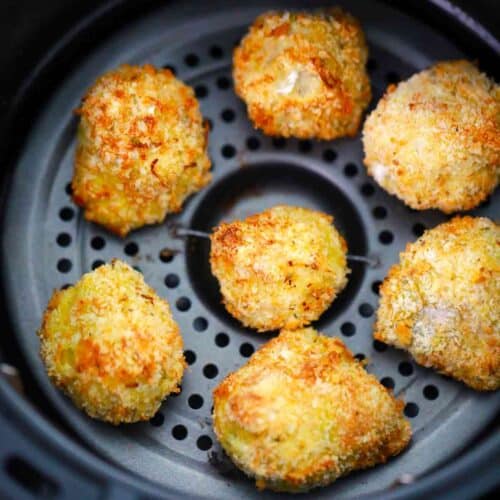 Air Fryer Artichokes
Air Fryer Artichokes are crispy on the outside and tender on the inside with a tanginess of lemon zest and dipped in garlic aioli sauce.
Save
Share
Print
Pin
Rate
Ingredients
2

14.5 -ounce

cans artichoke hearts in water

(drained)

1/2

cup

all-purpose flour

2

large eggs

1

cup

panko bread crumbs

1

teaspoon

grated lemon zest

1

teaspoon

dried Italian herbs

2

tablespoons

grated parmesan

(optional)

1/2

teaspoon

kosher salt

Cooking spray

(for frying)
Lemon garlic aioli:
1/4

cup

mayonnaise

3

cloves

garlic

(minced)

2

teaspoons

fresh lemon juice

1/2

tablespoon

extra-virgin olive oil

salt

(to taste)
Instructions
Make the artichokes:
Preheat the air fryer to 360 degrees F.

Pat dry the artichoke hearts and slice them in half lengthwise.

Next, add the flour to a shallow bowl; lightly beat the eggs in a second shallow bowl.

In the third shallow bowl, stir the panko, lemon zest, Italian herbs, and kosher salt.

After that, coat the artichokes in flour, then dip in the beaten egg, then toss in the panko mixture.

Lightly coat the artichokes with cooking spray and place sprayed side down in the air fryer basket in one even layer, without touching each other. You may need to work in batches. Cook for 7 minutes.

Spray the tops with more olive oil, flip and cook until golden brown, for about 7 more minutes.
Lemon garlic aioli:
Whisk all the ingredients in a small bowl.

Serve with the artichokes with the sauce.
Nutrition
Calories:
273
kcal
|
Carbohydrates:
23
g
|
Protein:
7
g
|
Fat:
17
g
|
Saturated Fat:
3
g
|
Polyunsaturated Fat:
8
g
|
Monounsaturated Fat:
5
g
|
Trans Fat:
1
g
|
Cholesterol:
90
mg
|
Sodium:
567
mg
|
Potassium:
114
mg
|
Fiber:
2
g
|
Sugar:
1
g
|
Vitamin A:
194
IU
|
Vitamin C:
2
mg
|
Calcium:
91
mg
|
Iron:
2
mg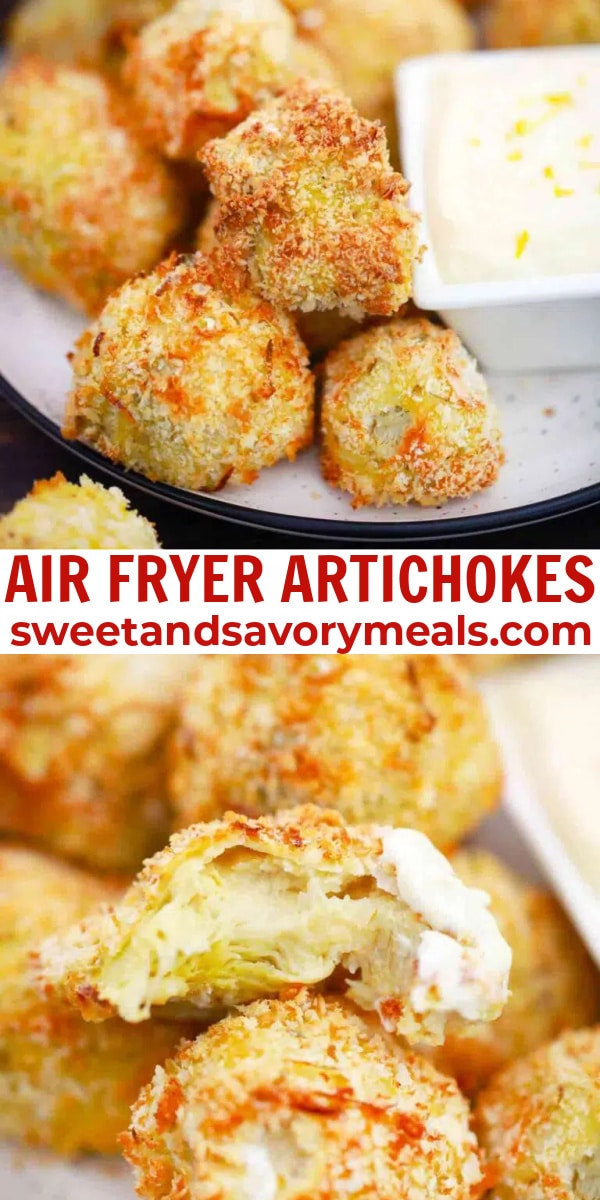 More recipes you might love