Air Fryer Ranch Chickpeas [Video]
Last updated on August 12th, 2022 at 06:04 pm
Air Fryer Ranch Chickpeas are a healthy snack that tastes delicious and only takes a few minutes to make with just four ingredients. Crispy chickpeas are a perfect substitute for French fries or potato chips and may even be one of your family's favorite snacks.
For more air fryer recipes, try our AF Falafel made with pita bread, hummus, and cucumber or AF Pasta Chips with smoked paprika, parmesan cheese, and Italian dressing.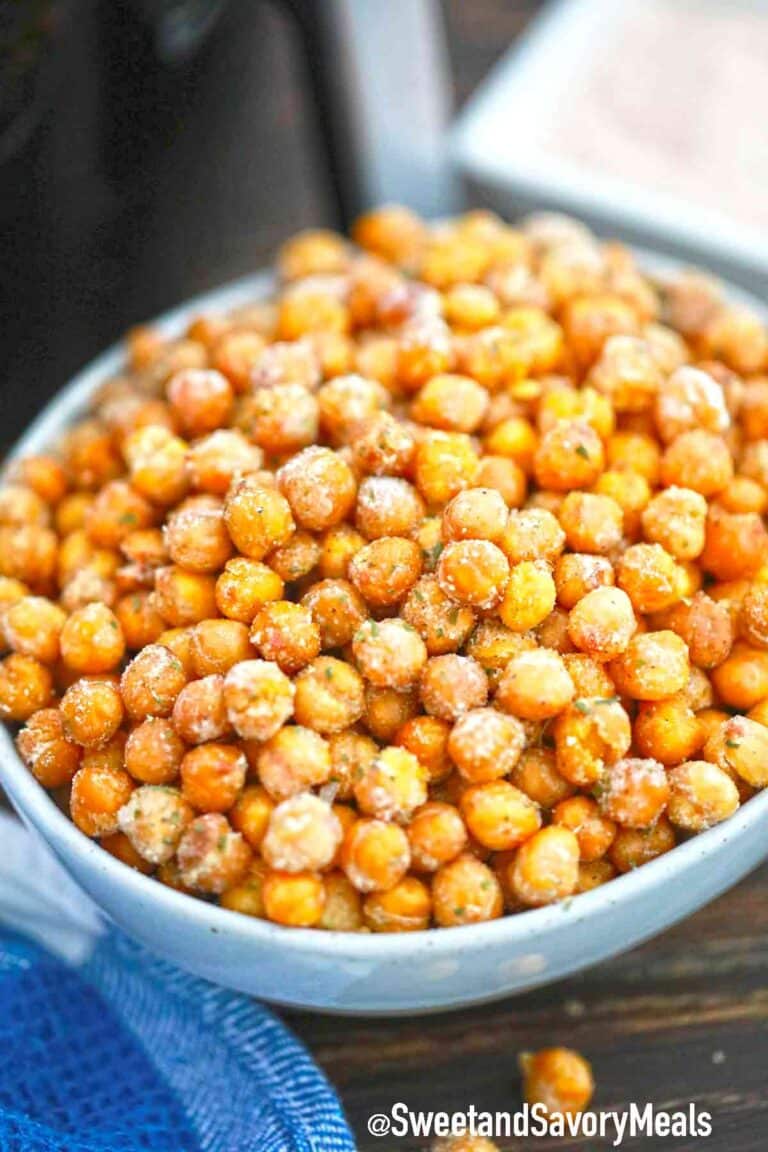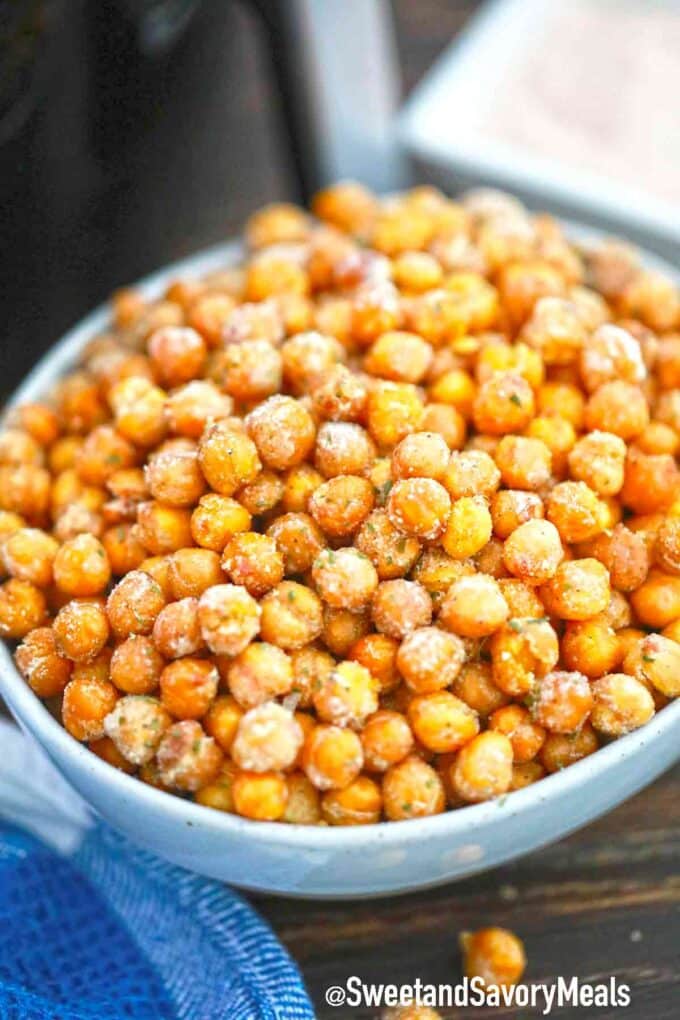 Also known as garbanzo beans, these crispy air fryer chickpeas are the perfect addition to anyone's meal plans as an appetizer, side dish, or just something to munch on while watching a movie with the family.
Use your favorite seasonings instead of the ranch to make it your own. You can also serve these tasty treats in this Easy Chickpea Salad made with feta cheese and red wine vinegar.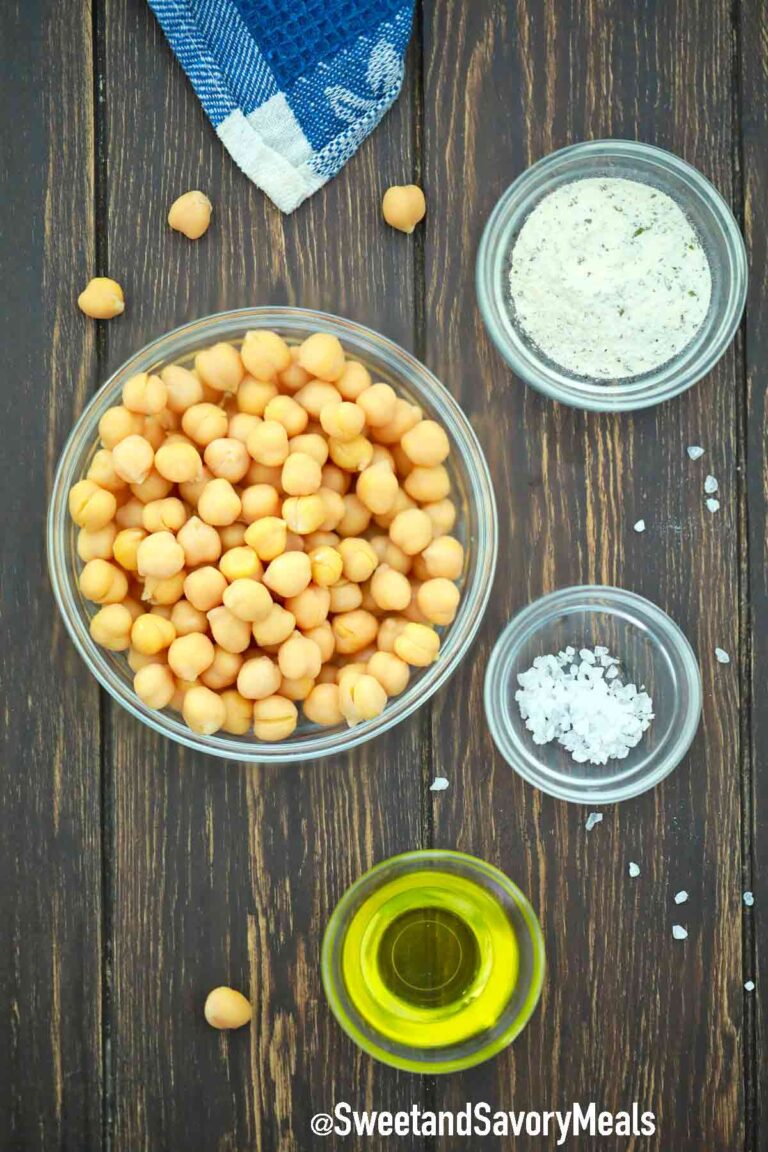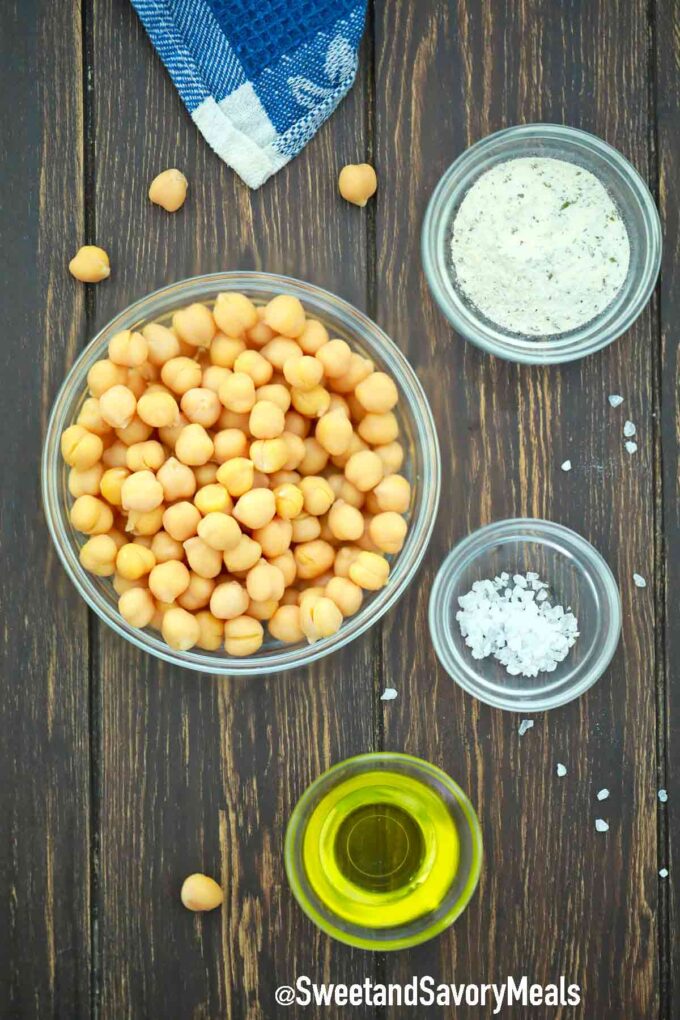 Ingredients needed:
To make this easy snack, you just need these few ingredients. To see the exact measurements, scroll down to our recipe card.
Can of chickpeas: Drained, rinsed, and patted dry with a paper towel.
Olive oil: Extra virgin olive oil for best results.
Sea salt: Finely ground.
Ranch seasoning
How to make air fryer ranch chickpeas recipe?
Preheat: First, preheat a 6-quart air fryer to 375 degrees F.

Toss: Meanwhile, place chickpeas in a large bowl and toss with olive oil and ¼ teaspoon salt. Or just spray chickpeas with cooking spray before salting.
Fry: Last, add the peas to the basket of the air fryer in a single layer and fry for 20 to 22 minutes or until they are golden and crispy. Shake the basket a few times during the cooking process to make sure they cook evenly.

Serve: Finally, remove the warm peas and put them in the ranch dressing mix.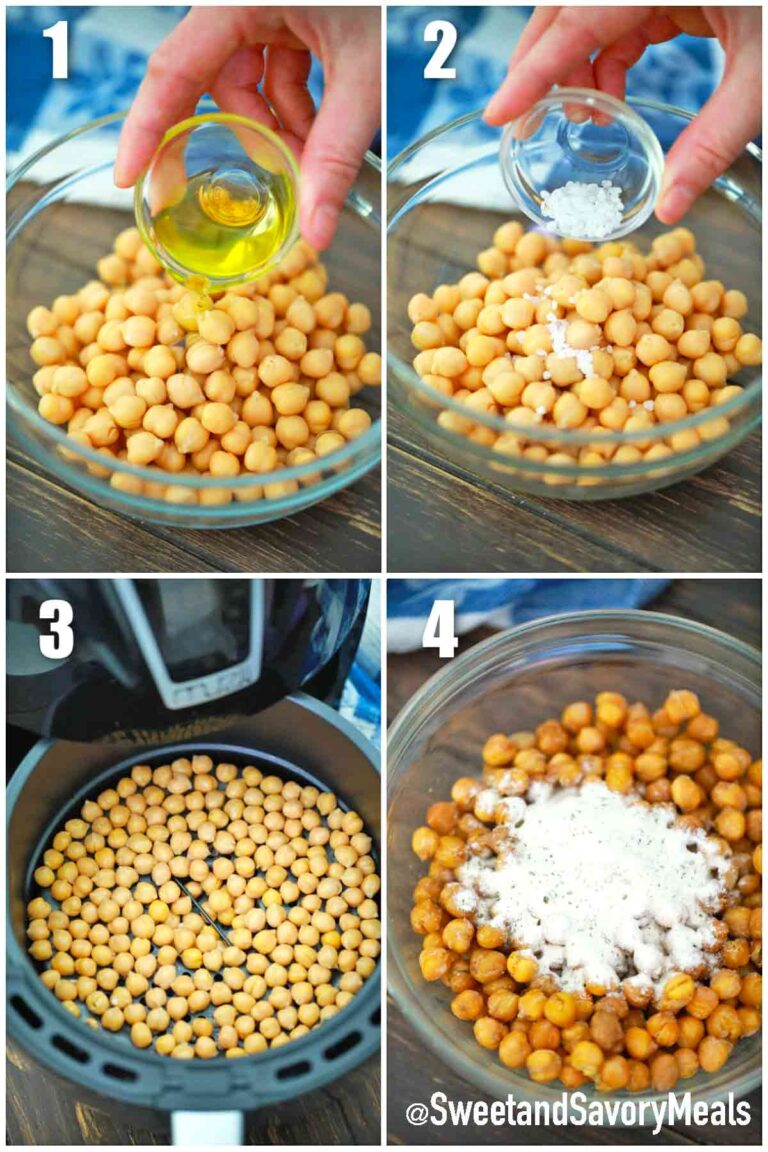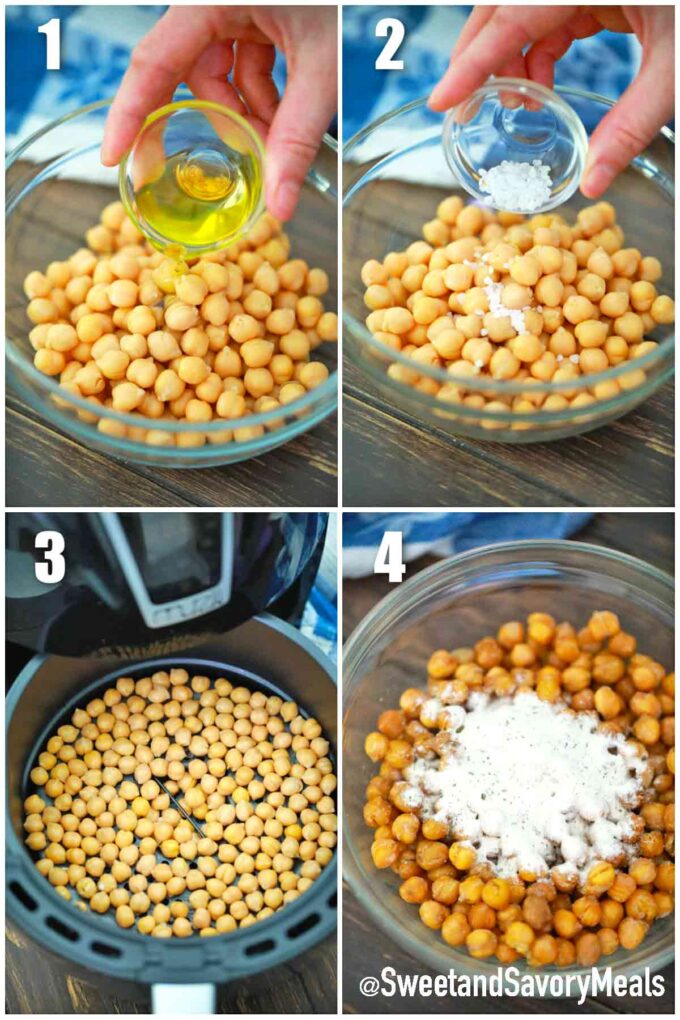 Recipe variations:
Tropical peas: Use shredded coconut, lime juice, and curry powder instead of ranch for tropical chickpeas.

Sweet peas: Try them sweetened with a cinnamon-sugar mix.
Barbecue: Make barbecue chickpeas by mixing them with brown sugar, onion powder, celery salt, black pepper, garlic powder, and dry mustard.
Hot and sweet: Mix your chickpeas with sriracha sauce, honey, garlic powder, salt, and white pepper for hot and sweet peas.
Mexican night: Use taco seasoning for a Mexican flavor.
Bake: To bake in the oven, put them on a baking sheet with parchment paper and cook at 400 degrees Fahrenheit for 40 to 45 minutes.
How to serve:
The best thing about simple recipes like this is that you can make them and serve them within minutes. Just add some dry seasoning to these fried beans and they may be your new favorites. Here are some different ways to serve these crunchy peas:
Serve the Air Fried Ranch Chickepeas with a few tablespoons buffalo wing sauce for buffalo chickpeas.
One favorite thing about these is you can add them to your salad instead of croutons for a healthy crunch.

One of our biggest challenges is getting our kids to eat healthily. Make the sweet version of these with sugar and cinnamon with a drizzle of honey or maple syrup and they won't even know they are healthy.

This is one of the most delicious recipes and the great thing is how easy it is. Serve with ranch flavor or add a teaspoon of garlic powder for more kick.
You can use these as a snack like popcorn or any other crunchy snack you can think of.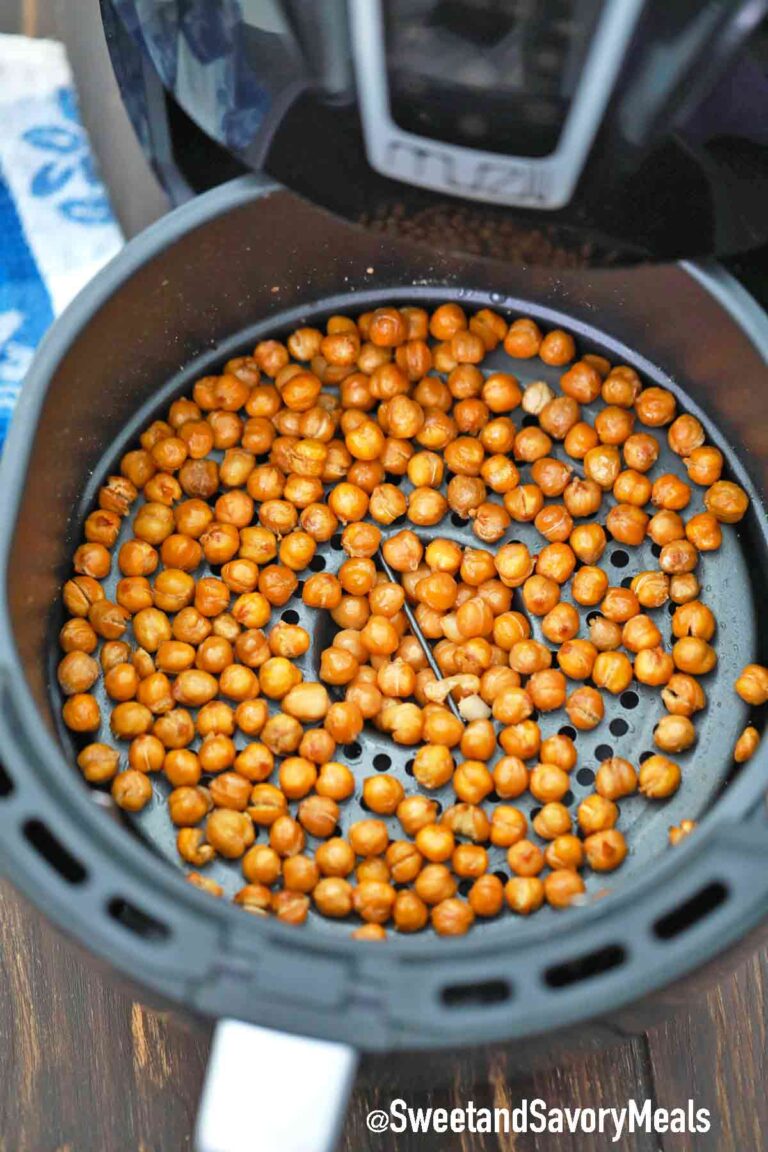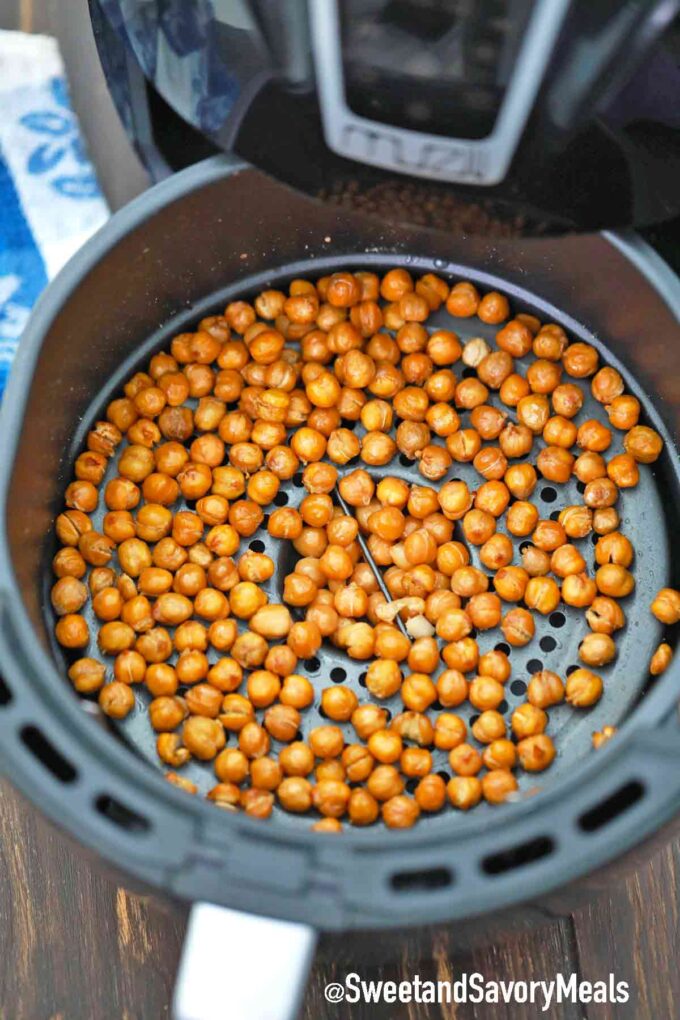 Frequently asked questions
Are garbanzo beans the same as chickpeas?
Garbanzo bean is just another name for chickpeas. The garbanzo bean has been farmed for thousands of years. In fact, nobody really knows who started it when.
The scientific name is cicer arietinum, and it is the most consumed legume in the world.
What are these good for?
Chickpeas are incredibly healthy. Not only do they help control blood sugar, but they also help your digestion by being high in a special fiber called raffinose.
They also help lower cholesterol, strengthen your bones, and may even lower your cancer risk.
What are the nutrition facts?
One cup of chickpeas have about 250 calories, 40 grams of carbs, and 10 grams of fiber. They only have six grams of sugar and four grams of fat.
The protein level is about 15 grams while also having calcium, iron, folate, and phosphorus.
How to store leftovers:
Store: Put these in an airtight container after they cool to room temperature. Keep them in the fridge for up to five days.

Freeze: Freezing is not recommended.

Reheat: For a warm crunchy snack, reheat them for 30 seconds in the microwave.
More healthy snacks:
Cooking tips:
For even crispier peas, store the leftovers in a brown paper bag. Containers can make them soggy from condensation.

The peas have to be in an even layer to crisp properly.
Also, make sure you dry the chickpeas with a paper towel for them to be crispy.
Cooking time for your peas depends on your air fryer.

Make these before the game and serve instead of popcorn or chips.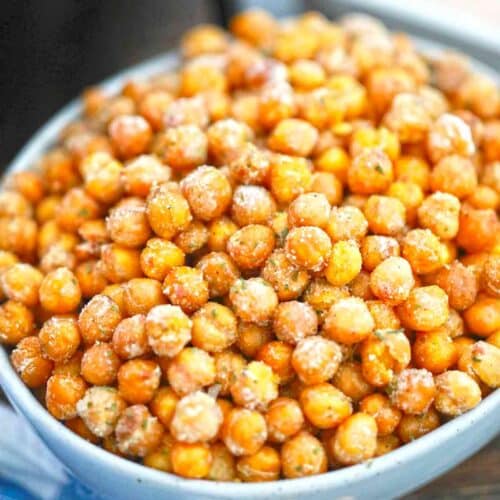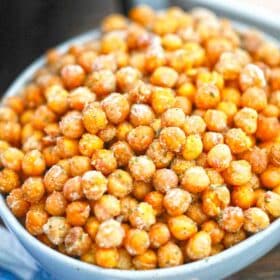 Air Fryer Ranch Chickpeas
Air Fryer Ranch Chickpeas are a healthy snack that tastes delicious and only takes a few minutes to make with just four ingredients.
Save
Share
Print
Pin
Rate
Ingredients
1 15-

ounce

can chickpeas

(drained, rinsed and patted dry)

1

tablespoon

extra-virgin olive oil

1/8

teaspoon

fine sea salt

4

teaspoons

ranch seasoning
Instructions
Preheat a 6-quart air fryer to 375 degrees F.

In a medium bowl, toss the chickpeas with olive oil and salt.

Add to the air fryer basket in an even layer. Cook, tossing occasionally, until crisp and golden, 20 to 25 minutes.

Remove the warm chickpeas to a bowl and toss with the ranch seasoning.
Nutrition
Calories:
295
kcal
|
Carbohydrates:
37
g
|
Protein:
11
g
|
Fat:
11
g
|
Saturated Fat:
1
g
|
Polyunsaturated Fat:
3
g
|
Monounsaturated Fat:
6
g
|
Sodium:
1676
mg
|
Potassium:
327
mg
|
Fiber:
10
g
|
Vitamin A:
34
IU
|
Vitamin C:
1
mg
|
Calcium:
80
mg
|
Iron:
3
mg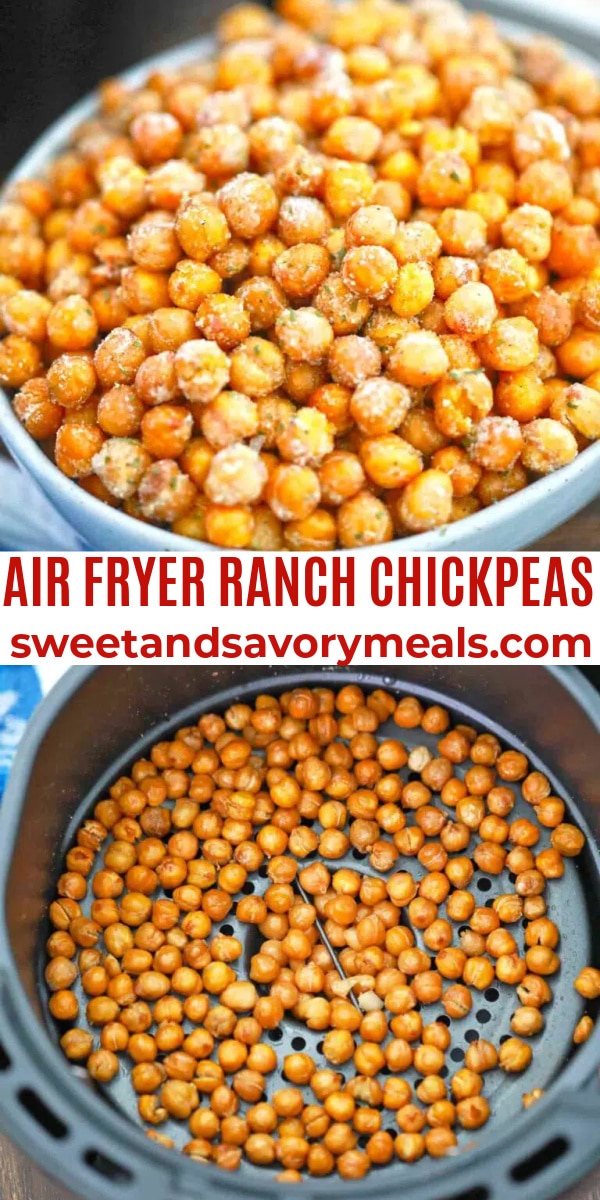 More recipes you might love