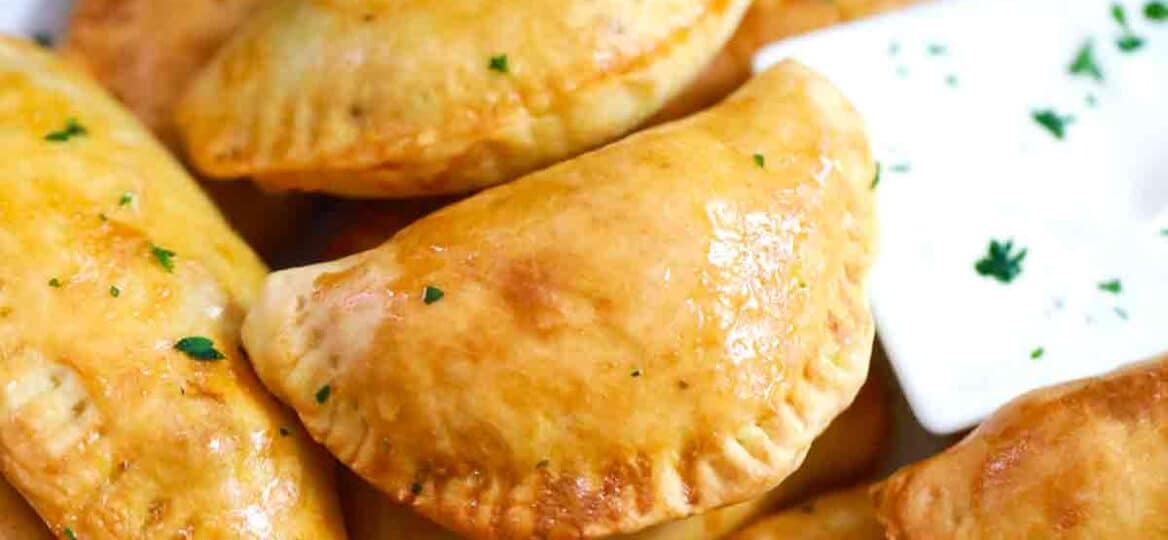 Air Fryer Beef Empanadas [Video]
Air Fryer Beef Empanadas are made with a crispy fried pastry filled with a rich and savory filling of ground beef, tomatoes, chiles, and cheese. Instead of deep-frying these little pies, this recipe uses the air fryer for a healthier dish with all of the flavor and none of the excess oil. These will surely become a favorite with your family.
This easy air fryer recipe goes great with Slow Cooker Barbacoa Beef made with apple cider vinegar and adobo sauce. You can also add a side of Air Fryer Roasted Asparagus cooked with lemon and smoked paprika. Our Air Fryer Pumpkin Pies would make a nice addition to round out this meal with a sweet treat.
Our empanada recipe is so easy and will feed a large family or you can just make a few for a snack and save the rest in the freezer.
Make some chicken empanadas with boneless, skinless chicken breasts for those who do not like beef.
Either way, they are a good source of your daily values of protein, iron, and calcium.
Ingredients needed:
Scroll down to get the exact measurements from our recipe card. But here are the main ingredients you need for these air fryer beef empanadas:
Dough ingredients:
Flour: All-purpose flour plus some extra for the surface.
Salt: We used kosher for this recipe.

Baking powder: Not baking soda.
Cold butter: Cut into cubes.
Large egg: At room temperature.
Beef filling ingredients:
Ground beef: We used 80/20 lean beef.
Tomatoes: Chopped.

Green chiles: Diced.
Cheddar cheese: Shredded.
Monterey Jack cheese: Shredded.

Onion: We used yellow, but you can use your favorite.

Garlic: Minced cloves.

Tomato paste: Canned is fine.

Egg wash: For brushing the dough.
Olive oil: Extra virgin olive oil is best.

Herbs and spices: Oregano, parsley, cumin, smoked paprika, kosher salt, and black pepper.
Finely chopped cilantro: For garnish.
Sour cream: For serving.
How do you make air fryer beef empanadas from scratch?
Make the dough: First, in a large bowl, whisk the baking powder, salt, and flour together. Add the butter to the flour mixture using a pastry cutter until the butter is pea sized. Add the egg and water, mixing together until it forms a dough. Turn it out onto a floured surface and knead it until it is smooth. Wrap in plastic wrap and refrigerate for one hour.

Preheat: Meanwhile, over medium heat using a large skillet, heat oil before adding the onion. Cook for about five minutes, or until soft and then add the garlic and cook for another minute.

Add beef: Next, add the ground beef and break it up with a wooden spoon while it cooks, until it is brown.

Cook: Then, drain fat and return pan to medium heat again before stirring in the tomato paste, herbs, and spices. Cook for about three minutes and then remove from the heat to let it cool.

Cut the dough: After, place chilled dough onto a floured surface and roll until it is about ¼-inch thick. Cut circles using a 4.5-inch round biscuit cutter. Continue until all the dough is gone.

Fill: Next, lightly moisten the outer edge of a dough disc before putting two tablespoons of meat mixture in the center. Top with cheese and fold dough in half over the filling.

Crimp and wash: Then, use a fork to crimp the edges and brush it with egg wash. Continue with the rest of the dough and meat until it is gone.

Fry: Lastly, place empanadas in a single layer in your fryer basket making sure there is space between each one. Cook at 400 degrees F for 10 minutes.
Serve: Finally, garnish with cilantro and serve with sour cream.
Recipe variations:
Other meat: Alternatively, try ground turkey, pork, or chicken.

Make it vegetarian: If you do not eat meat, use plant-based ground beef and vegetable broth to make this dish vegetarian.

Mild and spicy: Toss in a few shakes of chili powder for a mild and spicy flavor.
Add veggies: Feel free to add some veggies to the savory filling like green olives or bell peppers.
Picadillo: Another way to fill these is by using leftover homemade beef picadillo.

Deep fryer: You can also cook these in the deep fryer for seriously crunchy empanadas.
How to serve:
These easy beef empanadas have a rich and savory filling in a crispy crust that goes perfect with a dollop of sour cream. Here are some other serving ideas:
Frequently Asked Questions
Can you make frozen empanadas in the air fryer?
You can air fry frozen empanadas at 350 degrees Fahrenheit for about 10 minutes, flipping them over halfway through.
Use a meat thermometer to check that the inside is 165 degrees F before serving. The cooking time may vary depending on your fryer and how many you are cooking.
Is it okay to use egg wash in an air fryer?
Brushing your dough with a bit of egg wash is a great way to get that golden brown color and crispiness of the crust.
It will also help your empanadas to cook more evenly so you get that toasty brown color and crunch all over.
What can I use instead of egg wash?
There are many good substitutes for egg wash. For example, you can spread some olive oil or another type of oil with a high smoke point on top with a pastry brush.
Some of the other substitutes include milk, butter, cream, honey, yogurt, or even mayonnaise.
How to store leftovers:
Store: Store your leftover air fryer empanadas in an airtight container or plastic storage baggie in the refrigerator. These will stay fresh for about three or four days.
Freeze: If you have a large number of empanadas left over, consider freezing them separately so you can take them out as needed without having to thaw out all of them. Wrap them in plastic wrap and put them in a freezer bag or place them in an airtight container separated by parchment paper.

Thaw: Thaw overnight in your refrigerator before reheating.
Reheat: To reheat these, use your fryer preheated to 350 degrees F for two minutes on each side.
More Air Fryer recipes:
Cooking tips:
You could also bake these in the oven if your fryer is on the fritz. Just put them on a baking sheet prepared with cooking spray and bake at 400 degrees F for 20 to 25 minutes.

Make sure you leave room between each empanada in the air fryer basket, so they have plenty of circulation.
Cut some steps by using empanada discs instead of making your own empanada dough.

If you do not have those, you can use pie crust or pie dough and cut them into circles.

You can use any kind of oil you want but make sure it is safe for use in the air fryer.

Feel free to use garlic powder if you do not have any fresh cloves.
Air Fryer Beef Empanadas
Ingredients
Dough:
3

cups

all-purpose flour

plus more for surface

1

teaspoon

kosher salt

1

teaspoon

baking powder

1/2

cup

cold butter

cut into cubes

3/4

cup

water

1

large egg
Beef Filling:
2

tablespoons

extra-virgin olive oil

1

yellow onion

chopped

4

cloves

garlic

minced

1

lb.

ground beef

1

tablespoon

tomato paste

1

teaspoon

dried oregano

1

teaspoon

dried parsley

1

teaspoon

cumin

1/2

teaspoon

smoked paprika

Kosher salt

Freshly ground black pepper

1/2

cup

chopped tomatoes

1/2

cup

diced green chiles

1 1/2

cup

shredded Cheddar

1 1/2

cup

Shredded Monterey Jack

Egg wash

for brushing
Garnish:
Freshly chopped cilantro

for garnish

Sour cream

for dipping
Instructions
Make the dough:
In a large bowl, whisk together the flour, salt, and baking powder. Using your hands or a pastry cutter work the butter into the flour mixture until pea-sized granules are formed.

Add the water and egg and mix until a dough forms.

Turn the dough out onto a lightly floured surface and knead until smooth, about 5 minutes.

Wrap in plastic wrap and refrigerate for at least 1 hour.
Make the filling:
In a large skillet over medium heat, add oil to a cast iron pan or non-stick skillet, heat oil.

Add onion and cook until soft, about 3-5 minutes, then add garlic and cook until fragrant, 1 minute.

Add ground beef and cook, breaking it with a wooden spoon, until no longer pink, 5-7 minutes. Drain fat.

Return pan to medium heat, and stir in the tomato paste, add oregano, parsley, cumin, paprika, salt, and pepper.

Add tomatoes and chiles and cook for about 3-5 minutes. Remove from heat and let cool slightly.
Make the empanadas:
Place dough on a lightly floured surface and divide in half.

Roll one half out to ¼" thick and using a 4.5" round cookie cutter or a cup, cut out rounds. Repeat with remaining dough.

Lightly moisten the outer edge of a dough round with water and place about 2 tablespoons of filling in the center. Top with cheddar and Monterey cheese.

Fold dough in half over the filling. Use a fork to crimp the edges together. Repeat with the remaining filling and dough rounds.
Bake in the oven option:
Preheat oven to 400 degrees F and line two large baking sheets with parchment paper. Set aside.

Place empanadas on prepared baking sheets and brush with egg wash. Bake until golden and filling is warmed through, about 25 minutes.

Garnish with cilantro and serve with sour cream.
Air fry:
Preheat the air fryer to 400 degrees F.

Place empanadas in a parchment-lined Air Fryer basket, making sure they don't touch and cook in batches for 10-12 minutes, or until golden.

Garnish with cilantro and serve with sour cream.