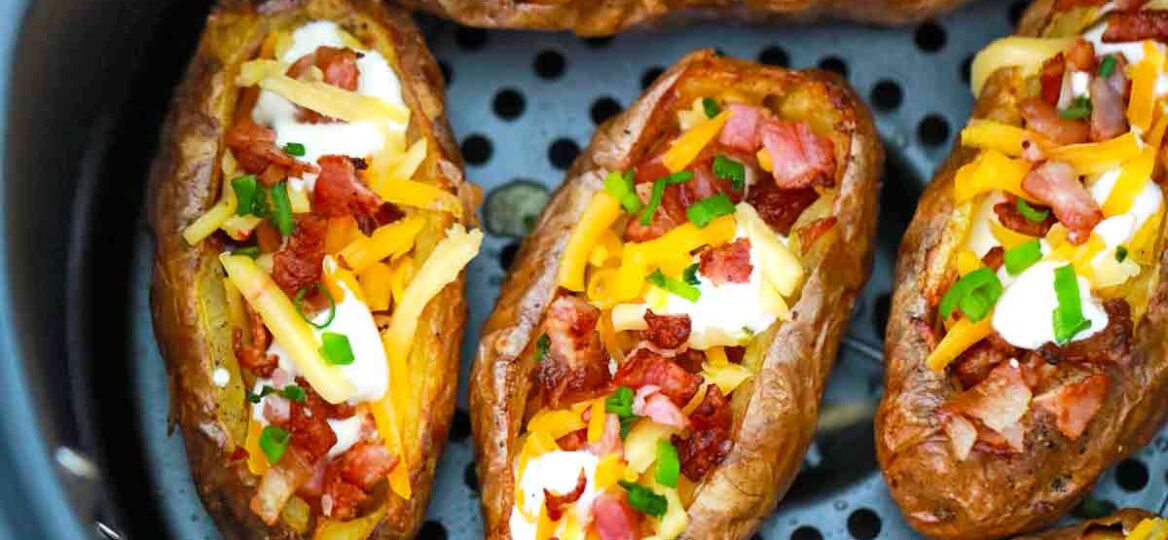 Cheesy Air Fryer Twice Baked Potatoes [Video]
Air Fryer Twice Baked Potatoes are crispy on the outside with melty cheese and fluffy mashed taters on the inside. And the great thing is that you can cut the time in half by using your fryer instead of the conventional oven. Also, you can add all sorts of your family's favorite toppings to this tasty potato recipe.
If you are looking for some more air fryer recipes, try these Baked Sweet Potatoes that are tender with crunchy skin on the outside or these fluffy and Crispy Air Fryer Potatoes. Or add a couple of extra steps to make our Ultimate Twice Baked Potatoes stuffed with pepper jack cheese, sour cream, and bacon bits.
This easy air fryer recipe takes a regular baked potato and makes it into a masterpiece that you can serve with one of your fancy dinners or just have them as a snack.
The best part is that it is so easy and fast when using the fryer, so you do not have to spend the whole day waiting for them to cook in the oven.
Ingredients needed:
To get the exact measurements and directions, scroll down to our recipe card at the bottom of the page. But here are the main things you will need for this easy side dish:
Russet potatoes: Scrubbed clean.
Olive oil: Extra virgin is best.
Butter: Unsalted and softened.
Heavy cream: If you do not have any, just mix milk and butter.
Sour cream: Or you can use Greek yogurt.
Cream cheese: Alternatively, you could use ricotta or cottage cheese.

Shredded cheddar: Freshly shredded for best results.
Green onions: Chopped.
Garlic powder
Black pepper
Kosher salt
How do you make air fryer twice baked potatoes?
Preheat: First, preheat your air fryer at 400 degrees F for five minutes.

Prepare: Meanwhile, dry the taters with a paper towel before poking and rubbing with oil.

Salt: Then, sprinkle each potato with salt and rub it in.

Cook: In small batches, cook your potatoes at 400 degrees F for 40 minutes, flipping several times. Place them on a baking sheet until they are cool.

Cut: After they cool, cut a thin layer off the top of the potatoes lengthwise and scoop out the insides, putting it all into a mixing bowl.

Mash: Next, add butter and all of the creams in the mix and mash them with a potato masher or hand mixer.

Add: Stir in one cup of cheese and the green onions.

Fill: Last, fill each potato with the mixture and add cheddar cheese to the top of the potatoes before cooking for another five minutes.

Serve: Finally, garnish with leftover green onions before serving.
Recipe variations:
Oven bake: If you are making a large batch of taters, you could also use a traditional oven to bake for an hour at 400 degrees F. Then scoop and mash before refilling and baking for another 15 minutes.

Use other taters: Alternatively, use sweet potatoes for a different flavor.
Add bacon: Sprinkle some bacon bits or cooked bacon pieces on top of the potatoes during the last cooking phase.
Other veggies: Alternatively, you could also add onions, chives, broccoli, or some other veggies you enjoy.
Spicy: Toss in some red pepper flakes for spicy taters.
How to serve:
One of the best things about this recipe is that you can top them with almost anything you want. Try some of these ideas:
These make a great side dish to air fryer chicken wings or these lemon pepper wings.

Put a dollop of additional sour cream on top of these for extra creamy potatoes.
Add shredded barbecue chicken or pulled pork to make these your main dish.
Put your family's favorite toppings in small bowls so they can choose what they like best.

Use the leftover crispy potato skins as an appetizer with some barbecue sauce.
Frequently Asked Questions
Why are they called twice baked potatoes?
Because these potatoes are actually cooked twice. First, you bake them as a whole potato and then you cook the potato shells again filled with the mashed potato mixture.
The potato filling is often mixed or topped with shredded cheese, green onions, or other delicious flavors.
How do you reheat twice baked potatoes in an air fryer?
To reheat a cooked potato in an air fryer, unwrap your potato and fry it at 400 degrees F for four to five minutes. The cooking time varies depending on the number and size of the potatoes.
You can also reheat these in the microwave for one minute or wrapped in foil in the conventional oven at 400 degrees F for 10 minutes.
Should I rub salt on the outside of the potato?
Rubbing the outside of potatoes before cooking is done to let the salt draw out the moisture in the potato while it bakes.
This gives it a nice crispy skin with fluffy, dry potatoes. This is often done in restaurants. Try it and see if you like the results.
How to store leftovers:
Store: Refrigerate leftovers in an airtight container for up to three days.
Freeze: You can also freeze them. Let them cool to room temperature and then wrap individually with plastic wrap or aluminum foil before putting them in a freezer bag. These will stay good for up to three months.

Thaw: Thaw in the refrigerator overnight before reheating.

Reheat: When ready to serve, put these on a baking sheet in the oven for about 15 to 20 minutes at 350 degrees F.
More side dishes:
Cooking tips:
Be sure to coat the air fryer basket with olive oil or cooking spray to prevent sticking.

If you plan to eat the skin, use organic potatoes to make sure they are free of chemicals.
Russets are the best potatoes for this delicious recipe.
Make sure you scrub away all of the dirt and dry your potatoes before oiling them.
Cheddar cheese is the best cheese for this perfect side dish.
Air Fryer Twice Baked Potatoes
Ingredients
6

large russet potatoes

scrubbed clean

2

tablespoons

extra-virgin olive oil

Kosher salt

1/2

cup

butter

softened

1/2

cup

cream

1/2

cup

sour cream

1/2

cup

cream cheese

2

cups

shredded Cheddar

divided

1

teaspoon

garlic powder

2

green onions

thinly sliced, plus more for garnish

Freshly ground black pepper
Instructions
Wash, scrub and pat dry the potatoes with paper towels.

Poke the potatoes all over with a fork, then rub them with oil and sprinkle with salt.

Arrange the potatoes in the basket of the air fryer and cook at 400 degrees F for 40 minutes.

After that, arrange on a large baking sheet, and let them cool until cool enough to handle.

Cutting lengthwise, and scoop the inside out of each potato leaving a ½" border.

Place the insides in a large bowl and add butter, milk, and sour cream. Mix until mostly smooth, but with some small chunks.

Add 1 cup of cheese and green onions and stir until incorporated. Season with salt and pepper.

Fill in the baked potatoes with potato mixture and place them in the basket of the air fryer.

Top with the remaining 1/2 cup of cheddar cheese.

Cook at 400 degrees F until the cheese is melted, for 4-5 minutes.

Garnish with more green onions before serving.
Deliciousness to your inbox
Enjoy weekly hand picked recipes and recommendations