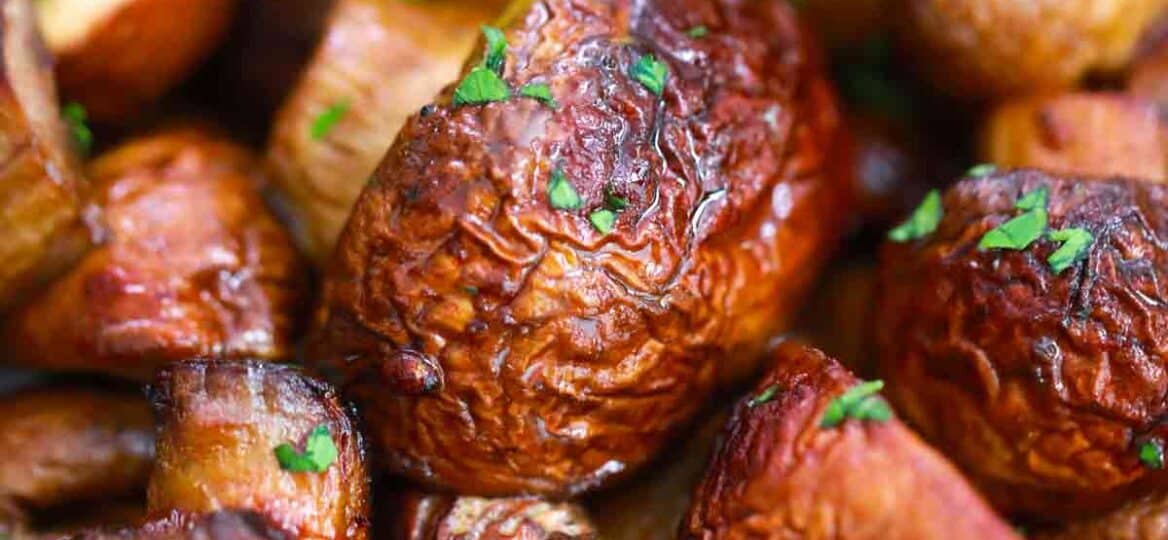 Air Fryer Mushrooms are crispy, tender, juicy, and incredibly flavorful. The perfect side dish, appetizer, or snack for any mushroom lover. The combination of sesame oil, garlic powder, smoked paprika, brown sugar, Worcestershire sauce, and soy sauce gives these delicious shrooms an amazing flavor.
Are you looking for more delicious air fryer recipes? If you want a recipe for a crispy and easy side dish try these air-fried potatoes or this air-fried to perfection asparagus.
Air fried mushrooms
This easy recipe will delight your whole family, in fact, these are so good, even a mushroom hater may like them. And the combination of liquid smoke and smoked paprika adds such a unique rich flavor.
The earthy flavors of the mushrooms shine in this great recipe. Make this juicy air fryer steak recipe to go with them. While they are an amazing side dish, they can definitely make a delightful vegetarian main dish.
I love their crispiness and enjoy serving them as an appetizer. However, get creative and incorporate them part of other recipes. For example, I like mixing them into salads, stuffing them into sandwiches or burritos. Adding them to pasta, casseroles, or part of a quick stir fry.
Ingredients needed:
These are the basic ingredients you will need for this mushroom recipe. For more detailed instructions, scroll down to our recipe card.
Mushrooms: You can use baby bellas, white button mushrooms, or larger mushrooms like chestnut mushrooms. Cremini mushrooms are also a good choice for this recipe.
Sesame oil: You could also use grapeseed, avocado, or olive oil.
Garlic powder: Or use minced garlic cloves.
Paprika: We used smoked paprika for the smoky flavor.
Liquid smoke: This blends perfectly with the smoked paprika.
Brown sugar: Light or dark will do.
Soy sauce: Or try tamari or coconut aminos.
Worcestershire sauce: Substitute with balsamic vinegar in a pinch.
Kosher salt: To taste.
Black pepper: To taste.
Lemon wedges: These are optional but refreshing.
Fresh parsley: Chopped.
How to make Air Fryer mushrooms recipe?
Prepare: First, if you are using small to medium mushrooms, cut them in half. If they are large, cut them into quarters.

Mix: Next, in a mixing bowl, combine all the rest of the ingredients and toss the mushrooms gently until coated, and let them marinate for 10 to 15 minutes.

Combine: After, set the temperature to 390 degrees F and add shrooms to the air fryer basket in a single layer.

Air Fry:

Then, air fry for 10 to 12 minutes, shaking the basket halfway through.
Cooking in batches: If you are using a smaller air fryer, you will have to do them in batches. Wipe the basket with a damp paper towel after each batch.

Tip: The length of the cooking time depends on the amount of mushrooms you are cooking and the size of your air fryer, whether you are using a 4- or 6-quart air fryer.

Serve: Once done cooking serve these with your favorite dipping sauce, or even better, use them as a topping for steak or these air-fried pork chops.
Recipe variations:
Seasoning: Alternatively, add onion powder or other spices.

We enjoy tossing these in either Ranch seasoning, Taco seasoning, or Cajun seasoning.

Italian: Similarly, sprinkle in some Italian seasoning for a burst of Italian flavors.
Garlic shrooms: Also, make these real garlic mushrooms by doubling the amount of garlic powder and toss in melted garlic butter before serving.
Breaded: In addition, you could coat the mushrooms with a few bread crumbs or panko breadcrumbs.
Heat it up: Add some cayenne pepper to make them spicy.

Cheesy: As an alternative toss them in grated parmesan cheese before cooking.
Saute: In case you do not own an air fryer, these Perfect Sautéed Mushrooms are amazing.
How to serve:
Squeeze some lemon on these and serve them as a side dish to any meal. Or try one of these great ideas:
Pour some of this spicy and sweet Szechuan sauce on top for a kick.
This healthy side dish goes great with burgers and French fries.
Another great idea is our tangy teriyaki sauce.

These yummy shrooms are also a good side for these delicious barbecue slow cooker ribs.

Another great option is to sprinkle lots of parmesan cheese on top of these.
Frequently asked questions
How do I dry mushrooms in the air fryer?
To dry them in the fryer, first, clean mushrooms and dry them thoroughly with a paper towel to get rid of excess moisture. Put them directly into the basket. Then, cook at 350 degrees F for about 15 minutes, flipping them halfway through.
Because the cooking time can vary depending on different types of mushrooms as well as the size and brand of air fryer, you should check them every five minutes after the first flip to see if they need more time.
Can I use butter in the air fryer?
You can absolutely use butter instead of oil but since butter has a low smoke point, you are likely to get a lot of smoke that could cause issues with your fryer. Instead, try ghee, which is clarified butter.
The ghee has the water and milk removed so all that is left is butter fat with an intense butter flavor and high smoke point.
Can I put foil in the air fryer?
Aluminum foil is fine to use in the fryer, but whether you should or not depends on the food you are cooking and the model of your fryer. It is best to check your owner's manual to make sure it is okay to use in your brand.
Also, you should also be careful not to block the circulation of air because it is the air that cooks your food. In addition, do not use foil with acidic foods because the acid can decompose the foil and cause a reaction.
How to store leftovers:
Refrigerate: The best way to store your leftovers is to put them in an airtight container in the fridge. They will stay fresh for up to three days.

Freeze: Freeze your leftovers if you are not going to eat them in the next few days. Wrap them in plastic wrap and put them into a freezer bag and they will be good for up to three months.

Thaw: Thaw these in the fridge overnight before reheating.
Reheat: You can reheat in the microwave for one minute or in the AF for two minutes.
Easy Air Fryer Recipes:
Cooking tips:
For the best result, use fresh mushrooms that are about the same size.
Clean-up is a breeze if you spray the basket lightly with cooking spray.
Add your leftovers to a salad or casserole.
You could also use them as a topping on baked potatoes, burgers, or tacos.
Best Air Fryer Mushrooms
Ingredients
12

oz

mushrooms

washed and dried

2

tablespoons

sesame oil

1

teaspoon

garlic powder

1

teaspoon

smoked paprika

1

teaspoon

liquid smoke

1

teaspoon

brown sugar

1

teaspoon

soy sauce

1

teaspoon

Worcestershire sauce

Kosher salt

to taste

Ground black pepper

to taste

Lemon wedges

for serving

1

tablespoon

chopped parsley

for serving
Instructions
Cut the cleaned and dried mushrooms in half or in quarters if they are larger.

Add mushrooms to a bowl and toss with the rest of the ingredients. Let marinate for 15-20 mins.

Air fry at 390 degrees F for 10-12 minutes, shaking once or twice through the cooking process. Air fry until crispy.

Transfer to a serving plate, squeeze fresh lemon juice on top, and serve with fresh chopped parsley.