Air Fryer Asparagus [Video]
Air Fryer Asparagus is seasoned with herbs and spices, then air-fried until crispy on the outside and tender on the inside. Easy, tasty, and practically fool-proof!
The air fryer is perfect for roasting vegetables without heating up the kitchen. For other tasty air-fried veggies, try our Air Fryer Brussel Sprouts, Air Fryer Cauliflower, and Air Fryer Cabbage Steaks!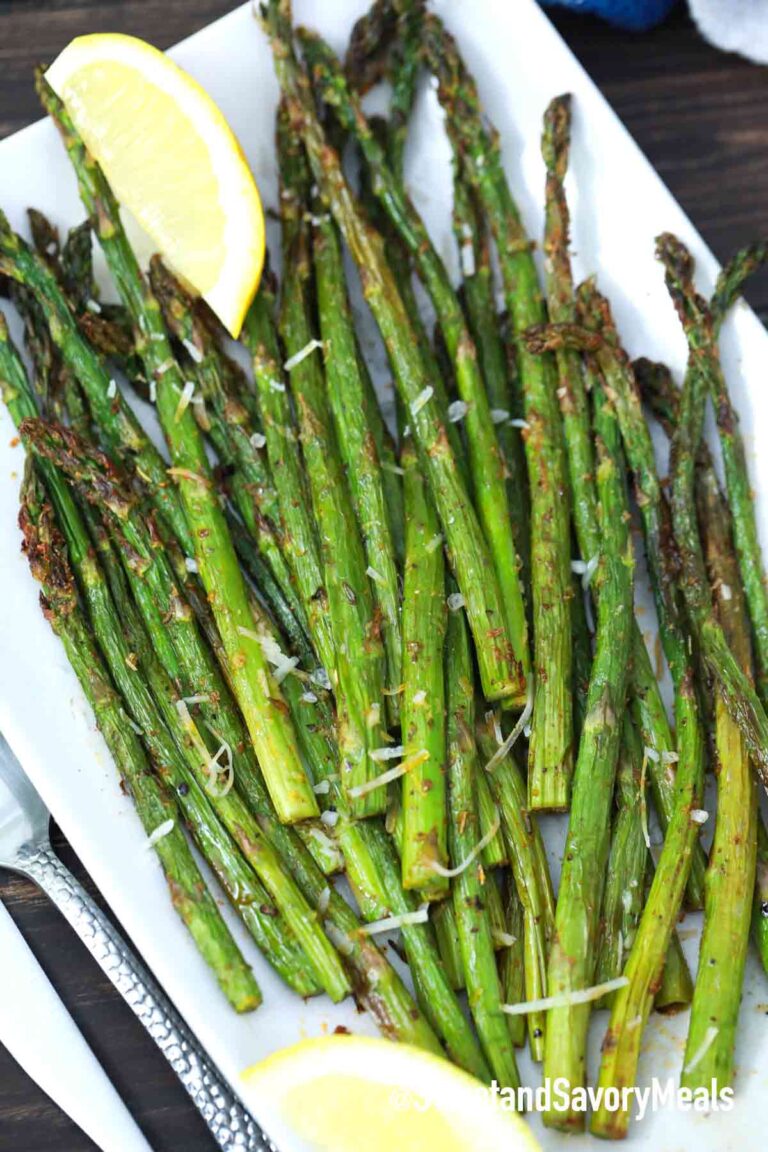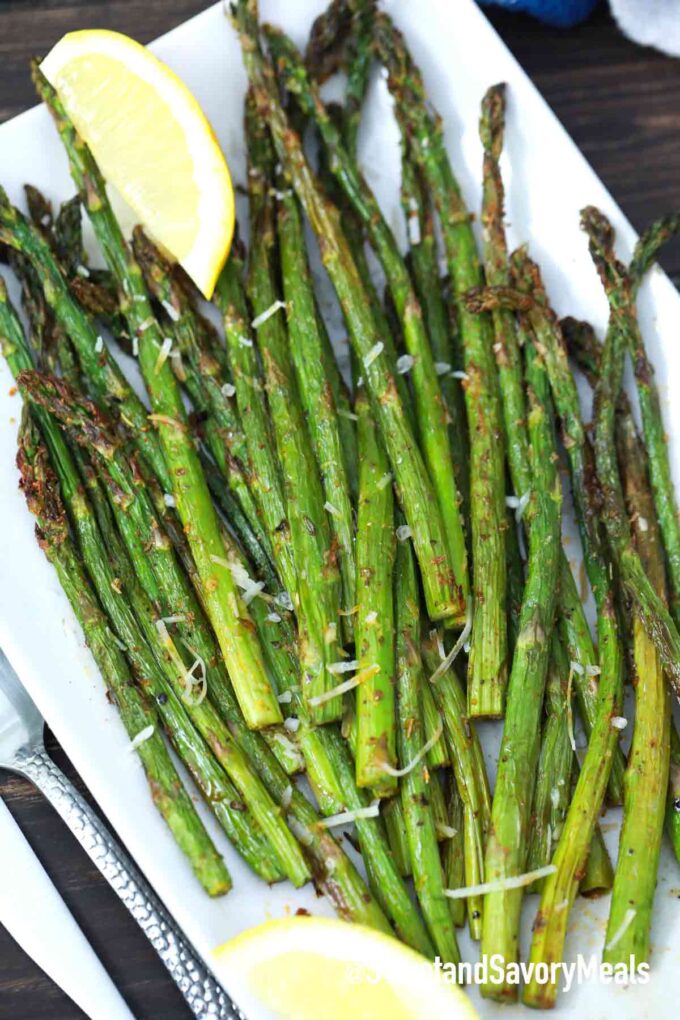 Air Fryer Asparagus Recipe
Air Fryer Asparagus are crisp-tender and seasoned with paprika, powdered spices, and dried herbs. They taste just like oven-roasted asparagus, except there's no hot oven or baking pans to deal with! And did we mention they take as little as 6 minutes to air fry?
This dish is incredibly healthy for you, and you can enjoy them no matter what diet you're on. Finally, you can also spice them up by adding other seasonings, making them crispy, add more!
Is asparagus healthy?
Yes, it's very nutritious. First, it has tons of fiber, which means it's great for your digestion and helps you feel full for longer. Next, it's also packed with different vitamins like K, C, and A, plus folic acid, thiamin, potassium, and more.
This yummy vegetable has also been found to help lower blood pressure and boost weight loss. Finally, you can include it in many types of diets as well, including keto, whole 30, and paleo.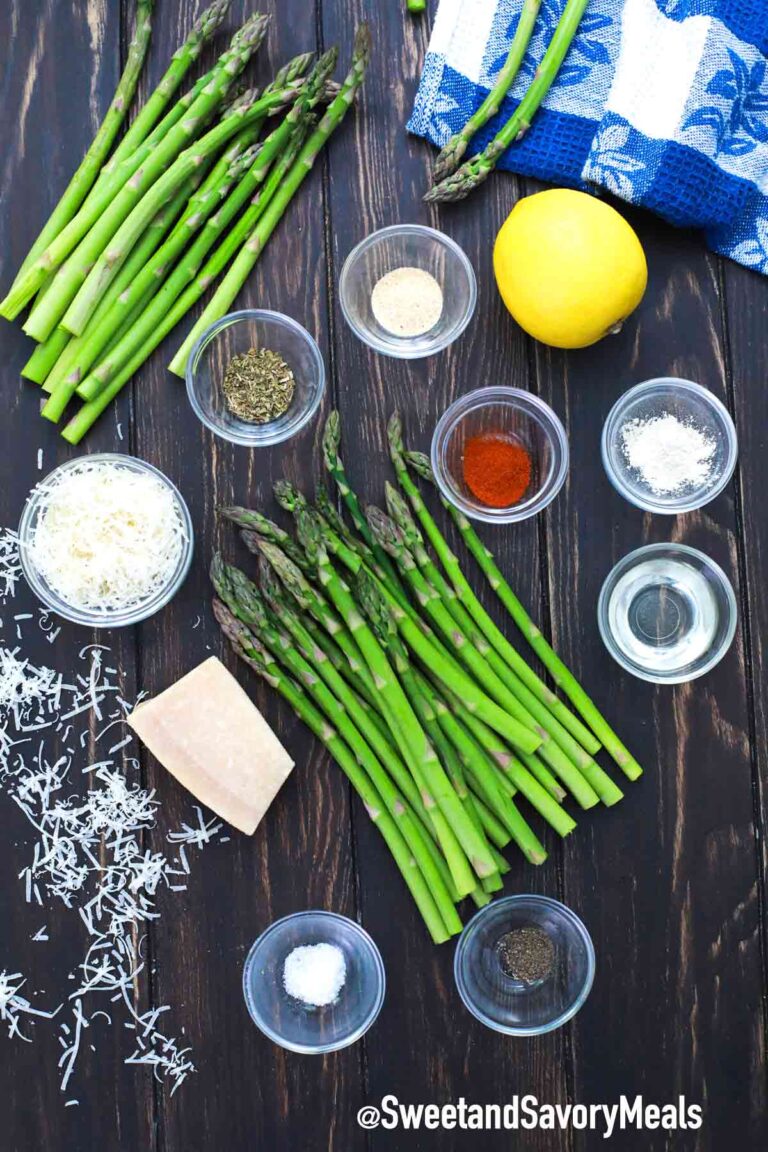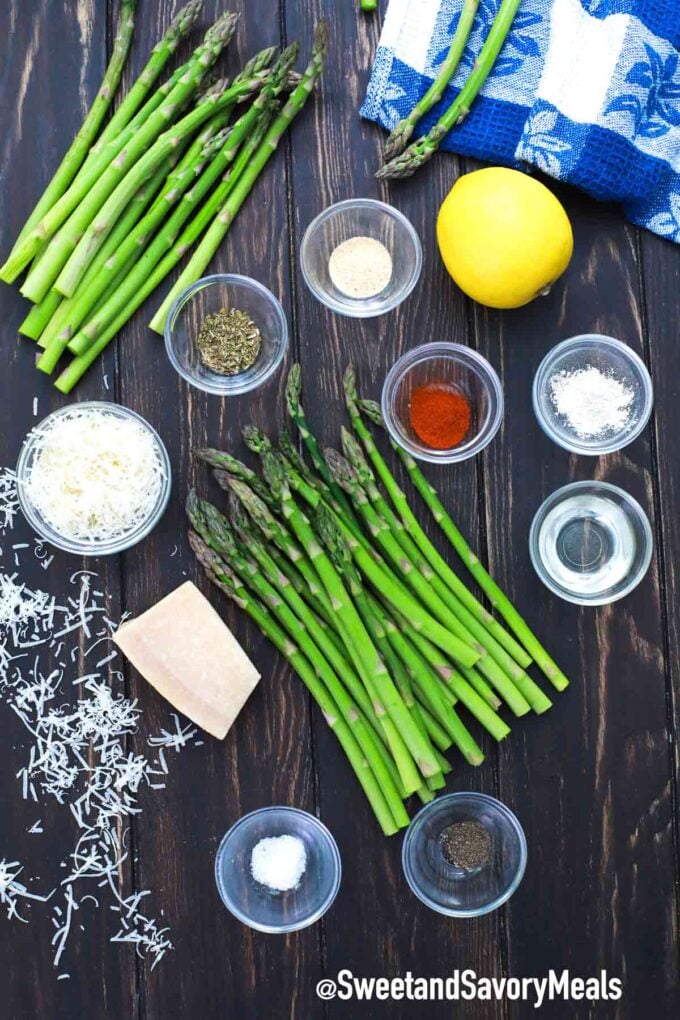 What do you need to make Air Fryer Asparagus
Asparagus: Cleaned and patted dry, with the bottoms sliced off.
Seasonings: We're using a delicious combo of Italian dried herbs, onion and garlic powder, a dash of smoked paprika, and as much fresh-ground pepper and kosher salt you want. A little olive oil allows all the seasonings to stick to the vegetables.
How do you make Air Fryer Asparagus from scratch?
Season. Mix the herb-spice blend with the oil, then toss the cleaned and trimmed stalks to coat.
Cook. Air-fry at a hot 400F for about 6 to 10 mins.
Serve. Enjoy hot!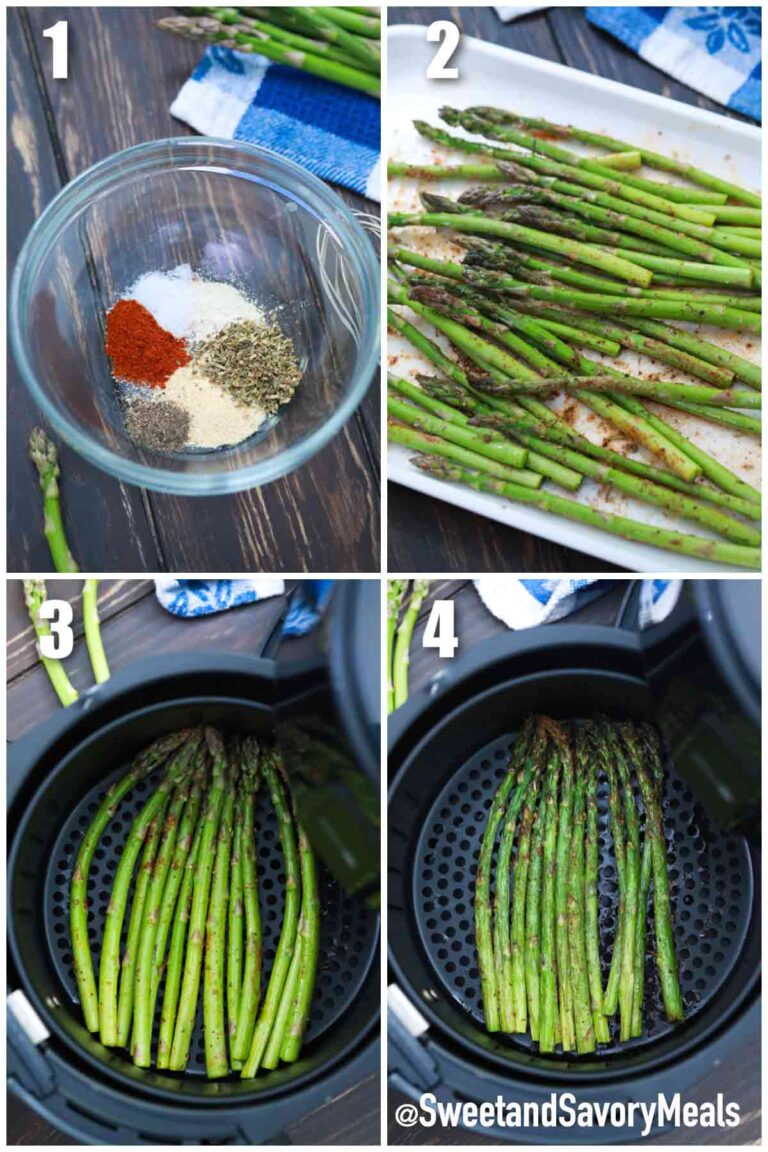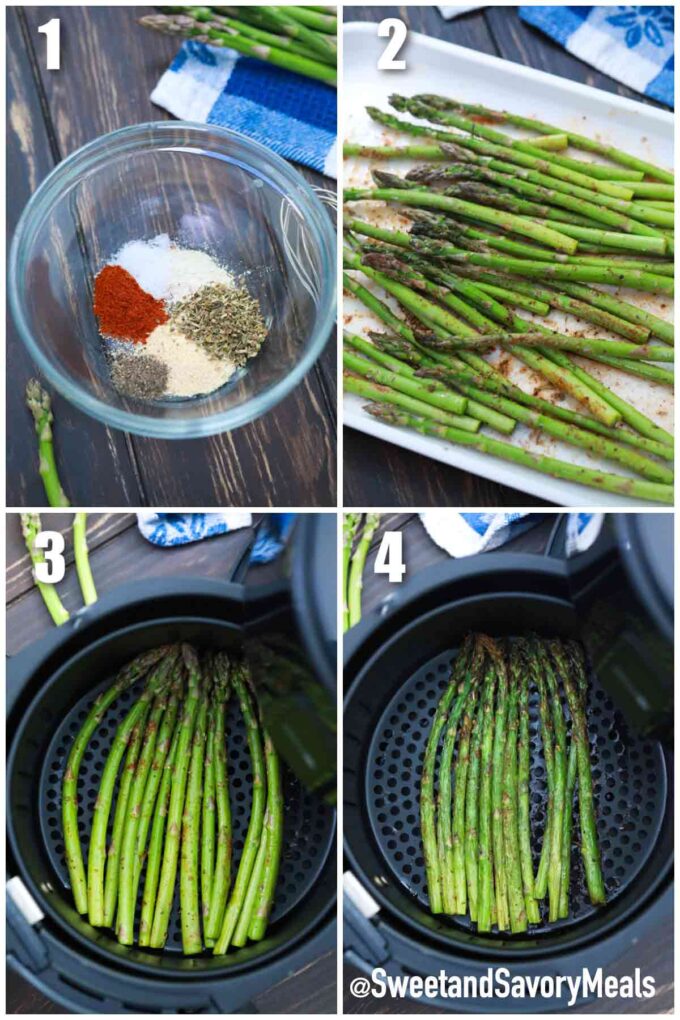 Recipe variations:
Mexican: Skip the herbs, and add cumin, chili powder, and cayenne. Or mix in some homemade taco seasoning!

Cajun: A dash of Cajun seasoning infuses these veggies with Southern flair.
Other herbs: Add the herb flavor by mixing in dried oregano, thyme, and dill.
Other seasonings: Try lemon pepper, Old Bay, white pepper, lemon zest, or curry powder.
Crispy: Add some plain panko or seasoned bread crumbs to the seasoning mix.
Parmesan cheese: Shred or grate some parmesan, mix into the spice mix, and coat.

Spicy: Add a tsp. of cayenne.

Butter: For extra richness, substitute melted butter for the oil.
Frequently Asked Questions
Can you cook asparagus in the air fryer?
Yes, and it's well-suited for air-frying. First, it's sturdy and can withstand high-heat cooking. Next, the surface becomes beautifully roasted in the air-fryer while the insides turn tender. It's actually one of our favorite things to air-fry!
Can you cook asparagus too long?
Yes. Overcooked, they become mushy and unappetizing. That's why it's important to follow the cooking times. Air-frying them for 6 to 10 mins. will give you perfectly done and tender stalks with a little crispiness.
How do you cook asparagus without losing nutrients?
Moist cooking methods like steaming, blanching, and microwaving can allow nutrients to leach out of the veggies. To retain as many nutrients as possible, roast them like we love doing with cauliflower, carrots, bok choy, cabbage, and many other vegetables.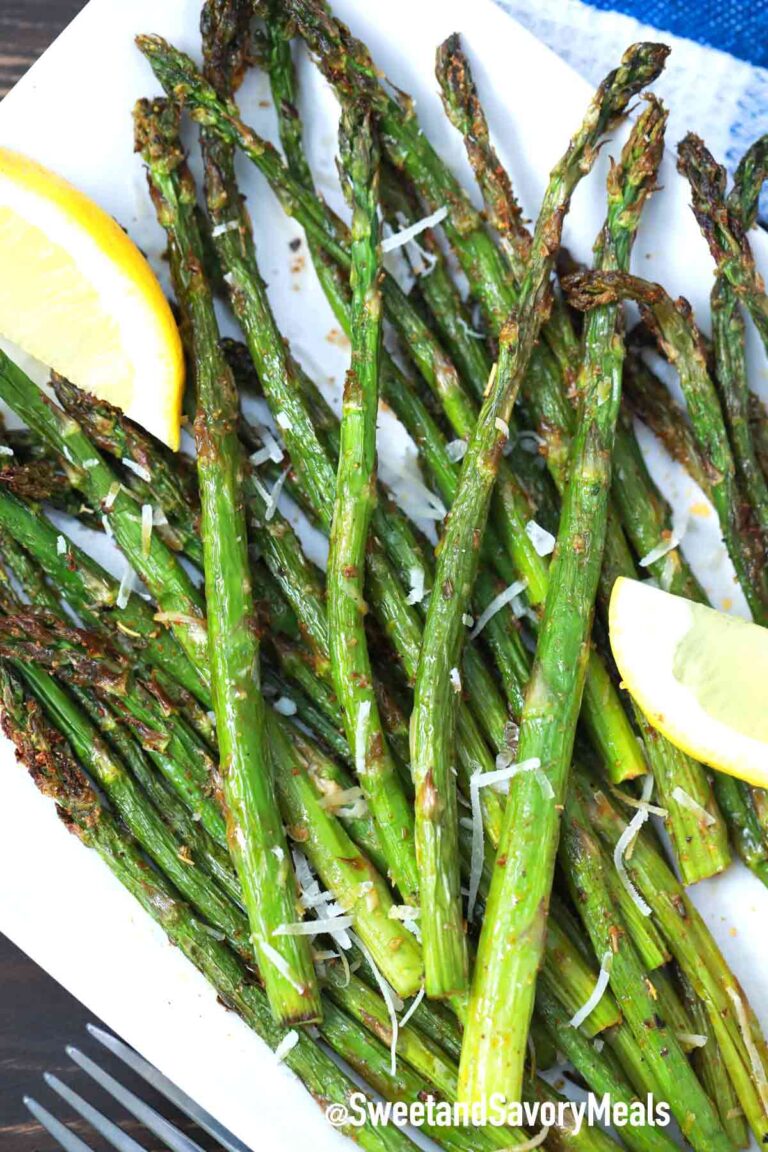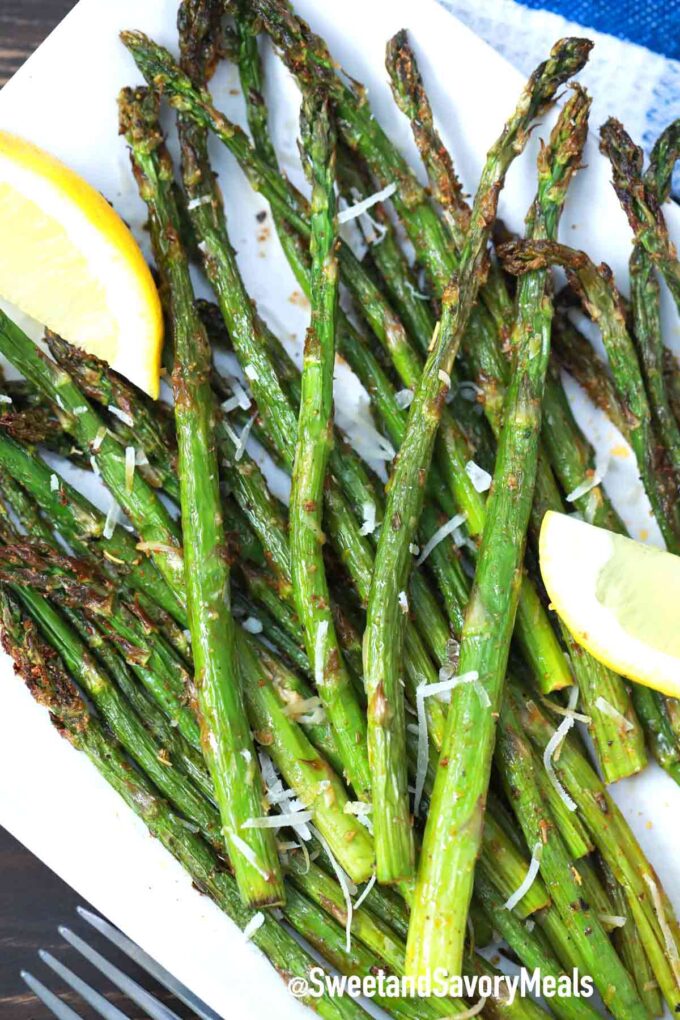 Should you soak asparagus before cooking?
We suggest you do, in order to get rid of any sand or dirt remaining in the stalks. A quick 5-minute soak will do it.
How do you know when asparagus is done cooking?
When perfectly cooked, the color will turn brighter and more vibrant. You'll also notice the tips becoming dark brown or even a little charred, especially when you're roasting it.
How do you choose asparagus?
Look for firm stalks that stand up straight. In contrast, skip the wilted or limp ones, and stalks that are too soft. They should be bright green, and the tips should be compact and closed.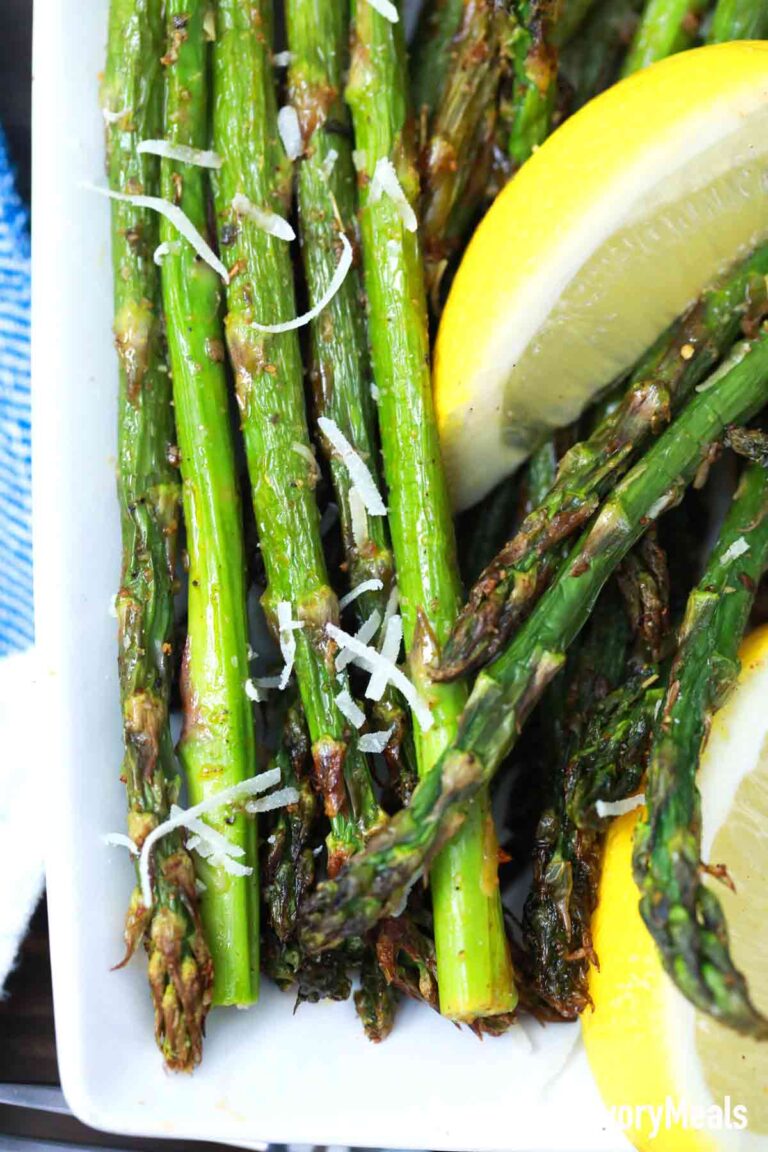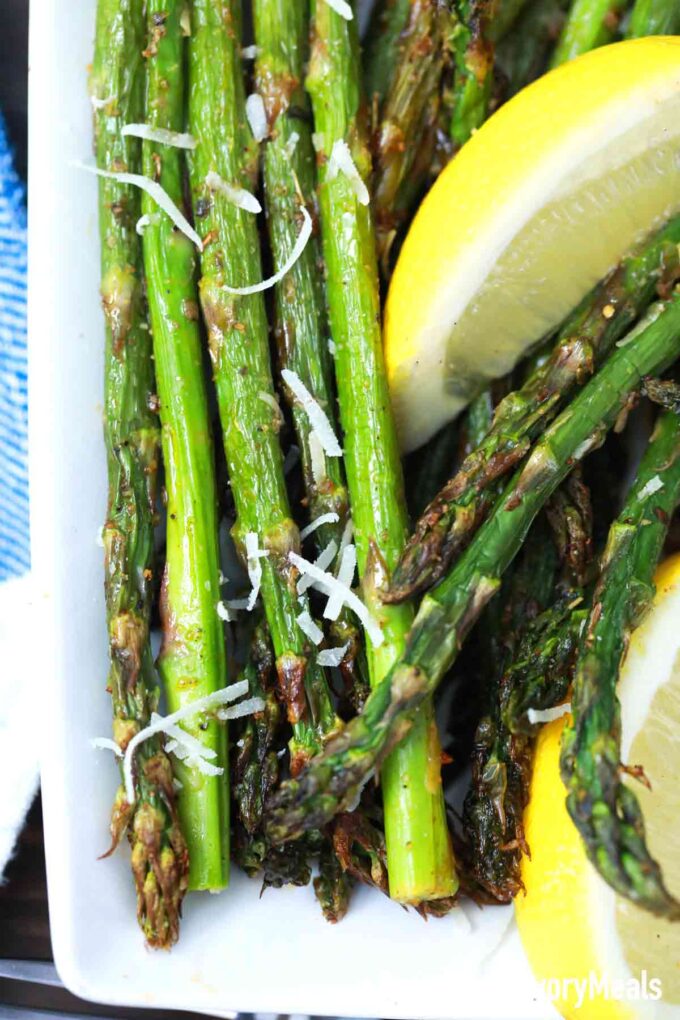 How to serve:
These roasted asparagus spears are amazing with just a squeeze of fresh lemon or lime. However, they're the perfect side for most entrees, too. For instance, try them with Creamy Chicken Francese, Grilled Salmon Skewers, and Brown Sugar Baked Pork Chops.
How to store leftovers:
After they're completely cool, transfer them into a well-sealed container before putting them in the refrigerator. For the best texture and taste, we suggest finishing them within 3 days. Pop in the microwave to reheat, or air fry at 425F for a few minutes.
Air Fryer Asparagus
Air Fryer Asparagus is seasoned with herbs and spices, then air-fried until crispy on the outside and tender on the inside.
Save
Share
Print
Pin
Rate
Servings:
4
servings as a side dish
Ingredients
Seasoning:
2

teaspoons

olive oil

1/2

teaspoon

garlic powder

1/2

teaspoon

onion powder

1/2

teaspoon

smoked paprika

1/2

teaspoon

Italian dried herbs

Salt and pepper

(to taste)

Lemon wedges

(for serving)
Instructions
Rinse asparagus and dry well with a kitchen towel.

Slice about 1/2-1 inch off the bottom and discard.

Preheat air fryer to 400 degrees F.

Mix Seasoning ingredients in a bowl.

Arrange asparagus on a baking sheet and toss with olive oil and the Seasoning mixture

Arrange it in the air fryer in one layer, work in batches if needed.

Cook for 6-10 minutes or until tender-crisp and lightly roasted on the outside.
Notes
Thinner asparagus will take about 6-7 minutes to cook, and thicker will take closer to 10 minutes.
Choose spears that are neither too thin (has a tendency to burn) or too thick (may not be as tender).

Check the vegetables at the 5-minute mark. Keep in mind that air fryers have different wattages, and cooking time will also depend on the size and thickness of the stalks.
You can use any type of asparagus for this recipe— white, green, or purple.
Nutrition
Calories:
43
kcal
|
Carbohydrates:
5
g
|
Protein:
3
g
|
Fat:
2
g
|
Saturated Fat:
1
g
|
Sodium:
3
mg
|
Potassium:
242
mg
|
Fiber:
3
g
|
Sugar:
2
g
|
Vitamin A:
980
IU
|
Vitamin C:
6
mg
|
Calcium:
29
mg
|
Iron:
3
mg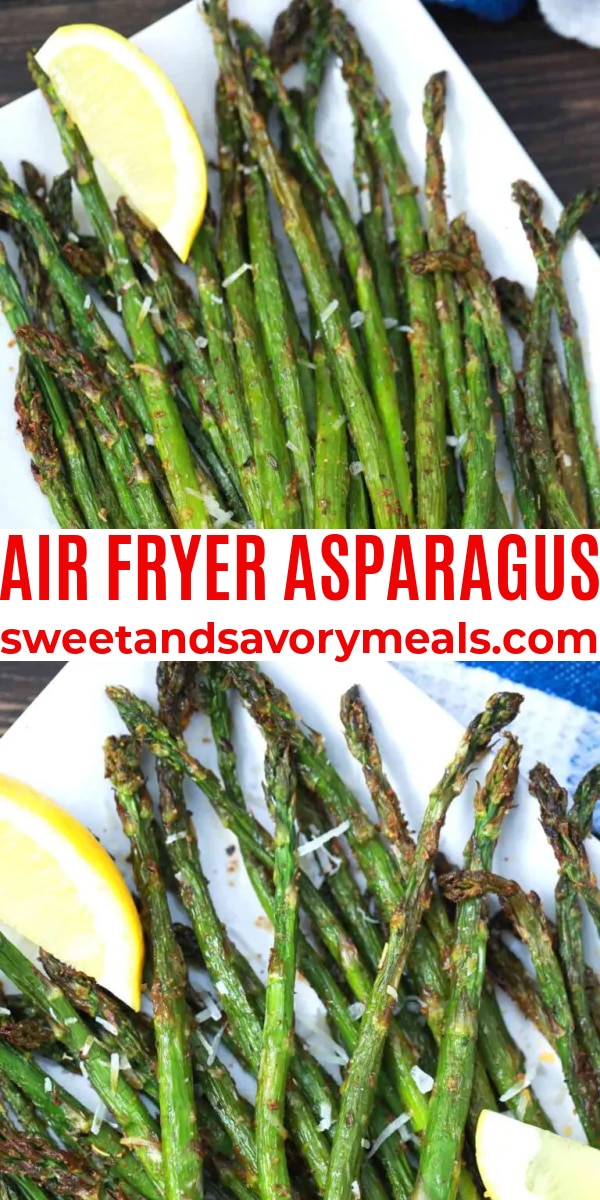 More recipes you might love