Air Fryer Cauliflower Recipe
Air Fryer Cauliflower is coated in paprika, herbs, and cheese, then roasted until perfectly tender with crispy, caramelized edges. Only takes 20 minutes and with endless topping options!
This is an extremely low carb side dish, so feel free to enjoy it on a keto diet! For more tasty low-carb recipes, enjoy this Keto Cheesecake, Zucchini Lasagna Roll-Ups, and Italian Chicken Skewers.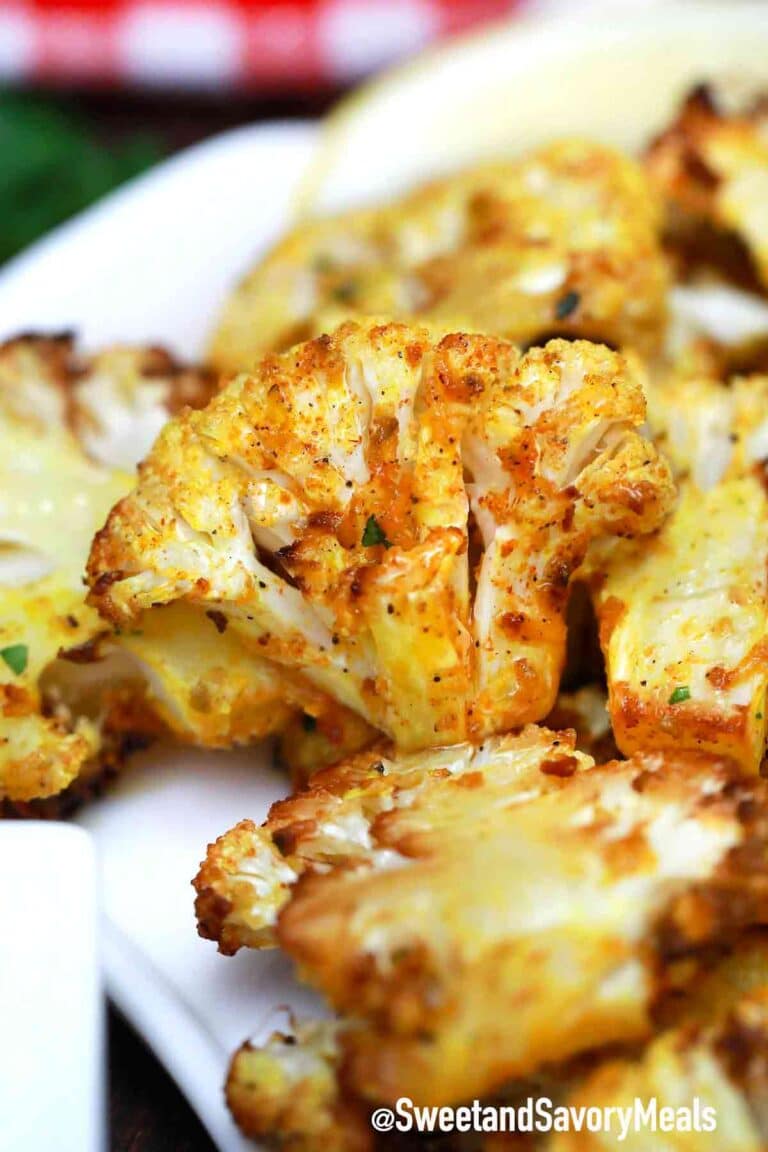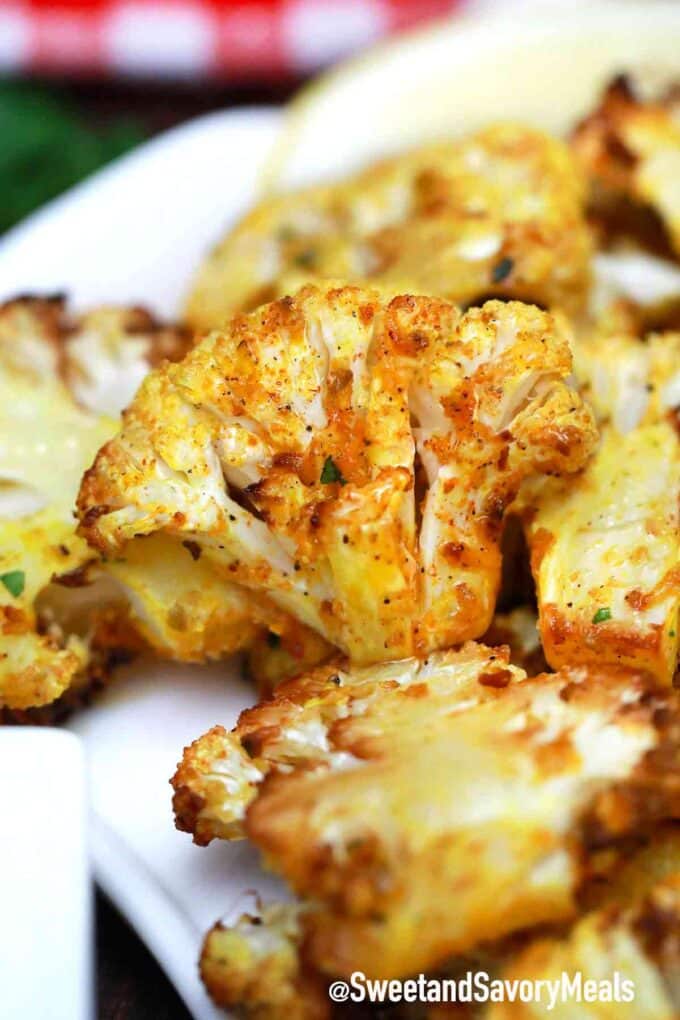 This Crispy Air Fryer Cauliflower recipe is going to be your next favorite way to enjoy this versatile veggie! It's very similar to our popular oven-roasted cauliflower but done quickly in the air fryer. So, don't worry about heating up the kitchen for this one!
Our whole family – yes even the kids – loves these roasted, crispy florets. They're perfectly seasoned and slightly cheesy thanks to the parmesan. The air fryer basket gets hot enough, so the surface gets brown, crispy, and caramelized, with adds even more flavor to this dish!
In addition, this Easy Air-Fried Cauliflower is also great to be used in Soups. Feel free to make a larger batch, and use it in various dishes. Overall, this is a healthy snack, perfect appetizer, or great side dish to go with any meal. Therefore, feel free to enjoy this guilt-free snack anytime you like!
Ingredients Needed:
Raw Cauliflower: Use a head of cauliflower and slice it into evenly sized florets.
Olive oil: Gives the vegetables that roasted flavor, and helps the seasonings stick. In addition, this helps get that crispy cauliflower texture.
Seasonings: Powdered turmeric, smoked paprika, ground fresh black pepper, onion powder, garlic powder, very finely chopped parsley, grated parmesan cheese, salt, and pepper.
For serving: Some lemon wedges and more fresh parsley on top.
How to make Air Fryer Cauliflower?
Season: First, place the florets in a large bowl. Then, coat them in olive oil, and toss the cauliflower with the spices, herbs, and parmesan cheese so it's coated well.

Cook: Next, put them in a single layer in the air fryer basket and cook at 390 degrees F for 12 to 15 minutes, making sure to flip on the halfway mark.
Serve. These are delicious warm or cold! Serve with your favorite dips, toppings, or lemon drizzle.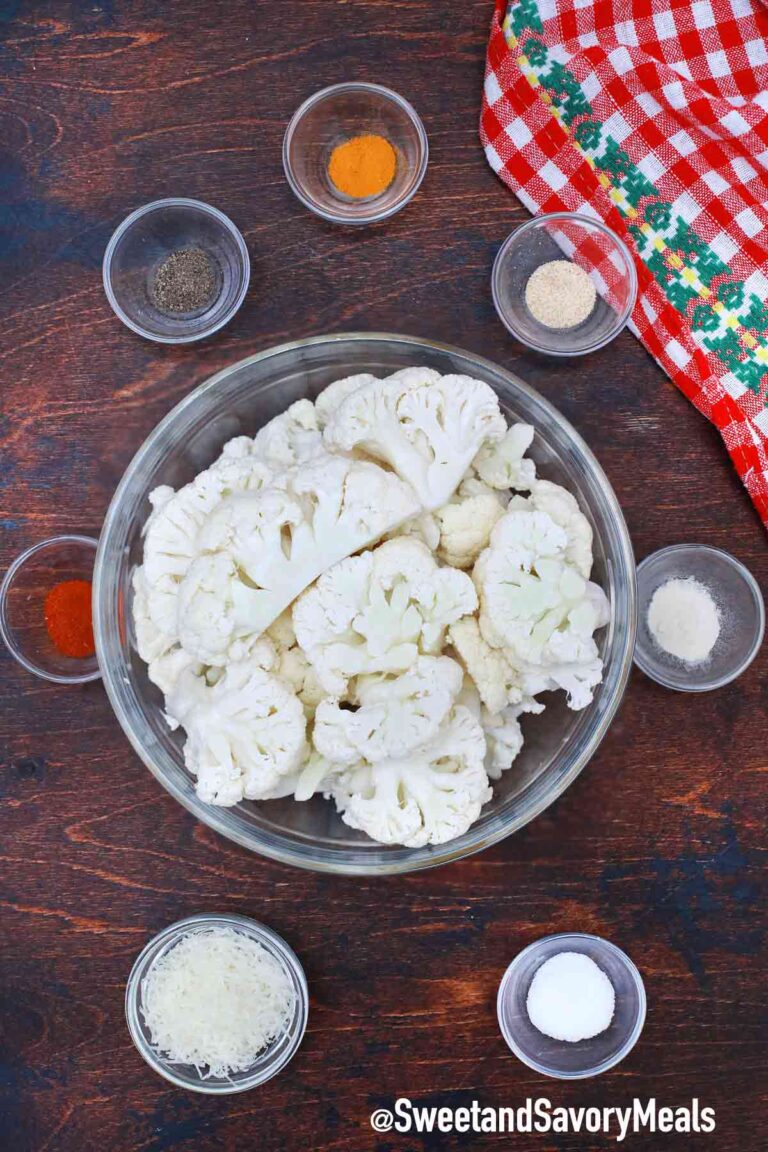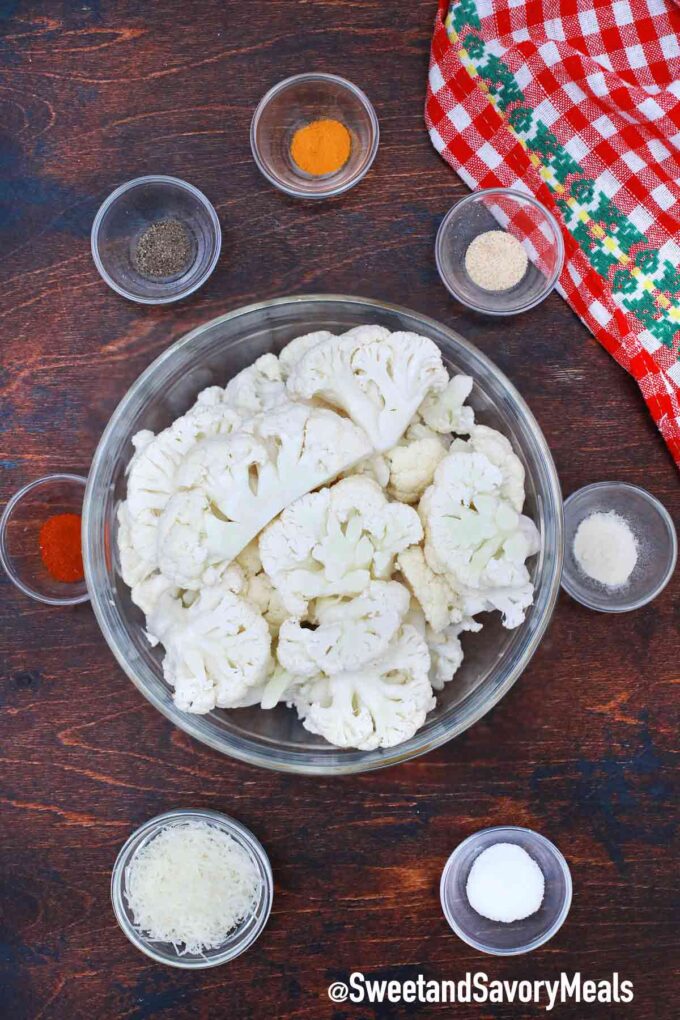 Variations and substitutions:
Use broccoli: Swap the veggies and follow the same steps to make air fryer broccoli. Another healthy and delicious side dish!
Try other seasonings: Feel free to use your favorite seasoning. We also love these flavored with Italian seasoning, coriander, cumin, curry powder, chili powder, taco seasoning, southern Cajun seasoning, and more!
Loaded version: Top with chili, cheese, low-fat sour cream, jalapenos, bacon, or your other favorite loaded toppings.
Use other oils: Instead of olive, you can use corn or avocado oil.
Buffalo Cauliflower Wings: Want a flavor twist?! Then, try this with hot sauce. It is creamy and spicy, and full of bold flavor!
Is cauliflower healthy?
Yes, it's actually considered a superfood! It's packed with antioxidants many nutrients, such as Vitamin C, K, B6, and minerals like potassium and phosphorous. It's also extremely high in fiber, which aids in digestion and makes you feel full, so you have less tendency to overeat.
This delicious veggie is also low-calorie, which means you can easily add it to your diet. In fact, we love it as a low-carb substitute for rice!
So yes, it's very good for you. Good thing it's super tasty too— enjoy it in other awesome dishes like a salad, and a cheesy bake!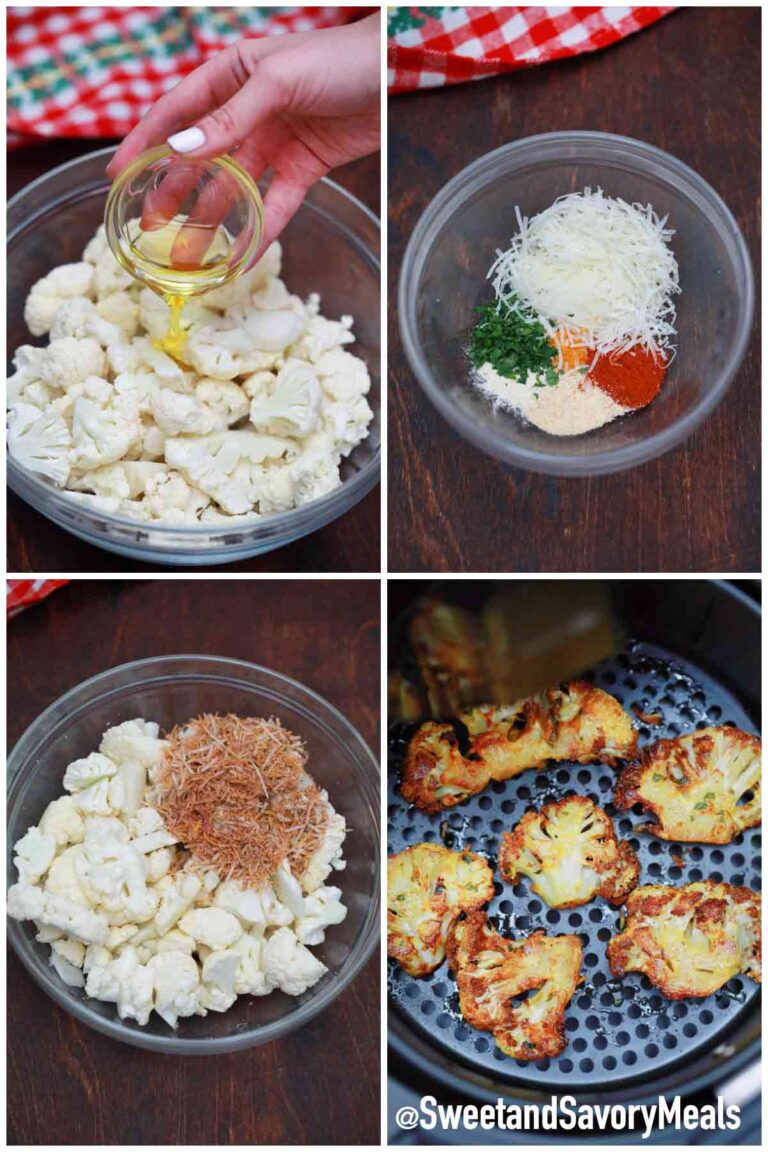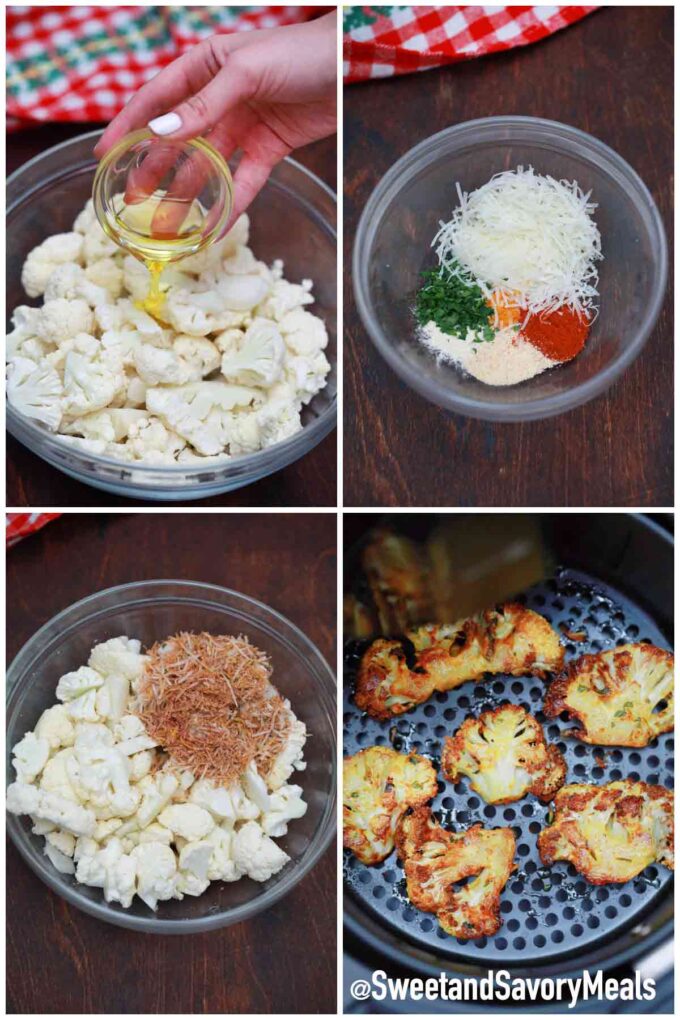 How to cut cauliflower?
Hold it by the stem, with the head against your chopping board.
Then, expose the base by pulling off the leaves.
Next, use a paring knife to carefully cut around the stem then take it off.
Break it off into large florets using your hands.
Lastly, cut into smaller florets, or into the size needed for your recipe. Slice off any remaining large stems too.
Can I Use Frozen Cauliflower Florets?
Yes! But here's the thing— don't thaw it! Season and brush with your preferred oil, then air fry straight from frozen.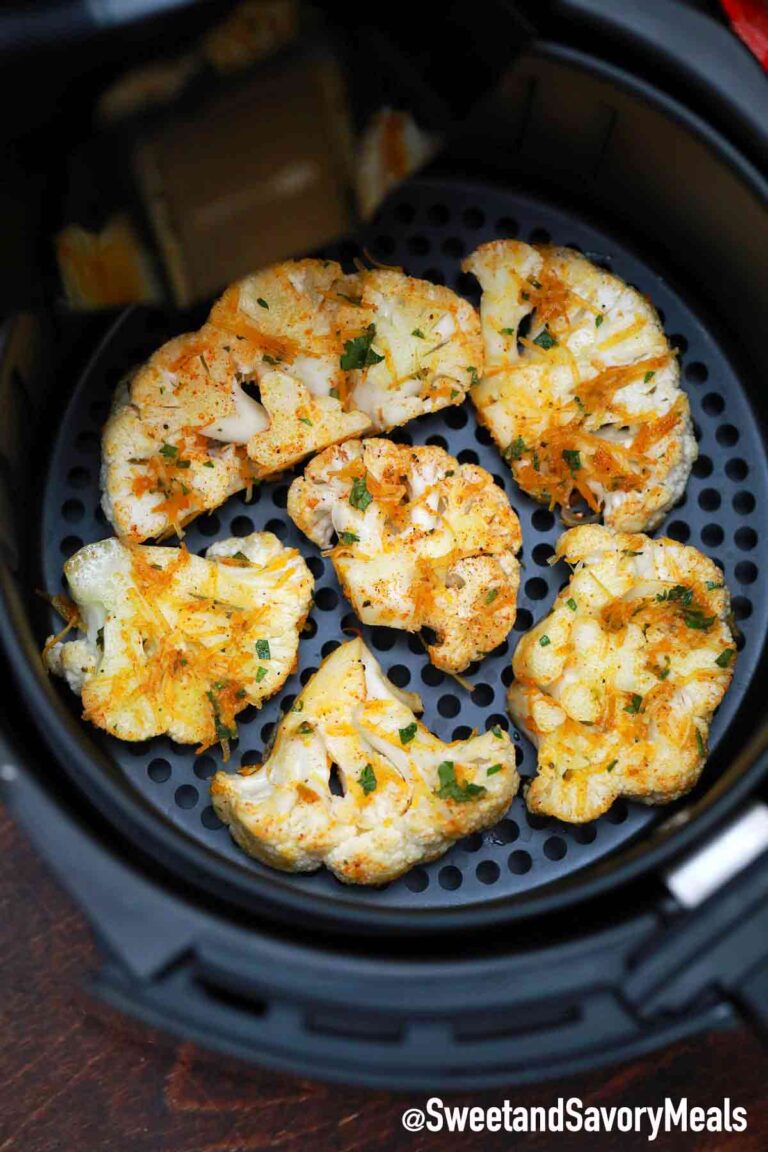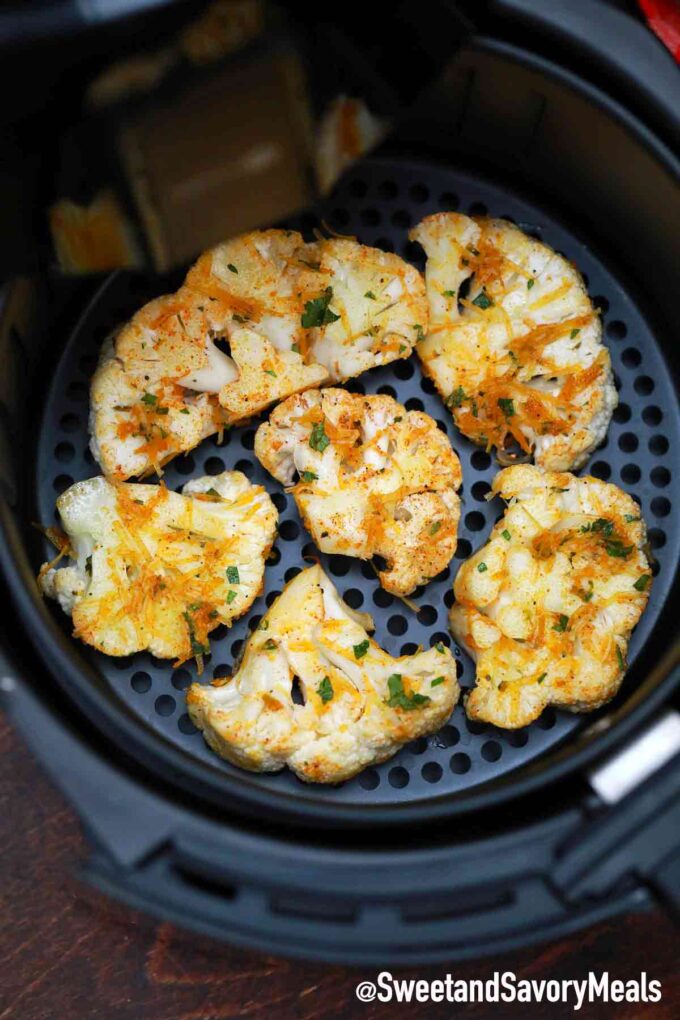 Oil-Free option:
Air Frying is already a healthy alternative to deep-frying or even roasting because less oil is used. You are basically just coating the veggies with some olive oil.
However, if you want to totally avoid oil, simply leave it out. But keep in mind, the texture will not be as crispy on the outside. Also, you have to use parchment paper liners to avoid the florets sticking to the bottom of the basket.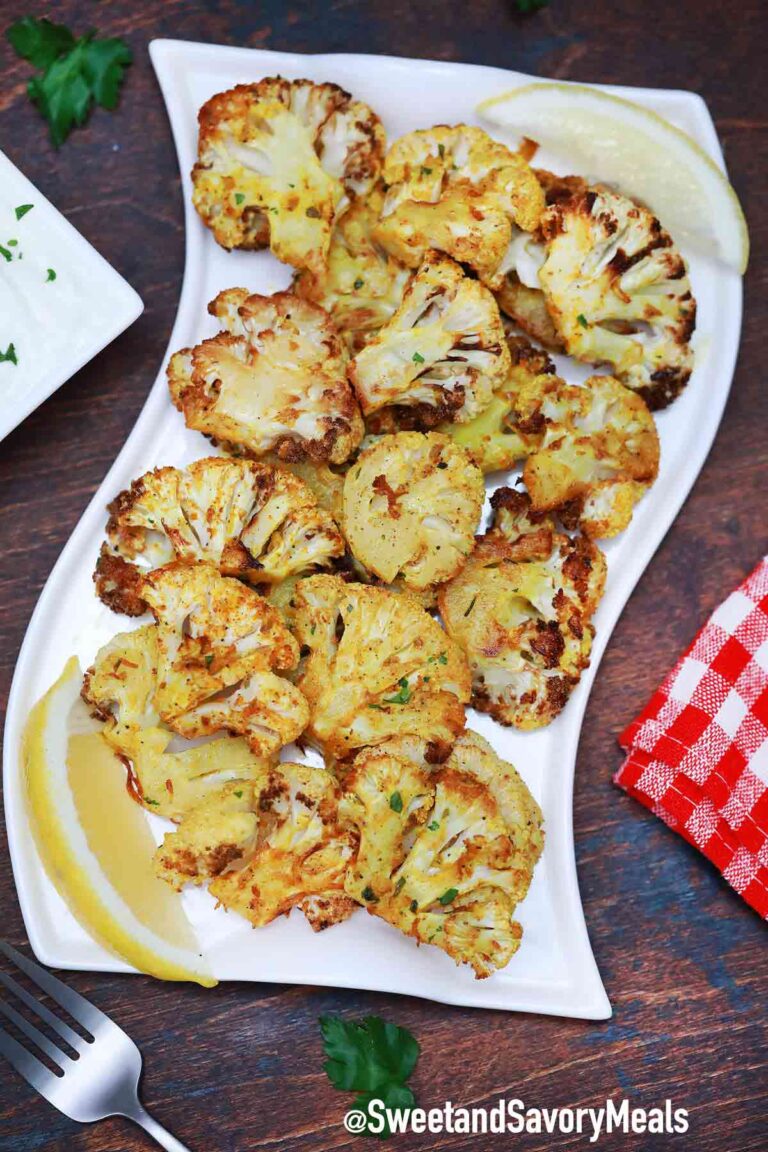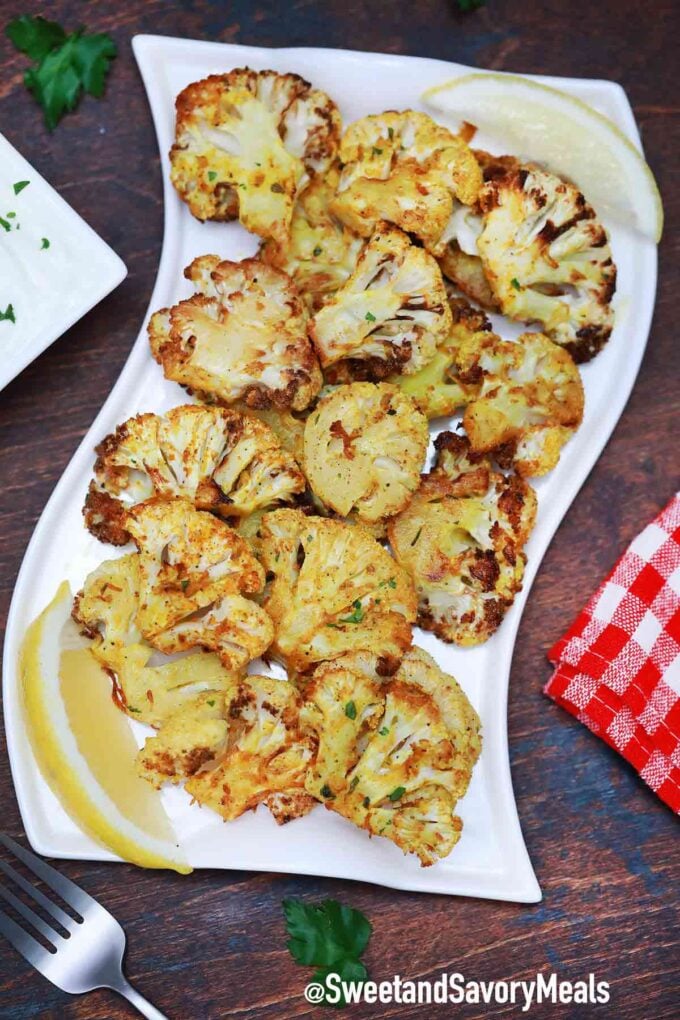 Favorite sauces to use:
These cauliflower bites are just perfect to serve with various sauces. Here are some great ways to enjoy them with:
Why is my cauliflower not crispy in the air fryer?
There are probably two reasons. First, you did not coat them with oil. Second, you likely overcrowded the basket which does not allow the hot air to properly circulate.
Remember, the veggies need space to get that crispy texture. So, ensure to place them in a single layer when cooking.
What to serve with them?
These are really good toppings and substitute for meat in salads. Also, they are the perfect side dish to go with main dishes, such as:
How to store leftovers?
For any leftovers, allow them to cool completely first to reduce condensation inside the container. This way, the florets will retain some of their crispiness.
Once cool, transfer to a baggie or an airtight container. Store in the fridge for up to 2 days, but it's best to consume it as early as you can. These are fantastic cold, but you can also warm them up by air-frying at 400F for a few minutes.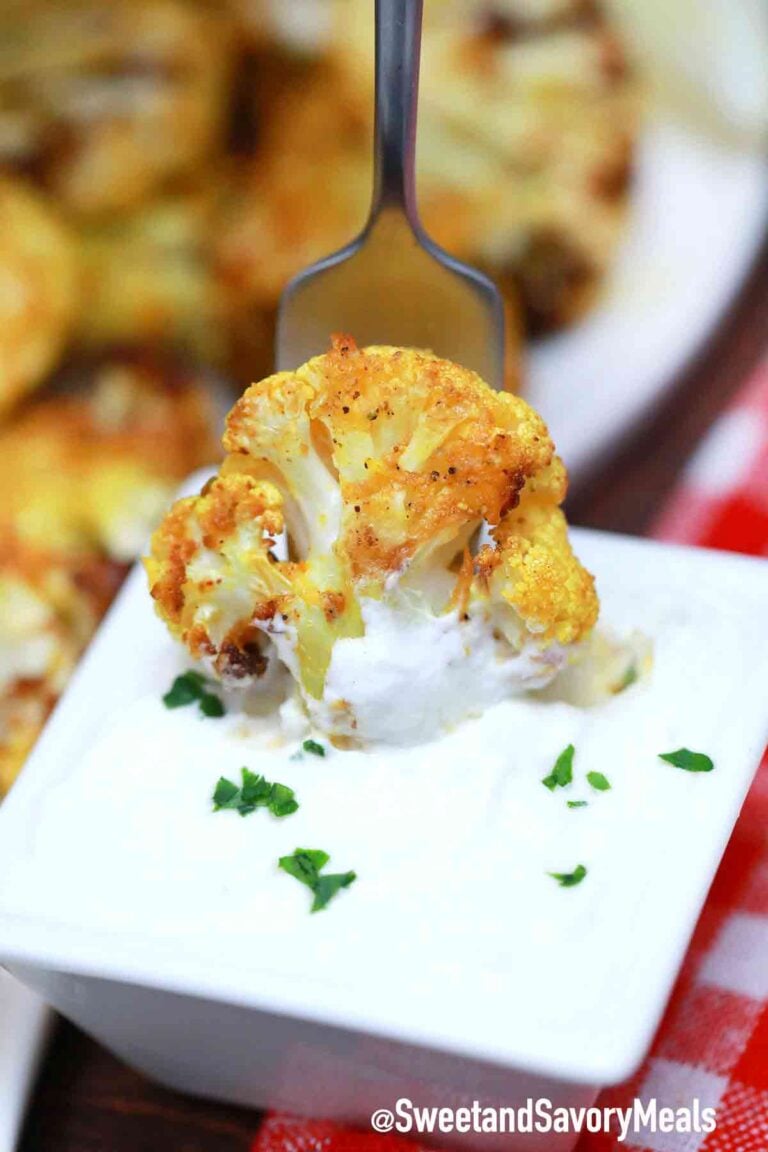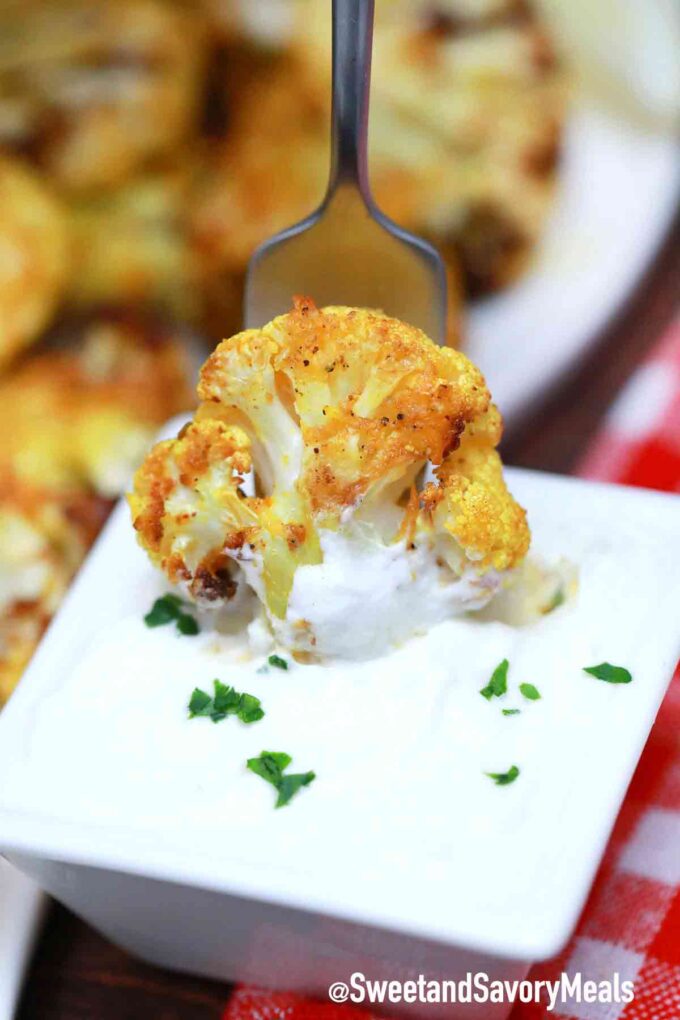 Cooking tips:
Try to chop the florets in similar sizes so they roast evenly.
Also, keep a close eye on these florets! Due to the high heat in the basket, they can burn. We recommend checking the basket every 5 minutes and shaking it every so often. This helps redistribute the heat.

Don't add too much oil, since this will prevent the surface from crisping up and getting that delicious roasted flavor. Just add a very, very light coat to the veggies.

As much as possible, use powdered seasonings for flavor. Again, this ensures that the vegetables don't get soggy as they roast, and the flavors coat the florets better.
In addition, DO NOT overcrowd the basket. Cook in batches and in a single layer.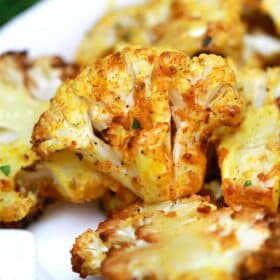 Air Fryer Cauliflower
Air Fryer Cauliflower is coated in paprika, herbs, and cheese, then roasted until perfectly tender with crispy, caramelized edges.
Save
Share
Print
Pin
Rate
Ingredients
1

large cauliflower head

(cut into florets)

2

tablespoons

olive oil

1/4

teaspoon

ground turmeric

1/2

teaspoon

smoked paprika

1/2

teaspoon

salt

1/4

teaspoon

ground black pepper

1/2

teaspoon

garlic powder

1/2

teaspoon

onion powder

1

teaspoon

fresh parsley

(finely chopped)

2

tablespoons

grated parmesan cheese
Garnish:
Chopped fresh parsley

Lemon wedges

Favorite dipping sauce
Instructions
Place the cauliflower florets in a large bowl and drizzle with olive oil.

Add all the other ingredients to a medium bowl, stir to combine.

Add to the cauliflower then toss until the florets are well coated in the seasoning.

Roast in the Air Fryer at 390°F (200°C) for around 12-15 minutes, flipping halfway through.

Keep an eye on the cauliflower, as it can burn easily, check every 5 minutes and make sure to shake the basket for even roasting.
Nutrition
Calories:
112
kcal
|
Carbohydrates:
6
g
|
Protein:
4
g
|
Fat:
8
g
|
Saturated Fat:
2
g
|
Cholesterol:
2
mg
|
Sodium:
373
mg
|
Potassium:
451
mg
|
Fiber:
3
g
|
Sugar:
3
g
|
Vitamin A:
148
IU
|
Vitamin C:
69
mg
|
Calcium:
62
mg
|
Iron:
1
mg
More recipes you might love