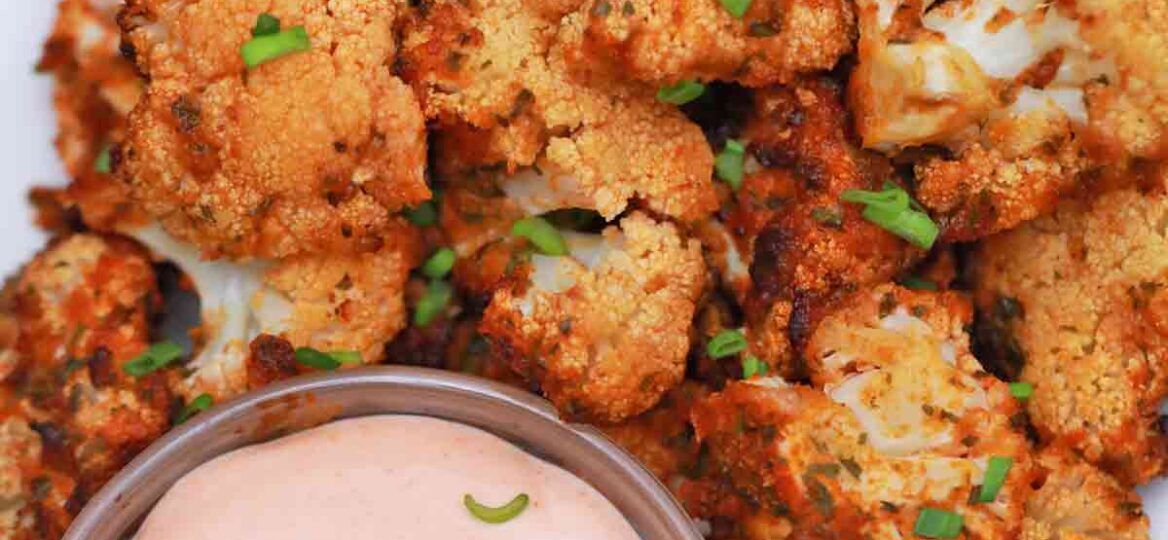 Air Fryer Buffalo Cauliflower Wings
Air Fryer Buffalo Cauliflower Wings have the crispiest crust made with a spicy, tangy, buttery, and addicting sauce! Delicious with blue cheese dip plus sliced vegetable spears for a savory snack or side everyone will go crazy over.
We've got even more buffalo sauce inspired dishes for you! Serve your guests something new on game day with our Buffalo Shrimp Dip, Buffalo Chicken Mac and Cheese Casserole, and Buffalo Crack Chicken Dip!
Buffalo Cauliflower Wings Recipe
Air Fryer Buffalo Cauliflower Wings is our healthy, veggie version of the ever-popular Buffalo Wings. At first, some of our guests weren't sold on the idea. We get it— when you think "wings," you immediately think "chicken."
But once they tried it, we quickly ran out of these spicy, crispy bites! The crunchy coating itself is already flavorful due to the spices, but add the homemade buffalo dressing, and they become unbelievably delicious.
Do I precook the cauliflower?
No need! We're cooking them straight from raw. They'll become tender and perfectly done after roasting in the hot air-fryer basket.
Ingredients for Air Fryer Buffalo Cauliflower Wings:
Cauliflower florets: You'll need about 4-5 cups, which equaled one head for us.
Homemade buffalo coating: Frank's Red Hot, Worcestershire for tanginess, butter, plus a little olive oil.
Crunchy, spiced breading: Almond flour, parsley (dried), and spices like paprika. We'll also add some cayenne pepper for more kick!
How do you make homemade Air Fryer Buffalo Cauliflower Wings?
Toss in the buffalo dressing. First, mix up the Frank's Red Hot with the rest of the ingredients for the buffalo dressing. Then pour that over the vegetables, and shake to coat well.
Sprinkle with spiced breading. Combine the dried parsley, spices, and almond flour. Sprinkle a handful at a time over the sauced florets, until everything is well-coated.
Cook. Take half, and air-fry for about 15 mins. During that time, don't forget to shake the basket once or twice so everything is cooked evenly. Once crispy and browned, do the same for the rest of the cauliflower.
Serve. Enjoy hot with a creamy dip and vegetable spears!
Recipe variations and substitutions:
Non-keto version: If you're not doing low carb, it's fine to use regular flour or even panko.
Vegan: Use plant-based butter.
Mild version: Replace the Frank's Red Hot with BBQ sauce, ketchup, or some homemade honey mustard.
Baked: Pop in a 400F oven for about 25 minutes.
Fried: For a crunchier crust, you can fry these! Toss in breading, fry in your preferred all, then mix with the sauce.
What to eat with homemade buffalo cauliflower wings?
They're delicious with the same sides you enjoy the chicken version with!
Arrange them on a platter with veggies like cherry tomatoes and thin spears of celery, cucumber, and carrots. Serve them your favorite creamy dips. Aside from blue cheese sauce, they're also fantastic with ranch and horseradish. Chipotle sauce and tzatziki work too!
As part of an appetizer spread, these are awesome with Fried Cheese Sticks, Taco Dip, Crispy Onion Rings, and Bacon Ranch Cheeseball!
More air fryer recipes to try:
How do you store leftovers?
These are ideally eaten ASAP, but you can also keep any leftovers in a well-sealed container for up to 2 days. Try to finish them earlier since they're at their crispiest when freshly air fried. To reheat, bake or air-fry at 400F. do note that some of the breading may fall off during the process.
Recipe tips:
Dry the veggies as much as possible! You can wash them a few hours before you plan to cook the dish and arrange them on a rack so the excess moisture drips away.
If you're using frozen florets, cook straight from frozen. Do note that they may not crisp up as well as the fresh ones due to the moisture.
Don't cook everything up all at once. There should be a little space between each floret, so the circulating air crisps them up evenly.
Feel free to enjoy these with your favorite jarred buffalo sauce in place of homemade.
To make these ahead, prep the individual components separately (buffalo dressing, florets, and breading), then just assemble the dish before air-frying.
Deliciousness to your inbox
Enjoy weekly hand picked recipes and recommendations