Air Fryer Brussel Sprouts Recipe
Air Fryer Brussel Sprouts are tossed in olive oil, lemon zest, parmesan crumbs, and spices before getting roasted to crispy, cheesy, tender perfection!
Put your air fryer to good use! It's a great option for fast meals, such as these Air Fryer Pork Chops, Air Fryer Chicken Thighs, and vegetarian-friendly Air Fryer Cabbage Steaks!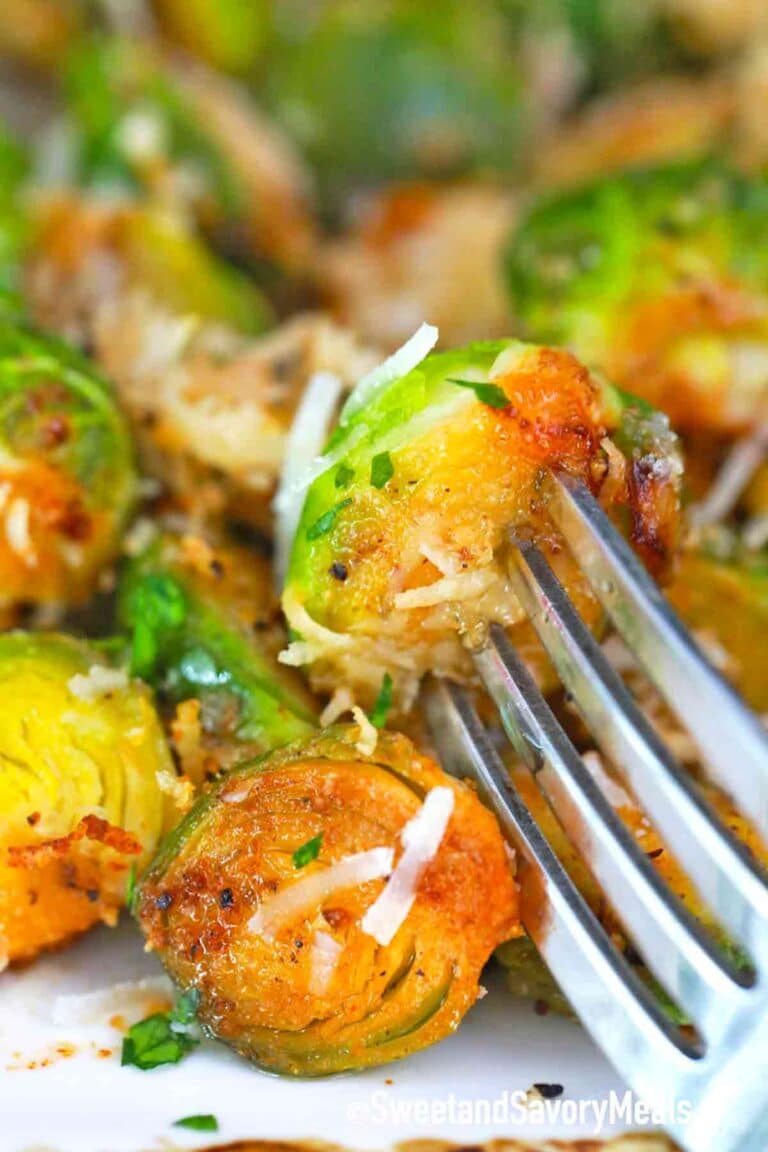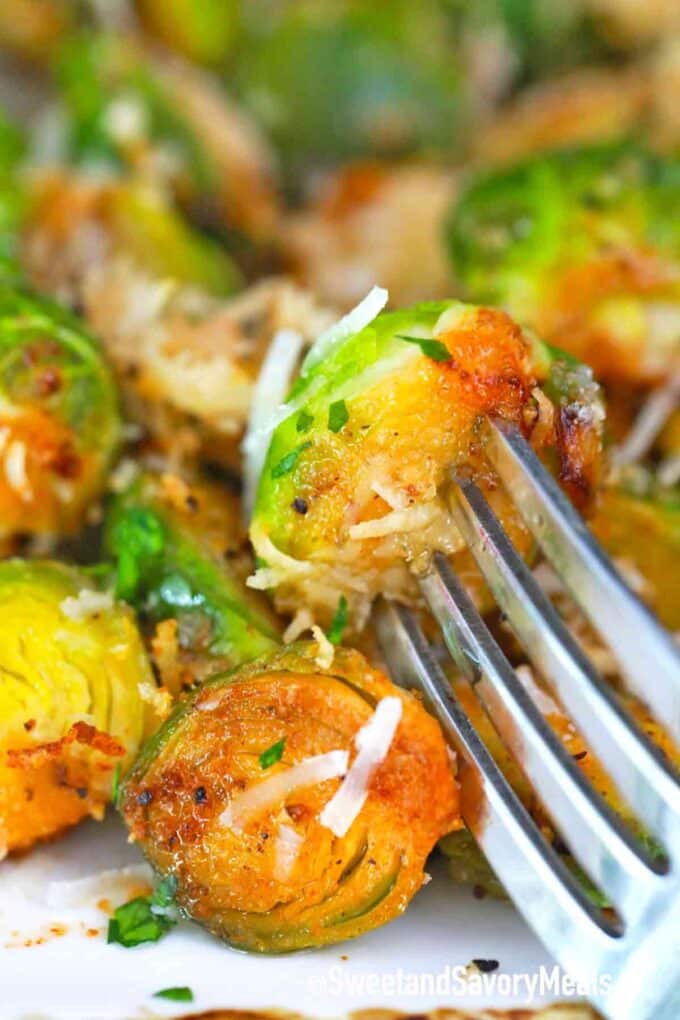 Crispy Air Fryer Brussel Sprouts
Air Fryer Brussel Sprouts are one of the tastiest ways to enjoy these vegetables! Crispy and crusted in spiced parmesan crumbs, these bite-sized roasted veggies are a terrific appetizer or side dish.
Our original roasted Brussels sprouts recipe was a huge hit. Many users asked us to make the Air Fryer version of it. And the results were just as delicious and crispy as the oven-roasted one.
This is a super easy and healthy dish to make for the whole family to enjoy. Also, it convenient and quite delicious! When cooked this way, their insides become tender while their outsides crisp to perfection. If you've never enjoyed Brussel sprouts before, you're about to become a big fan!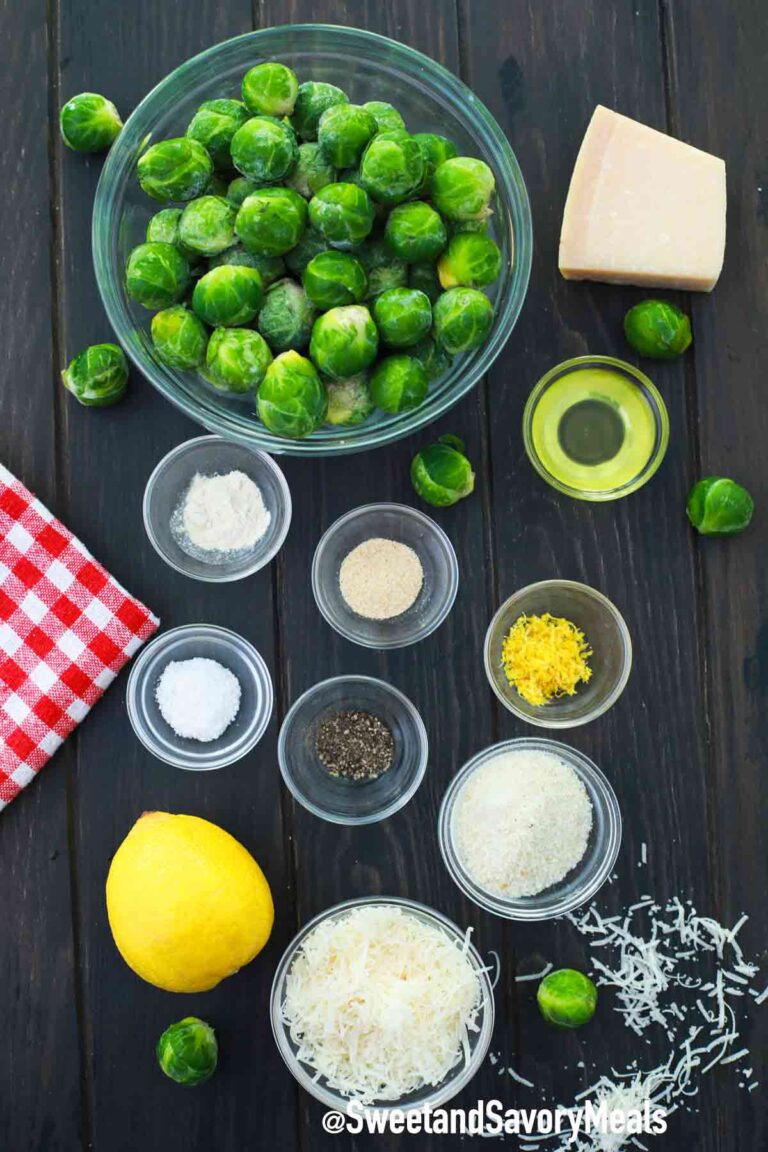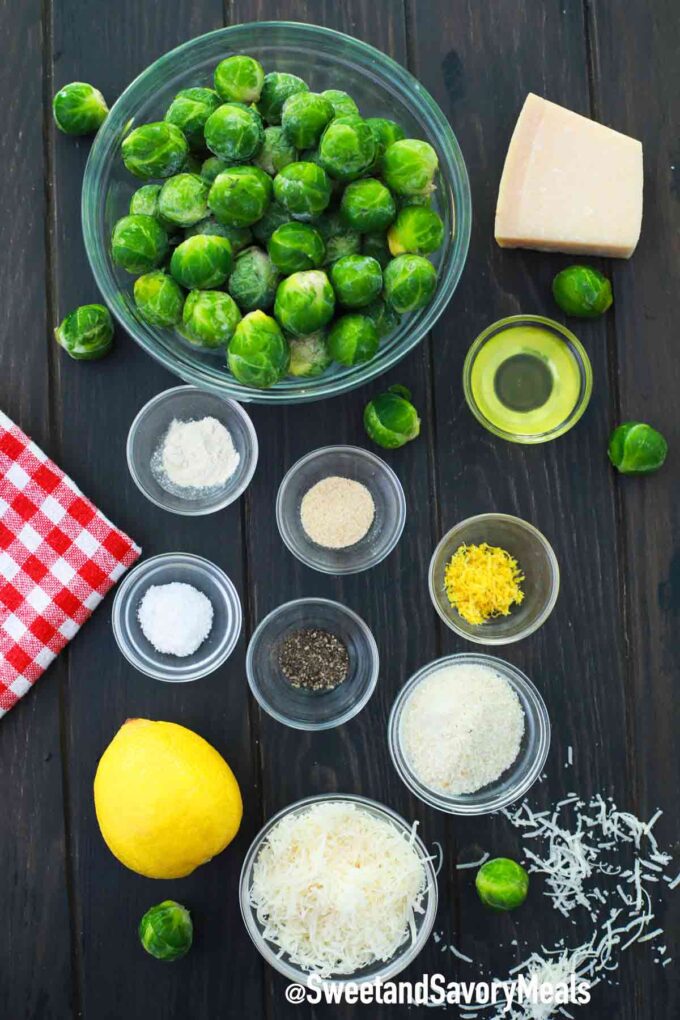 What are Brussel sprouts?
The cute, tiny cabbage look-alikes are actually part of the same family of vegetables. They taste very similar, except the sprouts are a little more bitter.
They're incredibly healthy, as well. For example, they provide tons of fiber, antioxidants, and Omega-3, plus lots of vitamins and minerals. In addition, these veggies have also been found to help regulate blood sugar levels, reduce inflammation, and encourage clear skin.
Do you have to soak Brussel sprouts before cooking?
It's not strictly required, but soaking in them in salted water does take away some of the bitterness. Otherwise, you can simply rinse them out to remove any remaining dirt before cooking.
Are Brussel sprouts low carb?
Like their bigger cousins, Brussel sprouts are keto-friendly. Every cup of these tasty vegetables only has about 4g of carbs, which means you can enjoy them without going over your carb count!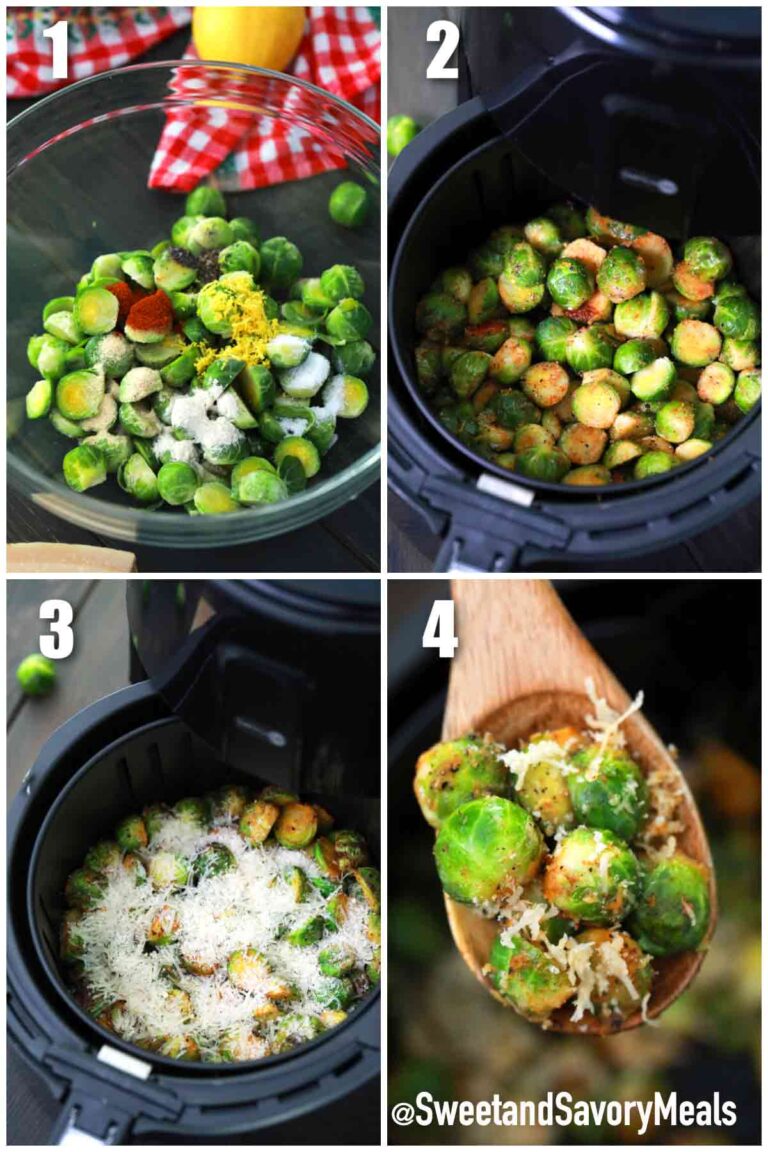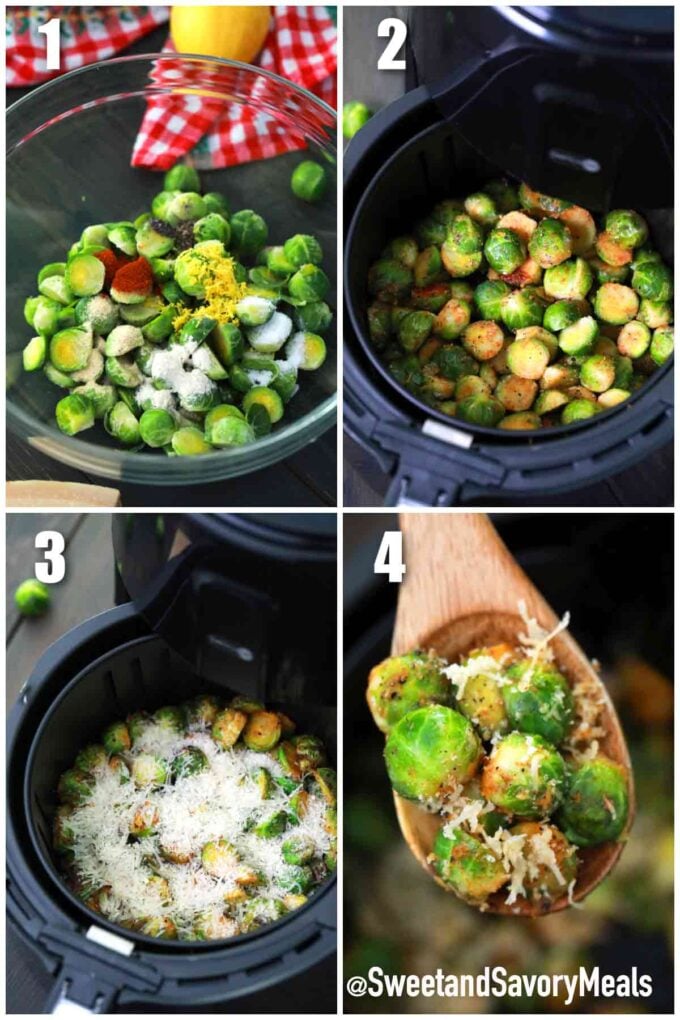 Ingredients for making Air fryer Brussel sprouts:
Brussel sprouts: Slice them in half after removing the ends and the outermost leaves.
Seasonings: We're using a flavorful combo of powdered garlic and onion, a dash of smoked powder, tangy lemon zest, and basic fresh-ground pepper and kosher salt.
Olive oil: This allows all those delicious seasonings to stick to the veggies and helps the coating crisp up!
Breadcrumbs: Creates a crunchy crust.
Parmesan: Adds a cheesy, slightly salty, addicting flavor to the sprouts!
How to cook homemade air fryer Brussel sprouts from scratch?
Season. Get everything ready by coating the prepped veggies with the oil and all the seasonings.
Air-fry. For the first part of cooking, air-fry the seasoned veggies at 400F for about 6 mins.
Sprinkle with cheesy crumbs. Stir them around before sprinkling with the parmesan-crumb combo.
Air-fry once more. Cook for an extra 5 to 7 mins., until the veggies are tender inside and crispy outside.
Serve. Enjoy with more parmesan and some parsley on top.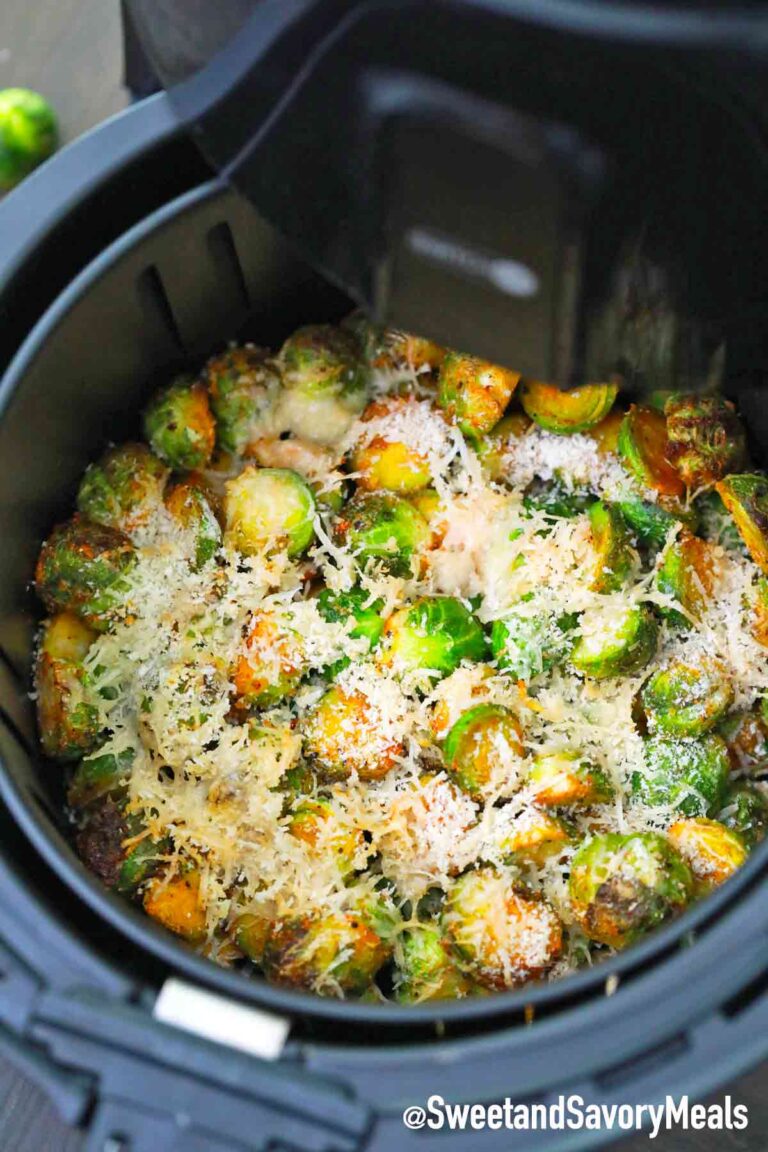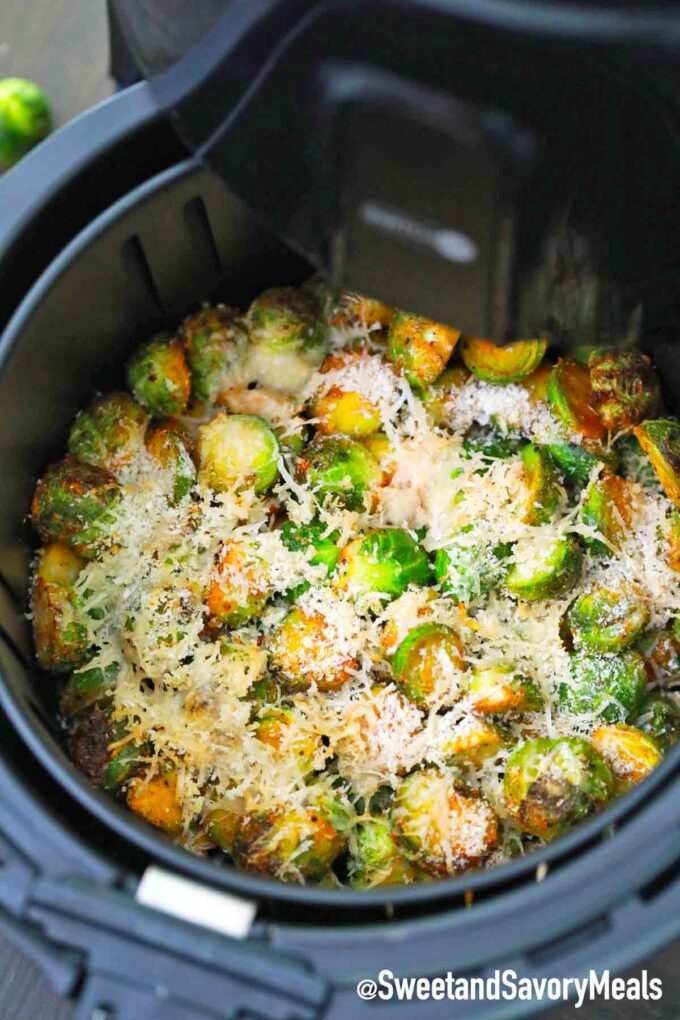 Recipe variations:
Seasoned Italian crumbs: For a delicious herby flavor, replace the plain crumbs with Italian breadcrumbs.
Vegan: To make it a vegan version, simply substitute nutritional yeast for the parmesan.
Keto: Sub with almond flour or keto bread crumbs.
Use other seasonings: Switch up the flavors using Old Bay, chili powder and paprika, taco seasoning for a Tex-Mex twist, and Cajun blend.
Parmesan alternatives: You can also use grated pecorino or Grana Padano.
How do you prevent them from getting soggy?
First, make sure they crisp up really well. If not, then the crumbs can absorb the moisture from the veggies, rendering them soggy. You can also keep them in a low oven if you need more time to finish the rest of the meal.
Make sure to enjoy them right after as well— they're at peak crispiness straight out of the air-fryer!
How to serve them?
They go well with most entrees, such as Garlic Herb Butter Roasted Chicken, Crispy Baked Pork Chops, and Beef Roast. You can also add them to warm salads like our Feta Potato Salad!
How to store leftovers:
First, cool down the leftovers. Then, place in an air-tight container. Store in the fridge for up to 3 days. You can warm them up in the air-fryer at 450F until heated through.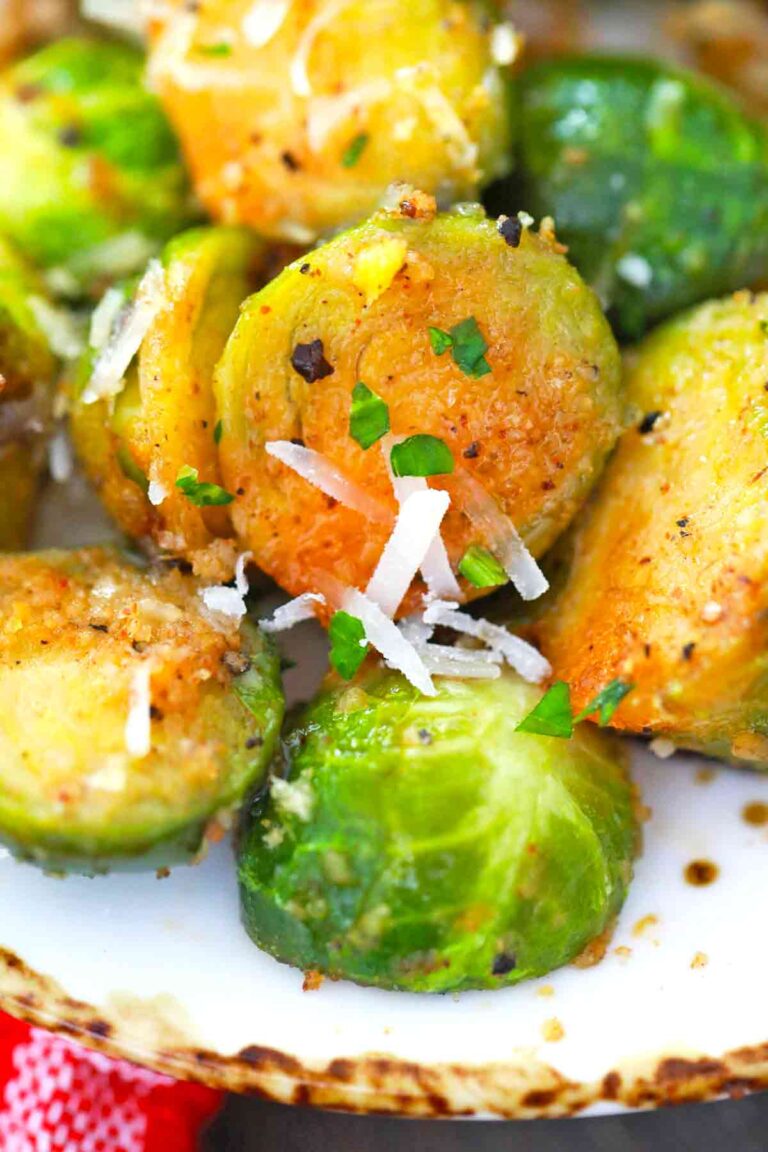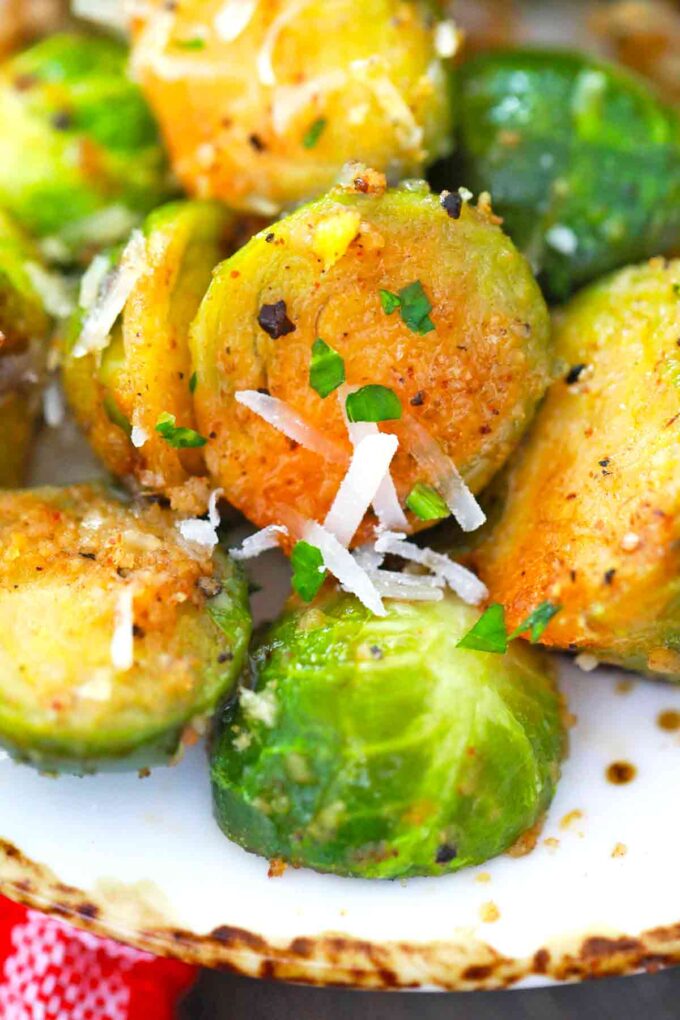 Can you freeze air-fried Brussel sprouts?
Sure, but keep in mind they'll be less crispy once thawed and heated up. We recommend flash-freezing them. After they've cooled down, place in only one layer on a sheet and freeze before transferring to a Ziploc. Store up to a month.
More Side Dishes:
Recipe tips:
Make sure the veggies are as dry as possible before cooking them, so they can crisp up faster.
Shake up the basket halfway through, so they brown evenly.
Also, if you like your veggies on the charred side, keep for a couple of minutes longer in the air-fryer.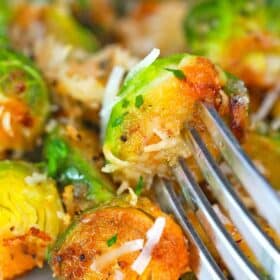 Air Fryer Brussel Sprouts
Air Fryer Brussel Sprouts are tossed in olive oil, lemon zest, parmesan crumbs, and spices before getting roasted to crispy, cheesy, tender perfection!
Save
Share
Print
Pin
Rate
Ingredients
1

pound

Brussel Sprouts

2

tablespoons

olive oil

1

teaspoon

garlic powder

1

teaspoon

onion powder

1

teaspoon

smoked paprika

1

teaspoon

lemon zest

1/4

teaspoon

salt

1/8

teaspoon

ground black pepper

1/4

cup

panko bread crumbs

1/3

cup

grated Parmesan cheese
Instructions
Trim the ends of the Brussel sprouts, remove the outer leaves, and cut the Brussel sprouts in half lengthwise.

In a large bowl combine the Brussel sprouts with the rest of the ingredients, except panko and parmesan, stir until thoroughly incorporated.

Transfer the Brussel sprouts to the air fryer's basket and cook for 6 minutes at 400 degrees F.

When time is up, open the air fryer, add the parmesan cheese and pork panko crumbs and stir to combine.

Arrange in one layer and air fry for an additional 6 to 8 minutes, or until crisp-tender.

Serve garnished with a bit more shredded parmesan and freshly chopped parsley.
Nutrition
Calories:
166
kcal
|
Carbohydrates:
14
g
|
Protein:
8
g
|
Fat:
10
g
|
Saturated Fat:
3
g
|
Cholesterol:
7
mg
|
Sodium:
330
mg
|
Potassium:
474
mg
|
Fiber:
5
g
|
Sugar:
3
g
|
Vitamin A:
928
IU
|
Vitamin C:
97
mg
|
Calcium:
151
mg
|
Iron:
2
mg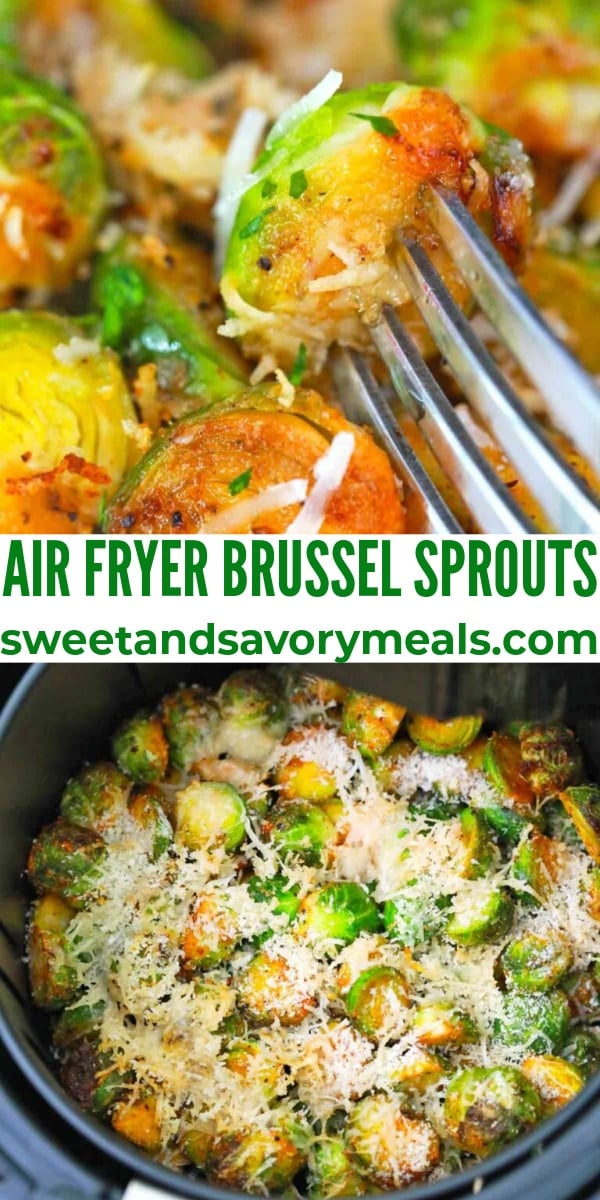 More recipes you might love