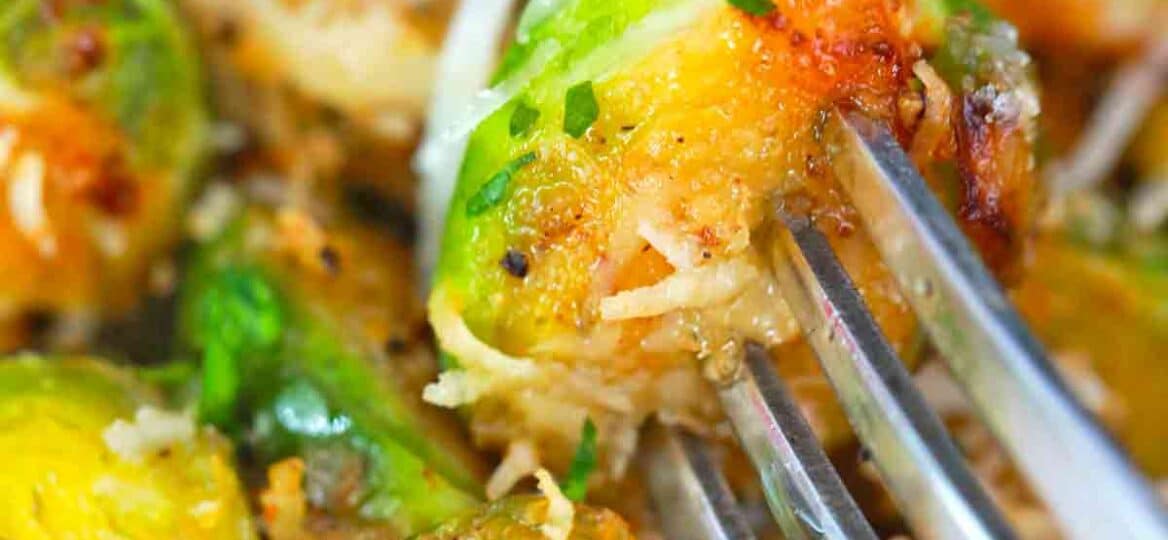 Air Fryer Brussels Sprouts Recipe
Air Fryer Brussels Sprouts are tossed in olive oil, lemon zest, parmesan cheese, and spices before getting roasted to perfection! This is an easy and healthy side dish, that is tender on the inside and super crispy on the outside!
Air fryer recipes are my favorite because they are easy, fast, and always perfectly cooked with a crispy texture on the outside! It's a great option for fast meals, such as these Air Fryer Pork Chops, Chicken Thighs, and vegetarian-friendly Cabbage Steaks!
A perfect side dish
You can get oven-roasted brussels sprouts, but if you want extra crispy brussels sprouts, then this air fryer version is for you! This recipe is super easy to make resulting in one of the tastiest ways to enjoy these vegetables!
First, they are very healthy compared to the deep-fried version because very little oil is used. The hot air circulated inside which cooks them perfectly tender on the inside with crispy layers on the outside.
Also, the shredded parmesan and seasoning give them plenty of flavors. You can serve these bite-sized roasted veggies as a terrific appetizer or side dish.
This Air Fryer Brussels Sprouts recipe is super healthy and an easy side dish to make for the whole family to enjoy. Also, it is convenient, budget-friendly, and quite delicious! When cooked this way, their insides become tender while their outsides crisp to perfection. If you've never enjoyed these veggies before, you're about to become a big fan of them!
Ingredients:
To make this dish, you will need a handful of ingredients. Here is the list:
Fresh brussels sprouts: Slice them in half after removing the ends and the outermost leaves. Also, prior to seasoning them, dry them with a paper towel to remove any excess moisture.
Seasonings: We're using a flavorful combo of powdered garlic and onion, a dash of smoked powder, tangy lemon zest, kosher salt, and black pepper.
Olive oil: This allows all those delicious seasonings to stick to the veggies and helps the coating crisp up! Alternatively, feel free to use avocado oil.
Breadcrumbs: This adds to the crunch factor. Therefore, I highly recommend using some panko bread crumbs.
Parmesan cheese: This adds a cheesy, slightly salty, and addicting flavor to them!
You will also need an air fryer.
How to make fryer air fryer brussels sprouts?
Prepare and season. First, clean and cut them in half. Then, in a large bowl, coat and toss brussels in a little bit of olive oil and seasoning.
Cook. Then, place the sprouts in a single layer in the air fryer basket and cook them at 400 degrees f for 6 minutes.
Sprinkle with cheesy crumbs. Next, stir them around before sprinkling with the parmesan-crumb combo.
Air-fry once more. Cook for an extra 5 to 7 minutes, until crispy sprout.
Serve. Garnish them with more shredded parmesan, chopped parsley, and some lemon juice!
Air Fryer Brussels Sprouts Variations:
Balsamic vinegar: For a flavor twist, coat them in a balsamic glaze. Simply, toss the brussels with 1 tablespoon of balsamic vinegar, and then cook. Follow the same cooking process.
Add bacon: Bacon and sprouts are the perfect combinations. Just add the crumbled bacon on top when they are done cooking.
Air fryer frozen brussels sprouts: In addition, you can easily use frozen sprouts. First, ensure to leave more space between the sprouts in the air fryer basket so that the hot air can freely circulate. Also, the cooking time should be increase by about 2-3 minutes.
Honey or maple syrup: For a sweet finish, drizzle 1 tablespoon of honey or maple syrup over the cooked veggies.
Seasoned Italian crumbs: For a delicious herby flavor, replace the plain crumbs with Italian breadcrumbs.
Vegan: Also, to make it a vegan version, simply substitute nutritional yeast for the parmesan.
Keto version: Sub with almond flour or keto bread crumbs.
Use other seasonings: Switch up the flavors using Old Bay, chili powder and paprika, taco seasoning for a Tex-Mex twist, and Cajun blend.
Parmesan alternatives: You can also use grated pecorino or Grana Padano.
Instant Pot version:
To make Instant Pot brussels sprouts is equally easy. Here are the steps:
First, clean and cut the veggies. Pat them dry using a paper towel to remove any excess moisture.
Next, add a little olive oil to the bottom of the instant pot. Using the saute function of your pressure cooker, saute them for about 2 minutes until translucent.
Season with salt and pepper. Then, close the lid and cook on HIGH for 4 minutes, following the natural pressure release.
Enjoy!
What are Brussels sprouts?
The cute, tiny cabbage look-alikes are actually part of the same family of vegetables. Also, they taste very similar, except the sprouts are a little more bitter.
At the same time, these veggies are incredibly healthy. For example, they provide tons of fiber, antioxidants, and Omega-3, plus lots of vitamins and minerals. In addition, these veggies have also been found to help regulate blood sugar levels, reduce inflammation, and encourage clear skin.
Do you have to soak them before cooking?
It's not strictly required, but soaking in them in salted water does take away some of the bitterness. Otherwise, you can simply rinse them out to remove any remaining dirt before cooking.
Are they low carb?
Like their bigger cousins, Brussels sprouts are keto-friendly. Every cup of these tasty vegetables only has about 4g of carbs, which means you can enjoy them without going over your carb count!
How do you prevent them from getting soggy?
First, make sure they crisp up really well. If not, then the crumbs can absorb the moisture from the veggies, rendering them soggy. You can also keep them in a low oven if you need more time to finish the rest of the meal.
In addition, ensure to enjoy them right after as well— they're at peak crispiness straight out of the air-fryer!
How to serve them?
They go well with most entrees, such as Garlic Herb Butter Roasted Chicken, Crispy Baked Pork Chops, and Beef Roast. You can also add them to warm salads like our Feta Potato Salad!
How to store
Refrigerate: First, let the leftovers cool down at room temperature. Then, place leftovers in an air-tight container. Store in the fridge for up to 3 days.
To reheat: You can warm them up in the air-fryer at 450F until heated through.
To freeze: Keep in mind they'll be less crispy once thawed and heated up. Also, I recommend flash-freezing them. After they've cooled down, place in only one layer on a sheet and freeze before transferring to a Ziploc. Freeze them for up to a month.
More Air fryer Side Dishes:
Recipe tips:
Make sure the veggies are as dry as possible before cooking them, so they can crisp up faster.
Shake up the basket halfway through, so they brown evenly.
Also, if you like your veggies on the charred side, keep for a couple of minutes longer in the air-fryer.
In addition, feel free to use your favorite seasonings. Some great alternatives would be ranch seasonings, red pepper flakes, etc.
For crispy sprouts with tender inside, I would recommend soaking them in water for about 10 minutes prior to air frying them.
Garnish them with some pieces of bacon and some freshly squeezed lemon juice or lime juice.