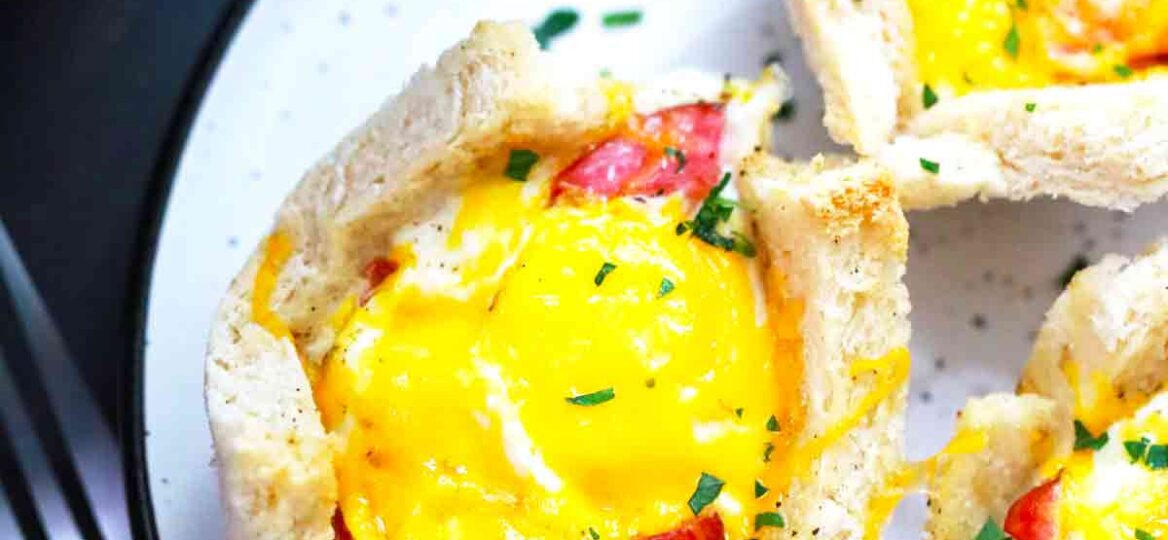 Air Fryer Egg Cups are great options for a fast and easy breakfast or snack with a bit of ham and cheddar cheese on top of toasted bread. You only need a handful of ingredients and about 15 minutes to prepare these yummy egg dishes.
If you want some other great air fryer recipes, try our Easy Air Fryer Hard Boiled Eggs with no meal prep at all or Crispy AF Potatoes made with baby red potatoes, parmesan cheese, and smoked paprika. Another delicious way to prepare your eggs is with this Instant Pot Egg Bites recipe with cheddar cheese and garlic.
These egg cups are made to be single servings and make a delicious and nutritious breakfast, brunch, or snack.
The nutrition facts may surprise you, but one egg boasts six grams of protein as well as vitamin D, iron, and calcium as well as magnesium, vitamin A, and Vitamin B.
Add the protein of the ham and calcium from the cheese and you have a very healthy dish.
Ingredients needed:
Scroll down to our recipe card at the bottom of the page for our step-by-step instructions and measurements. But here are the basic ingredients you need for this easy breakfast recipe:
Large eggs: At room temperature.
White bread: Toasted and with crusts removed.
Butter: Or you could use margarine.
Ham: We used thin deli-sliced ham.
Cheddar cheese: Freshly shredded for best results.
Nonstick cooking spray: Or olive oil.
Salt and pepper: For seasoning.
How do you make air fryer egg cups?
Preheat: First, turn the fryer to 375 degrees to preheat for at least five minutes.

Prepare: Meanwhile, coat the inside of oven-proof ramekins or custard cups with nonstick cooking spray or oil.

Place bread: Next, spread one side of the bread with butter and place it butter side down into the ramekin. Press it firmly to shape it to the inside of the cup. Repeat with other slices of bread.

Fill the cups: After slicing the ham into half-inch strips, place them on top of the bread in each cup. Then, crack an egg onto each one. Season with salt and pepper and then top with cheese.
Fry: Lastly, put the cups into the air fryer basket and cook for 10 to 13 minutes. This will make them softly set. If you want them cooked more, continue until they are done to your liking.

Keep warm: Also, place the finished eggs onto a baking sheet and keep them in a warm oven until all the cups are finished.

Serve: Finally, remove each cup from the basket with tongs and slide a knife around the sides before transferring to a plate to serve.
Recipe variations:
Egg whites: Alternatively, just use egg whites if you want fewer calories.

Add veggies: Also, you could add some bell peppers, spinach, green onions, or other veggies to your egg mixture.
Make it meaty: Similarly, add some chopped air fryer bacon or breakfast sausage to make a hearty and healthy breakfast.

Molds: Feel free to use silicone egg bite molds for these delicious eggs.
Oven-style: Another great way to make these is by using a muffin tin and baking them in the oven at 375 degrees F for 20 minutes.
Low carb: To reduce the carbs, use the ham as the cup instead of the bread.
How to serve:
Serve these air fryer breakfasts in egg muffin cups or custard cups with a small bowl of shredded cheese, chopped bacon, and other toppings. Here are some other serving suggestions:
Place a tater tot in each egg mixture for a crispy surprise.

Put each of the single servings into a cup and top with our homemade buffalo sauce or one of your other favorites.

These would also be amazing in a salad or on top of rice or pasta.

Have an easy breakfast by serving these with a side of hash browns or sausage.
Put these on an English muffin for an egg sandwich.
Frequently Asked Questions
Can I use silicone in the air fryer?
Anything you can put in the oven can safely be used in your fryer. Whether you are using a glass, metal, ceramic, or silicone mold, you can use it in the fryer.
You can even use heavy paper or foil muffin cups, but the silicone muffin cups are better because they are sturdier.
Can I put a ramekin in the air fryer?
Absolutely, a four-ounce ramekin or souffle cup is perfect for baking eggs and other dishes in the fryer.
They are just the right size for one or two large eggs and help to cook them more evenly. However, they do get very hot so use potholders when removing them.
What accessories do I need for my air fryer?
With so many people investing in these new cooking gadgets, companies are constantly coming up with new accessories to go with them.
For example, there are at least a dozen cool tools to make air frying much easier for you.
Silicone liners are perfect for keeping food from sticking while allowing air to circulate.
In addition, you can get an aluminum grill insert to turn your fryer into a grill. Or try one of the baking pans to make a cake or pasta.
Stainless steel tongs are also a great help. Also, why not get a spray bottle to make your own cooking spray from whatever oil you like.
How to store leftovers:
Store: You can store your air fryer eggs in the fridge for three days. Put them in an airtight container first though.
Freeze: For any leftovers that have not been eaten in three days, put them in freezer bags and they will stay fresh in the freezer for up to 90 days.
Thaw: Be sure to thaw overnight in the refrigerator before serving for best results.

Reheat: Pop these egg bites in the microwave for about 30 seconds to reheat. Microwaves vary so cooking time may be different.
More breakfast recipes:
Cooking tips:
Feel free to use silicone baking cups or the silicone egg mold for this recipe. However, if you use the egg mold, do not use the cover.
Every fryer is different, so you have to be careful your eggs do not burn.

Alternatively, you could whisk or beat the eggs first to make a more scrambled egg taste.
Make sure your eggs and other ingredients are at room temperature before using.

Do not overmix the eggs or they will be too airy.
Also, do not overfill the cups or they will overflow.
Although some people enjoy their egg yolks runny, it is important to know that eating raw eggs can be dangerous due to bacteria like salmonella.
Air Fryer Egg Cups
Ingredients
4

slices

white toast bread

2

tablespoons

butter

2

oz

deli style ham

sliced into strips or diced

4

large eggs

salt and pepper

1/2

cup

cheddar cheese

nonstick cooking spray
Instructions
Preheat the air fryer to 375°F.

Spray 4 (8-ounce) oven-proof ramekins with nonstick cooking spray.

Remove the crusts from the bread sliced and discard or save for other use.

Spread one side of the bread with butter and place it butter-side-down into a ramekin, press gently to shape the bread to the cup. Repeat with the other sliced.

Distribute the ham on top of the bread. Crack one egg into each cup. Sprinkle with salt and pepper. Sprinkle cheese on top.

Transfer the ramekins into the air fryer basket. Air fry for 10–13 minutes or until the eggs are set or done as desired.

Carefully remove the ramekin from the air fryer basket. Run a knife around the sides of the bread to remove it from the ramekin.

Place on a plate, garnish with parsley and serve.
Deliciousness to your inbox
Enjoy weekly hand picked recipes and recommendations