Air Fryer Eggs have one ingredient, no boiling water needed, and always come out perfectly cooked. Done exactly the way you like them, and they practically slip out of their shells.
Put that air-fryer to good use! It's amazing for mess-free Crispy Air Fryer Bacon, healthy Chicken Thighs, these highly snackable Air Fryer Buffalo Cauliflower Wings!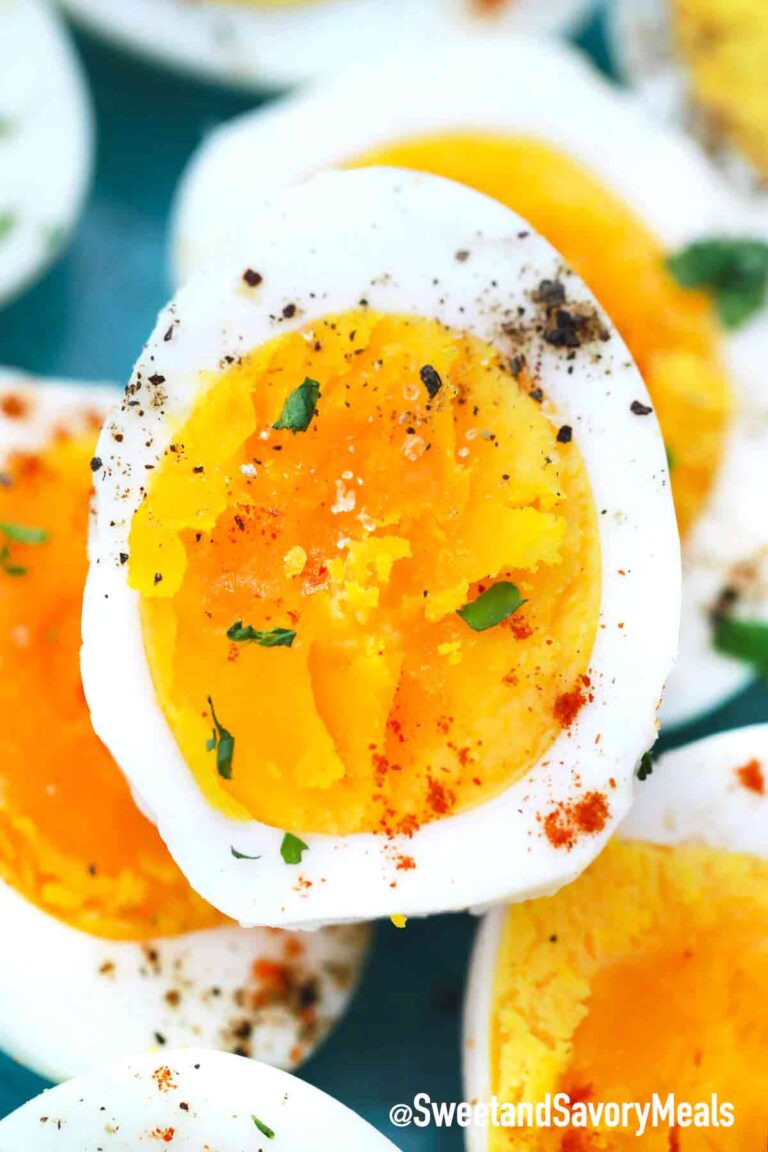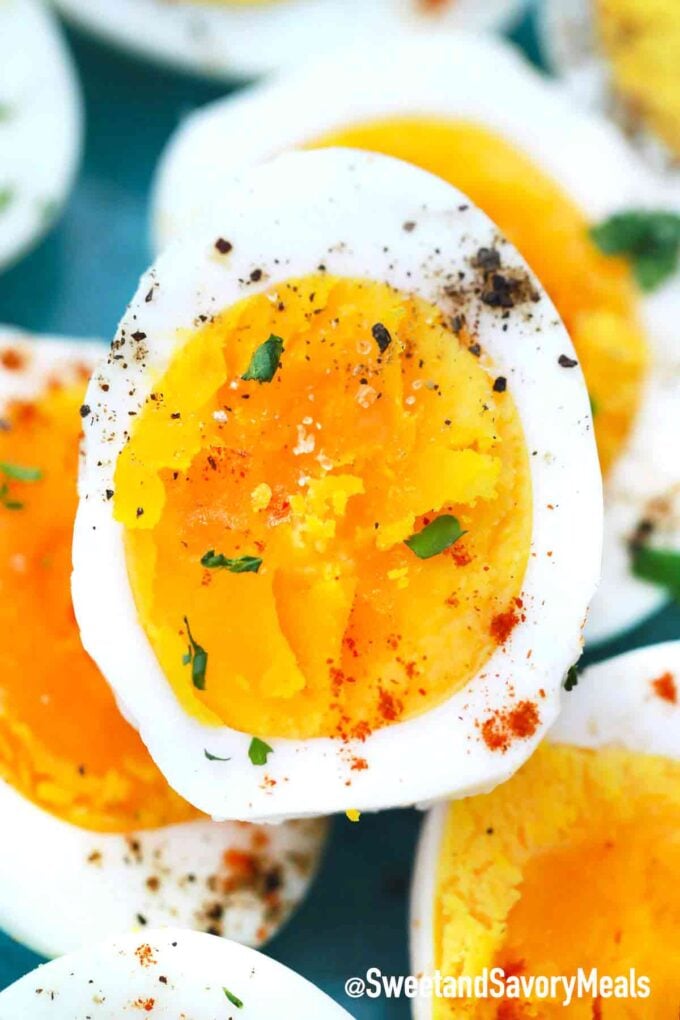 Hard-Boiled Air Fryer Eggs
Air Fryer Eggs will change the way you do boiled eggs. No more boiling water (and getting splattered while taking them out!), overcooked yolks, and rubbery whites. These come out PERFECTLY every time, no matter how you like your yolks— soft and runny, medium, or fully cooked.
Better yet, it's ridiculously easy to take off the shells. Most of the time, the peel comes off in one piece! Say goodbye to ugly, pockmarked whites and broken shells all over the sink, because this method is about to change the game!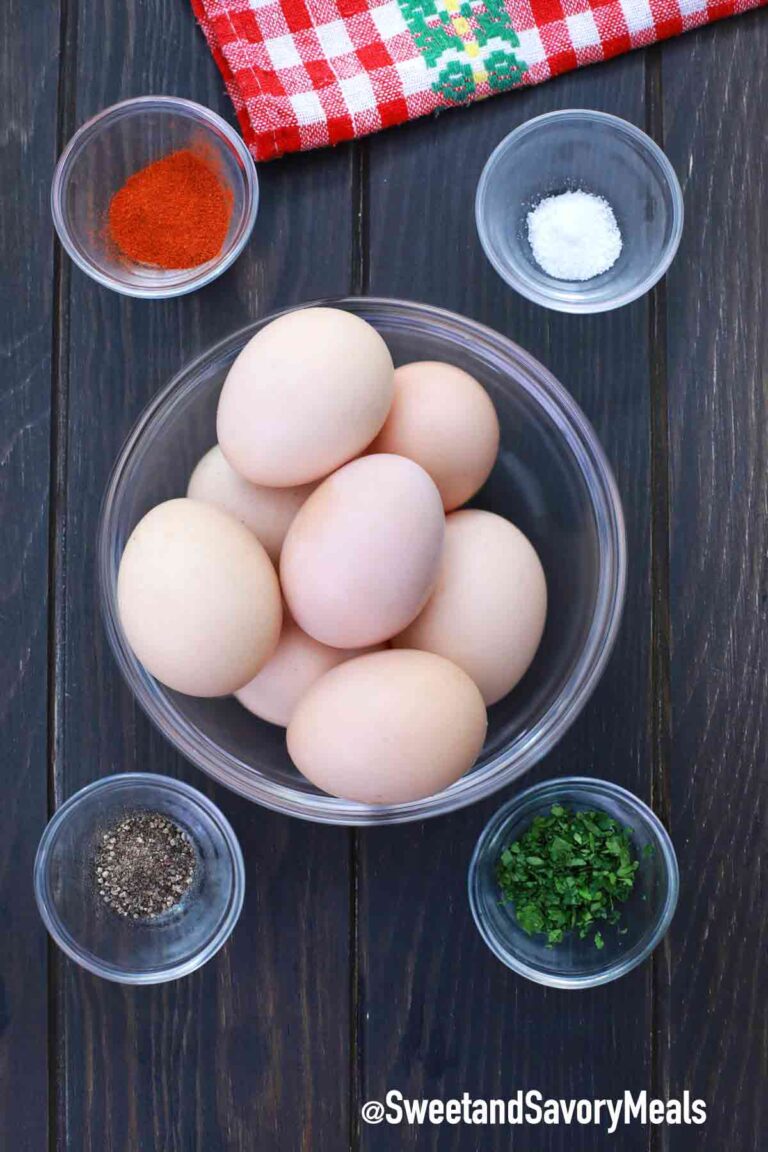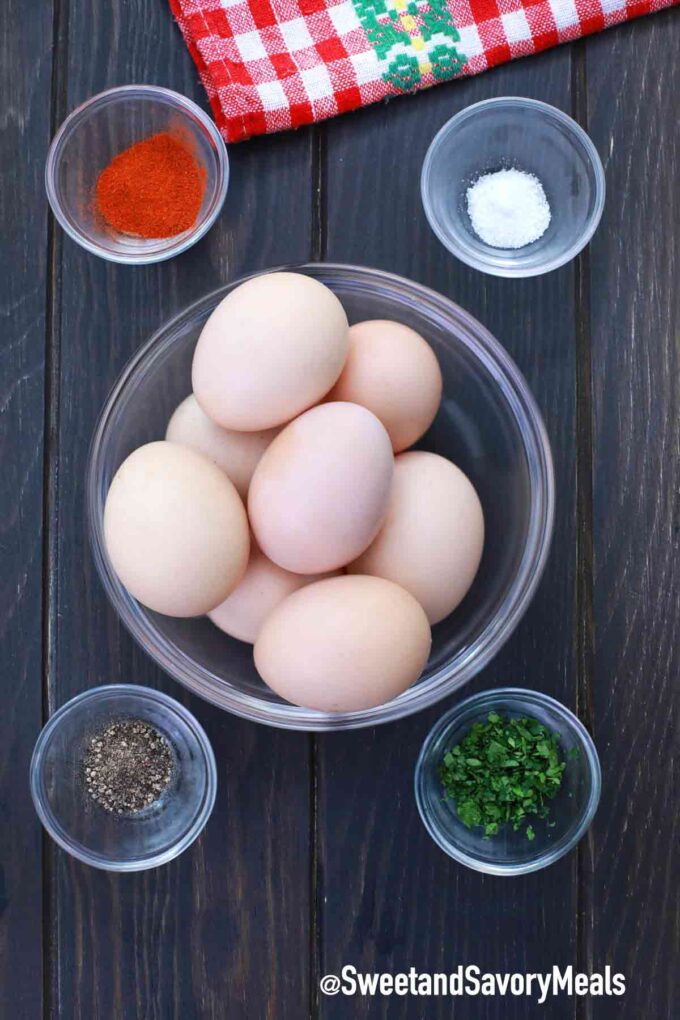 What things do you need for air-fried eggs
An air-fryer: Each brand and type work differently, so make sure to check the wattage and adjust the recipe accordingly.
Eggs: We use regular, large chicken eggs for this method.
Timer: I Will let you know exactly when to take them out, according to how well you want yolks done.
Water and ice cubes in a bowl: An ice bath loosens the shells and makes them extremely easy to take off.
How do you make hard-boiled air fryer eggs
Preheat. First, we're cooking these at 250F, so follow pre-heating instructions for your specific air-fryer type.
Cook. Next, set the pieces in the basket and cook. Set a timer for 13 mins. (soft), 15 mins. (medium), or 17 mins. (hard).
Ice bath. Once the time's up, take them out and dunk them in the ice bath for 5 mins.

Peel or store. Therefore, if using immediately, peel. If not, store it for future recipes.
Recipe variations:
A number of pieces: Cook one piece, or up to a dozen at the same time. This depends on how many pieces you can fit in one layer in the basket.
Texture: You can adjust the time to get runny yolks up to completely hard yolks.
Instant Pot: The IP has another great boiled-egg hack!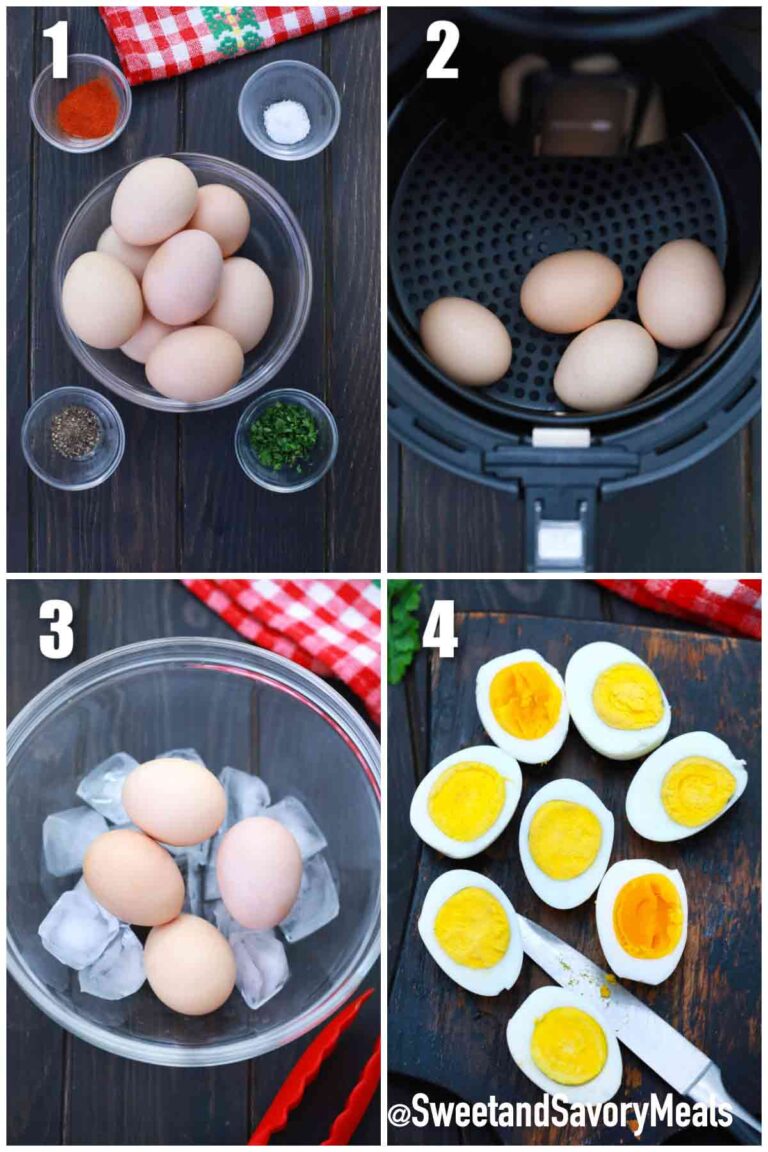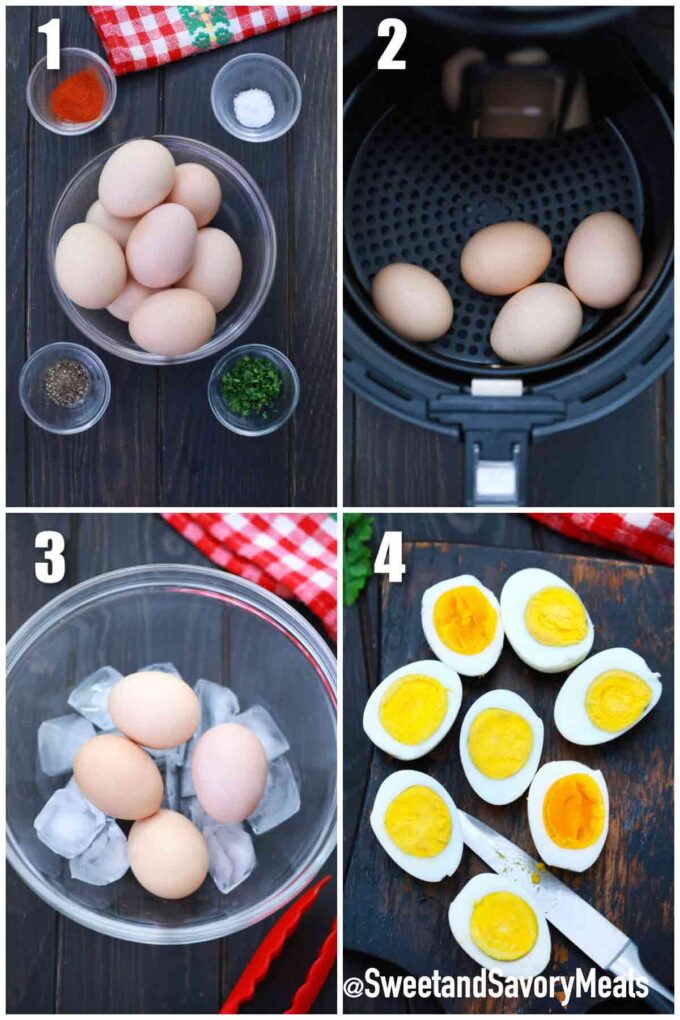 Frequently Asked Questions
Can you air-fry eggs?
Yes, and frankly, you'll never want to do it any other way once you try this! Aside from "boiled," you can also use it to cook fried eggs, omelets, and scrambles.
How long do you cook eggs in the air fryer?
11 minutes: Soft white and a runny, liquid center. Perfect for egg cups and dipping your toast in!
12 minutes: Still slightly runny in the center, but heading towards soft boiled.
13 minutes: Yolk is more set but it's still soft with a texture similar to custard.
15 minutes: Medium, creamy center, with a firmer egg white.
16 minutes: Already firm, but the yolk is lighter than fully hard.
17 minutes: Fully hard-boiled but still perfectly cooked.
Can I use aluminum foil in the air fryer?
Yes, as well as parchment paper. However, the food you're cooking should be heavy enough to weigh it down, or it'll flap around and make a mess inside.
How to store hard-boiled eggs?
Store them with the peel on inside the refrigerator (preferably on an inside shelf) for up to 7 days.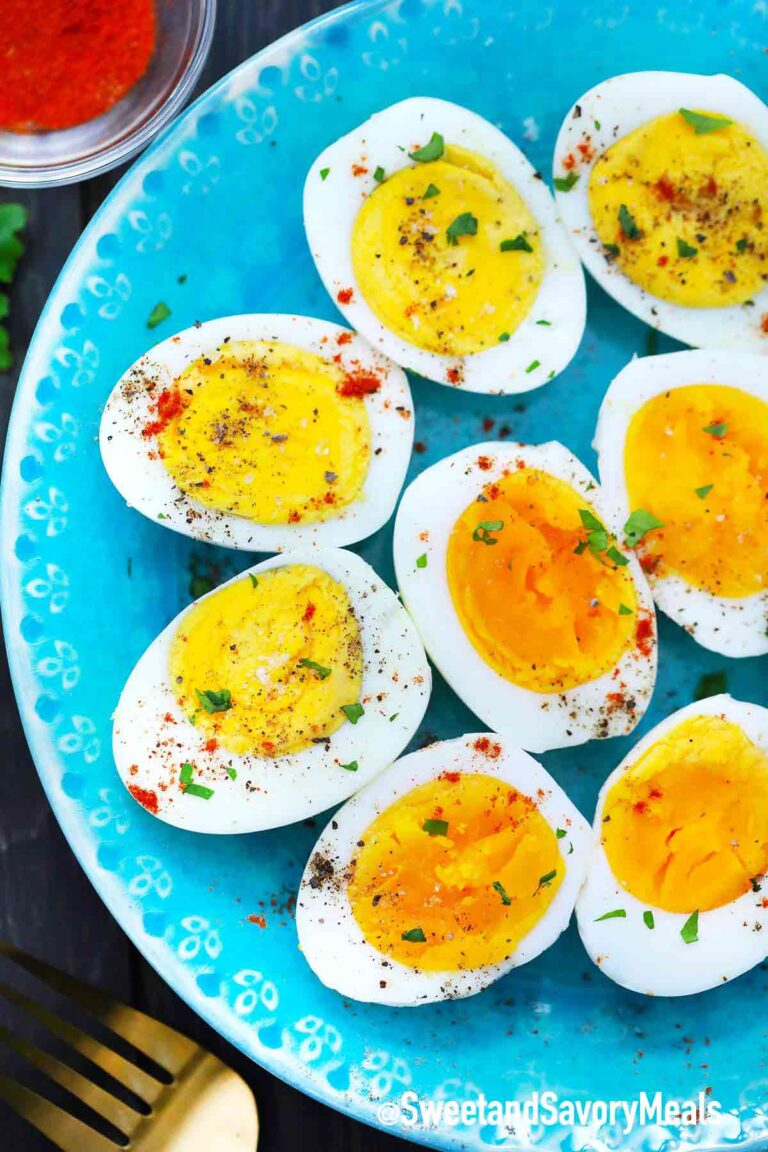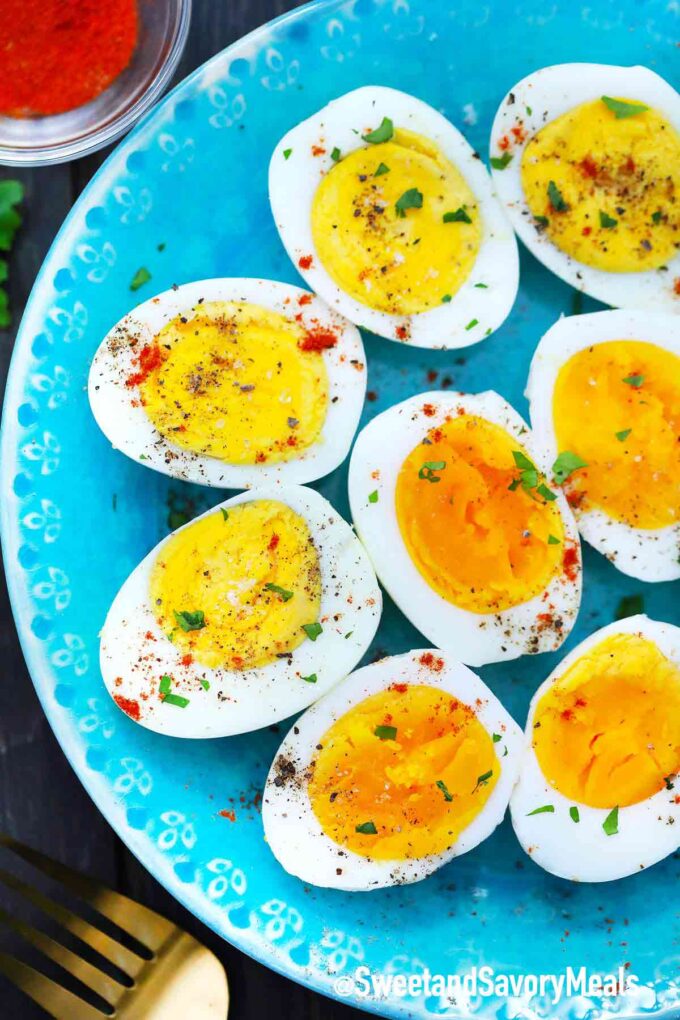 How to serve air-fried hard-boiled eggs?
Here comes the fun part— eating them! Enjoy them plain first, because those creamy yolks with tender whites are just incredible.
You can also pickle them, turn them into classic egg salad, a dip, or deviled. Try adding them to a keto avocado salad, too!
What cannot be cooked in the air fryer?
Those recipes that involve a very heavy wet batter like tempura should be avoided because first, the circulating air will make the batter fly everywhere. Also, it won't get that beautiful, crispy shell that deep-frying creates.
Avoid cooking whole chickens or any large cut of meat especially when you have a small unit because it may not cook evenly. Because of this, it's best to cook them in small pieces as we do for air-fried drumsticks and pork chop slices.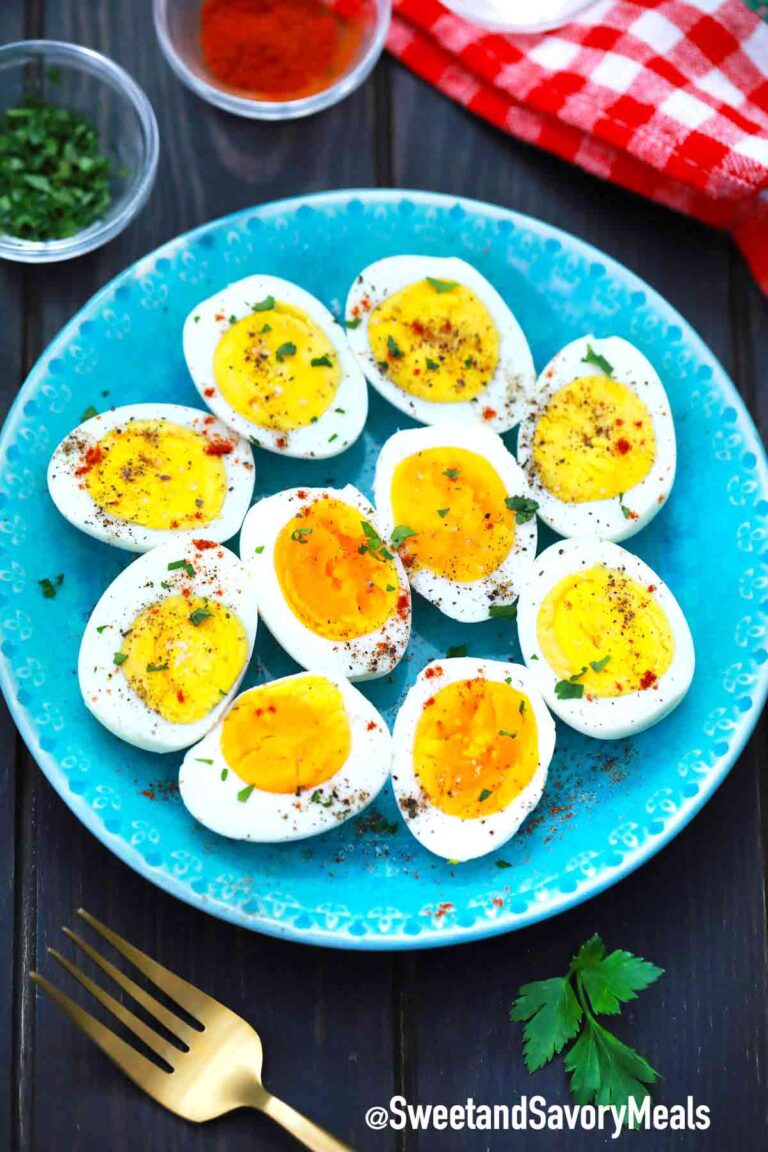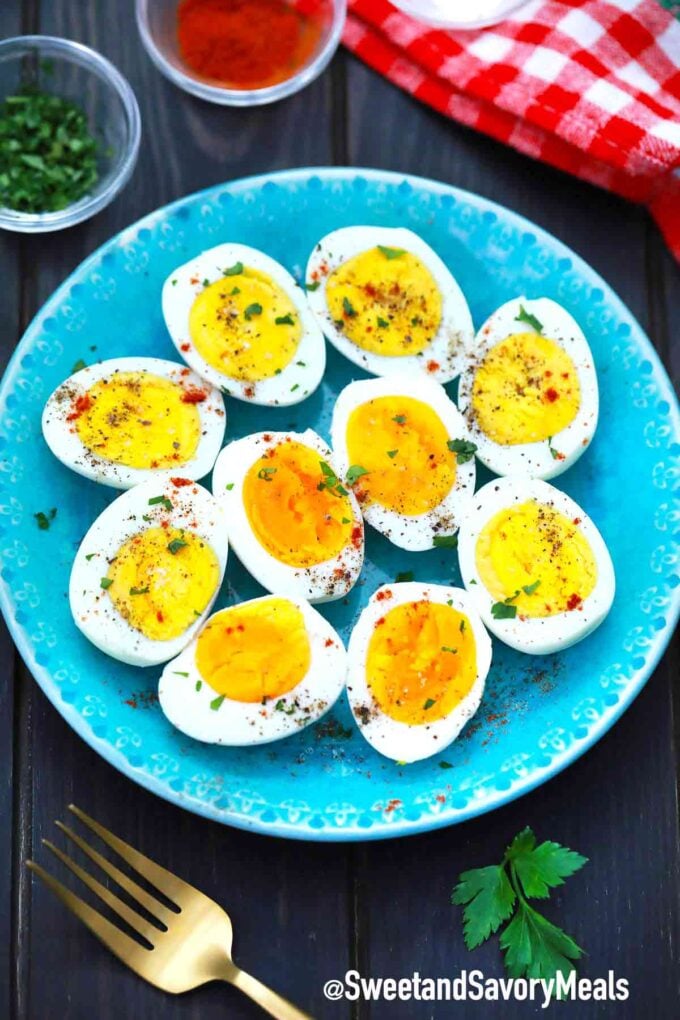 Recipe tips:
Most importantly, remember that every air-fryer unit is different. Therefore, we highly recommend trying this method with a single egg first. After that, tweak the cooking times until you arrive at the perfect number of minutes.
Equally important, it's for the water to be REALLY COLD, which is why you need to throw some ice cubes in there. Since the cold "shocks" the hot eggs and loosens the shell.
In addition, you can cook them straight out of the refrigerator; no need to wait until they are of room temp.
More Recipes You Might Like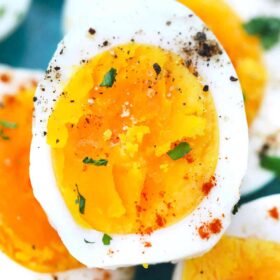 Air Fryer Eggs - Hard Boiled
Air Fryer Eggs have one ingredient, no boiling water needed, and always come out perfectly cooked. Done exactly the way you like them, and they practically slip out of their shells.
Save
Share
Print
Pin
Rate
Ingredients
8

large eggs

1

bowl cold water

Ice cubes
Instructions
Preheat the air fryer to 250 degrees F.

Place the eggs in the basket and cook for 13 mins (soft), 15 mins (medium), or 17 mins (hard).

Once the eggs have been cooked, immediately tranfer them to a bowl with cold water and ice and leave them in for 5 mins.

If using immediately, peel and serve. Or store in the fridge for later.
Notes
Each air-fryer is different, so make sure to try this recipe with one egg first, to find out the perfect cooking time for yourself.
As a general rule, here are the cooking times for air fryer eggs:
Soft boiled eggs - 13 mins
Medium - 15 mins
Hard - 17 mins
Nutrition
Calories:
63
kcal
|
Carbohydrates:
1
g
|
Protein:
6
g
|
Fat:
4
g
|
Saturated Fat:
1
g
|
Trans Fat:
1
g
|
Cholesterol:
164
mg
|
Sodium:
62
mg
|
Potassium:
61
mg
|
Sugar:
1
g
|
Vitamin A:
238
IU
|
Calcium:
25
mg
|
Iron:
1
mg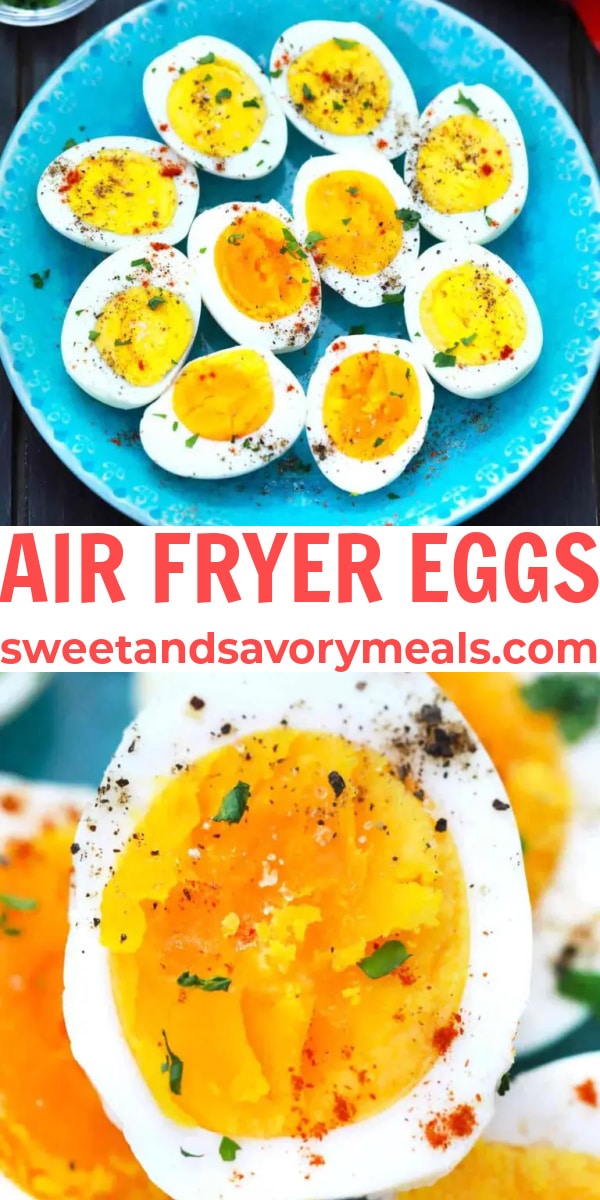 More recipes you might love