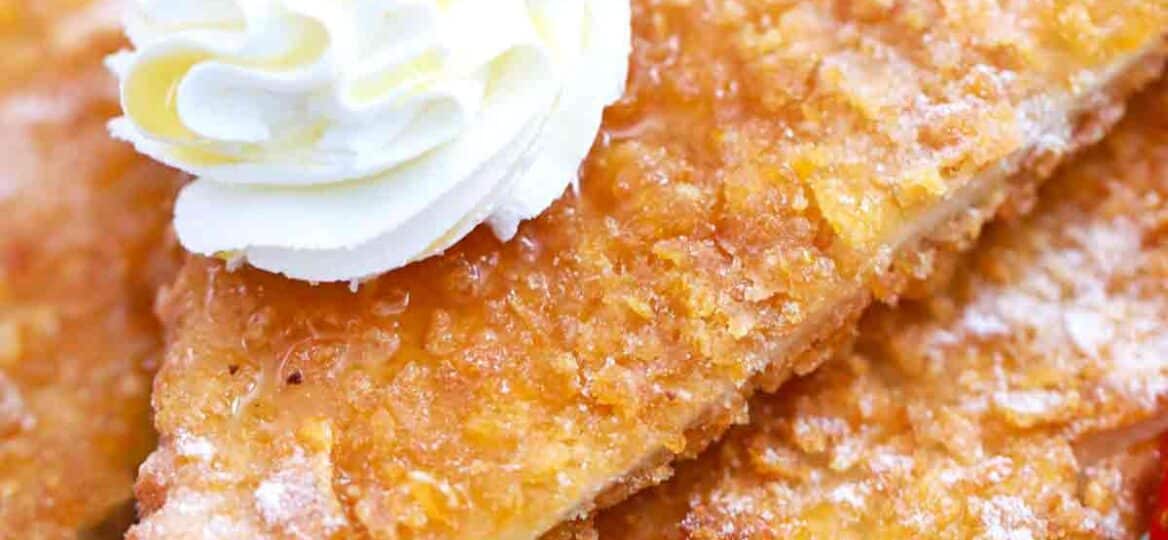 Cornflake Crusted French Toast
Cornflake Crusted French Toast is the perfect blend of sweetness, crunchiness, and creaminess whether you eat it for breakfast, brunch, or any time of the day. With just the right touches of vanilla and cinnamon, you do not even need to top these tasty toasts. No matter how you serve them, they will surely be a hit.
These go great with golden crispy Potato Latkes made with sour cream, dill, and green onions. If you are not a fan of cornflakes, try our traditional recipe of the Best French Toast made with brioche bread, cinnamon, nutmeg, and vanilla.
You may recognize the recipe from the tasty treats they serve at Disneyland. If you didn't know, they are served at the Crystal Palace in the Magic Kingdom.
These are amazing as a treat for breakfast or I would even qualify them as dessert. With this recipe, you can make them at home on special occasions, or serve them on Christmas morning.
These are so perfectly crunchy!! Forget about soggy sweet bread!! The cornflakes add the perfect crunchy shell, and they are amazingly good dipped in your favorite sweet sauce.
In addition, this is the perfect birthday breakfast, it is fun, festive, delicious, and especially tasty when served with some freshly squeezed orange juice and fruits on the side.
Another way to enjoy this dish is with these Air Fryer French Toast Sticks to dip into maple syrup, Nutella, or peanut butter.
Ingredients needed:
You only need a few ingredients for this easy recipe. Here are the main items to get but you can find more details below on our recipe card.
Milk: Whole or low-fat milk will also work.
Eggs: Large eggs at room temperature.
Granulated sugar: White sugar is what we used.
Crushed cornflakes: Freshly crushed corn flakes are best.
Texas toast: Cut into triangles. You can also use brioche bread or challah bread.
All-purpose flour: Alternatively, whole wheat is a healthier substitute.
Vanilla: Pure vanilla extract.
Cinnamon: Freshly ground for the best flavor.
Baking powder: Not baking soda.
Vegetable oil: Or use one tablespoon butter.

Salt: Just a half of a teaspoon salt should be enough.
Toppings: We used whipped cream, fresh fruit, and pure maple syrup.
How do you make Disneyland cornflake crusted french toast copycat?
Preheat: First, preheat the oven to 200 degrees.

Whisk: Meanwhile, in a large shallow bowl, combine eggs, vanilla, salt, cinnamon, sugar, and milk until blended. Then whisk in the baking powder and flour until the mixture is smooth.
Heat up the pan: Then, add your cornflakes to a different shallow dish and put it next to the batter while you heat up the pan to 325 degrees F.
Crushed corn flakes: Working with one slice of bread at a time, dip each piece of bread into the egg batter and let any excess egg mixture drip off into the bowl. Then, dip it into the cornflake mixture to thoroughly coat both sides.
Fry: Immediately, place bread in a large skillet or even a small saucepan of hot melted butter or oil and fry until it is golden brown on each side. This should take about one minute.

Keep warm: As you finish each piece, drain it on paper towels before placing it on a prepared baking sheet in the oven to stay warm.
Serve: Finally, serve warm with whatever toppings your family likes such as whipped cream, syrup, and powdered sugar.
Recipe variations:
White bread: Alternatively, you can just use any white bread that is about an inch thick.

Zest: Add a bit of lemon or orange zest to the mix for a burst of citrus flavor.

Sweet flakes: Another idea is to use sugar-frosted flakes instead of cornflake crumbs. But you will want to reduce the sugar a bit.
Chocolate: In addition, you can use chocolate flakes or any other crunchy cereal. As an option, add some cacao powder to the egg mixture, make a sandwich and stuff the cornflake-crusted french toast with some chocolate squares.
s'mores: To take these over the top stuff them, before dipping the sliced in the egg mixture, place on a slice some chocolate squares and marshmallows. After that top it with another slice to make a sandwich and dip them in the egg mixture, and roll in cereal.
Peanut butter: Similarly, like the s'mores sandwich, use the same technique to make a peanut butter and banana sandwich, or peanut butter and jelly!
Nutella: Going with the same idea of a sandwich, stuff these with some Nutella!
Rice Krispies: Similarly, try rice cereal instead of crushed cornflakes.

Other cereals: In fact, you could use many different types of cereal like Fruity or Cocoa Pebbles, Captain Crunch, or Cinnamon Toast Crunch to name a few.
Gluten-free: Also, to make this easy breakfast recipe gluten-free, just use gluten-free bread and cereal.
How to serve:
This cornflake-crusted French toast is a delicious breakfast or dessert served warm with a variety of your favorite toppings. Here are some ideas we like:
Drizzle a spoonful of honey or our rich caramel sauce over the toast for a decadent dish.
Alternatively, top these with a tablespoon of butter and sprinkle with cinnamon and sugar instead of syrup.
Add a scoop of homemade whipped cream on top for extra creaminess.
Chocolate lovers would love these with some chocolate syrup or Nutella on them.

Or try a fruit topping like our homemade blueberry or strawberry sauce.

Nobody can resist these with a dollop of ice cream on the side.

This is a great dish to serve with a warm mug of our delicious hot chocolate.
Alternatively, cut the bread into sticks, and serve them with an array of dipping sauces.
Frequently Asked Questions
Why is my French toast soggy?
One of the most common reasons for soggy toast is having too much milk or sugar. Using the wrong size pieces of bread is another thing to watch for. Too thin and it will fall apart.
If it is too thick, it may never get done in the middle. Your bread should be about one inch thick like Texas toast.
One simple trick for crunchy French toast is to lightly toast each piece in the oven before dipping. This will help it absorb the batter without absorbing too much.
Also, preheat the pan, which should be a nonstick skillet, and make sure to keep it at steady medium heat as you cook.
Is it safe to eat soggy French toast?
If your toast is soggy, that could be an indication that the eggs are undercooked. That means you should not eat it.
You can try cooking it more on the skillet or putting it in the oven on a cookie sheet tray for several minutes on each side to let it finish cooking.
It is best to cook it until the bread slices are golden brown, to make sure that the egg mixture is fully cooked and safe to consume.
How long does the batter last?
First, make sure the batter is in an airtight container and you can keep it in the refrigerator for up to 36 hours as long as it stays refrigerated.
Alternatively, use it all up by making extra and then freezing it for later use. See our instructions below.
How to store leftovers:
Store: Store your extra corn flake French toast in an airtight container or wrap in plastic wrap and aluminum foil. It will be good for several days in the fridge.
Freeze: To freeze, wrap each piece in plastic wrap or put parchment paper between them. Next, put them in a freezer bag and into your freezer where they can remain for up to 90 days.
Thaw: Thaw overnight in the fridge before serving for best results. Then, fry them up on a large sauté pan or griddle for several minutes.
More breakfast recipes:
Cooking tips:
Be sure to use thick slices of bread for crispy French toast.
Texas toast is a great choice for this dish, which you can usually find at grocery stores in the bread aisle.
Use only fresh high-quality crushed cornflakes for best results.
The easiest way to make cornflakes crumbs is to put them in a large freezer bag, press the air out, and then use a rolling pin, your hands, or even a can of veggies to smash them.
For baked French toast, prepare as usual and then pop them in the oven and bake at 350 degrees F for five minutes on each side.
Disneyland Cornflake Crusted French Toast Copycat
Ingredients
12

slices

Texas toast

sliced diagonally into triangles

8

cups

cornflakes

crushed

Vegetable oil

for frying
Egg mixture:
2

cups

milk

whole milk or skim milk

2

eggs

at room temperature

1/2

cup

granulated sugar

1

teaspoon

ground cinnamon

1/4

teaspoon

salt

1

teaspoon

vanilla extract

1

cup

all-purpose flour

2 1/2

teaspoons

baking powder
Toppings:
Syrup

Whipped cream

Fruit and berries
Instructions
Preheat oven to 200 degrees F.

Cover a large plate or cutting board with paper towels and set aside.

In a large shallow bowl make the Egg Mixture by whisking together the milk, eggs, sugar, cinnamon, salt, and vanilla. Once well mixed, slowly whisk in the flour and baking powder until smooth.

Add crushed cornflakes to a shallow bowl and place next to the egg batter.

Heat 1-inch of vegetable oil in a heavy skillet up to 325 degrees F.

Dip bread in batter, allow any excess batter to drip off and after that roll in the cornflake until well covered.

Immediately fry in the hot oil until golden brown, about 1 minute per side.

Drain onto the prepared plate with paper towels and after that transfer to a non-stick baking sheet in the oven to keep warm while you fry the other slices.

Serve warm with your choice of toppings.
Deliciousness to your inbox
Enjoy weekly hand picked recipes and recommendations