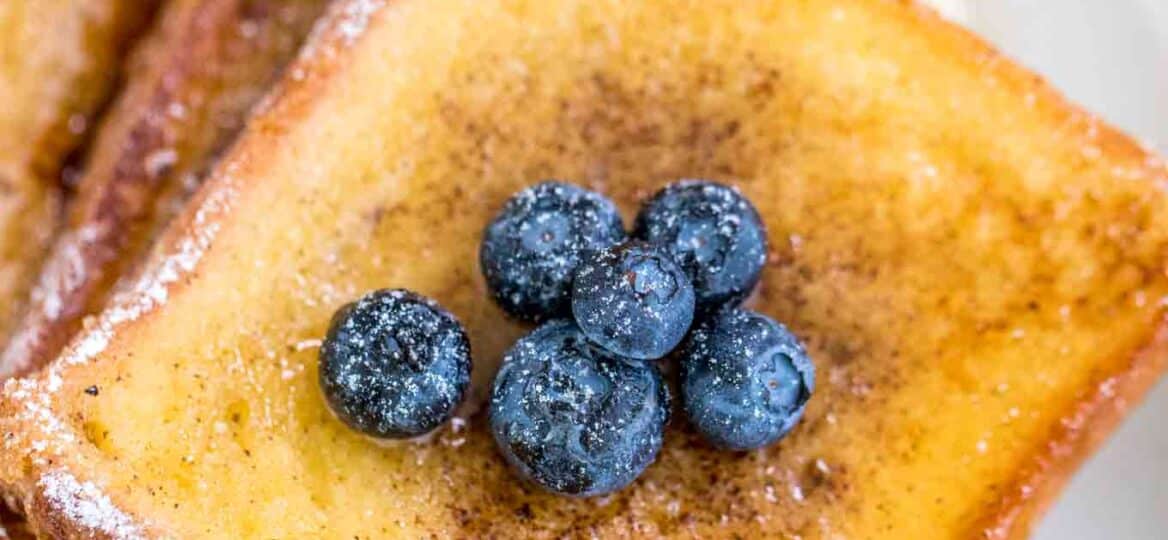 Homemade French Toast [Video]
Homemade French Toast is easy to make and uses simple pantry ingredients. It is one of our family's favorite breakfasts! Watch the recipe video tutorial attached below and see how easy this recipe is!
We love to wake up to a delicious breakfast or brunch, and this classic recipe is the perfect option. You can also try these healthy pancakes, ham and cheese quiche, and chocolate chip banana bread.
Easy Homemade French Toast
French Toast is one of those recipes that we make over and over every week. We absolutely love making this easy dish and is one of our favorite things to make in the morning. It is the perfect way to start the day off. It requires little preparation but results in a delicious meal.
You can use your favorite bread in making this recipe. All you need is some eggs, milk, cinnamon, and vanilla to get the perfectly puffy texture, with golden edges. Serve them as is, or pair it with a bowl of fresh fruit, with bacon on the side, or simply top them with some maple syrup. No matter how you serve this dish, it is certain to brighten up your mornings!
WHAT ARE THE INGREDIENTS FOR FRENCH TOAST?
This recipe requires simple and easy ingredients to find. You need eggs, milk, butter, sugar, salt, cinnamon, vanilla, and thick slices of bread.
What is the best bread for French Toast?
You can use any bread you like, some of our personal favorites are:
Brioche – it's one of our favorites, as it's butter and very indulgent. It is arguably the most classic choice when it comes to this dish and bread pudding.
Challah – similar to Brioche is also excellent. It might be a bit harder to find as not all the store has it, but it's worth giving it a try.
Any plain white slices of bread.
Artesano bread – it's also nice if the bread is a few days old, or slightly stale.
Pullman loaf – referred to as sandwich bread or pan bread has a tender, but still tight-packed crumb that is nice to use in this recipe.
French bread – if you have any leftover, make sure to cut on a diagonal for larger slices. Since it is firm-crusted it will soak up the batter nicely.
HOW TO MAKE EASY FRENCH TOAST
In a flat-bottomed plate or bowl, whisk together eggs, milk, salt, sugar, vanilla, and cinnamon.
Dip the bread slices into the egg mixture, dredging them on both sides.
Put some butter in a large skillet or on a griddle and melt it. Then, place bread slices in it and cook on medium heat until golden brown on each side, about 2-3 minutes.
Serve immediately with some maple syrup!
What type of milk is best to use?
Any milk will work great in this recipe, so use whatever you have on hand. However, we have noticed that using milk with a higher fat content will make the batter creamier, and give it a deeper flavor.
So, if possible, go with whole milk as it works best. You could even use half and half or coconut milk if desired.
Why is my French toast soggy?
This could be due to a few factors. Adding too much dairy and sugar to the custard might cause this issue. Therefore, try not to go overboard with the dairy. If there's too much, the egg in the mixture won't cook, meaning wet, soggy, bread.
Another common mistake that could cause this, is not mixing the custard thoroughly. Hence, make sure to whisk the custard until the dairy, eggs, are well combined
What do you eat French Toast with?
Our favorite way to top it with maple syrup or some granulated sugar. Here are some other great options that go with it:
Honey
Butter
Fresh fruits, such as berries
Caramelized fruits
Ice cream
Chocolate and caramel
Nutella
Nuts
Raisins
Bacon
What can I use instead of vanilla extract?
A great substitute would be maple syrup. Simply, replace the vanilla extract with an equal amount of maple syrup or even pancake syrup. Any changes in flavor will be subtle. In addition, you could use almond extract or honey.
EQUIPMENT Used:
Griddle – works great in this recipe. You can use it for various other dishes as well, such as pancakes, bacon or tortillas.
Skillet – use a nice quality one to help the heat distribute evenly. It will get the nice brown golden color to the toast.
For mixing the batter, use any shallow dishes.