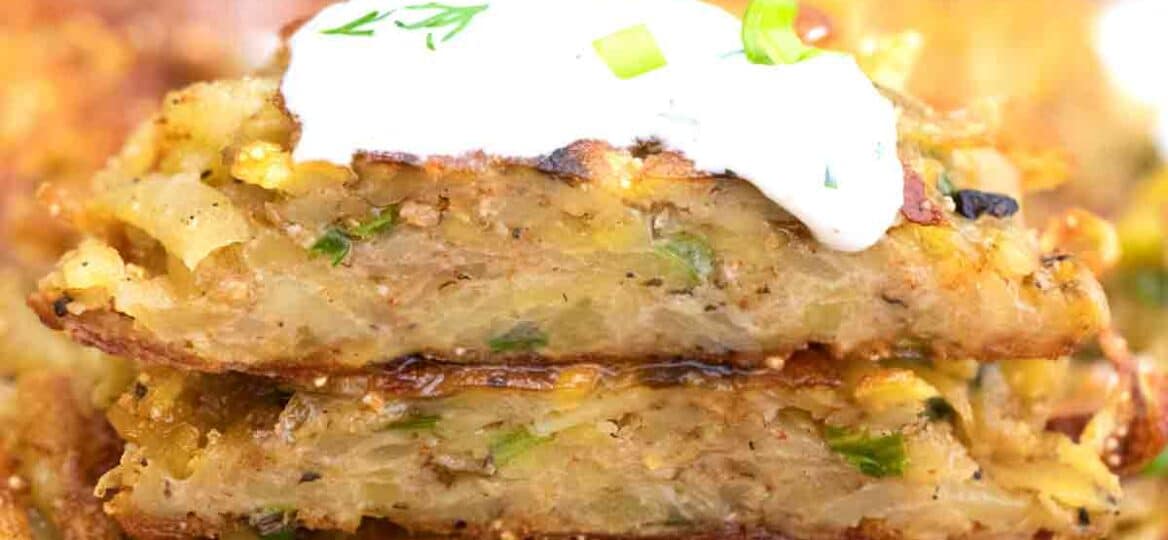 Potato Latkes Recipe [Video]
Potato Latkes have a golden-crisp crust hiding a creamy pocket of potatoes and green onions inside. Dip them into fresh sour-cream dill sauce for a truly addicting breakfast or snack!
For a full breakfast spread, serve these with sunny side up eggs, the perfectly crispy bacon, and fluffy banana pancakes!
Classic Potato Latkes
Potato Latkes are the Jewish-style cousin of another favorite in our house— potato pancakes. These cannot be easier to make! Once you've squeezed out the shredded spuds and mixed up the patties, you just fry them up and they're good to go.
They're crispy, golden disks of potato goodness flavored with green onions, spices, herbs, and cornmeal for added crunch. To make them even more delicious, I'm sharing my recipe for dill pickle dip with you! The sauce just complements the latkes perfectly!
It's herby, tangy, and cuts down the richness of these fried spuds. Beware, these latkes tend to get devoured before they even make it to the table! After testing many variations of this recipe, I decided to tweak and adjust the recipe a bit, to come up with the best potato latkes recipe out there!
What are Potato Latkes?
It's a Jewish potato dish traditionally served and eaten during Hanukkah. In fact, "latke" means pancake in Yiddish, which is what these delicious fried patties look like.
Also, this dish is generally served with some applesauce, apple butter, or sour cream on top.
How to make Potato Latkes from scratch?
Prepare the latke mixture. First, squeeze and drain as much moisture as you can from the shredded spuds. Then, mix them with the rest of the ingredients.
Mix up the sour cream and dill sauce. Next, combine all of the sauce components in a bowl and season. Keep the sauce in the fridge while you're frying.
Fry. Place a two-tablespoon scoop of the spud mixture into the oil, then flatten with your spatula into patties. Let this cook for about 2 mins, then flip and fry for a couple of minutes more until golden with a crispy exterior. Also, you may cook them longer depending on how crispy you want them. Repeat until you've fried all of the mixtures.
Serve. Plate them up with the sauce on the side and enjoy hot.
What is the difference between potato pancakes and latkes?
The insides of potato pancakes are much softer and creamier because the spuds are grated very finely (almost mushy) versus shredding them for these latkes.
On the other hand, latkes are on the crunchier side with very prominent shredded pieces. Either way, both taste amazing, and I encourage you to try them out!
What kind of potato is best for latkes?
You definitely want starchy varieties like Russets for this. That high starch content is key for that crispy exterior, and it also helps bind the mixture together.
How do you keep latkes crispy?
Aside from using starchy potatoes, don't leave out the cornmeal because it contributes a lot of crunch to the dish. In addition, make sure your oil is hot too, so they start crisping up when they hit the pan instead of absorbing all that fat.
What to serve with potato latkes?
Aside from our homemade dill and yogurt sauce, these are also delicious with Tzatziki Sauce and Horseradish Sauce.
We also love serving them up-loaded-style, with tons of cheese, and green onions on top!
Of course, these will be perfect with your favorite breakfast staples like scrambled eggs, breakfast burritos, and French toast.
How to store leftovers?
Cooldown your leftovers first, then transfer them to an airtight container. I like placing a parchment square between each piece to absorb more oil. In the fridge, these will last up to 3 days.
You can also freeze them so they last longer. Arrange them in a single layer on a baking dish or a rectangular plate, then flash freeze for an hour or two. Afterward, transfer to a freezer-friendly baggie or container, and consume within 2 weeks.
To reheat, thaw before baking for 8 to 10 minutes in a 400F oven.
More potato recipes to try:
Recipe tips:
Lessen the prep work by using pre-shredded freezer hash browns.
For a low-carb version, use shredded zucchini, shredded carrots, or shredded cabbage plus keto breadcrumbs.
Try these with shredded sweet potatoes!
Try this dish with other mix-ins like chopped bacon bits, parsley, seasonings like Old Bay and lemon pepper, and cheese.