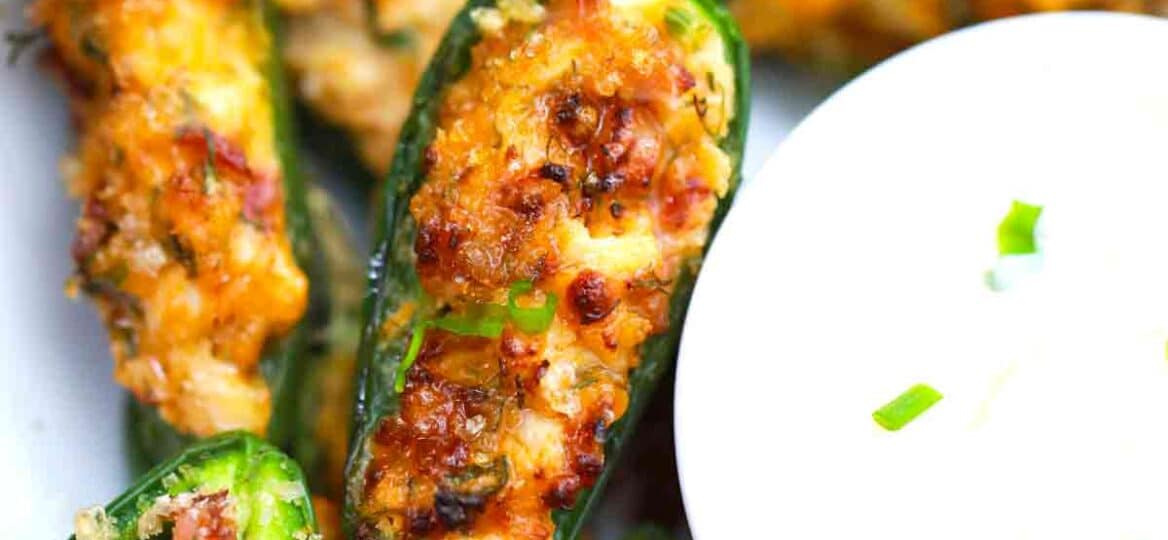 Cheesy Air Fryer Jalapeno Poppers
Air Fryer Jalapeno Poppers are stuffed with a creamy filling of cheese, bacon, chicken, and scallions blending perfectly with the crispy and spicy jalapenos. Whether you are looking for something to go with your air fryer chicken wings and guacamole or you just want a spicy snack, these poppers are perfect.
For more easy recipes, try our spicy Instant Pot Jalapeno Popper Pasta with ground beef and shells or Cheesy Jalapeno Ham Sliders on Hawaiian sweet rolls. Another great side dish is this delicious Crack Corn Salad made with sour cream, ranch dressing, and sweet corn.
A delicious appetizer and finger food that is perfect for parties! Make them with chicken, or keep them vegetarian, they are so good, you will need to double this recipe.
The best part about these favorite appetizers is that this is a low-carb recipe that will not make you feel guilty.
These tasty treats only have 58 calories per serving and give you a boost of potassium and vitamin A as well.
This family favorite does not take much time to prepare so you can have a fast appetizer on the table in just a few minutes.
If you plan a party, make sure you include these crispy air fryer chicken wings with your favorite dipping sauce!
Ingredients needed:
Our recipe card below has the step-by-step directions and measurements but here are the basic ingredients you will need for this great recipe:
Jalapeno peppers: Cut in half lengthwise.

Cream cheese: Softened

Chicken breast: Finely chopped.
Bacon: Cooked crispy and chopped.
Cheddar cheese: Finely shredded.

Scallion: Finely chopped.
Smoked paprika
Hot sauce: We used Frank's RedHot.
Garlic cloves: Minced.
Fresh dill: Chopped.
Cooking spray

Garnish: Finely chopped crispy bacon and green onions.
White sauce: For dipping.
How do you make air fryer jalapeno poppers from scratch?
Preheat: First, preheat your air fryer to 370 degrees f.
Mix: Meanwhile, mix the dill, hot sauce, paprika, garlic, scallions, both cheeses, chicken, and bacon in a medium bowl.
Clean: After cutting the peppers in half, clean out the seeds and membranes. Rinse thoroughly.

Fill: Next, fill each jalapeno half with the creamy filling and sprinkle them with breadcrumbs.

Spray: After, put the peppers into the fryer basket and then spritz them lightly with cooking spray.

Fry: Last, cook the poppers until they are golden brown on top and the peppers are tender. This usually takes 10 minutes, but it may be less time for different-sized jalapenos.

Serve: Finally, sprinkle them with bacon bits and green onions before serving with a small bowl of dipping sauce.
Recipe variations:
Different cheese: Feel free to use your favorite kind of cheese instead of cheddar cheese.
Slice of bacon: Wrap with air fryer bacon slices to make it even meatier.
Spice it up: If you really like spicy food, use habanero peppers instead of jalapenos.
Garlic: Add some garlic powder for a garlicky flavor.

Onion: Sprinkle a little bit of onion powder in the mix for a kick of onion.
How to serve:
Jalapeno poppers are perfect for game day or a great snack for any time of day. You could also serve them as finger food at your next party or barbecue. Try one of our dip recipes or one of these other serving suggestions:
These are great dipped in strawberry jam or tangy orange sauce.
For a spicy side dish, serve these poppers with burgers, chicken, or whatever else you are making for dinner.

You could also serve these with a side of homemade hummus or Knorr spinach dip.

Chop up leftovers and add them to a salad or casserole for a spicy kick.
Try our homemade salsa or creamy ranch dressing.
Beer cheese or buffalo shrimp are also some excellent dipping sauces.
Frequently asked questions
How long do you cook frozen poppers in the air fryer?
The cook time varies depending on the size of your air fryer and how big the poppers are. However, the average time is 10 minutes at 390 degrees F. Flip them over halfway through cooking for best results.
Make sure you put them in a single layer in the air fryer basket, so the hot air can circulate.
Can I use frozen jalapeno peppers to make poppers?
Yes, there is nothing wrong with using frozen jalapenos for your poppers. But if you blanched them before freezing they may not have the strength to hold the filling properly.
The best way to do this is to use them while they are still frozen.
What are some good dips for jalapeno poppers?
Many people enjoy a creamy dipping sauce to dip their poppers in like ranch or blue cheese dressing, sour cream dip, or some type of buttermilk or mayonnaise mixture.
Sweet chili sauce, salsa, lime cilantro, or nacho cheese are also popular.
For a sweet flavor, you could use some kind of jam such as strawberry or raspberry.
How to store leftovers:
Store: Keep leftovers fresh for up to four days by putting them in an airtight container in the fridge.
Freeze: Alternatively, you could freeze these by wrapping them in plastic wrap and keeping them in a freezer bag in the freezer for about 90 days.
Thaw: Be sure to thaw frozen poppers overnight in the fridge before serving for best results.

Reheat: Wait until the poppers are at room temperature and then cook them for about three minutes in the air fryer or one minute in the microwave. Cooking time may vary depending on your microwave or fryer.
More party food:
Cooking tips:
For a milder version, remove the seeds and the white membrane and rinse them thoroughly. If you want the super spicy version, leave the seeds or mix them into the cream cheese mixture.
Be sure to use gloves or a paper towel when handling jalapenos because the juices and seeds can burn your skin. It is hard to wash it off as well so if you touch your eyes or nose you will certainly feel the burn.

Make sure you use softened cream cheese for easier mixing.

Try to find plump jalapenos. They will hold more of the cream cheese filling.
Keep the poppers warm while you cook in batches. Just put them on a baking sheet in the oven set to 200 degrees F.
Air Fryer Jalapeno Poppers
Ingredients
10

large jalapeño peppers

halved lengthwise (about 1 1/2 oz. each)

2

tablespoons

panko breadcrumbs

Cooking spray
Filling:
4

ounces

cream cheese

softened to room temperature

1/4

cup

very finely chopped cooked chicken breast

rotisserie chicken works

1/4

cup

finely chopped cooked crispy bacon

1/2

cup

finely shredded sharp Cheddar cheese

1 oz.

1/4

cup

finely chopped scallion

1

teaspoon

smoked paprika

2

tablespoons

hot sauce

2

cloves

garlic

minced

2

teaspoons

fresh dill

chopped
Garnish:
Bacon bits

Chopped green onions
Instructions
Preheat the air fryer to 370 degrees F.

In a medium bowl add all the filling ingredients and stir until well combined.

Cut jalapenos in half, discard the seeds and membranes.

Stuff the halves evenly with the cream cheese mixture. Sprinkle with breadcrumbs on top.

Arrange the stuffed jalapeños in the basket of the air fryer; spray with cooking spray.

Cook for 10-12 minutes, or until the tops are browned and the jalapeños are tender.

Sprinkle with bacon bits and green onions.

Serve with your favorite dipping sauce.
Deliciousness to your inbox
Enjoy weekly hand picked recipes and recommendations