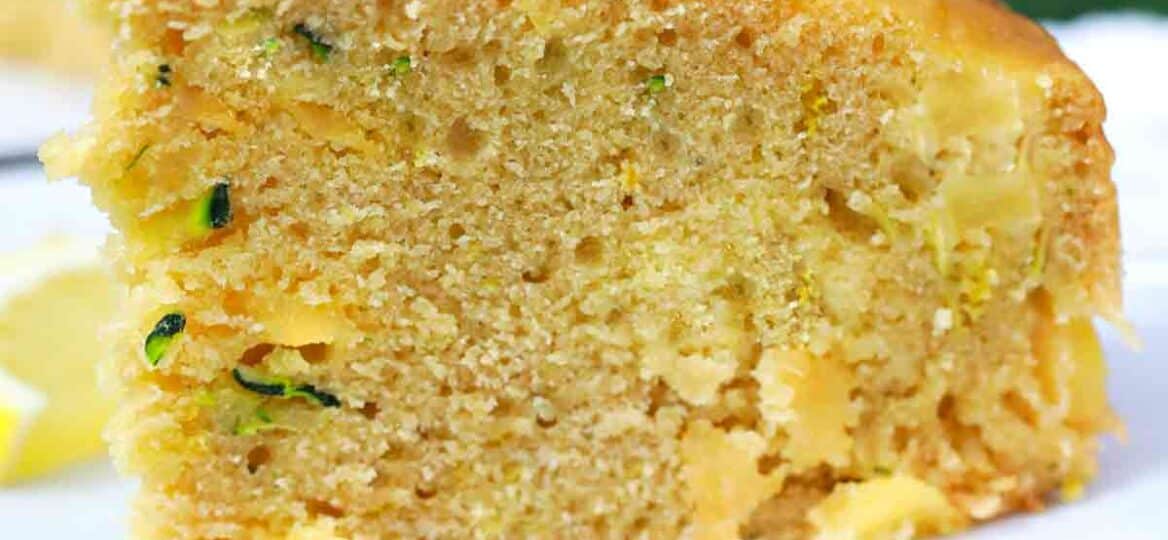 Instant Pot Zucchini Bread Recipe [Video]
Instant Pot Zucchini Bread is buttery with a hint of lemon, super moist, and studded with sweet pineapple chunks. It's hard to believe there's a ton of fresh and healthy zucchini in this delightful dessert!
Because zucchini has such a subtle taste, it's a clever way to sneak nutritious veggies into baked goods. Try our Blueberry Zucchini Poke Cake, Fudgy Chocolate Zucchini Bread, Zucchini Banana Bread with Yogurt, and watch them get devoured by even the pickiest eaters!
The Best Instant Pot Zucchini Bread
Instant Pot Zucchini Bread is "baked" in the pressure cooker and turns out so rich, unbelievably moist, and delicious. A full cup of zucchini goes into this loaf, which makes it such a healthy and fiber-rich treat. Giving this bread extra flavor are pineapple chunks plus the brightness of lemon.
While it's fantastic enjoyed plain, we do love jazzing it up. For instance, we love adding Nutella, chocolate, or even peanut butter to our fresh-baked bread.
You can also top it with cream cheese frosting or jam, or serve it with ice cream for an extra indulgent treat. We can't wait for you to give this a try!
Ingredients needed:
Zucchini: Shred a 4-inch piece to get about a cup.
Pineapples: Sweet and juice chopped pineapples add a bright fruity burst to the loaf!
Dry: To the usual flour, we're adding baking soda plus the same amount of baking powder, then salt.
Wet: We're finishing our batter with fresh eggs, both brown and white sugars as sweeteners, plus butter.
Sour cream: This is our secret weapon for bread that stays moist for days! If you don't have sour cream, feel free to sub with plain Greek yogurt.
Flavorings: Making our loaf extra delicious is pure vanilla plus lemon zest and juice. You can also use other citruses like orange, lime, or Meyer lemons.
How to make homemade Instant Pot Zucchini Bread?
Prep the batter. Beat the sweeteners together with your butter (softened). Then, add an egg at a time until you've beaten in all of them. Follow this with the sour cream and all the flavorings. After that, gently fold in all the dry, and finally, fold in the veggies and pineapples. Pour all of this into your pan and cover using foil.
Cook. After pouring 1.5 cups of water into the IP, gently place the pan inside on a trivet. Next, cook on High for about 55 mins. Afterward, leave it to naturally relieve steam for 15 mins., then vent the rest.
Cool. Don't take out the loaf just yet! Let it set by cooling for about 10 mins. inside the pan.
Release. Take your push pan and carefully place it on top of a stable jar/mug. Gently push the plate up to release the loaf.
Serve: Slice and enjoy!
Recipe variations and substitutions:
Chocolate: Throw in a handful of chocolate chips or chunks. You can also mix in some cocoa powder for an extra chocolatey treat!
Nuts: Add your favorite nuts like pecans, cashews, and almonds for crunch and texture. You can also swirl in some peanut butter if you like!
Other fruits: Aside from pineapple, you can also add blueberries, cherries, strawberries, diced apples, oranges, or whatever fruit you fancy.
Bake it in the oven: You can also use the oven— bake this at 325F for about 55-65 mins., checking for doneness at the 40-min mark.
Muffins: Place the batter in muffin pans and bake in a 350F oven for 10-15 mins.
Cinnamon sugar swirl: Mix some cinnamon and sugar, and sprinkle generously on top right before baking.
Nutella: You can swirl Nutella on top, or create a chocolatey surprise by dolloping it in the middle of the bread.
How to remove bread from the pan?
First, DON'T try to tap it out or loosen with a knife. This is not very effective and may damage the loaf.
Instead, take a very sturdy jar or mug. Then, place your push pan on top of it. Press down to release the loaf. This process is very easy if you pre-grease the pan, so keep that in mind!
Is it okay to leave the skin on when making bread with zucchini?
Yes, we do. Its skin softens and almost melts into the bread while it cooks, so there's really no problem with texture. In addition, the shredded skin creates beautiful green flecks throughout the loaf, so we definitely recommend leaving it on.
How to avoid sogginess in zucchini bread?
For one, you can squeeze out the zucchini to take out any excess liquid. In addition, don't leave it inside the IP for too long. The residual heat can create condensation inside the pan.
In addition, cool it completely first before storing it. Again, you don't want condensation forming in the container and turning your dessert soggy.
More instant pot dessert recipes to try:
How to store leftovers?
Once the loaf is completely cool, place it in an air-tight container and keep it in the fridge for up to 4 days. Since this contains vegetables and fruit, we highly recommend chilling it instead of the counter so it doesn't spoil.
It's delicious right out of the fridge, but if you want to warm it up, simply microwave for about 15-30 seconds. Tastes fresh-baked!
Alternatively, you can also freeze the entire loaf or in slices. Cool, wrap in cling and foil, then store frozen for up to 3 months. When ready to enjoy, defrost and let it come to room temp.
Deliciousness to your inbox
Enjoy weekly hand picked recipes and recommendations