Yogurt Zucchini Banana Bread
This post may contain affiliate links. Please read my disclosure policy.
A soft and aromatic zucchini banana bread with yogurt, vanilla beans and chocolate ganache is the best possible way to use zucchinis this summer.

Well, too bad that during winter it seems like every day is an eternity, and here we are with gorgeous weather and the time flies. I didn't even go to the pool this year, I am not even talking about the beach. Must make these two my weekend goals, after I am done with all the shopping, cause you know shopping comes first no matter what. I will stuff my face with this Zucchini Banana Bread and pray for summer to last forever.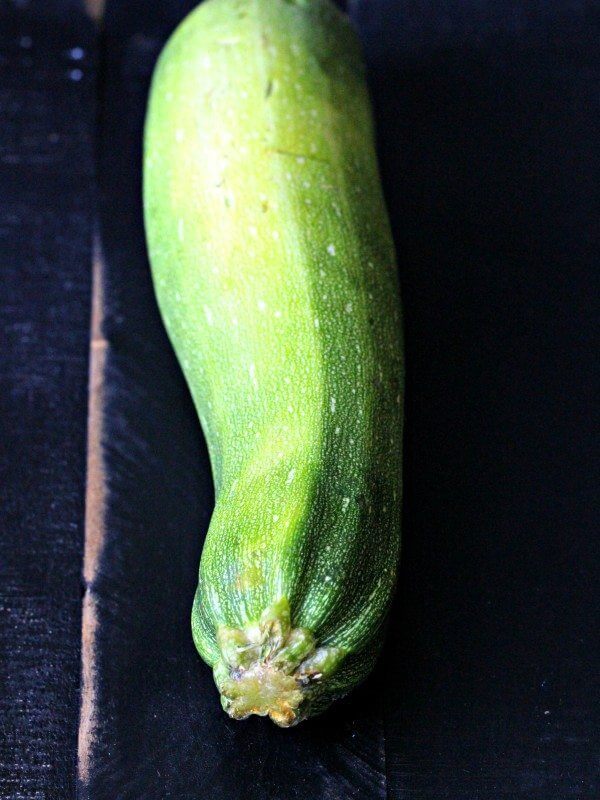 Lets get to this Zucchini Banana Bread now that its again that time of the year when you see zucchinis everywhere. You open the internet and here they are zucchinis!! You go to the supermarket and they stare at you, you go to the metro, and here they are again on a Farmer's Market stand, they keep calling your name to take them home. Which I did, I took one home and I completely forgot about it. To my surprise after two weeks of sitting at the bottom of my fridge the huge and lonely zucchini was perfectly fresh, so I thought it was meant to be to bake a zucchini banana bread with yogurt and fragrant vanilla beans that were delivered to my doorstep (thanks GOD for Amazon) and top it all with an irresistible chocolate ganache. Because well, you have veggies in that banana bread, so chocolate is mandatory.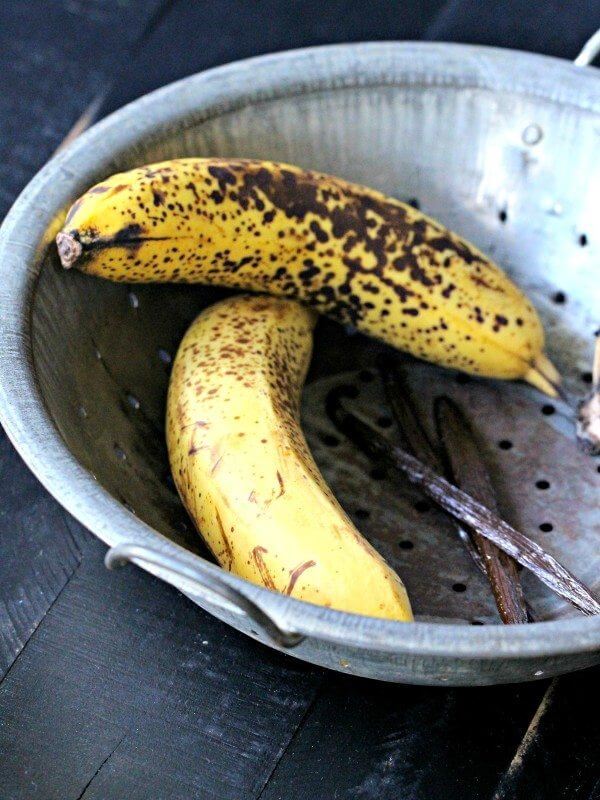 Last week during our trip to Whole Foods I went a little bananas for bananas, and got way to many, my toddler was happy to munch on them during the week, but we were still left with a few brown ones in just a few days,  I guess I purchased them when they were already very ripe. This recipe was almost meant to be, all the ingredients on hand, the Kitchen Aid had to work its magic and we all got a delicious Zucchini Banana Bread with yogurt and vanilla beans to indulge on.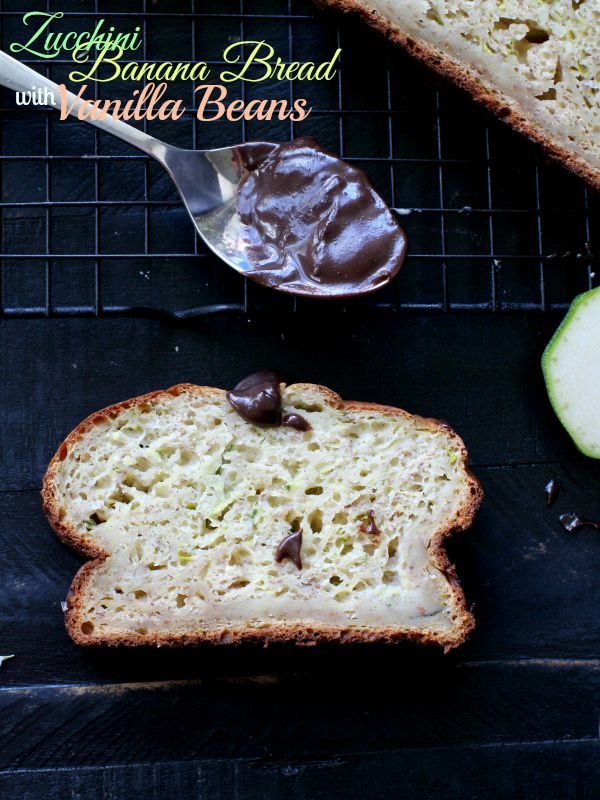 If you are one of those people who turn their noses to the side and close their browsers when they see a veggie in a dessert and served with chocolate, I must yell WAIT, give it a chance, you don't taste the zucchini. And here comes the obvious question, why bother using it if you don't taste it?! I agree, its a very fair question, and here we go:

MY LATEST VIDEOS
1. first its cute, come on, who can resist those little green specs peeking at you! (obviously I am very subjective here….)
2. its all about texture people, all about texture! The zucchini will make you bread soft, moist and give it a rich undertone, without using any butter or oil!
3. its a really nice way to sneak in some veggies and justify eating an entire banana bread, because, you know it packs 2 CUPS OF VEGGIES!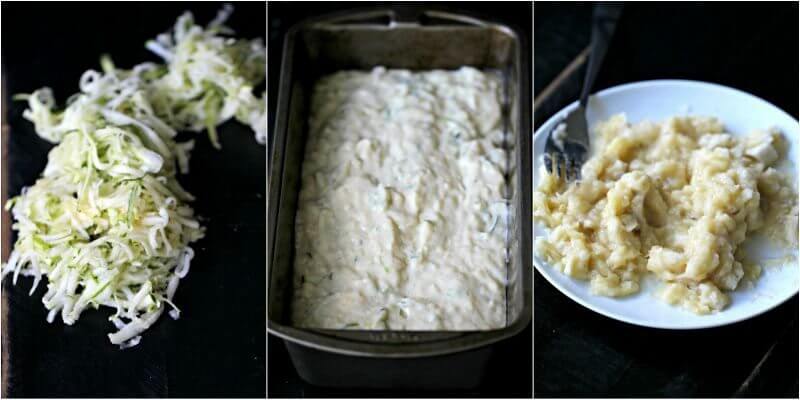 I almost went with a lemon zucchini combo here, but since I had the vanilla beans on hand I settled on a more classic version, and I must say that I am very happy about it, the vanilla beans are beautiful, you can see the tiny specs in the batter, the aroma is nice, but not overpowering, making for a very decadent combination with the chocolate ganache.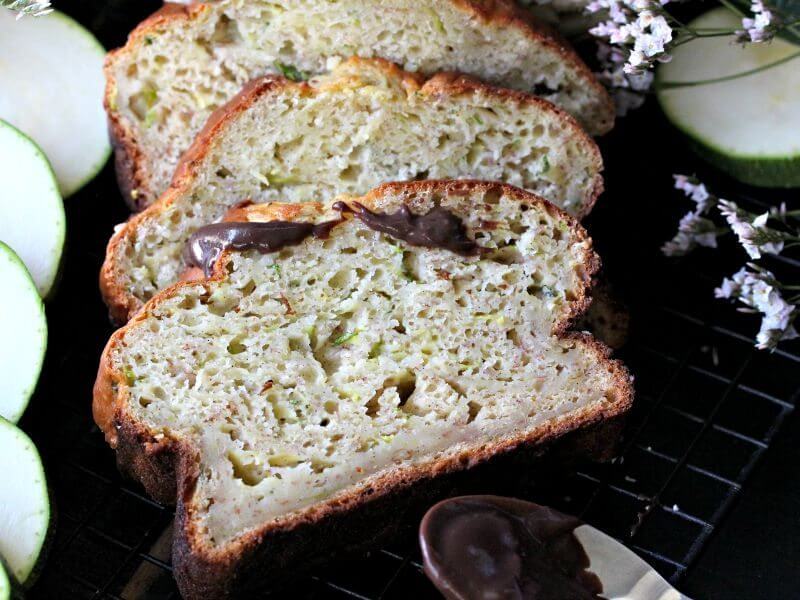 The Zucchini Banana Bread was almost instantly gone, and my toddler loved it, and my husband loved it, and it has the gold seal of approval from my mother in law, she even took a few slices for her friends to taste it!
This Zucchini Banana Bread is the perfect snack, while not the healthiest it still packs a lot of good for you things, it has fruit, veggies, yogurt, eggs, no added butter and no oil, but its still soft and it melts in your mouth. Subtle vanilla flavors, a golden crust covered in chocolate ganache and beautiful specs of zucchini thru it.

Zucchini Banana Bread with Yogurt, Vanilla Beans and Chocolate Ganache
A soft and aromatic zucchini banana bread with yogurt, vanilla beans and chocolate ganache is the best possible way to use zucchinis this summer.
Author:
Katalina Kastravet
Ingredients
For the Bread:
2 tablespoons butter (melted) - to grease the pan
6oz whole milk yogurt
1 cup sugar
2 ripe bananas, mashed
2 egg
3 vanilla beans
2 cups flour
1 teaspoon baking soda
1 teaspoon baking powder
½ teaspoon salt
2 cups grated zucchini
For the Chocolate Ganache:
4 ounces semisweet chocolate, chopped
1 tbsp. light corn syrup
2 tablespoons unsalted butter
½ cup heavy cream
Instructions
For the Bread:
Preheat oven to 350F.
Grease a loaf pan with melted butter (2 tbsp.).
In a high speed mixer fitted with the whisk attachment, beat together yogurt, sugar and mashed bananas until well mixed. Add in the eggs one at a time, vanilla bean seeds (cut the beans in half and with a knife scrape the seeds) mix until smooth consistency is achieved.
In a bowl mix dry ingredients – baking soda, baking powder, salt and flour. Add to the batter one cup at a time, mix on medium speed until well combined.
Press the grated zucchini between your palms to remove as much water as possible and add it to the batter, using a spatula, carefully fold it in.
Adjust rack to the middle of the oven and bake for 50-60 minutes or until a wood tester inserted in the center comes out with only a few moist crumbs attached.
Transfer the pan to a wire rack, and let it cool completely before serving.
For the Chocolate Ganache:
Place the chocolate, corn syrup and butter in a medium bowl. Heat the cream in a small saucepan over medium heat until it just begins to boil. Remove from heat and pour over the chocolate. Let stand one minute, then stir until smooth. Cool to room temperature.
When the cake is cooled pour the chocolate ganache on top of it.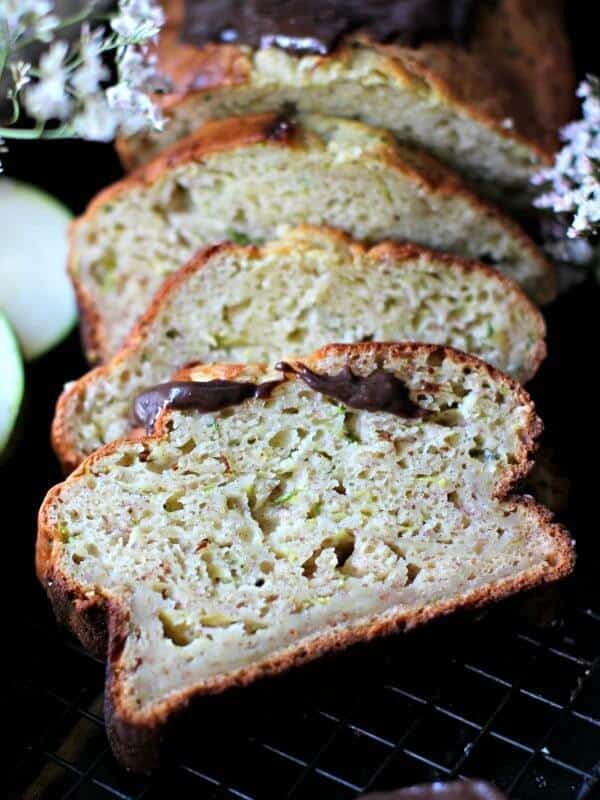 I am definitely buying more zucchinis next weekend!!!

Peas and Peonies, LLC. owns the copyright on all images and text and does not allow for its original recipes and pictures to be reproduced anywhere other than at this site unless authorization is given. If you enjoyed the recipe and would like to publish it on your own site, please re-write it in your own words, and link back to my site and recipe page. Copying and/or pasting full recipes to social media or personal blogs is strictly prohibited. Sharing this recipe is very much appreciated and encouraged. Read my disclosure and privacy policy. This post may contain affiliate links.