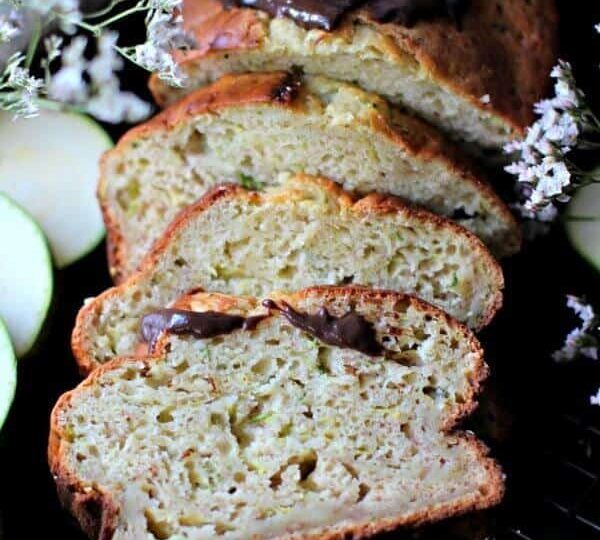 Zucchini Banana Bread with Yogurt
Zucchini Banana Bread is soft and aromatic made with yogurt, vanilla beans and chocolate ganache. It is the best possible way to use zucchinis this summer.
Making zucchini desserts is our obsession. We have made the delicious Blueberry Zucchini Poke Cake, Chocolate Zucchini Bread and Zucchini Bread.
Zucchini Banana Bread
I decided to make this Zucchini Banana Bread because its again that time of the year when you see zucchinis everywhere. I almost went with a lemon zucchini combo here, but since I had the vanilla beans on hand, I settled on a more classic version. Also, I must say that I am very happy about it, the vanilla beans are beautiful, you can see the tiny specs in the batter. In addition, the aroma is nice, but not overpowering, making for a very decadent combination with the chocolate ganache.
This Zucchini Banana Bread is the perfect snack, while not the healthiest, it still packs a lot of goods for you. For example, it has fruits, veggies, yogurt, eggs, no added butter and no oil. Yet, its still soft and it melts in your mouth. Subtle vanilla flavors, a golden crust covered in chocolate ganache and beautiful specs of zucchini thru it.
Zucchini Banana Bread Recipe Tips
Always measure the zucchini. I usually use 2 medium zucchini. However, after you drain the water, measure two cups packed.
In addition, choose smaller zucchini, as larger zucchini tend to be drier, tougher and have a bitter taste.
Also, you can add chocolate chips if you please.
The sugar can be reduced from 1 cup to 3/4 cups.
Watch the bread closely after 45-50 minutes of baking, to make sure not to over bake it. I like to check on it at the 50 minute mark and if it still needs more baking, check on it every 5-7 minutes until done. A toothpick inserted in the center of the cake should come out clean. To avoid burnt edges, if the bread is still not done, but the top and edges are already golden brown, cover the bread with aluminum foil and continue baking. Make sure you check on it, to avoid over-baking.
Serve the bread warm or room temperature. Additionally, you can also warm up slices in the microwave and it tastes delicious with some butter..
Loaf Pan – huge fan of their products, always great quality!
How do You Grate Zucchini for Bread?
Don't peel the zucchini, it melts into the bread, so peeling is just unnecessary.
First, wash the zucchini well under warm water, use a vegetable brush to remove dirt.
Then, cut both ends off of the zucchini.
Set a stand up box grater on a plate or cutting board on the counter. Next, shred the zucchini by continuously running it over the large holes of the grater.
Can You Use a Food Processor to Grate the Zucchini?
Don't peel the zucchini, it melts into the bread, so peeling is just unnecessary.
Wash the zucchini well under warm water, use a vegetable brush to remove dirt.
After, cut each zucchini into several smaller pieces for easier grating.
Fix the food processor with the grating attachment.
Add the zucchini to the food processor in batches if needed and grate.
CAN YOU FREEZE THE ZUCCHINI BREAD?
This bread also freezes well. Cool the bread completely and fully wrap it in plastic wrap, tightly. After that wrap in aluminum foil. Freeze for up to 1 month. Defrost before slicing. You can also freeze individual slices.
Zucchini Banana Bread
Ingredients
For the Bread:
2

tablespoons

butter

melted - to grease the pan

6

oz

whole milk yogurt

1

cup

sugar

2

ripe bananas

mashed

2

egg

3

vanilla beans

2

cups

flour

1

teaspoon

baking soda

1

teaspoon

baking powder

1/2

teaspoon

salt

2

cups

grated zucchini
For the Chocolate Ganache:
4

ounces

semisweet chocolate

chopped

1

tbsp.

light corn syrup

2

tablespoons

unsalted butter

1/2

cup

heavy cream
Instructions
For the Bread:
Preheat oven to 350F.

Grease a loaf pan with melted butter (2 tbsp.).

In a high speed mixer fitted with the whisk attachment, beat together yogurt, sugar and mashed bananas until well mixed. Add in the eggs one at a time, vanilla bean seeds (cut the beans in half and with a knife scrape the seeds) mix until smooth consistency is achieved.

In a bowl mix dry ingredients – baking soda, baking powder, salt and flour. Add to the batter one cup at a time, mix on medium speed until well combined.

Press the grated zucchini between your palms to remove as much water as possible and add it to the batter, using a spatula, carefully fold it in.

Adjust rack to the middle of the oven and bake for 50-60 minutes or until a wood tester inserted in the center comes out with only a few moist crumbs attached.

Transfer the pan to a wire rack, and let it cool completely before serving.
For the Chocolate Ganache:
Place the chocolate, corn syrup and butter in a medium bowl. Heat the cream in a small saucepan over medium heat until it just begins to boil. Remove from heat and pour over the chocolate. Let stand one minute, then stir until smooth. Cool to room temperature.

When the cake is cooled pour the chocolate ganache on top of it.